Colors can affect your productivity, mood, energy levels, and comfort. For this reason, picking the right home office paint color ideas is something you cannot avoid.
Whether you take advantage of a home office for doing extra jobs, freelance works, or simply dealing with family financial plans, building an environment that is productive and welcoming is highly recommended.
With the right paint colors, it would be easier to achieve such circumstances in your home office. Don't know where to start? To help you get started, I have collected a list of the best color recommendations for your home office. So, let us check them out!
Read: Small Home Office Ideas
Best Home Office Paint Color Ideas & Inspiration
1. Create Balance with Green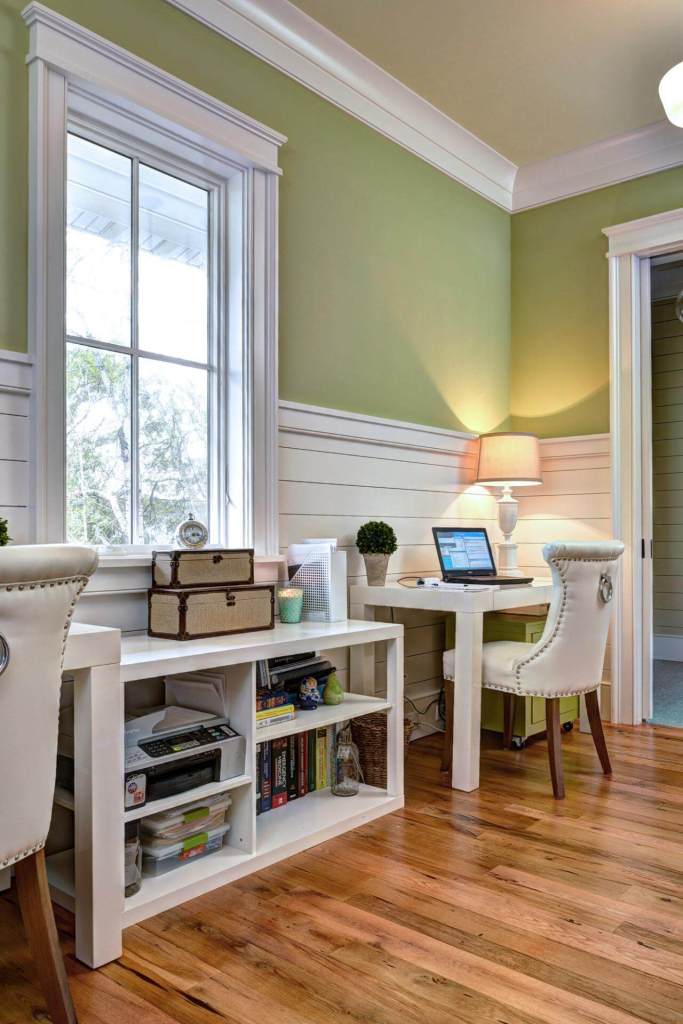 Do you want to create balance in your home office? If so, green could be one of the best choices. This color can harmonize very well and will not exhaust or strain your eyes. This trait is highly essential when it comes to a working environment.
More interestingly, green is also known for its ability to enhance concentration and focus. Go for Sherwin Williams' Dancing Green to achieve this look. As an alternative, you can opt for Prestige Paints P400-P-SW6744 Interior Paint for a similar green color.
2. Calm Your Mind with Blue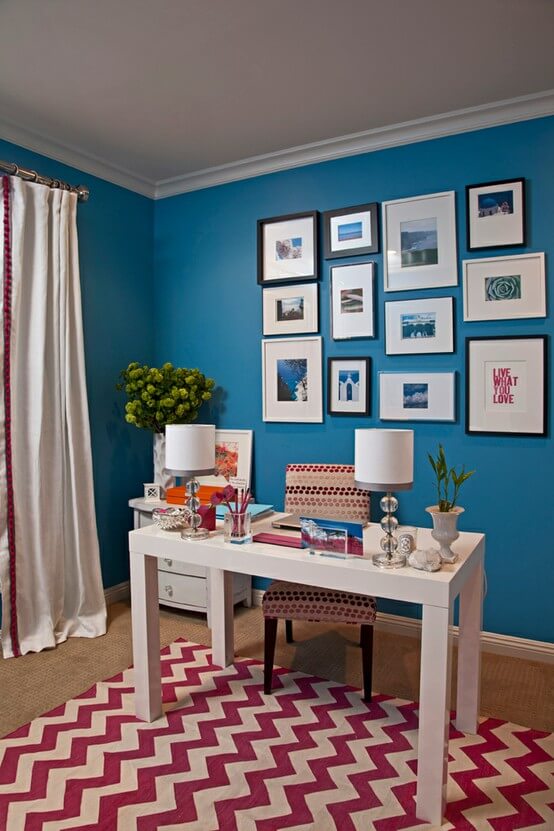 Blue is often considered an intellectual color and is known to help calm your mind. Moreover, this color can help you increase concentration as well. For this reason, blue is becoming one of the most famous colors utilized in office environments.
Hints:
3. Opt for a Neutral Gray Color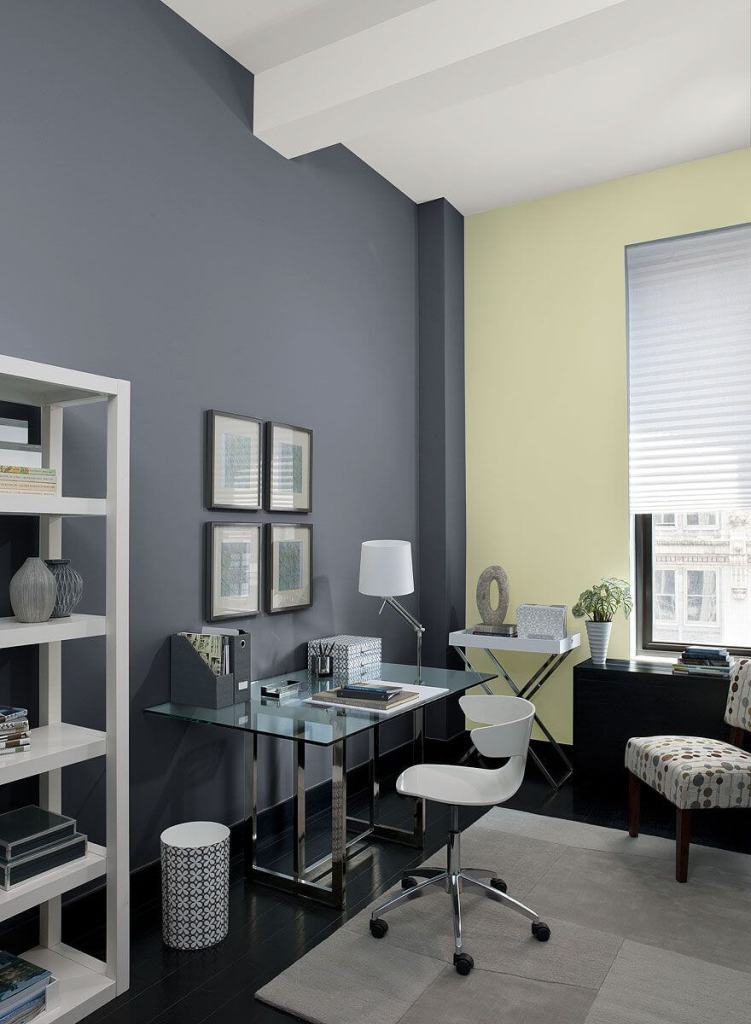 Falling between white and black, gray is considered a more neutral color that offers a similar mood with both white and black. In addition, gray is available in a selection of different hues and shades, making it easy to achieve as prominent or as subtle effect as you like.
You can go for Behr's Amazon Stone Matte to attain this look. However, it is also possible to find similar rich gray colors at a nearby local home improvement shop.
4. Go for Chic Blush Pink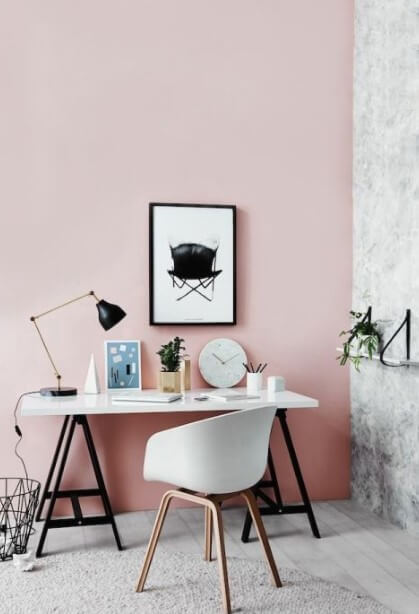 This is one of the best home-office paint color ideas for women. The sweet and fabulous flair offered by the blush pink color combined with inviting dusty tones makes this home office a dream come true for every woman.
Hints:
5. Make It Lovely with Light Green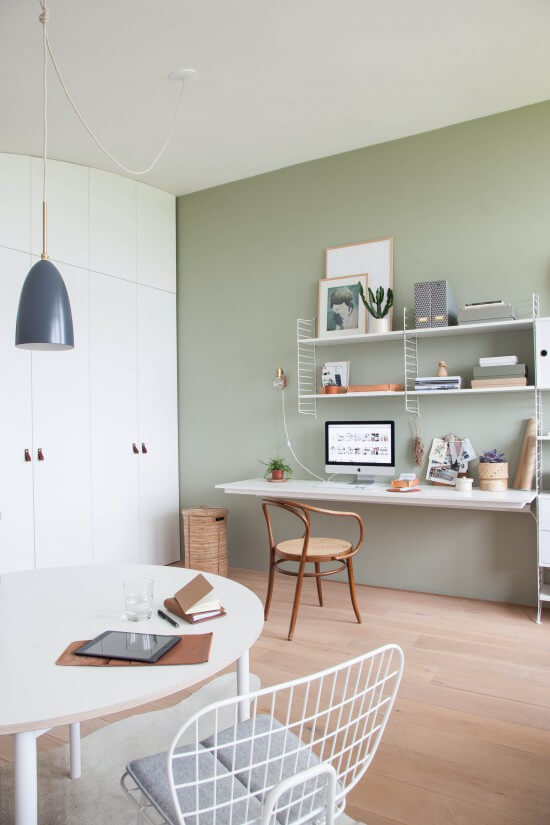 No one can deny that a light green tone is lovely. Just like this soft seafoam green, that adds a pop of color without overwhelming the room. Consider only painting one wall in this light green color and leave the rest.
Furthermore, you can pair it with a more neutral color like white to open up various styling options in your home office.
Sherwin Williams' Easy Green would be perfect to achieve this color scheme. However, you can also consider Prestige Paints since it offers the same.
6. Bring in Funky Yellow Accent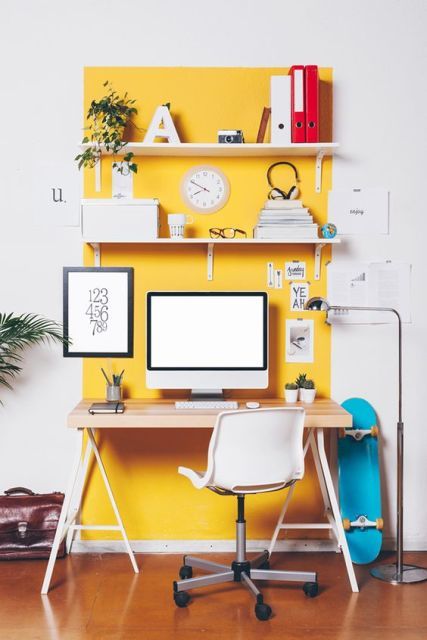 You do not need to paint your home office in all yellow to display fun and youthful flair. Simply create an accent wall in gorgeous banana yellow to introduce a funky pop of color in your home office.
Yellow wall accent can provide stunning visual interest in a room that is primarily painted in white. However, this color is flexible enough to handle other extra colors including bright red and teal.
If you want to achieve such a joyful home office, Valspar's Illuminate Me should make a great option.
7. Be Bold with Dark Blue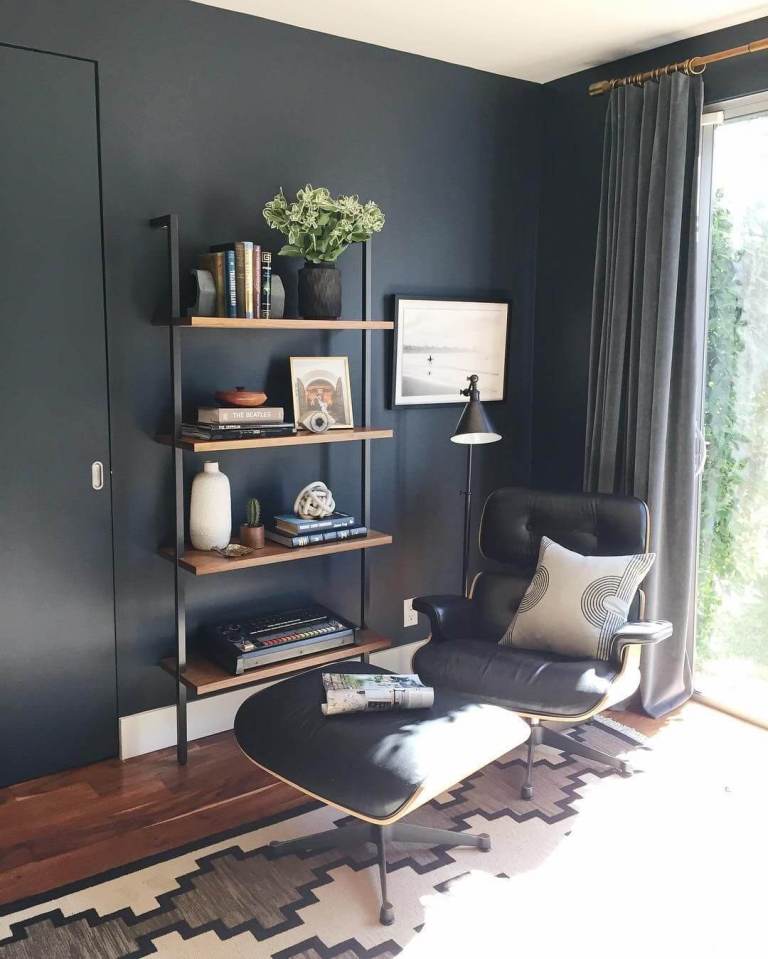 If you are not daring enough to apply a black accent or décor in your home office, opt for a dark blue color. Even though you are only suggested to apply it as an accent wall, dark blue is indeed a powerful color to try in a home office.
Just like other dark colors, this one is also known to encourage confidence and strength. Thus, introduce a dark blue wall in your home office should not be wrong. Attain this look by using Blue Note by Benjamin Moore.
8. Challenge Yourself with Dark Teal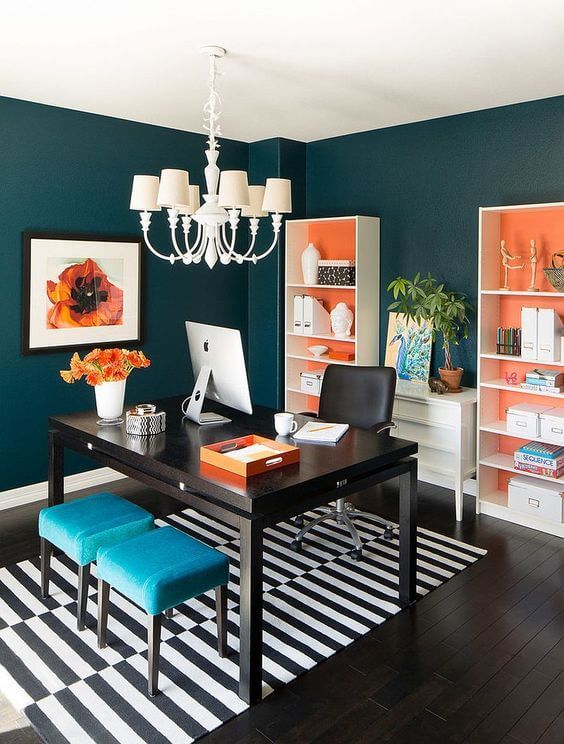 Dark color tones are indeed a challenging option when you want to apply them to the walls. However, to create such a gorgeous home office, sometimes you need to be brave enough to include dark shades like this rich, deep teal.
If you are designing a home office for a man, dark teal makes a perfect color choice since it highlights confidence.
Gentlemen's Gray High Gloss by Benjamin Moore can help you accomplish this tranquil and positive atmosphere.
9. Encourage Excitement with Red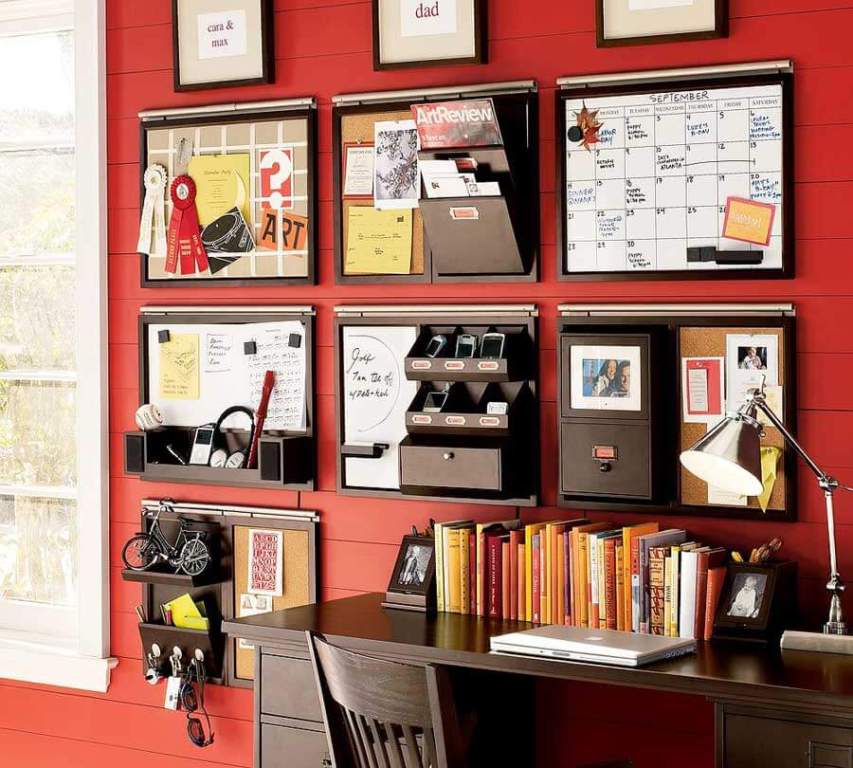 Red can also be one of the best home-office paint color ideas out there. This color can represent strength and is known to encourage excitement. A home office with this color is ideal for those of you who work in ever-changing or fast-paced industries.
Hints:
10. Create a Visual Interest with Sea Blue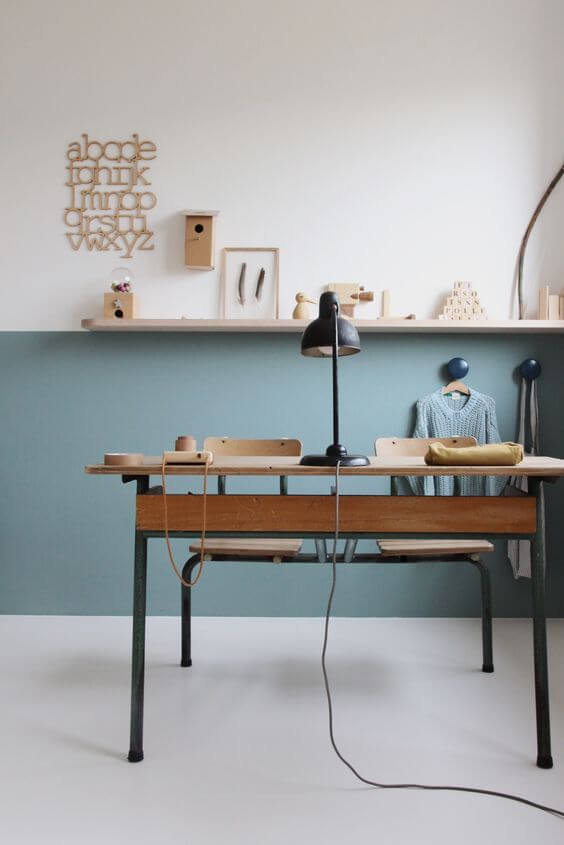 A combination of a shade of blue and white in this two-tone wall offers a stunning visual without being overwhelming. This idea is perfect for a room with a low ceiling considering the ability of two-tone walls to create height and make the space feels more spacious.
This blue tone typically introduces such calmness and transcendence vibes. If you want to have this look in your home office, the Tasmanian Sea by Behr would be a good match.
11. Get Plenty of Blue Shades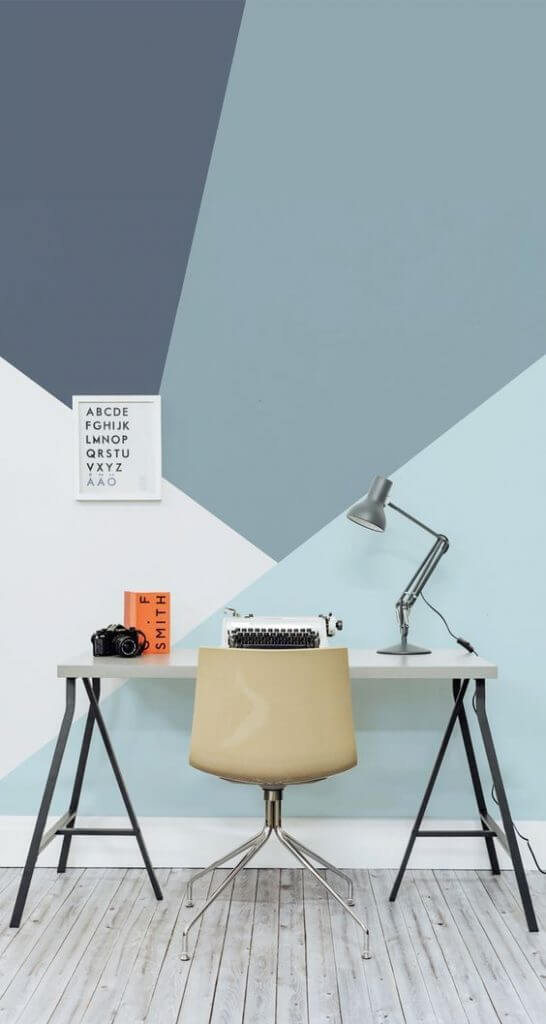 From darker to a lighter shade of blue, this mural is striking enough to draw everyone's attention. You can attain this look by taking advantage of a pre-made mural cut that has been matched to the size of your wall.
This is one of the simplest and most elegant home-office paint color ideas on the list. If you are remodeling an existing home office, this color idea can completely transform the room.
If you are interested in achieving this look, consider Sherwin Williams' Westelm paints.
12. Attain Comfort with Orange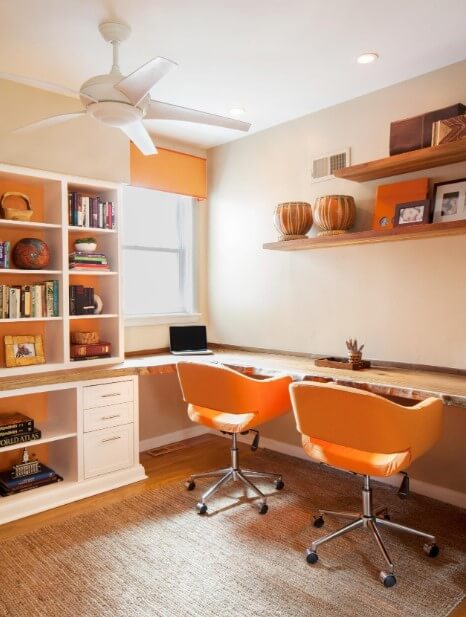 You can count on orange to encourage enthusiasm and boost energy levels in a home office. If you are working in creative industries, this color is ideal for your home office.
Hints:
13. Hint Creativity with Purple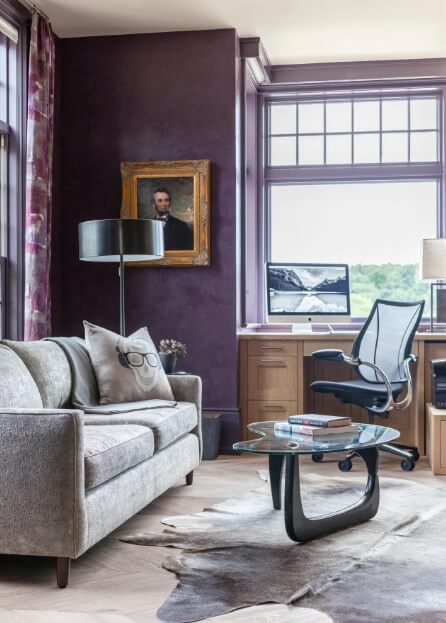 Often used to represent royalty, purples are also known to set your imagination free. This color tends to be linked with wisdom, luxury, and wealth representation as well.
Similar to orange, purple makes a great color for those of you who engage in the creative industries. However, if you want your home office to express clarity, dark purples will not be a good option.
You can opt for softer lavenders and lilacs to create a soothing and calming atmosphere. Go for Exotic Purple by Benjamin Moore to accomplish this look.
14. Bring in Elegance with Medium Gray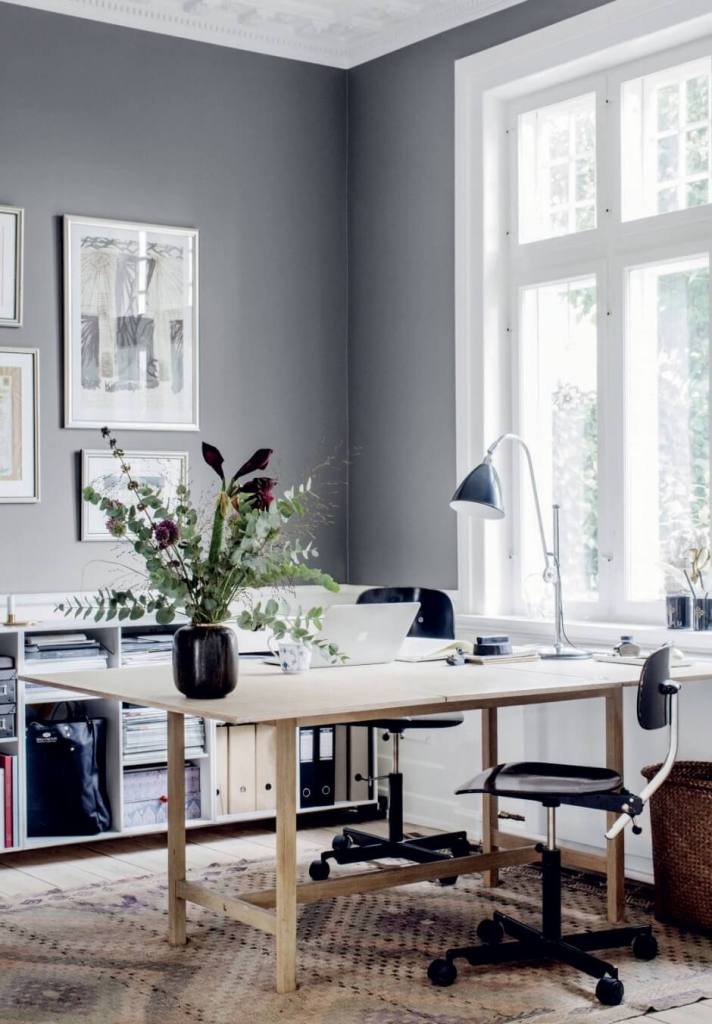 Medium gray is a versatile shade that offers a sleek feel in your home office. This color can also encourage feelings of tranquility and peace. However, you should make sure to pair medium gray with an appropriate décor to achieve its true potency.
Adding natural elements and colors through a wooden desk and indoor plant would be a great option. In case you want to achieve this cool appearance, opt for Repose Gray by Sherwin Williams, and do not forget to let natural light come into the room more.
15. Add a Sense of Reliability with Brown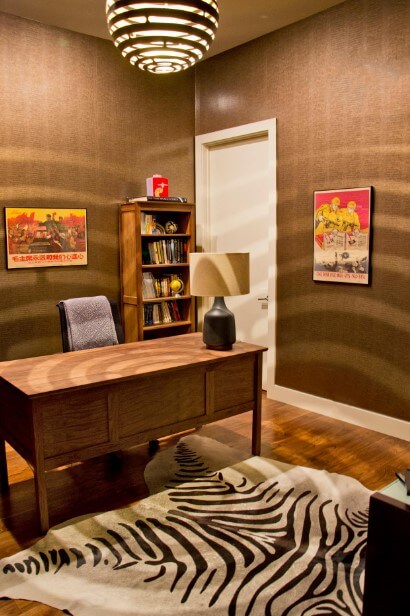 If you were engaging in law or business, painting your home office brown would be perfect. This color is an ideal option when you like to evoke a sense of reliability, security, and strength.
Pair your brown walls with vibrant, colorful pictures to enliven the whole space. Consider incorporating white elements through a rug and table lamp for a balance.
You can achieve this look by painting your walls with Warm Spice brown Eggshell by PPG Diamond. Behr also has a rich selection of brown to be considered.
16. Style with Greige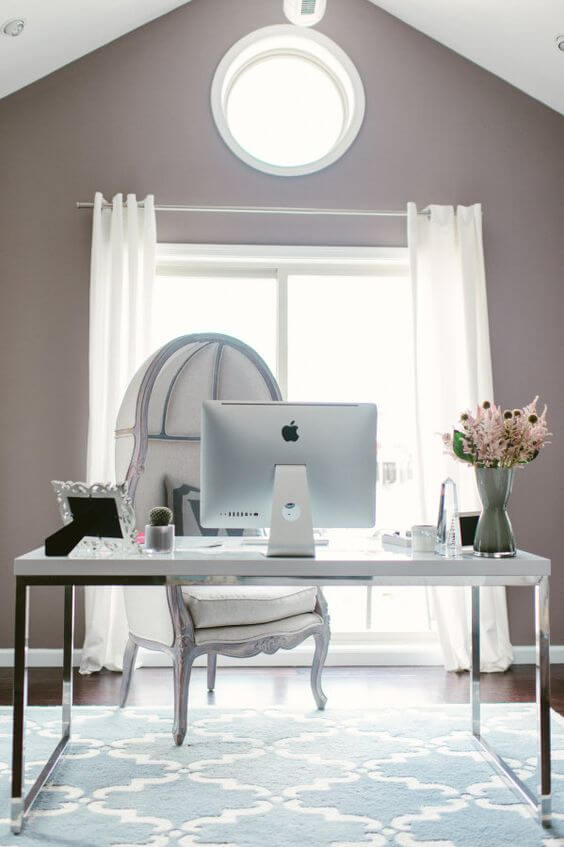 Today's home-office paint color ideas must include greige on the list. This term is used to describe a lovely color scheme combining gray and beige. If you want to attain such an exciting, warm environment, this color choice is just right.
You can make your home office appear modern, minimalist, romantic, and chic with greige. Simply count on Benjamin Moore's Stone to attain this look. For a slightly lighter option, you can use Prestige Paints' Stone Hearth.
17. Mix Cream and White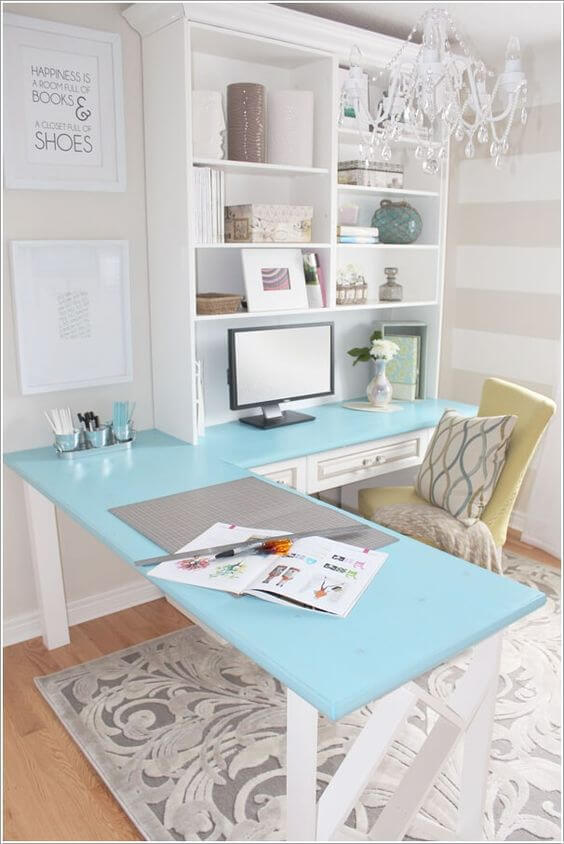 In case you are more interested in traditional elegance, mixing cream and white is probably the best choice. A home office with this color palette would be perfect for any girl.
While the walls are mainly painted in cream, white stripes are involved in the design to create an interesting pattern. This is simple to do and will look amazing with contemporary and farmhouse modern décor.
A recommended paint color for this look is Sherwin Williams' Kestrel White.
18. Enhance Productivity with Bright Blue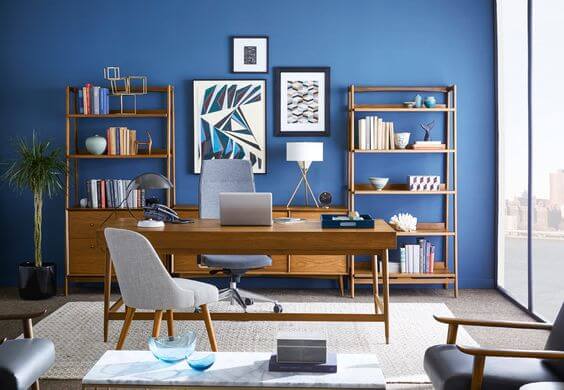 Do you want to appreciate the timeless attractiveness of a midcentury decoration? If so, this modern bright blue color is probably of interest. Thanks to its vibrant and electric vibes, bright blue will make your office walls more remarkable.
Consider combining your bright blue walls with the natural color of walnut and teak woods. You can also rely on neutral colors to complement the blue walls.
You should consider Glidden's Blue Oasis or Benjamin Moore's Twilight Blue when planning to achieve this superb look.
19. Promote Focus with White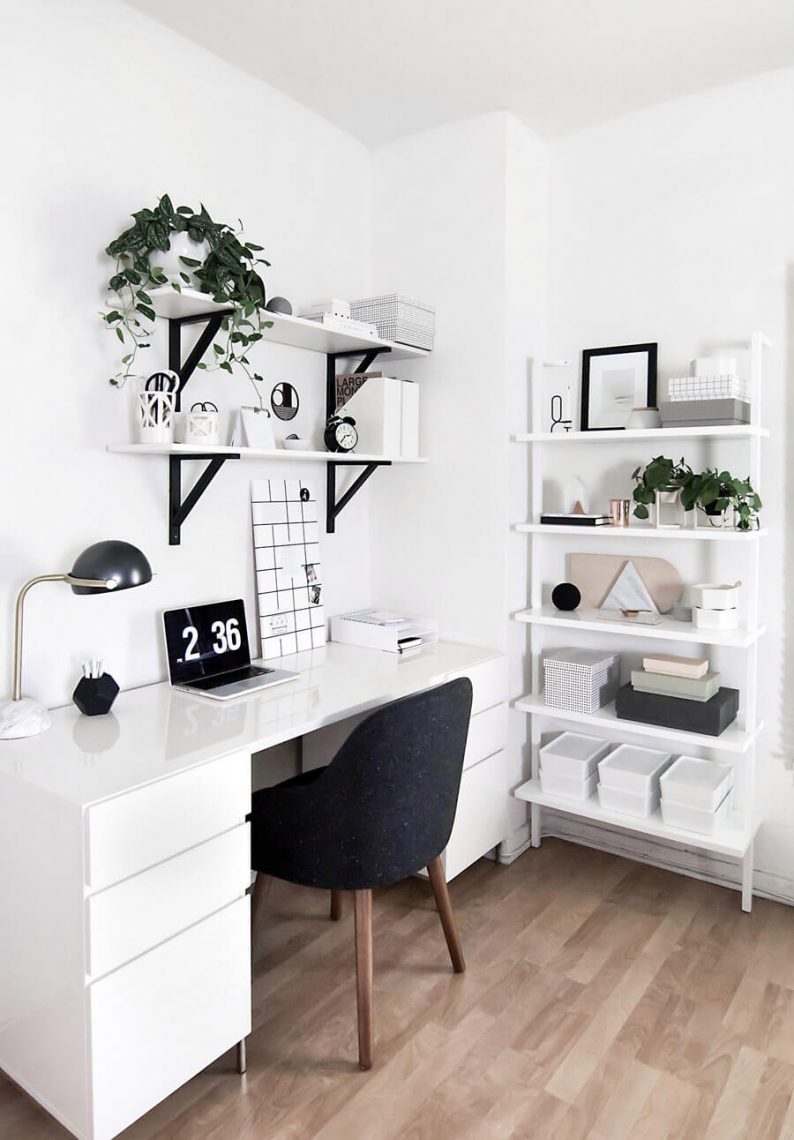 White is the most versatile shade for sure. This is the safest choice for any interior including a home office. A white home office will encourage focus and organization while providing enough light. More importantly, you can easily swap it with other home-office paint color ideas once needed.
Hints:
20. Perfect with Coral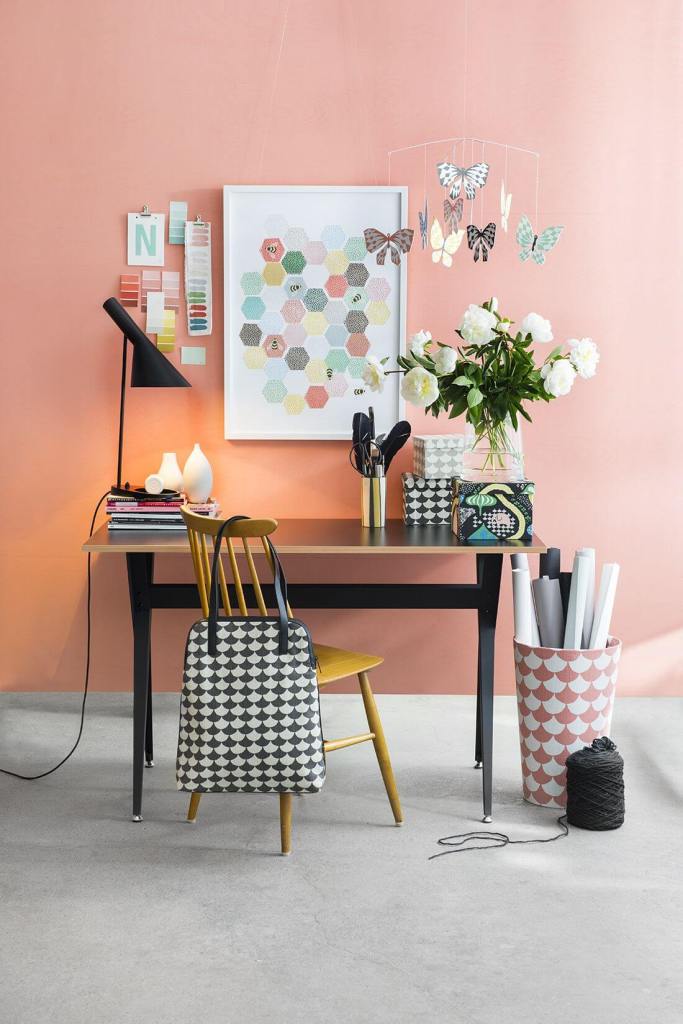 The beauty of coral walls will make your home office appear lovely and sweet. To avoid the color being too overwhelming, finish your floor with light gray or white tones. This way, you have more possibilities to bring in other colors.
It is not impossible to combine coral with colors like cream, copper, navy, charcoal, and chartreuse. Behr has plenty of options when it comes to coral or other colors, so you can easily find your best match on the market.
21. Combine Beige and Magenta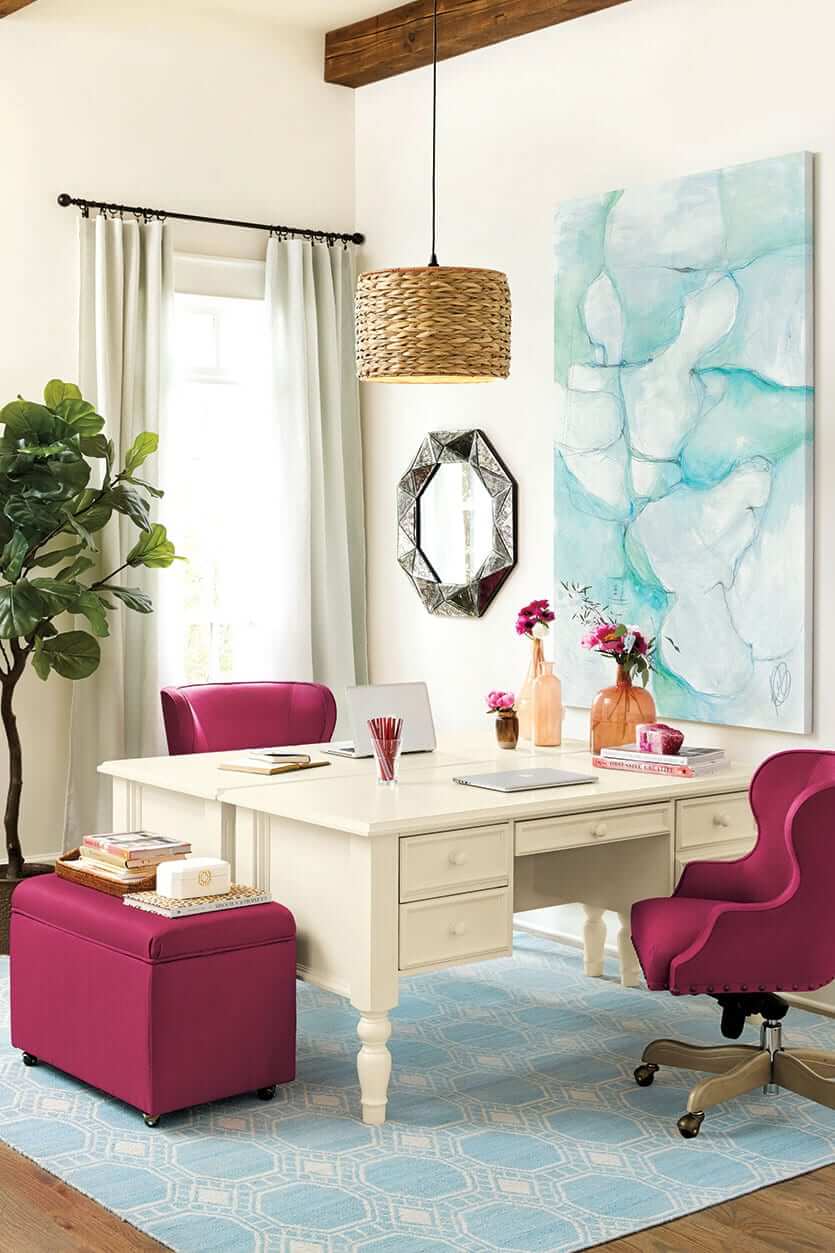 Similar to white, beige is a neutral color that opens up many possibilities in your home office. Paint your room beige and get some magenta seats to complete it.
Magenta is known for its ability to promote movement and activity. It would be a perfect match for a beige home office.
For the walls, you can consider Kilim Beige by Sherwin Williams. For a lighter option, consider Basic Beige by PPG Timeless.
Conclusion
Overall, you can now conclude that a fresh and inspiring home office can be attained by applying the right paint. Moreover, picking the best colors is only a matter of determining your style and the primary use of the space.
Now, you must be ready to take advantage of the above home office paint color ideas. I hope you enjoy these ideas and happy painting!