Considering the variety of tasks performed, you often need a complex lighting setting in the kitchen. Figuring out the right kitchen lighting ideas for your style and needs would help you get the perfect match on the market.
It is no secret that you will find many kitchen lighting choices on the market. However, keep in mind that not every lighting option is created equal. Even the best lighting choice will work perfectly when it is installed in the right setting.
Therefore, to help light your kitchen properly, I have put together some tips to pick kitchen lighting along with a selection of ideas to inspire you.
How to Choose Kitchen Lighting?
Let us start with some tips to pick the right lighting for your kitchen. In general, you will need to consider several factors like style, color, functionality, light quality, and safety.
An ideal kitchen lighting system typically requires minimally two elements: a task and atmospheric light. A clear, shadow-free task light is necessary since it can ensure your safety when preparing and cooking meals.
Meanwhile, an atmospheric light can add mood and highlight special architectural features in the kitchen. The best lighting scheme for your kitchen should involve at least these two types of lights.
However, you should not overuse just one type of light in the kitchen. It would be better if you can add variety and introduce one statement piece of lighting in your kitchen.
Read: Kitchen Remodel Ideas on a Budget
22 Beautiful Kitchen Lighting Ideas & Inspirations for Your New Kitchen
For further ideas about how to achieve such a perfect lighting scheme in your kitchen, check this out!
1. Opt for a Simple Ceiling Light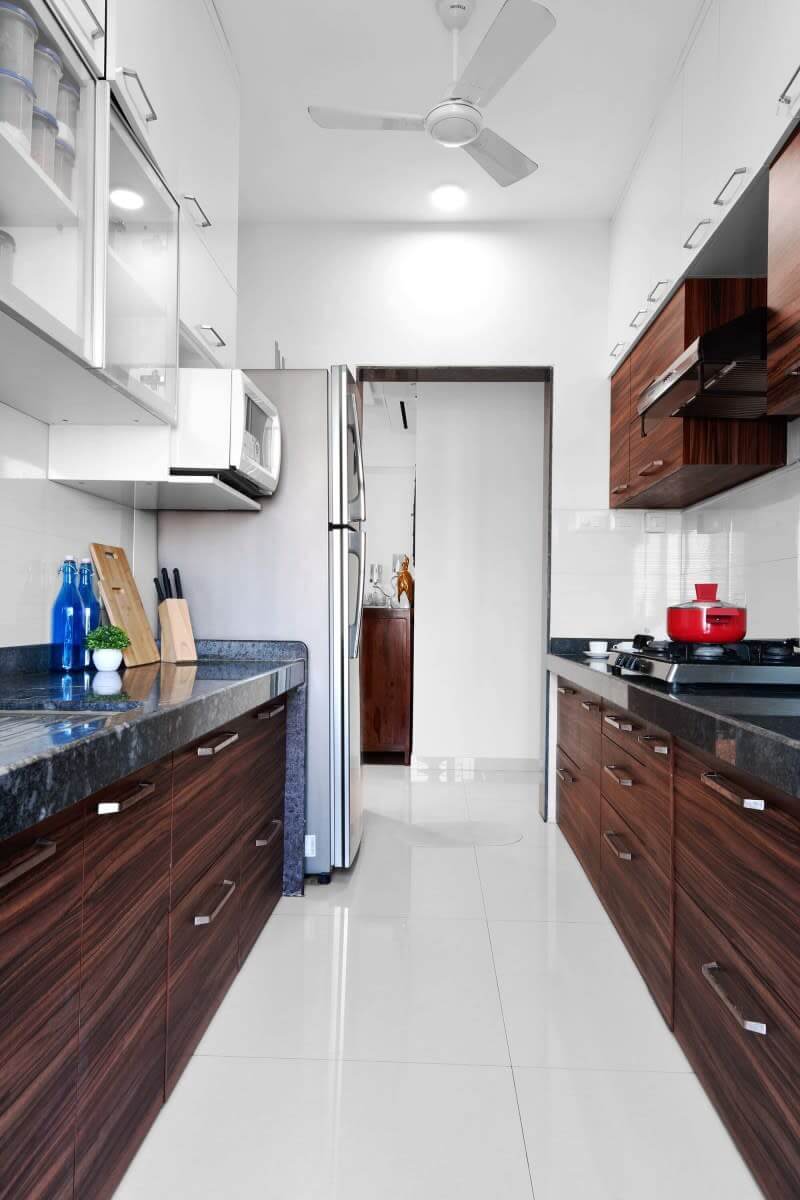 Any striking kitchen lighting ideas must include a single ambient light that can generally illuminate the entire room. This small white kitchen takes advantage of simple ceiling light to brighten up the overall space.
For a small kitchen with low ceilings, recessed lighting is indeed a nice choice. It will not take much of your room since the light is somewhat mounted on the ceilings.
Besides, you can still leisurely add other elements like a ceiling fan in the kitchen.
2. Color Up Your Kitchen with Pendant Lights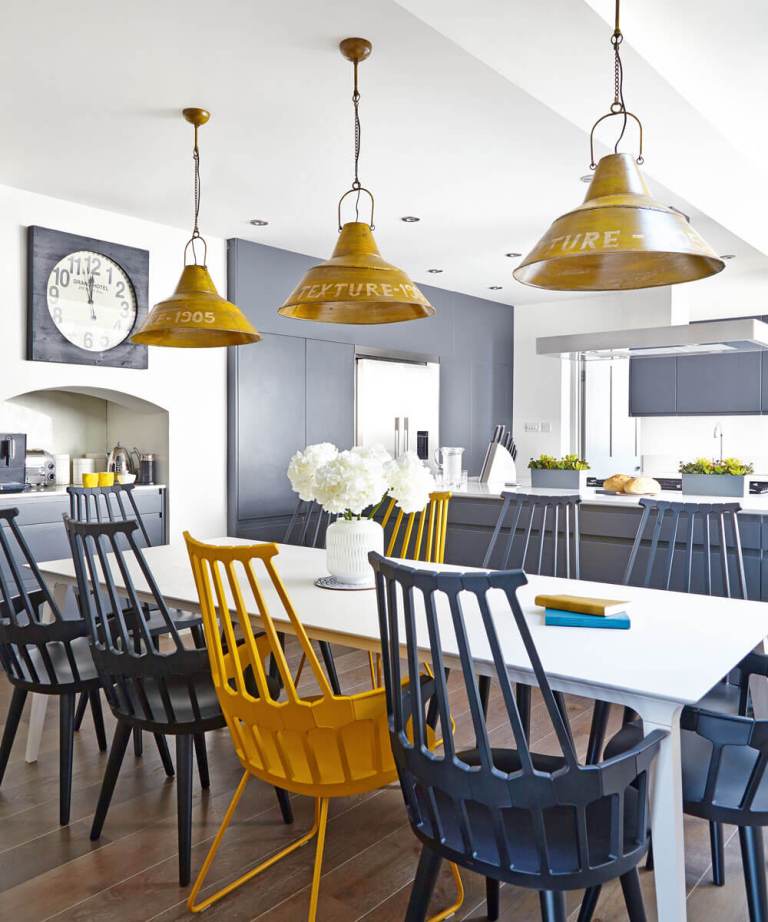 A Series of yellow pendant lights could make your kitchen more colorful. In a neutral kitchen where white and gray shades meet, such pendant lights would provide an interesting pop of color.
You can also use this opportunity to introduce a touch of personality by picking pendant lights that come in your favorite color.
Hints:
Install the pendant lights above your dining table to help distinguish your kitchen's work zones from the dining area.
Hang the pendants low over the table to achieve a more intimate feeling.
3. Incorporate Board for Recessed Lights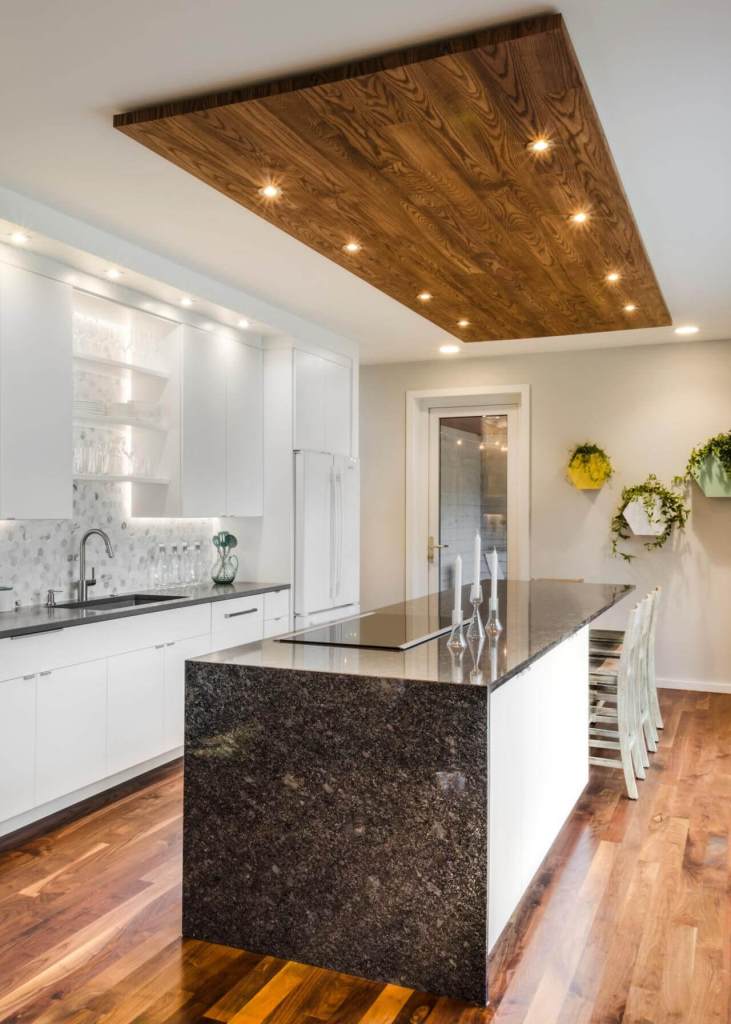 Instead of installing recessed lights right on the ceiling, as usual, incorporating a wooden board would be a good idea. This way, you can add a rustic flair in your modern kitchen.
Not only richen the style of your kitchen, but this idea also allows the island to get enough illumination.
Meanwhile, to provide additional illumination on the countertop area, opt for hidden lights that are installed under the cabinets.
4. Be Playful with String Lights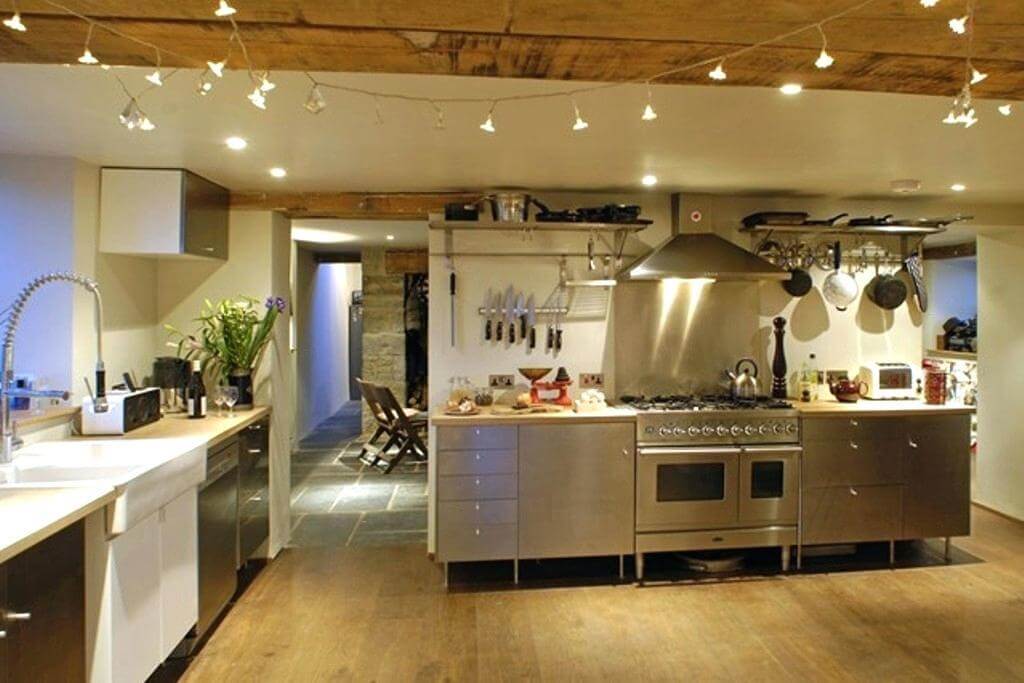 String lights are one of the most versatile types of lighting. They could work well in various settings and moments including your kitchen. More interestingly, you can simply install the string lights randomly on the ceiling without special patterns needed.
Combine your string lights with a few recessed lights on the ceiling and task lights in particular areas. For instance, you probably need a task light over the stove and the sink.
5. Perfect Your Scheme with Track Lighting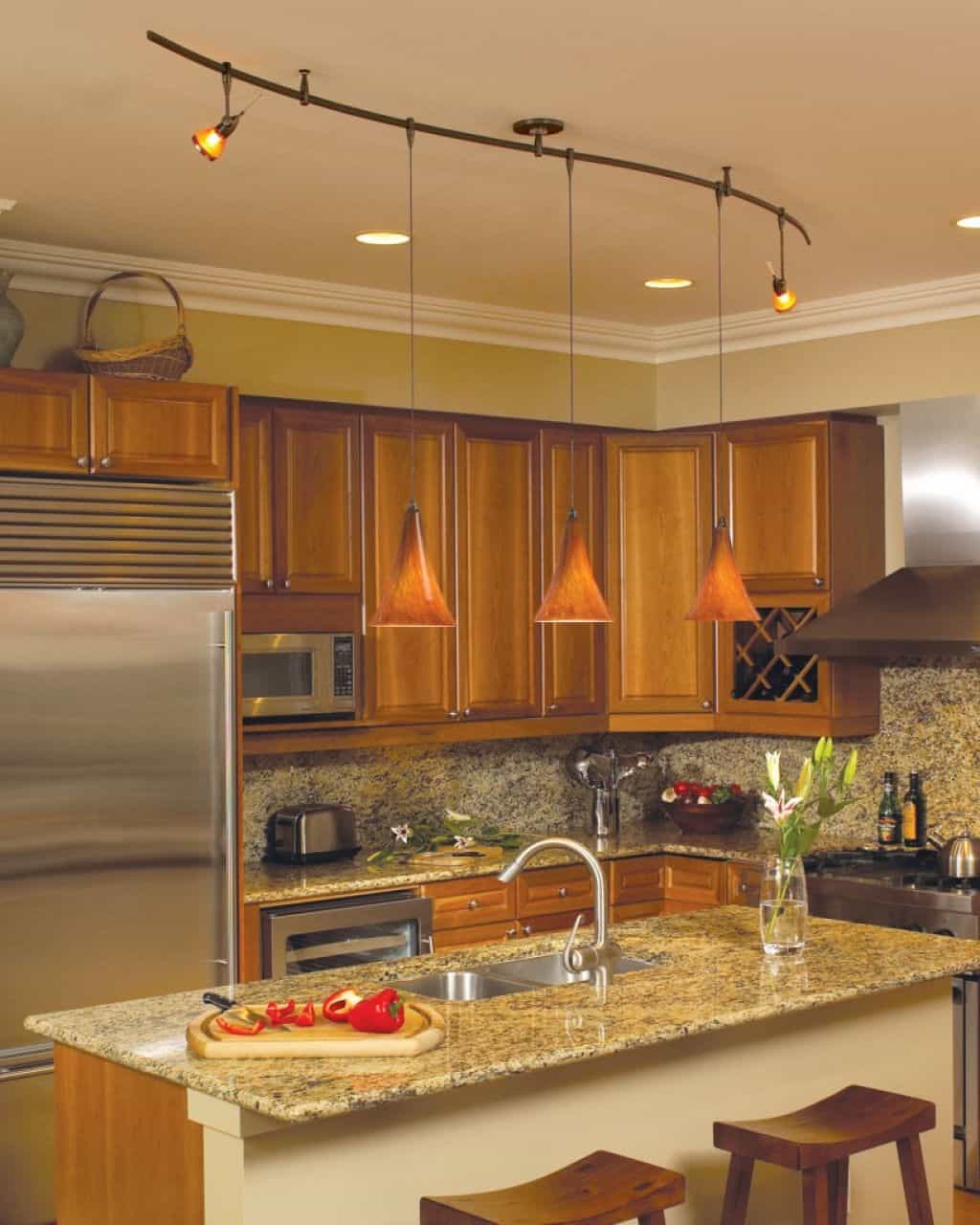 Track lighting has always been a versatile solution for any space. It could be used along with pendant lights, spotlights, floodlights, and any other lighting fixtures.
This kind of lighting is perfect to add style in your kitchen while making sure the area is well illuminated. Combine pendant lights and spotlights in your track lighting system to introduce a fascinating affair in your kitchen.
6. Get Plenty of Lights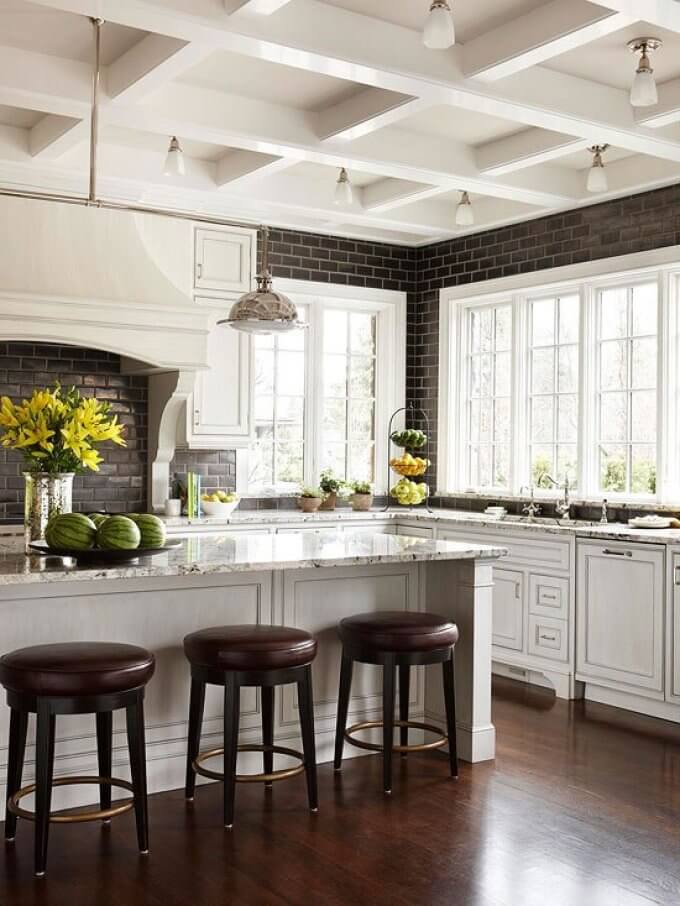 When it comes to kitchen lighting ideas, taking advantage of natural sunlight is key. Let more sunlight to come into your kitchen by designing such a large window in this room.
To illuminate the kitchen with the absence of natural sunlight, get plenty of ceiling-mounted fixtures to brighten up the entire space. For better illumination on your kitchen island, a statement pendant light would be a perfect choice.
7. Go for Exceptional Halogen Lighting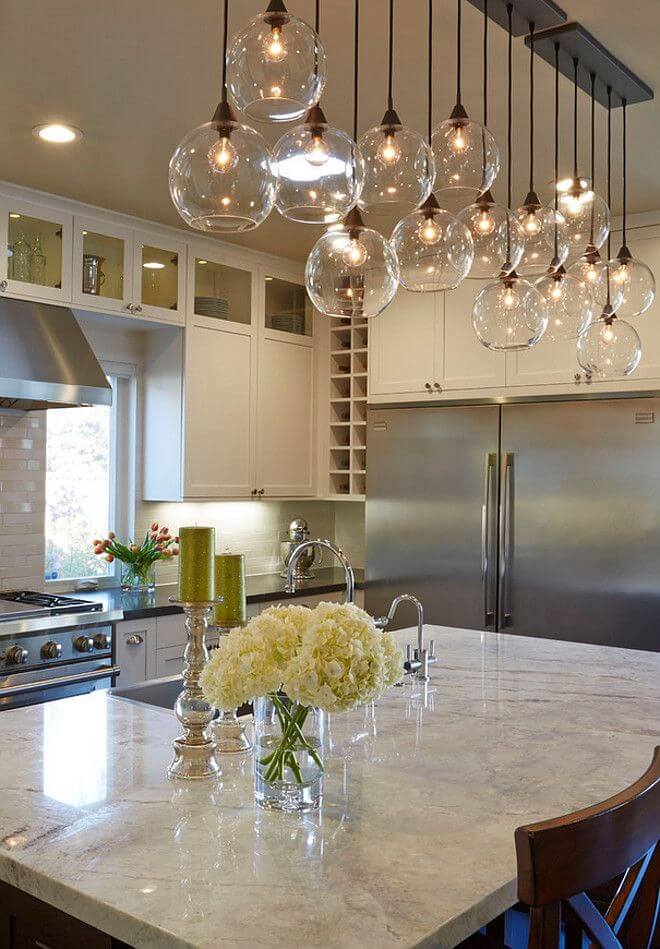 Install a collection of halogen lights in a wooden track and you will get such exceptional lighting in the kitchen. Halogen light is known to be an advanced version of the common incandescent. This kind of lighting fixture would be a good choice if you consider efficiency.
Get several halogen lights and install them to light up your island while adding beauty to the entire kitchen area.
8. Complete Your Countertop with Under-Cabinet Lighting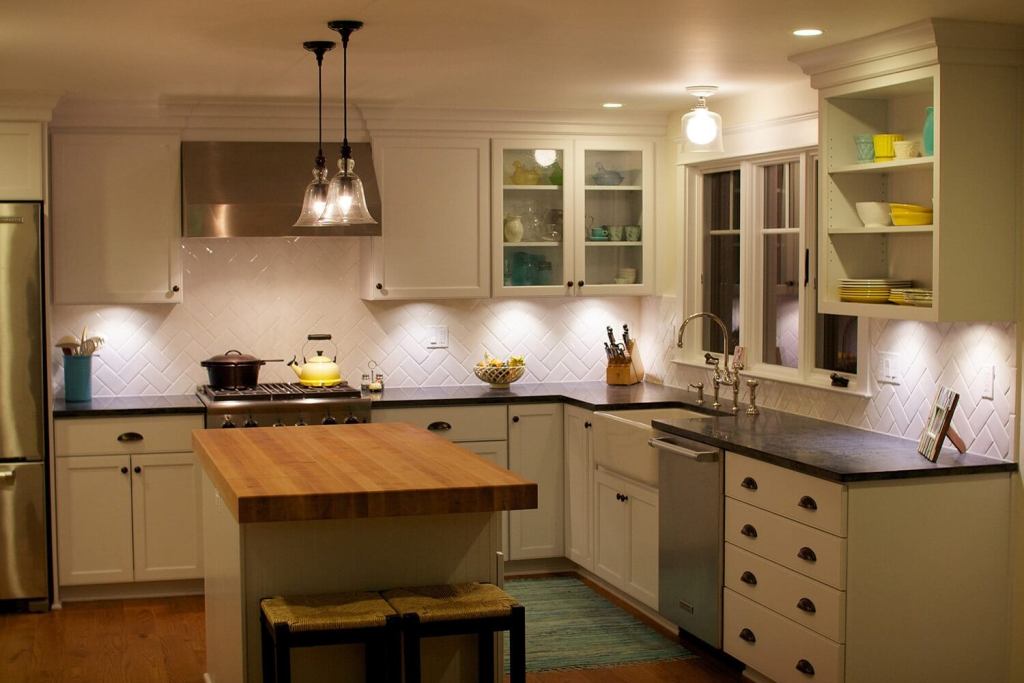 In a kitchen, you will need adequate illumination on the countertop. This is because the countertop is typically the main work area in the kitchen. To enhance the safety of your countertop area, why don't you incorporate under-cabinet lighting?
Under-cabinet lighting can create an appealing lighting effect in your kitchen while providing enough illumination to work with knives and others.
Combine the under-cabinet lighting with other fixtures like a ceiling-mounted light at the corner of the kitchen.
9. Introduce Lighting in Your Cabinets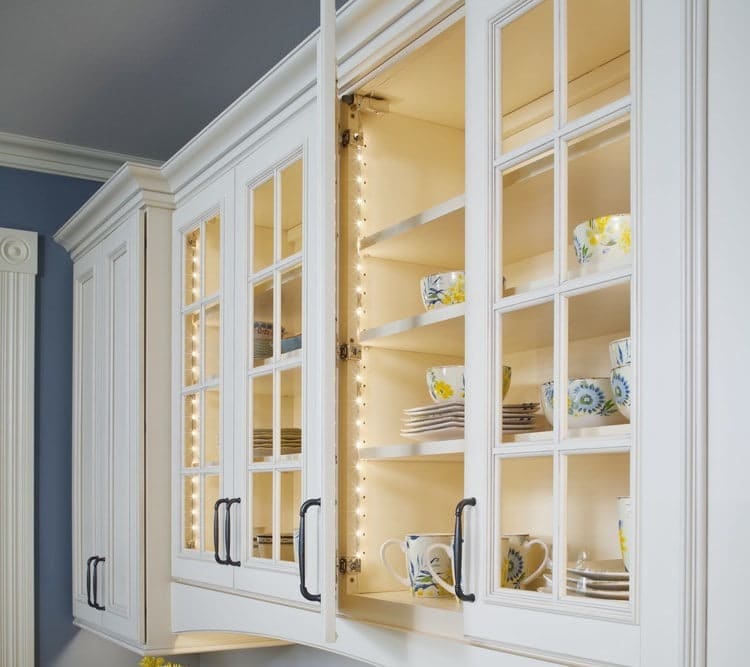 If your kitchen has a kind of closet cabinet to display favorite chinaware and other hardware, it would be great to stress them out by adding lighting inside.
Lighting in cabinets is a good approach to enhance the beauty of your kitchen. You can also use this idea to display your collection of chinaware. Simply get small string lights and install them at the inside corner of the cabinets.
10. Bring Industrial Affair with Edison Bulbs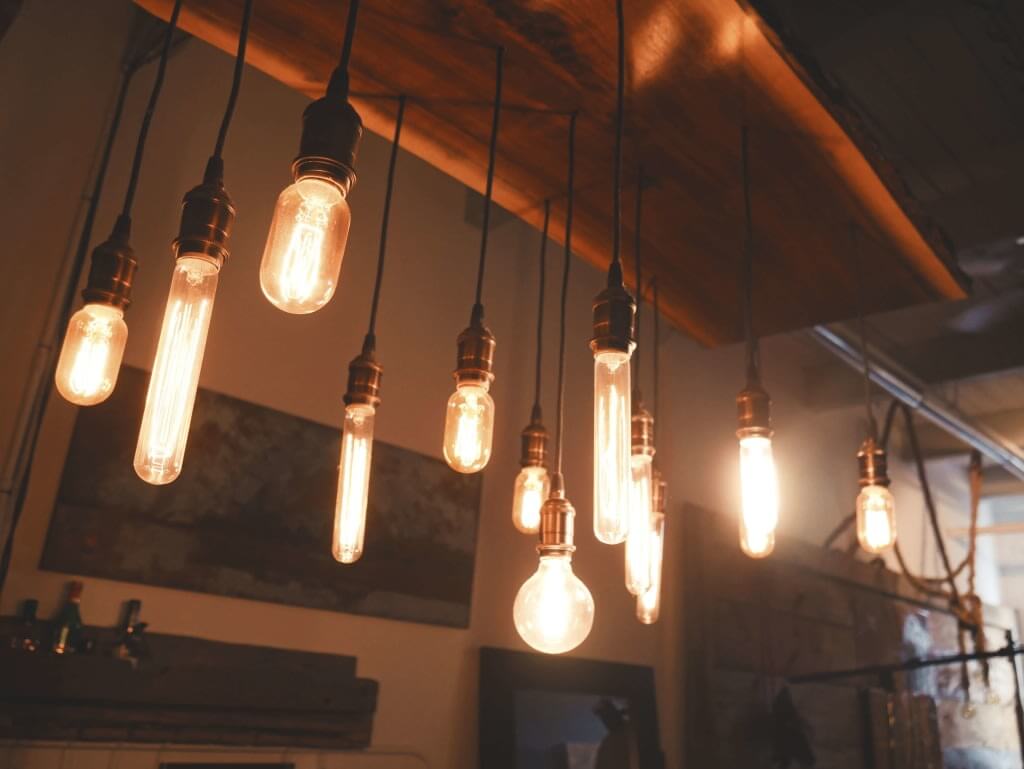 Edison bulbs are often seen in an interior design that highlights industrial style. They are typically hanging in a group from a cord or cable.
Hints:
If you are into DIY projects, get a long wooden board and hang the Edison bulbs from there. It would be a nice complement over the island.
Consider picking several different shapes of Edison bulbs to make it a more appealing statement in the kitchen.
11. Be Creative with Multi-Level Lighting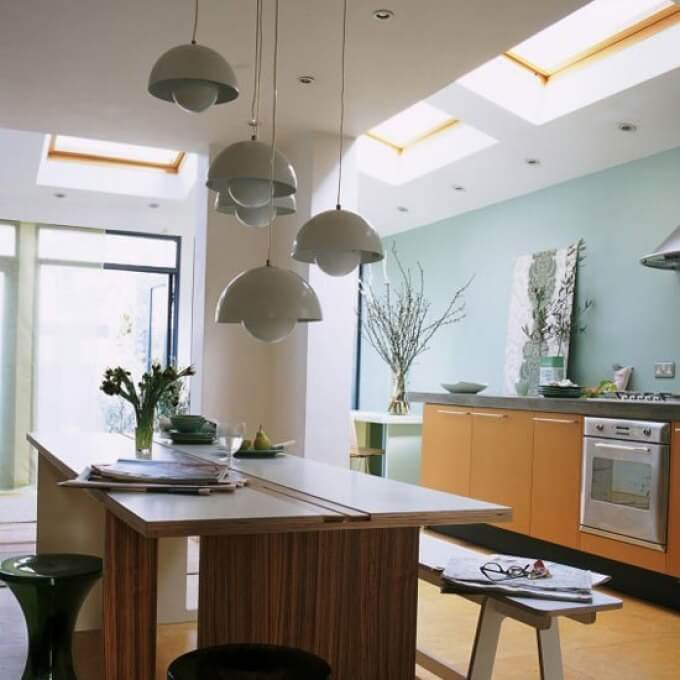 Allowing natural light to come more into the kitchen through skylights is one of the best kitchen lighting ideas out there. This way, you can reduce the use of electric light and save energy while offering a warm, welcoming atmosphere.
In the area with less natural light, get multi-level lighting to illuminate it well. Not only functional but also multi-level lighting is just right to beautify your kitchen, especially over your dining area.
12. Get Your Sink Lightened Up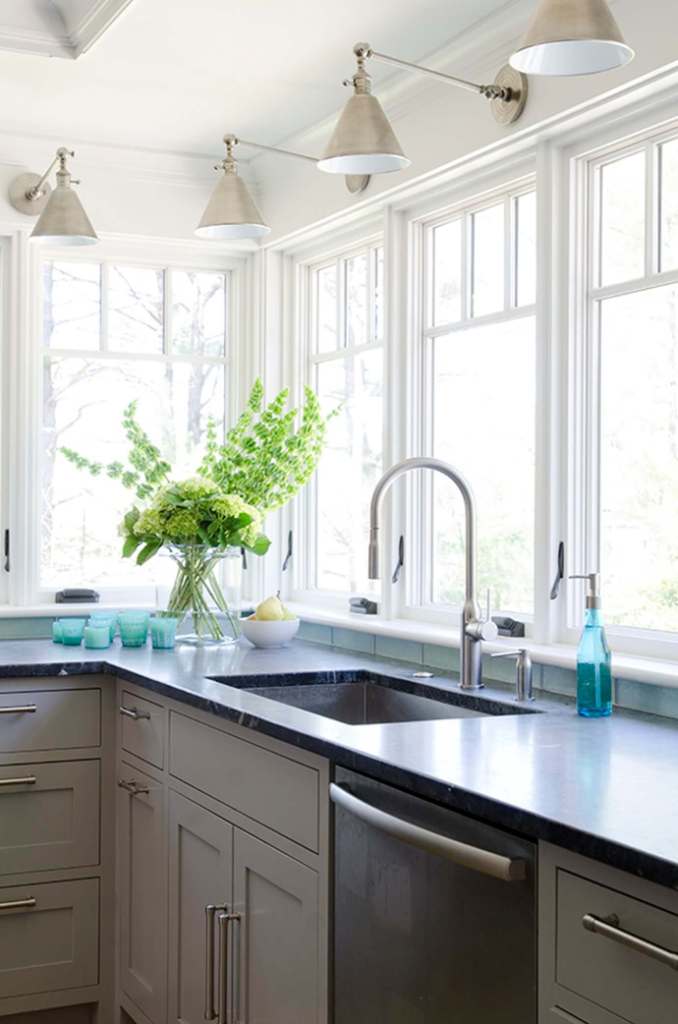 Most homeowners tend to focus on the lighting on the ceiling or over the kitchen island only. To make sure your working area like countertop and sink illuminated well, you may need to get some lighting over these spaces too.
Consider going for wall sconces to lighten up over the sink. Thus, your sink and countertop can take advantage of natural light from the wide windows throughout the day and are illuminated by the wall sconces during the night.
13. Introduce a Unique Hanging Candle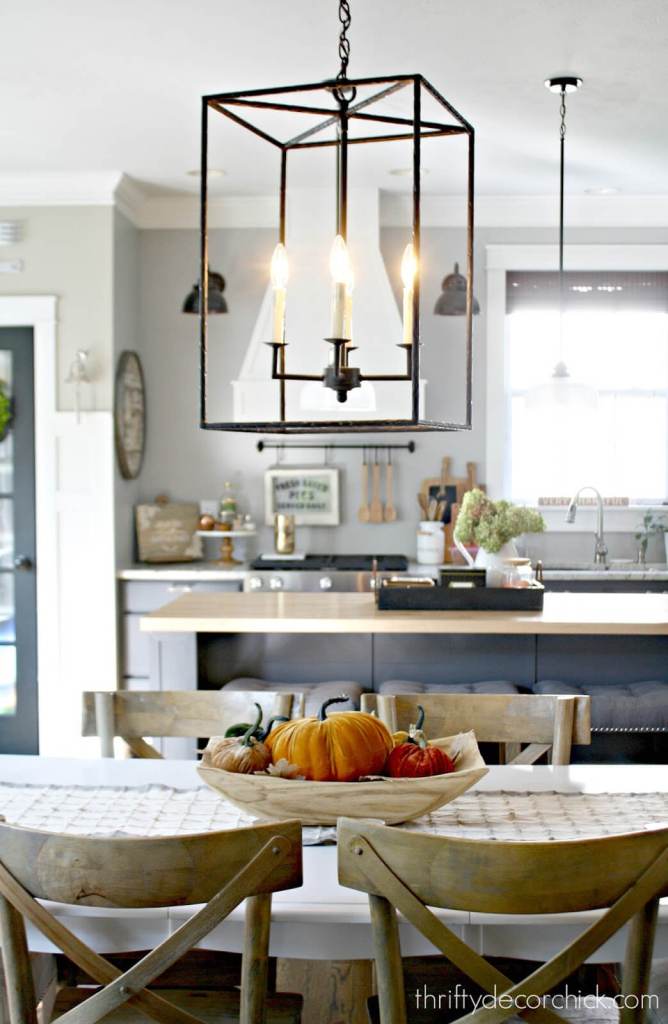 Your farmhouse kitchen may require a lighting idea that has a vintage flair. At this point, introducing a unique hanging candleholder would be a great option.
Hints:
Hang the candleholder over your dining table to add a statement to your overall kitchen interior.
Consider creating a DIY hanging candle holder and add succulents or other decorative elements as accessories.
14. Make Your Kitchen Unique with Silver Orbs
Silver orbs lighting makes a perfect choice for any modern kitchen out there. Its silver color would work best in a kitchen where white and stainless steel surfaces met.
You can hang more than one silver orbs lighting to achieve a cohesive look in the kitchen. Do not forget to incorporate ambient light to illuminate the overall kitchen generally. A task light might be needed as well to make sure a specific area gets adequate illumination.
15. Bring in a Pair of Chandeliers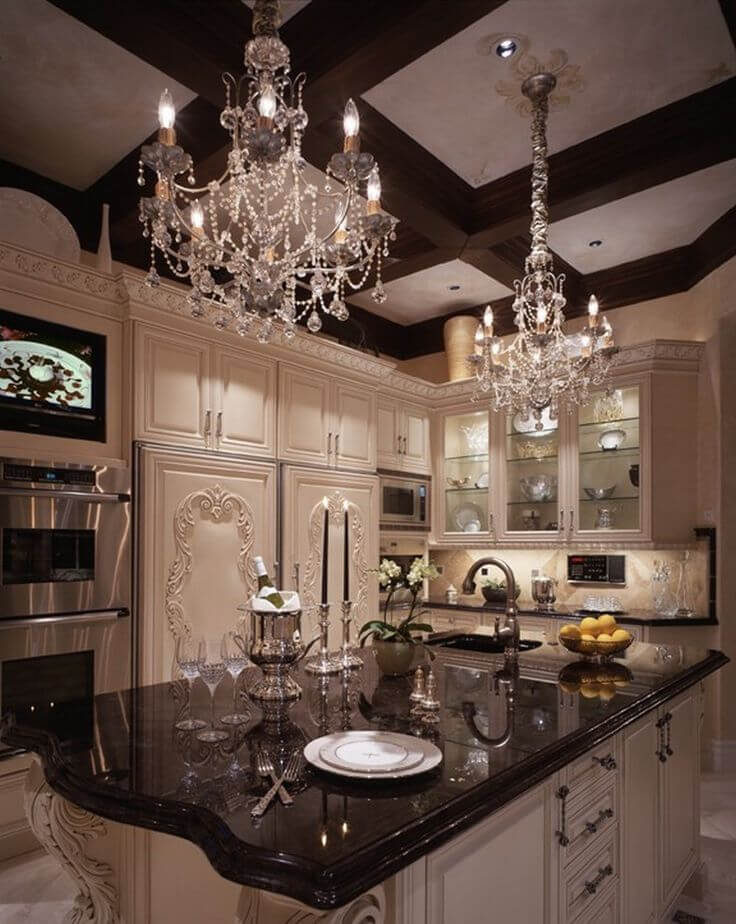 To lighten up a long, large kitchen island, a pair of chandeliers must be enough. This is one of the best kitchen lighting ideas if you want to bring in a luxurious mood in your space.
If your kitchen has such low ceilings, chandeliers would be a better option as well. It typically will not hang that long, so you can easily fit it over the kitchen island. Consider getting some accent lighting like under-cabinets lighting to complete.
16. Bring the Outdoors In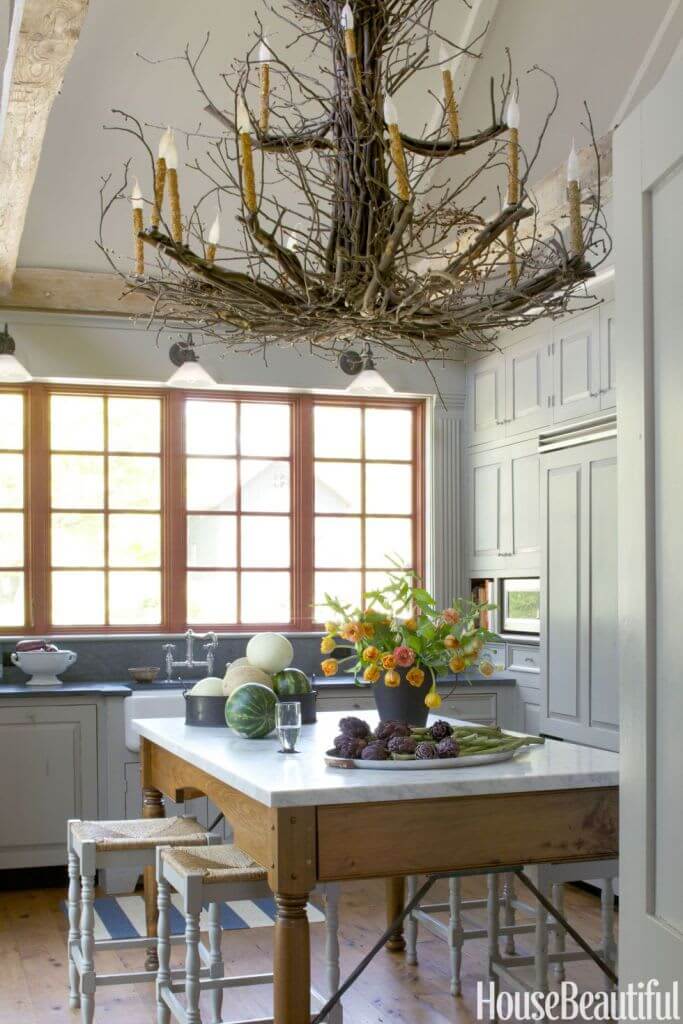 Do you need an extraordinary idea to bring the outdoors into your kitchen? Rather than incorporating a vase of flower or indoor plant only, opt for a nature-inspired chandelier like shown above.
This nature-inspired chandelier would be perfect for your neutral-scheme kitchen. In some points, it will suit your rustic kitchen as well. Just make sure to keep other decorations minimal to make this lighting stand out.
17. Create Your Own Mason Jar Chandelier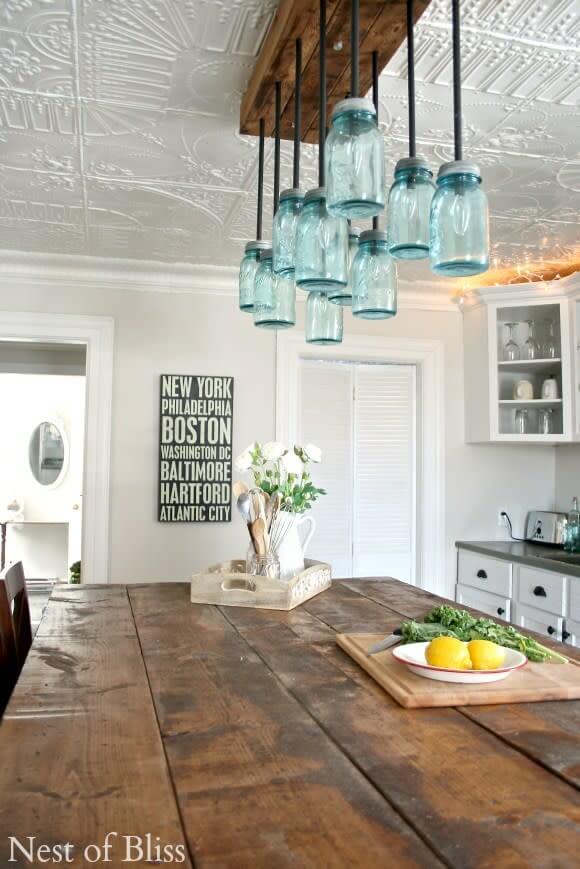 This Mason jar chandelier is calling out all DIY lovers. If you were looking for kitchen lighting ideas on a budget, it would be a perfect option as well.
You just need to get enough major jars, reliable lighting cords, and a wooden board. Install them together to create an exceptional chandelier for your farmhouse-style kitchen.
Hang this DIY chandelier over your dining table or kitchen island. It would be a nice complement to your overall design.
18. Add Decorative Fluorescent Lighting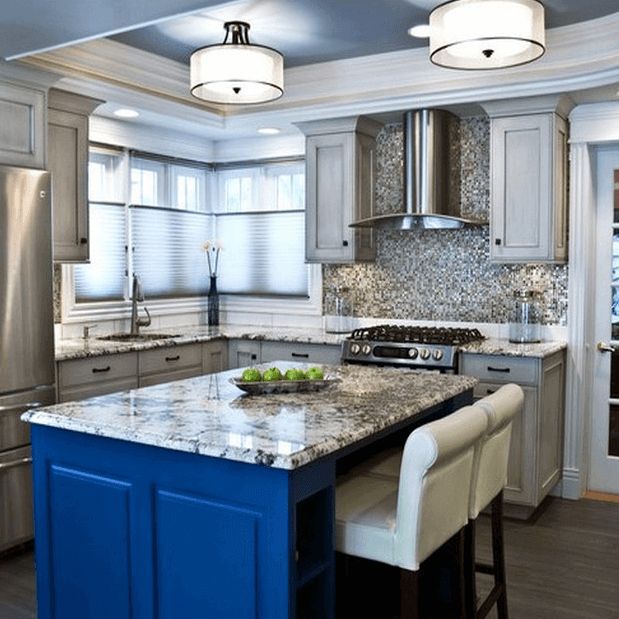 Fluorescent lighting makes a good choice for any kitchen since it is energy efficient. Moreover, it is also considered to provide much less heat compared to incandescent or halogen bulbs.
If you want to add a 'cold' affair in your kitchen, fluorescent fixtures' blue-green cast would deliver such a cold yet hospitable effect very well.
To make sure every corner of your kitchen is lightened up properly, consider installing some recessed lights around the ceiling.
19. Lighten Up Your Kitchen Floor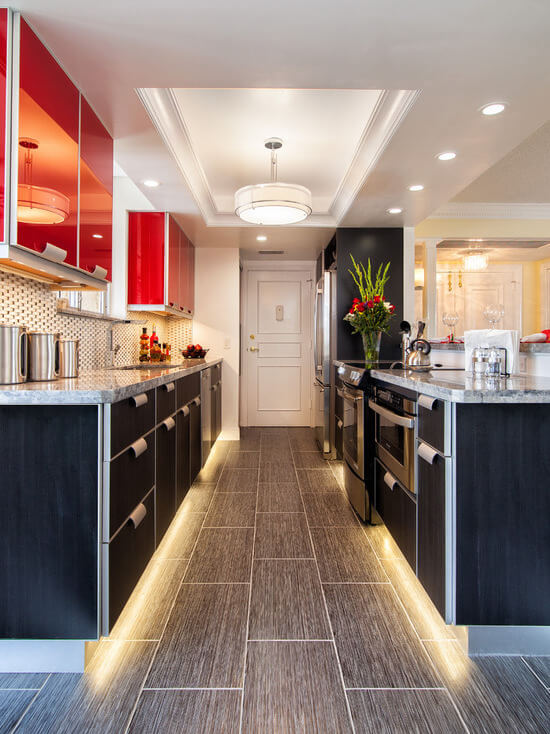 Installing lighting fixtures on the ceilings is something ordinary. In case you want a more extraordinary approach, get your lighting fixtures installed on the floor.
Well, it should not be literally on the floor. Simply fit in the light under your lower kitchen cabinets. This way, it would create an effect like the one your kitchen floor is being lightened up.
Do not forget to apply appropriate lighting fixtures on the ceiling still.
20. Get the Right Lighting for High Vaulted Ceilings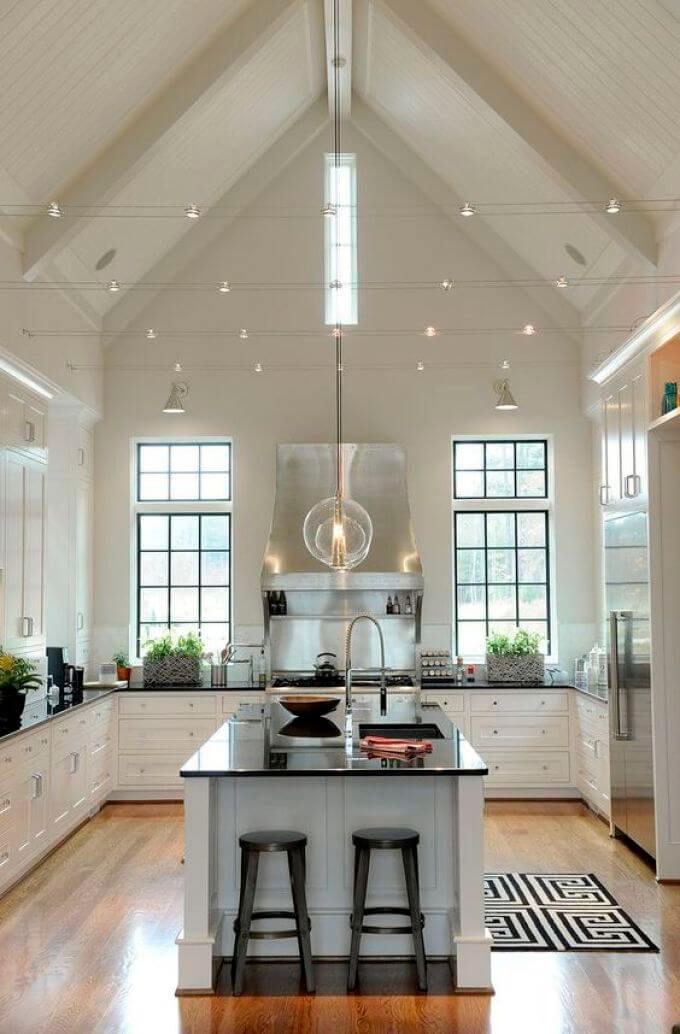 For a kitchen with high vaulted ceilings, it is important to get lighting fixtures that can draw the eye to these features appropriately. Aside from the natural light sources, you will need extra lights in a kitchen with high ceilings.
Hints:
Add variety to your kitchen lighting. To make high ceilings stand out, do not forget to layer your lighting system with the ambient, task, and accent lights.
Introduce statement lighting over the kitchen island to increase the overall look of the room while making sure the area is well lit.
21. Think about Modern Lighting for Sloped Ceiling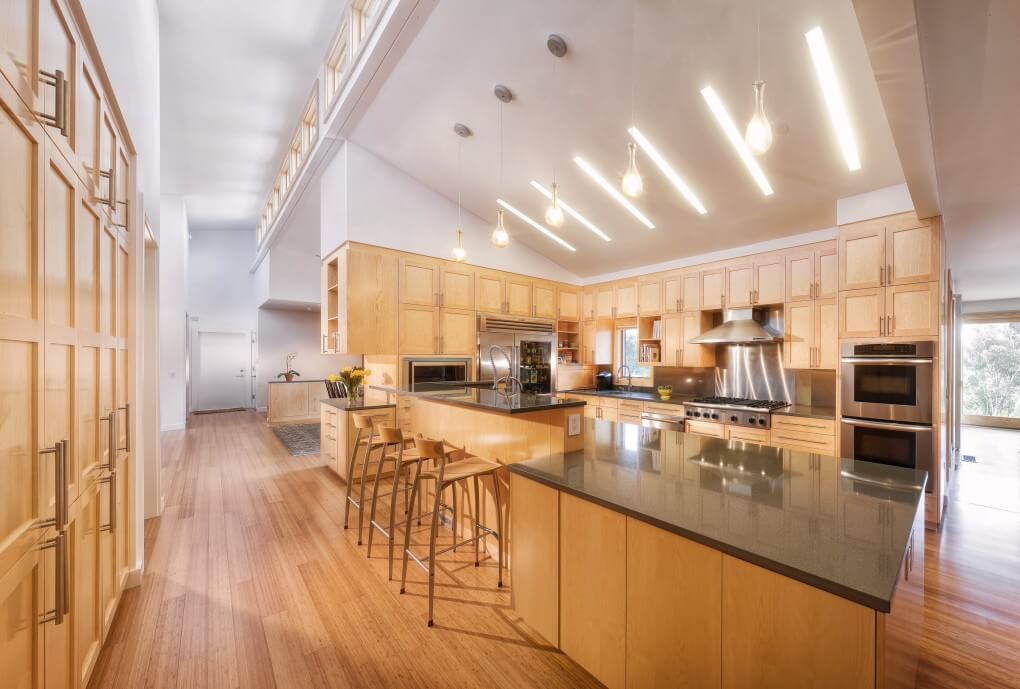 A contemporary kitchen will need such perfect modern lighting to complement the overall design. You can consider combining a few recessed linear lights above the work areas and several pendant lights over the island.
If your kitchen has such a high ceiling, think about adding ambient lighting that can generally lighten up the whole room.
With the absence of natural lighting in the evening, incorporate a task lamp around your working area too.
22. Go for Hidden Lighting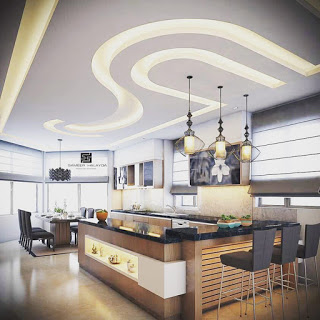 In addition to an ambient light fixture and several pendant lamps hanging on the ceilings, you may like to incorporate hidden illumination as well.
Get them installed below the countertop or in the open shelving system. This way, you could draw attention to the cabinet details or things you display on the shelves.
Consider going for hidden lights that provide such warm colors to create an inviting feeling in your kitchen.
***
In conclusion, picking the right lighting for your kitchen is necessary. Instead of working with only a central light fitting, opt for adding a variety of fixtures to make sure each corner is illuminated properly.
Now, you can take the kitchen lighting ideas above into account and start shopping around for the best fixtures. Good luck!