Good lighting is everything. One of the most difficult rooms to get the lighting right is the kitchen. It is full of awkward angles, light blocking cupboards and hard to get to spaces. Modern kitchens tend to be more open plan, and therefore easier to lights.
Rise and fall lighting is becoming increasingly more important with the explosion of kitchen islands and breakfast bars. Under cupboard, lighting is becoming more popular with the universal takeover of LED lighting which as well as being low voltage can be made smaller to light the most confined of spaces.
Here are our Best Kitchen Lighting Ideas for low or high ceilings to beautify and brighten up your kitchen. Scroll down and get inspired.
Kitchen Lighting ideas for Low Ceilings Over Island
A vibrant pop of yellow adds a fun, bright contrast against the more muted browns.
Kitchen Fluorescent Light
Steppe Rectangle Semi Flush Ceiling Mount.
Industrial Style Lighting
The unique chandelier will be an attention anytime people go to the kitchen. You may put it at the top of kitchen bar table and by the time you turn it on, you feel the warmness.
Glass Box Over Island
The kitchen cabinetry is ice-white and simple, with all the textural impact emanating from a splash back of rich copper and the glass pendant. Glazing above and around the kitchen extension makes the most of available light, with the open feel enhanced by clever structural techniques that remove the need for supporting pillars.
Orbit Pendant Over Island
These orbit pendant lights not only give great, powerful lighting over the island, but they also look very cool thanks to their unusual, unique design which makes them a feature in this kitchen.
Gilded Lights Over Island
These narrow, gilded lights highlight the breakfast bar and complement the warm glow of the kitchen while standing out against the cabinetry. The narrow shades create a spotlight on the counter, showing off the patterning on the granite countertops.
Crystal And Gold Lighting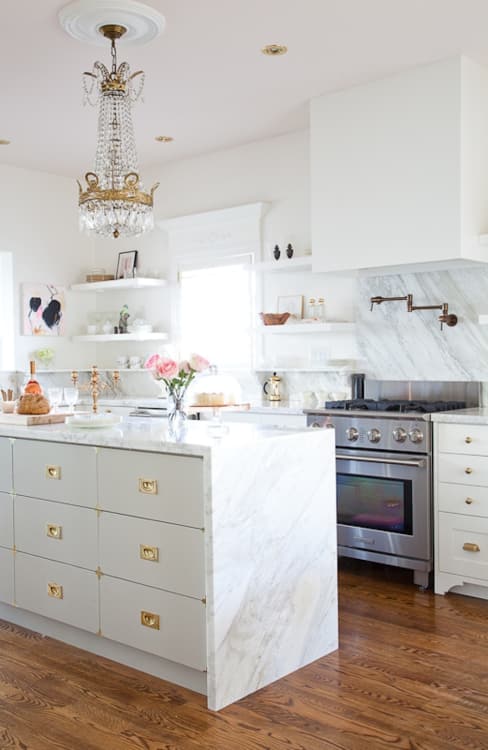 This crystal and gold stunner we saw on Style Me Pretty creates a luxe kitchen scene that draws from the room's metallic hardware.
Trio Simple Hanging
The best things come in threes. This trio of simple pendant lights emphasises the clean simplicity of this kitchen.
G Series Bulb
Monochromatic Pendant
These stark, monochromatic pendants are great visual additions to this striking kitchen. The white shades offer a nice diffused light through out the room.
Style Statement
The Forties circular light is the pièce de résistance of this glamorous kitchen. The kitchen was inspired by the look of Thirties Parisian pharmacies. The island was designed to look like a freestanding piece of furniture and the unlacquered brass brings warmth and depth to the space.
Copper Pendant Lights
Simple, yet attention grabbing, these pendant lights are perfect to light up a simple kitchen design and give a copper glow over the island during supper.
Proper Illumination Over Island
Add an alluring glow to the kitchen with the help of a statement-making modern chandelier with crystalline accents. Recessed overhead lighting placed at strategic points in the ceiling further brightens the cozy space.
Kitchen Lighting Ideas Over Sink – Oval Spotlight
Wooden kitchen design is commonly chosen because of it cozy atmosphere. For those who love natural style, you may apply neutral colors including white, black, and brown. For example, you can hang white light bulbs along with black bell oval spotlight lampshade.
Glam Factor
Bronze mirrored-glass adds a glam note, while the kitchen pendants over the island don't block out any natural light.
Industrial Lighting Over Sink
Besides hanging a chandelier, you can also decide to hang a lamp on the kitchen wall. It looks simpler without loosing the function of the lamp. Hanging lamps are also perfect to create warmness ambient in an industrial kitchen design.
Diy Lighting Over Sink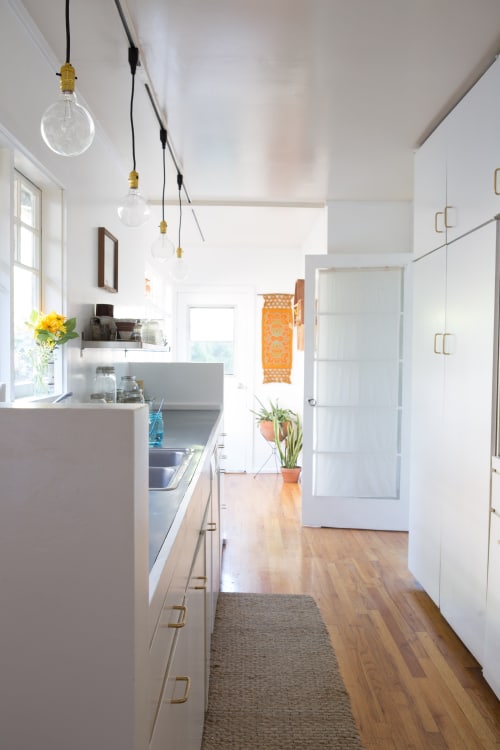 Love the functionality of the track lighting in your kitchen but in need of a more modern look? All you need is the right adapter and some bare bulbs for an updated track lighting scheme.
Diy Bulb Lighting
Just hang the lamp wire on a long stick and you can also feel that you have an industrial style kitchen. White stone backsplash reflects the light from the lamp to create warm ambient.
Suspended Over Kitchen Sink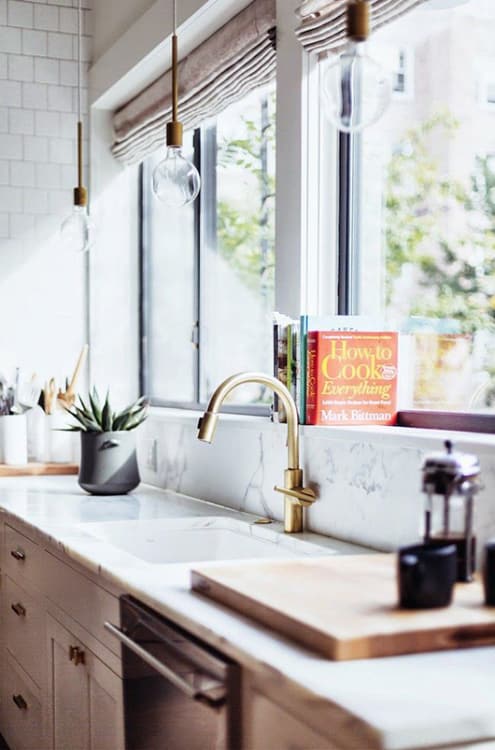 Led Under Cabinet Lighting
Front Of Cabinet Led Spotlights
These spotlights sit in front of the kitchen cabinets to provide a downward glow over the work surfaces which is reflected off the pure white surfaces.
Image Source: pinterest.com
Every kitchen has its own window. So, it makes you think that brightness does not become a problem. The fact is you get wrong! There is no enough light when you are dish washing. If you face brightness issue in your kitchen sink, it is the right time to install ceiling lights. Because kitchen lighting brightness is important.
Christopher Architecture & Interiors – kitchen lighting – over the sink lighting – large kitchen windows – pendant lighting
Linear And Stylish
If you have small kitchen area, you may apply linear kitchen lighting. The linear style helps to make the kitchen size looks larger than the actual size. The lamp is also simple because it can be installed close to the ceiling. You can also install flip flop lamps on the backsplash to strengthen the colors on it.
Kitchen lighting ideas Over Table – White Globe Bulb Over Table
Minimalist Haning Lights Over Table
This modern, minimal hanging light creates an interesting visual to the precise lines of this kitchen. Frosted tubes cast a subtle glow to illuminate both functional areas of the room.
Futuristic Stylish Lighting Over Table
Modern & Unique Lighting Ideas for Your Kitchen
We want these lights over our dining room table.
Scandic style at its best – the Acorn pendant here over a rustic kitchen table.
Some people may neglect their kitchen areas. They tend to think that kitchen is only for cooking. With a creative renovation, your ordinary kitchen will turn into the most wonderful area in your house. Renovation does not always mean big project.
Custom Kitchen by Southern Inspirations by Linda Gale of Louisville, KY. Hand printed cabinetry, custom doors, high end stone countertops and Zeugma pendant lights over island.
Kitchen Lighting Ideas for High Ceilings
Beam Me Up
LED lighting was cleverly incorporated into the apex of the kitchen's roof, accentuating the height of the space.
Clean & Simple
A simple pendant light suits this pared-back, rustic space.
Techno Hologram Style
For people love to apply something extraordinary and hardcore, you may go with hologram lighting. Red Y hologram lighting on the kitchen will be perfect. You may use the light to balance the color especially if you only use two or three colors in the kitchen.
Global Penants
The global, exposed pendant lights are the perfect complement for a modern kitchen, providing as much light over the island at night as the large window does by day.
Creative Ideas for High Ceilings
Great Kitchen Decorating Ideas With Farmhouse Style For Your Ordinary Home 01
Original Kitchen Ideas. #Kitchen Ideas I love the ceiling and the high glass cabinets with a built in mobile ladder for access! The built in lighting really sets the mood without being too harsh or too dim.
Among the outstanding features of this kitchen are its 15 ft. high cathedral ceiling and hand hewn interior trusses spanning the 24 ft. width of the room. There are many options for lighting including recessed, pendants and under-cabinet. Hidden uplights on the top of the wood beams light the cathedral ceiling.
Tiny Kitchen Lighting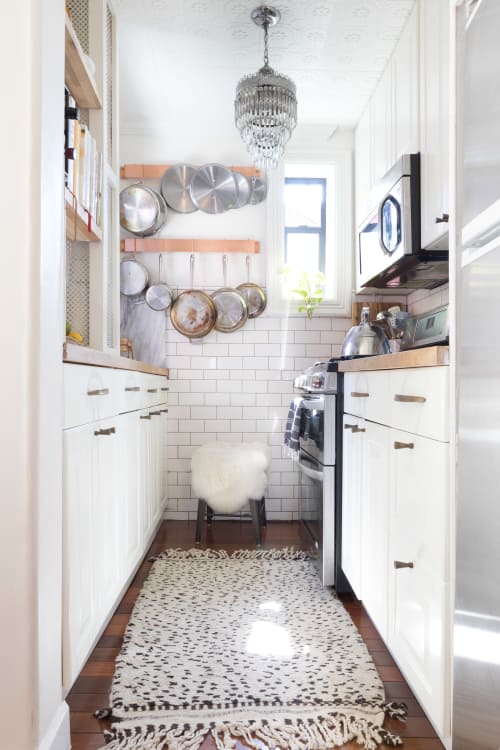 A tiny kitchen is no match for an eye-catching chandelier. Bring instant glamour and drama to even the smallest of kitchens with a swanky crystal chandelier, like we spotted in this home tour.
Compact Kitchen ~ How about this compact kitchen idea? Kitchen counter-top that doubles as the dining table. Good enough for single people or for newly wed couple noh?
Residence Contemporary Kitchen Home Designs.
Dream kitchen island + pendants