Are you getting tired of the last makeover you did to your living room? Or maybe you've just bought a fixer-upper and desperately need an update.  Whatever the reason is, you can start by reading my small living room decor ideas on a budget.
When it comes to decorating a home, we all want our room to have the look of a designer house in a magazine. But, sometimes the budget is way beyond our reach. This is when a few decoration ideas on a budget come to play.
Instead of giving up about remodeling your living room with expensive rug or furniture that you can't afford, read on for a fresh selection of budget-friendly living room makeover ideas. They will help you get inspired by how to décor your living room beautifully. So, let's get started!
1. Add Statement Pieces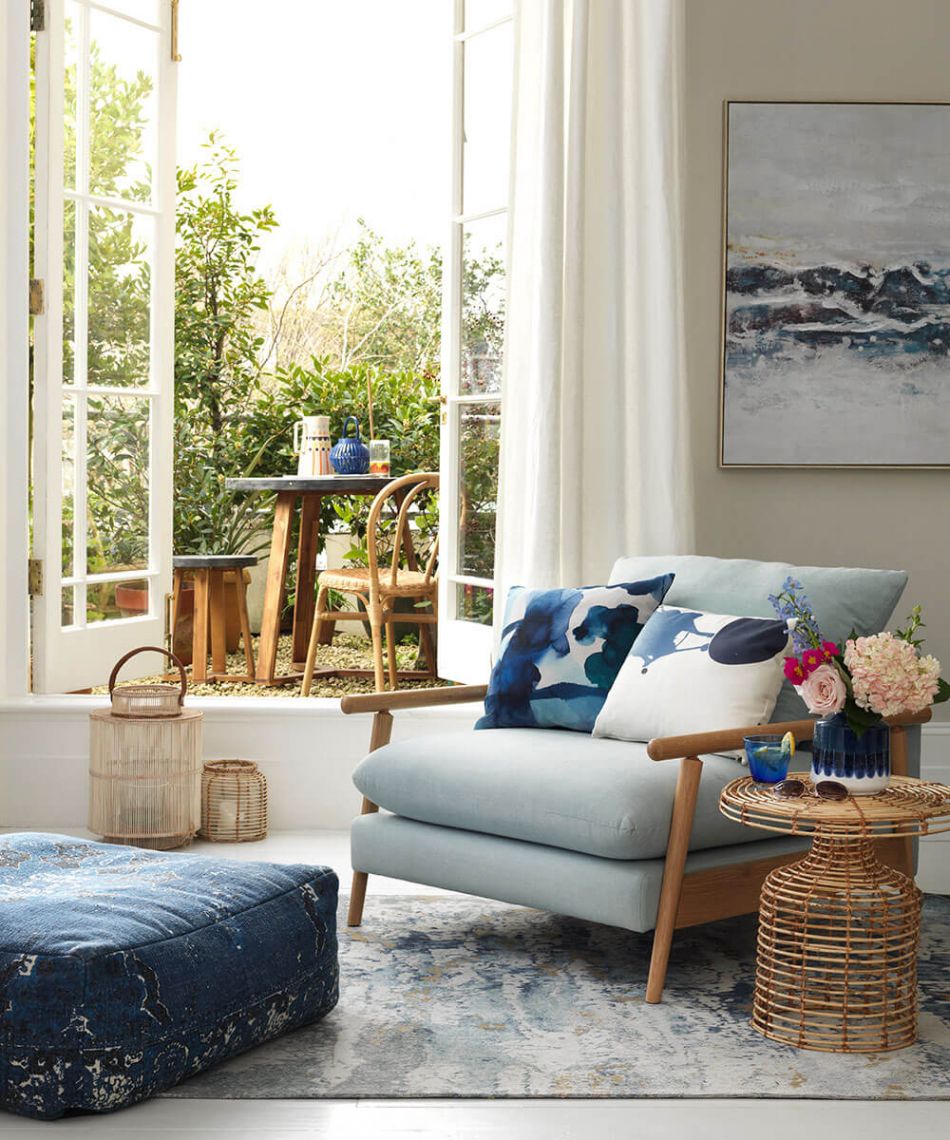 Add one or two statement items like an eye-catching piece of art, an attention-grabbing floor lamp, or an armchair upholstered in a chic fabric. This way you can update the look of the room while drawing attention away from its actual size.
This room makes a good example with its over-sized cushion on the floor and striking throw pillows on the chair. Not to mention the beautiful abstract painting on the wall and a vase of mixed flowers on the side table.
2. Bring an Artistic Shelf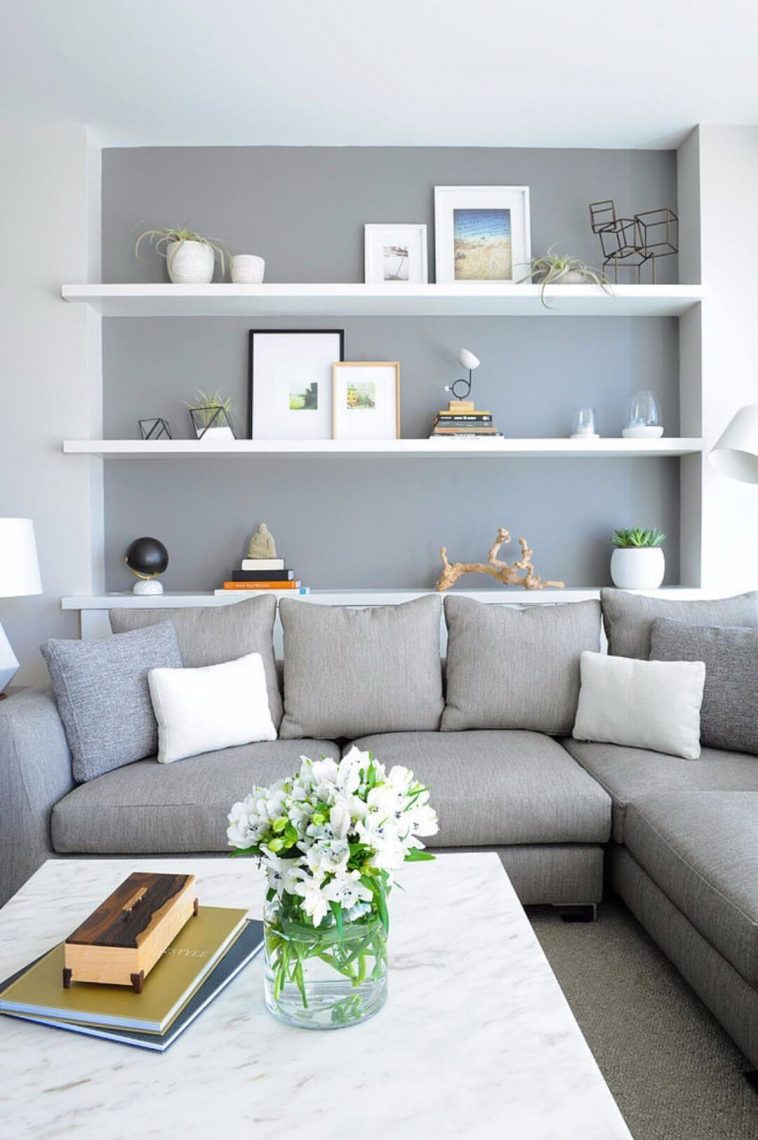 Leaving your walls blank can make the room look dull. When decorating a small living room, one of the simplest ways to add style to the wall is by installing an artistic shelf. Check out my tips to make the most of your shelf below:
Choose an interesting geometric shelf to add a statement element in your living room.
For saving more budget, look for some easy DIY wall shelf ideas so that you can make it yourself.
3. Update the Wall Paint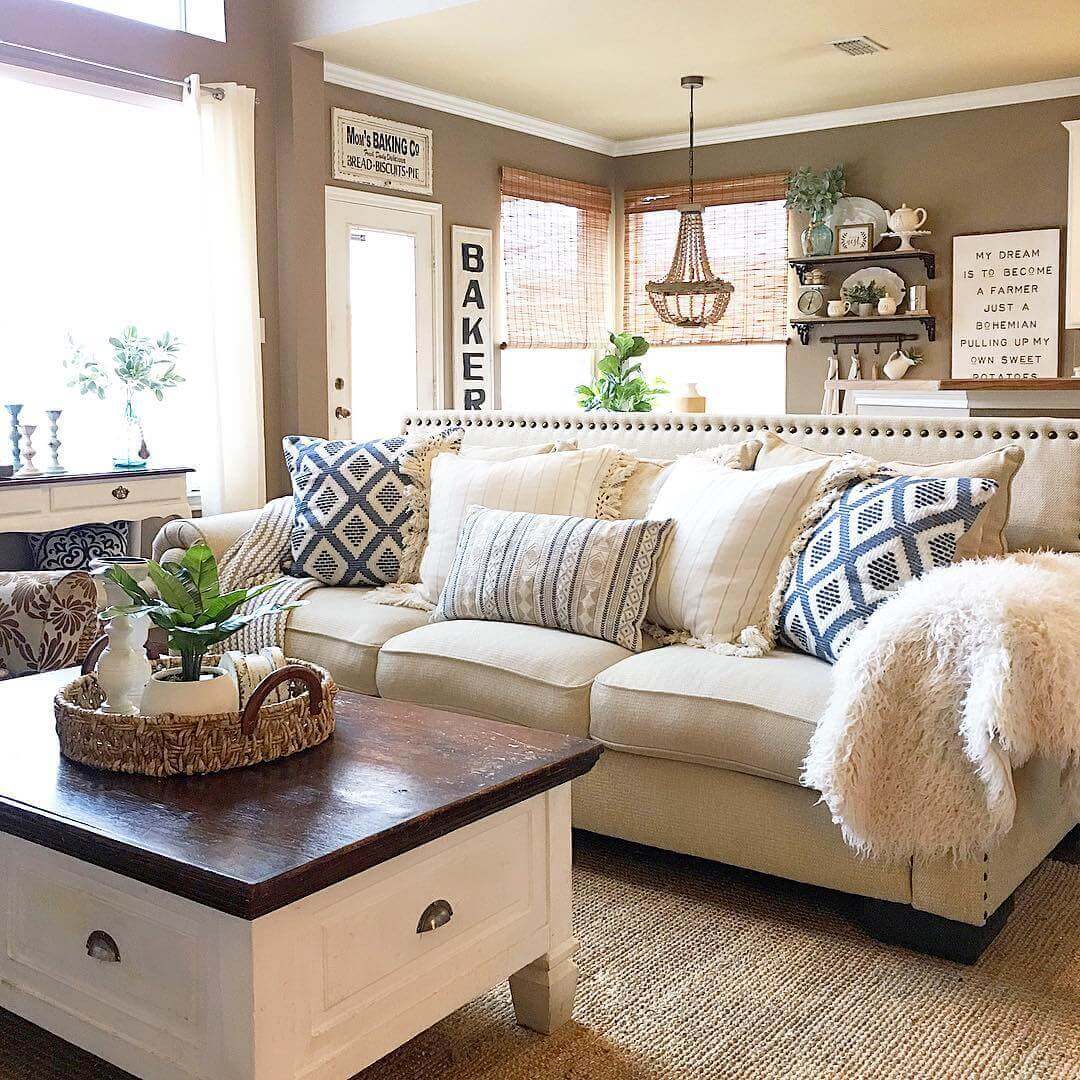 When it comes to small living room décor ideas on a budget, choosing the right wall paint is crucial. Opt for light colors like beige, blush pink, or pale grey to make your room feel brighter and bigger. Here are other tricks you can do if you're doing a makeover:
Consider repainting one side of the wall only to create a statement element. It will cut down your budget too.
Make sure to choose a paint color which complements the current furniture.
4. Install Light Wall Panel for TV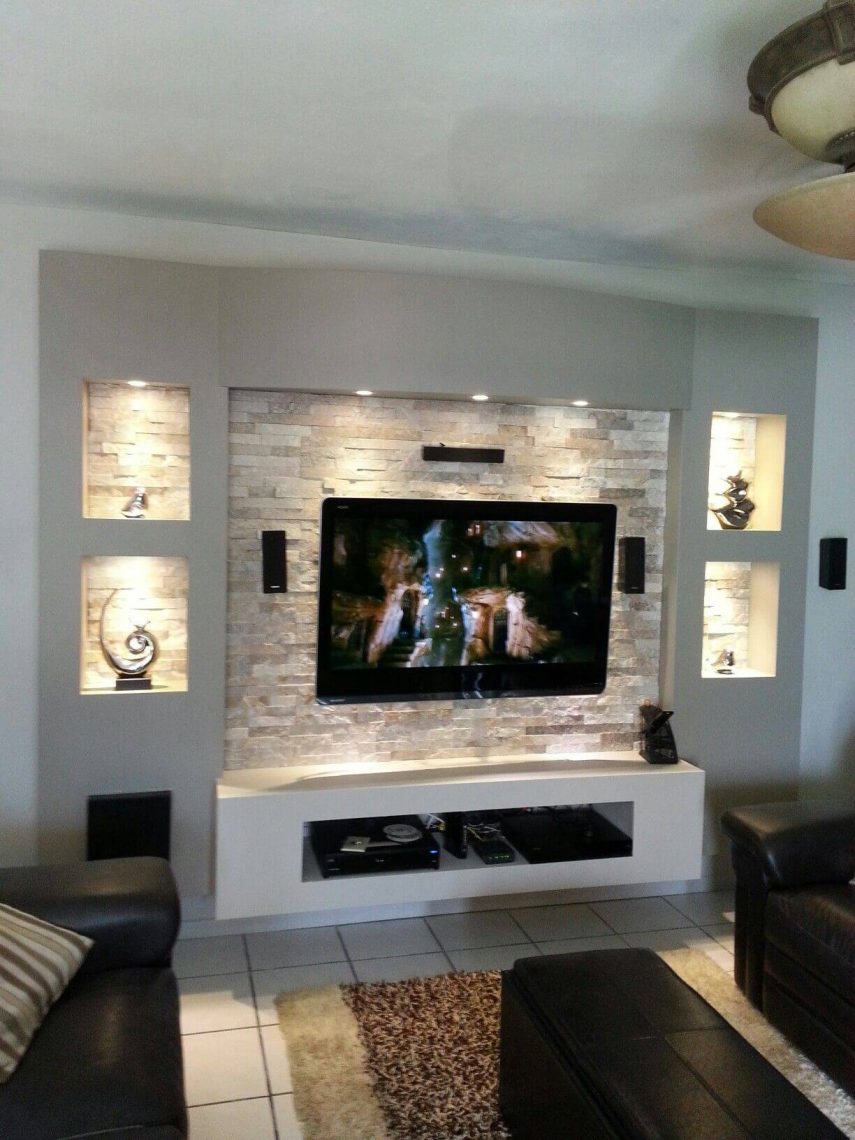 You don't need to invest in pricey television furniture to make your small living room look more organized and beautiful. Instead, wall-mount your television and get a light wall panel to adorn your living room.
Use the light wall panel for framing a wall-mounted TV in your room. This is a stylish yet cheap way to make your living room looks even more interesting, especially at night. Plus, this idea won't take up much space in your small living room.
5. Introduce Unique Lampshades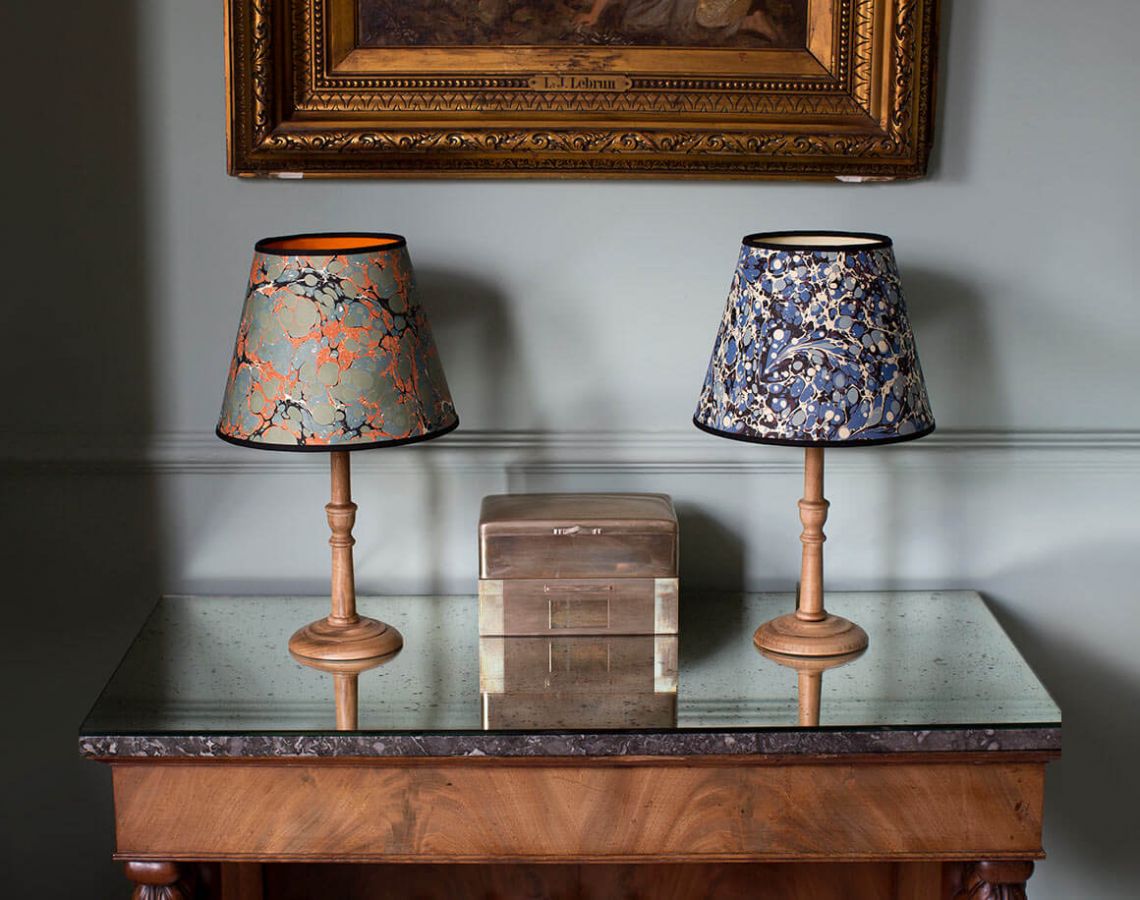 Add style to your boring living room with some inexpensive touches. If you have some table lamps around your living room, consider covering them with colorful fabric. This way, you can help brighten up the room.
If your wall looks so plain, use leftover patterned fabric and then cut it to suit the table lamps. You can also use colorful papers if you don't have any fabric at home. Check some DIY fabric lampshades on the internet for inspiration.
6. Use a Partition Shelf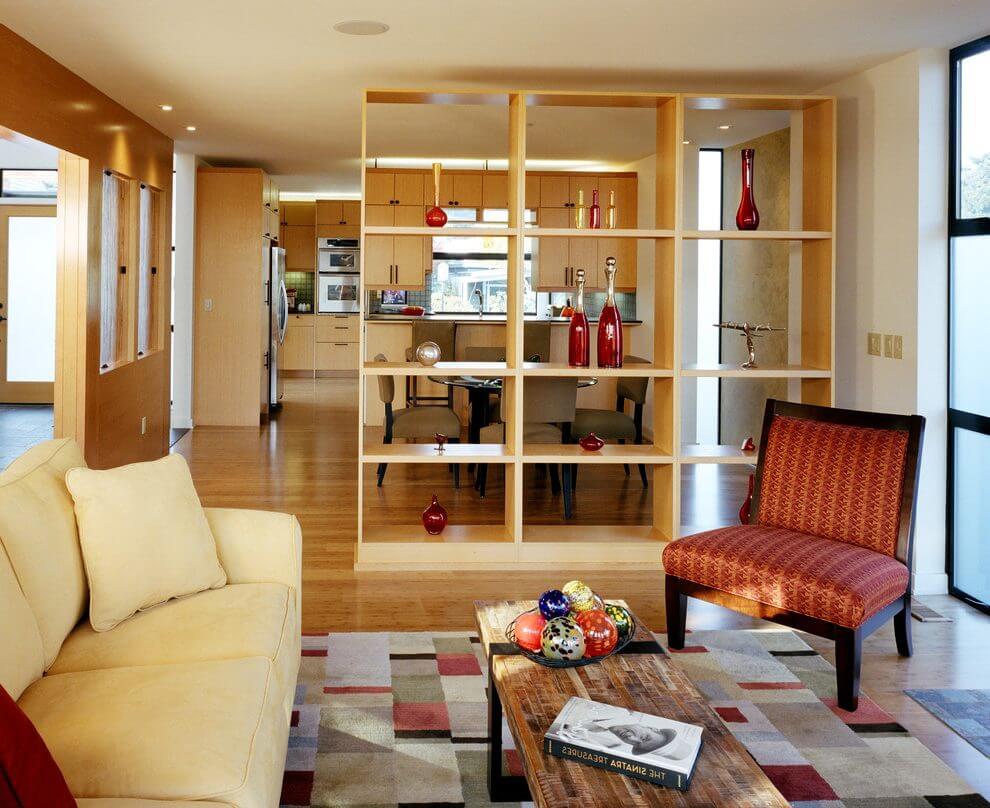 This is one of the must-try small living room décor ideas on a budget, especially if you have open-floor design. When it comes to decorating a small room, it's important to think of furniture which is both stylish and functional.
A partition shelf is a good sample for this idea. As you can see on this picture, the partition shelf doubles as a room divider and organizer. You can use it to display your favorite things or put décor accessories.
7. Create a DIY Wall Art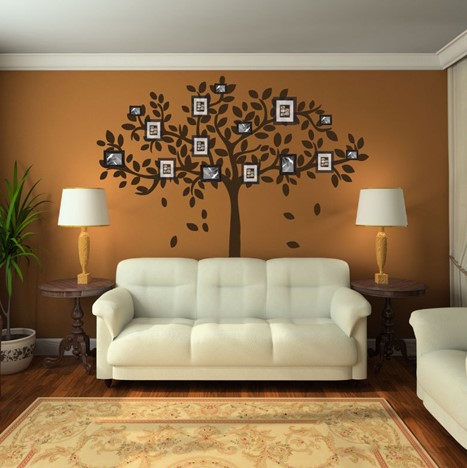 There's always an opportunity for DIY. If you want to adorn your wall, you don't need a work of a well-known artist or expensive art. Simply use your creativity and spare time to make your own wall art.
If you don't want to paint on a canvas, you can get a wall sticker that looks like a tree and hangs your framed photos on it. But, if you like the idea of painting on a canvas, just buy one and bring your favorite colors on it.
8. Hang Unique Things on the Wall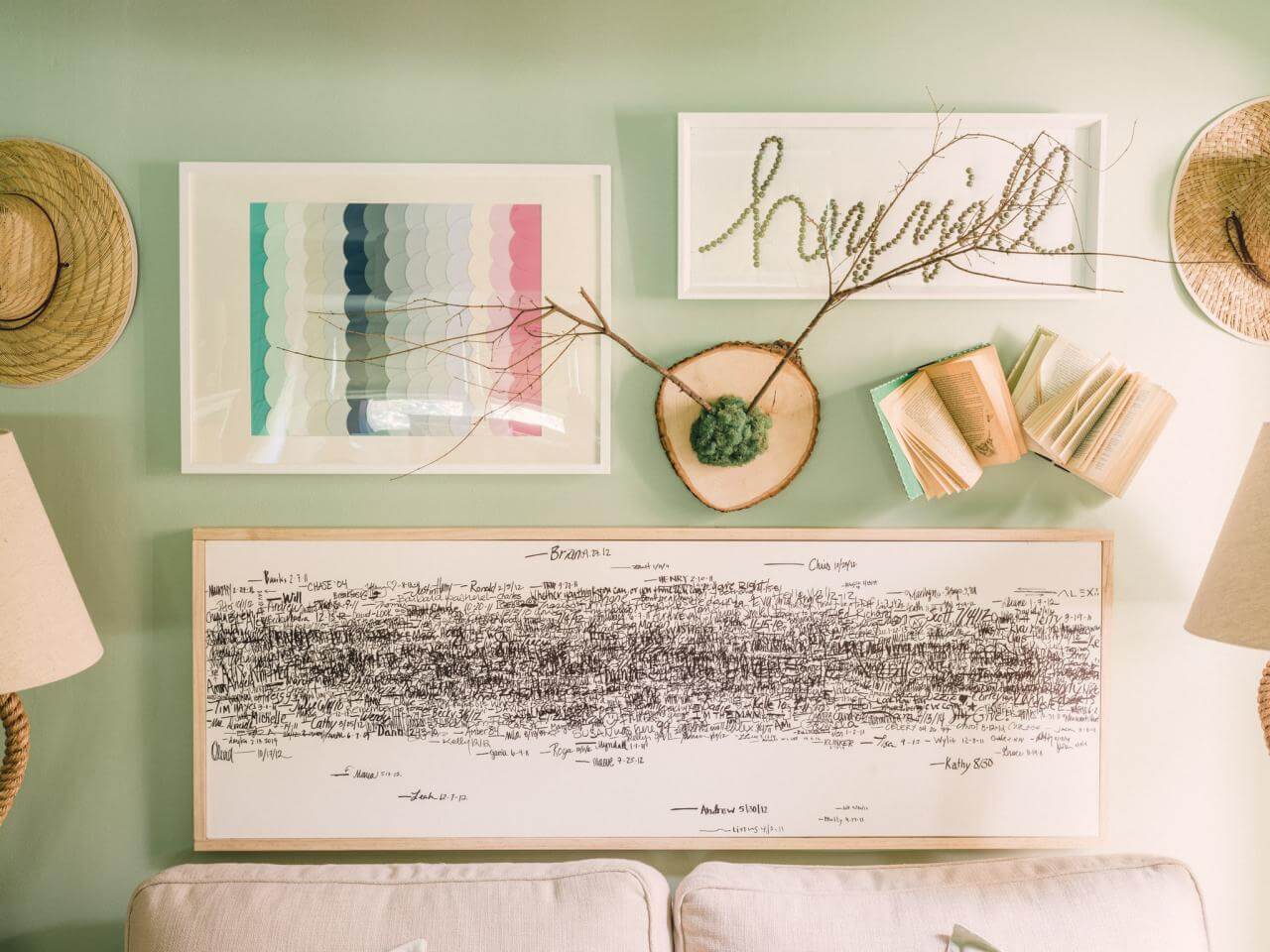 Do you want to introduce something unique in your living room? You should try this one of small living room décor ideas for sure. With some old books and straw hats, this living room's wall looks so much interesting. Here are the other ideas you'll love:
If you have a selection of ceramic plates, use them to create fantastic wall art.
If you want to go for an easy DIY project, try creating yarn wall hanging.
9. Take Advantage of Stools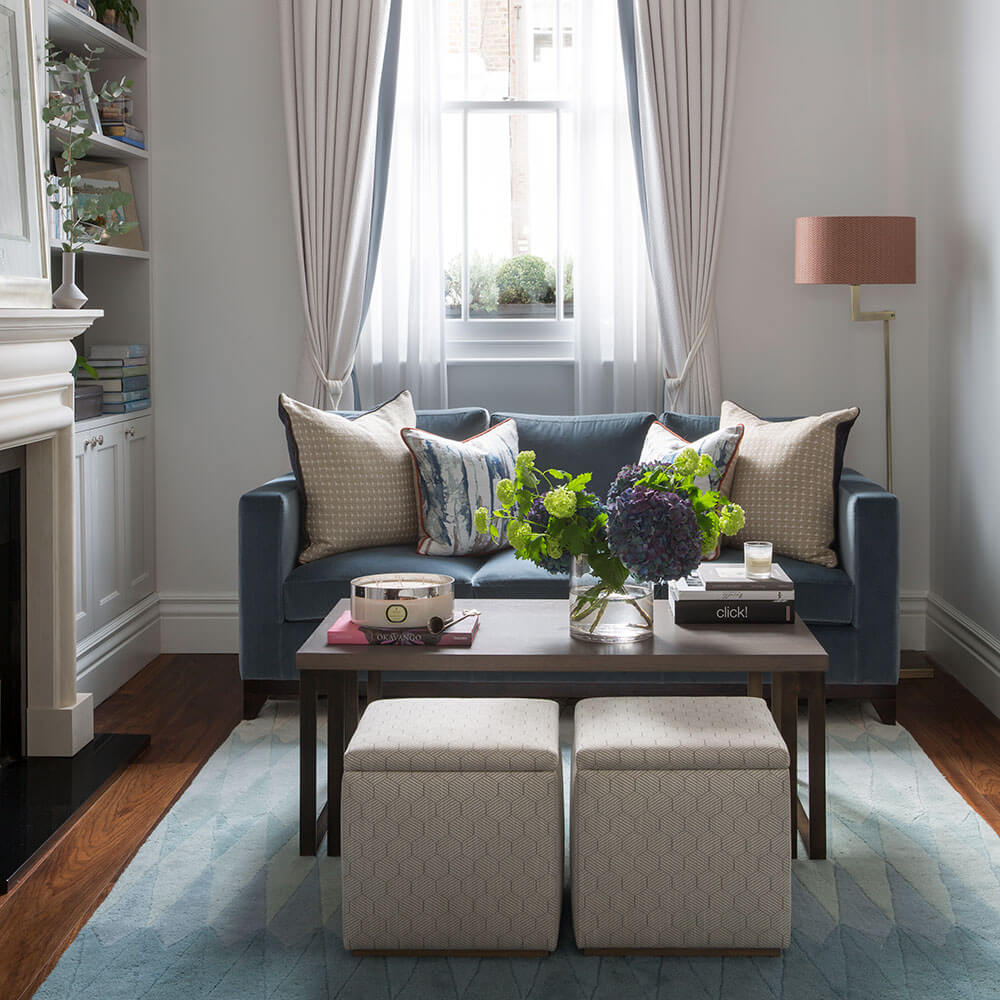 You should never add too much furniture in your small living room since it may make the space feels cramped. Instead, opt for a sofa which is proportional to the room's size. Then, if you need additional seating, use stools!
Compared to armchairs, stools will take up less room only. Find stowaway furniture like these cube stools which can be easily tucked under the table. Remember that the color of your stools must suit the other elements.
10. Repaint Current Furniture for New Look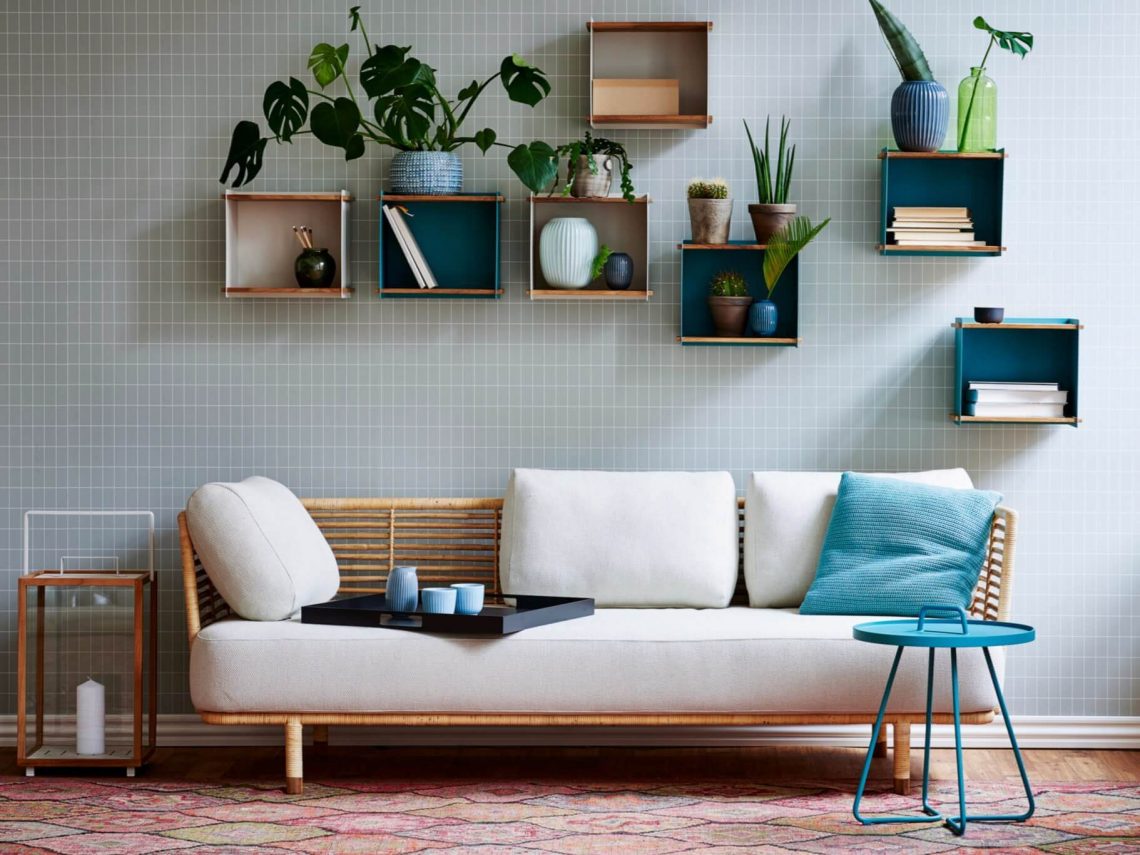 Rather than buying brand new furniture to decorate your living room, try repainting them in a different color. Just like the turquoise side table on the picture, it's repainted to match the color scheme of the room.
If you have some old chairs, you can consider repainting them for a new look. Then, use them if extra chairs are needed in the living room. Once you're tired of the color scheme, you can easily change the color again.
11. Add Mirrors for Larger Room Illusion
When it comes to small living room décor ideas on a budget, mirrors can always become your best friends. Not only add style to the space but they also reflect the light to make your room appear larger.
You can choose between framed and frameless mirrors. If you like framed mirrors better, find a frame that has a dramatic appeal. For the shape and size, you can use your sense to find the one that matches your space.
12. Decorate with Green Plants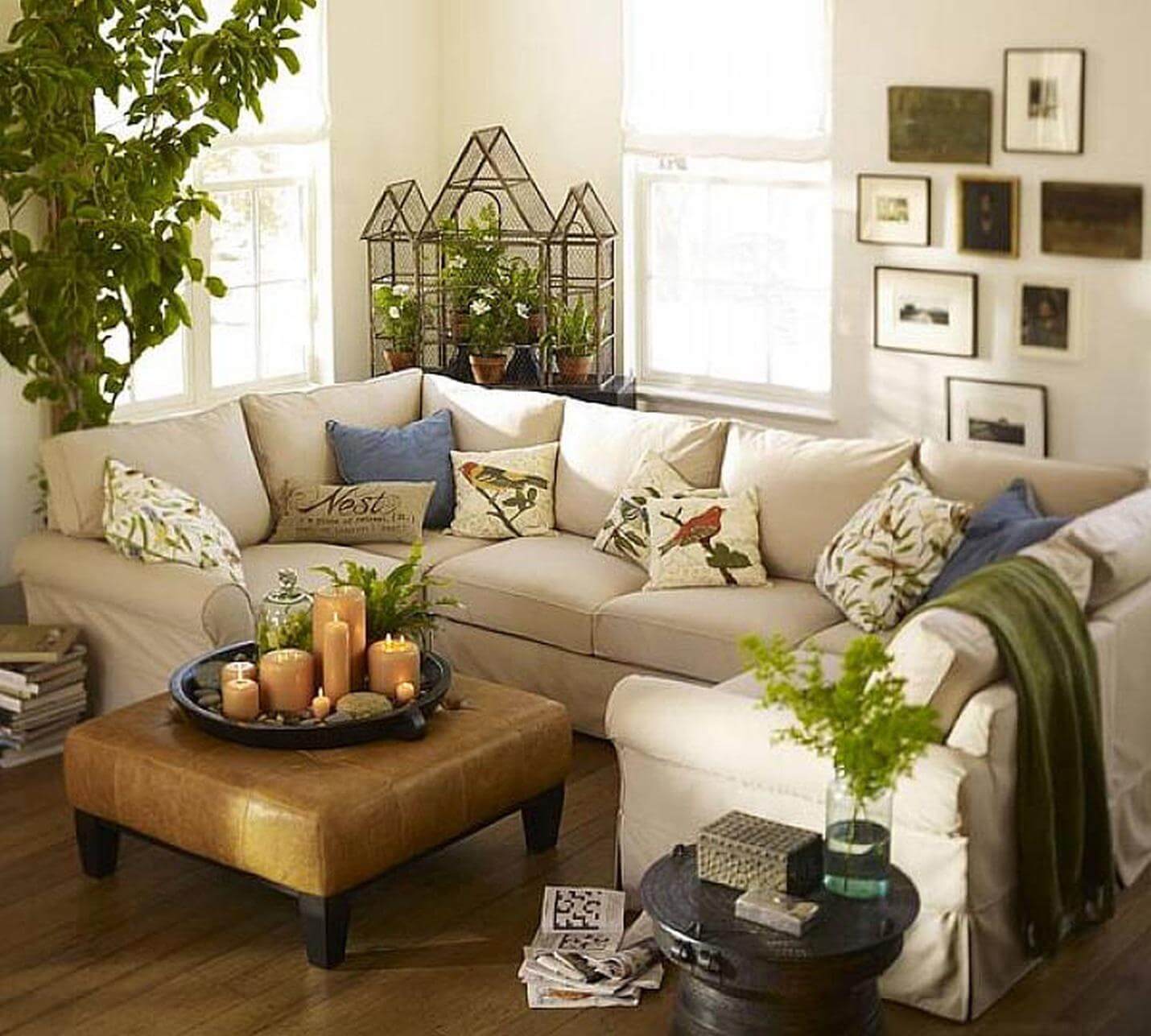 Do you want to make your small living room feel more alive? Bring the outside world inside! There are a number of beautiful indoor plants that don't require much attention. Bring some of them to enliven your room.
You can use a pot of indoor plant as a table centerpiece. You can also bring a big indoor plant to occupy the corner of your room. Some good options for indoor plants include spider plant, viper's bowstring hemp, and fiddle-leaf fig.
13. Invest in Multifunctional Furniture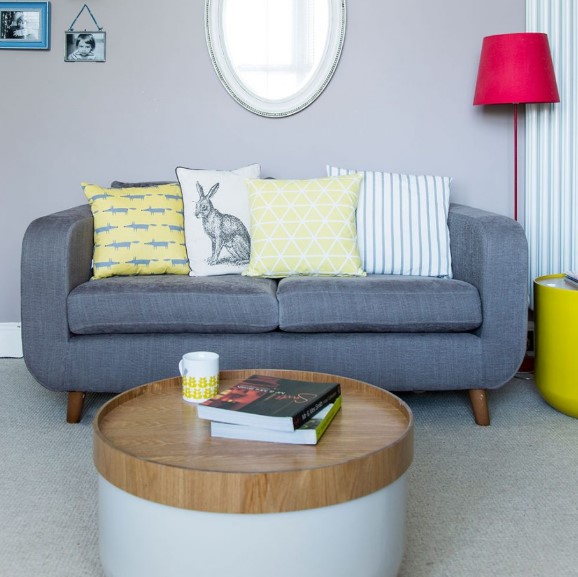 Hard-working, multi-purpose pieces of furniture are every small living room's best friend. Take this coffee table as a sample. It may look like a simple table, but it actually acts as a storage bin as well. Here is multifunctional furniture you can find on the market today.
A storage bench is another great option when you need additional seating area and storage solution.
Sofa bed makes a perfect choice to provide a cozy space in your living room.
14. Beautify with Floral Arrangements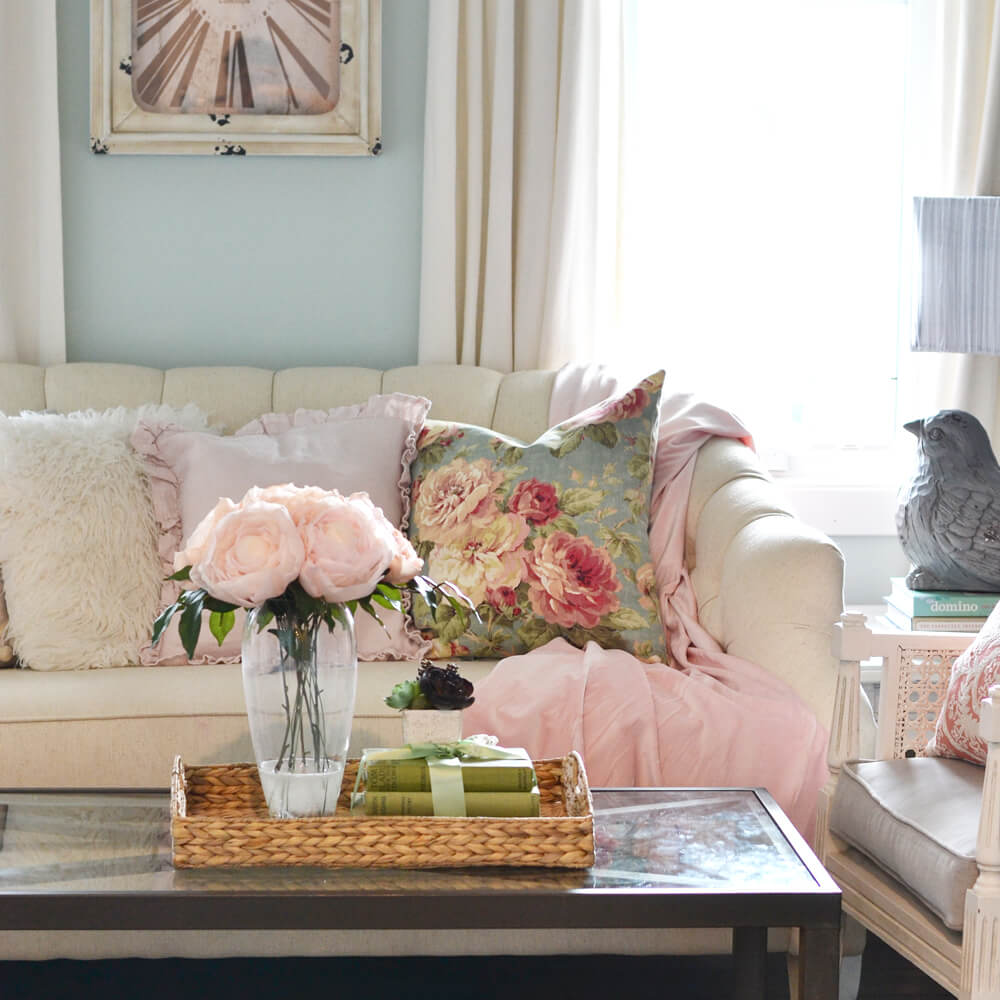 If you're looking to small living room décor ideas on a budget, you shouldn't miss a floral arrangement. Just like a pot of plant, placing a flower arrangement can make your small living room feels more interesting.
Besides, flowers come in various types and colors. You can simply choose your favorite flowers and include them in your living room decoration. To support your color scheme harmony, use appropriate colored flowers.
15. Add Calm Patterned Curtain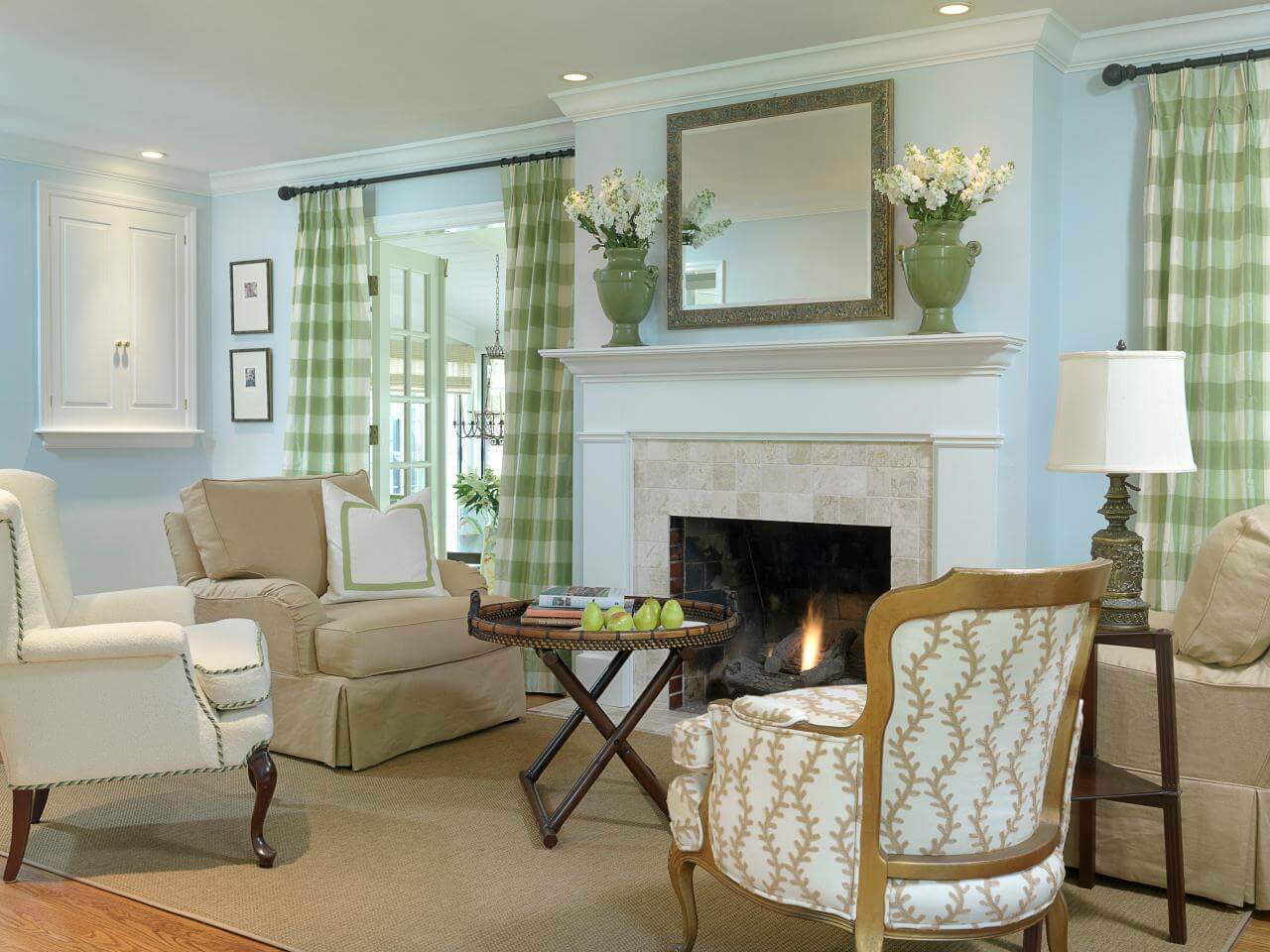 Adding beautiful window treatments like patterned curtains is another inexpensive way to decorate your room. With a lot of easy DIY ideas, you can even save more money. Here are some good tips to hang the right curtain in your living room.
To make your small room feels higher, opt for floor-to-ceiling curtains.
Choose colors that match your current scheme or simply contrast it for a more dramatic look.
16. Make DIY Pallet Accent Wall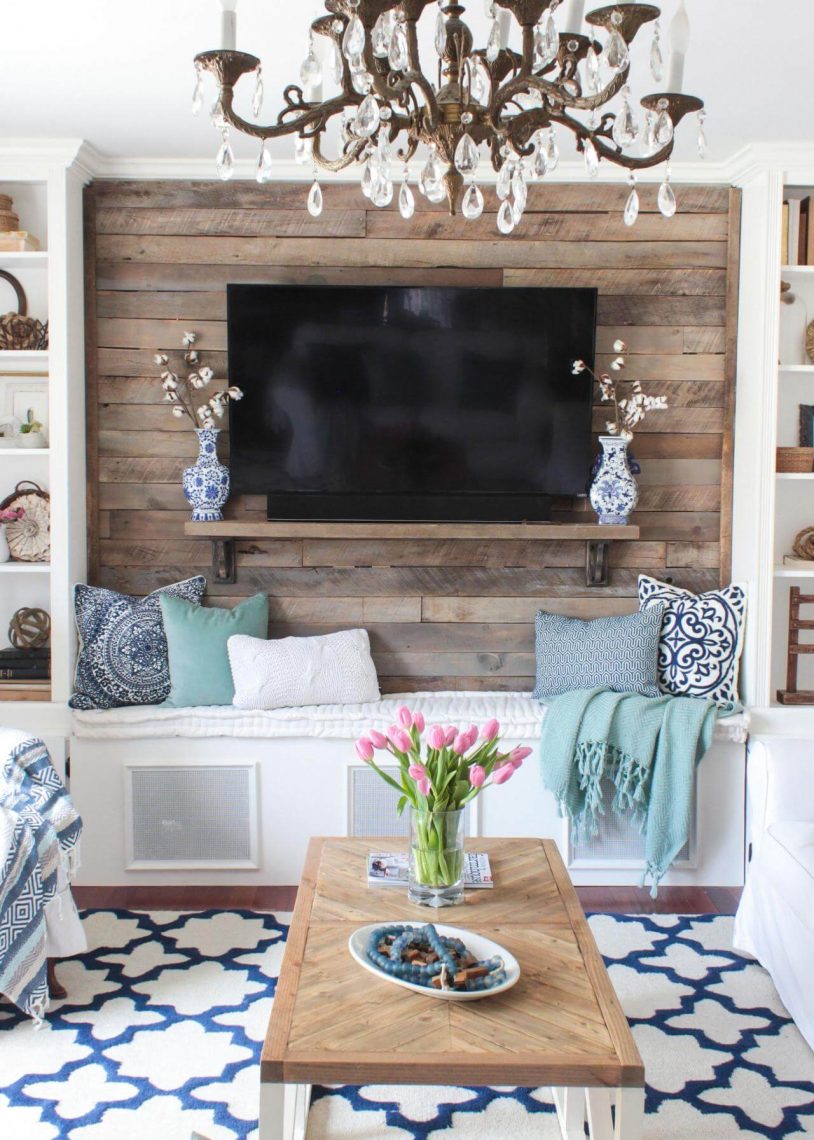 Are you looking for a way to beautify the area behind your wall-mounted TV? This pallet accent wall can be a great inspiration for you. The good news is that you don't need to be a professional carpenter to create this accent wall.
With your creativity and some easy-to-find materials, you can start this project yourself. You can find a tutorial on the internet to help you prepare and execute the project. Adding finishing colors if you're willing to.
17. Bring an Eye-Catching Rug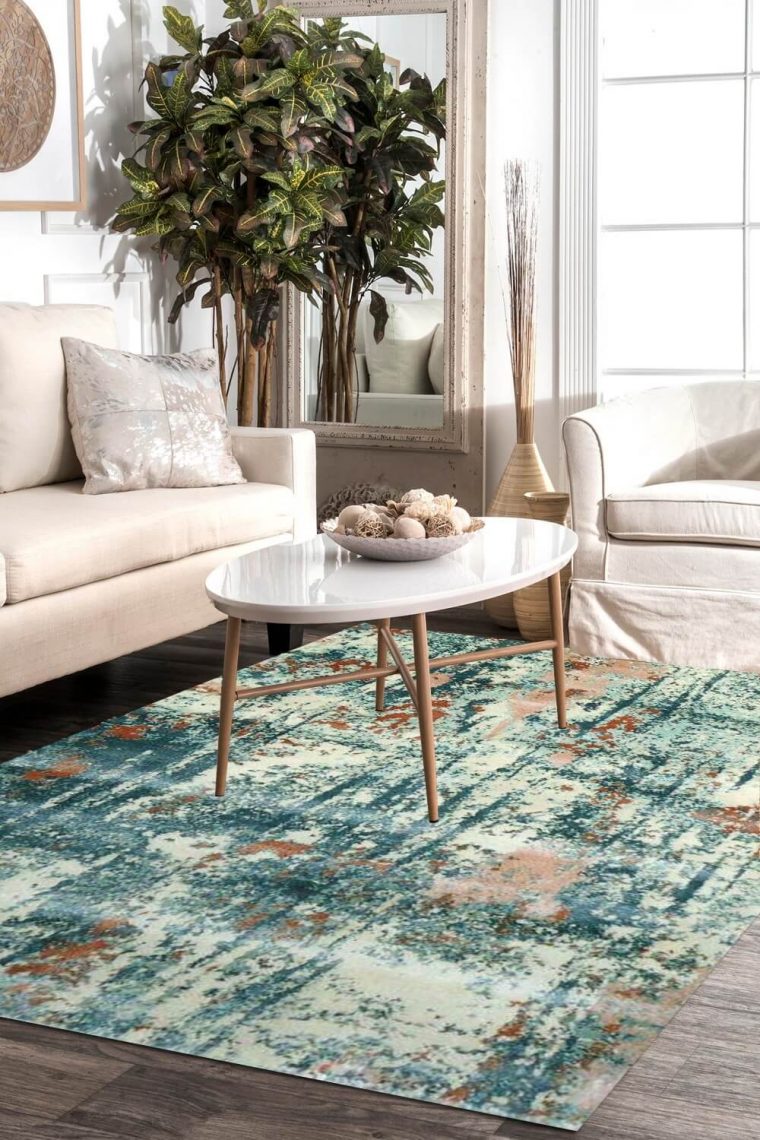 Whether it is an eye-catching rug or curtain, you'll definitely need a statement element that can draw the attention away. This bright green area rug does a great job to make the plain all-white room looks even more fascinating.
Depending on your color scheme, you can choose your favorite rug which can give that attention-grabbing charm. But, if your small living room has already had lots of patterns and textures, consider a neutral area rug instead.
18. Add Style with Colorful Pillows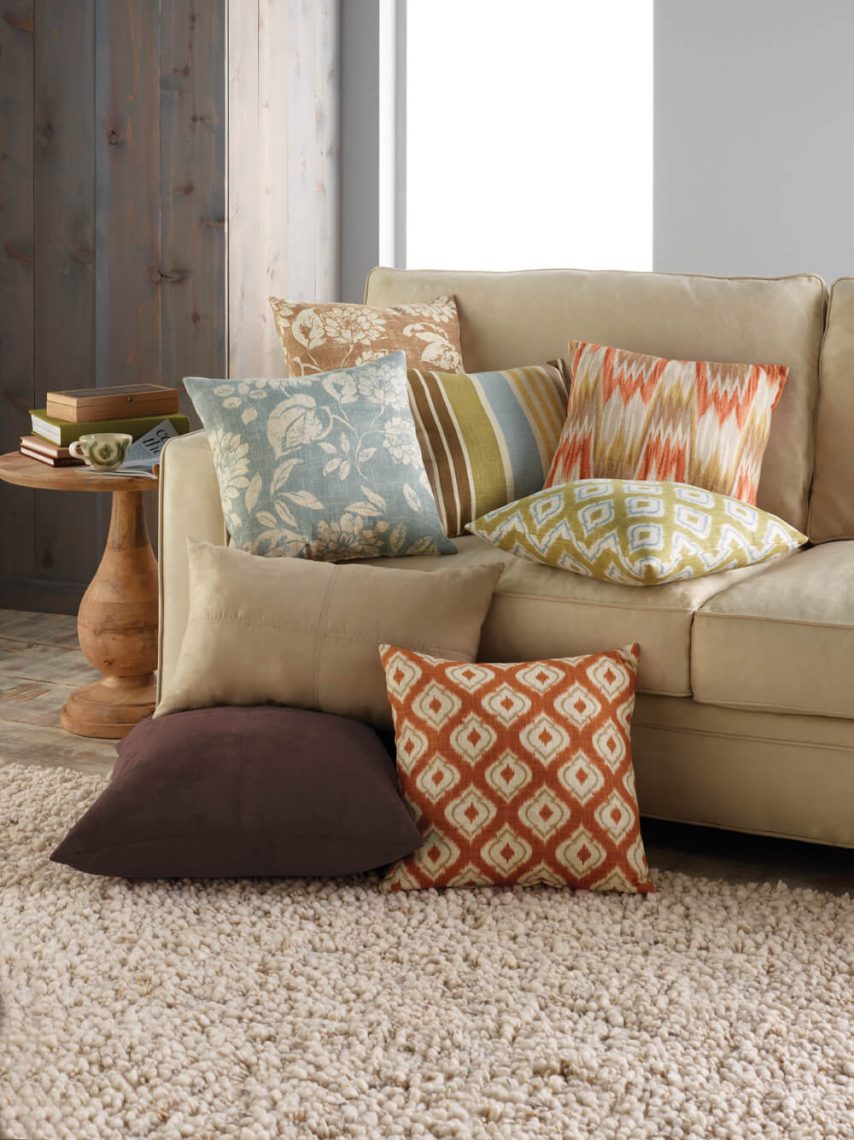 When it comes to small living room décor ideas on a budget, adding colorful pillows is one of the easiest ways possible. This is very simple and you can even create the throw pillows by using inexpensive leftover fabrics.
If you think your living room is too plain, set a selection of colorful pillows on your couch and see how they make your space looks impressive instantly. Interestingly, you can also choose the fabrics based on your favorite patterns.
19. Invest in Glass Coffee Table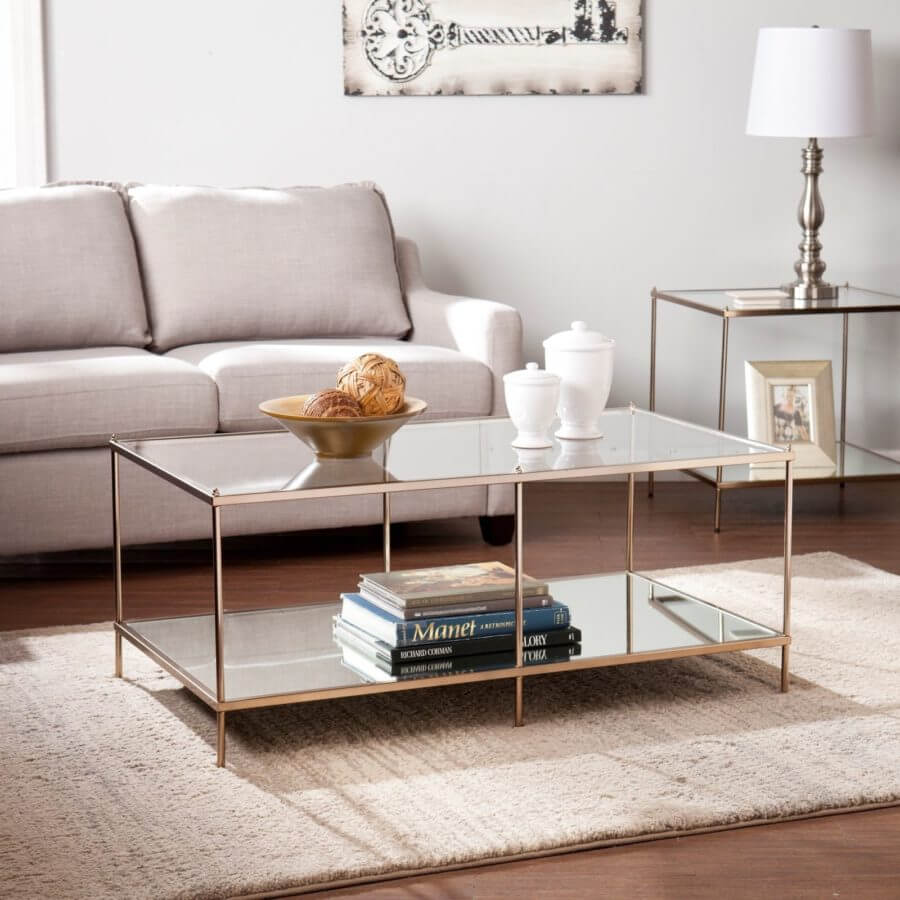 If your budget allows you to change your old coffee table with the new one, consider investing in a glass coffee table. This kind of table almost looks like it's not there, making it possible to create an illusion of extra space in your living room.
Moreover, it can also make your room feel more open and airier. For additional storage solution, choose a glass coffee table that has a shelf for saving your favorite magazines and books like shown on the picture above.
20. Decorate with a Statement Chandelier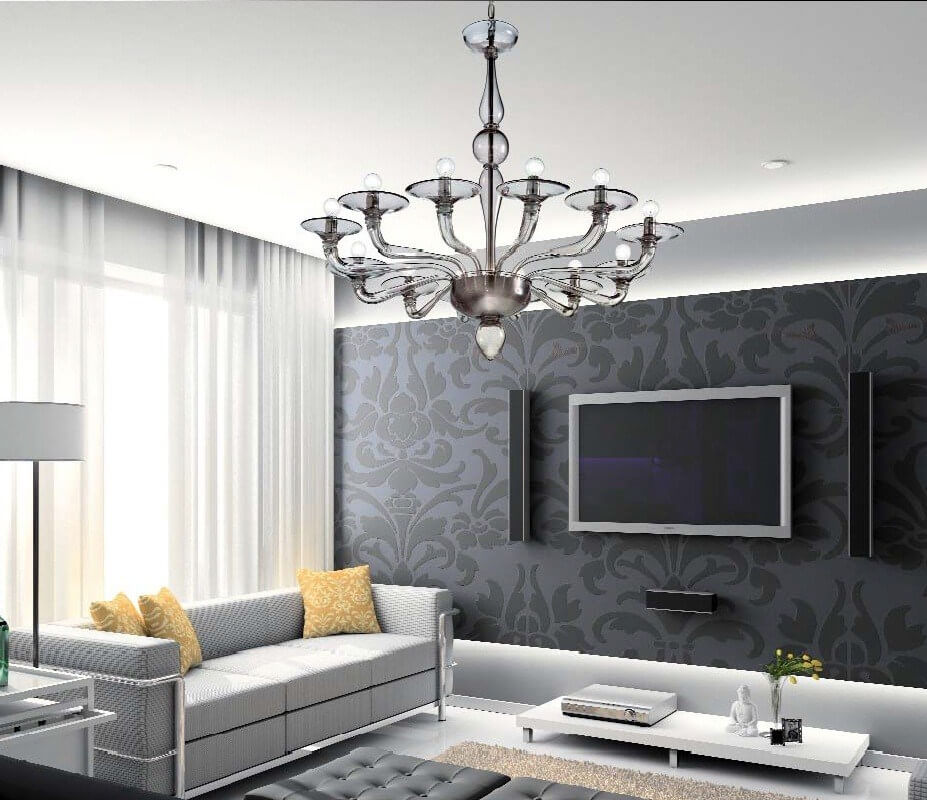 Adding a statement chandelier can help draw the attention away. This small living room has a magnificent glass chandelier which looks elegant over the space. In addition to chandelier, you can also choose other eye-catching lighting fixtures.
For instance, you can opt for a floor lamp which has a unique shape of a tree or an interesting shade. This way, you can add extra lighting source to illuminate your room while giving the space a more stylish element.
21. Go for Vibrant Decoration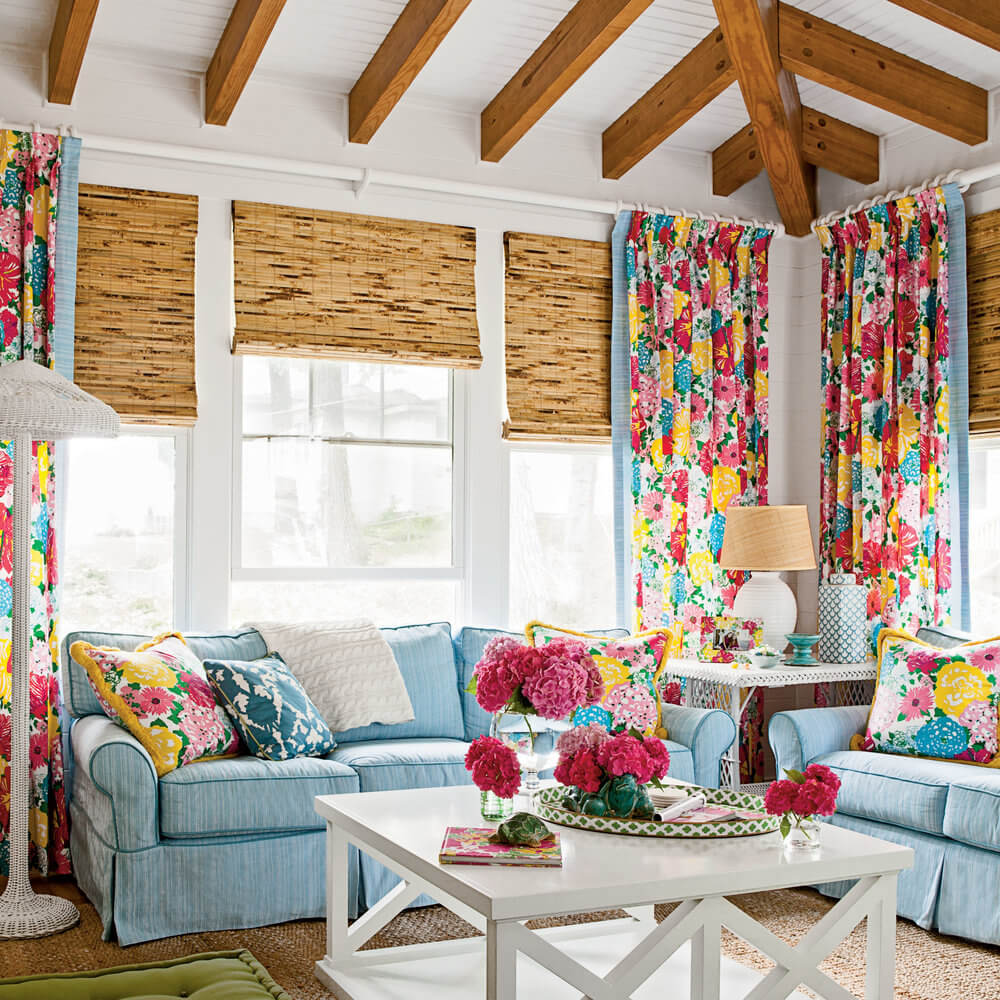 Who says that you can go bold with your small living room? Other small living room décor ideas on a budget may ask you to go for subtle, neutral colors to create a soothing space, but this is not the case. You can actually go vibrant with your decoration.
This room makes a good sample for a small living space with colorful accessories. The trick is sticking to a few vibrant colors only. Then, let the walls and ceilings remain neutral to provide a room for these colorful accessories to stand out.
***
That's all some of the best ideas to decorate your small living room on a budget. Now, you can steal the look of one or two ideas presented above. If you're not sure about how to decorate your home, consider consulting to a professional for help.
If you want to stick to a particular budget, let your designer know the budget so that he can find the best solution for your case. Finally, hope you enjoy these small living room décor ideas on a budget and happy decorating!