In the market, you can find many beautiful plant stand products with various designs and materials. However, it would be more fun if you can make one using DIY plant stand ideas. What is it about?
Creative indoor plant stand ideas are many, but you must pick one that matches your house. Later, you will get some examples to boost your inspiration! Is it only meant for indoor rooms?
Outdoor plant shelf ideas are also available if you want to decorate your patio with various types of beautiful plants. The question is whether you get this by buying or making yours.
For the second option, you can use some great examples below.
1. Simple Wooden Plant Stand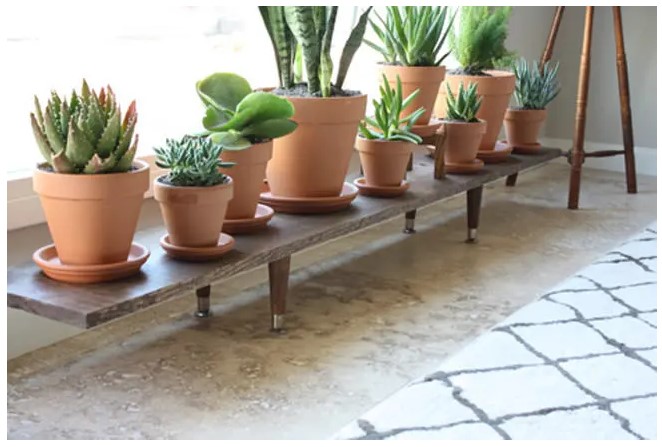 This simple plant stand is suitable for those who own many small and average potted plants. You can place this wooden stand by the window to get enough sunlight and exposure.
The plant stand has four legs and it features a foundation for each pot. As for the type of vegetation, you can pick freely. The only important consideration is size.
The length of this plant stand should be able to accommodate the number of the pots that you have. Moreover, you can either buy or make this item!
2. Planks on Concrete Bricks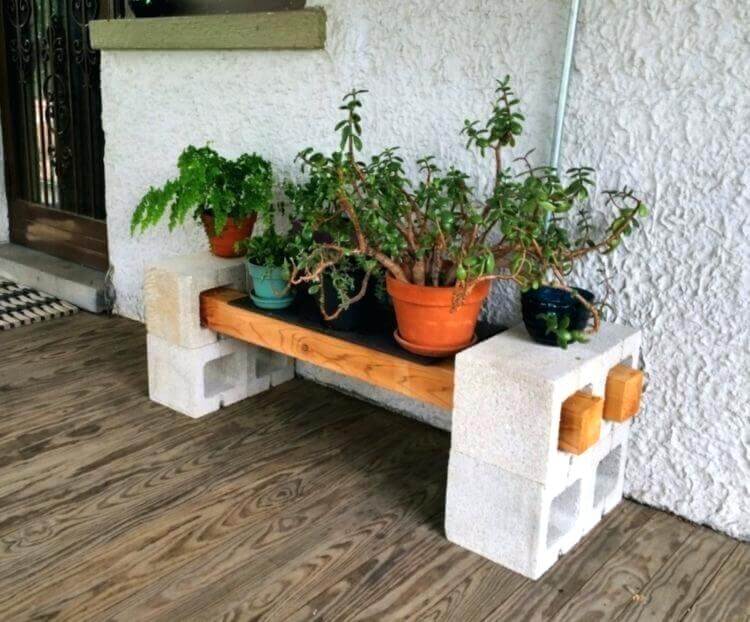 If you have unused concrete bricks in your house, you can use them as the foundation of this creative plant stand. Have no worries. You only need to use eight of them.
Once you arrange the concrete bricks on both sides (without seals and adhesive), you need to get two thick beams or planks. These are meant to support the pots.
As for the placement, you can put it in front of your house or other sides. Not only is this plant stand easy, but it also looks quite attractive!
3. Tiny Cute Plant Stand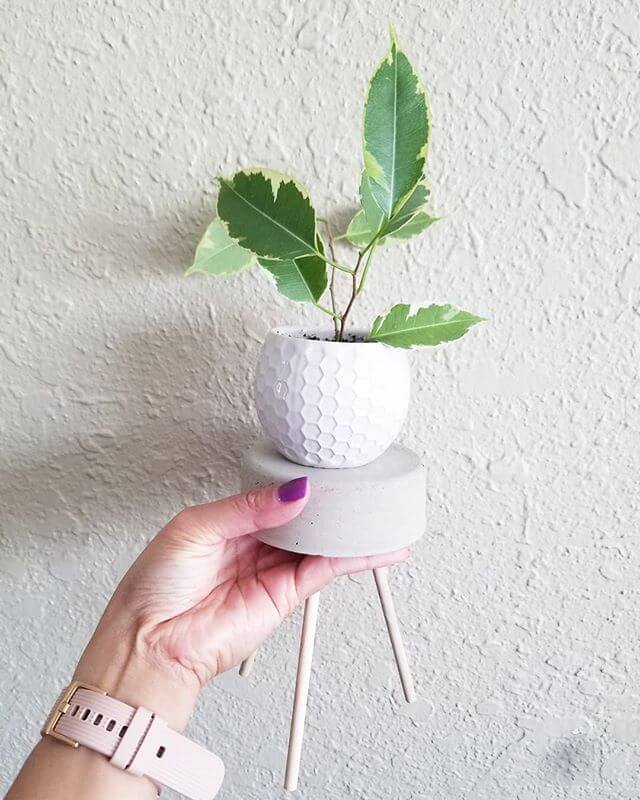 Have you ever imagined holding a tiny plant stand in your palm? Even though many small products are available in the market, you can make this cute one easily.
Before arranging the item, you must prepare the materials. Here are several things that you need:
Three similar sticks or tiny woods
A golf ball-like cup
The plant
What you need to do is to install the sticks below the cup using any available adhesive. As for the plant, the choice is yours. It is better to pick a tiny species, though.
4. Metal and Wood Mix is Popular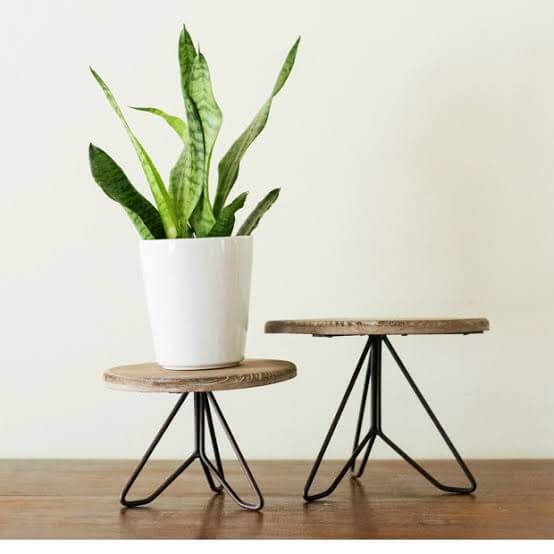 Some of you may look for new options for materials. Instead of buying a complete wooden plant stand, you can get the combination of wood and metal. The picture above is the best example.
Despite the small size, this wood and metal plant stand set should be in everyone's house and balcony. The durability of the metal stand and stunning wooden surface is quite impressive!
Usually, this product suits an indoor space like a living room and kitchen. So, where do you want to put it?
5. DIY Floating Indoor Plant Stand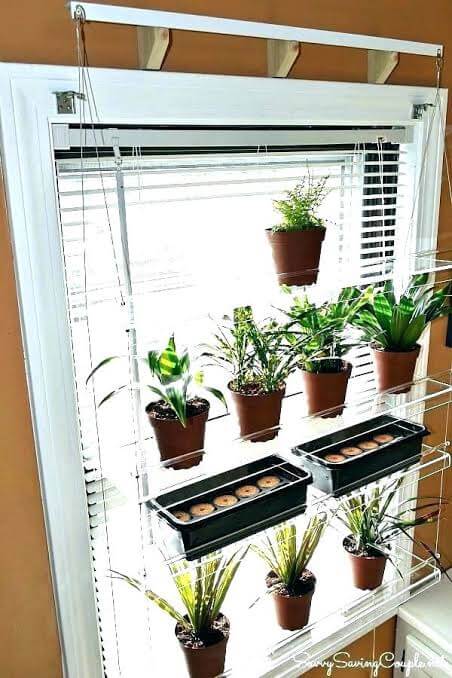 Creative indoor plant stand ideas are available out there, including this unique floating or hanging shelf. The simplest way to get it is by purchasing the set. Still, you can make one with some effort.
The most important aspect is the size, which must suit the kitchen window (where the plant stand is usually installed). The setup is a little bit complicated, though.
After installing the hanger above the window, you can put the pots in available racks. Make sure they fit the spots! Aside from plants, you can put other items, too!
6. Outdoor Ladder Plant Stand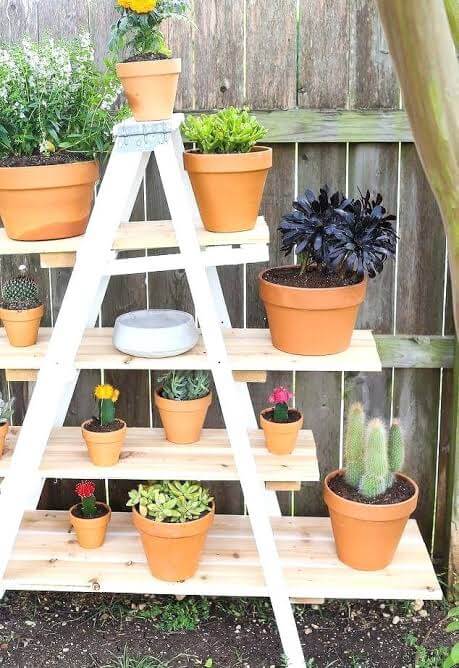 If you want to decorate your patio, this idea is recommended. The name is a ladder plant stand and it is made of simple woods. The good news is that you can place it either indoor or outdoor!
The most common material to use is reclaimed wood. In addition, you can use brand new woods and add stain or paint to finish. As for the design, the shape or construction resembles a small ladder.
Each of the levels consists of a plank of wood or pine boards. It is getting shorter and shorter when going up.
7. Elegant Plant Stand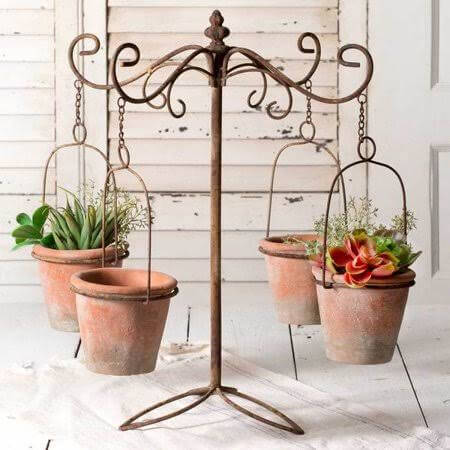 In this picture, you have a vintage and elegant product. This item looks old but majestic! It suits a rustic and European style house, as well.
The plant stand is made of metal and can hold up to four terra cotta pots. Each pot hangs in a similar height from the top of the chain, which is around 1 foot.
As for the placement, you can place it in front of the house or other spots outdoor. Some people even place it inside the house.
8. The Thrones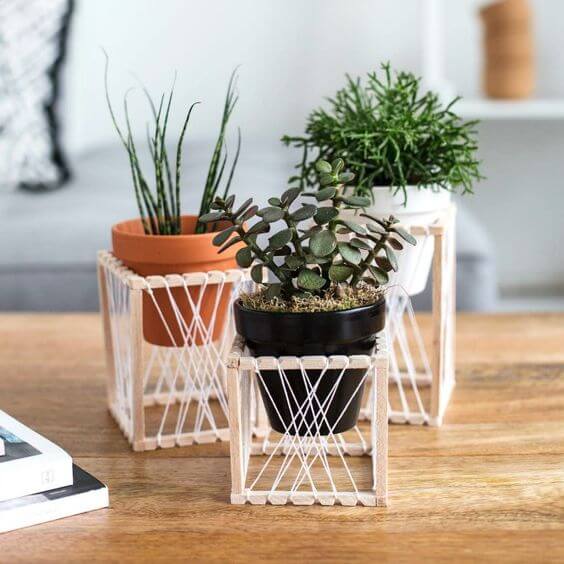 You can make a throne to the plants using a DIY effort. Here are the steps:
First, you need to gather twine and balsa wood as the prime materials.
Next, you need to arrange those carefully and combine them with some threads.
The aim is to support the pots, so the size of the cubicle must be suitable.
When determining the size, you can consider the size of the potted plants first.
The best place to put these is in an office or on a coffee table!
9. Indoor Tiered Plant Stand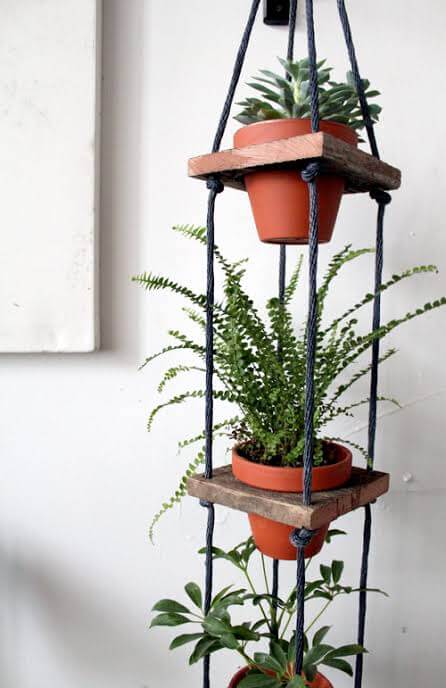 Hanging plant stands are a hit these days. In this case, you can apply this idea. The name is a tiered hanging plant stand. The number of the tier or level is customizable!
The prime benefit is the item does not take much space in your house. This suits as an indoor decoration and gives a lovely appearance. The materials are simple, including ropes and rectangle plain woods.
Aside from supporting potted plants, you can hang other items like kitchen herbs, decorations, aerial plants, and others. Creative indoor plant stand ideas should not always be expensive!
10. Modern Plant Stand for Big Pots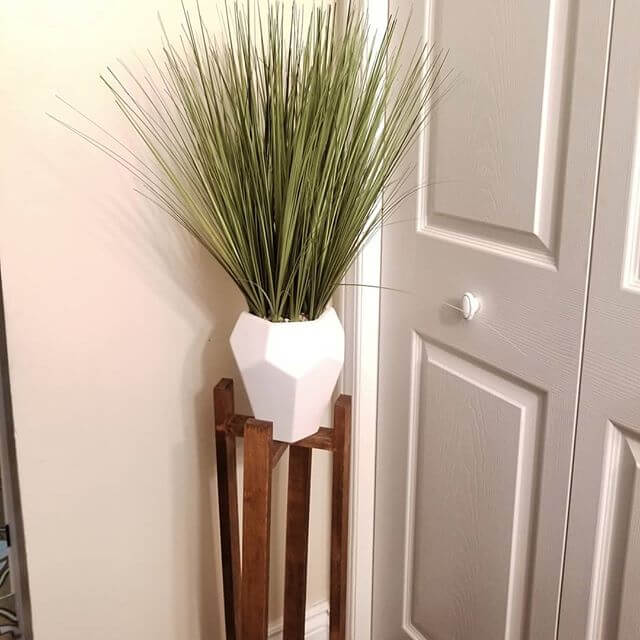 Not all pots for plants are small. Many people own big and sophisticated pots out there. So, what plant stands suit these? You can either buy or make this modern product.
Somehow, the project will not cost more than $10. It can be pricier if you use a more durable and better quality of woods, though. In addition, you can get a set, consisting of the stand and modern pot.
The best spot to place this plant stand is in the corner of the room. Still, the choice of plants also determines its aesthetic value.
11. Minimalist Leveled Plant Stand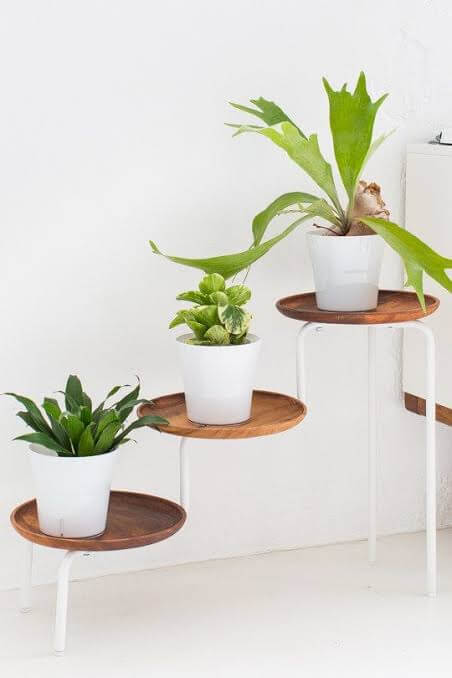 The concept is to create a tiered trio plant stand. This design looks minimalists and neat, quite desirable among users. Moreover, it gives a unique ambiance to the room.
The first feature is the three wooden plates. These become the surface of the pots. Next, you must arrange either metal or pipes as the frame of this plant stand.
The best placement for this plant stand is inside the house or indoor. The appearance does not suit your patio, after all.
12. DIY Plant Stand Cabinet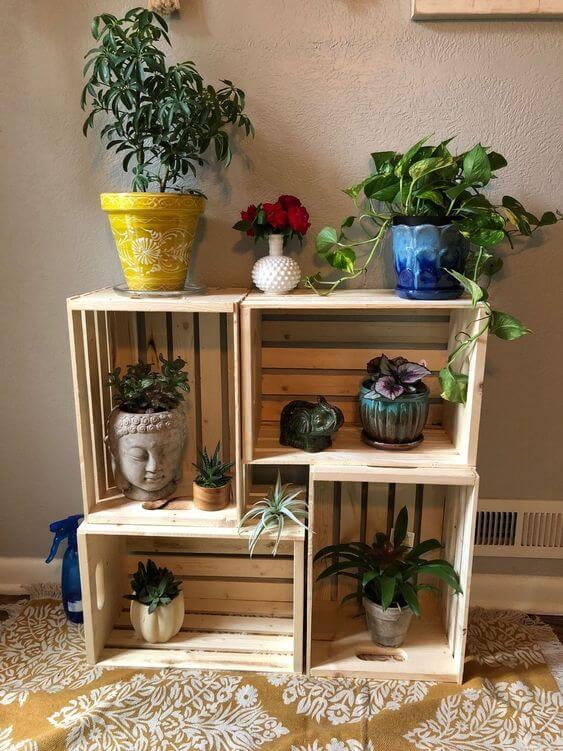 An indoor plant stand must be both functional and unique. However, you do not need to spend much money to get one. For instance, you can make this graceful product.
Here is the information:
Gather the prime material, which are planks of woods. The grade is adjustable depending on your budget.
Make the measurement and cutting.
Arrange those woods into a single shelf or cabinet. The design is quite simple. Create some spaces of rectangles to place the pots.
You can either place it on the floor or hang it on the wall!
13. Easy Mounted Plant Stand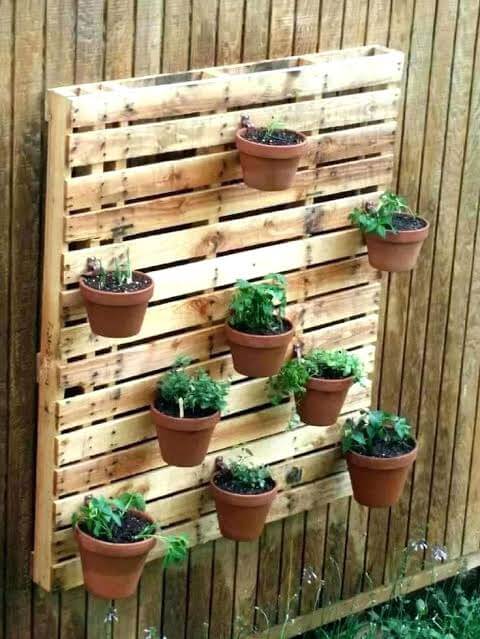 DIY outdoor plant stand ideas are unlimited. That means you can apply various designs based on your imagination. For example, this one takes advantage of your outdoor fence to mount the wood planks.
You can simply hang the pots on the wood base instead of the fence. The number of space depends on the size of the foundation, though.
To avoid problems, you need to use small pots instead of the big ones. Otherwise, the base would not be able to support those.
14. Modern Artsy Plant Stand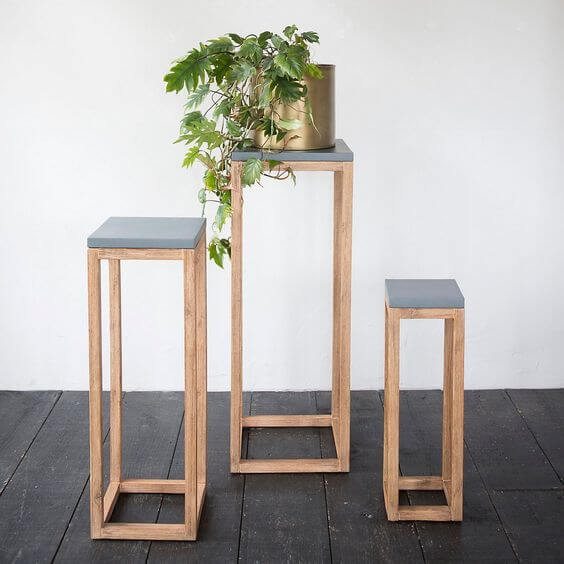 A plant stand has other functions aside from supporting potted plants. For example, you can use it to beautify the room (indoor). For this purpose, you must choose the right design, though.
This standing alone high square plant stand set is a great choice. The fine woods and grey surfaces give an elegant feeling. As for the plant, you can choose either flowers or greens.
In the picture, you can see a golden pot that gives a stunning ambiance. This pot suits wood square and wooden dowels!
15. Custom Garden Plant Stand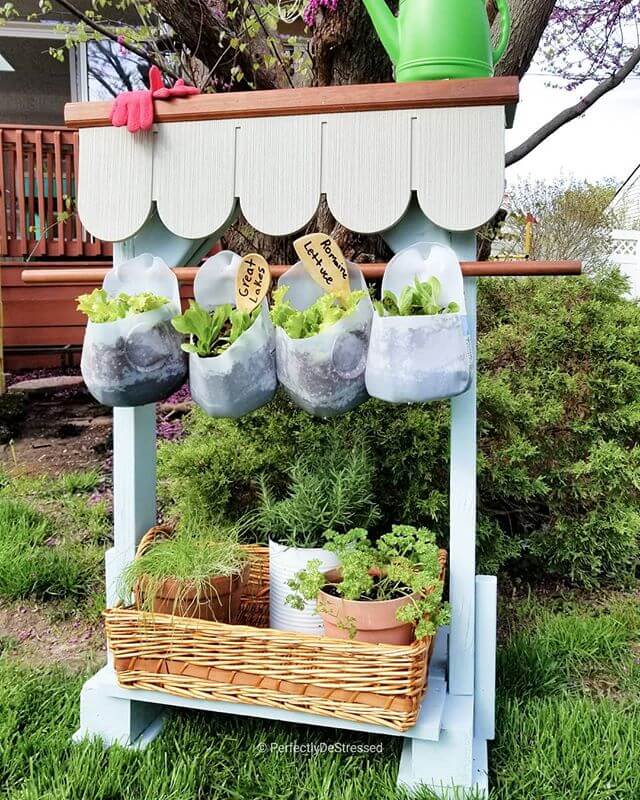 This design suits your garden the most. However, you are not likely to get it in the market. Instead, you can make this DIY plant stand easily. The materials are woods, basket, plastic pots, and ornaments.
After you arrange the woods into the shelf or cabinet, you can place the basket at the bottom tier. As for the plant stand, you can use either plastic containers or poly bags.
Next, you can put some ornaments above the plant stand. These include garden gloves, watering can, and others.
16. DIY Metal Tiered Plant Stand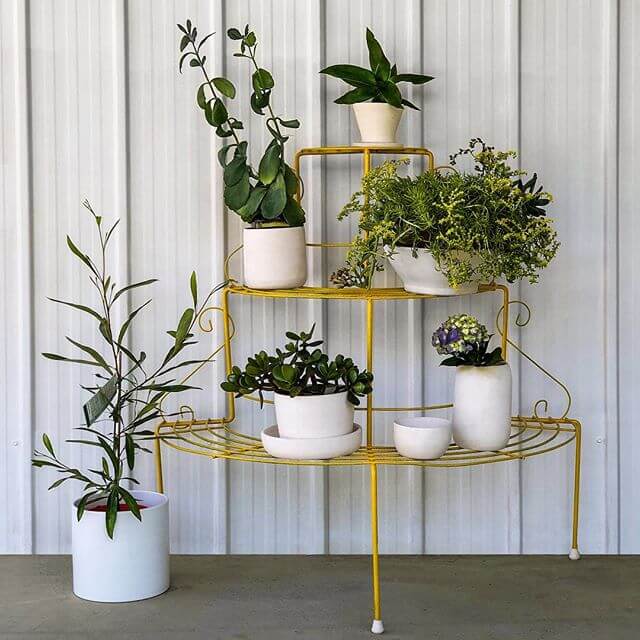 To support many potted plants and flowers, you need an ample plant stand. Make it easily using available metals.
One thing, this DIY metal-tiered plant stand requires a setup and arrangement. After that, you can paint it with your preferred color. For example, yellow looks catchy and bright!
The placement can be either inside or outside the house. Still, it suits the patio the most, especially if you do not have enough space for plants. As an alternative, you can stick it to the wall.
17. Creative Colorful Plant Stand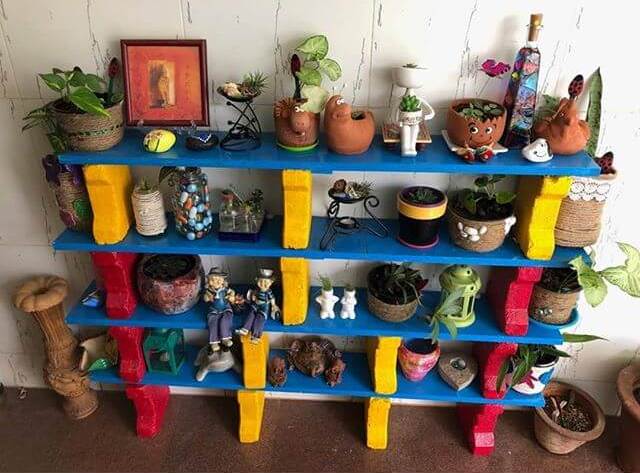 When creating a DIY plant stand, you have the freedom to choose the size, color, and feature. In the picture above, you can see a colorful project. It combines yellow, red, and blue simple paint.
As for the material, you can use cheap woods, planks, and borders. The arrangement is easy, as you only need to put the board above the others appropriately.
Aside from placing plants, you can also put some ornaments like photos, action figures, etc.
18. Painted Wooden Plant Stand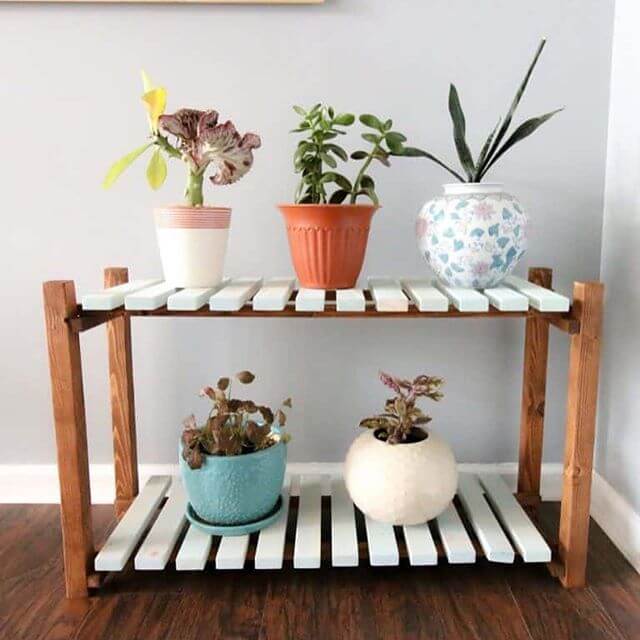 If you are bored with a plain wooden plant stand, you can paint the surfaces with a bright white color. The purpose is to create a contrast ambiance to the object.
As for the shape and design, it represents a regular table. However, the surfaces consist of many single bars of wood. They are arranged to create a perforated nuance.
To make it more beautiful, you can use pots that come in various colors and patterns. So, what do you think?
19. Plant Stand for Aubrietia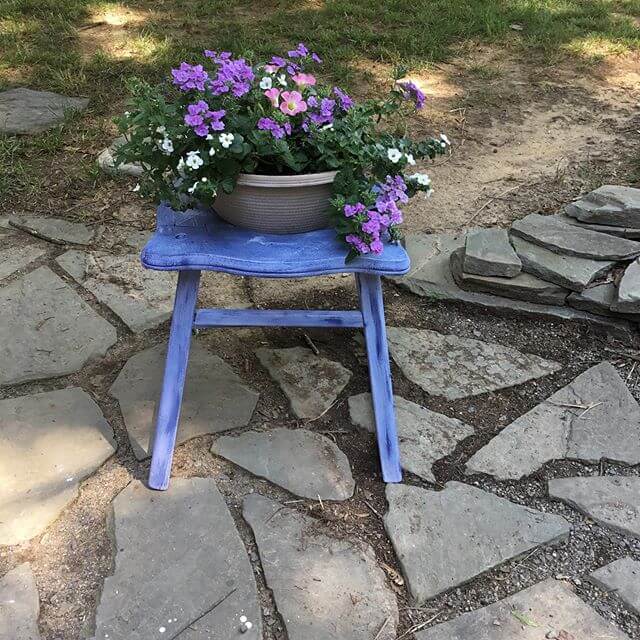 Outdoor plant shelf ideas are daunting for some people. However, you can use a simple rule. What is it? The idea is to match the plant stand with the type of plant or flower.
In the picture above, you can see the famous beautiful flower called Aubrietia. The flower is known for its elegant purple color. Therefore, you need to find a simple plant stand and paint it using the same color.
As for the pot, you can use a regular bowl or plastic pot. It depends on the amount of your budget!
20. Exotic Copper Plant Stand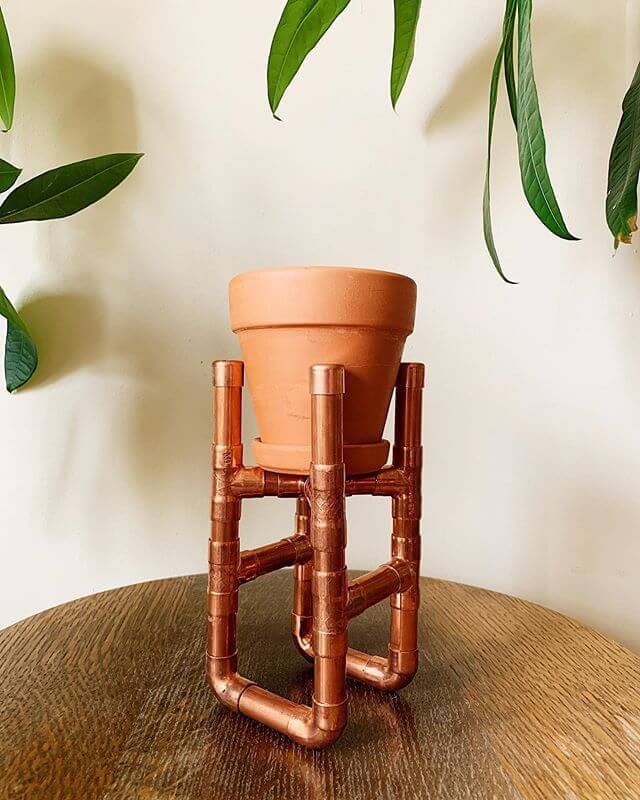 This plant stand is both valuable and unique. If you have unused pipelines in your house, just glue and put them together into this beauty. Yet, it is only suitable for indoor flowers and plants.
The prime benefit is a small size, which can suit any space at your home. Next, it is related to the material, which is made of copper. That means you do not need woods to create this plant stand.
21. Triangle Corner Plant Stand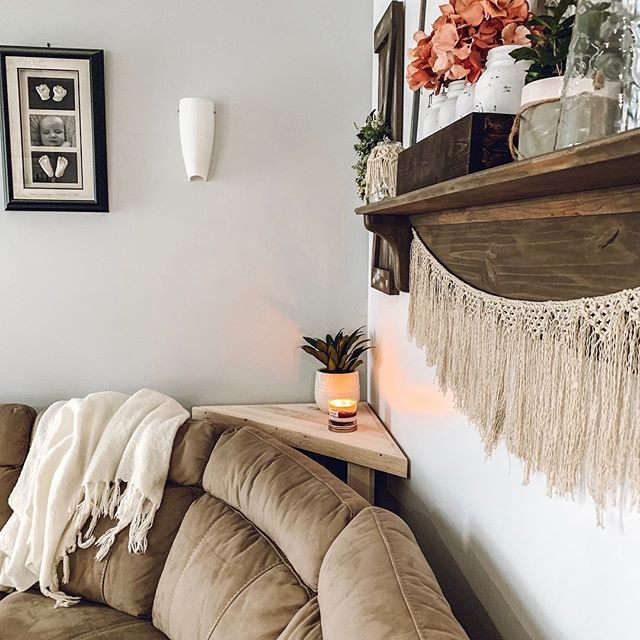 In the living room, the sofa often creates a hollow in the corner. Well, why don't you fill it with this simple triangle corner plant stand?
The arrangement is easy, as you need to match the size of the hollow with the plant stand. The choice of woods is yours, so you can either use expensive or cheap planks.
As an extra, you can mount a teak shelf to support other pots on the wall. Are you interested?
22. Used Tubes Plant Stand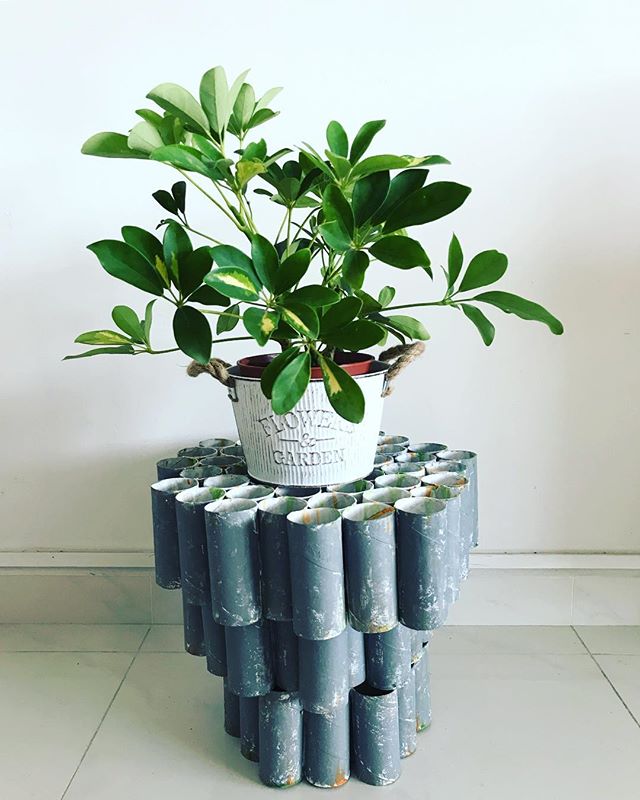 You can turn used tubes or pipes into this unique plant stand. Here is the step:
Cut those tubes into a similar size.
Use glue or other adhesives to put them together.
The design is anti-pyramid, so it can only support a single potted plant.
Either let it plain or paint it with your preferred color.
Once the project is done, you only need to put the plant stand in the house, balcony, patio, or other spots. What a flexible item!
Summary
DIY outdoor plant stand ideas are a better choice due to the unlimited choices of design. In addition, you can use your creativity to create a unique and special product. The value often surpasses the ones in the market!
Do not be afraid to use one of those DIY plant stand ideas above! One must suit your taste, for sure.