Having backyard playground ideas in your minds would simplify everything, especially if you want to decorate your backyard. Kids usually use this area, so you must consider specific things first.
Have no worries. Backyard ideas for kids are easy to apply and these are considered affordable. The key is the proper plan. That means you should not be in a hurry when decorating or installing the playground.
Creative and fun are two basic points to include when building the playground. Are you still confused? Here are tens of examples of good backyard playground concepts that you can use right away!
1. Easy Rock Climbing Walls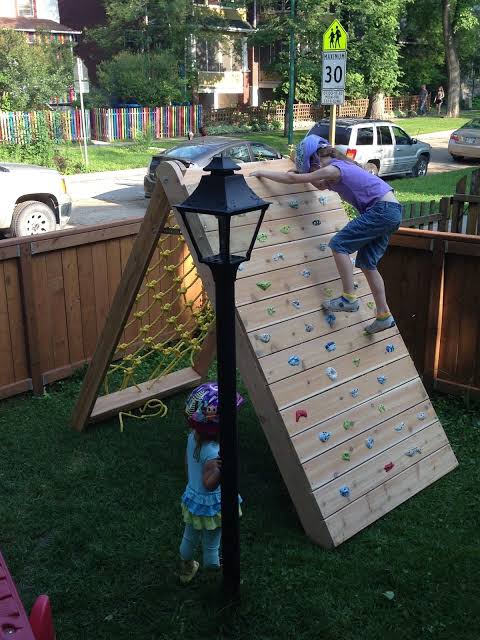 This feature called a rock-climbing wall. The kids are meant to chase the summit. Have no worries. It does not have to be expensive and tall.
Small backyard playground features like rock climbing are quite important despite the size. They suit your kids' height and ability. They are inexpensive and simple, which are usually under $500.
However, you should ensure that this rock climbing is both functional and attractive. The choice of the spot of placement is also important. Picking the wrong place may become a big eyesore in the backyard.
2. Sloping Rock Climbing with Slide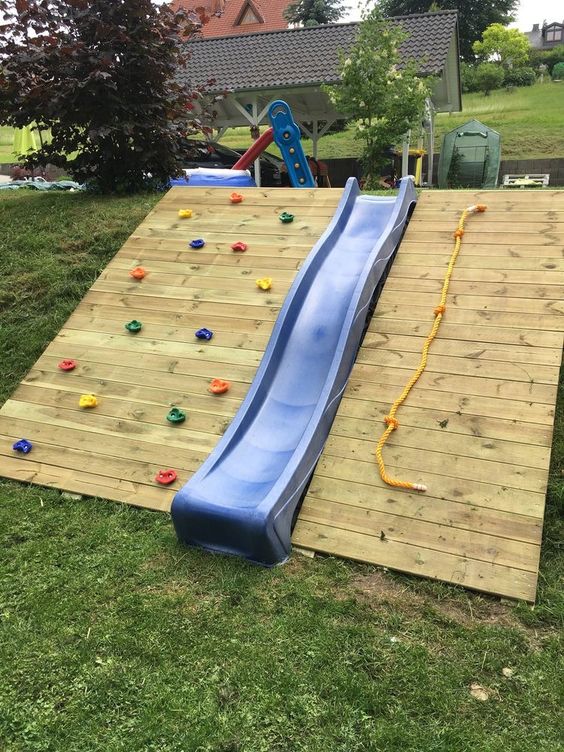 All kids love slides. Due to this reason, you must install this stunning DIY sloping rock climbing with a slide. This feature is suitable for those who have a small grassy hill in the backyard!
The prime requirement is a plastic slide. Next, you must set up a wooden sloping rock climbing and install a sturdy rope on one of its sides.
As for the size, it depends on the available space. The wider is the better, though. Both kids and toddlers can use this feature safely. Adults or parents can also use it along with the children.
3. Wooden Zigzag Balance Beam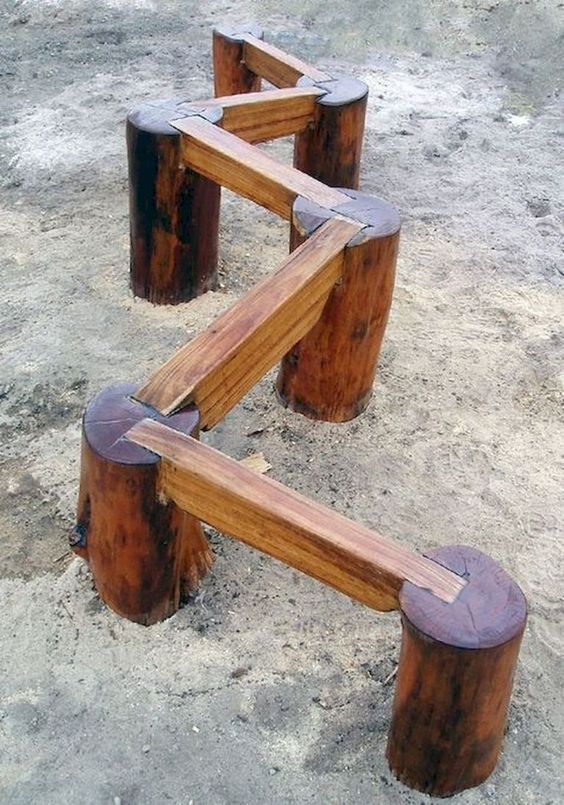 The next recommended backyard playground feature is the wooden balance beam. As the name suggests, it helps the kids to enhance their stability skills. This is a superb development play for your children!
The most important aspect is safety. For example, you need to install it on a soft sandy area. This way, your kids will not get hurt when falling. Another prime consideration is the size.
You can decide the length of the balance beam freely. However, the height must suit your kids' age. Some people use 2x4s and 4x4s beams.
4. Fun Backyard Racetrack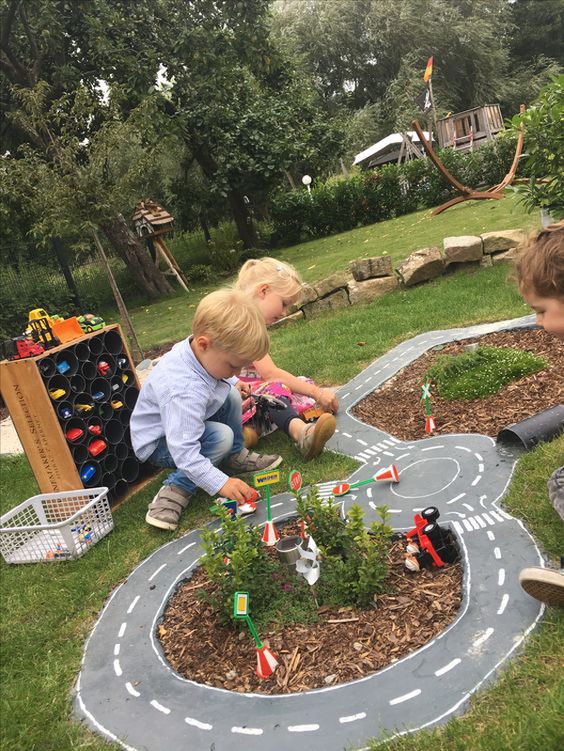 Among creative backyard playground ideas, a racetrack suits little boys the most. What you need to do is to set up the area where the racetrack will be built.
It involves a bit of digging, though. Thus, you must be ready to be soiled. As for the track, you need to mix black oxide powder with cement. The purpose is to create a nice color and sturdy racetrack.
You have the freedom to decide the size and shape. Still, you must include car toys and other related items on it. Small traffic signs and racetrack decorations are recommended!
5. Backyard Chalkboard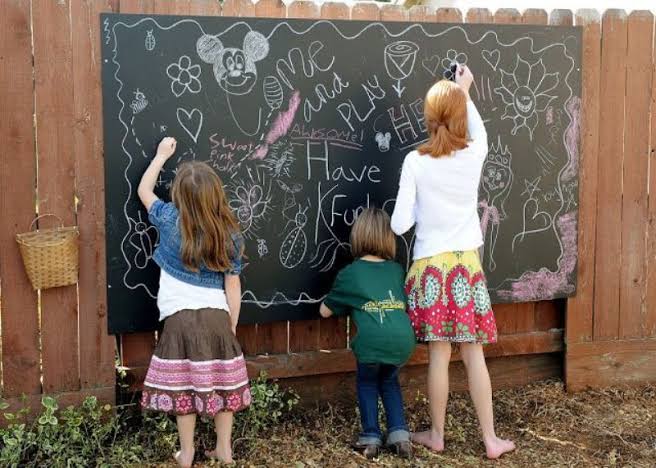 Playing outdoor is not all about physical activities. Your kids need to broaden their imagination and creativity, as well. In this case, you must install an outdoor chalkboard in the backyard.
This cheap and small play area is easy to make! Not to mention you can place it anywhere, especially on a fence. Do not forget to hang a bucket of colorful chalks on the fence either. To protect the chalks from rain and sunlight, you can put a cover on that bucket.
6. Backyard Percussion Play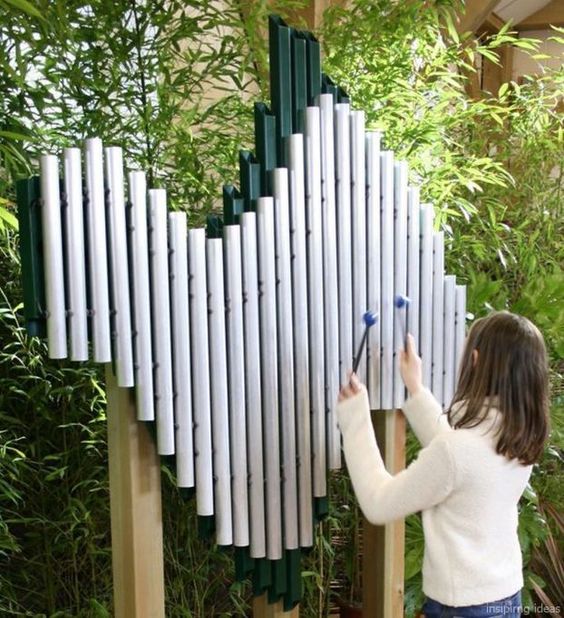 Your kids can play and enjoy this unique outdoor musical instrument effortlessly. The only challenge is the installation procedure.
The easiest method is to buy the percussion set from a reliable seller. This method is pricey, but it helps you to avoid hassles. On the other hand, you can save a lot of money by creating a DIY outdoor musical instrument.
You can build this by the trees, on the side of the house, or other recommended spots. Also, installing it on a fence is a good idea.
7. Backyard Bowling Alley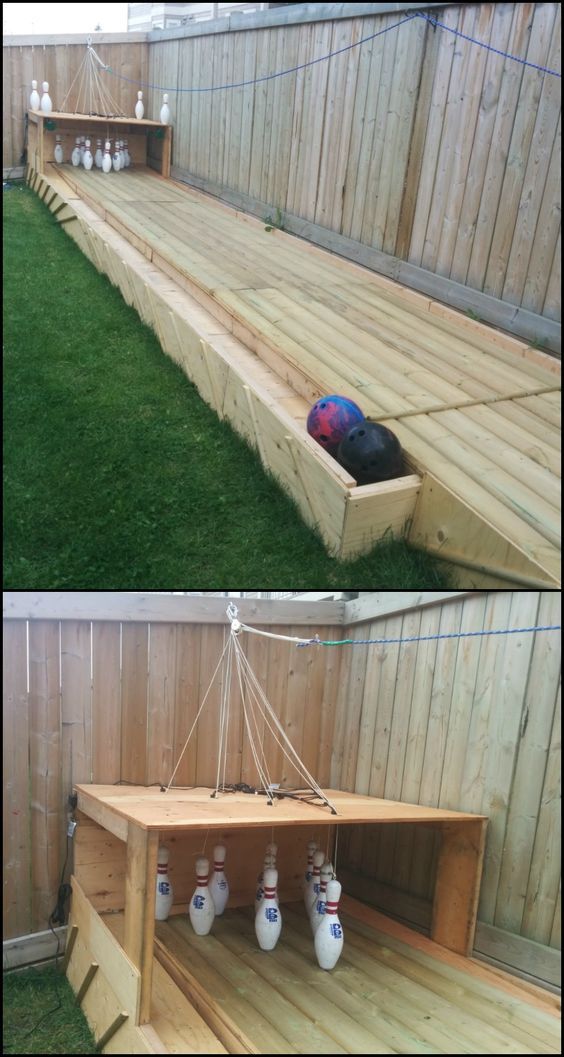 This one requires effort, engineering, and planning. Despite the hassles, the result is both impressive and astonishing!  Here are several things that you need:
Deck boards, which are about 2×6
Rubber mat
Plywood, which is about 4'x8' 3/4 "
Fittings like nails, screws, and others
The first thing to do is to create a blueprint. Next, you can work on the base and measurement. After that, you need to place all the features in their place. These include pins, ropes, bowling balls, etc.
8. Colorful Stepping Stones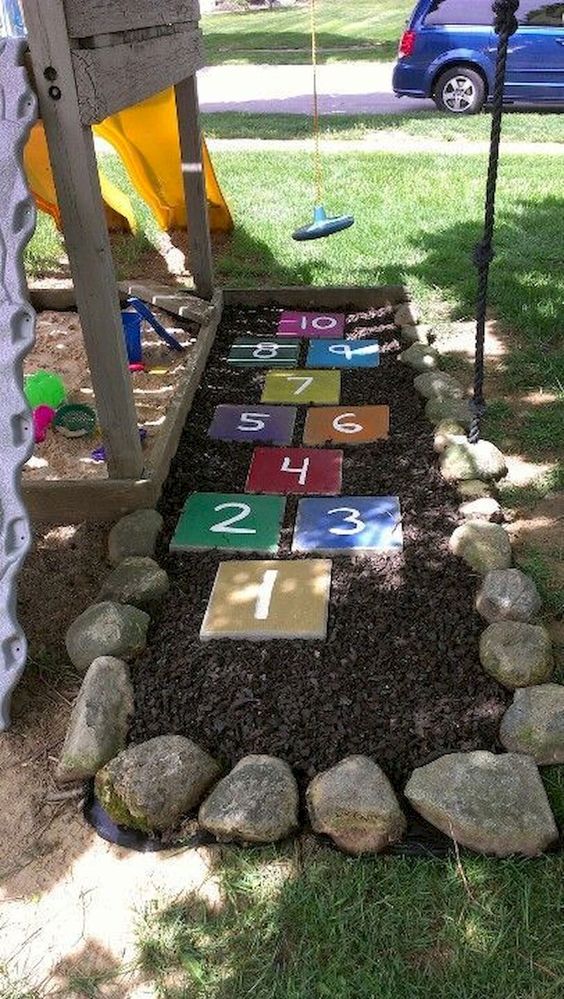 Kids are quite active, so you must provide them with this hopscotch stepping-stone. This colorful and fun playground will keep your children active and happy.
The prime benefit is the price! You can simply get concrete pavers and put some paint on it! Each paver cost about $1. Do not forget to put numbers for each of them.
As for the placement, you can install it next to a sandbox or playhouse. Any spot in your backyard would work either, as long as it is shady and comfortable.
9. Outdoor Teepee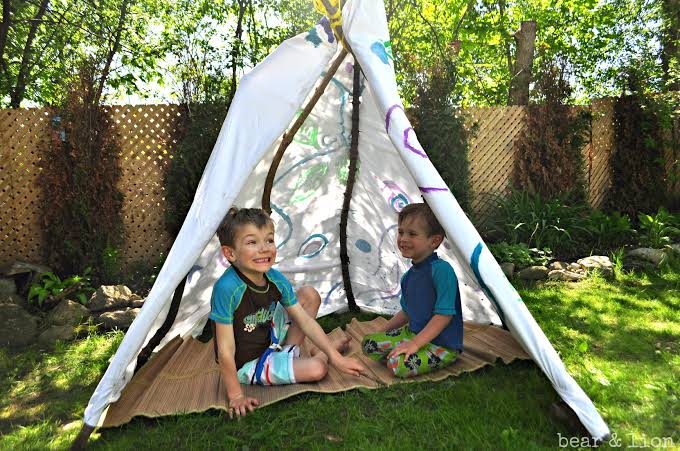 A backyard teepee provides both shade and playful hideout for your children. This one can be build using simple materials and items.
The first thing to do is to set up the frame. Next, you must cover it with either fabrics or other similar materials. Lastly, you only need to include a mat where the kids can relax inside.
The frames can be made of twines or other types of wood! a grassy landscape is the best placement choice due to its comfort. In addition, you need to place it under shady trees.
10. Three Types of Swings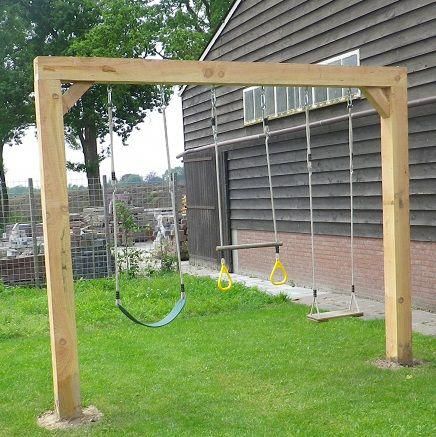 It is safe to say Outdoor swing sets are children's favorite. This explains why lots of kids would spend hours playing on swings.
So, what makes this one unique? As you can see, this set comes with three different swing features. The first one is a common swing with plain wood. Next, there is a softer swing with elastic seating.
Another swing is meant for hanging around, though. It helps your kids to build their arms and upper body. Which is the best? In terms of fun and functions, all of them are great!
11. Colorful Pipes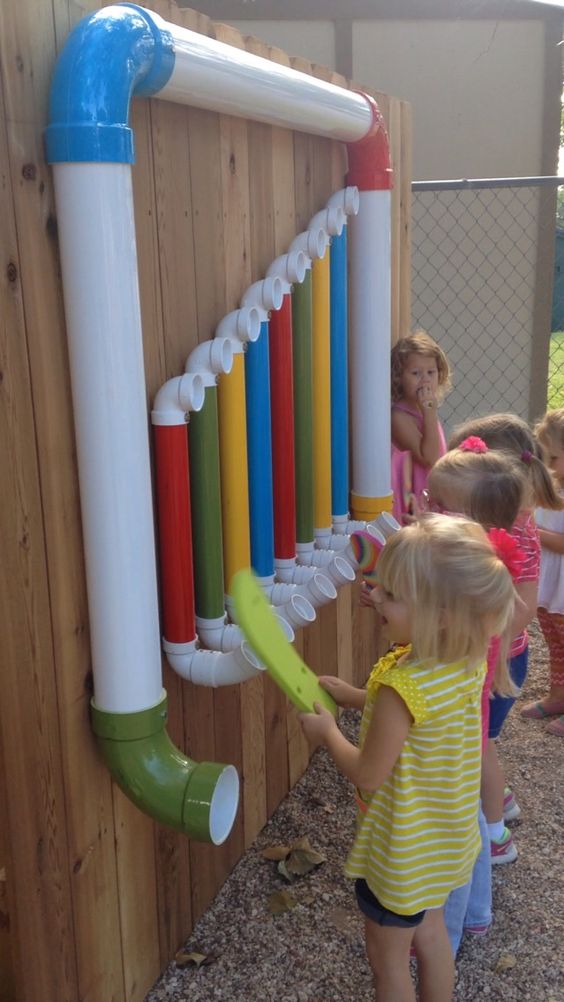 Even though colorful pipes are not a primary feature in a backyard playground, this can be a great addition. What is the function? The purpose is to trigger kids' creativity.
Children can use the pipes to store items and toys. The various colors provide an attractive value to the playground, as well. Moreover, you can install this playset easily!
You only need to get some pipes and arrange them neatly on a fence or sides of the house. One thing, you must paint them first! As for the colors, the choice is yours.
12. Pull Up Bar in the Backyard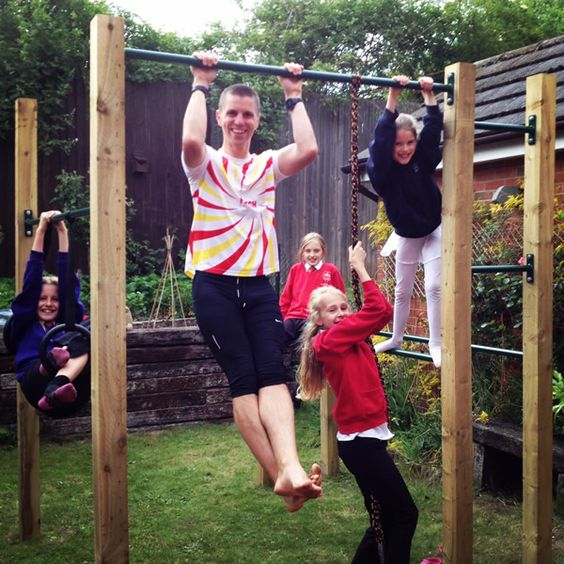 Provide a place for exercising for both kids and parents by setting an outdoor pull-up bar, one of the greatest backyard playground ideas.
This set helps kids to train their upper body strength. These include arms and back shoulders! Unfortunately, it is not suitable for toddlers or babies. Only teens and adults can use it properly without risks, after all.
you need several beams of woods and iron bars. The design is simple, but it takes some effort to install. Here is the thing. You must install it on a grassy or soft foundation!
13. Easy Backyard Zip Line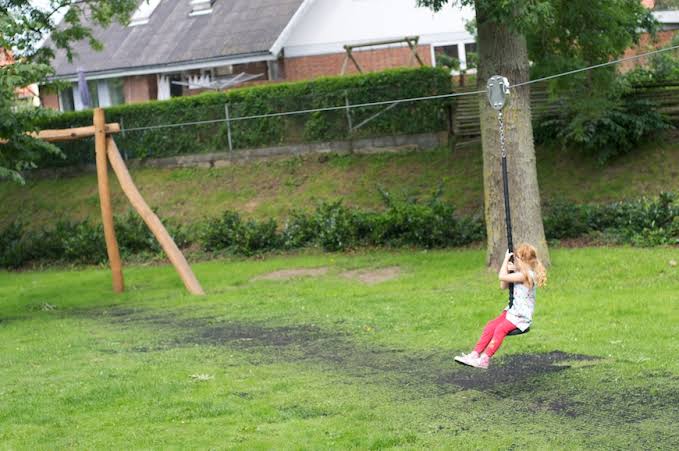 You do not have to spend lots of money on a zip line. The prime materials are big trunks and the lines. Somehow, you can buy a set from the market.
This fun activity station challenges your kids' guts to glide freely. Aside from its easy-to-make benefit, you can adjust the height either. That means you can install it low for your children.
Kids do not need to be afraid of falling or getting hurt. It is because the zip line is low and built on a comfortable grassy landscape.
14. Rectangle Sandbox with Shades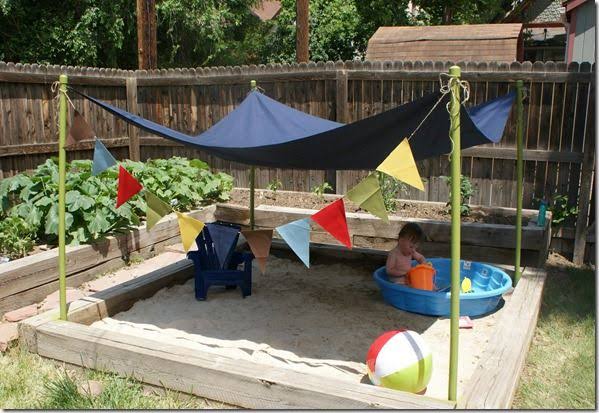 If you happen to have an empty spot in the corner of your backyard, you can build a rectangle sandbox on it. Plants and fences can place them. To avoid the heat of the sun, the sandbox must feature a shade, too.
What you need are some wooden beams and extras. These include beach ball, plastic chair, and others. As for the sand, you can either buy or get it from other places.
The next consideration is the size. Make sure that the sandbox is big enough to accommodate several kids at once.
15. Simple DIY Tire Swing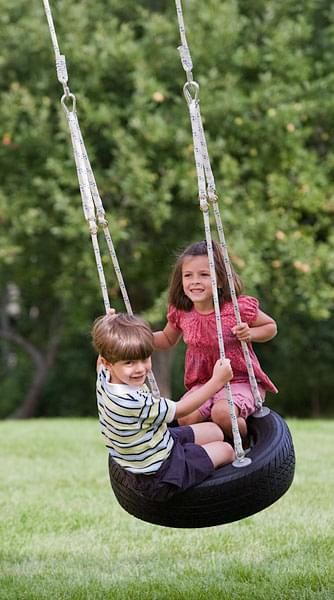 This simple tire swing is easy to make. Here are the steps to create one:
First, you must find a used or old tire.
Next, clean it thoroughly. You can paint it with a colorful tone either.
Find the right spot to install or hang the tire swing. A backyard tree is the best choice!
Purchase the rope and drill some holes (drainage) into the tire.
Place the rope on the branch of the tree. You can use a ladder to get up there.
Make sure you have measured the proper height!
16. Backyard Tree House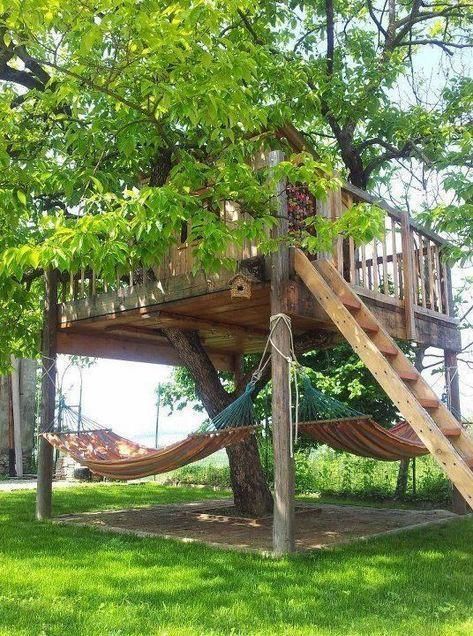 Treehouse requires some money and effort, though. At least, you need to buy durable woods and planks to build the treehouse.
As the name suggests, you need to find the right tree where the house will be built. It is recommended to choose a tree that comes with bushy leaves and a strong trunk.
Building a tree house on a grassy land is the best choice either. Not only is it beautiful, but the grass is comfortable enough to walk around the tree house. As an extra, you can install hammocks beneath the tree.
17. Low Backyard Hammocks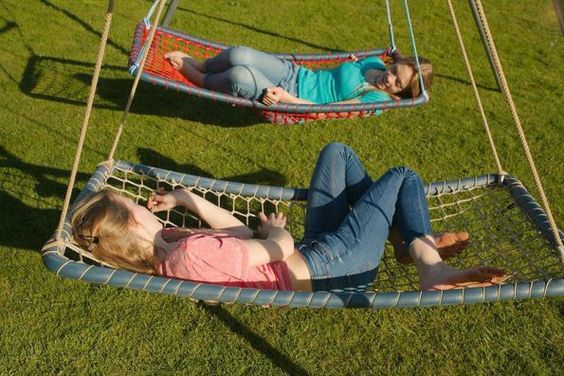 Kids would spend much energy for playing and running around in the backyard playground. So, how do they relax and rest before continuing their activities? It can be done by installing outdoor hammocks.
The difference between these backyard hammocks and regular products is the height. The users are kids, after all. That means you need to set this low on the grassy land.
Outdoor hammocks become a great extra for your backyard playground. You can either use a stand on a patio or trees to string these hammocks. For the information, this feature is a cheap as $20.
18. Effortless Small Water Slide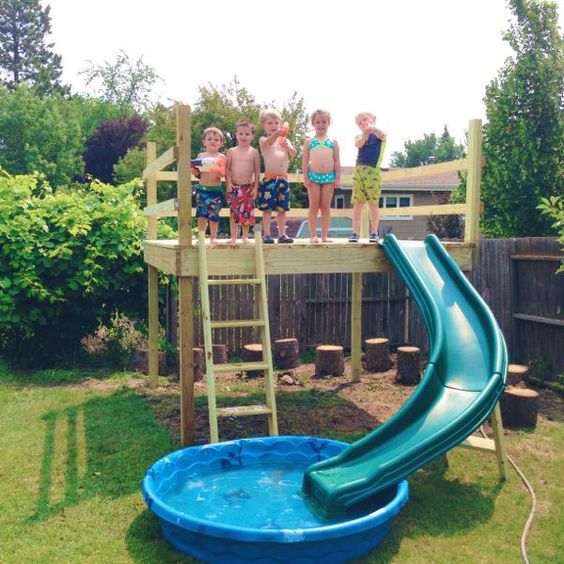 You can bring the water parks to your backyard playground by installing a water slide. This feature has three prime parts: the wooden deck, slide, and portable pond.
Best backyard playsets do not have to be expensive. The only issue is to set up the water slide properly. To avoid problems, you must choose the right area, which is usually the corner of the backyard.
The size of the pond varies, depending on the number of kids that you have. In addition, you must choose a sturdy and strong slide to accommodate fat children.
19. DIY Outdoor Splash Pad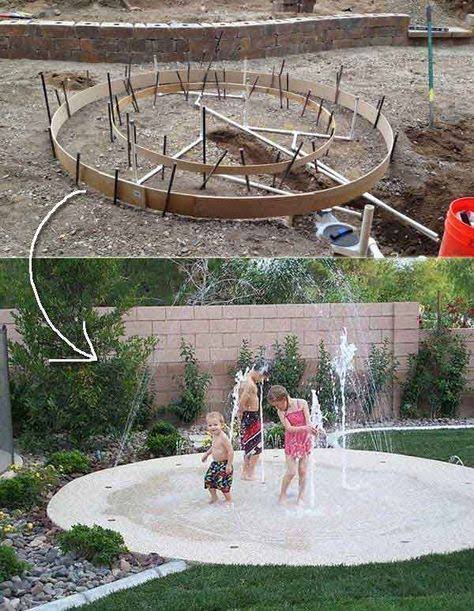 If you look for a super feature, this splash pad is a great choice. You can even install it in a DIY manner. Here are the steps:
First, you must pick the size and design.
Take care of the pre-project details properly.
Make a layout and start gathering materials.
Talk to experts first regarding your kit.
Put the pieces together and fill in the area.
20. Complete Cubby House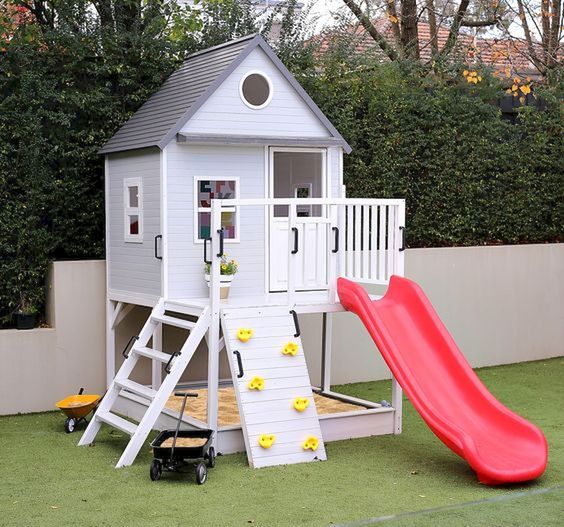 This beautiful cubby house comes with sophisticated design and functional features. These include the sandpit, slide, and climbing wall. The price is expensive, though, which is around $1995.
The prime benefit of having this playhouse is a comfort. Your kids can enjoy playing in this small house regardless of the weather (rainy and sunny).
The cubby house is made of pinewood timber, which is known for its durability. Not to mention two people can arrange it easily. Usually, it only takes about 2 hours.
21. Boats Waterway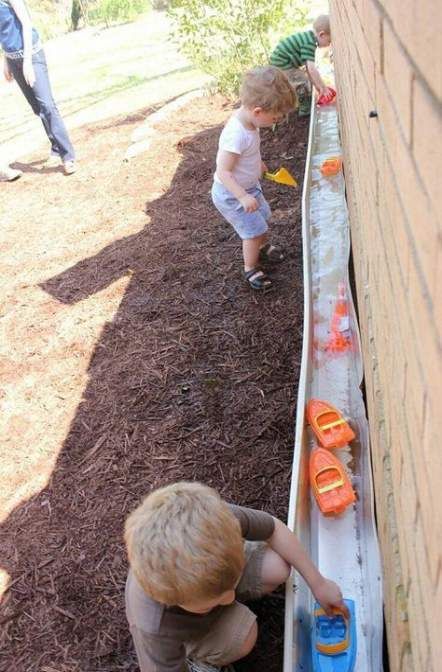 Many kids love to play with water. Why don't you provide a waterway for their toys, especially boats? You only need to turn your old rain gutter into a simple and beautiful waterway.
What you need to do is to put caps on the end of the rain gutter and stick a hose in. The toys would float accordingly!
One thing, you must ensure safety. The rain gutter should not have sharp sides! Make sure your kids do not get hurt when playing.
22. Comfy Wooden Lounge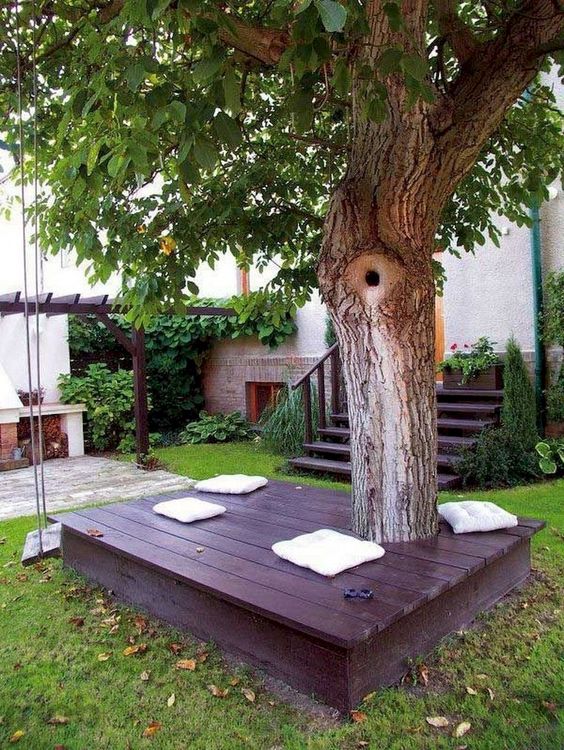 This one is suitable for families who want to accompany their kids playing in the backyard playground. You can simply build a wooden lounge under a tree.
As an addition, you need to put several pillows to increase comfort. Next, you can build a swing next to the wooden lounge.
If you want to minimize the cost, you can choose a regular type of wood. On the other hand, you must get teak and take advantage of its durability.
Summary
Best backyard playsets give many benefits. Your kids can spend more time outdoors for getting exposure to fresh air and exercising. Somehow, this playground trains kids' problem solving and cognitive reasoning skills.
Choose a certain design among available amazing backyard playground ideas out there. Most of them are fun and creative. Thus, it would give both function and aesthetic benefit!