Decorating a bathroom gives significant improvement to the room. As for the concept, you can use rustic bathroom ideas below. Why do people choose rustic design instead of others? Well, the reasons are many.
The most common reason for choosing a rustic design for the bathroom is related to appearance. This concept looks fashionable, exotic, and unique. Despite the fact, it does not have to be out of date.
Modern rustic bathroom ideas are available these days. That means you can combine contemporary and rural ambiance to give a better impression to the bathroom. Here are some great examples for you.
1. Rustic Bathroom Sink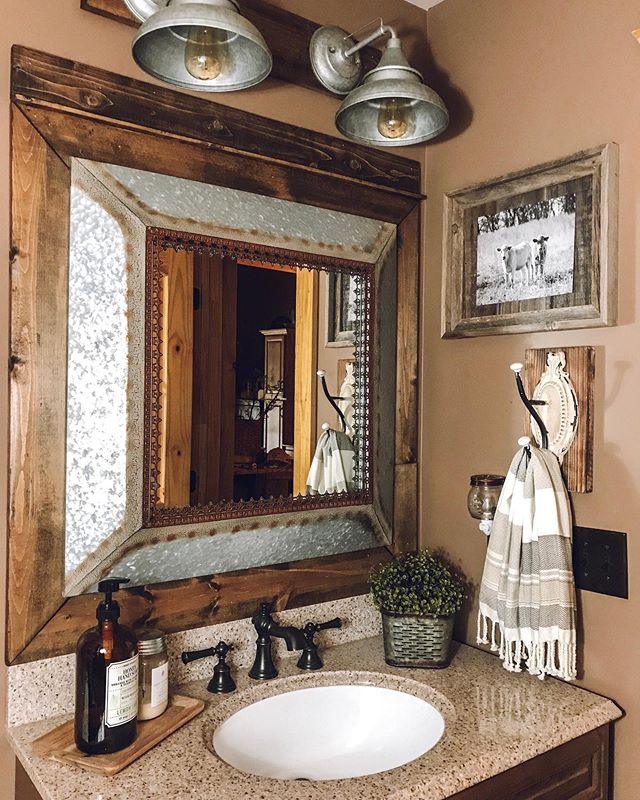 The right sink for your rustic bathroom gives a functional benefit to the room. In that picture, it involves a durable chic sink cabinet made of either oak or mahogany.
The surface is made of marble with a freckled pattern. The key is to combine calm colors like dark, chocolate, and tortilla brown. Next, you may see a mirror with old iron frames.
Two unique iron lamps decorate the sink. Not to mention it features toiletries, ornaments, and even a framed black & white picture.
2. Exceptional Rustic Towel Rack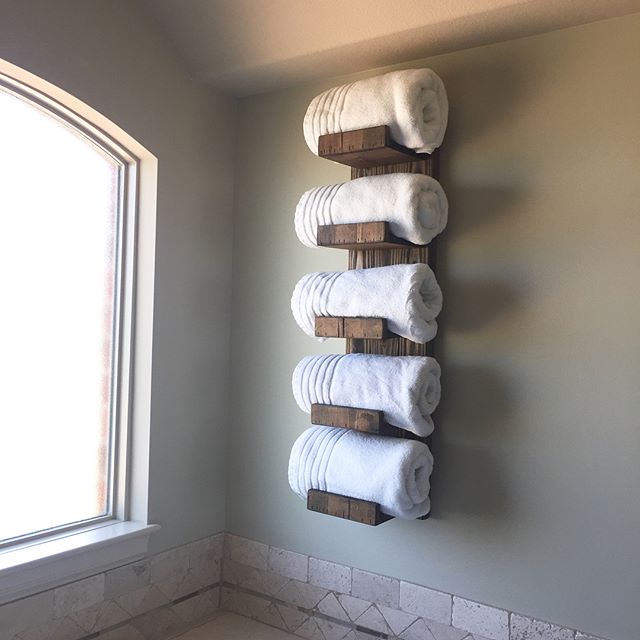 In the picture above, you can see an astonishing chic towel holder or rack. To get this item to your rustic bathroom, you can purchase it either from online stores or creating it using a DIY method.
The first method is the easiest, but you must find a reliable seller first. The price is around $15 (towels excluded). This price is determined by the quality of material and the number of the tier of the towel rack. So, are you ready to have one?
3. Chic Toiletries Holder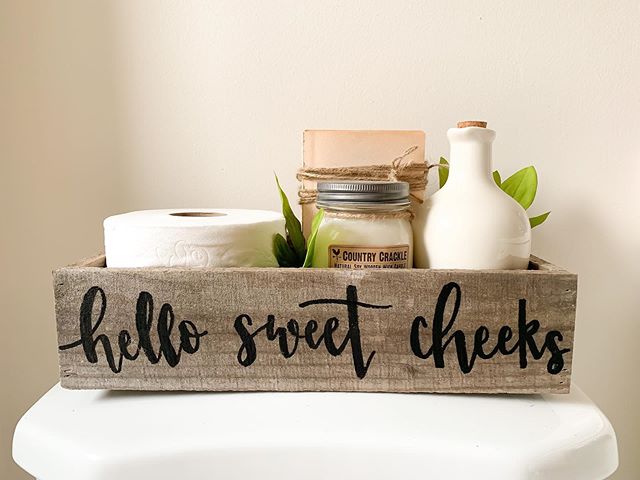 Regardless of the style of the bathroom, you need toiletries. In this example, you can get a holder or rustic box to hold those items.
This toiletries holder can be placed in any spots in the bathroom. Usually, it fits well on a sink cabinet and bathroom tables. The size of the box depends on how many toiletries that you put on it.
Perhaps the rustic toiletries holder looks boring and old. In this case, you can beautify it using wise words or other similar ornaments.
4. Pastoral Bathroom with Grey Bathtub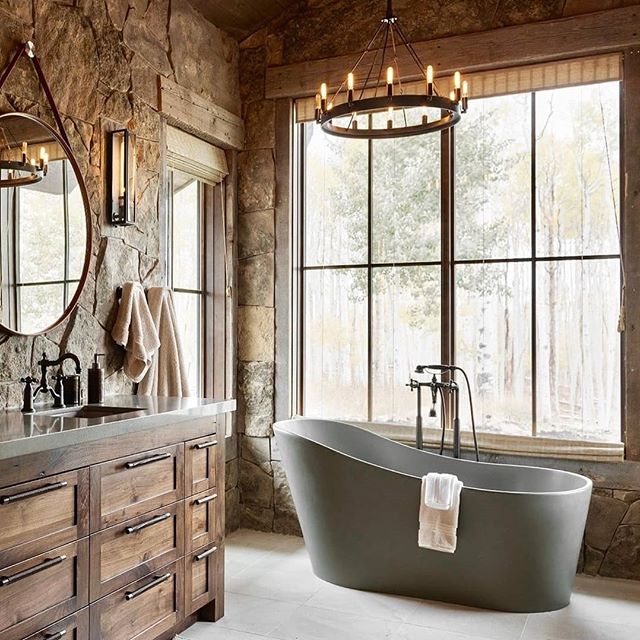 Modern rustic bathroom ideas are popular now, which combines vintage and contemporary design. However, it must be done properly to avoid the cramped and messy room.
The first item to include is the mahogany sink cabinet with a sleek marble surface. Next, you can put a circular mirror above it. As for the walls, you can install rocky tiles. This gives a classic appearance to the room!
Another important feature is the gray bathtub. The design is lustrous and modern. Above it, a majestic chandelier provides a romantic ambiance to the bathroom.
5. Rural Cabinet with Double Sleek Sinks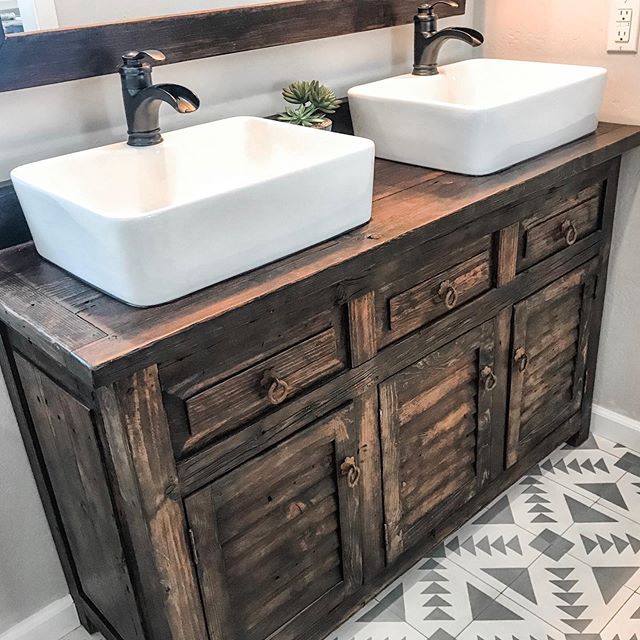 One of the keys to creating a nice modern rustic bathroom is to include a wooden sink cabinet. It can be made of quality materials like mahogany, cherry, oak, and other similar woods.
To make it unique, you can place two identical sinks on it! The dry cabinet looks rustic, but the sinks appear modern. Why double? Well, you can take advantage of its functionality.
It suits those who share a bathroom and do not like to wait to use the sink. One thing, the cabinet should be big enough to accommodate the twin sinks!
6. Bucolic Bathroom in Green and Whites
Just because you have a rustic bathroom, does not mean you are limited in dark bathroom colors. You can use other hues to beautify the room! This can even be done without others' help.
For example, you can paint the bathtub green. The wall and floor tiles should not be the same, though. Next, you can hang green towels and include some green pillows on chairs.
To maximize the decoration, a mounted scenery painting is a great addition. You can place it on a rustic wooden wallboard or other spots in the bathroom.
7. Simple DIY Bathtub Tray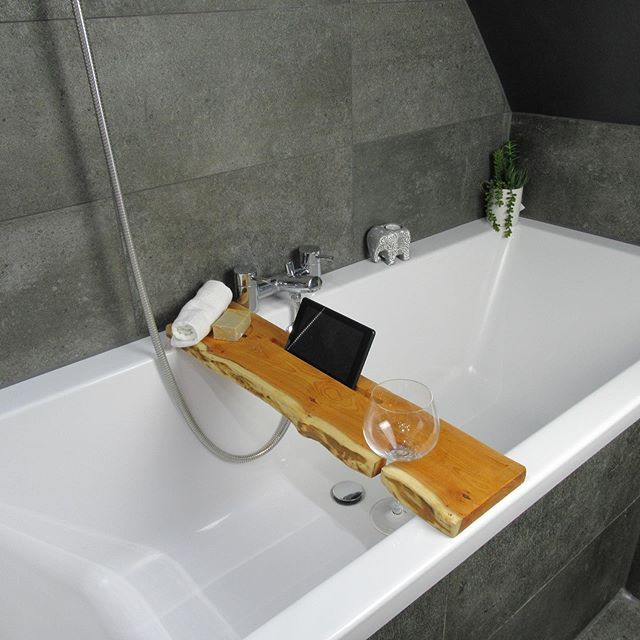 This feature is quite functional and brilliant. The name is a bathtub tray and it can be made easily. What you need is a sturdy and properly measured wooden plank. Here is the step.
After getting the plank, you need to measure it properly.
Next, you must make several holes as a holder. It depends on what type of items you want to put on it.
Lastly, place the tray in any comfortable spot on the bathtub!
In the picture above, the bathtub tray becomes the only item that represents a rustic design. Have no worries. It suits all modern bathrooms, after all.
8. Rustic and Modern Bathroom Mix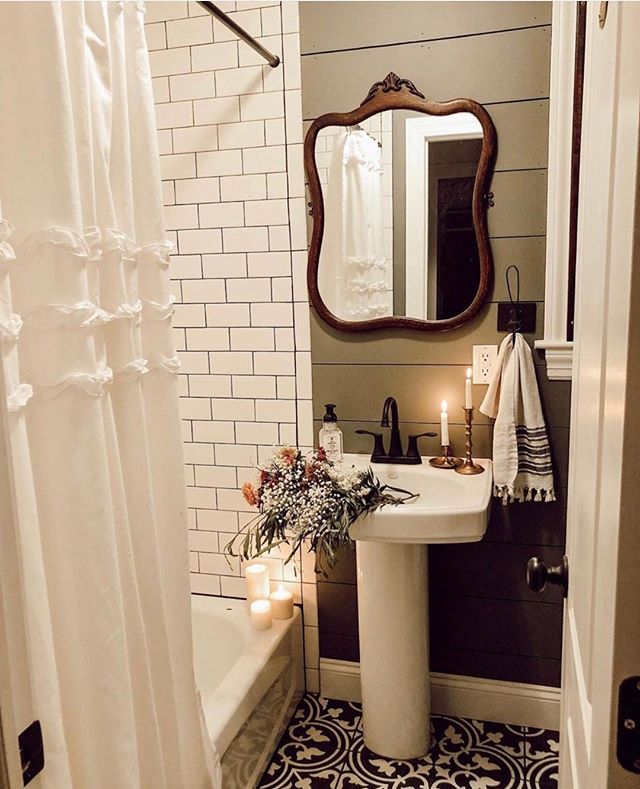 What represents rustic design? For the bathroom, it gives a soothing and vintage look. Well, the good news is that you can combine it with a modern design. How does it work, though?
In the picture above, you can see some features. First, it is the floor tile, which applies a black and white flower pattern. The bathtub has a curtain, as well. As for the sink, it looks modern and sleek.
Where does the rustic appearance come from? It can be as simple as installing a vintage mirror above the sink. Besides, you can use some rural ornaments like candles, flower bouquet, and more!
9. DIY Soap and Toilet Tissue Holder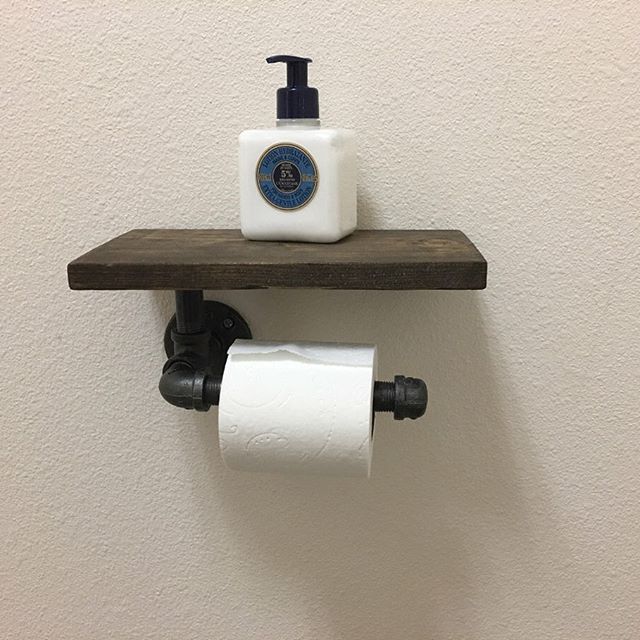 This small and simple rustic bathroom feature can be made easily! Spending much money is not necessary either. Here is the instruction:
What you need is a sturdy wooden plank and used small pipes. You can paint them either first or not.
Choose the size based on your needs.
Do not forget to prepare pipe connectors, screws, and other minor items.
Arrange them together carefully. Usually, this project does not need professional help. You can do it alone!
Mount the board on the wall and put soap and toilet tissue on the available spot.
10.  Elegant Rural Bathroom (Japanese Style)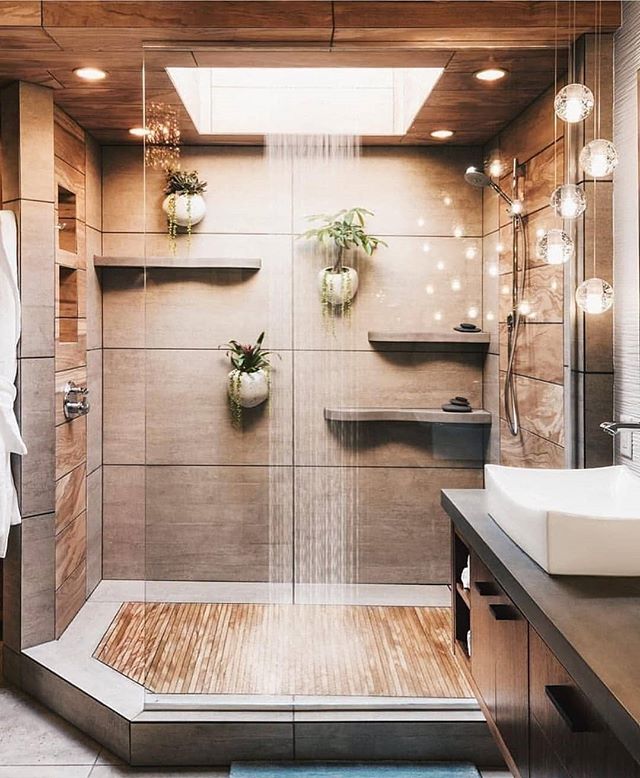 A rustic bathroom has various styles. Thus, you can pick one that matches your house. In this case, the Japanese style is a good choice. It involves natural wood and calm lighting.
The most noticeable feature is the shower, which is installed on the roof. That means the water pours amid the bathroom. Next, several toiletries shelves are mounted on the wall inside the shower.
What is more? This bathroom also features some potted plants, mounted on the wall. They give a natural and refreshing ambiance to the room. As for the contrast, a modern sink and sleek cabinet complete this room.
11. Easy Rural Bathroom Shelves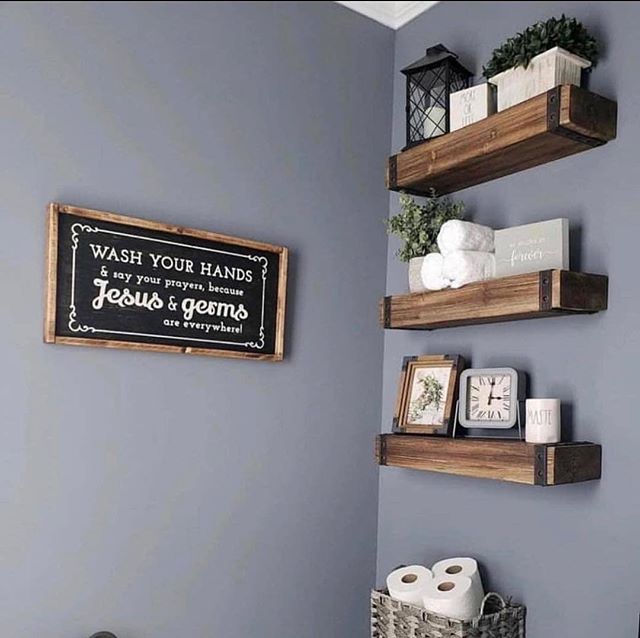 A bathroom often feels cramped and uncomfortable. Perhaps the reason is the limited space in the room. To avoid the problem, you can install shelves instead of having cabinets. The purpose is to minimize the space!
Three tiers of wooden shelves can accommodate items like towels, potted plants, clocks, candles, soaps, and others. In the bottom, you can include a tote basket to hold some toilet papers.
As an extra, you can hang framed words of wisdom on another wall. The picture applies a heather purple hue. It appears soothing, doesn't it?
12. Wood Frames and Lava Grey Wall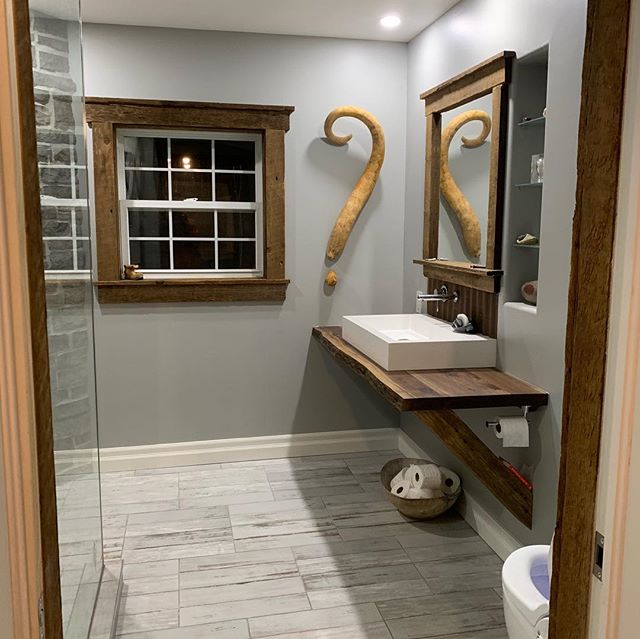 Modern rustic bathroom ideas come in many variations. This one is an example. You can see a stunning pearl-river bathroom floor there. The color gives a spacious atmosphere to the room.
Next, there is a modern glass door with a wooden frame. This gives a contemporary look to the bathroom. As for the sink cabinet and frames, a hardwood becomes the prime material. Still, it applies a sleek sink.
Under the sink cabinet, you can see a basket of toilet papers. A mounted toilet paper holder is also available. What is more? The lava grey color dominates the wall. What a majestic hue!
13. Lights in Mason Jars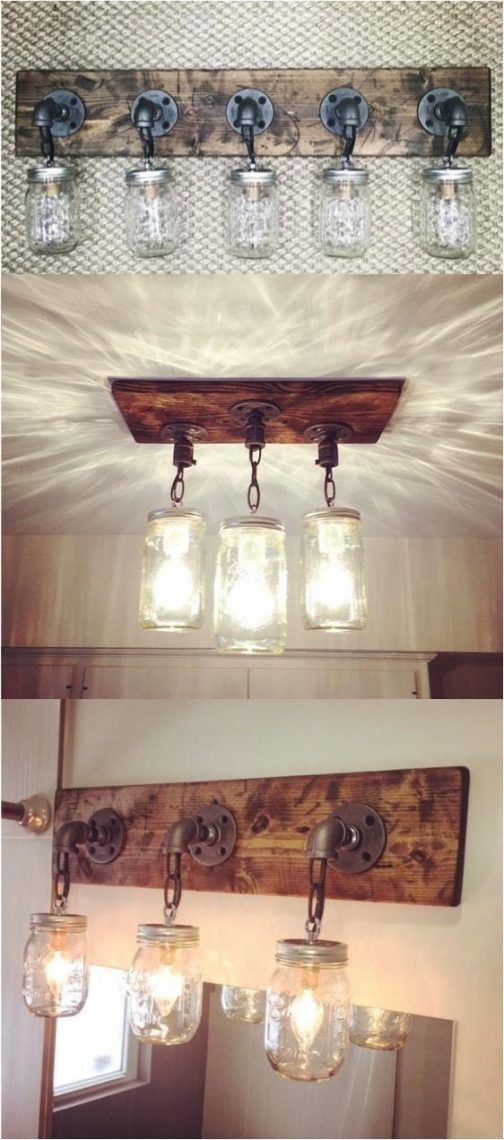 There are many methods to decorate a rustic bathroom. One of them is to play with ornaments. In this picture, you can see unique hanging lamps that reside inside mason jars.
One thing, it will be difficult to find this product in the market. Therefore, you need to create it at home. Here are the simple steps.
First, you need to find used mason jars at home. Make sure their condition is good.
Prepare all required items like screwdrivers, all-purpose glue, electric drill, and others.
Put the bulbs inside the jars one by one carefully. Make sure the size fits!
The most challenging part is the installation. In this case, the help of a professional is quite recommended.
14. Tiny Rustic Powder Room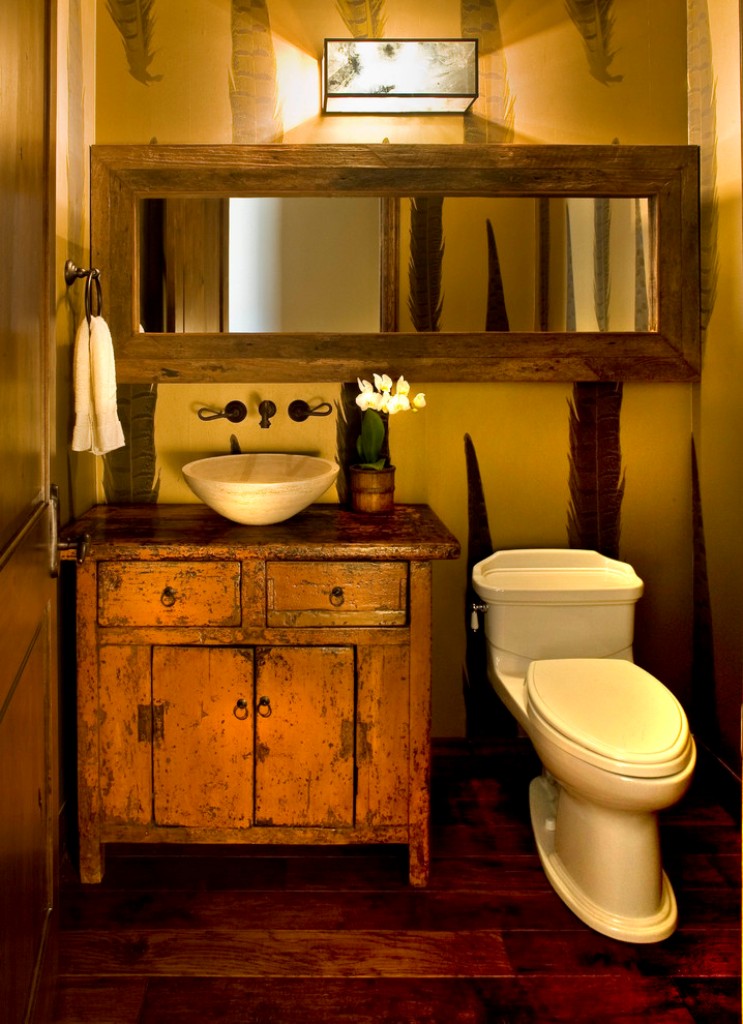 Women and girls would love this design. Despite the small size, this bathroom (powder room to be exact) gives a restful ambiance. Thus, users can relax when using the room.
As for the furniture, a wide mirror fits the wall. It gives freedom to look at the mirror or put a makeup. To create a rustic atmosphere, you need to apply the hardwood floor and use only wooden furniture.
In that picture, a modern water closet gives a contrast look with its white clean and sleek design. Moreover, the lighting looks romantic.
15. Clean and Fresh Rustic Bathroom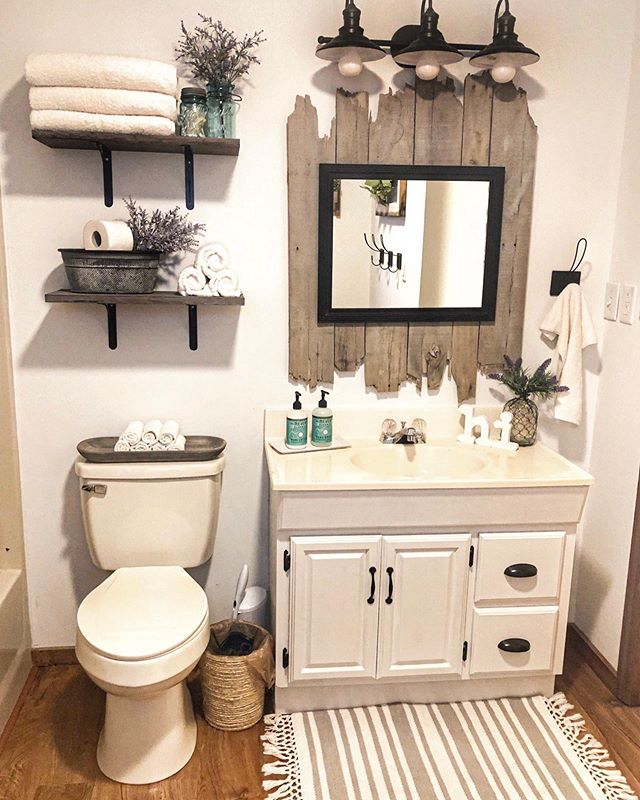 A rustic bathroom does not have to look dark and old. You can also use a bright color to enliven the nuance. In the picture above, you can see a dominant white color on the wall. It makes the room more spacious!
The next aspect is the flooring, which applies a regular light brown hardwood. Have no worries. You can avoid boredom by putting a comfortable line-patterned bathroom rug on it.
Both the sink cabinet and toilet applies the same color as the wall. The rustic elements come from the wooden base of the mirror, wall lamps, and straw basket. Do you want to include more?
16. Cowboy Drum at the Corner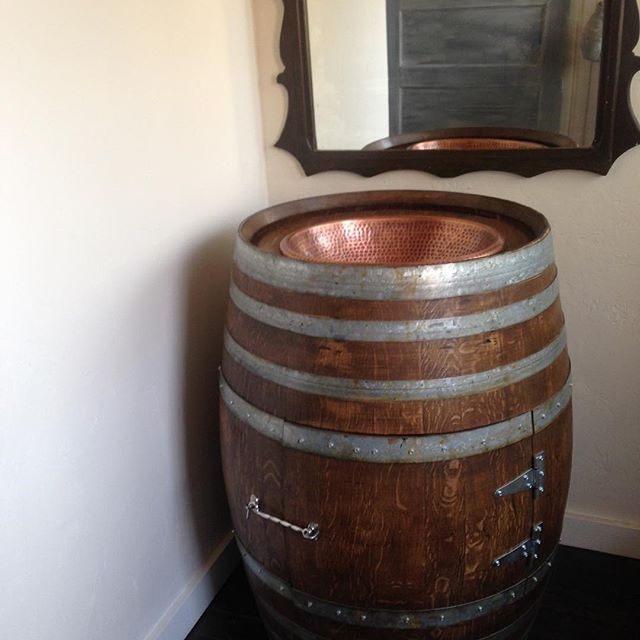 A corner space in your bathroom should be filled with a unique item. In this example, you can use a cowboy drum. This thing emits a strong rural ambiance and looks astonishing.
The drum can be both functional and gives an improvement in terms of beauty. It can be placed right under a mirror and functions as a vanity or bathroom desk.
One thing, this item is considered pricey due to the rareness. The sellers cannot be found easily in the market, after all. As for the tip, it is recommended to browse online or buy from thrift shops.
17. DIY Hanging Basket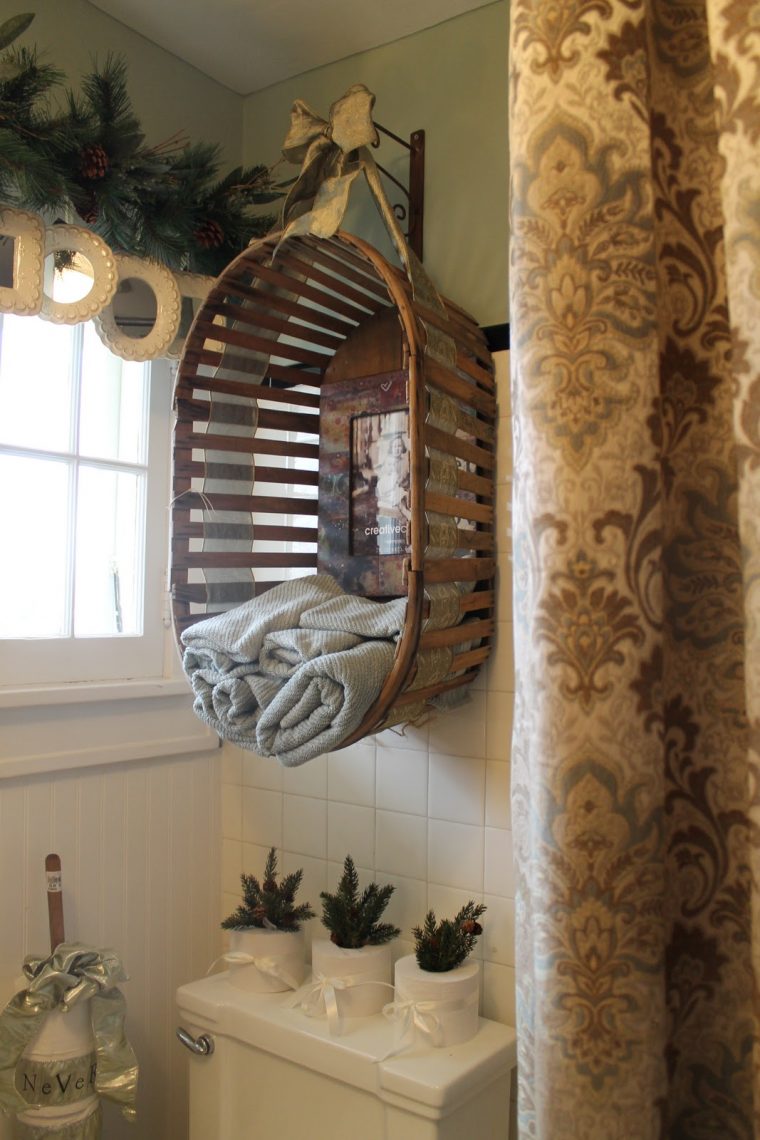 This becomes one of the most astonishing rustic bathroom ideas out there. The key is to repurpose old décor items, which is the fastest way to bring in a rustic atmosphere. Here is what you need to do.
Find an old laundry basket and remove its base.
Put and hang the basket on the wall over a mirror. Do not forget to put a big ribbon to beautify it.
The placement can be anywhere in the bathroom, but the most recommended one is above the bathtub.
This decoration does not cost much money. You do not need to spend money! What you need is to reuse old decors like a laundry basket, ribbon, small rounded mirrors, etc.
18. Simple Sliding Barn Door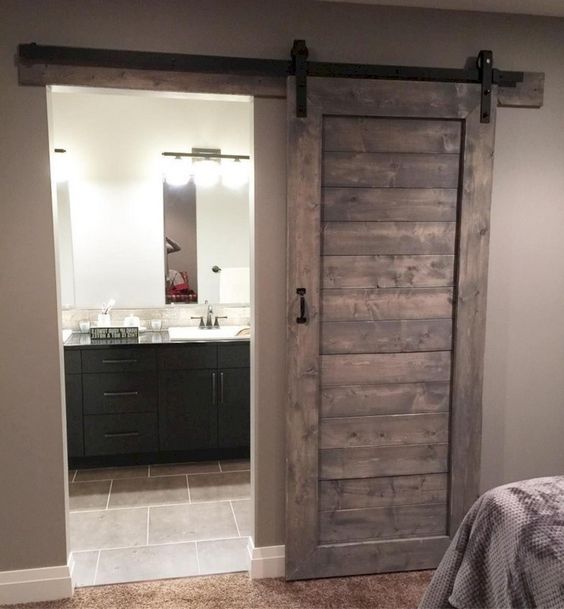 To get this amazing rustic bathroom, you need to put some effort. The prime feature is the sliding barn door with its trout grey color. The appearance looks murky, but it appears astonishing!
The installation is easy, as long as you measure the size of the door properly. Next, you need to use a wide sleek iron-grey sink cabinet to give a modern look to the bathroom.
Here is the important tip. You should use durable material or wood. Thus, the bathroom may emit an elegant look, as well. Blending rustic décor elements and modern touches is a good idea, isn't it?
19. Magazine Rack for Rustic Bathroom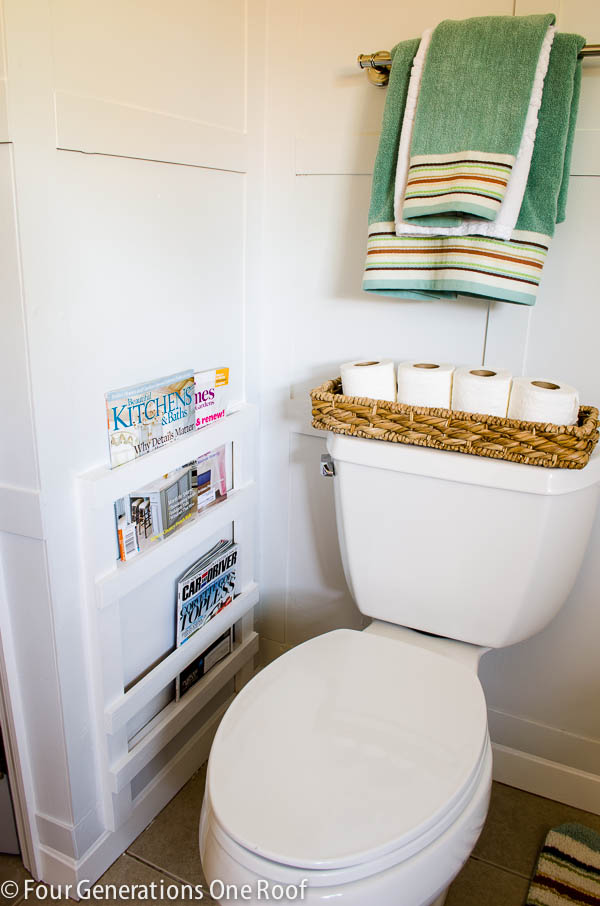 When using a toilet, most people would do something else like reading and using their gadgets. Then, why don't you install a magazine rack next to the toilet bowl?
The aim is to organize those magazines neatly and help you to reach them without hassles. It keeps the bathroom neat, as you will not find magazines lying on the toilet tank or floor.
The idea is to create a wall-mounted magazine rack. You can use leftover birch and pine as the main materials. As for the installment, you can either call an expert or do it yourself.
20. Wooden Mirror Frame with Shelf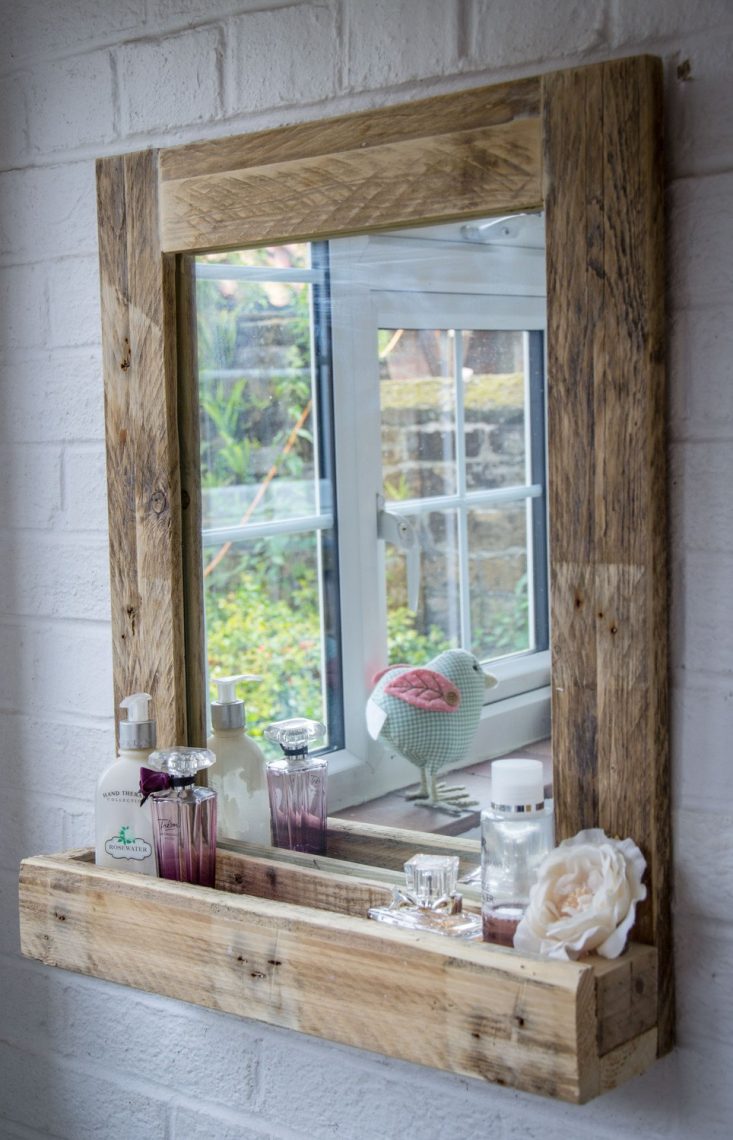 Rustic often relates to wooden elements. One of the simplest methods to bring in a rural atmosphere to the bathroom is to install a mirror with a wooden frame.
It is not a regular mirror, though. You can put a shelf at the bottom part of the frame. This gives many practical benefits, including looking at the mirror and storing towels or toiletries.
Two important aspects are the sturdiness of the wood and placement. You can hire a professional constructor to ensure quality later.
Summary
Small rustic bathroom ideas on a budget and other recommended examples above would be great information for you, especially for those who do not have experience regarding rustic design.
The smell of wet petals, cotton, and woods often becomes the prime characteristic of this concept. Moreover, rustic bathroom ideas give a special and unique atmosphere to the room. It even works in your bathroom!