A bedroom is your haven when it comes to sleeping and resting. This explains why you need to pick the right design for the room. Having rustic bedroom ideas is a good start. Rustic is quite popular, after all.
Not only is rustic design fashionable, but it is also long-lasting. Rustic bedroom paint, decoration, and furniture are some basic elements. When decorating the bedroom, you are likely to apply hardwood material.
The good thing is that you can combine those with other elements. Perhaps you think that rustic furniture does not match your modern bedroom. Have no worries. Some ideas below can satisfy that requirement.
1. Easy and Soothing Rustic Bedroom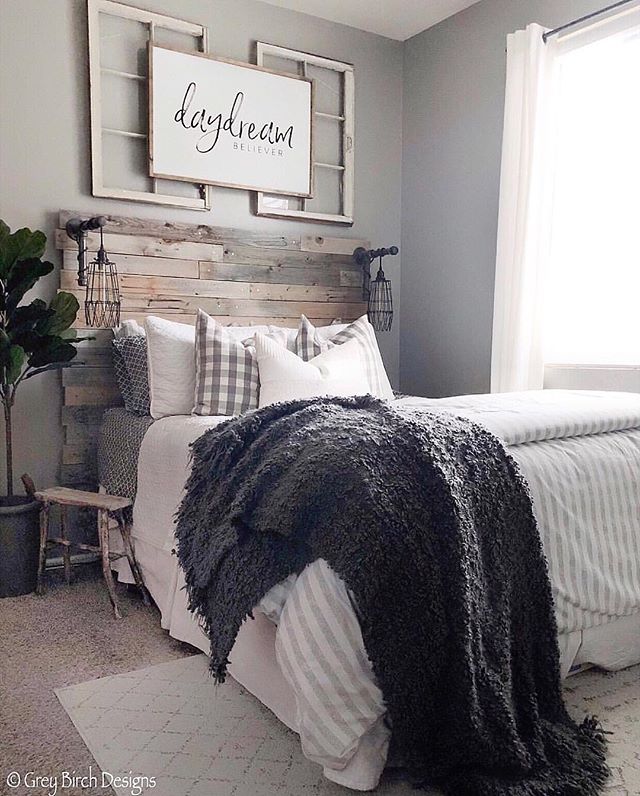 For singles, this rustic bedroom idea is the best choice. The idea is to combine some calm colors like white and several shades of grey (abalone, thunder, pearl-river, smoke, pewter, etc).
The rustic elements come from a wooden bed, a small long chair, and double cage bed ornaments. Well, you can include other things, though. One thing, the bed is small due to the limited space of the bedroom.
The next recognizable feature is the presence of a mounted framed quote on the wall above the bed. Feel free to customize the words to suit your preferences!
2. Rustic Attic Bedroom with Studio Lamps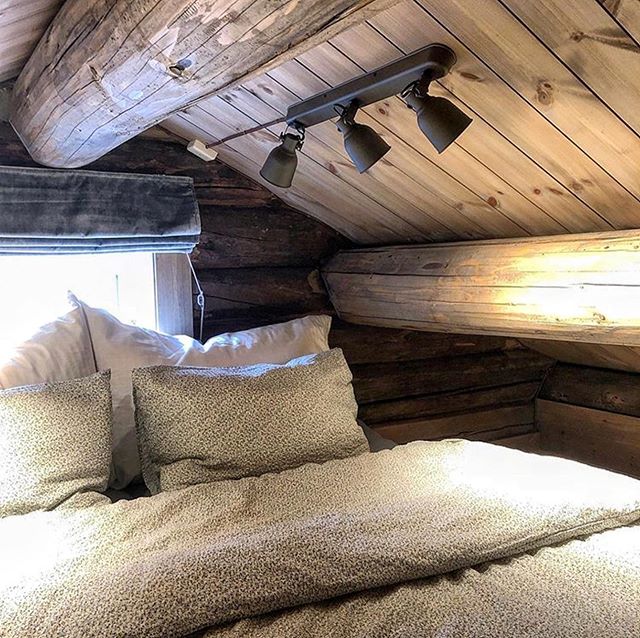 Do you have a spacious attic? Why don't you turn it into a rustic bedroom? In the picture above, the size of the room is not quite big. This explains why the bed stands close to the roof.
The rustic ambiance comes from the big wood materials of the attic! A unique drape also decorates this bedroom. Besides, the bed features thick and fluffy pillows and bedding. You can freely choose the pattern!
Another important element is the small studio lamp installation. You can get these from online stores easily like Amazon or Alibaba! They will not cost more than $100!
3. Wood Galore and Furry Bedding
Wooden materials have become the prime element of rustic design. In the bedroom idea above, it applies wooden features in almost all parts of the room. These include the walls, flooring, and bed foundation.
This idea is suitable for those who live in rural areas and woods! The bedroom emits a peaceful ambiance, so it would help you sleep better. In terms of beauty, you can install a mounted desk and lamp.
When it comes to comfort, the bed has furry warm bedding with relaxing hues. Above the bed, you can mount a black and white cowboy painting! Other rustic paintings also work here.
4. Simple Twin Beds and Rural Rug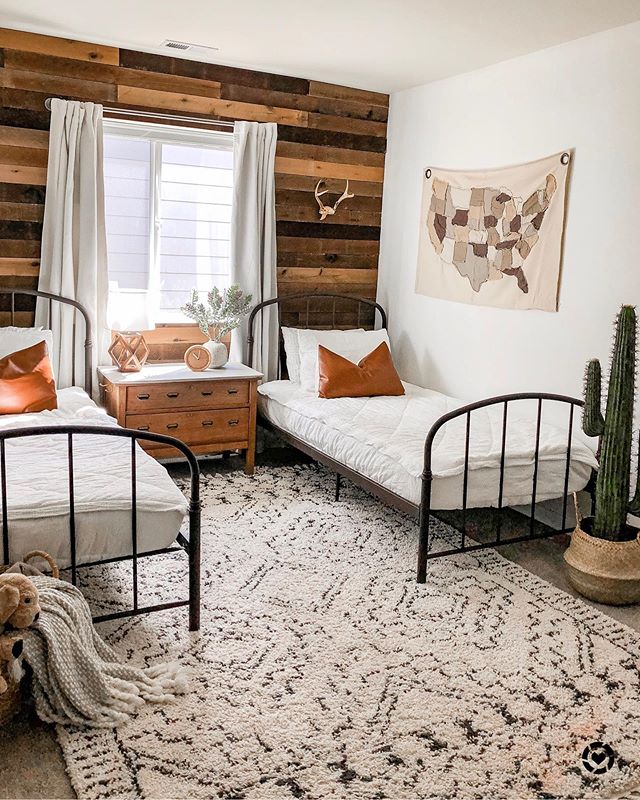 Neat and country ambiance comes out from this rustic bedroom idea. This design is perfect for those who have twin kids. The prime feature is indeed the similar twin beds.
The rustic appearance comes from the wooden wall, located behind the head of the beds. As for the other walls, you can use bright paint colors, especially white. The purpose is to make the room neater and wider.
As for the decorations, you can place a premium rug in the middle of the room. You should place a nice desk between the beds. A potted cactus, mounted fabric map and, deer skull also become great extras.
5. DIY Floating Rustic Shelves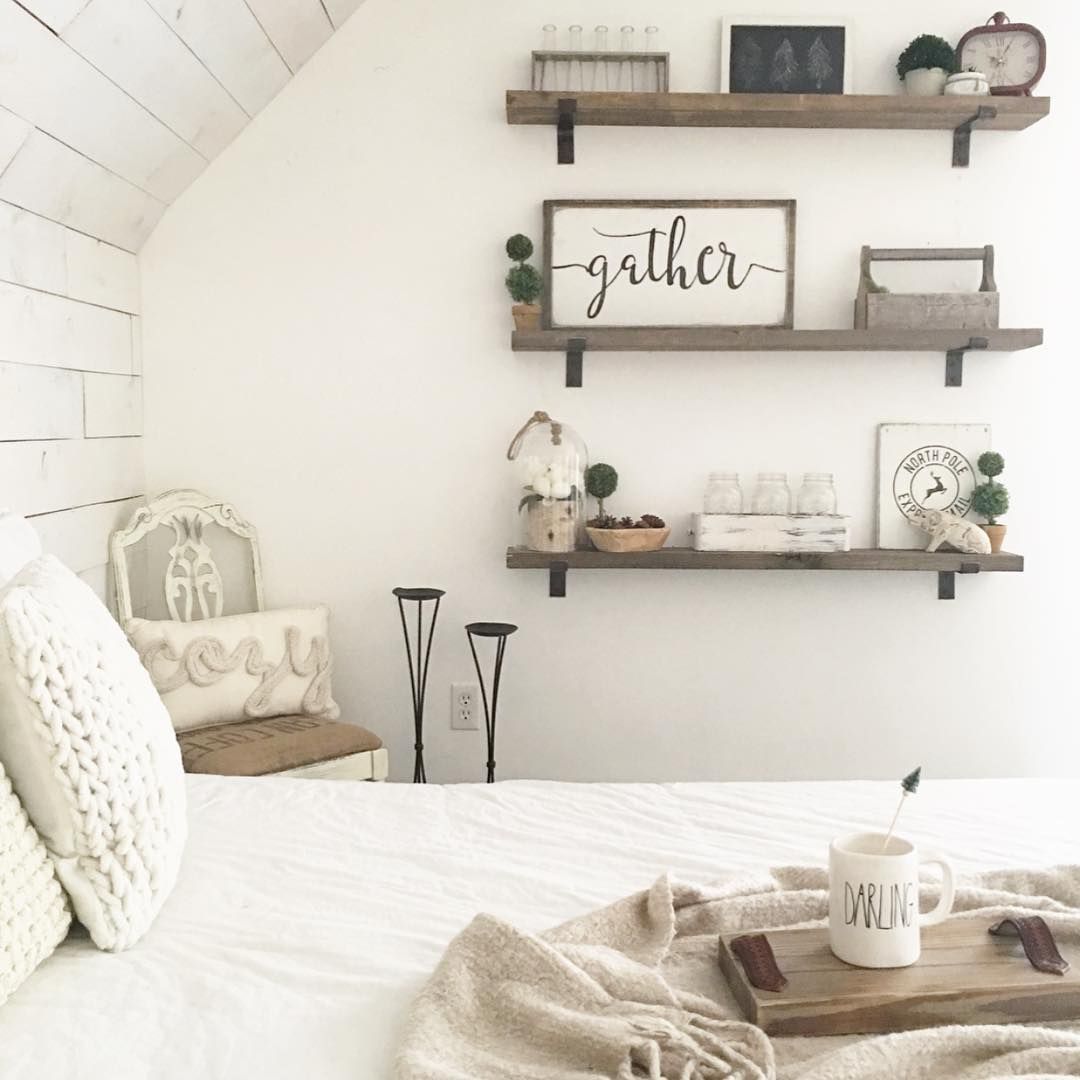 Rustic bedroom ideas on a budget have many fans! One of them is these DIY floating rustic shelves. That means you do not need to look for and buy this product in the market.
Here is what you need to do:
Gather some planks of old woods (regardless of the type).
Measure and cut them into a similar size and length.
Mount them neatly on your rustic bedroom.
You can either paint these planks or use the original appearance.
The main function of these shelves is to support items like photos, books, and small ornaments. So, can you do the project?
6. Oversized Door with Mirror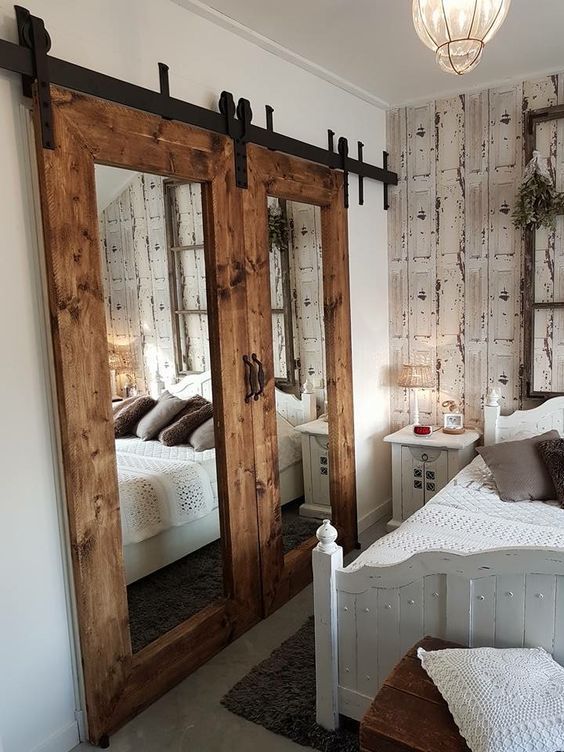 A small rustic bedroom often looks ugly. However, with this amazing door, you can upgrade the room's appearance. Unlike a regular door, this one is made of hardwood (that represents a country design).
The door even has double big mirrors! This idea saves a lot of space in the bedroom, as you do not need to install a regular mirror for your rustic bedroom.
Well, a plain white bed would satisfy you. It looks clean and bright. Do not forget to combine it with furniture like tables, chairs, and decorations.
7. Hunter-style Rustic Bedroom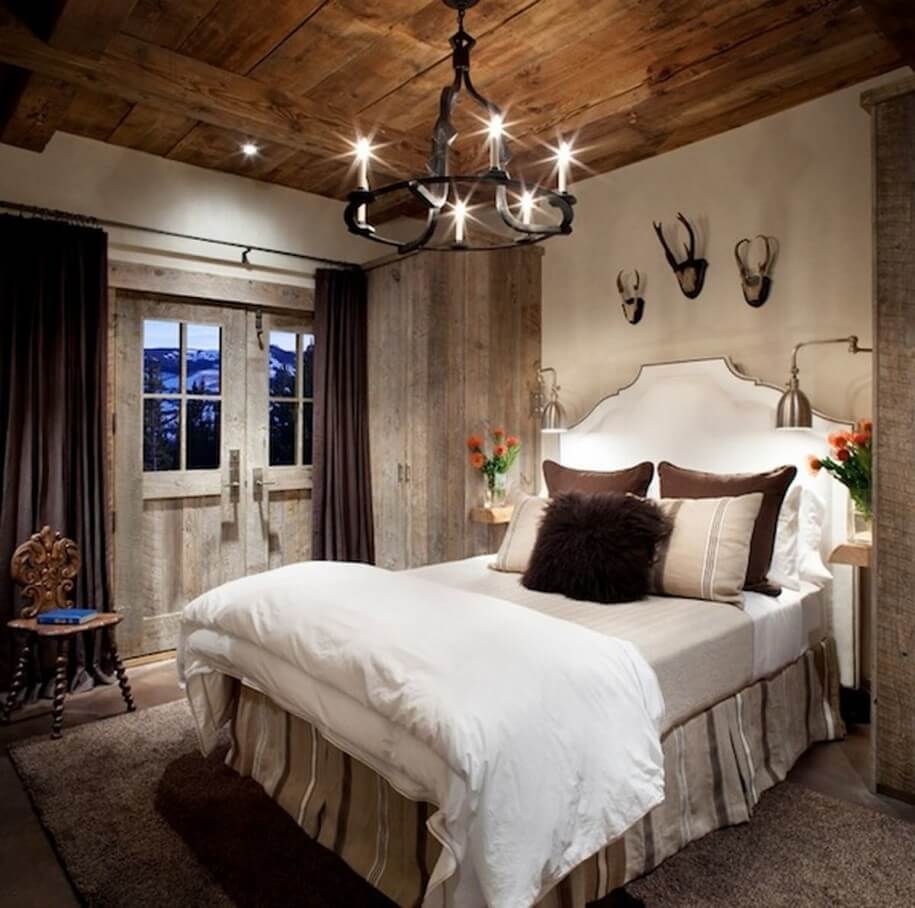 You can live the life of a hunter by applying this design. The idea is to put some rustic elements in the room. The most important one is the triple deer skulls, mounted on the wall above the head of the bed.
Next, you must have wooden features, especially for the windows and doors. The color and type of woods can be anything based on your budget. In the picture above, rhino grey is the choice.
What is more? Another noticeable element is the rustic chandelier, which is a little bit pricey. Thus, you must prepare enough money to buy it.
8. Cave-style Rustic Bedroom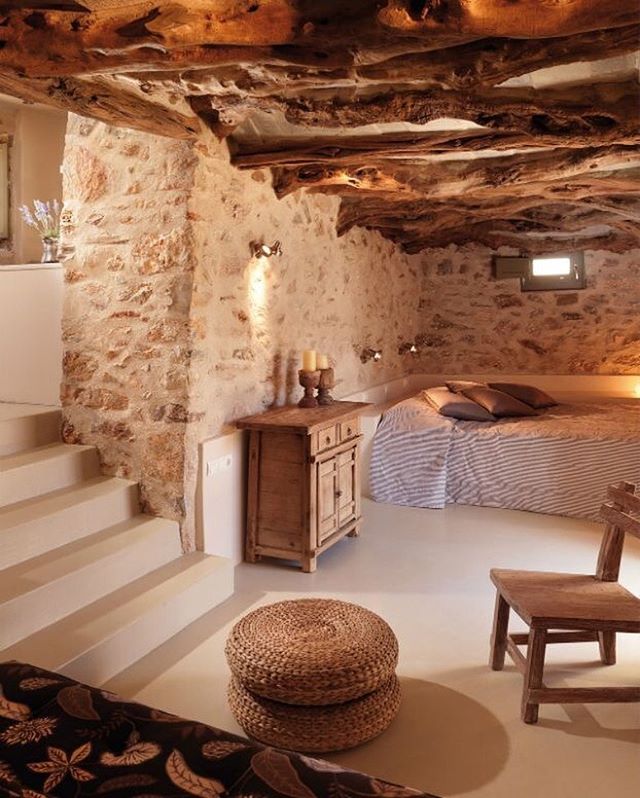 To have this design for your bedroom, you need to spend a lot of money. Here is the reason. You must replace your old walls with this astonishing stall. Even the roof applies the same material.
The floor is degraded, so the bed resides below the surface of the entrance. Well, only professional constructors can do this job properly. You must prepare the budget to pay them, too, later.
As for the rustic elements, you can simply include country-style furniture and some decorations like big candles.
9. Ominous Farmhouse-style Rustic Bedroom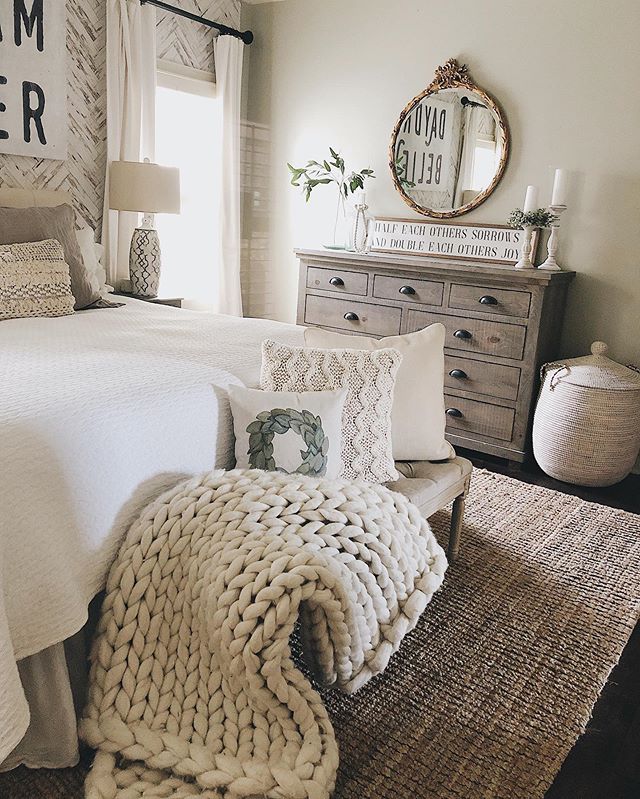 This special rustic idea may suit everyone's preference due to its simplicity. The first aspect to include is the color theme, which applies a dim ambiance. You can use white and various shades of grey there.
The next aspect is the ornament. To create a rural atmosphere, you can use knitting decorations, including the pillows, blanket, rug, container, and many others.
As for the furniture, you can include a regular wooden desk with a quote décor on it. Above the desk, a vintage rounded mirror becomes a center of attention!
10. DIY Rustic Ladder and Chair Set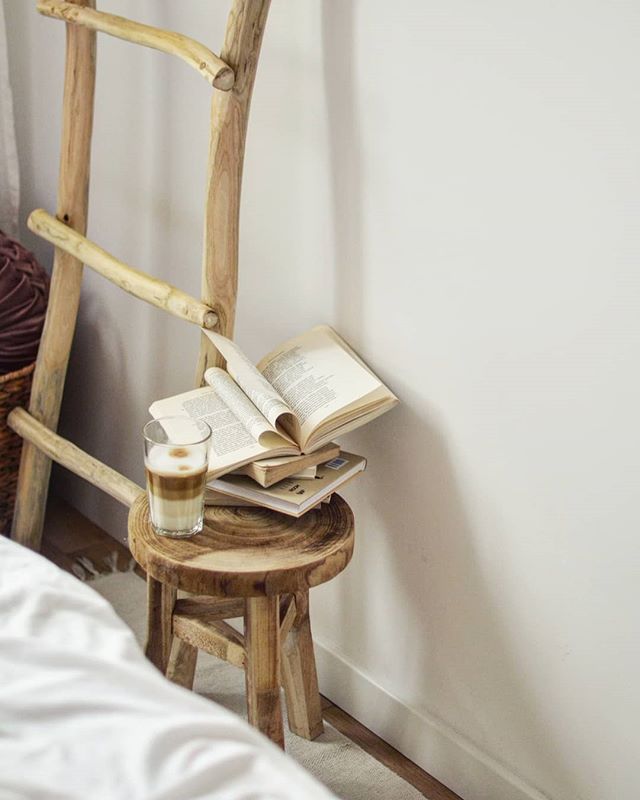 There is no need to buy decorations for your rustic bedroom. It is because you can create these using a DIY procedure. In the picture above, you can see a simple small wooden ladder and chair. Here is how to make them:
First, choose a type of wood as the material. The stronger is the better.
Cut those woods into pieces, based on the plan or framework.
Arrange those properly using available nails, screws, and other items.
You can even use a special glue to put the pieces together.
Place these décors next to your bedroom.
11. Country Bedroom Shelf with Hangers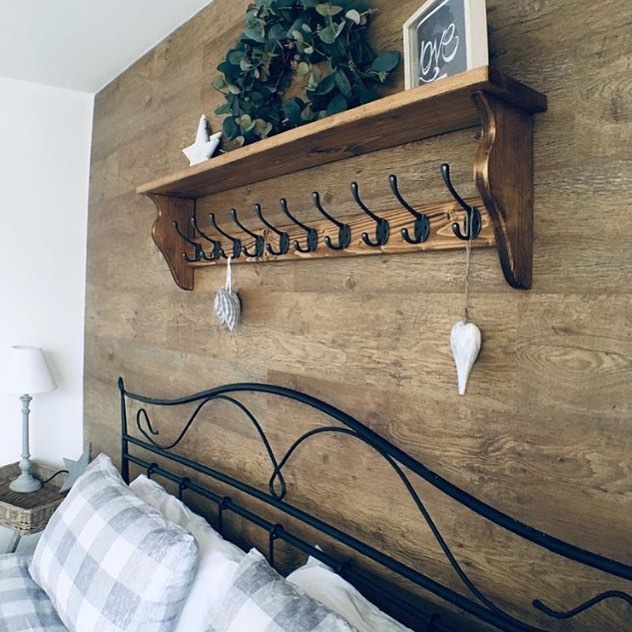 You have many ways to decorate the wooden headboard of your rustic bedroom. For example, this functional long shelf with hangers becomes the right choice.
The item is available on the market, but the price varies depending on the durability of the material and finishing quality. You also need to think about the size before buying.
After getting this beautiful rustic shelf, you can directly mount or install it on the wall. Later, you can put on some items like photos and knick-knacks. As for the hangers, you can use these to hang room perfumes.
12. Repurposed Door Headboard and Romantic Chandelier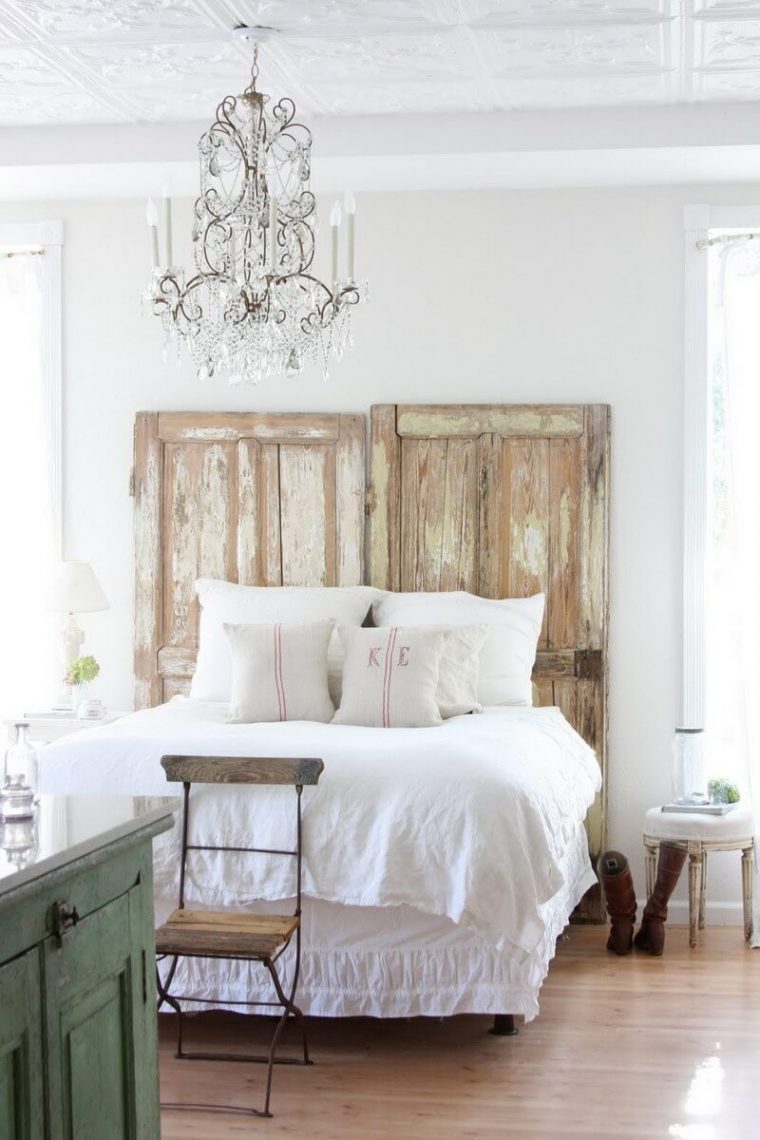 If you have wooden doors at home, you should not throw them away. The idea is to use them as the headboard for your rustic bed! The installation is easy. You only need to install them directly behind the bed.
The theme of the room is a white rustic design. Thus, you must use only bright paint on the walls. As for the furniture, a gloomy shade of green is in the recommendation list to create a contrast.
What is more? A crystal chandelier gives a beautiful ambiance to this country-style bedroom. However, the price is expensive!
13. Sliding Barn Door and Lightings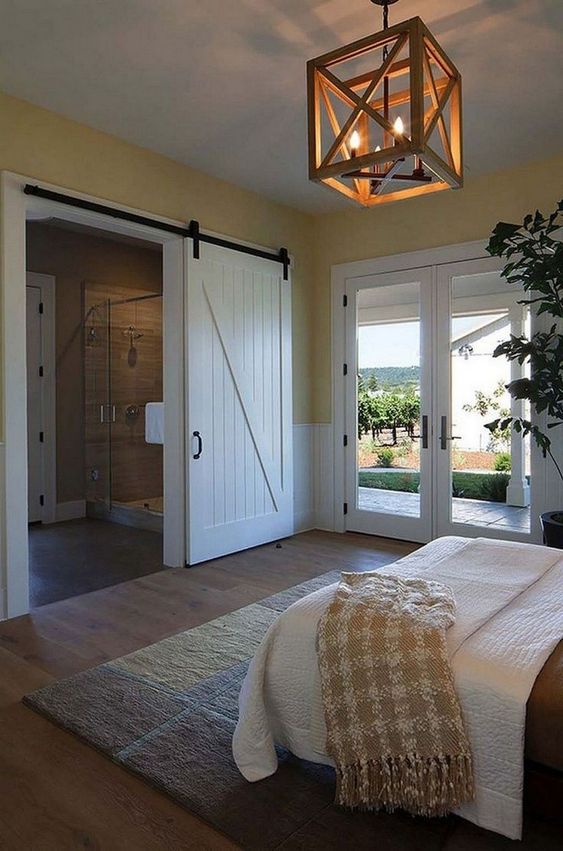 A rustic bedroom should look unique or distinct. In terms of functionality, a barn sliding door is a good idea. You can install it to separate the bedroom and bathroom.
However, the installment is a little bit complicated and hard. Thus, you need to hire a professional to do the job properly. In the picture above, the bedroom resides next to an open yard. What does it mean?
It is better to install a big glass door to provide better scenery. The next aspect is the astonishing small chandelier with wooden frames. Have no worries. You can get one either from the local or online market!
14. Large Rustic Mirror Next to the Bed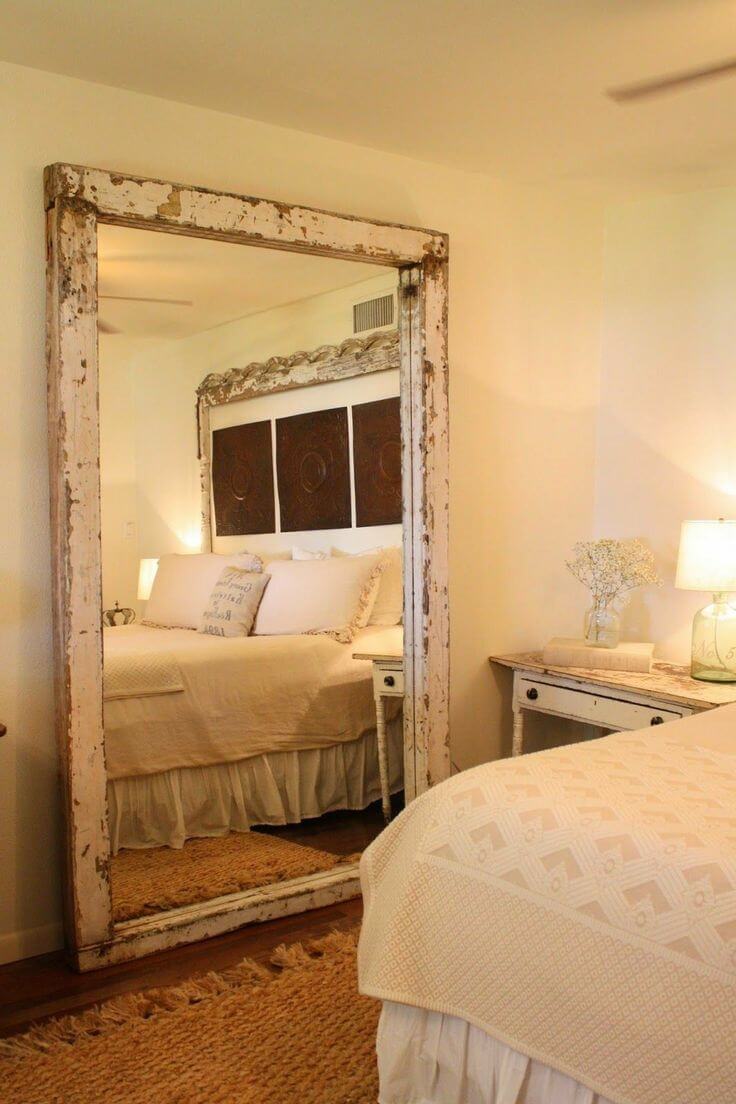 If you do not have ideas to choose decorations for your bedroom, this big rustic floor mirror is a good choice. The material is old vintage wood, but the mirror is made of wonderful quality.
This rustic mirror also becomes a perfect wall accent, representing artistic and creative ambiance. Not to mention it gives a nice functionality. The big size helps you to look at the mirror easily before or after sleeping.
Rustic wall mirrors have many sizes and designs, so you can match it with your bedroom color theme. This one applies a chiffon white color! Doesn't it look neat and beautiful?
15. DIY Rustic Log Candles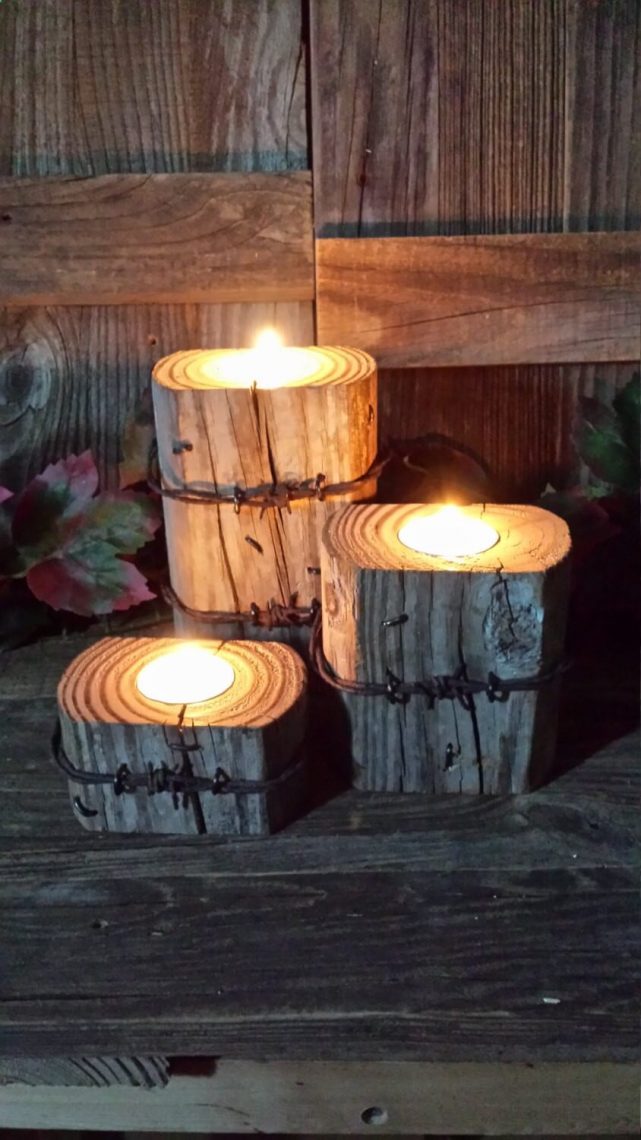 To give an artistic appearance to your rustic bedroom, you need to have a distinct decoration. These log candleholders are an example. You can create them easily, moreover.
First, gather some good quality logs and cut them properly. Find the center and mark it.
Next, make a hole on that center using a spade bit and drill. The depth is around a quarter inch.
You also need to sand rough surfaces and edges!
The last step is finishing. This time, you can put either paint or other finishes. Some people would put ribbon or lace to these logs!
16. Harbor Grey Rustic Bedroom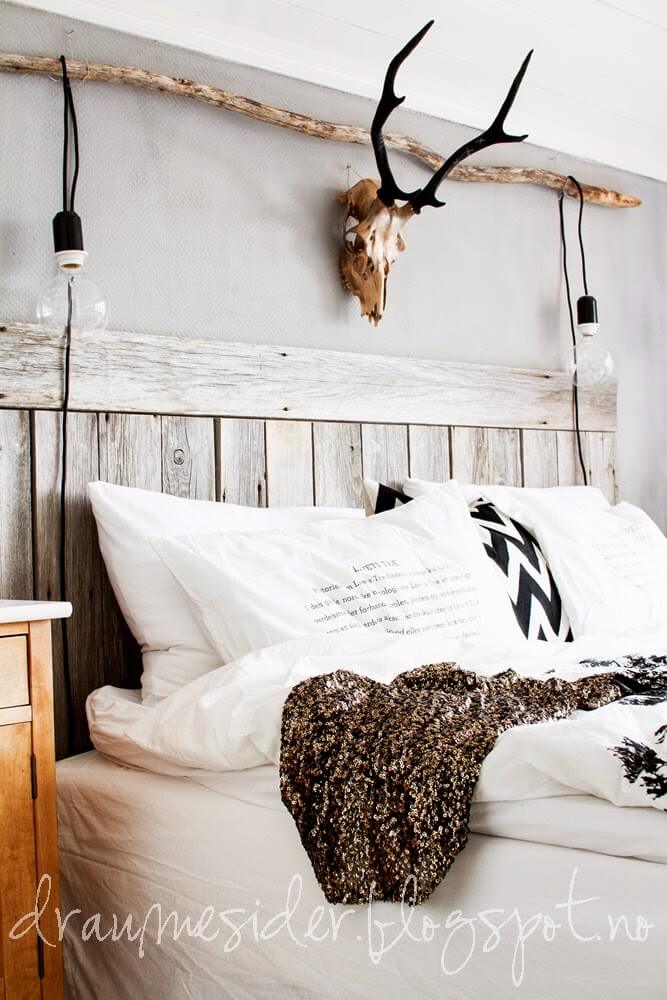 A rustic bedroom should not always look gloomy or dark. That means you can use bright paints to beautify the room. For instance, there is harbor grey. In the picture, both the headboard and walls apply that color.
The bed is simple and it features white pillows with quotes. Located next to the bed, a wooden brown nightstand accommodates various types of items.
Next, as for the ornament, you can mount an exotic antler ad hang two big exposed ball lamps. These items are not expensive, so do not worry.
17. Antique Wall Lamp Holder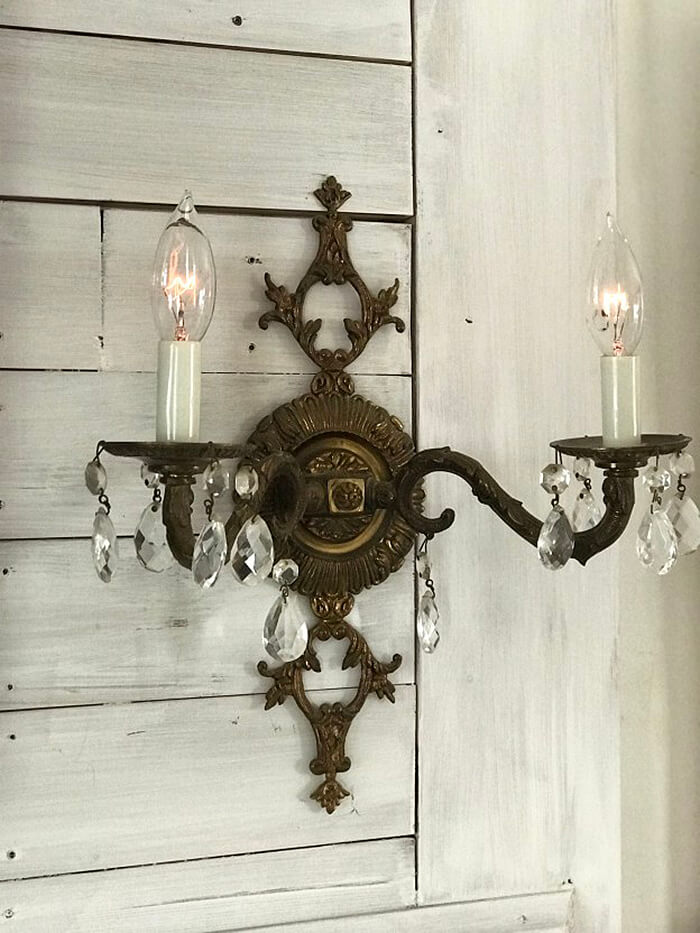 Lighting is one of the most important aspects of rustic bedroom ideas. However, your choice must suit the theme. An antique mounted lamp holder is the most recommended selection, in this case.
The only issue is the price. This antique is more expensive than regular lamps. Besides, it takes some time to find it in the market! The solution is to buy one from online markets despite the dear price.
This product has a beautiful design, which represents the shape of candles. Moreover, it features some crystal-like ornaments. This explains why this item is pricey.
18. Simple Sliding Barn Window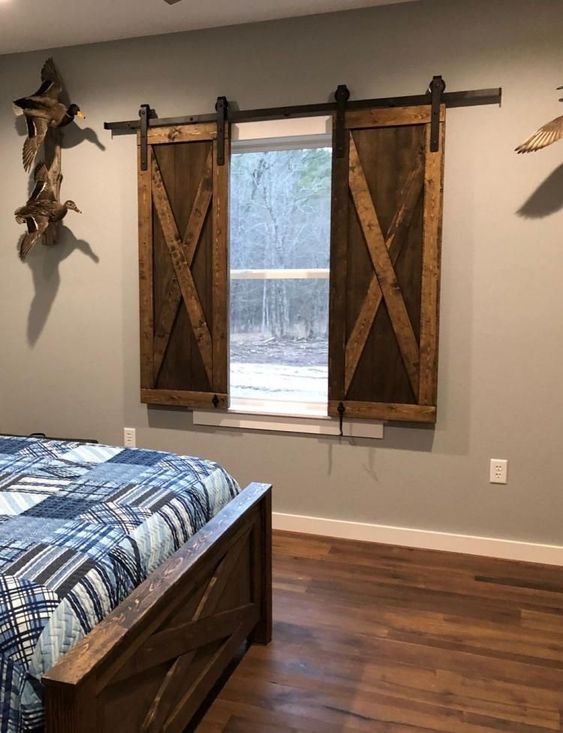 Aside from enhancing appearances, you need to pay attention to the functionality of your rustic bedroom. Here is an idea. Why don't you install a sliding barn window? It takes some effort, but the result is quite rewarding.
The aim is to replace drapes or curtains. Besides, the sliding barn window represents rustic design the most. You can match the materials with the flooring and divan. Hardwood is a popular choice!
What is more? You should include some unique ornaments to the wall. In the picture above, mounted flying duck imitations look so mesmerizing, don't they?
19. Outstanding Sliding Rustic Nightstand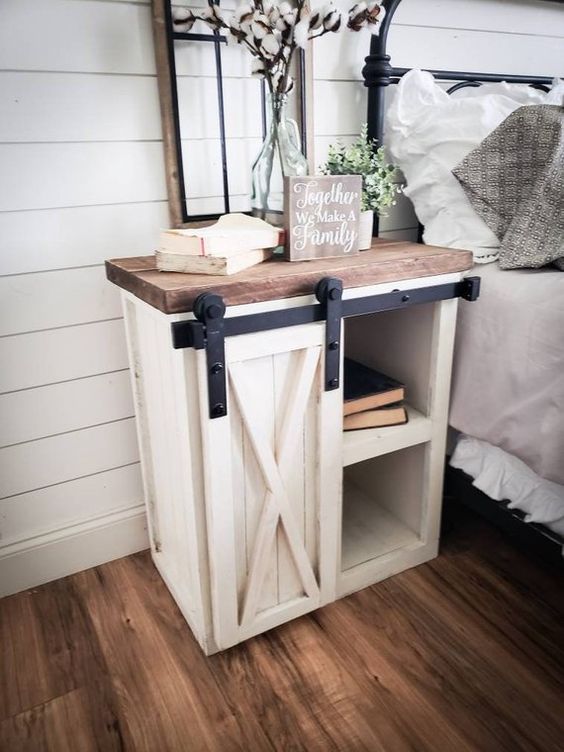 A nightstand is a common furniture, placed next to a bed. For your rustic bedroom, this item would give excellent improvement. Why is that? It is different from regular products due to the sliding feature.
The door of this nightstand is slide-able. Moreover, it has an extra wooden surface that can accommodate heavy and many items. These include books, potted plants, framed quotes, and many others.
This nightstand also has storage spaces to keep some items like books and novels. As for the material, the most common choice is cherry. It can be either bright or dark, based on your preference.
20. Rustic Headboard with Lights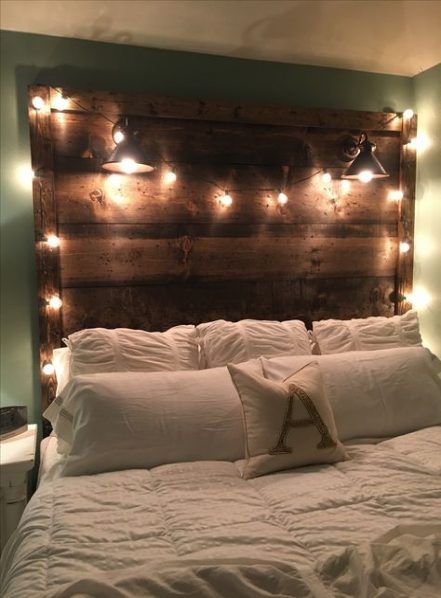 For those who are in a relationship or married couples, this rustic bedroom idea is a good choice. The purpose is to create the most comfortable place for sleeping.
This can be done by applying a dim illumination and include the best bedding. A large rustic headboard stands majestically. Moreover, you need to hang several lamps on it!
Make sure the arrangement of the lamps is right, which is usually symmetrical.
Summary
Before choosing one of the examples above, you need to consider several things indeed. For instance, it is about the price. Even rustic bedroom ideas on a budget are available above.
Aside from the price, you need to consider other things like the way to make the furniture. Usually, the maker gets the materials handcrafted. However, another method is possible, which is handmade. Which one are you?
When picking rustic bedroom ideas above, you can think about the originality. Here is the tip. An original rustic bed is usually rugged, solid, and heavy. Do not forget to consider the styles, as well!