It is kind of challenging to make a small space looks visually larger. A small bedroom space can give an uncomfortable feeling as if you're being locked in it. That's why some smart small bedroom ideas are needed.
Designs and decorations are the part that can't be separated when it comes to talking about bedrooms because they are literally one package. There are some aspects that you should pay attention to when decorating a room.
1. Slim Bed With Pendant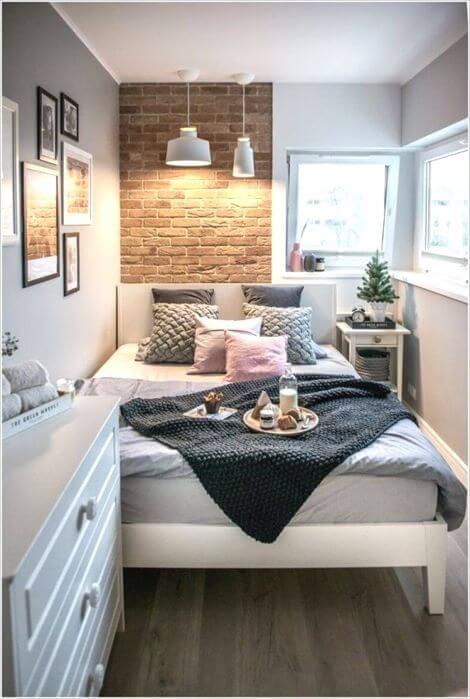 Since the room is tiny, the bed should be designed with the right size, and leave some space to put a small table next to it. The height should also relatively low since the ceiling isn't that high.
Lighting plays an essential role as it can make it look a little bit spacious. Installing windows is a must. A cramped room has a big chance to have a pungent smell. Therefore, good air ventilation is necessary here.
The brick wall gives an old-fashioned style and warm look.
The bed has legs so you can clean the space underneath.
2. Elegant with Long Curtain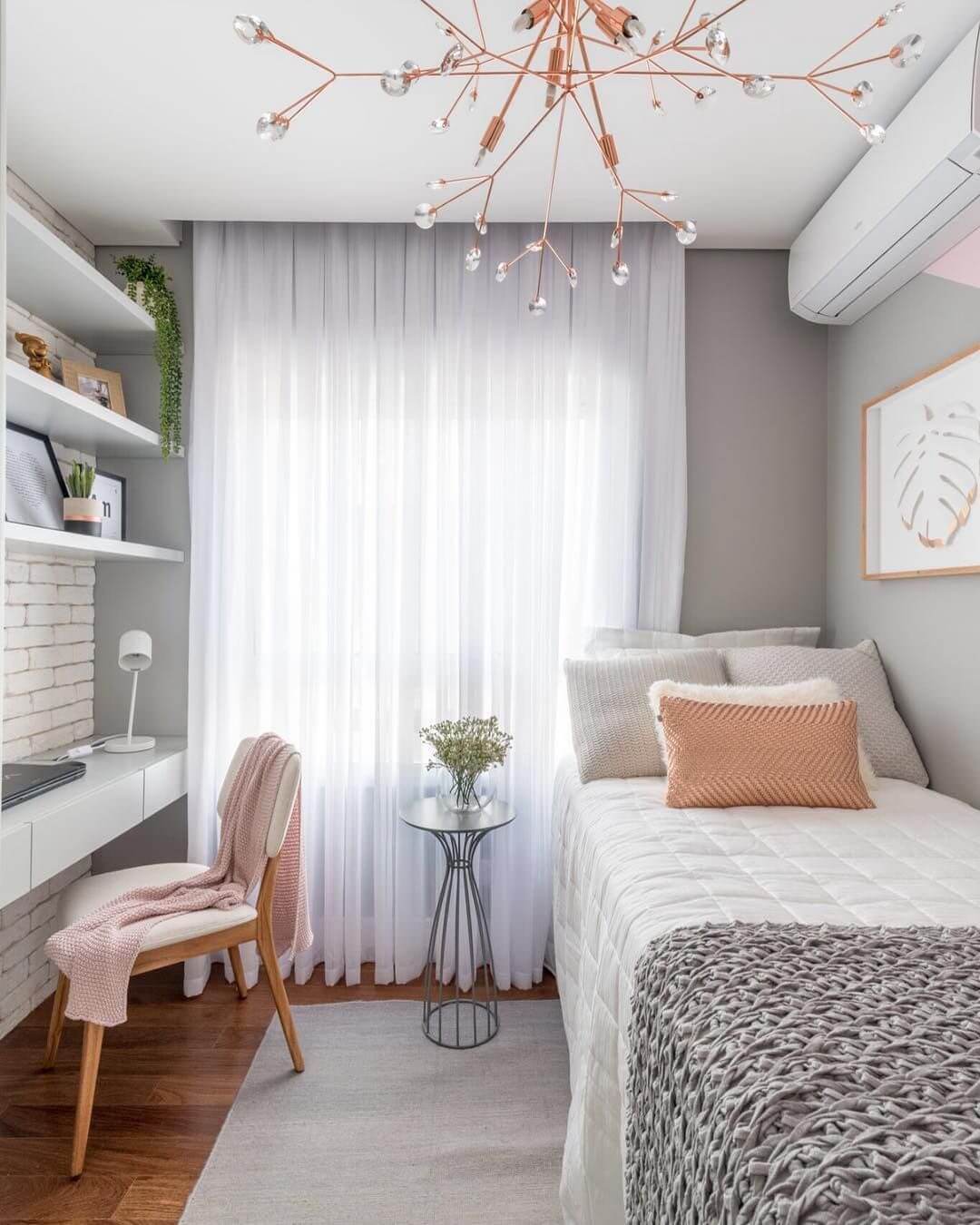 This is such a clever way of organizing a small room. Since the bed will only fit one person, and you should be careful when sleeping or you will fall from it. With such a small space, this room still has some space left to put a chair.
A mini countertop and a lamp will accompany you to study. The terracotta walls match perfectly with the white curtain and make the room look brighter.
Installing shelves are quite a good idea for storage.
The branch-like lamp is pretty out of the ordinary.
Here the air conditioner is a device that can help you with the hot temperature.
3. Adding Plants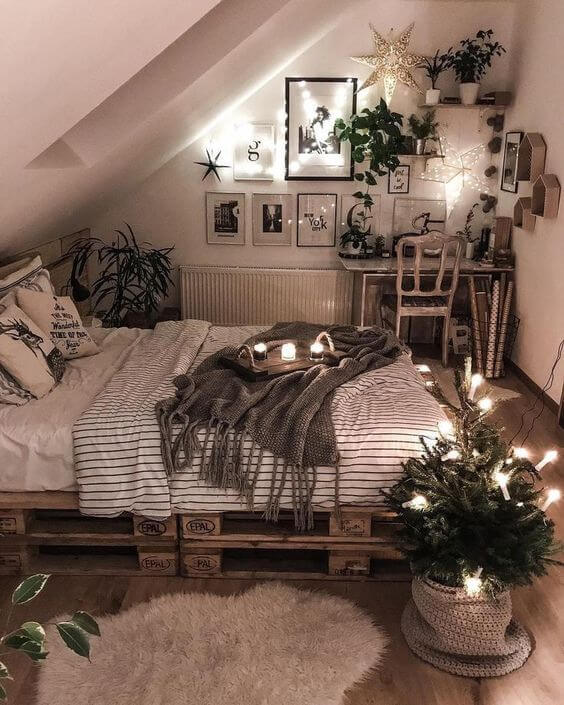 Watch your head when you wake up! This kind of room is typically found in the attic. It doesn't look so spacious, yet it can still be used as a bedroom. The idea of giving a room some plants is to have some fresh air.
It can also make the room pretty to a certain extent, right? It's just a suggestion though, if you think this room is too crowded with all the stuff, you can simplify it by limiting items that are in there.
Removing some plants or accessories if you think they consume so much space so that you can have some more room
4. Make It Comfortable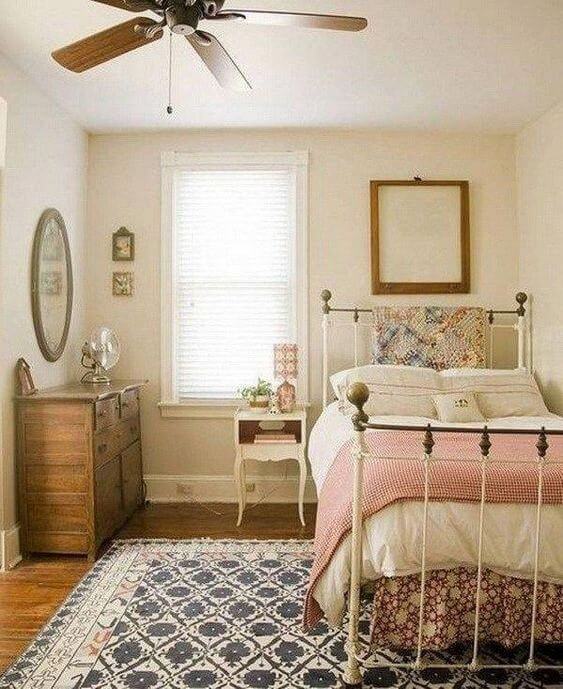 Creating a warm and welcoming atmosphere can simply be obtained by giving the bedroom a rug. The floral rug also has a beautiful pattern that blends well with the bedsheets. The bed with wrought iron looks so comfy.
The room is so simple with only a small table and a cupboard. An oval mirror hanging on the wall faces directly to the bed. There's a ceiling fan that you can turn on to cool the temperature down.
5. Soft Touch with Book Rack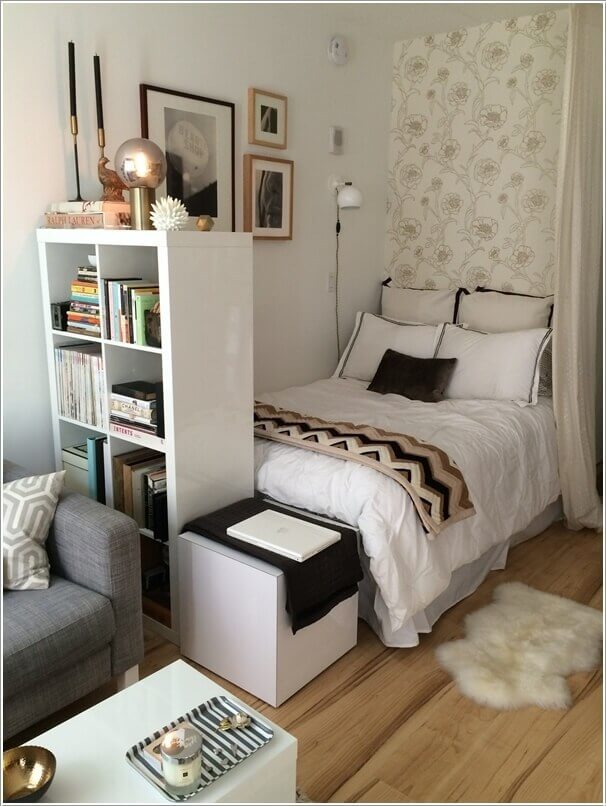 You don't have to be a home designer or organizer when it comes to organizing the bedroom. Simply try to mix and match things in it and then arrange it until you think it suits you.
I like the way of using a book rack as a wall partition in this room. You get the bed separated from it, and it leaves a kind of cool decoration. The white sheet brings a warm and soft touch while the floral wallpaper leaves soothe feeling.
6. Simple Decoration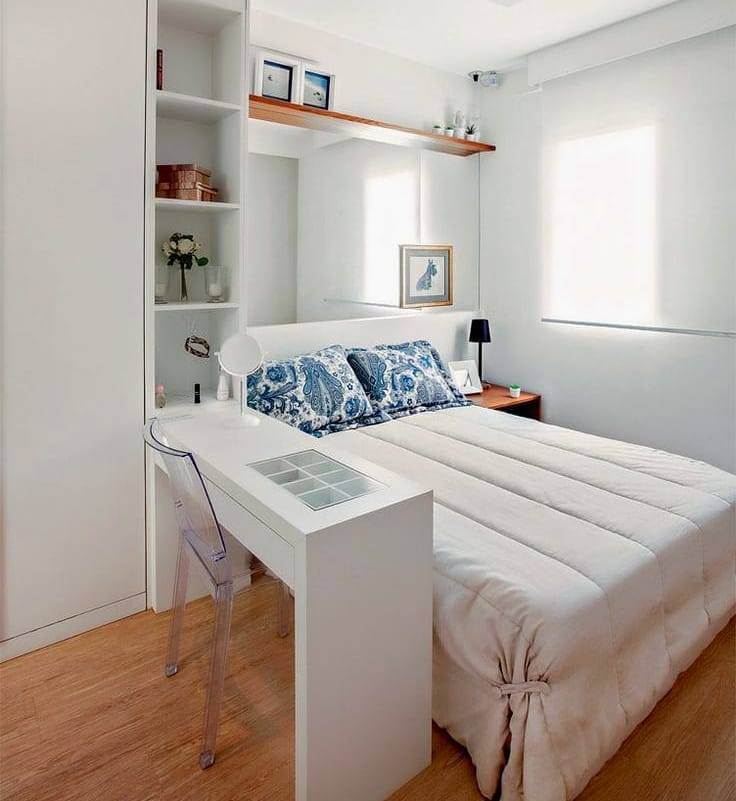 This bedroom adapts an all-white concept from the walls, ceiling, bed even door except for the floor. With simple decoration, this room looks neat and tidy. Getting rid of unnecessary things can make it appear a little bit larger as well.
A square mirror placed above the bed can also create an illusion that the room is spacious enough. The wooden floor has a smooth and clean surface that brings an aesthetic appearance.
7. High Legs Bed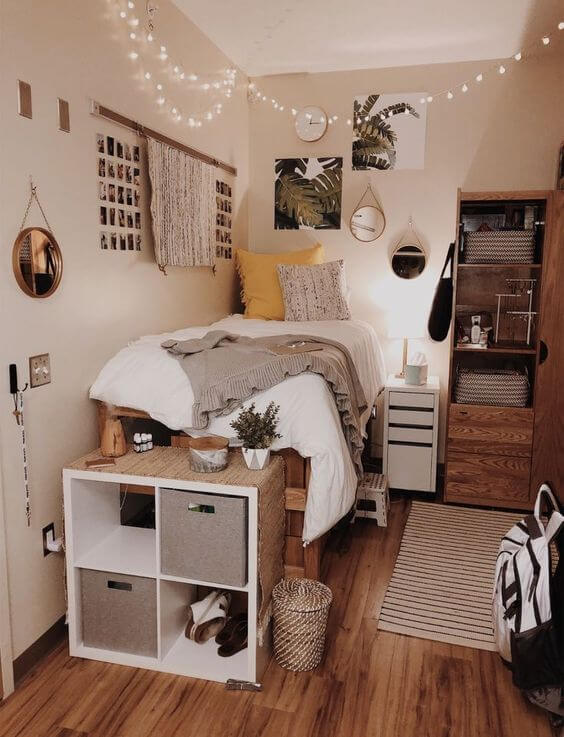 Some prefer to have a bed with no legs in order to save some more space since the ceiling may not that high. Some other people would prefer a bed just like this one.
The benefits of having a no-leg bed are that you can easily lay down on it as soon as entering the bedroom. On the other hand, the high one makes you have to climb it first. Those types of beds give the same comfort, but they sure differ in style.
The wooden plank flooring is welcoming and inviting.
A table that comes from a shoe rack.
The long and thin cupboard on the corner works as storage.
8. Peaceful Ambience
It looks slightly wider compared to those pictures above. The bed sits just in the middle of the room between the two cabinets. Behind the headboard are two lovely paintings on the wall creating relaxed and peaceful surroundings.
There is also a towel rack that looks like a ladder, which adds an artistic value of decoration in the room. A cozy wall-to-wall rug is added and it completes the rest.
9. Fit In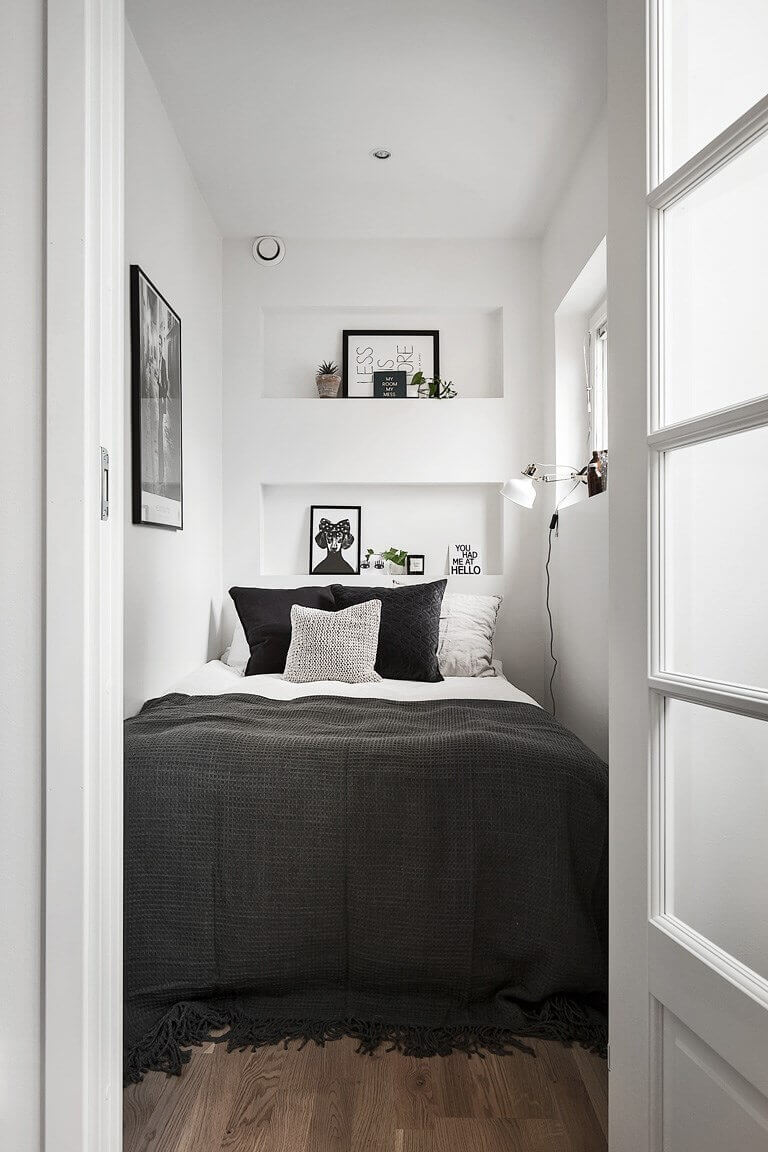 With a small space like this, this bed really fits in. Although it is so compact, the decoration is just perfect. A blend of white and grey hues in this room results in a nice and peaceful hideout.
With two deep boxes on the wall, installing shelves will be inessential. Those boxes really have an artistic value. There you can put a small vase or flower pots and pictures as well to give the natural touch.
10. Black Pink with Large Mirror Cabinet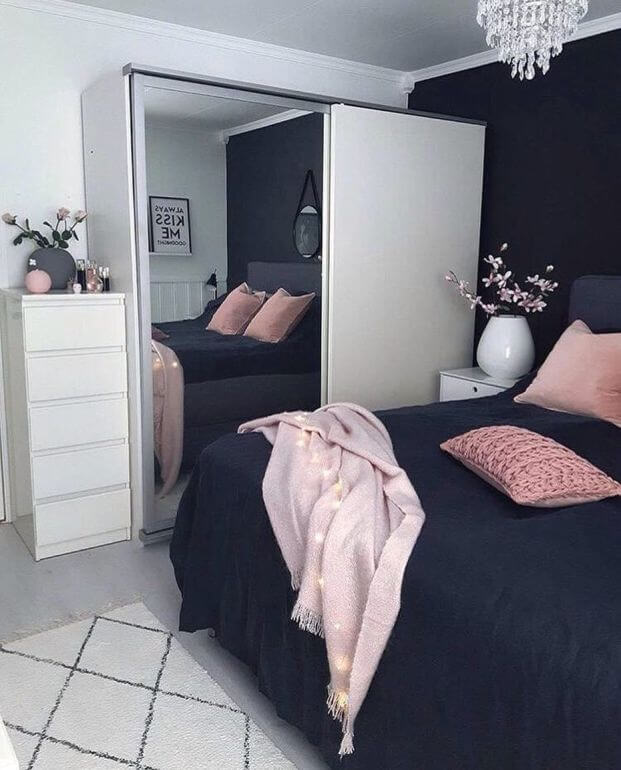 Black and pink colors combination can form a unique look. A subtle touch of feminine part comes from the pink pillow and bed sheet while a sense of comfortable side comes from the black one.
The mirror is fairly huge that allows you to see your full body in it. The flowers are elements that adorn your room, and they literally make it appealing. You can't ignore the pendant light in this room as it gives a luxurious look.
A huge closet with an enormous mirror is right next to the bed.
The white ceiling and furniture make a big impact.
The sweet atmosphere from pinkish stuff and gorgeous flowers.
11. Stunning Floor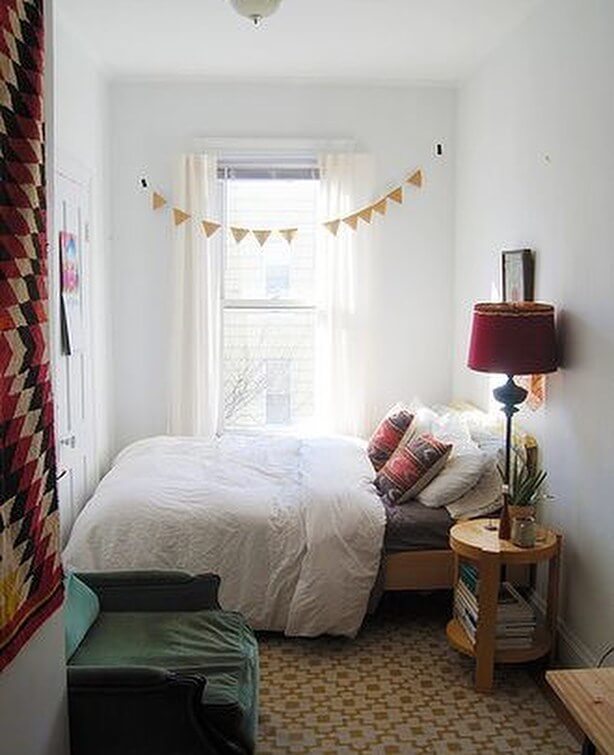 Small bedroom designs and bedroom ideas can influence one's mood who lives in it. From tiny things that hard to unnoticed stuff, they work together and have their own parts in defining the entire room.
The flooring has an adorable surface with a geometric pattern in yellow. A big chair and a small round table fill the room. The bed itself is located near the window with a white curtain.
To make the room a little bit more alive add a classic or unique pendant light.
Paint the wall with a bright color scheme.
12. Pinkish Room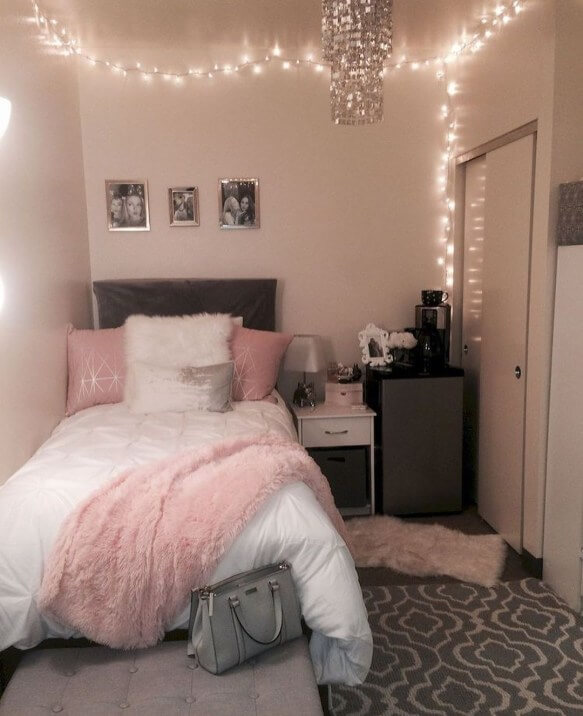 Having pictures of girls on the wall and pinkish stuff in the room, it is highly likely that it is a girl's room. The wall is also in pink plus there is a string light. In my opinion, I think the room is pretty blurry, which has a bad effect on the eyes.
The white bedsheets make a good pair with the pinkish pillow and blanket. Although it is small, the room still has some space to put a table next to the bed.
13. Creative Shelves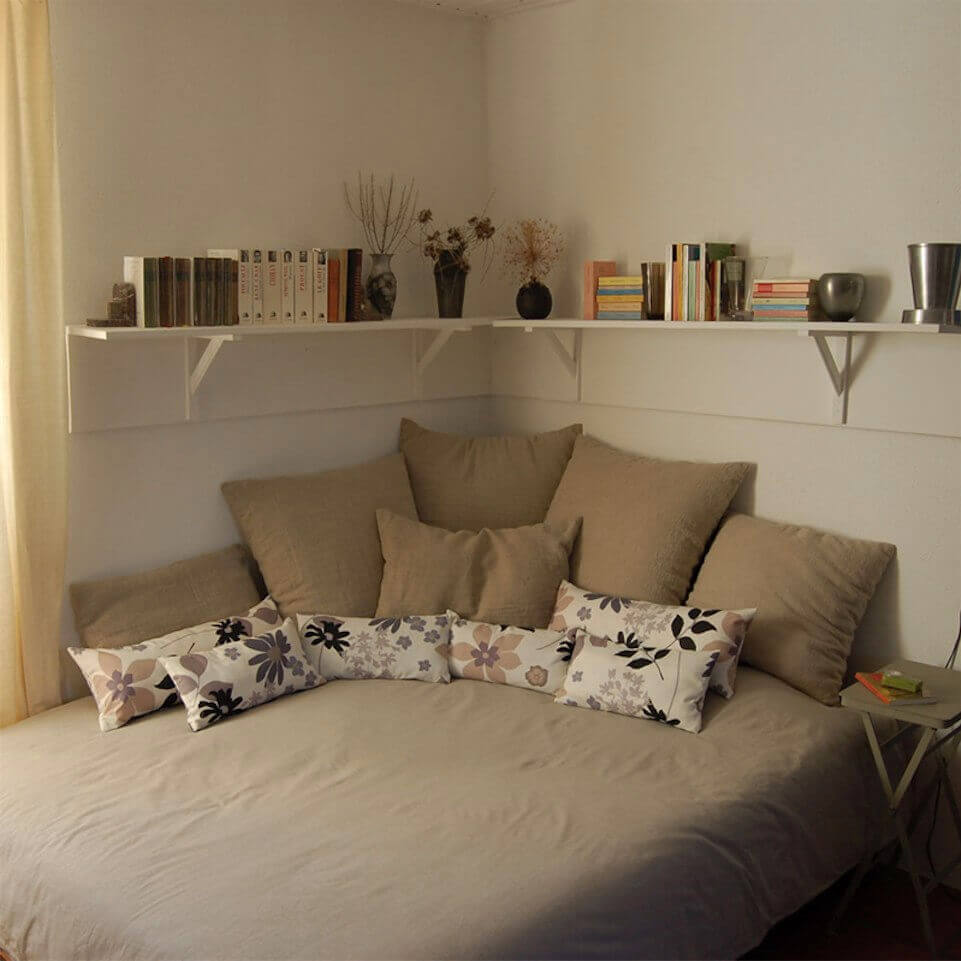 Covered in brown accents, the bed and pillows look so comfortable. It will wake you to just jump and lay on it until falling asleep. The smaller pillows have floral covers and they are so adorable.
Above the bed is an L-shaped shelf that is nicely attached to the wall, and looks so well organized. Books, vases, and trophies can be exhibited there as they make a great decoration.
14. White Bricks Wall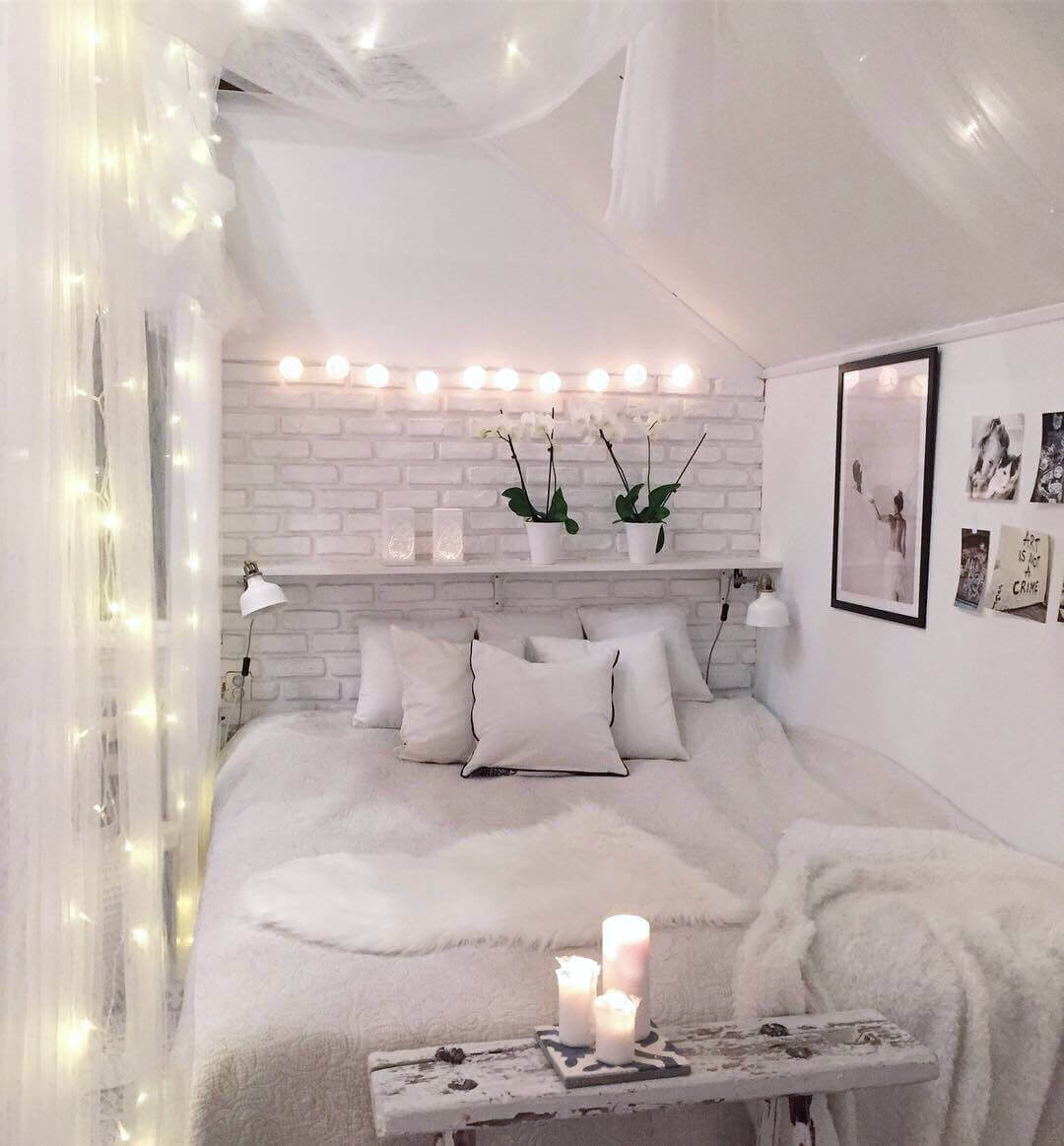 A sense of romantic atmosphere can really be felt here. The all-white theme is in the air starting from the brick wall, bed, and curtain. What makes it have a lovely aura is that there are candlelight and string lights and they match well.
Some black and white photos are displayed on the wall and they sure bring back old memories. It was a great idea to put some plants on the shelf as it can give more color in here.
The brick wall exists to subtly make a difference to the surroundings with its rough surface.
The fluffy piece of the sheet will make you reluctant to get out of bed in the morning.
15. Cool Design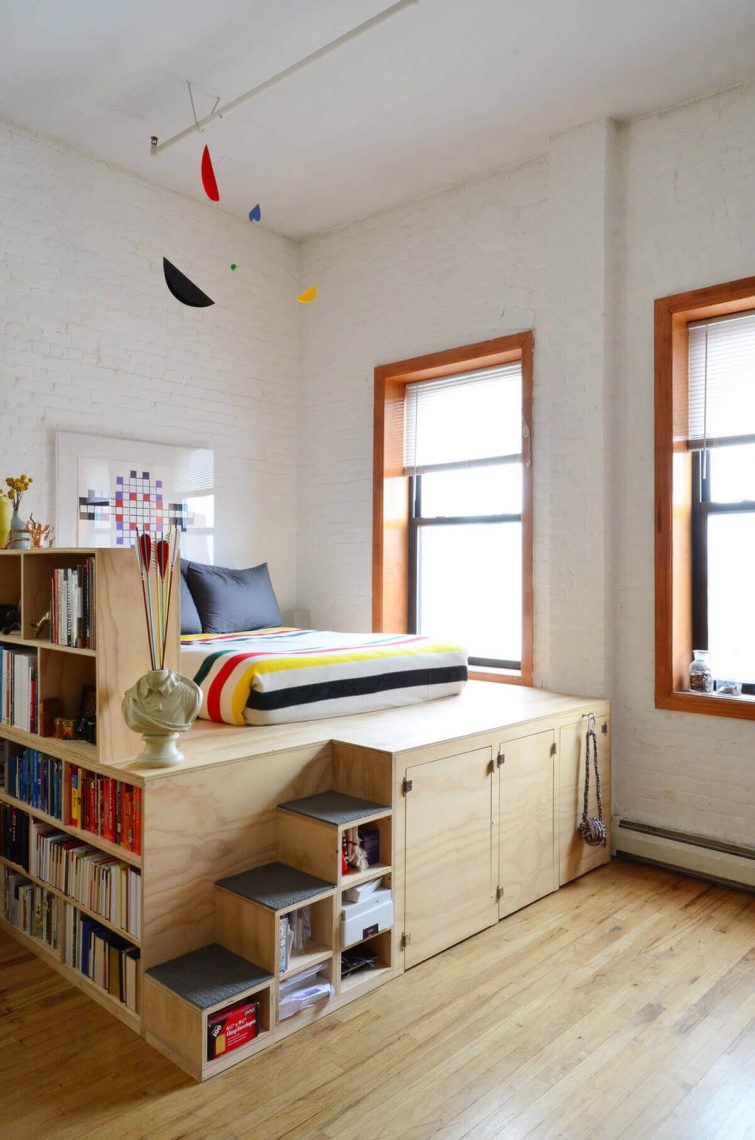 A colorful place always brings some substantial positive energy owing to its bright colors. It strongly affects anybody who lives in it. This kind of room would be perfect for you who constantly need to boost your mood.
The bed design is out of the world. This is something you will see every day. It is a bookshelf and that has stairs and is a cupboard at once.
This is one of many benefits of having a room with a high ceiling. You can build a build with a high surface.
Two windows mean there's some fresh air flowing through.
A collection of books can be a good friend to accompany you before going to bed.
16. Great Ceiling Design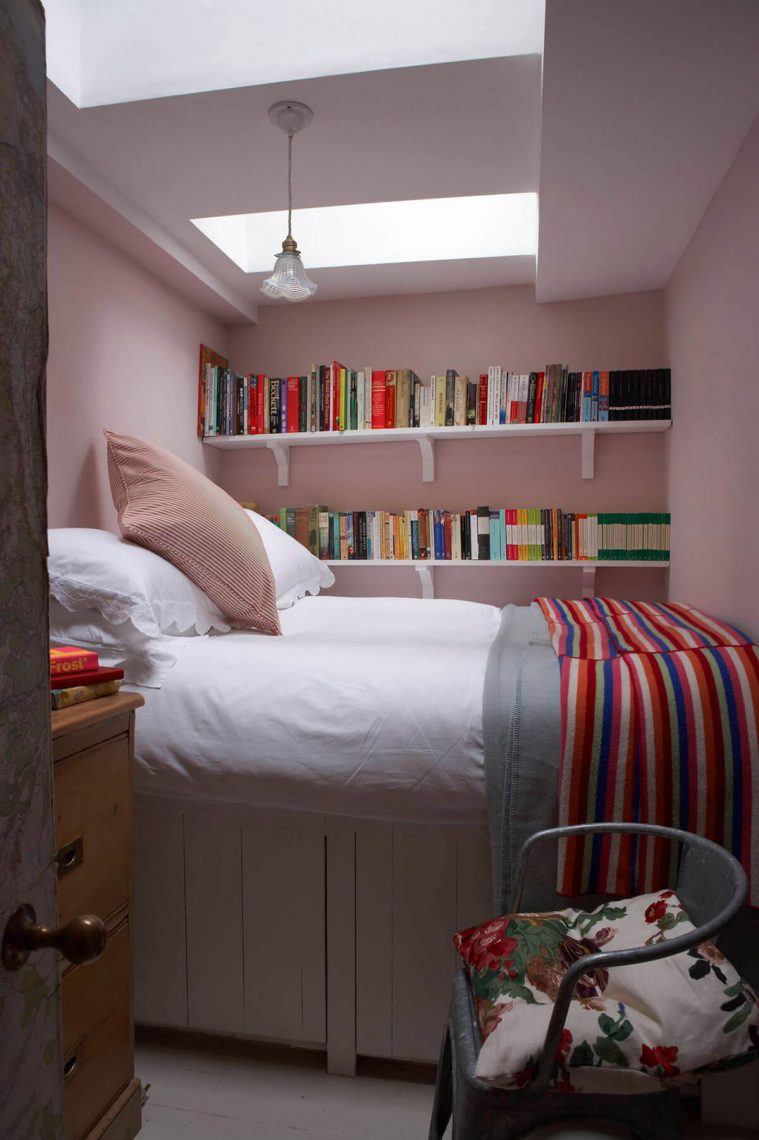 A bedroom with books, everyone? Any book worms would certainly say, "Yes!" The books aren't the only things that become the center of attention here. If you look up, you're going to realize that the ceiling has some cool design too.
Those two square boxes give the room plenty of lighting that can light you when reading books so you don't have to turn the lights on. The lamp hanging on the bed really has a unique shape although it is small.
Remember that the bed is tall, so jumping on the bed is forbidden.
It looks clean and tidy leaving a snug ambiance.
It includes a chair you can sit on while reading books.
17. Sphere lamp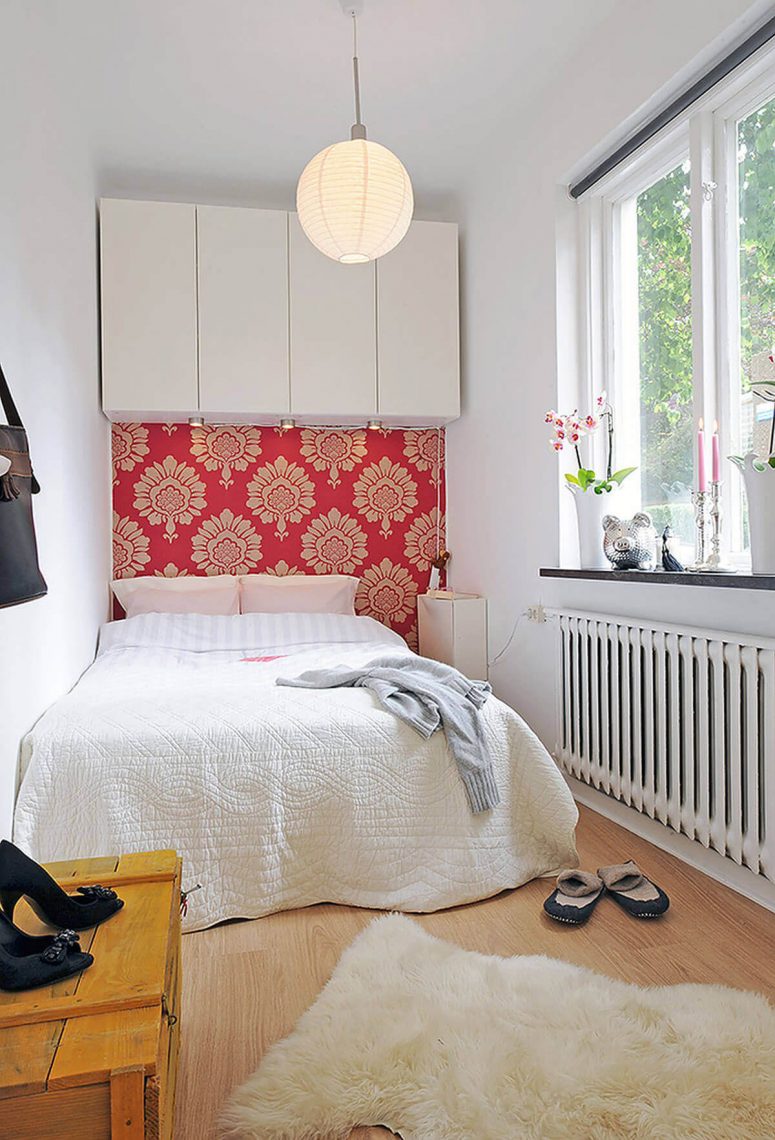 A minimalist style and design have some advantages that are worth considering compared to others. It looks more stylish, cleaner, and saves some more space. This room has a wall-mounted cabinet and a bold floral wallpaper color.
Wood elements have always been linked with a warm and welcoming feel and it also has some precious value due to its sturdiness and beauty. It may be hard to be noticed but the small flower near the window is very beautiful.
The big windows will make sure you have good lighting.
The white rug is so fluffy but needs to be cleaned regularly as it can be a place where dust piles up.
18. Make Use of the Edge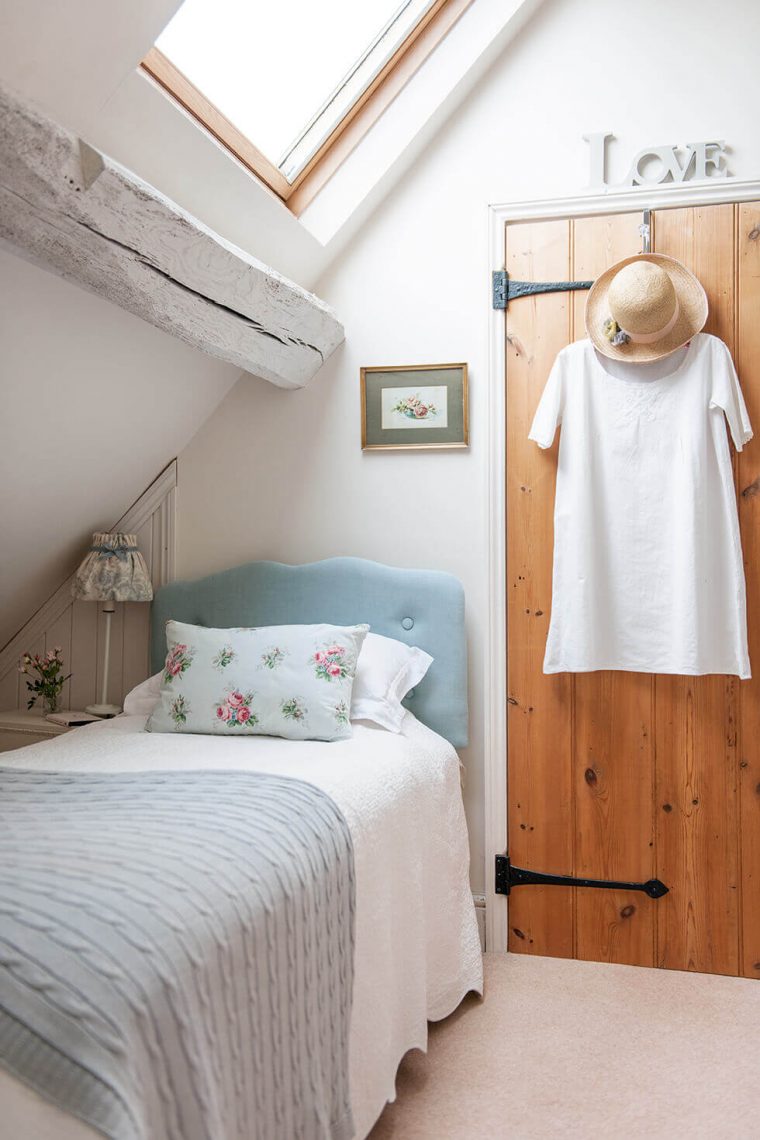 You need to find an alternative idea to deal with a compact space to change it into something more comfortable. By maximizing the edge, you can put the bed down there and leave some space for the door.
A window is also set up there so the room won't so dark at night when turning the light off. You can also put some clothes behind the door by putting on a door hook hanger.
Painting walls with white color are the secret to make a room appear wider.
The window can be a nice thing to look at when waking up in the morning.
19. Smart Cabinet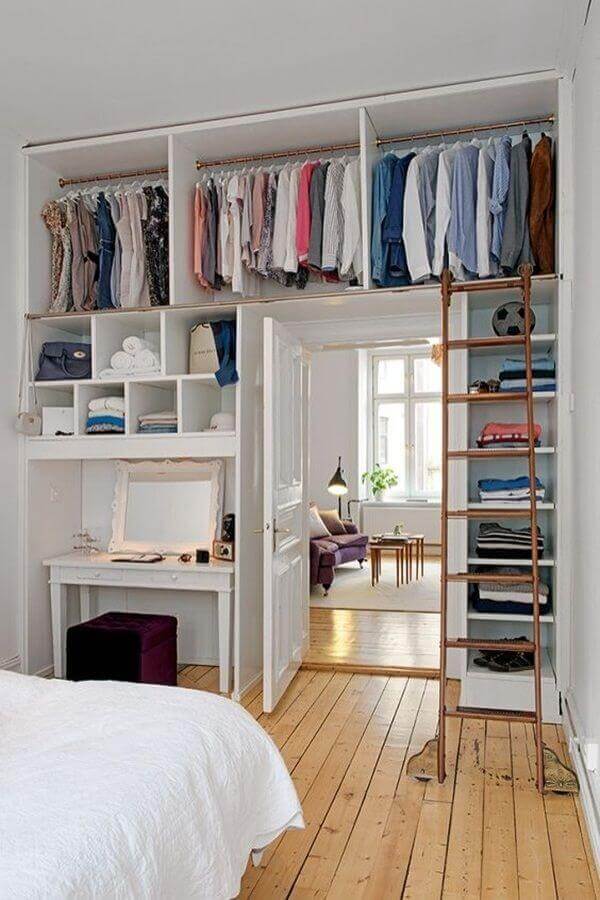 Considering the space of this room, adding a cupboard here shouldn't be a problem since there's still some space left in the room. And it shows that you can make your own cupboard just like this one.
Two separate design ideas show how cool the room can be. With two open racks for clothes storage, this is such a great design when dealing with cramped space by making use of the free space above.
All outfits are beautifully arranged in an open closet above.
Adding a ladder so that you can reach the top.
One of the many advantages of having an open is that you already know what to wear when looking at those clothes.
20. Classic Small Iron Bed Set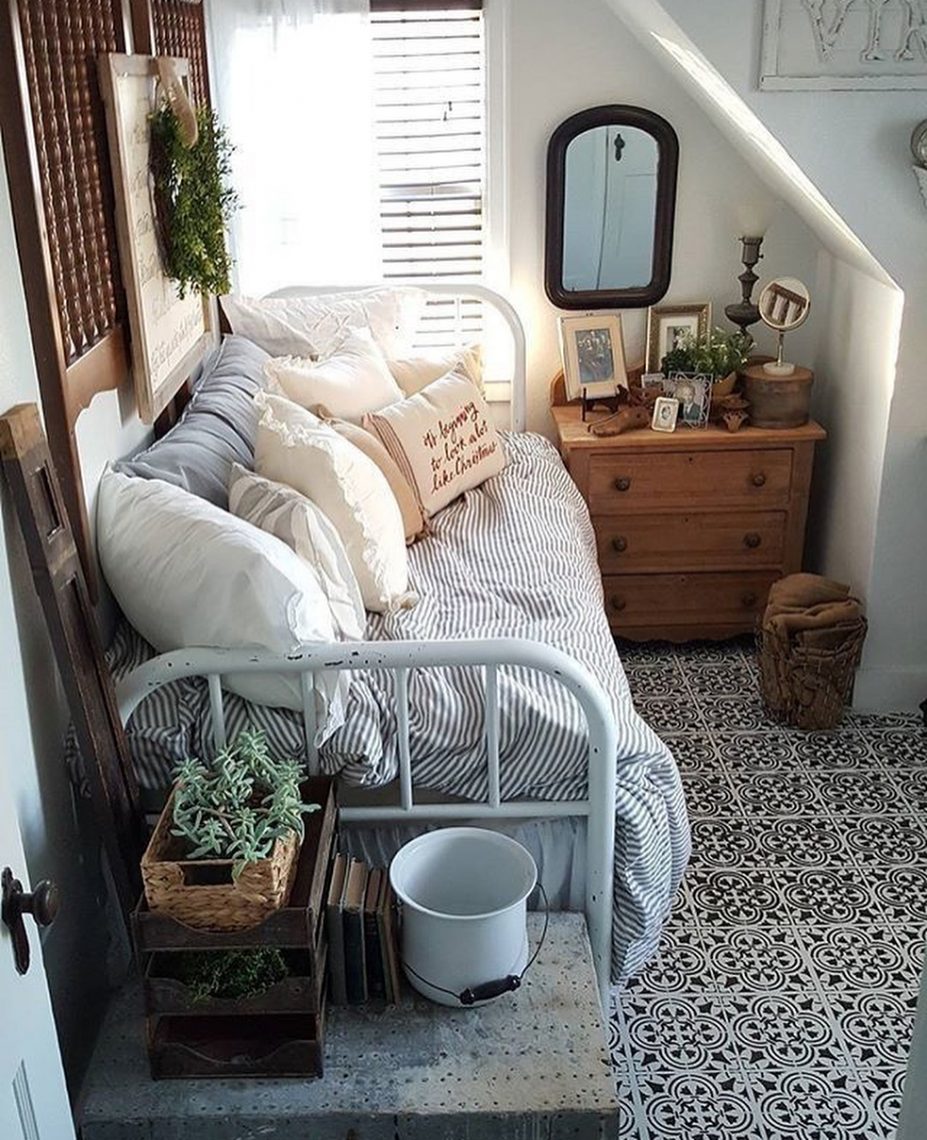 Classic bedroom style with vintage style and rustic furniture that works very well in a small room like this.
21. Romantic Small Bedroom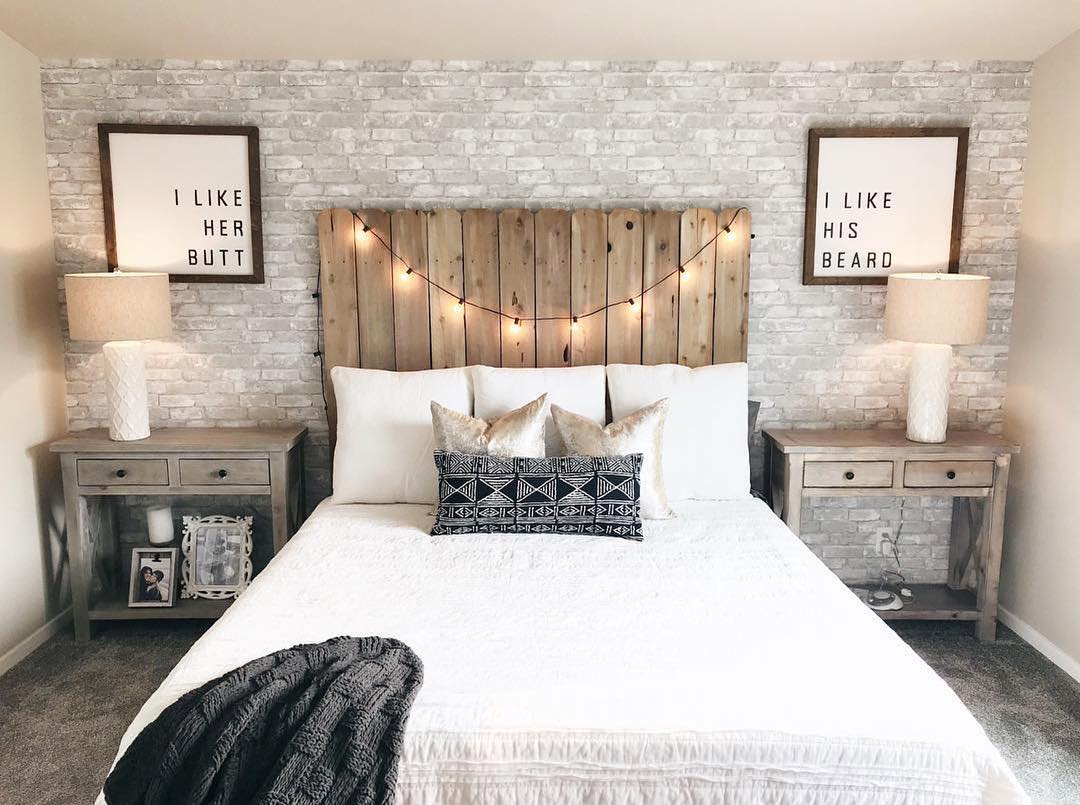 Unique bedroom ideas with rustic style. Symmetrical arrangement with supported wooden headboards that are truly pleasing to the eye. Decorative lights and wall frames also create a romantic atmosphere in this small master bedroom. Consider implementing to your bedroom remodel.
22. Fake Bookshelves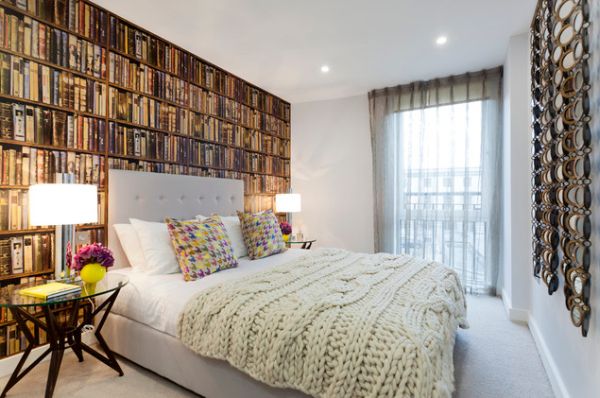 Genuine Fake Books wallpaper creates the illusion of more space than you actually have room for. Bonus? Now you can save some money on an actual bookcase.
23. Contemporary Floral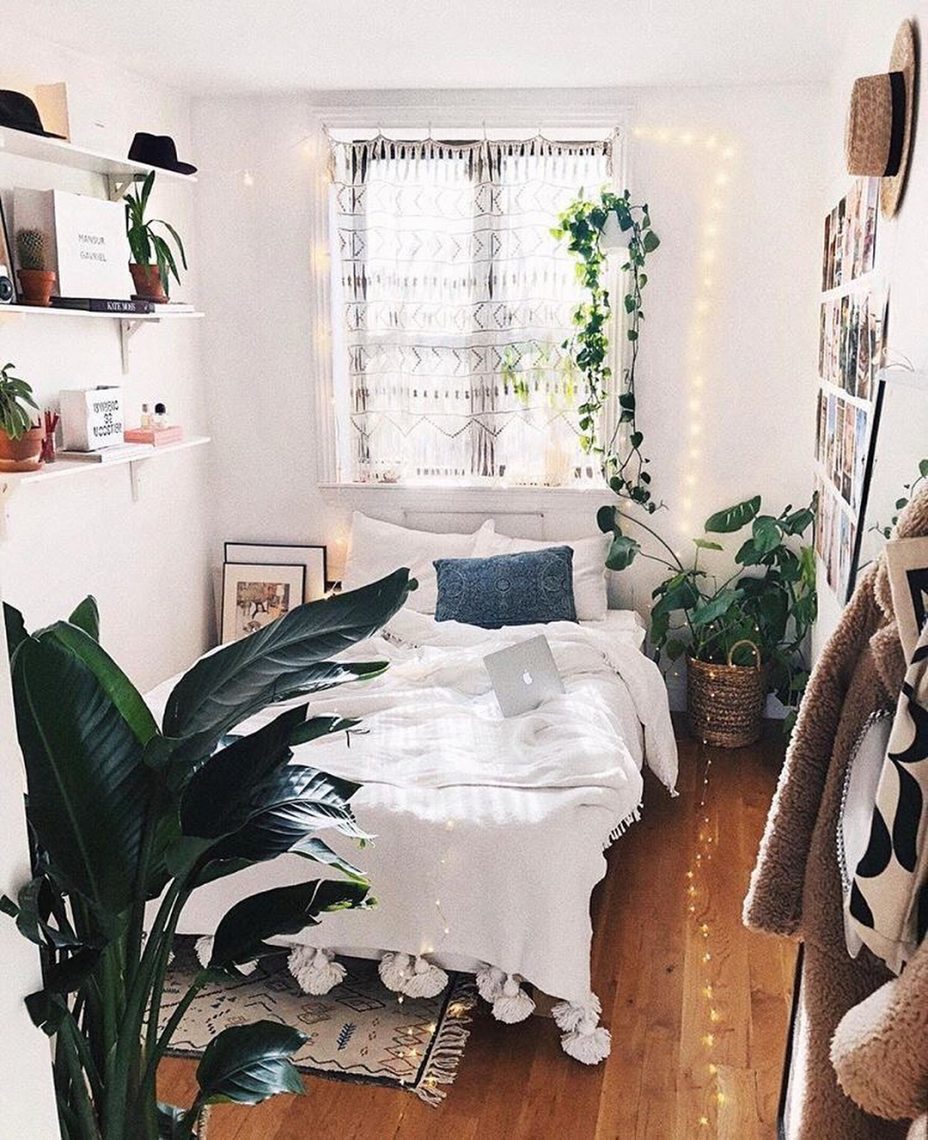 Flowers in the room? Of course, you can! Especially if it is small but remember to study if the flower is compatible with the environment in which it will be. There are flowers that get better with warmth, others with shade, other means Flores brings a warmth to the environment and the good feeling in space. I amooo succulent and cactus, raphis palm that is super easy to care for and can go even in bathroom orchids.
24. Black Brick Wall Pattern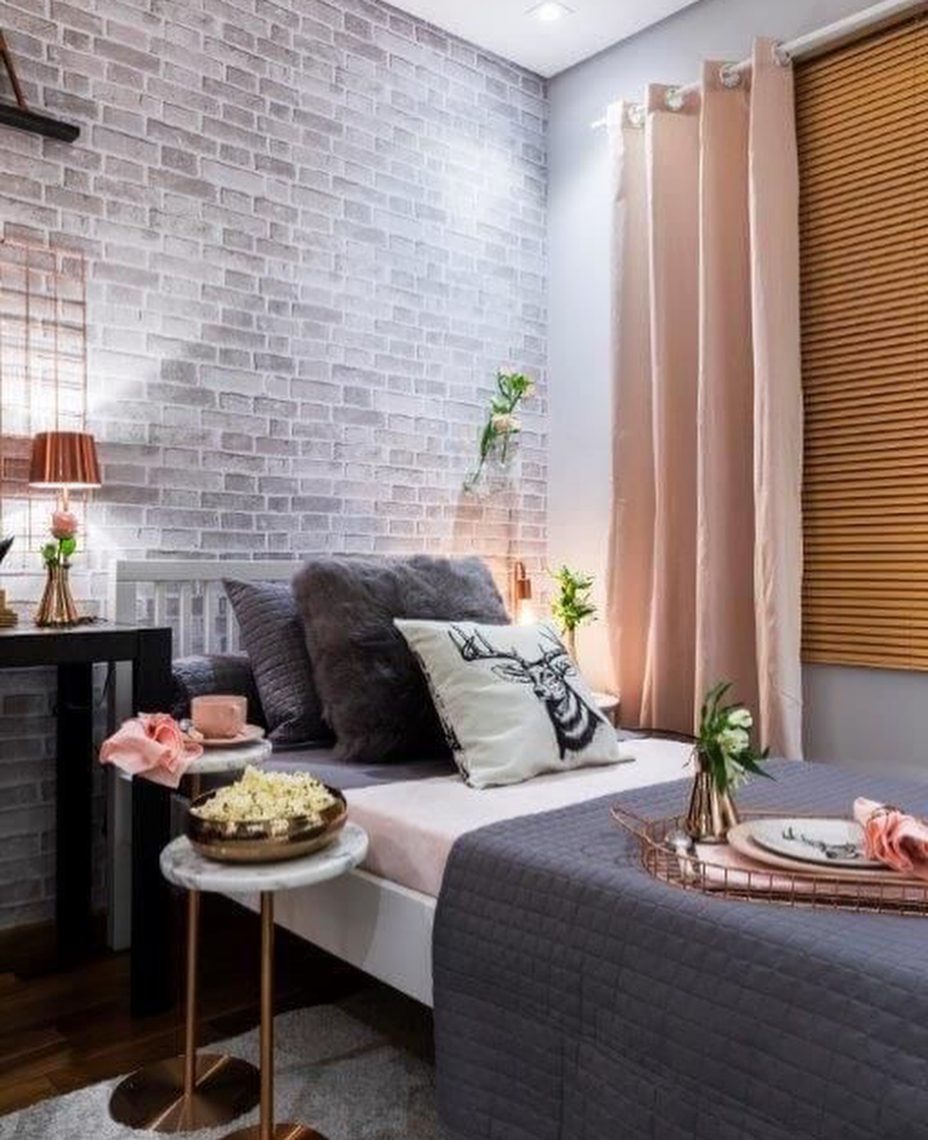 A small bedroom with a modern look that is truly attractive. Brick wall patterns, cool curtains supported with floral shades have created a luxurious and big style in a small space.
25. Cute Storage Under The Bed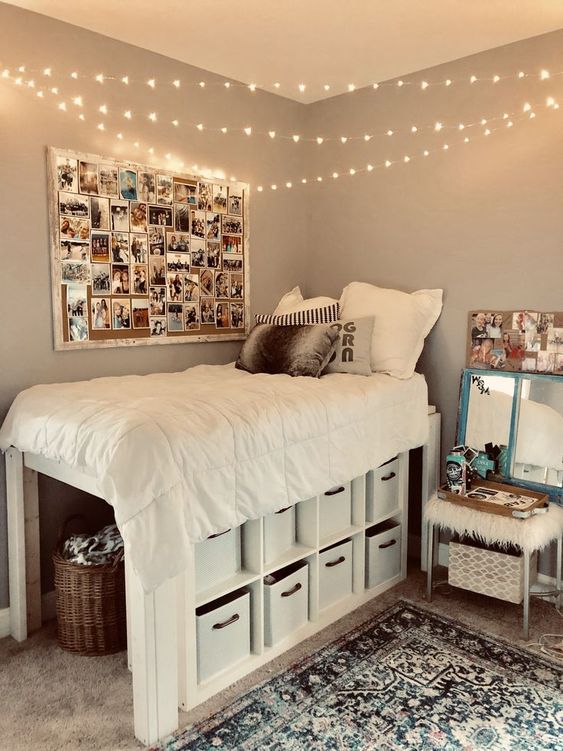 Having soft lights and things like pictures of people you love can create the best sleep sanctuary for comfort and happiness. Imagine falling off that in the morning like forgetting how high up it is.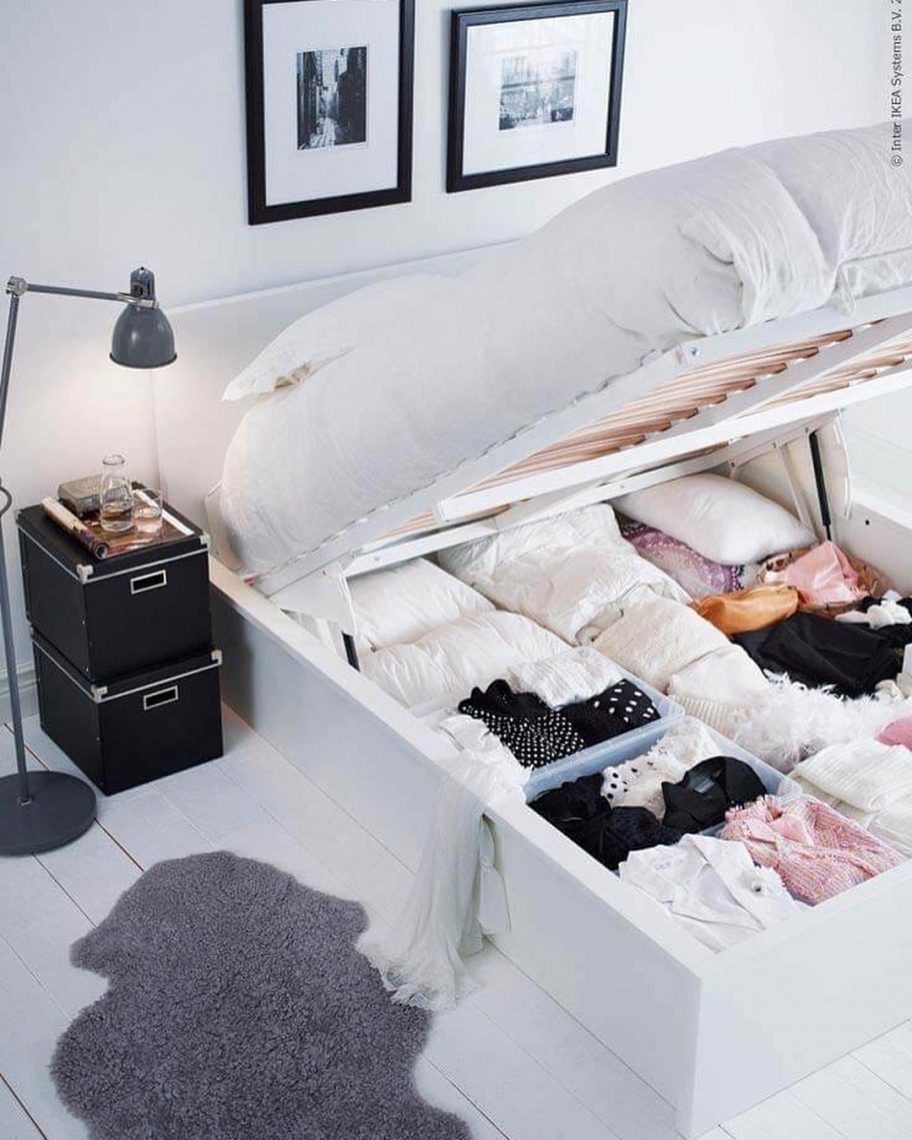 ***
Whether it big or small space, ideas are required to maximize the space and to give the room a better decoration and design. Which small bedroom ideas will you have a go soon?