All coffee lovers have extra space in their homes to make their daily fix. Home coffee bar ideas reflect the personality and genuine design, something a generic cafe doesn't have. You can incorporate any materials, colors, and coffee product arrangement you like.
A home coffee bar can consist of a simple pantry with personal decorations. Others are more elaborate, with unique materials and spacious areas to place the coffee machine. You can also incorporate special seating areas. Here are 30+ ideas you can use for inspiration.
1. Rustic Wooden Shelf and Countertop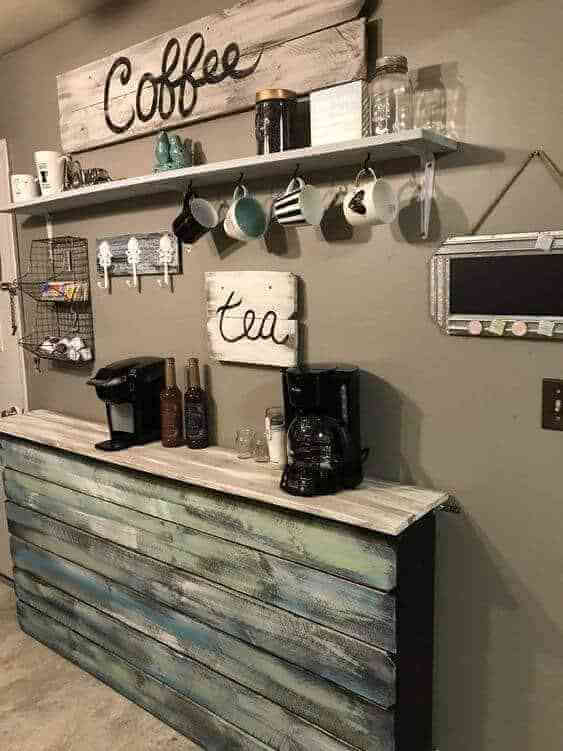 This coffee bar uses rustic wood to make a narrow countertop and wall shelves. Some wire and metal racks give additional storage space. There are hooks under the shelf to hang cups. A simple wooden "Coffee" sign emphasizes the function of that area.
2. Cake Platter and Sign – Coffee Bar Ideas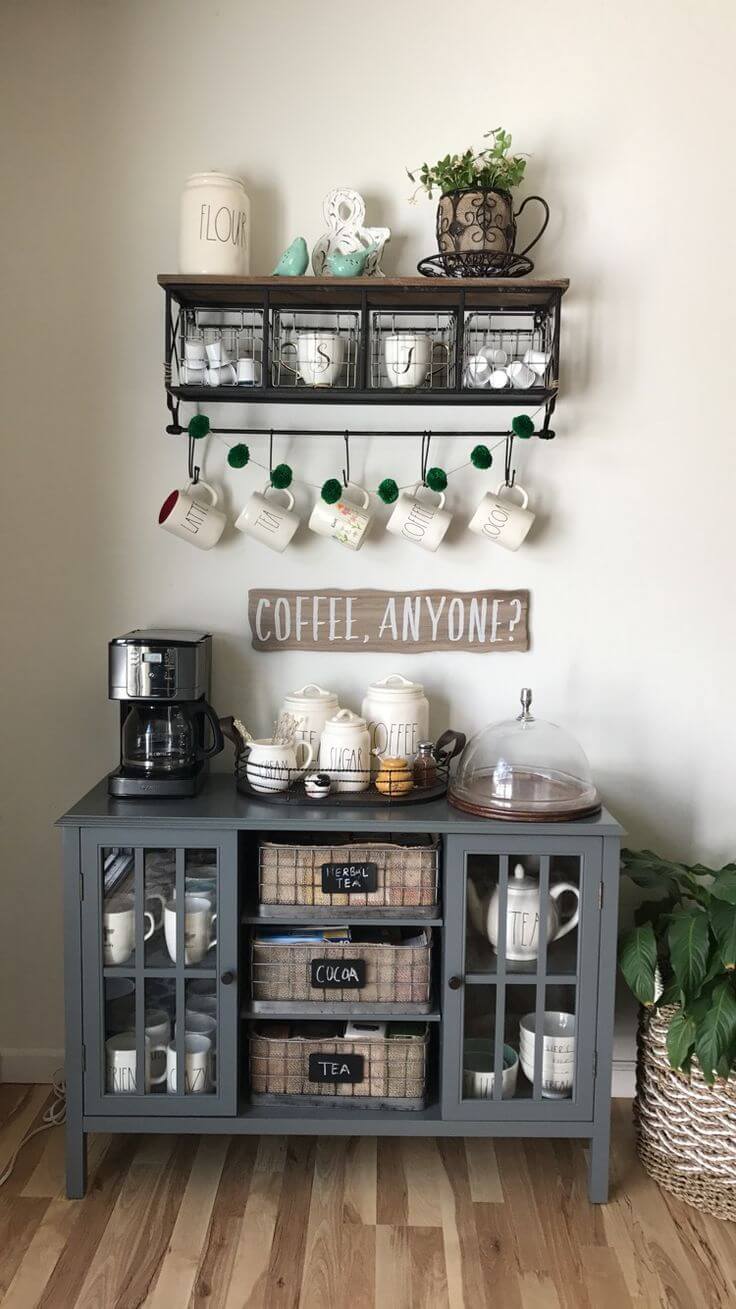 This home coffee bar has a cake platter to emphasize the "homey" look. Signs and labels appear almost everywhere, such as on the baskets, mugs, pots, and jars. This coffee bar maximizes the space with a cabinet, wire rack shelf, and hooks for cups/mugs.
3. Rustic Cabinet with Mug Racks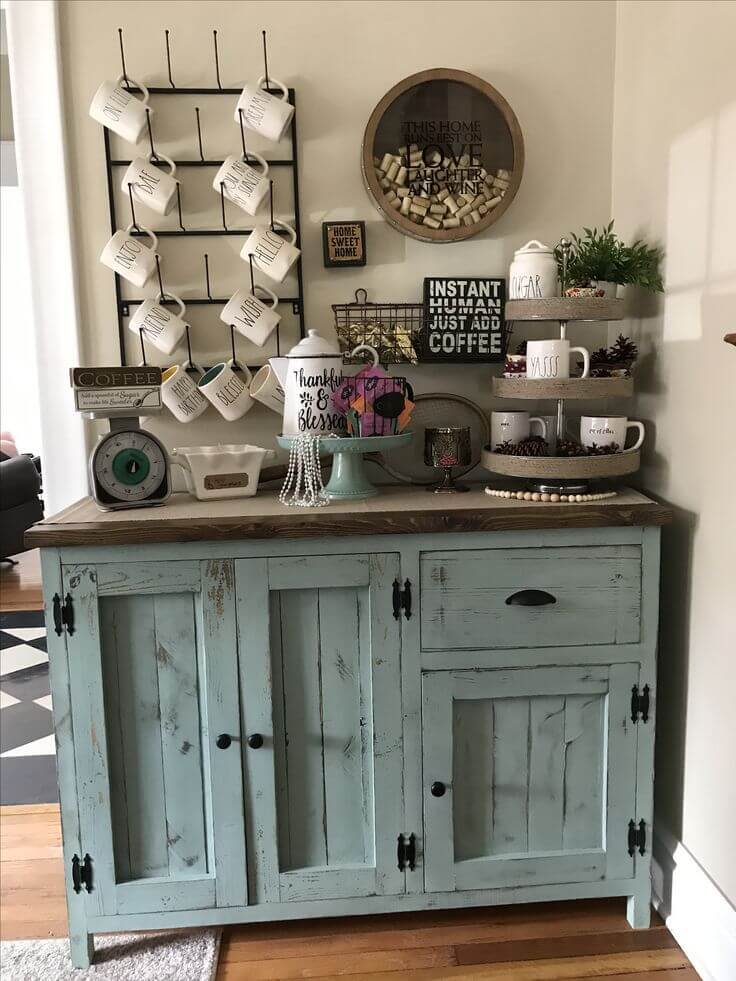 This rustic cabinet creates a farmhouse look in the coffee bar. The mug racks are the most prominent elements, emphasizing the function and providing heights. Several trays accommodate sugar containers, pots, and extra mugs.
A kitchen scale and coffee box are available to make the right coffee measurement. A wire rack keeps coffee-making supplies, while the wall glass container stores wine bottle corks. Small decorations emphasize the rustic look, including small pots and coffee bar sign.
4. Family Coffee Bar with Labels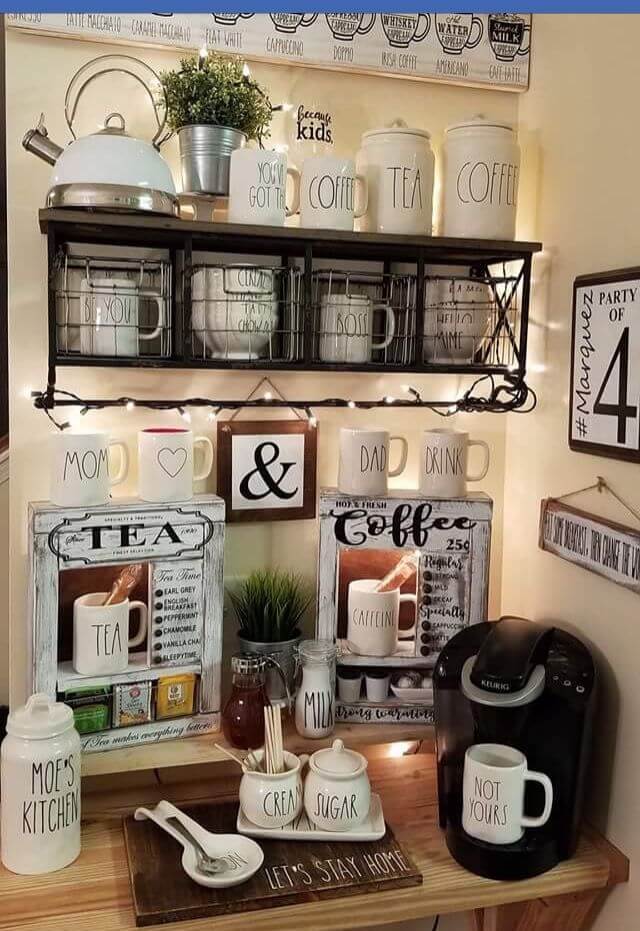 Family-friendly elements are obvious in this coffee bar. White mugs with "Mom," "Dad," and other labels are displayed prominently. All the ceramic pieces are white with labels, creating a casual look that is perfect for the family home.
The extra metal shelf keeps a kettle, a milk container, jar, and extra mugs. There are also several potted plants to create a natural look; one of them uses a tin bucket. A wooden panel with popular coffee recipes adds a fun and practical element to the decor.
5. Vertical Coffee Bar with Wooden Shelves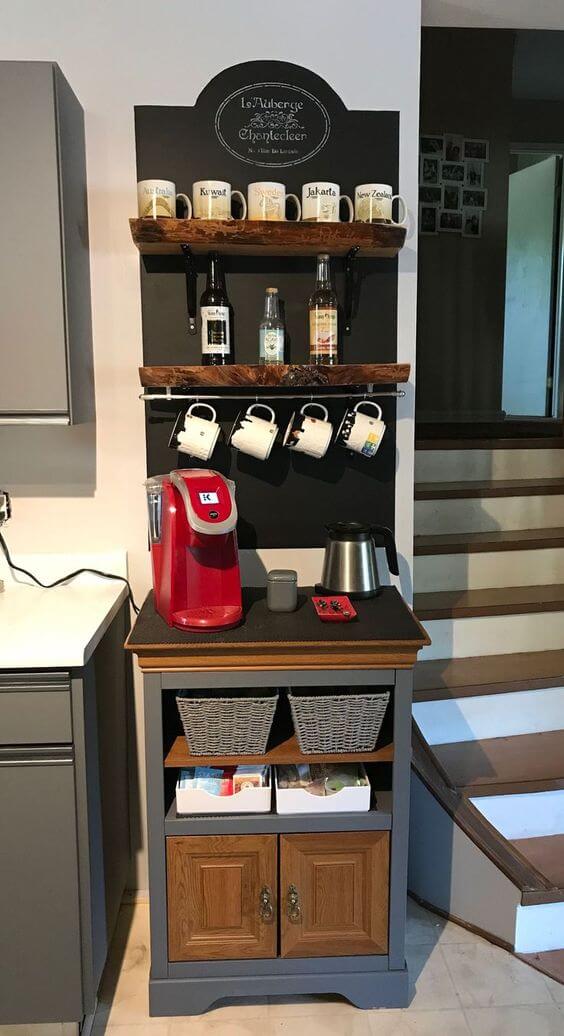 A vertical coffee bar solves the space problem in a small home. It starts from a floor cabinet, with small baskets, containers, and a coffee machine. Two wooden shelves were installed above it, with a black background. The mugs are hung on small hooks underneath the shelf.
6. Wall Coffee Rack with Signs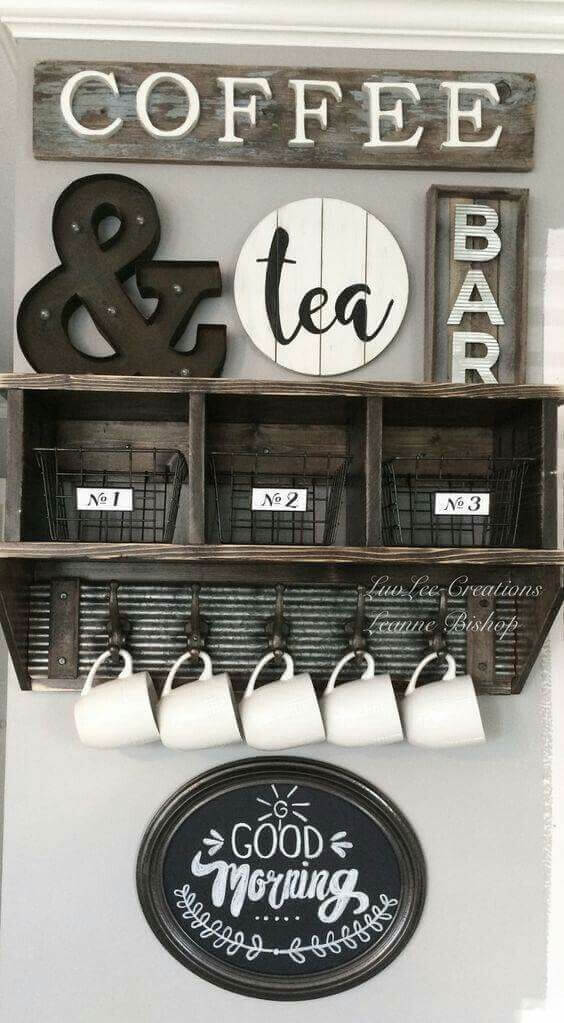 This coffee rack consists of dark wooden shelves, with sections for metal baskets. Additional hooks give extra space to hang mugs. The funky signs make this "coffee and tea bar" looks interesting, despite the rustic look. Dark colors cover the "old" look of the materials.
7. Traditional Coffee Bar with Seats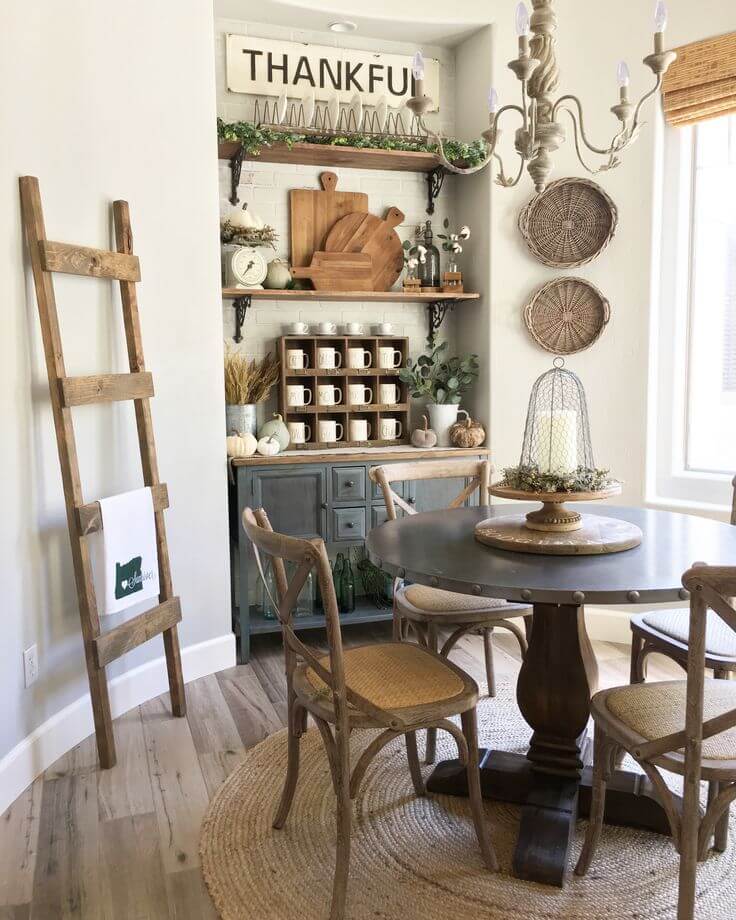 This coffee bar takes up a corner room, with wooden shelves, a rustic cabinet, wicker decorations, and a chandelier. A crate was repurposed as a mug shelf with individual "boxes" for each mug. Kitchen scale, jars, and bottles as plant pots, cutting boards, and glass bottles create a farmhouse look.
A round table with wooden seats and a cake tray create nice spots to enjoy the drink. The table is decorated with a cake platter, repurposed to hold a large candle. A wooden ladder gives a unique accent (and additional hanger space).
8. Mini Coffee Bar with Engraved Shelves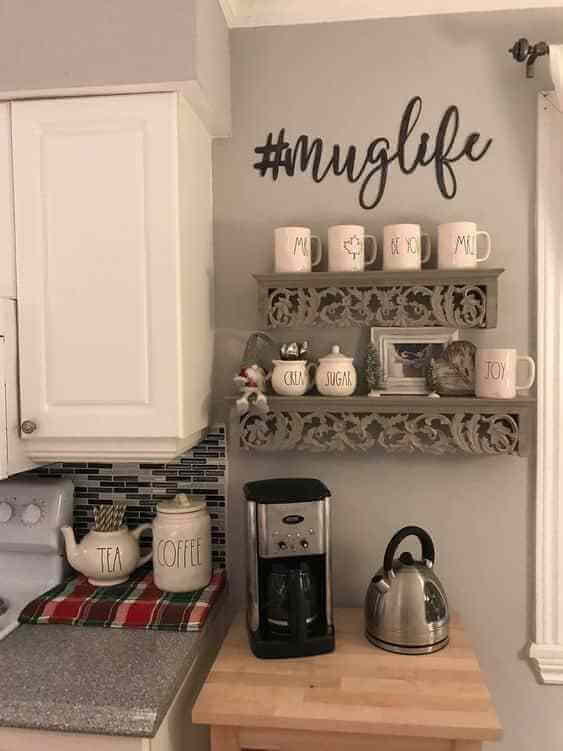 A tiny space beside the kitchen cabinet can serve as a coffee bar. This mini-coffee station has a simple table for coffee machines and pots. However, there are engraved wall shelves above it that add a unique touch. Labeled jars, mugs, and mini artwork complement the shelves.
9. Mini Coffee Station with Bar Stools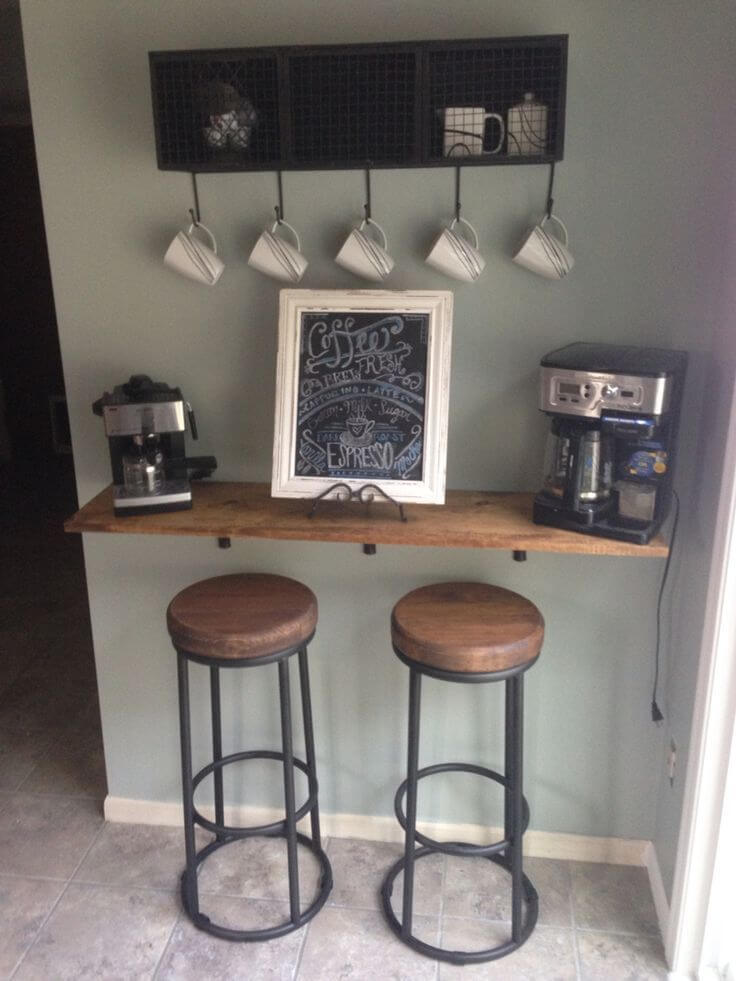 Install a wooden panel on the wall to create a mini-coffee station. Two bar stools create instant seating spots. The wooden panel is large enough to place coffee machines and a decorative chalkboard. A wire metal rack with additional hooks for mugs adds storage space.
A wall decal or graffiti can be added above the shelf, to emphasize the function of the spot. The kitchen countertop next to it can be used as an extension of the storage area.
10. Coffee Station from Repurposed Door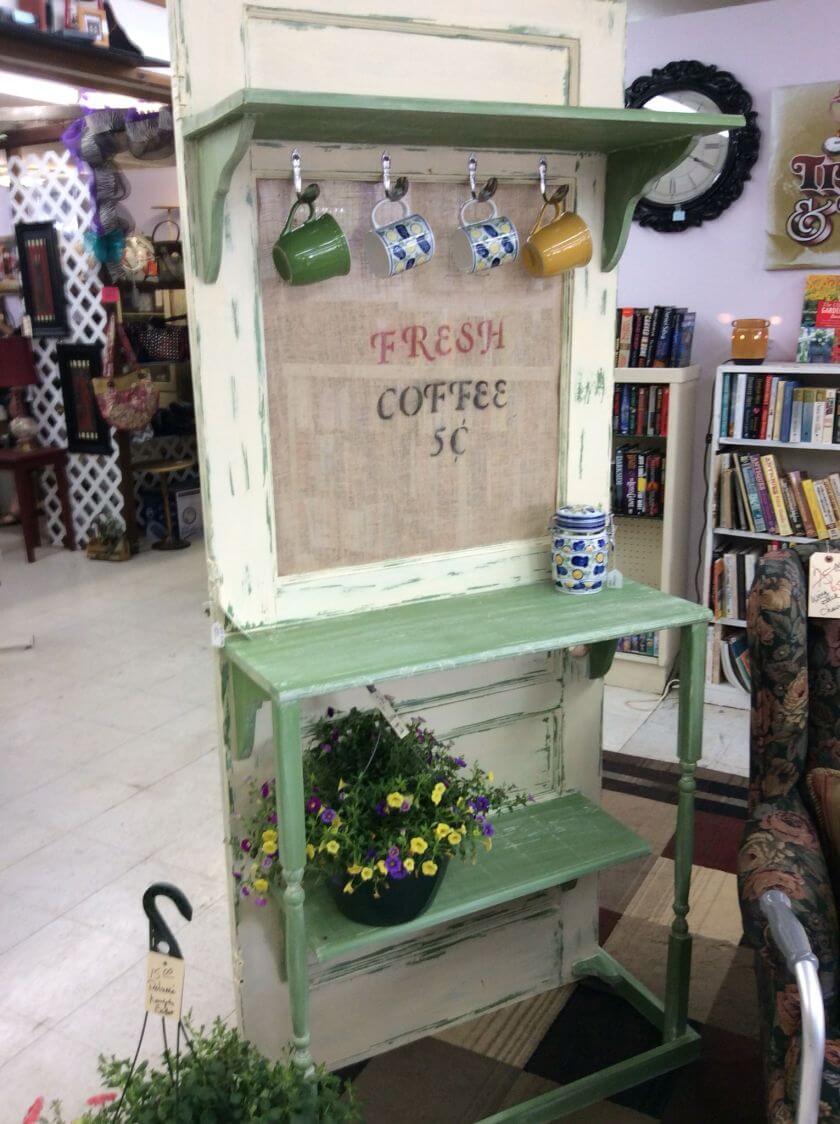 An unused door panel can be used to create a free-standing coffee station. This old door was repainted, but without losing its distressed look. Two wooden panels were fitted to form a simple shelf, with additional "feet" to support the door.
11. Wedding Hot Chocolate and Coffee Bar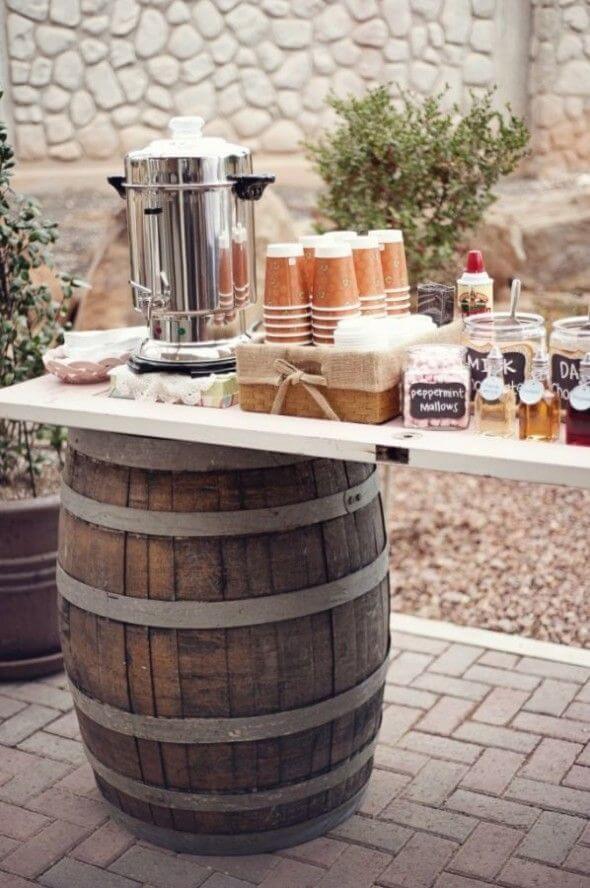 This coffee bar is perfect for hosting a party easily. Repurposed barrels and door panels became a makeshift table for the drinks. The heavy coffee machine can be placed on the barrel, while cups, labeled jars, spoons, and coffee supplies were lined beside it.
12. Coffee Station in Rolling Cart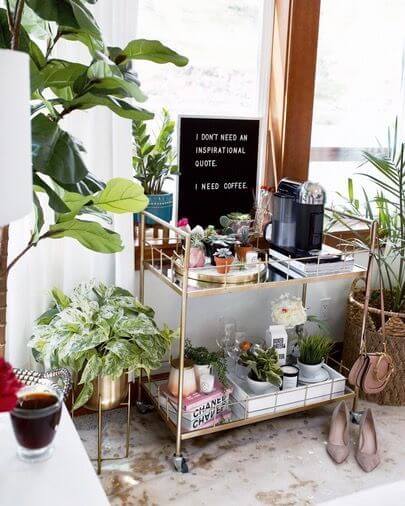 A Rolling cart is a nice place for a mini-coffee station. This cart has perfect spots to store coffee machines and coffee-making supplies. A decorative panel with "inspirational words" creates a unique accent. There is also extra space to place mini potted plants.
Using a rolling cart as a coffee station gives you practical mobility. You can move the cart to wherever position you like easily.
13. Coffee Bar Idea for Holiday Party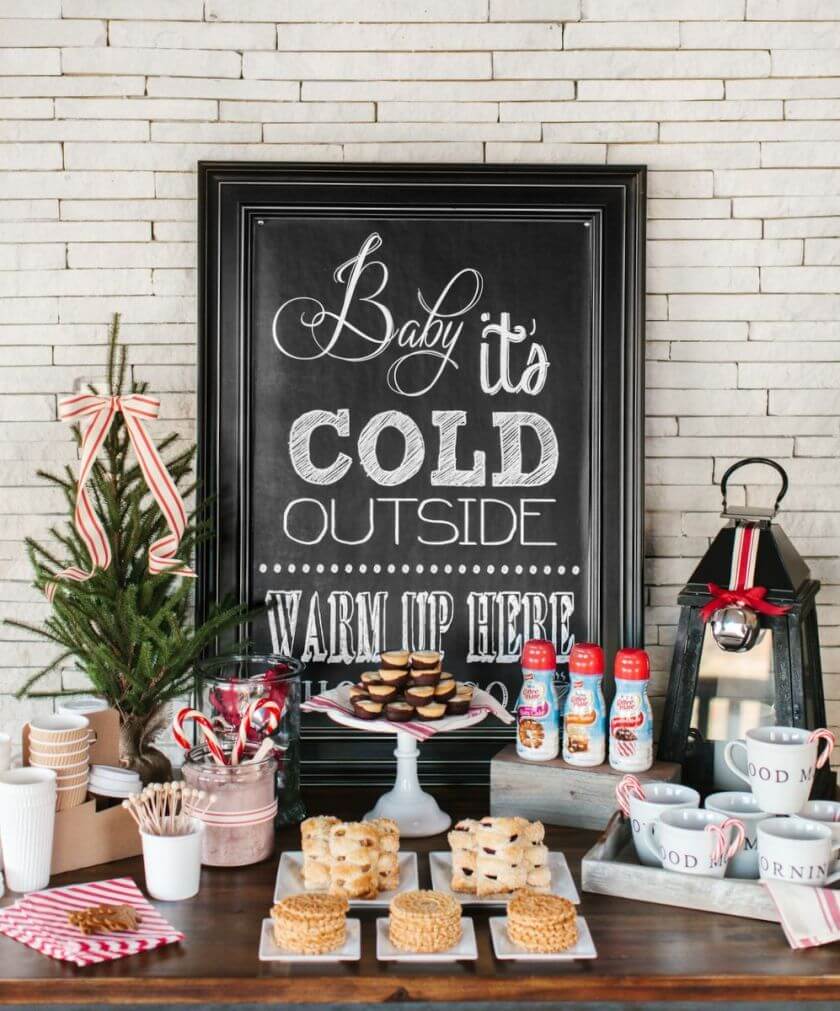 This coffee bar arrangement is perfect for celebrating the holiday. The coffee machine is decorated with holiday colors. The mugs are arranged on a tray, while the disposable cups are stacked in a cardboard box. Candy canes, cookies, and holiday-themed chalkboards complete the look.
14. IKEA Hack Coffee Bar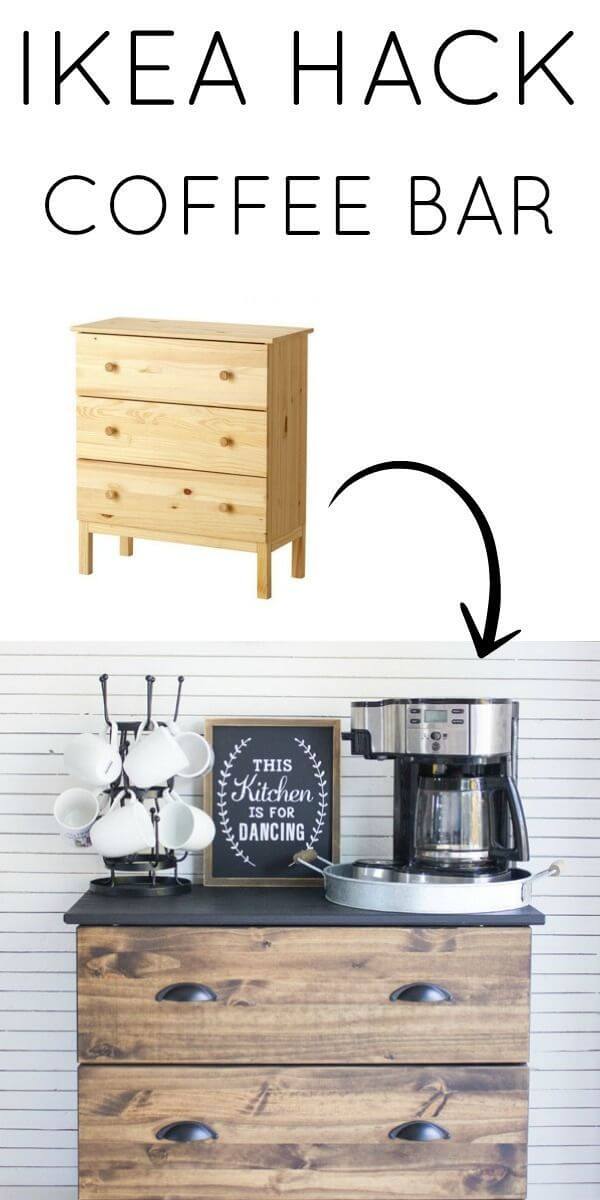 A simple IKEA cabinet can be a great place for a coffee bar. This coffee station was created with an IKEA cabinet and blacktop panel. The top part consists of three essentials: a coffee machine, mug rack, and chalkboard art. The supplies are kept in the drawers for easier access.
15. DIY Corner Small Coffee Bar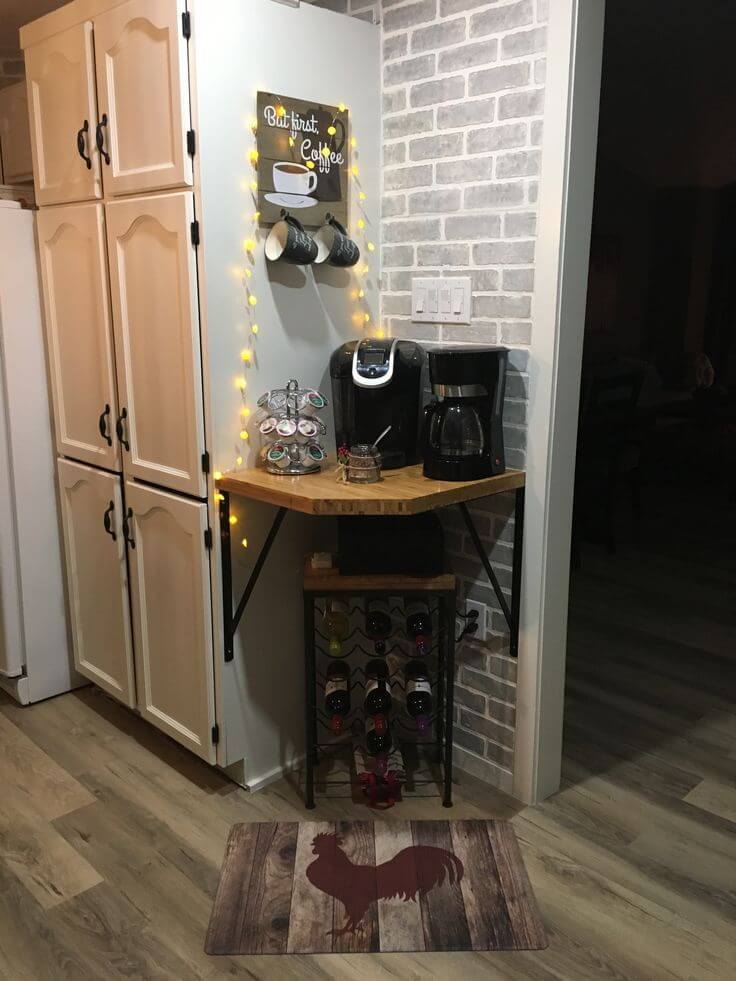 This coffee bar made use of the smallest space possible in the corner. The wooden panel was cut to match the corner, with maximum surface area.
A wall shelf is used to hang mugs, while the actual table is for the coffee machine and capsules. A wine rack completes the overall look.
Having a coffee corner is important for all caffeine lovers. These coffee bar ideas are creative and unique; many were made of cheap materials. Create a personal coffee station with these inspirations as a start.
Home Coffee Bar Decorating Ideas (Photos)