Many new parents are excited to welcome baby girls since they can get creative with adorable and colorful decorations. Baby girl nursery ideas are not limited to cartoon character wallpaper and stuffed animals. You can get creative with decoration shelves, unique ceiling paint, or wall arts.
A baby girl nursery can be subtle and elegant, but you can also experiment with shapes and colors. The most important thing is to balance between functions and decorations. Here are 17 ideas to help you start decorating a baby girl's room.
1. Flower Wall Decal with Wooden Name Sign
This nursery has rose and butterfly decals with soft peach color. They complement the peach-pink blanket and bed canopy. A standing mirror with roses reflects the rose decal. The soft grey rug and cream-colored walls balance the peach color. This nursery reflects a quiet, relaxing elegance.
2. Prairie Nursery with Tree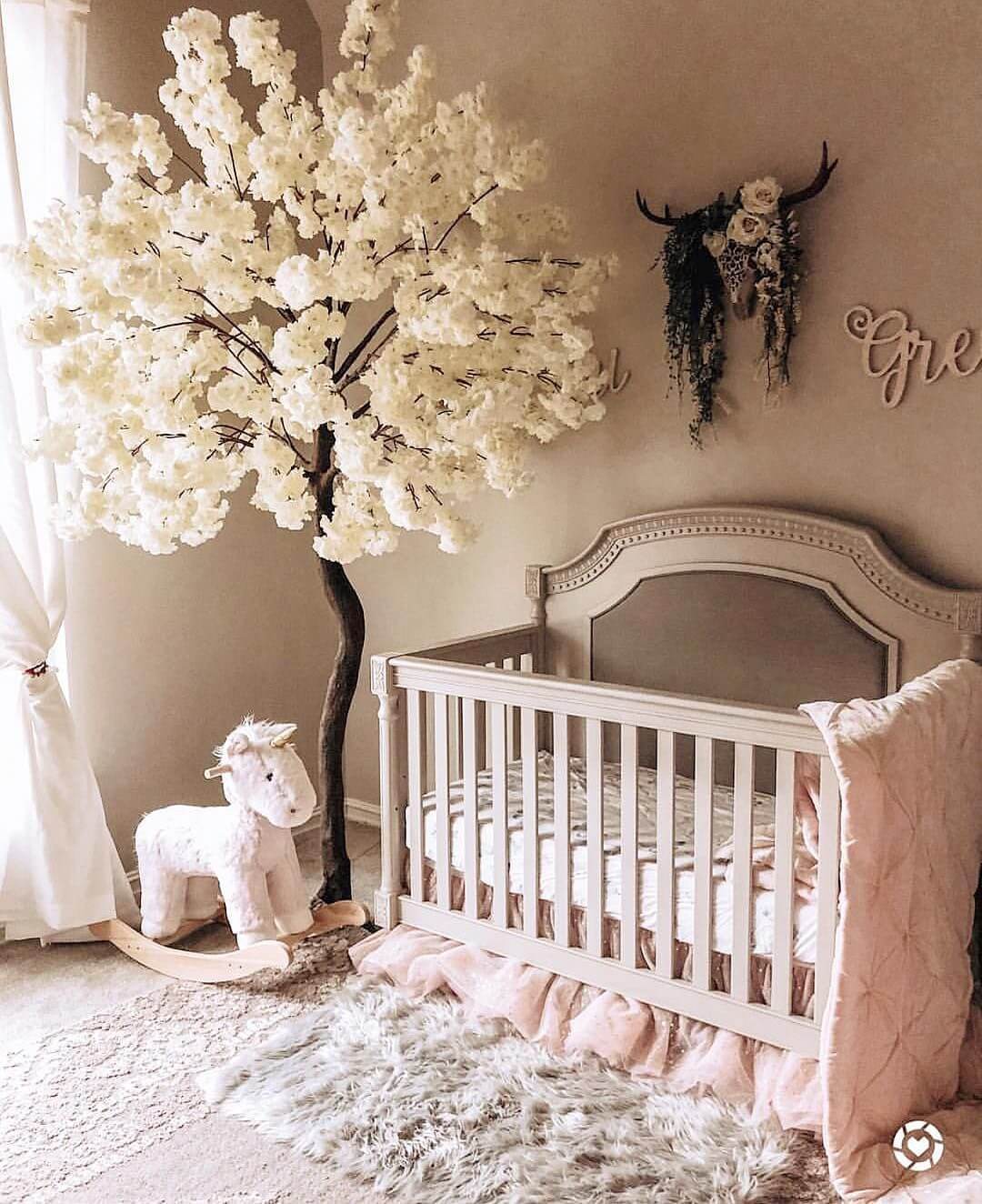 Prairie elements blend perfectly with this elegant nursery. An imitation tree with soft white flowers elevates the simple room. A soft rocking horse and bedecked animal head strengthen the prairie theme. The grey cot has a vintage design, softened by a pink blanket. Everything is paired with decorative rugs.
3. 3D Floral Themed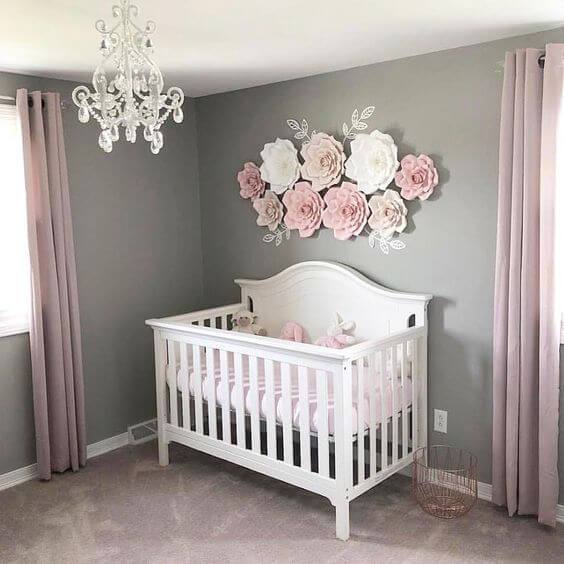 Flowers are popular designs for a baby girl nursery, but you can improve them with the 3D design. This nursery has 3D flower decals
with amazing realistic designs. The flower arrangement looks perfect with the white crib and chandelier
. Soft pink curtains, grey rugs, and washed green walls create a relaxing atmosphere.
4. Colorful Animal Themed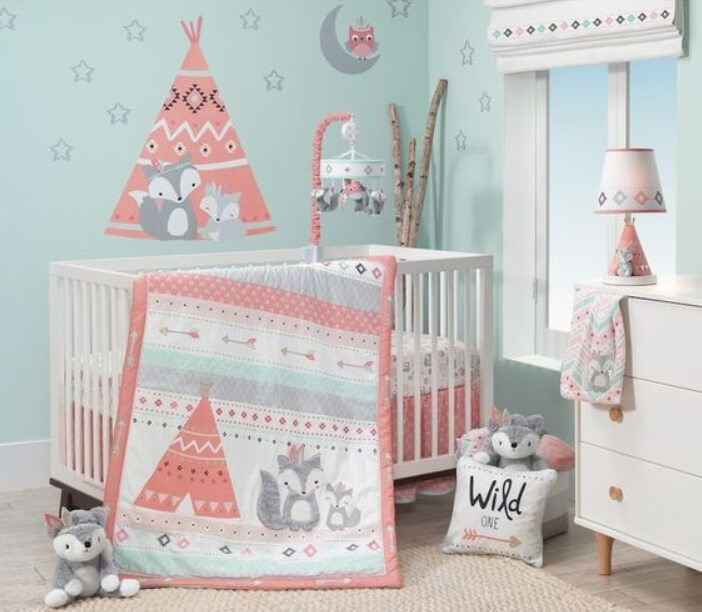 Cute animals are popular options for nurseries. This room has cute fox and owl illustrations as its main design elements. They appear on the blanket, wallpaper, and stuffed toys. Native American-inspired designs adorn the blind, lampshade, and pillow. The colors range from soft green to peach, colorful but relaxing.
5. Tropical-style Nursery
Tropical design, with natural materials and earthy colors, is perfect for a unique nursery. This room combines a wooden cabinet and crib with wicker baskets, chairs, and toys. The white walls become a great background for tropical-inspired ornaments. A round mirror with a floral frame adds function and decorative touch.
6. Simple but Carefully Crafted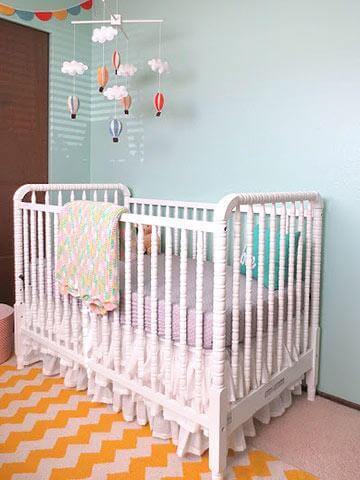 This nursery is simple, but each element was carefully crafted. The soft green walls look great when paired with a sand-colored carpet and a yellow-white rug. The hanging toy has cloud and hot air balloon shapes, perfect with bright walls. A light green blanket, turquoise pillow, and colorful banner complete the simple but cute room.
7. Sweet Pink Nursery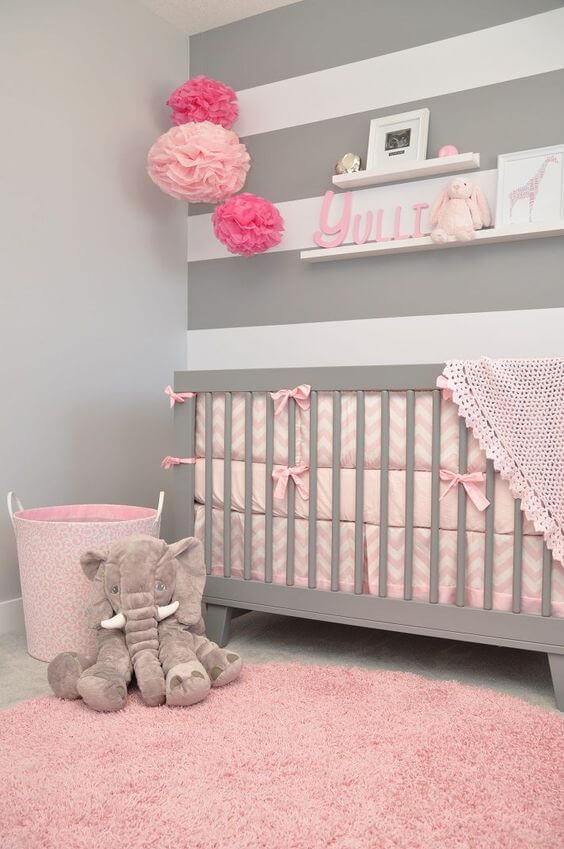 Sweet pink is the main theme of this design. The soft grey and white walls create a nice background for the pink. Stuffed animals, pink paper flowers, sign, and simple decoration add charm to the room. The Grey crib is equipped with a pink blanket and rug.
8. Soothing Space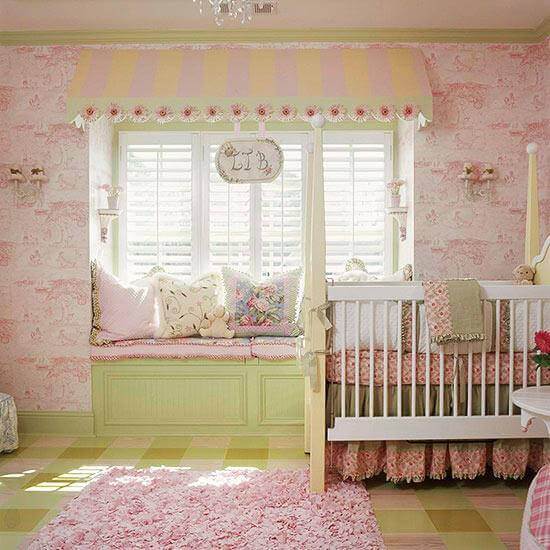 This nursery is beautiful but soothing at the same time. A large window allows natural light to illuminate the entire room. The bench is decorated with colorful pillows. Pink wallpaper, rug, and blanket pair nicely with the lime green color.
9. Farmhouse Nursery with Nice Corner Seat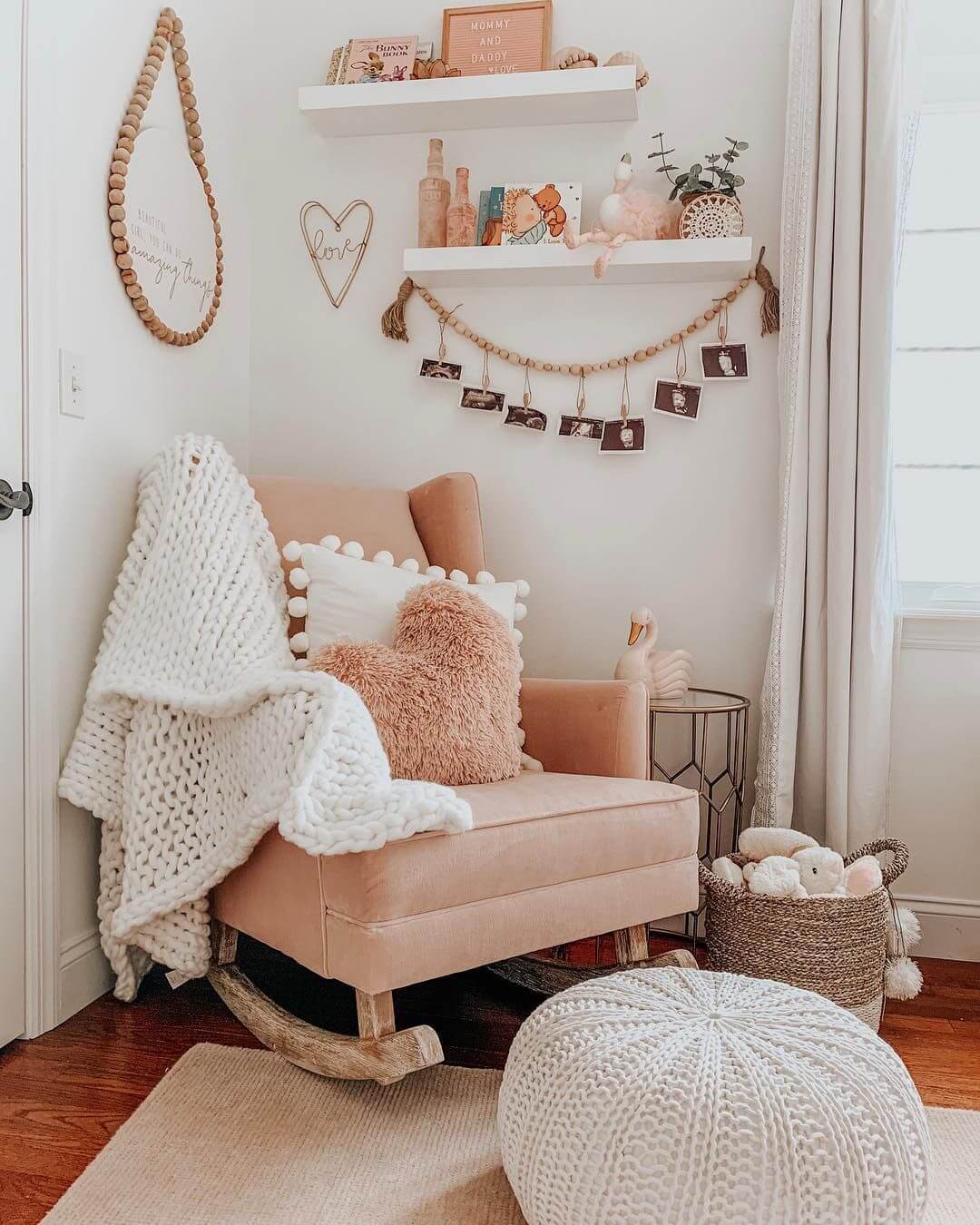 This farmhouse-style nursery turned one corner into a nice seating spot. A rocking "sofa" with knitted bolster and blanket creates a cozy atmosphere. Whitewall shelves become places for cute ornaments, dominated by pink and peach. The rug adds comfort to the wooden floor.
10. Nursery with Peppermint Candy Ceiling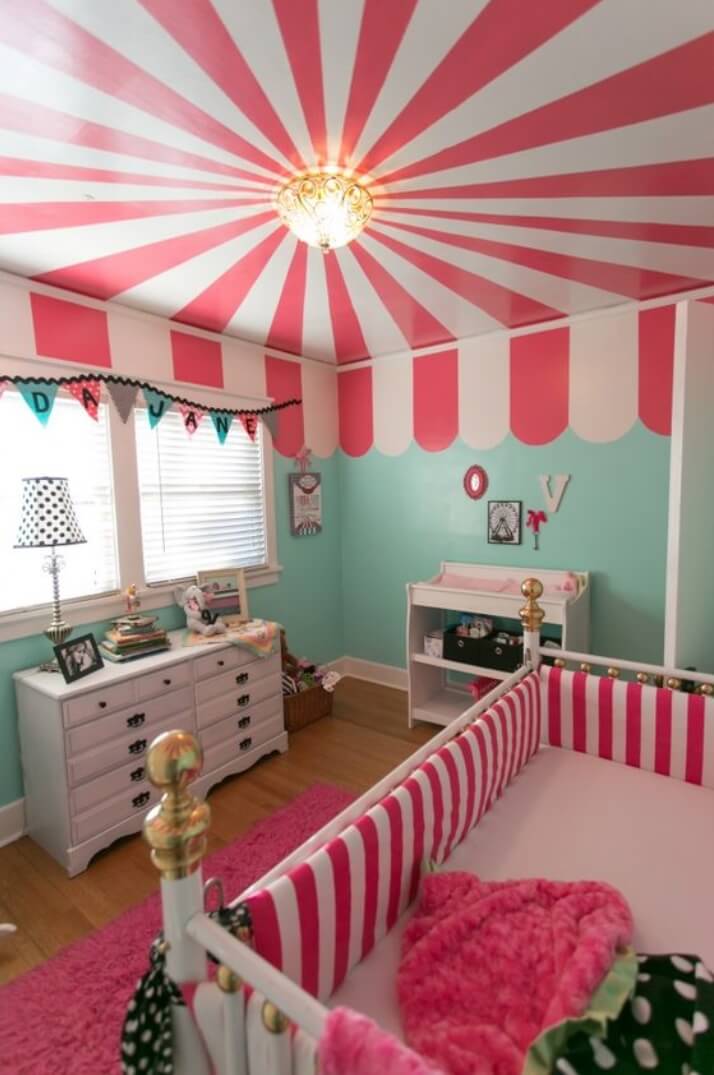 This nursery uses "peppermint candy" stripes as the main color theme. The light green walls look great with the red-and-white stripes on the ceiling. The same theme is applied to the crib's padding. White furniture, pink rug, and wooden floor add a neutral touch to the otherwise fantastic nursery.
11. Floral Pennant Nursery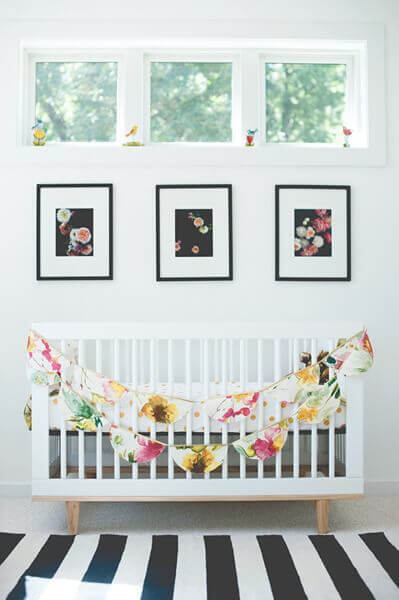 Flower pennant becomes the main element in this elegant white nursery. The pennant adorns the white crib, with several floral artworks on the wall above them. Mini flower ornaments are placed on the window sills. To balance the floral accent, the rug has modern, black-and-white stripes.
12. Nursery with Flower Canopy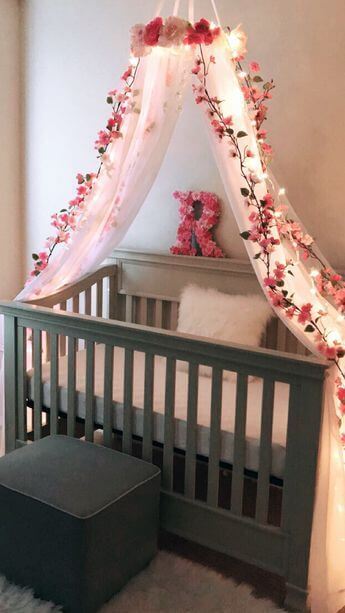 This flower canopy adds a fairytale-like atmosphere to a regular crib. The flowers are adorned with fairy lights to create a more beautiful sight. The crib itself has a dark grey color, to create a nice contrast with pink flowers and a white canopy. There is a dark grey bench and white rug to balance the entire look.
13. Rose Gold Nursery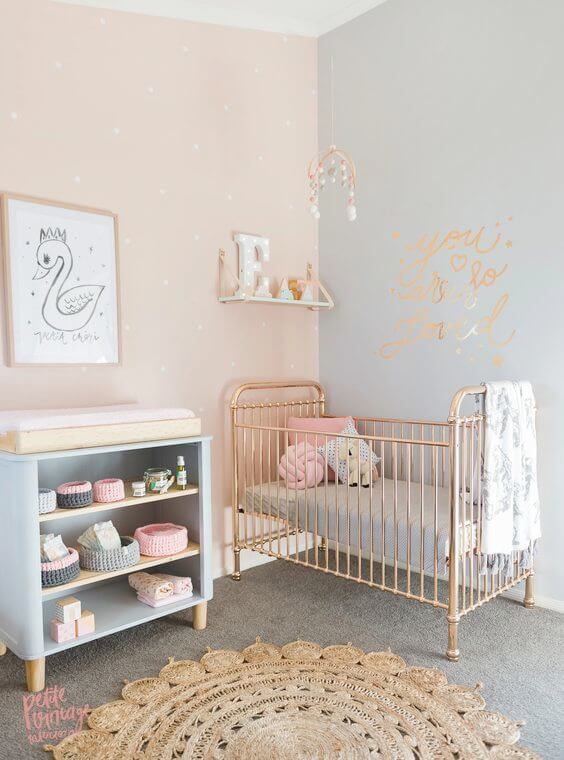 Rose gold is a beautiful color for an elevated nursery for a baby girl. This nursery pairs rose gold with grey for the walls. The crib has a brass coating that reflects the rose gold. The cabinet and rug are grey to balance the entire look. A round rosette rug, swan artwork, and gold decal add an elegant touch.
14. Gorgeous Pink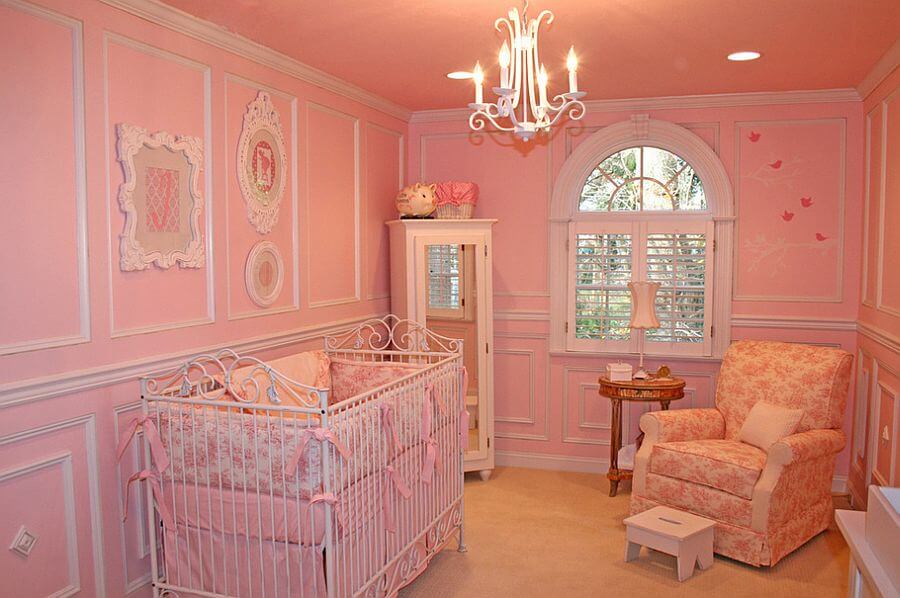 This pink nursery reflects the "vintage luxury" theme from classic European design. All the walls and furniture have various degrees of pink shades. A handful of furniture and appliances, such as a cabinet, crib frames, and chandelier are white. Beautifully engraved frames and birds decal add feminine charm.
15. Peachy Blush Petals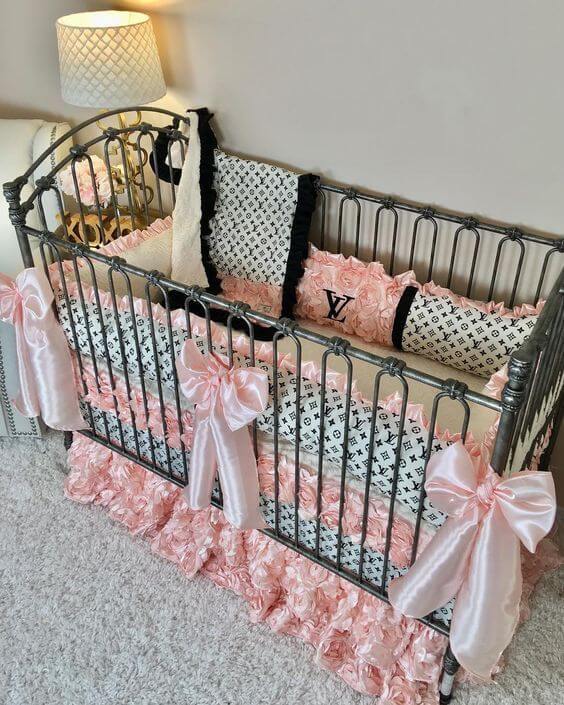 Blush flower petals add unique elements to this trendy crib design. The pillows and padding have modern, trendy, black-and-white ornaments. Pink blush petals adorn one of the pillows and crib layers. The same element appears on the laces and ribbons.
16. Cool Desert Theme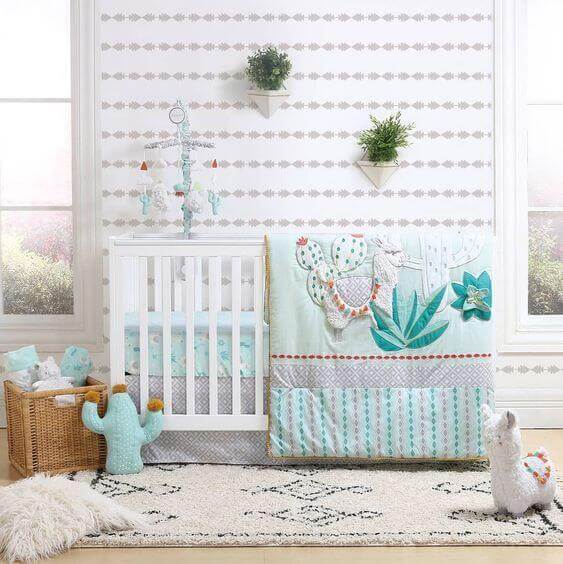 This desert theme looks "cool" and relaxing, perfect if you don't like adding too much pink. The white walls have simple line patterns and look perfect with the crib. The blanket and stuffed toys have light blue and green colors, with desert plant images. The floor, basket, and rug have sandy colors to match the theme.
17. Fairy Tale Nursery with Flower Decal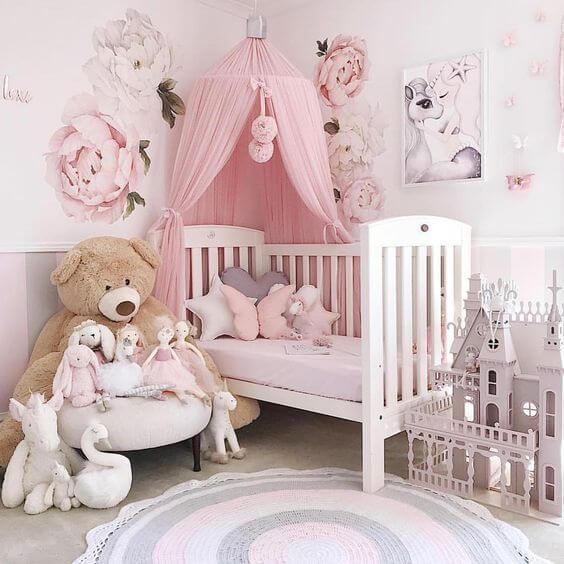 This nursery has fairy tale elements from the castle, unicorn artwork, and a canopied crib. The flower decal sets the tone for the entire pink color scheme. A bunch of stuffed toys and pillows are arranged in the same corner. The round striped rug and blush pink walls frame everything into a nice nursery look.
18. Cute Wooden Name Sign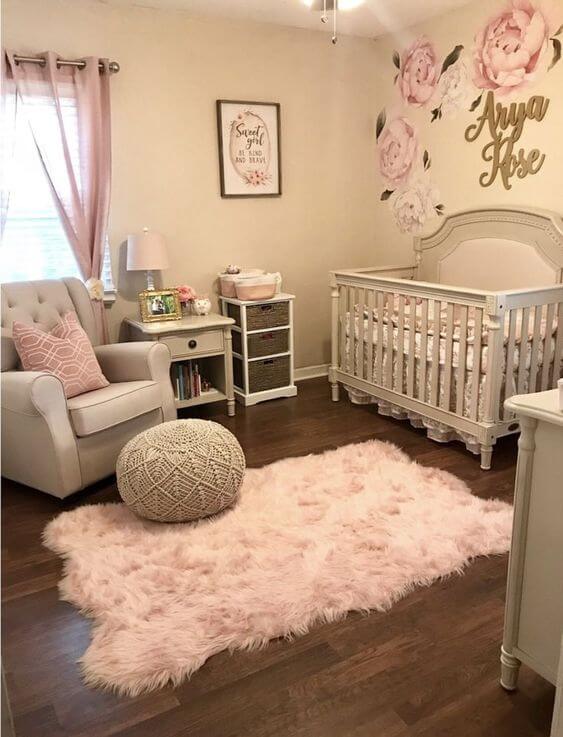 Looking to make their name (or message) stand out? The wooden name sign is hard to miss! The hand-carved letters create a striking 3D effect.
Get the room ready for your bundle of joy with this personalized baby's nursery decor! Let your little baby girl fall asleep and wake up in a comforting environment with unique personalized baby nursery decor.
19. Lovely Baby Girl Nursery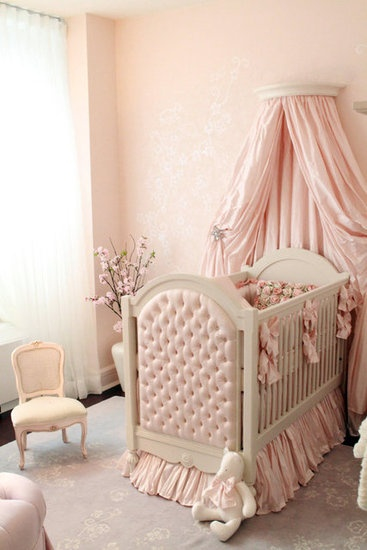 The light pink shade likewise offers the room a pleasant, airy appeal, owning away any sense of dullness.
20. Classic Nursery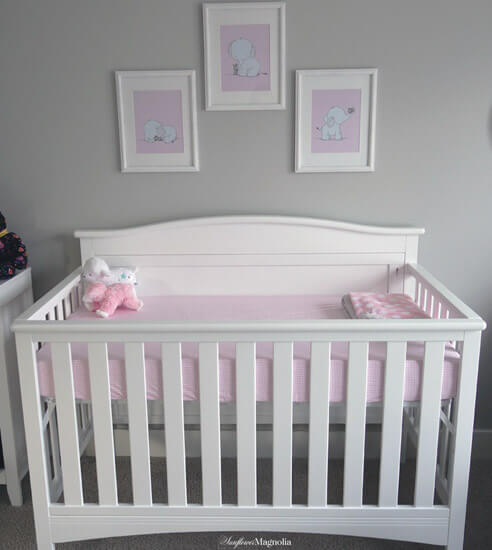 For a classic nursery design that your baby girl will love, pair white with the traditional pink.
Baby Girl Nursery Room Decor Ideas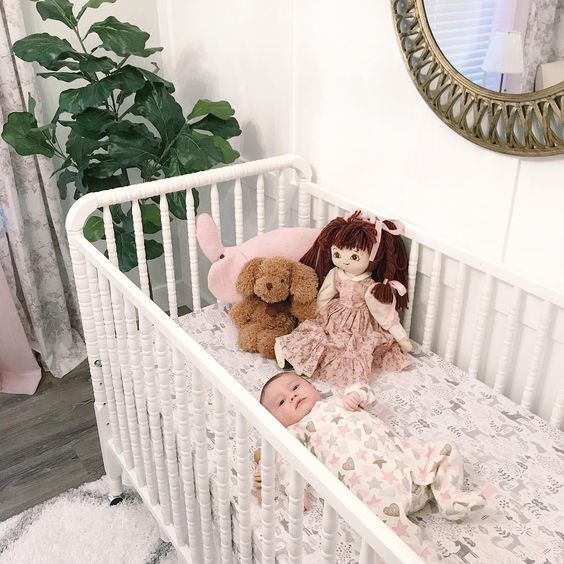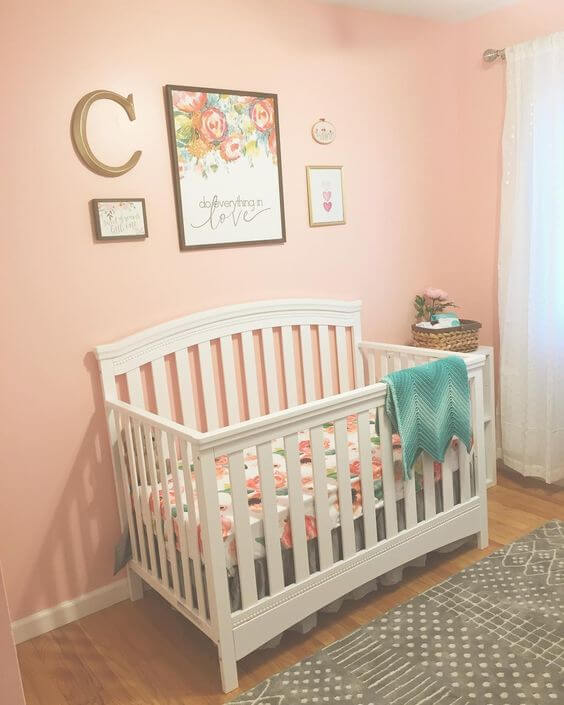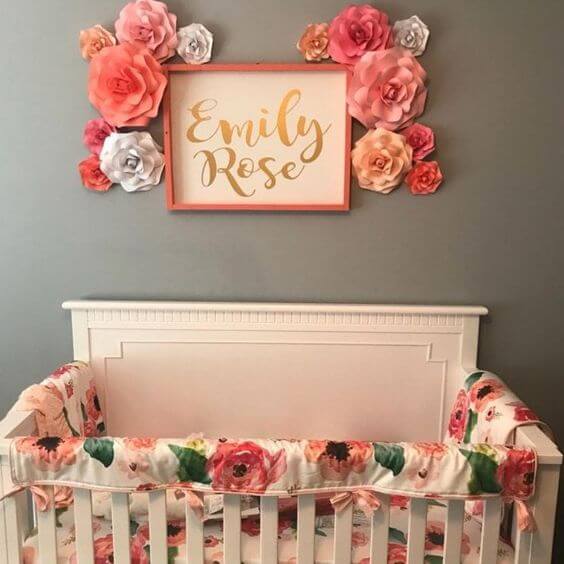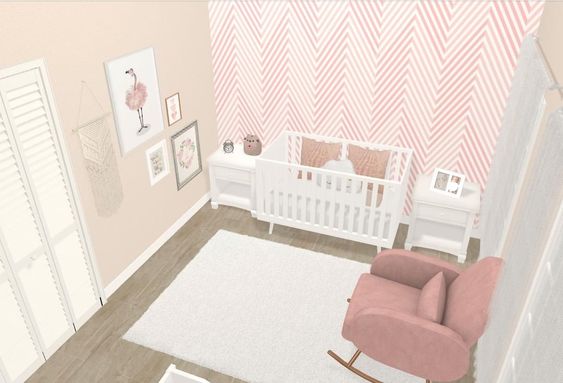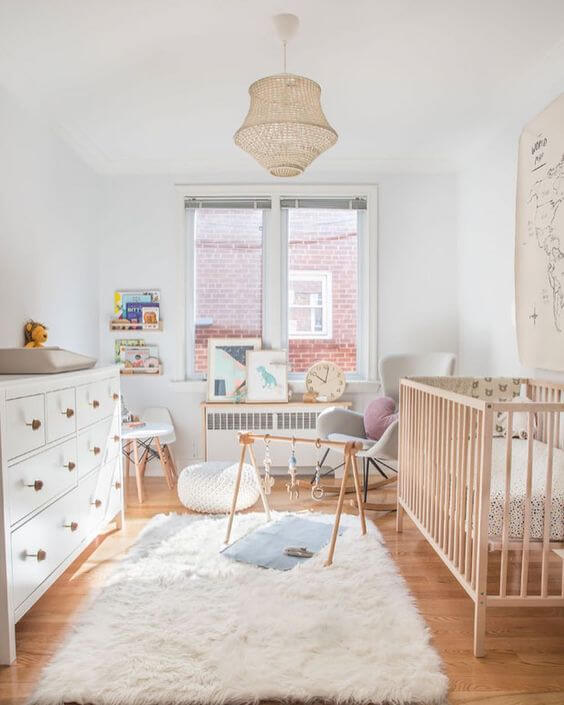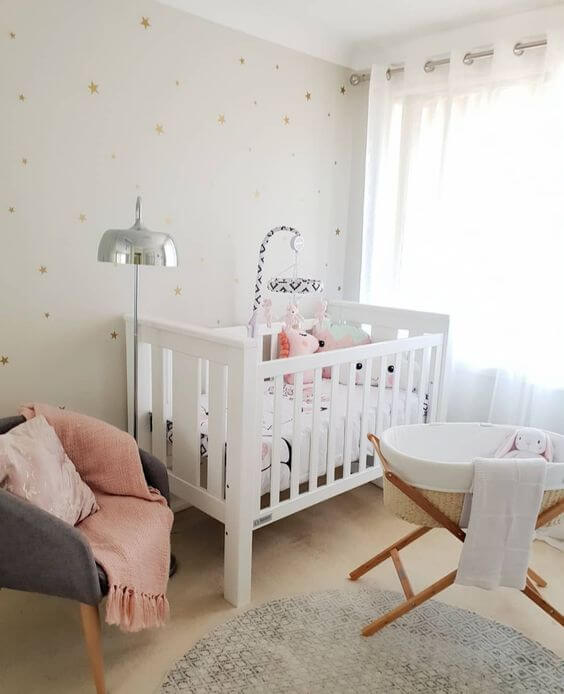 ***
These baby girl nursery ideas are perfect for any style preference. You can choose the posh, classic, simple, unique, or elegant one. While pink is prominent, you can choose different color schemes. Try one of these ideas to make your baby girl happy.