Kitchen Remodel Ideas – Who says that remodeling a kitchen always requires you to spend a lot? You can still update your kitchen interior without paying as much as the cost of going for an Ivy League school or buying a fancy new car.
It is no secret that the average cost of remodeling a kitchen is so high. However, there is always a good way to decrease the cost by following some kitchen remodel ideas on a budget.
This way, you do not need to spend around $6,500 simply to remodel your home kitchen. For further reference, here are several low-cost ideas to remodel your kitchen.
1. Change the Doors of Your Cabinets
Before 👇🏻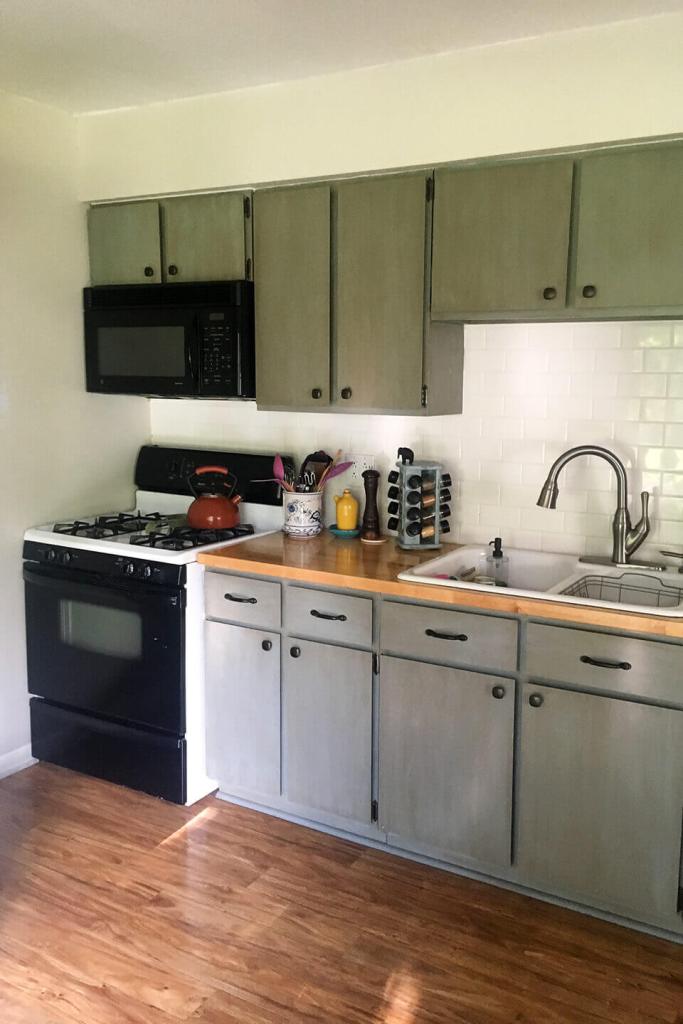 After 👇🏻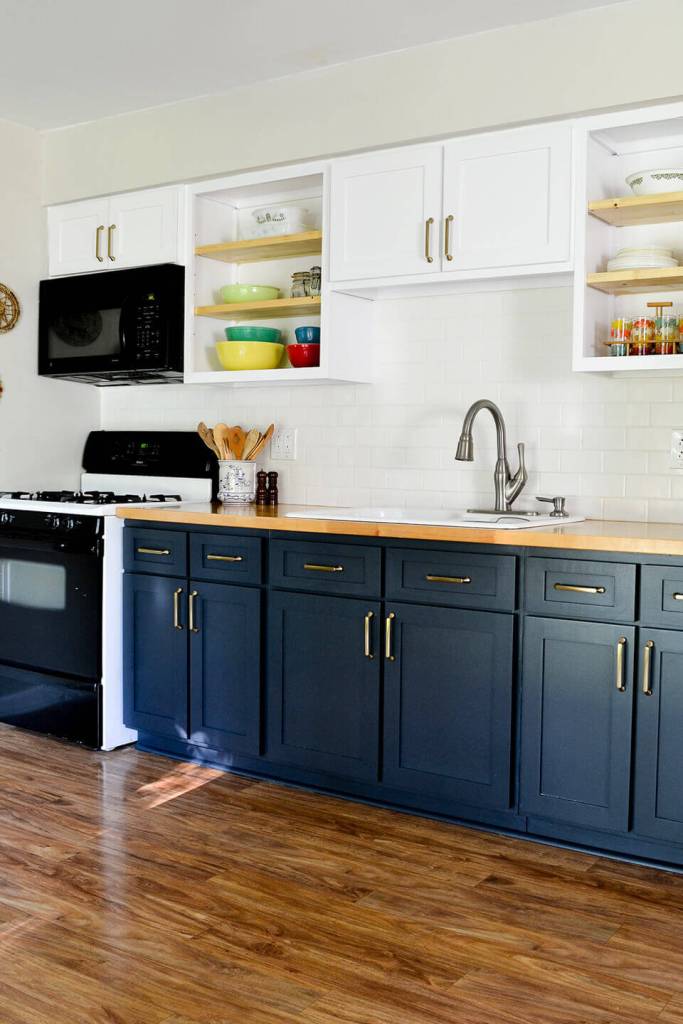 Switching an old cabinet with a new one is without a doubt an instant way to update your kitchen. However, brand new cabinets may require you to break the bank since it can take around 30 to 35 percent of the average kitchen remodel cost.
Meanwhile, sometimes you just need to replace the fronts of your cabinets only to get a brand new look. Besides, it would cut the budget to get expensive new cabinets.
In case you love to do DIY projects, these following ideas could save you more money.
Incorporating updated molding or trim
Repainting or staining the entire cabinets
Removing doors to have an open-shelf cabinet
2. Stencil Your Outdated Kitchen Tiles
Before 👇🏻

After 👇🏻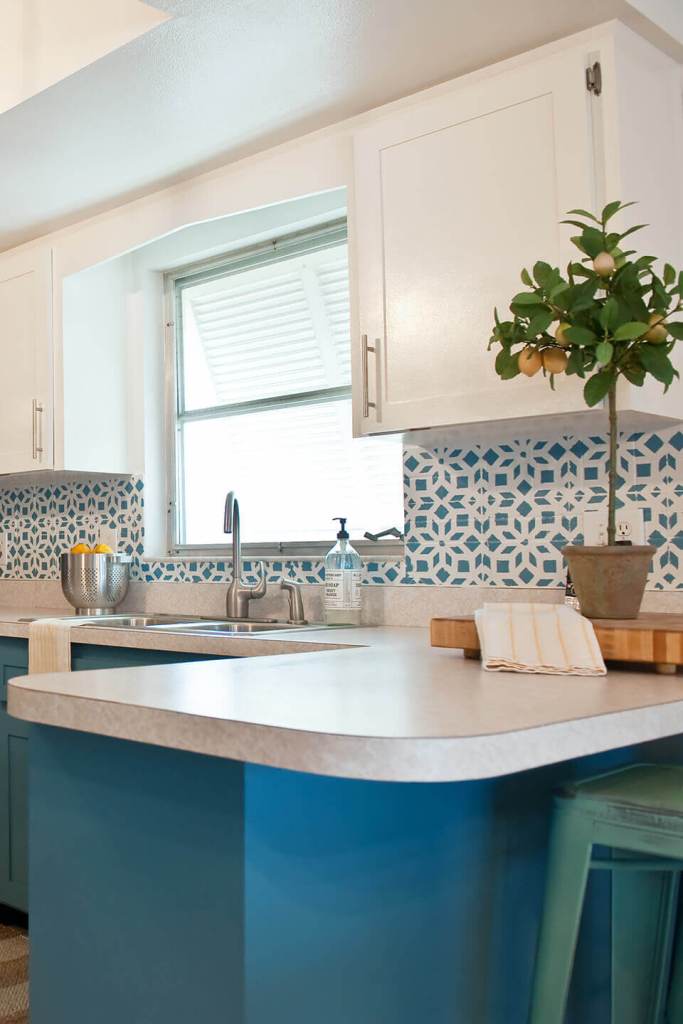 Instead of replacing your tiles with new ones for an updated look, it would be more affordable to stencil them. This way, you would be able to have some free space in your budget for other serious needs.
Fortunately, it is easy to find tile stencils on the internet. Besides, you only need to do some prep-work to prepare the tiles. More interestingly, stencil your old tiles will not take as much time as tearing them out and change with the new ones.
3. Update Your Lighting Using DIY Kits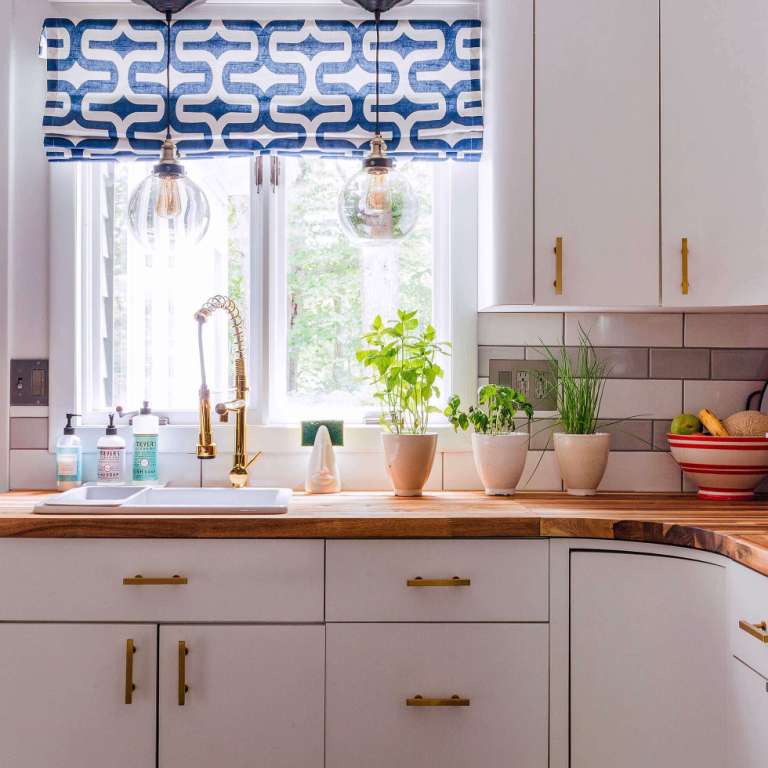 Utilizing recessed lighting conversion kit is one of the most affordable and simplest kitchen remodel ideas. You do not need to hire an electrician to do it and the kits only cost between $15 and $20.
Interestingly, you do not have to be an expert to install the lighting kits. Besides, you just need around 15 minutes to get remarkable lighting.
You can see the finished result in the picture above. A brace grasps the light fixture properly and a unique cover makes the recessed light look pretty.
4. Get Your Floor Painted
Before 👇🏻

After 👇🏻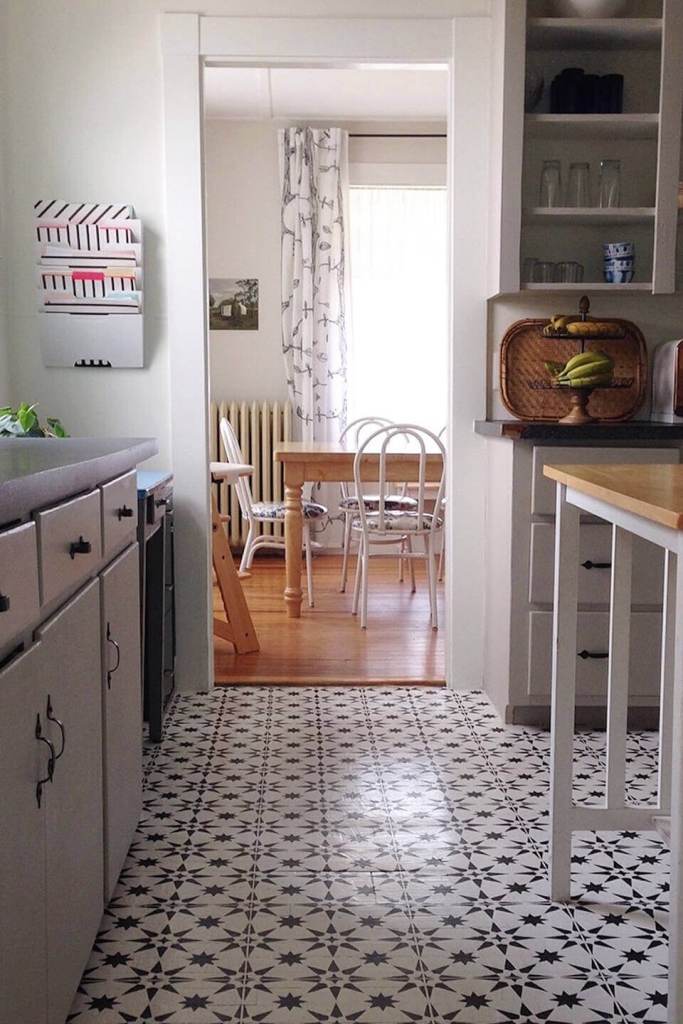 For those of you who have an old wood floor, it could be a good idea to paint it instead of swapping with a new one. You may think that it is a pity to paint wood floors. However, asking a professional help to refinish your kitchen floor requires you to spend around $2,000.
Meanwhile, getting your old kitchen floor painted is super budget-friendly since it may only cost around $200 or even less. Consider using polyurethane-based floor and porch enamel to achieve long-lasting results.
5. Change the Look of Your Footprint
Before 👇🏻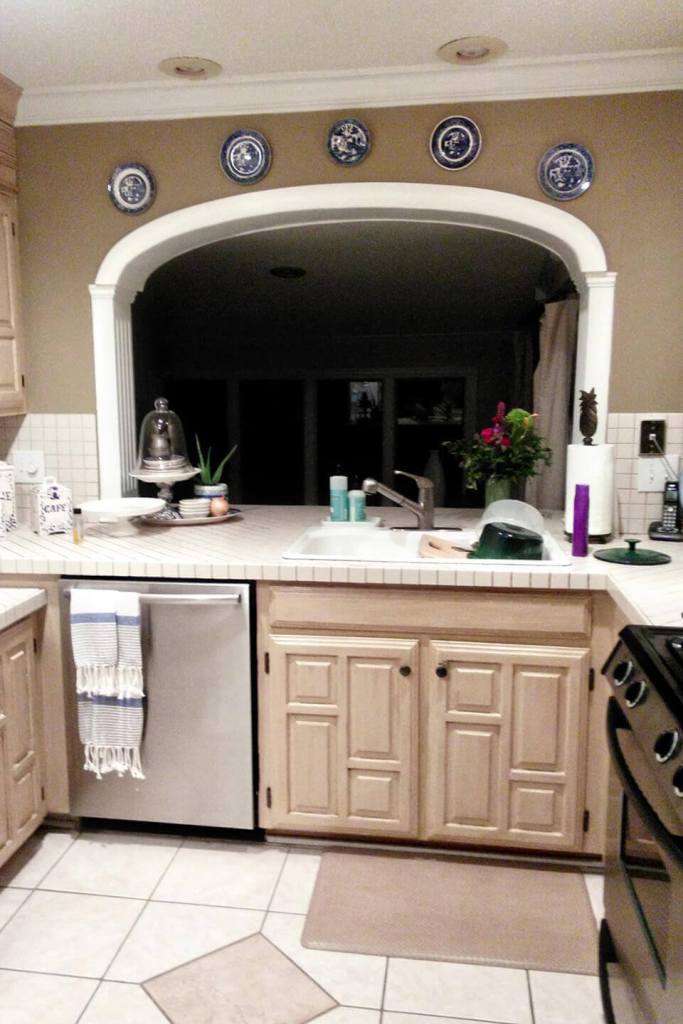 After 👇🏻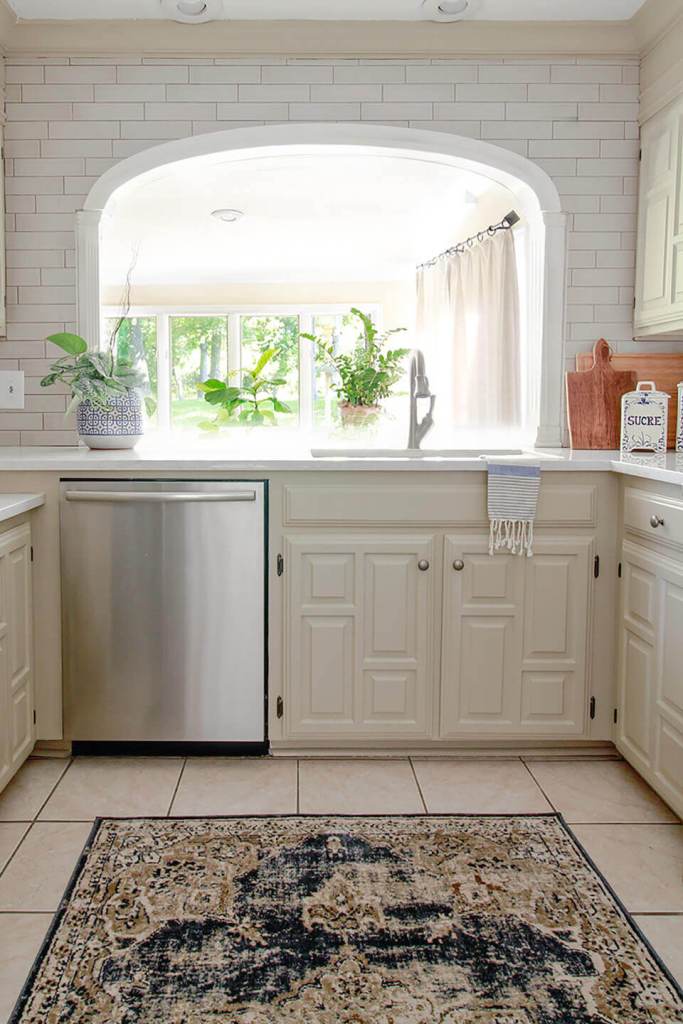 Updating your countertop and backsplash can make the overall kitchen look more beautiful and interesting than before. Both countertop and backsplash cover a great deal of surface area, making them a perfect stage to get a new kitchen appearance.
You can take advantage of quartz for an everlasting option. Nevertheless, you could opt for other DIY countertop choices if it is out of your budget. Besides, a little paint on your cabinets can make your whole kitchen feels new too.
6. Kitchen Remodel Ideas – Optimize Overhead Storage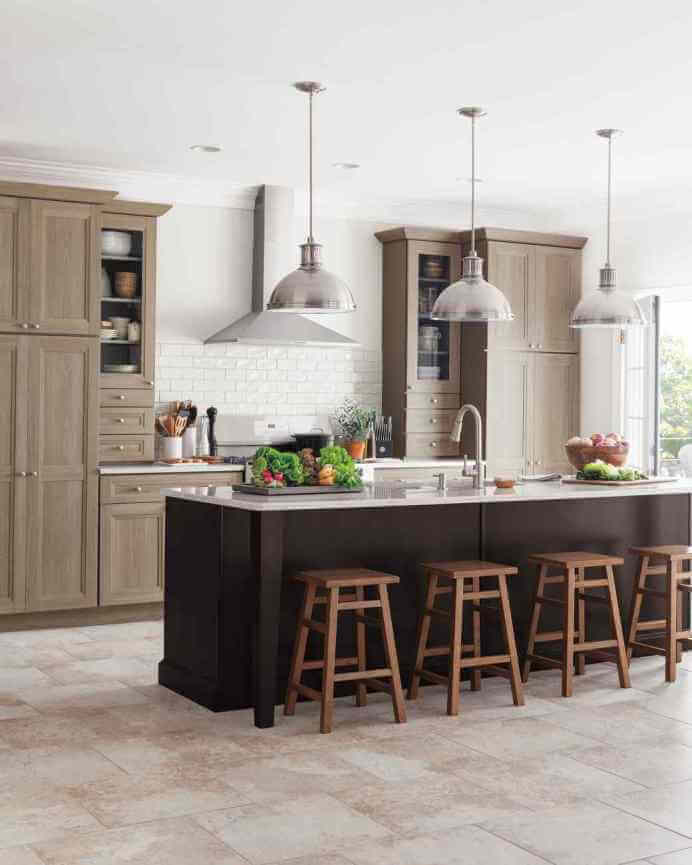 You need plenty of storage to keep your kitchen essentials. Optimizing overhead storage could be a good idea to have adequate space to store your items.
If you have not introduced an island to your kitchen, consider going for one and utilize it for extra storage space as well. Do not forget to bring in some stools so that you can enjoy your meals right in the kitchen.
In case you already have a kitchen island, it would be great to repaint it simply for an updated look.
7.  Take Advantage of Overlooked Nooks
If there is a nook in your kitchen, consider taking advantage of this space. You could upgrade its functions by installing a storage solution as shown above.
It is indeed a good alternative instead of fitting in a breakfast nook or something, especially if extra storage is what you need the most. Get a tall cabinet that fits the nook area perfectly and you will have a new storage solution in the kitchen.
8. Maximize Your Space Smartly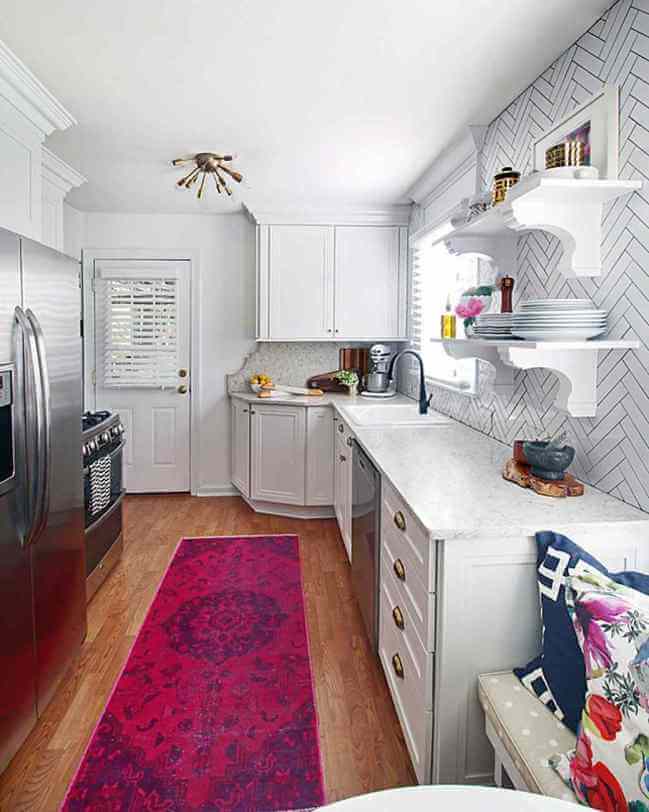 Having a small kitchen will not be a problem as long as you know the tricks. When it comes to a kitchen remodel ideas, try to focus on maximizing the available space first before making it looks fascinating.
You can start by incorporating cabinets at the corner and adding some open shelves on the walls. For a pop of color, go for a bold magenta rug as shown in the picture.
9. Be Playful with Pastels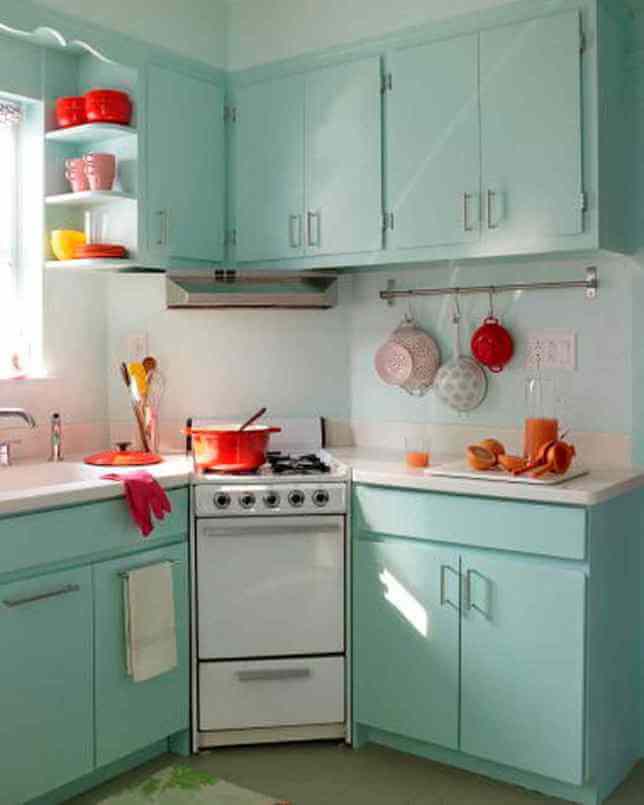 Update the look of your traditional white kitchen by incorporating some elements in pastel colors. For an affordable remodel idea, simply paint the cabinet fronts in pale green instead of replacing the whole elements with the new one.
For an interesting pop of color in your pastel space, you could go for colorful kitchen hardware and accessories. Keep this hardware and accessories on sight to create a simple yet stylish kitchen interior.
10. Leave It Unfinished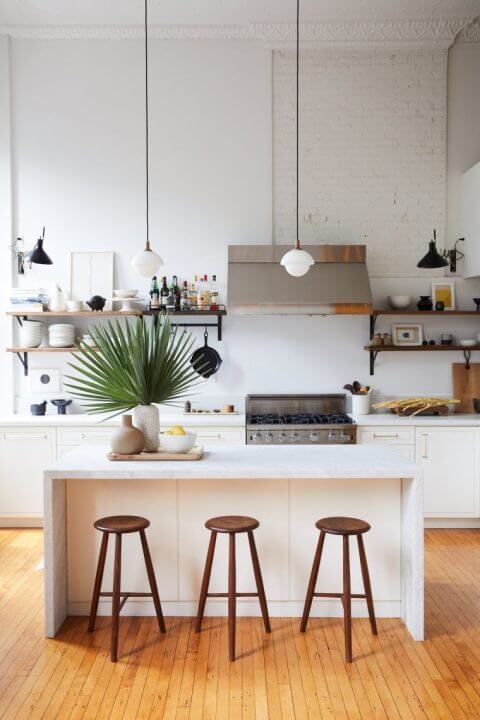 Nowadays, leaving some parts of the walls unfinished is considered trendy. If you want to add a little twist to your kitchen, it would be great to follow this trend.
If your walls are already unfinished, simply paint them on white as shown in this picture. However, in case you are free enough to paint them in a pattern, it would be perfect. Instead, you could also leave it completely unfinished for an exposed-brick look.
11. Go for Cool Lighting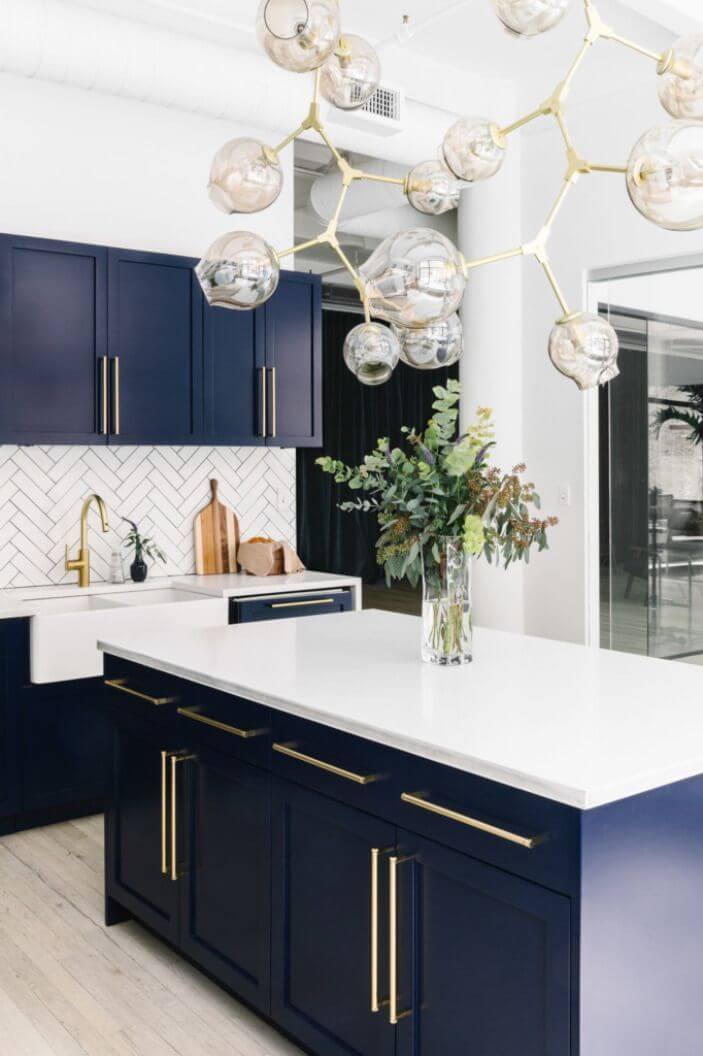 When remodeling a kitchen, choosing new cabinets, countertops, and other influential items tends to be prioritized. However, replacing all these items often cost you a lot of money. For a more affordable idea, consider swapping your kitchen lighting.
Get a cool and unique pendant or chandelier for your kitchen to draw your guests' attention. Depending on the size and style of your kitchen, there is always a cool lighting option for your kitchen. Make sure you get one of them to update your kitchen on a budget.
12. Be Bold with Colors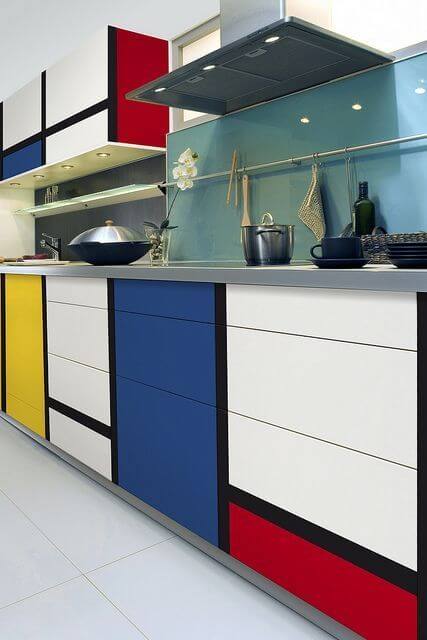 A kitchen with a neutral scheme makes a perfect canvas for playing with bold colors. Just like this kitchen that looks charming thanks to the touch of yellow, blue, and red applied on the cabinets.
If you are interested to follow these kitchen remodel ideas, here are some tricks to get the job done.
Apply the yellow, blue, and red paint on some cabinet fronts only. Keep the rest in neutral shades to maintain the balance.
Keep the other decoration items as minimal as possible to avoid overcrowded flair.
13. Incorporate Quartz Countertops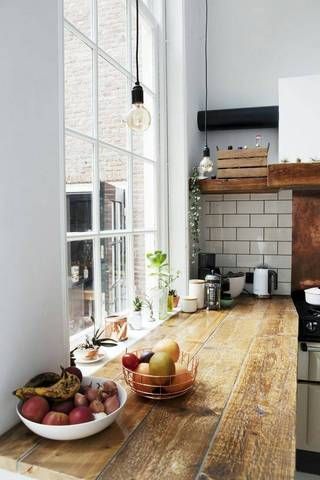 Quartz countertops are indeed stunning, especially if you install them in the right way. Considered more durable than granite, quartz is often selected to complete a kitchen interior.
It makes a good addition to any kitchen thanks to its anti-porous trait. This way, you could rest assured that your kitchen countertop is relatively free from bacteria.
However, if you have a tight budget, consider opting for wood countertops instead of quartz since this material is typically more expensive than others are.
14. Paint Your Cabinets in Two Tones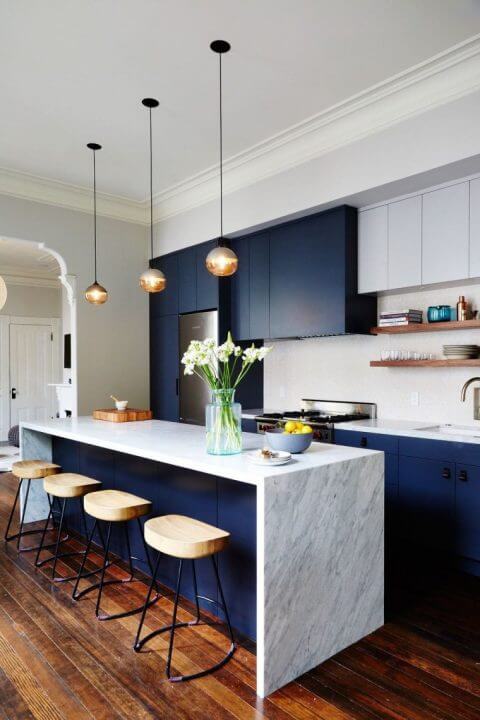 Painting your cabinets could update the look of the kitchen and save your remodeling budget at the same time. Paint your cabinets in two contrasting tones like this kitchen for an appealing modern look.
Some of the cabinets are painted in navy blue while the rest are in white. The navy color is also applied to the kitchen island to achieve a sense of balance.
15. Introduce a Ladder in Your Kitchen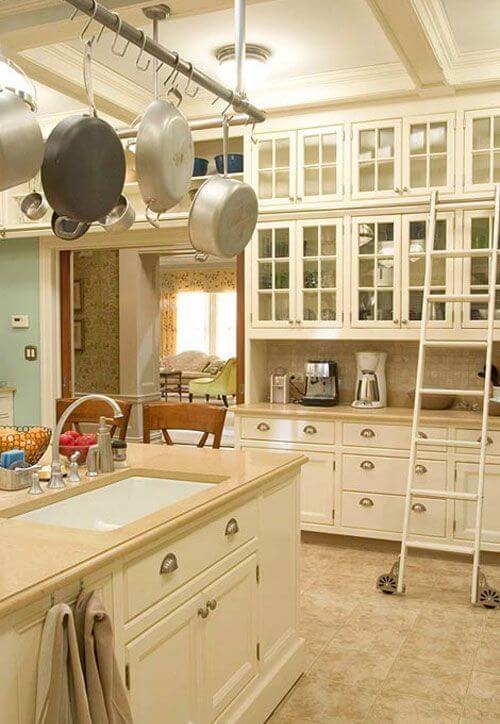 Does your kitchen require more storage space? Rather than expanding out, you may need to expand it up by installing the cabinets to the ceiling. At this point, a rolling ladder will be a perfect feature to make sure your high cabinets are accessible.
Different from the one you usually see, this ladder is wheels, making sure it is effortless to move it from one side to another. Not only if functional, but introducing a ladder may also improve the look of your kitchen.
16. Let the Floor Be the Focal Point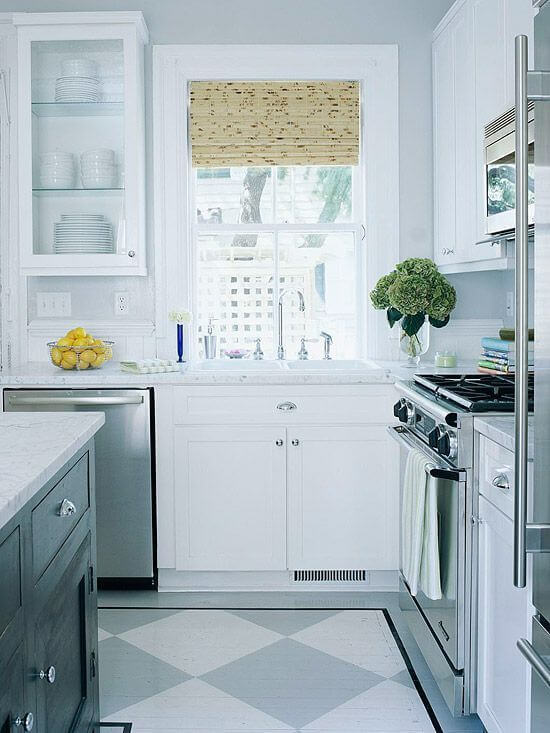 Some homeowners often overlook the capability of flooring to enhance the overall look of a kitchen or other areas inside the home. You should look at this kitchen and see how its checkered area rug makes the entire space looks more fascinating.
It is always a good idea to incorporate an area rug with an interesting pattern in a neutral kitchen scheme. You could even replace the area rug regularly to make the kitchen appear fresh all the time.
17. Add Open Shelving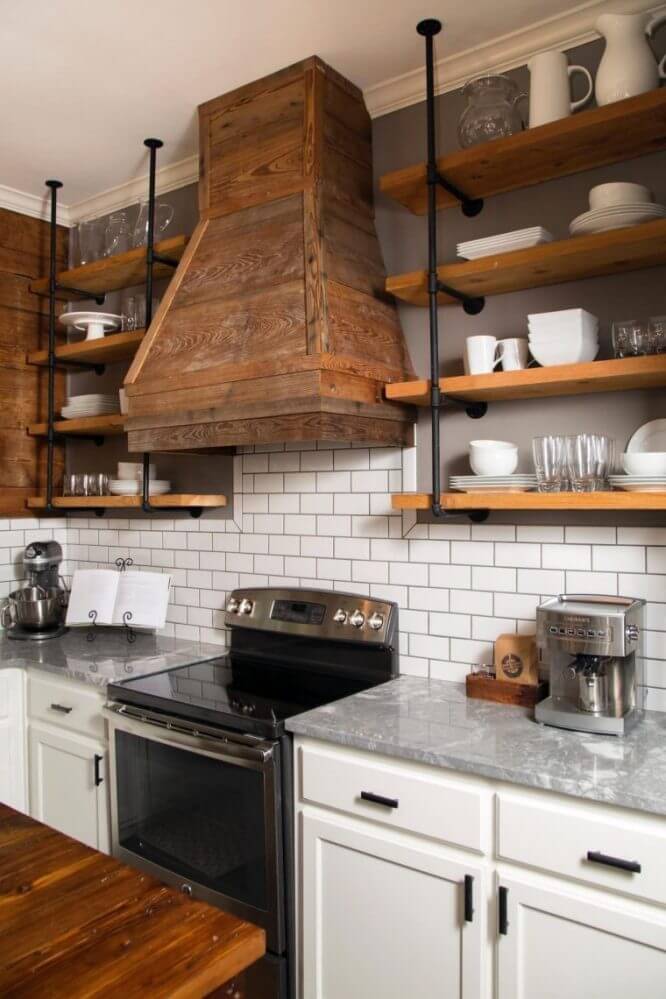 Open shelving has become another trend in kitchen remodel ideas. It saves space and allows you to display your favorite hardware or accessories in the kitchen.
From the floating type to the one styled with black metal pipes like this, you have many options when it comes to open shelving. To save more money, you can also create open shelving yourself with little effort only.
In addition to your favorite chinaware, consider displaying some decorations like an indoor plant to enliven the space.
18. Opt for a Tiny Window Shade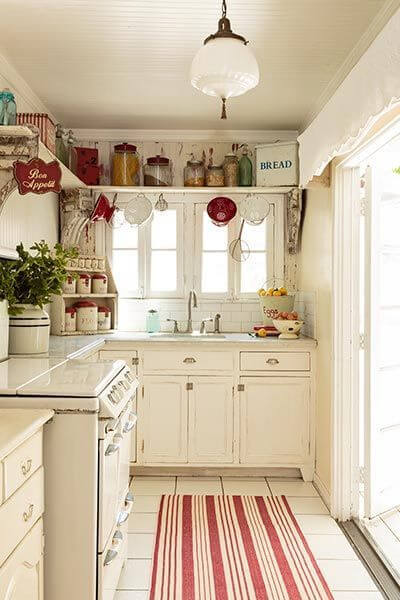 Sometimes you just need a little change to make your kitchen look different. If you are on a tight budget and need such refreshments in the kitchen, why don't you change the window treatment?
Try to swap your previous curtain with a tiny window shade. It will help you control the natural light needed by the kitchen and ensure privacy if required.
You can also try other window treatment ideas to enhance your kitchen interior.
19. Get Dramatic Lighting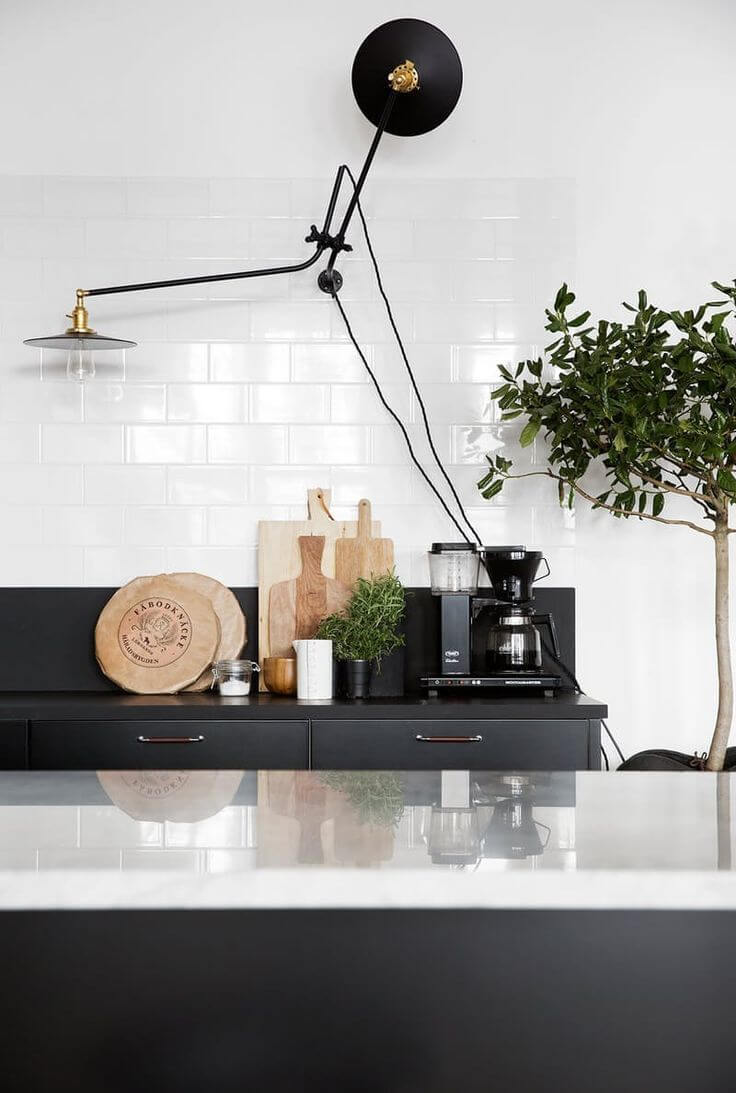 If you think that pendant and chandelier are not enough to add a dramatic flair in your kitchen, go for unique wall lighting like this. It not only offers extra light on your working area but also gives the kitchen a touch of attractiveness.
You can also try another cool lighting to update your kitchen appearance. The good news is that adding additional lighting will not charge you too much cost.
20. Go for a Statement Ceiling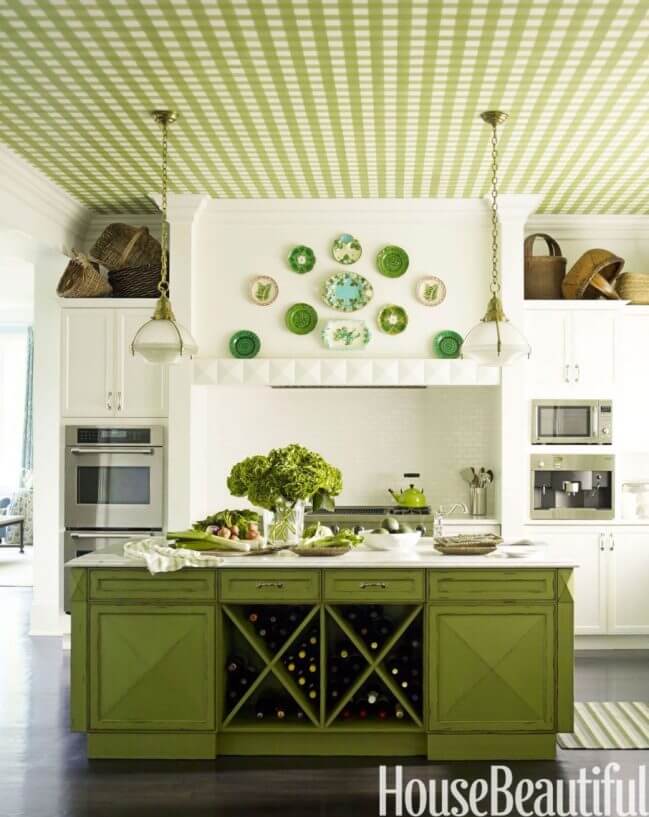 In a kitchen where you cannot apply wallpaper on the walls, fit it on the ceiling instead. This unique idea is indeed perfect, especially if you have a neutral color scheme below.
Like this white kitchen, which looks extraordinary thanks to the olive green stripes on the ceiling. To balance the color scheme, an olive green kitchen island and decorative plates are included in the decoration. They create a pop of color required in this primarily white area.
21. Meet the Past and Present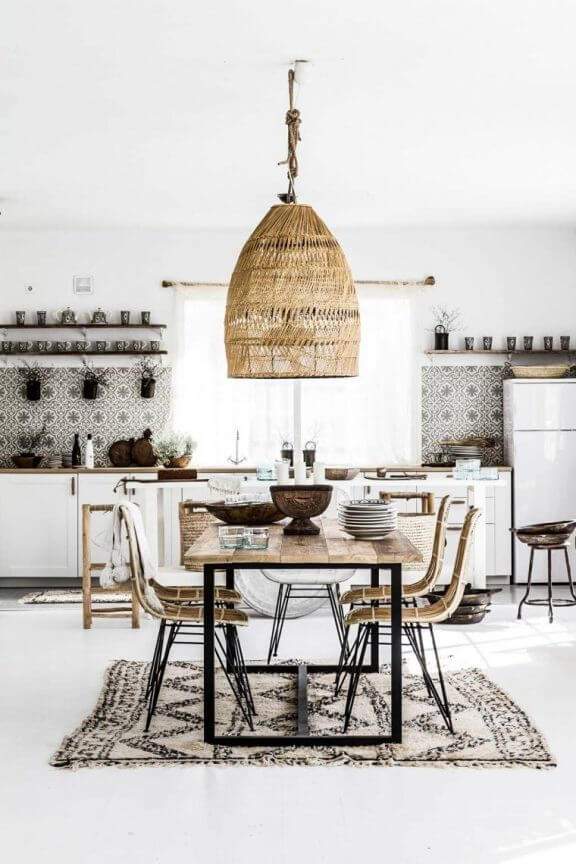 Add a touch of traditional style into your modern kitchen by introducing an ethnical pattern throughout the space. Look at this kitchen for inspiration. The ethnic pattern is infused to the interior through an area rug under the breakfast nook and backsplash.
Then, swap your contemporary candle holder and centerpiece with ones made of wood. A rattan lighting shade becomes a focal point in this kitchen along with the breakfast nook.
22. Another Unfinished Flair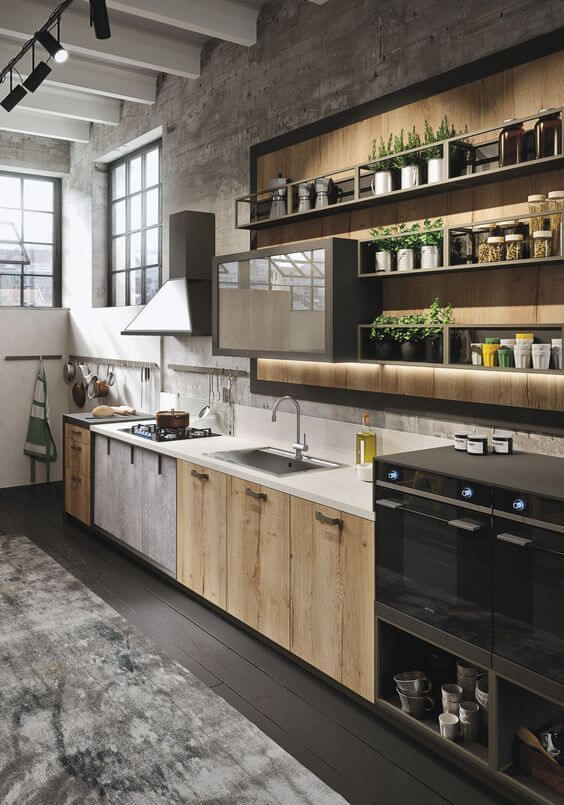 The walls in this kitchen are not finished with any paint. Instead, it keeps the concrete look to create such an industrial flair. This idea is completed with some metal elements involved in the decoration.
The unfinished cabinet fronts look pretty and exceptional as well. The natural wood color works well in this kitchen. There is also a set of open shelving to exchange the needs of floating cabinets in this kitchen.
23. Include a Chalkboard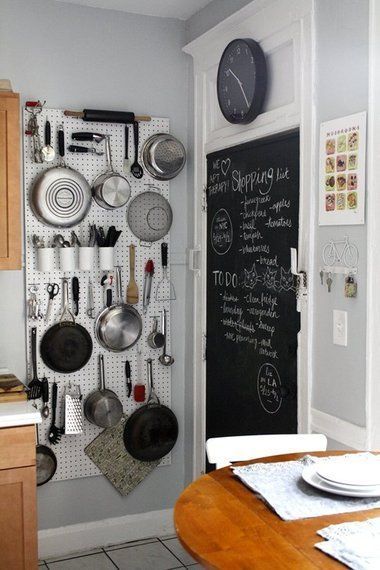 The chalkboard can make a great alternative to decorate your kitchen. It can be a good space for writing your weekly meal plans or recipes. It can also provide a space for your kids to get creative while you are cooking.
Depending on available space in your kitchen, you can place the chalkboard on the empty wall or behind the door. It would be a great idea to use the chalkboard as your kitchen backsplash.
All in all, plenty of kitchen remodel ideas are available on a budget. Thus, you do not need to spend a lot of money to update your kitchen look.