An island, though it may be small in size, is a nice complement for a kitchen. It doesn't feel right if there's a kitchen without it – it just feels off somehow. Therefore, installing one is highly recommended. Kitchen island design ideas will decorate your kitchen to have a nice look.
There are lots of kitchen islands design that you can choose or purchase at the stores or you can just make one – it will feel much better if you can create one as it can really fit the space in the kitchen according to its size color or even the material that you're going to use.
In this article, we've compiled 40 plus kitchen islands that you can observe which one that could fit your kitchen space and make it more alive. You can also pay attention to how each island is combined with the surrounding such as lamps, stools as well as other decorations.
Blue Kitchen Island with Sink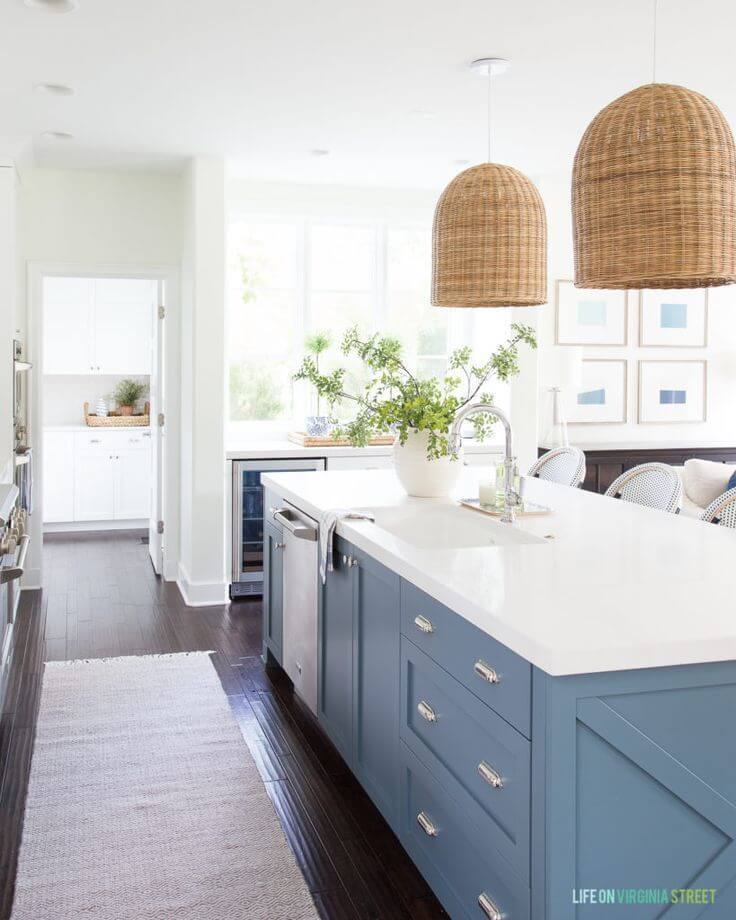 To make your kitchen has a cool and natural look; blue color can be an alternative. It's often paired with a white color, which is a perfect combination. When working in the kitchen, a countertop is certainly needed, and the island gets you covered.
With a wide surface, the island looks spotless with shiny countertop and it comes with a sink that will really help you in the kitchen. Above the island are two woven lamps that give a nice decoration in the kitchen.
Shiplap Kitchen Island Design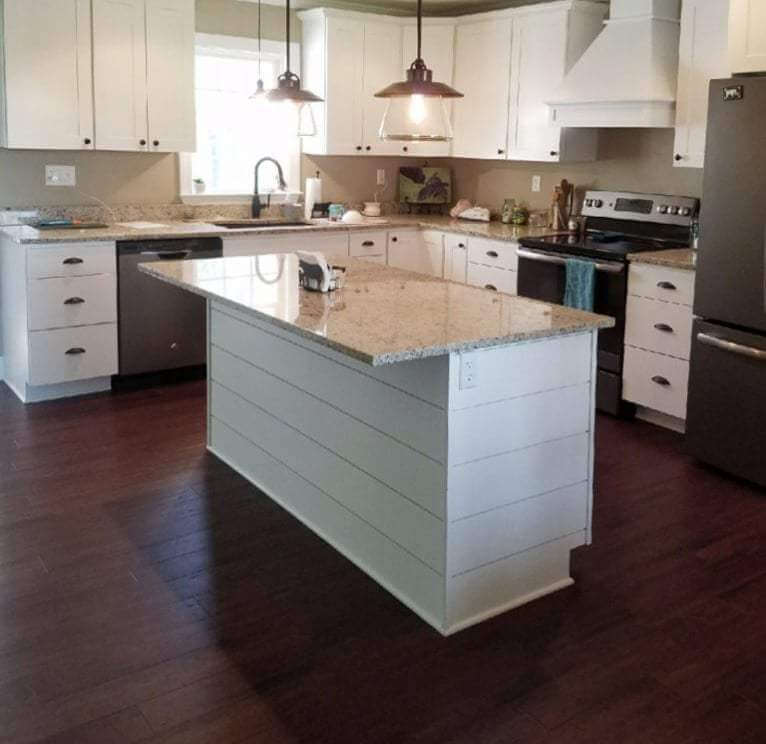 Giving you some wider space to work, a shiplap island can be easily identified from its surface that sticks out. It will be fine if you want to add chairs there because you can tuck them in under its overlap.
Both kitchen cabinet and island have the same countertops that are in brown and they are shiny. To give a classic touch, the owner adds three antique lamps above the island that give warm lighting.
Narrow? No Problem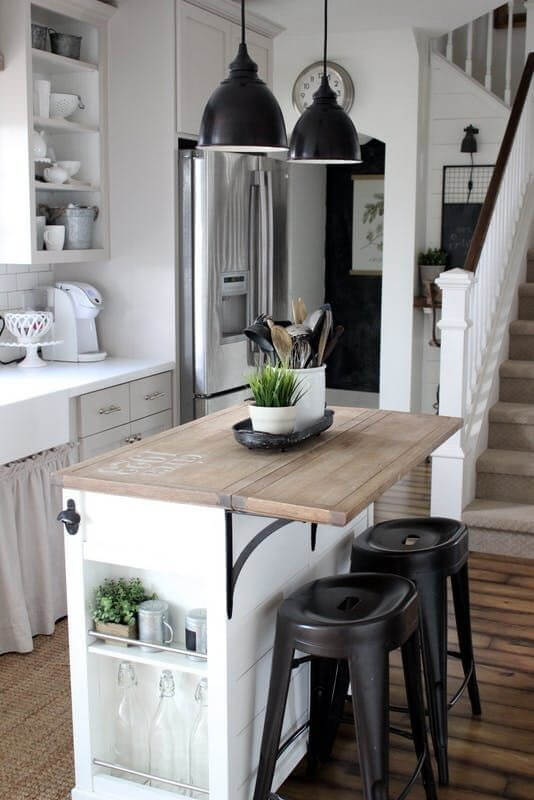 If you have a cramped space, you have to find some solution if you want to add an island in it. You should consider how much space left and how would your movement and efficiency in the kitchen itself work.
A narrow island will be the answer to that. It doesn't take up some considerable space, which allows you to have some space to walk back and forth. Some stools are pushed beneath the overhang, and they have the same color scheme as the lamps, which is black.
Dry Storage Drawers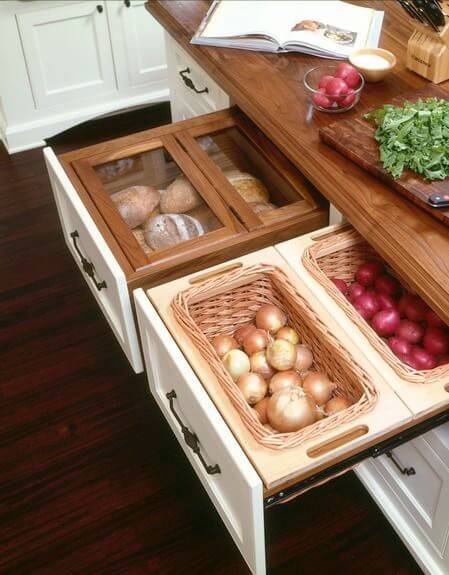 Efficiency in the kitchen is a must, thus things are given a specific place, ideally within easy reach from where it is needed. Putting dry storage drawers in the kitchen island is smart, as this is where you usually work on meal preparations.
Stenstorp Kitchen Island
Adding hooks for towels/mitts on side.
If you want an island that functions as open storage too, choosing a stenstorp one would be a great idea. You've got both sufficient countertop and racks to store kitchen appliances, which help you, tidy up your kitchen area.
There's also a choice if want one with wheels that can be easily moved when you're about to clean the area or you can just choose one with no wheels as seen in this picture, depending on your needs.
Extended Kitchen Island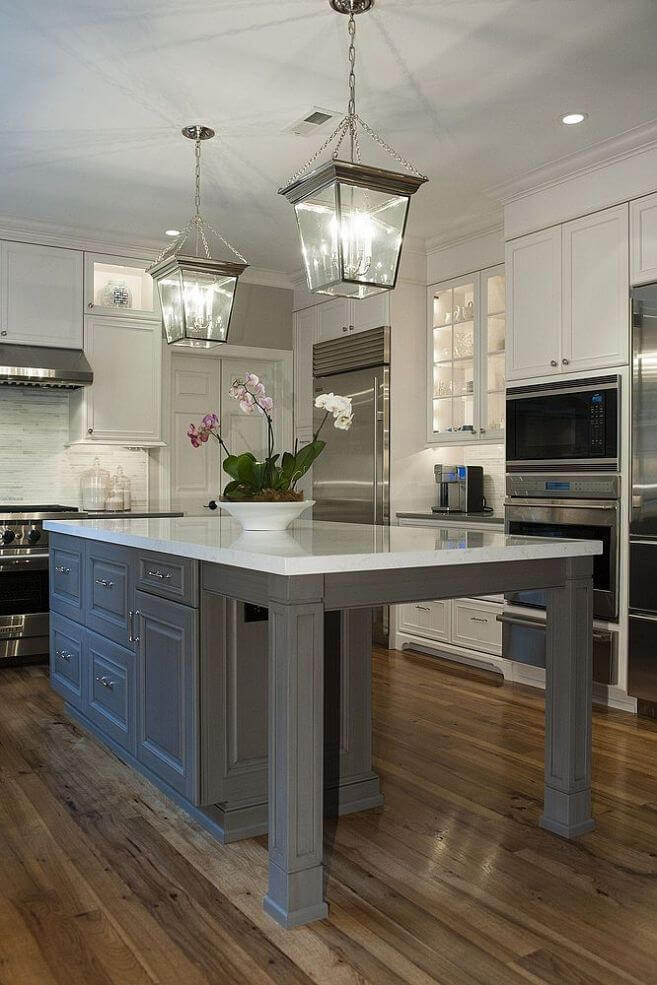 Your mood is changeable throughout time and sometimes you may want new things in your life. When you think you have a suitable island but it turns out you need some more space to work, extending the island won't a problem.
By doing so, you've got some additional space that can help you with food prep or when working with your partner chef as there's some plenty of space available.
This kitchen looks stunning by applying grey color scheme that is combined with white
Adorable lamps with their unique shape enliven the room up and certainly, is the focal point in the kitchen
IKEA Kitchen Island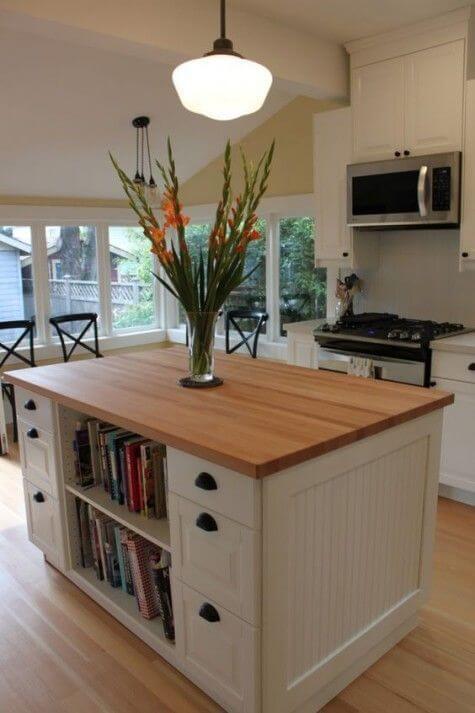 This bought-store made island is from Ikea that you can purchase at the store and there are lots of them you can choose from. This one is simple and can fit even for a small kitchen.
The countertop is in a neutral color, and it's up to you whether you want to paint it with any color that you like or just let it the way it is. There's also the storage that can be used for racks to put some of your books collection or recipe books.
Upcycled Kitchen Island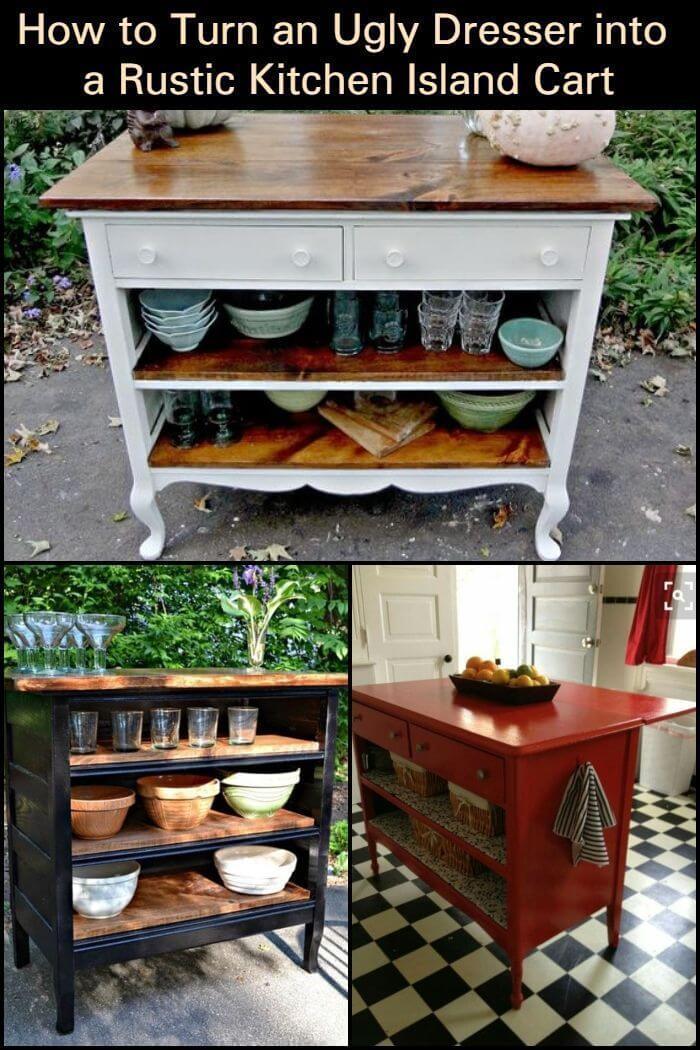 Create Extra Storage and Counter Space by Turning an Ugly Dresser into a Rustic Kitchen Island Cart
When an island has been used for long, you might want to give it a little nice touch by coloring or make some new modifications. This island, for instance, had a rustic style and you can turn it into something beautiful just like this.
You can start by polishing the surface before painting that can make all the body smoother and your paint will last longer. You can try this idea for your island and see what the result is.
Farmhouse Decor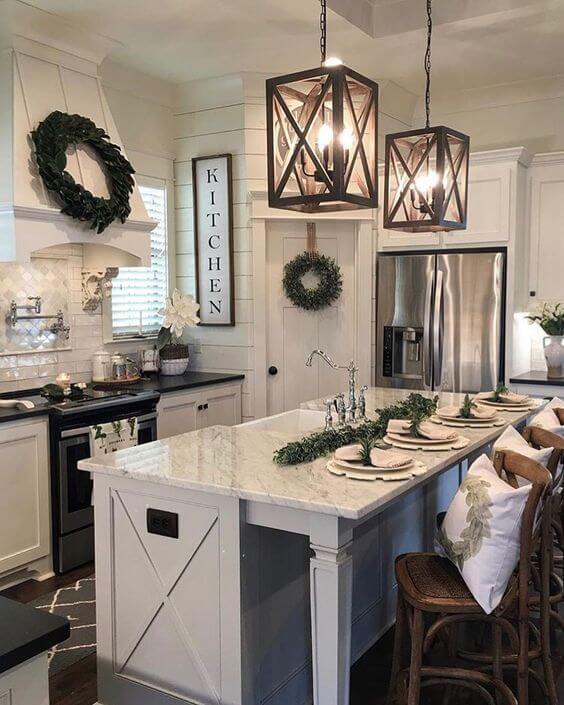 What a beautiful kitchen! This kitchen has a lovely island with a neutral surface. The island is quite big that's typical of farmhouse design.
You can see those adorable lamps that really stand out in the kitchen, including some chairs along with pillows.
White and Wood Mixed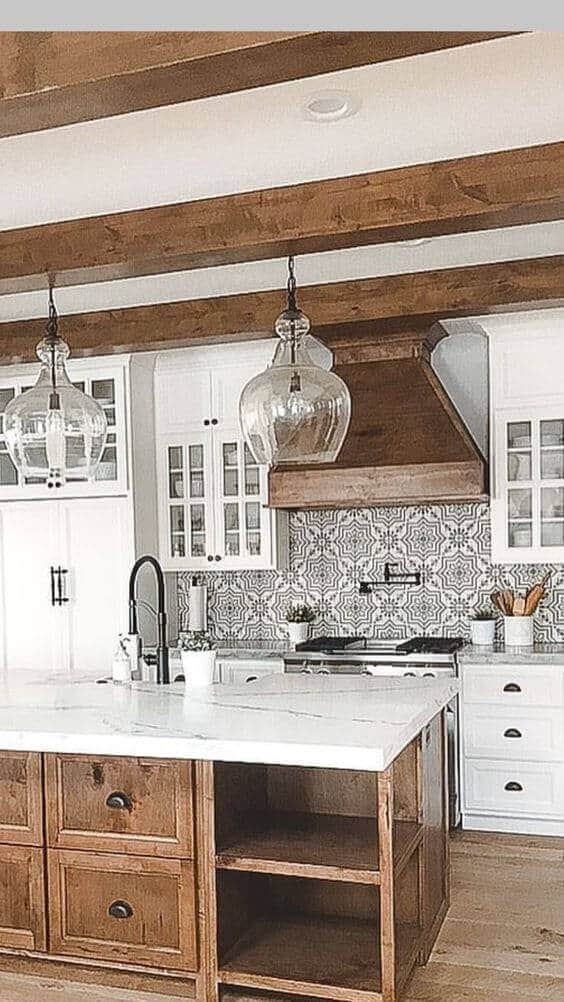 A soothing kitchen island display. The combination of cool white and wood rustic texture makes it look classy.
Contrasting Kitchen Island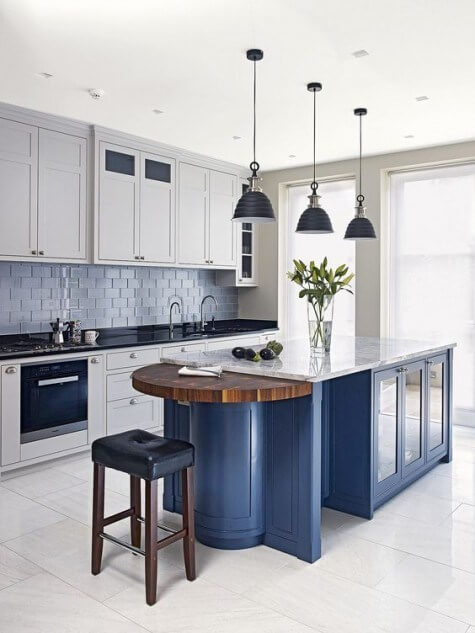 Some people prefer to have a kitchen with the same or similar color scheme from the ceiling, walls, to the island. And there are people who prefer to have a contrast in their kitchen by applying a color that has the opposite.
The island has a bold dark blue that is intimidating in a way it can easily be spotted and it makes the kitchen has a strong blue accent. It matches well with the white hue, resulting in a relaxed and peaceful environment.
Island and Diner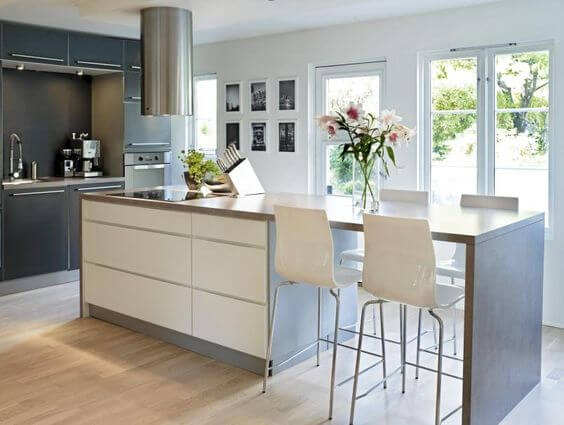 This is another smart and inspired way of saving space. Incorporate your daily dining area with the kitchen island! This modern kitchen island is kitchen on one end and dining table on the other.
Be Flexible with Rolling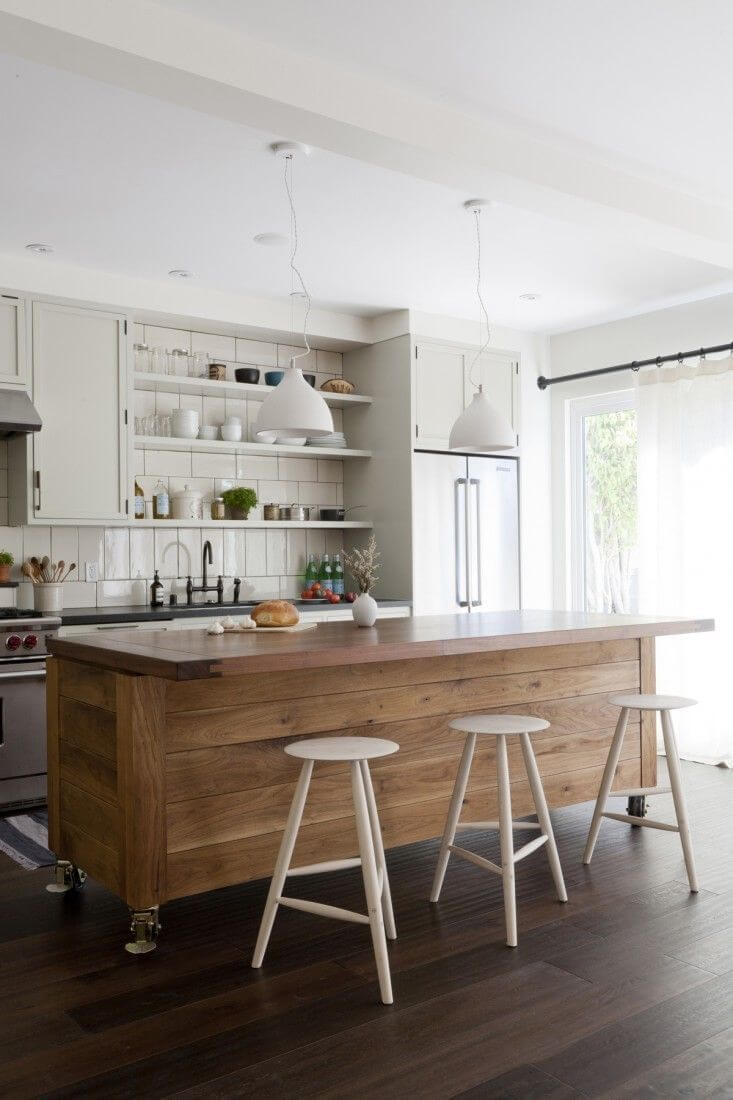 Mobility is required when you like to move from one place to another. This happens typically when you have to work in different locations or it's just you want to make the kitchen easy to be cleaned as you can move it.
There are stools that are added to accompany the island. They are not tall so that you can put them under its overhang. The kitchen has a warm and welcoming atmosphere with its neutral wooden flooring.
Small Kitchen Island with Beadboard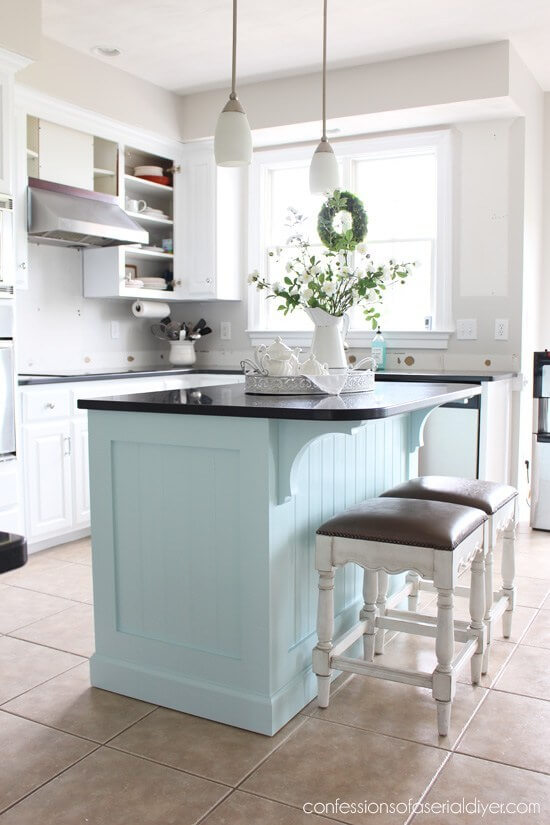 A beadboard will ornament your island a little bit and it can make it look to be slightly different with others without one in a way it gives a beautiful appearance. The island is quite small which fits for a tiny space but still gives you sufficient surface for food prep.
Having a dark glowing countertop is a smart move to make a soft contrast since the surroundings are in white. Flowers are an element with which you can turn ordinary things into something special.
Go Portable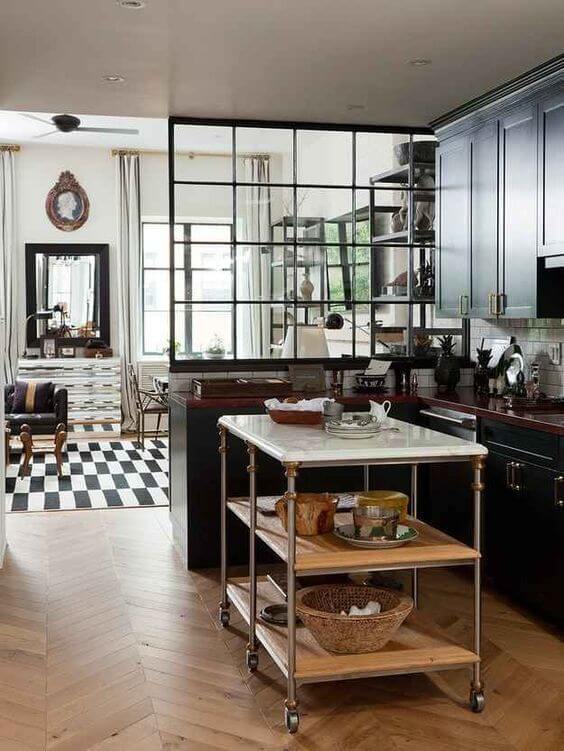 Lightweight and easy to carry are some of the many advantages that a portable island can give. It's designed to come in handy, giving you the functionality that will ease your work.
It's equipped with racks in which you can place kitchen appliances, including ingredients, vegetable or fruits that you're about to cook. Be sure that you lock the wheels up when you're using it as it can't hold a sudden impact you might make while cooking.
Marble with Seating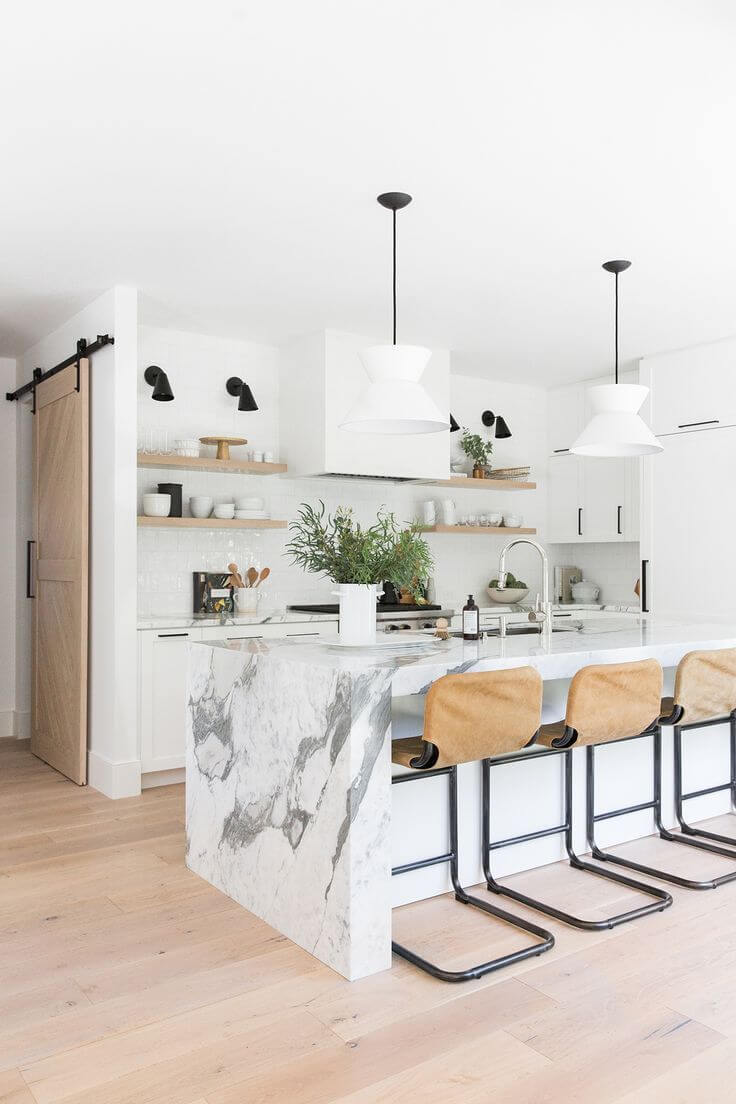 Marble is portrayed to have appealing look with its unique pattern and that's what makes some people adore about it, and would love to go spend some money on it as it's quite pricey.
This room looks bright with strong white hue and it's combined with a neutral tone that comes from the wooden flooring.
The marble island shows its beautiful form here, and it's accompanied with three seating that nicely fit under its overhang
The ceiling, lamps, and walls are the same in color. They are in white, resulting in monochromic kitchen style
Open shelves help you store kitchen items and make them a good decoration.
Bricked Kitchen Island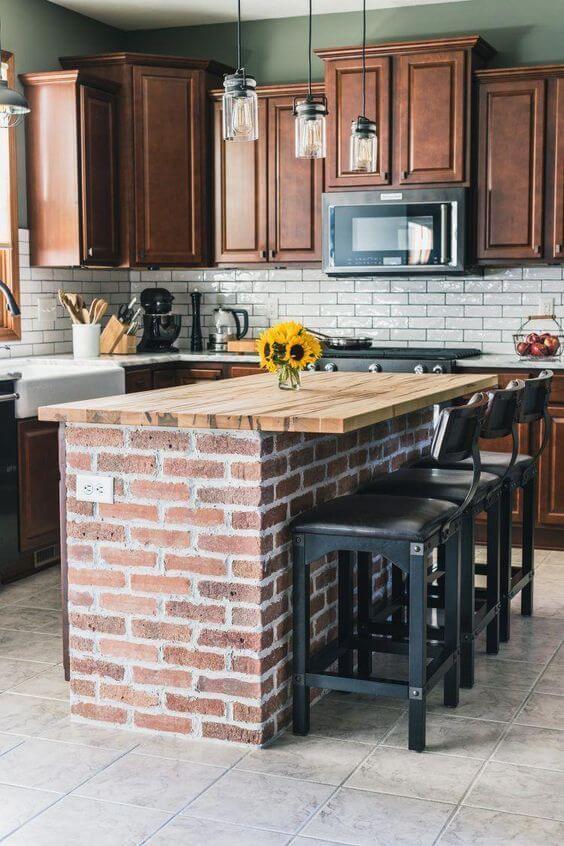 An island can be built out of anything as long as it can make you happy that it doesn't only present in the kitchen for a show but it gives you what you need of an island, and it can enhance the look of the kitchen.
This bricked island leaves a traditional look, and it looks stunning with its rough form, and it's obviously sturdy in so many ways. Choosing a terracotta tiles flooring is the right choice to be paired with the island.
In order to elevate the old-fashioned look, giving a wooden countertop with its original form and look is a good idea
The seating is in grey which matches with the flooring tone
The terracotta tiles wall is also meant to blend with the surroundings that leave a welcoming ambiance.
Rustic Kitchen Island
A rustic kitchen can easily be distinguished by looking at its wooden elements that fill the room. This island is proof of that. A tome-worn wood is what's typically added into a rustic style whether it's a kitchen or bedroom.
Wooden elements are what shaped the rustic style, and it almost similar to farmhouse style. In this kitchen, a rug is added to create a warm and welcoming vibe. The enormous island comes with blue wooden chairs, and two lamps above the island.
Distressed Kitchen Island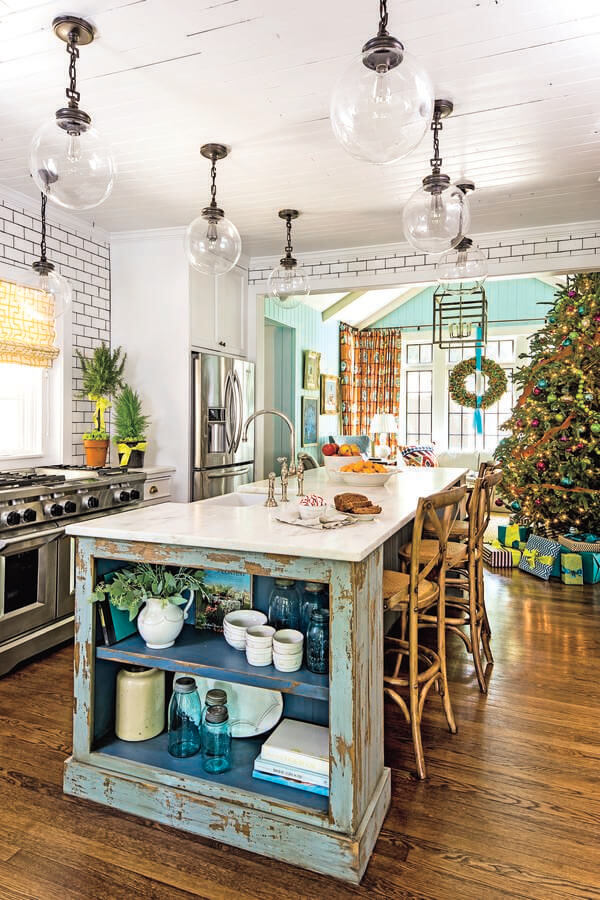 Not every person loves to see a modern style in the form of anything. And this owner could be one of them. This distressed kitchen can be the reason behind it. It looks classic with any modern feature installed here.
It has a bold traditional vibe judging from the wooden flooring, weather-exposed island and old some old wooden chairs. Not to mention those terracotta tiles wall and antique light bulbs that nicely hung on the ceiling.
Long Kitchen Island with Sink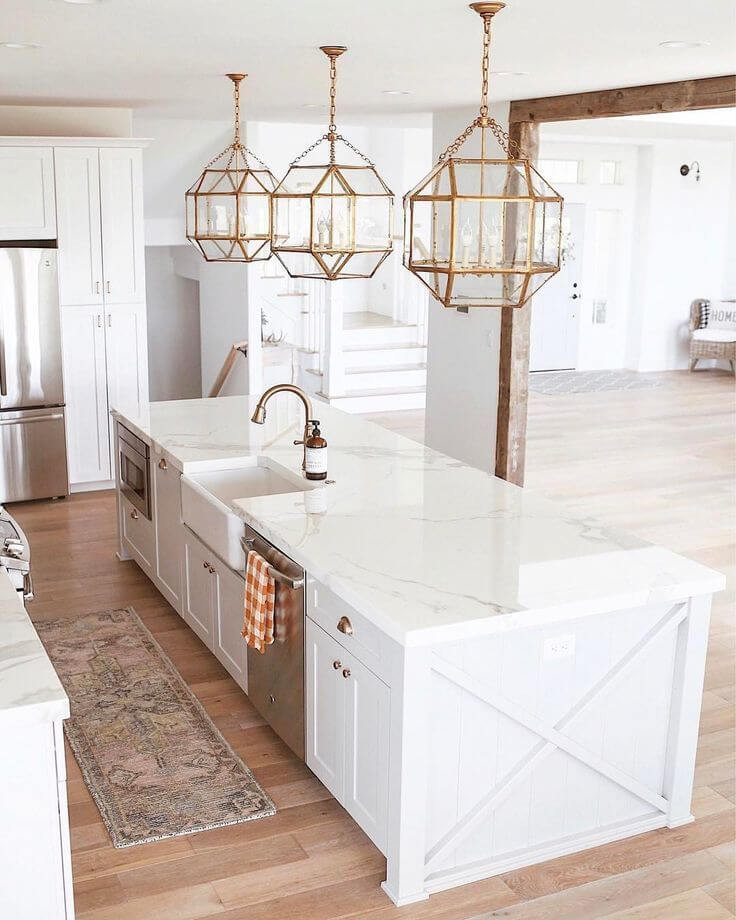 A privilege to have a huge or long island would be that you have a spacious space to contain it. This place obviously has every right to have it. With such a long shape, the island, of course, can provide you with a wider countertop. It also has some more room as storage.
The sink is set in the middle of it to give you hand when dealing with daily tasks in the kitchen. Look at those lamps above! They're wonderful, and they have a unique shape in gold.
Diagonal Kitchen Island Layout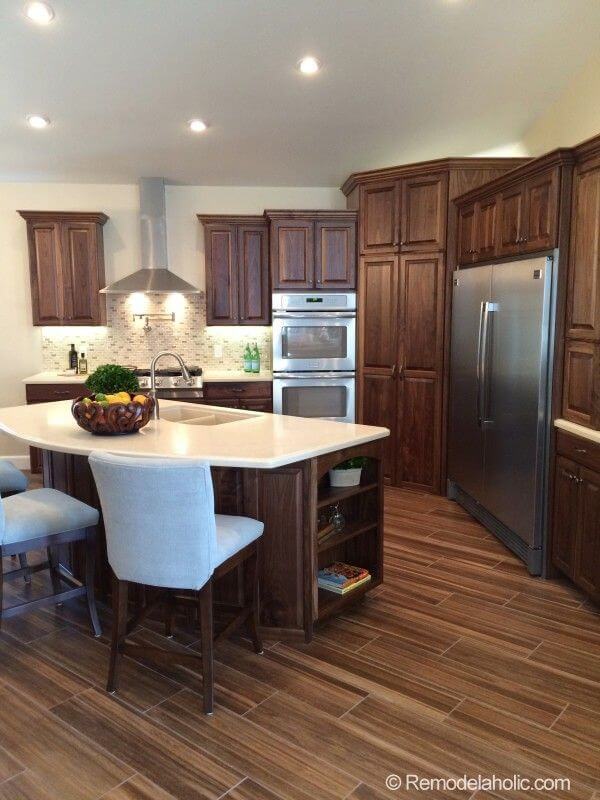 A certain type of kitchen needs a certain island that's designed to fit the space in the kitchen and to bring an aesthetic look. This diagonal island, for example, is built with the right concept, and it fits this kitchen perfectly.
It would look weird if you opt for a regular island as this kitchen has a very different area than common kitchens alike. It has a sink with a white surface, but the rest and the entire kitchen is in dark brown.
Refurbished Kitchen Island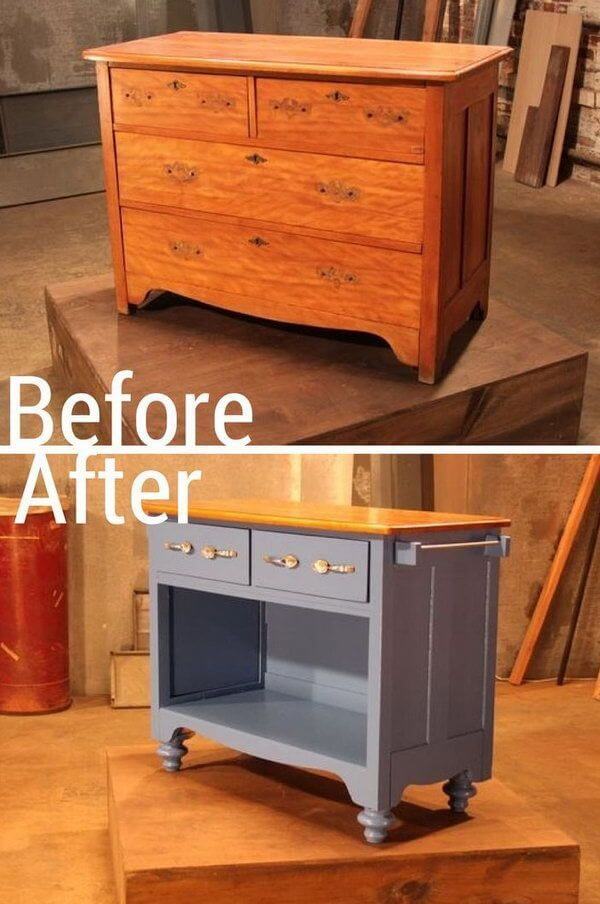 Turn an Old Dresser into Useful Kitchen Island.
Creating a new atmosphere in the kitchen is advised when stuff in the kitchen starts to look old in a way it doesn't look so pleased in the eye anymore. You can start by painting the wall or changing kitchen furniture or appliances that become obsolete through time.
If your island is apparently kind of old enough, then you can refurbish it to look like a new one, which will bring some new energy to the kitchen and to whoever works in the kitchen because buying a new one will cost you some money. Besides the old one is still good.
Large Kitchen Island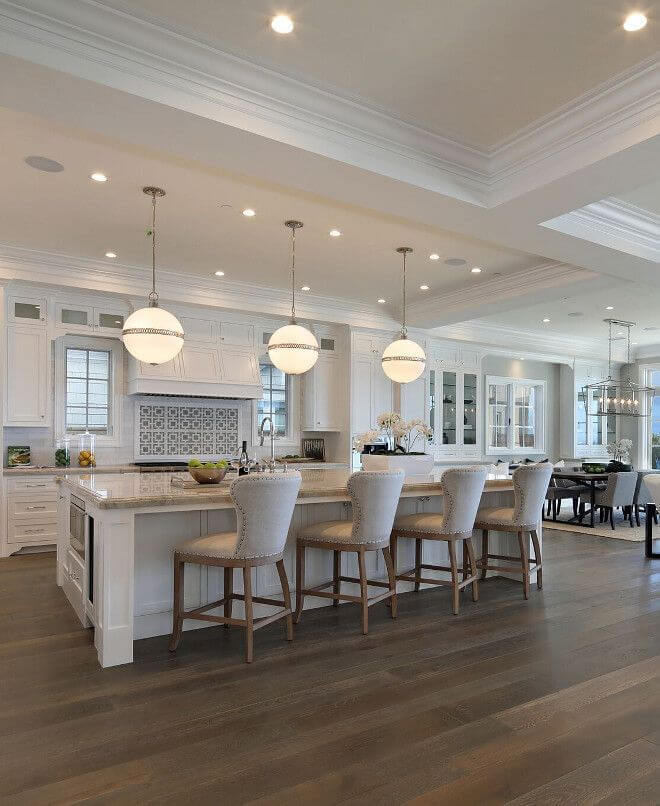 What a spectacular kitchen it is! It has everything you could ever want for a kitchen: a beautiful ceiling with its elegant design and decoration. The kitchen also has a long and beautiful island that can hold lots of guests or people at once.
Above the island are three round pendant lights that complete the view in a way it embellishes the entire kitchen.
DIY Homemade Kitchen Island from Pallet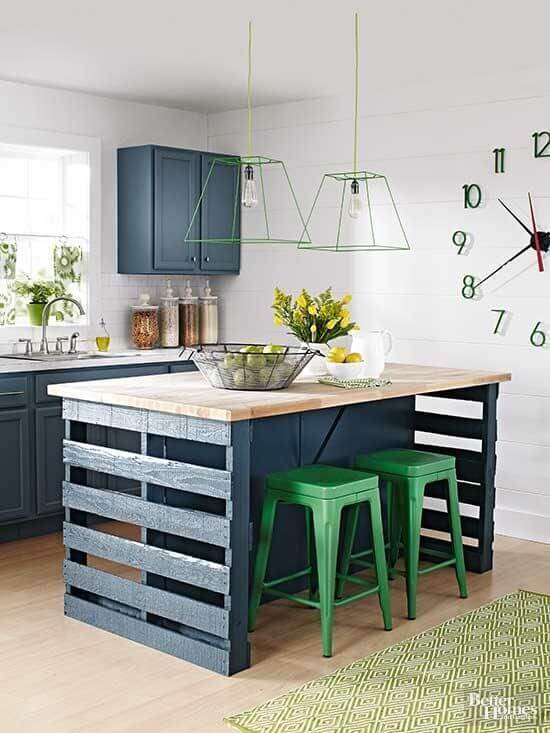 Give your kitchen a bold new look for $360 with this DIY island constructed from wood pallets.
If you have lots of pallets and they can still be used then don't throw them away. Instead, you can make good use of them to make an island. This homemade is definitely cheap and it's a breeze to make.
The next step to do would be to paint it with any color that you like most. Or you can choose one that can go well with the surroundings.
Creative Food Storage Design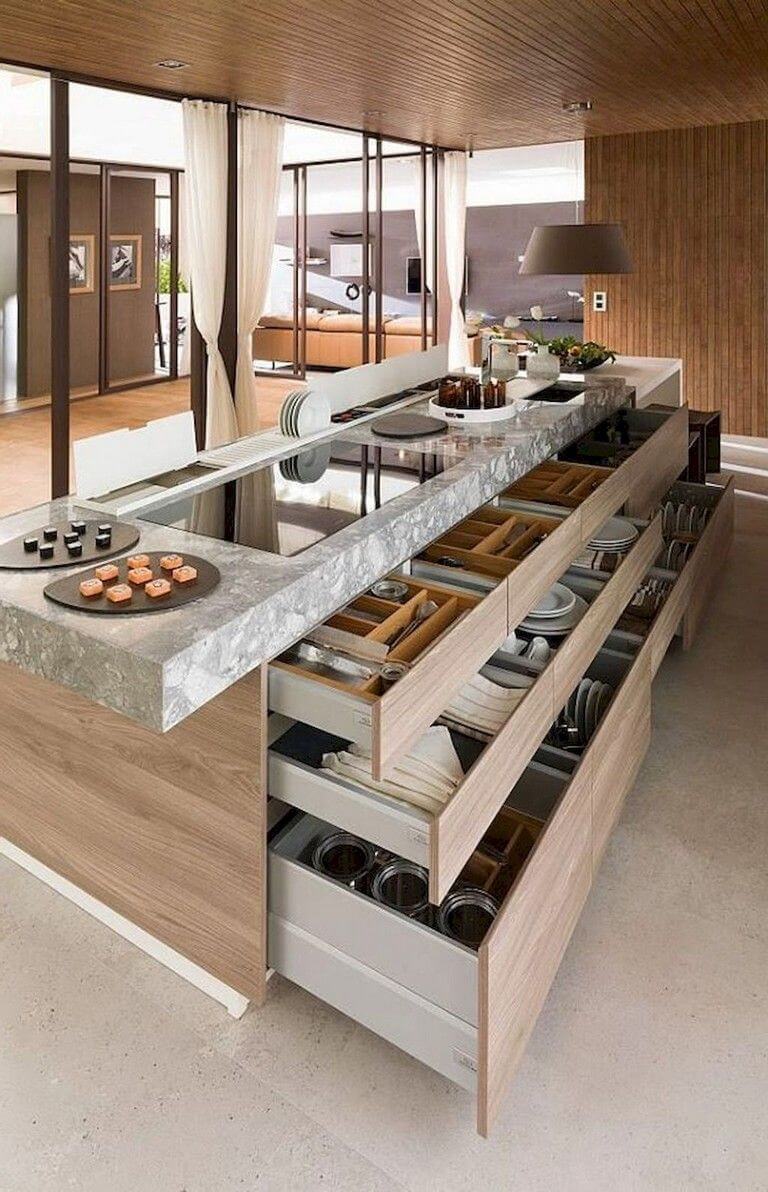 Do you have lots of stuff in the kitchen? And sometimes get stressed with the messy place? This island comes with a clever solution to that. This island is a good example of creativity at a high level.
It has enormous storage in which you can save tons of kitchen items. It requires good skill to make one and obviously a bunch of money.
The view looks simple with a neutral tone that covers almost all of the area here
There are two types of flooring styles here, which are wood and concrete floor but still look stunning
Island with Stove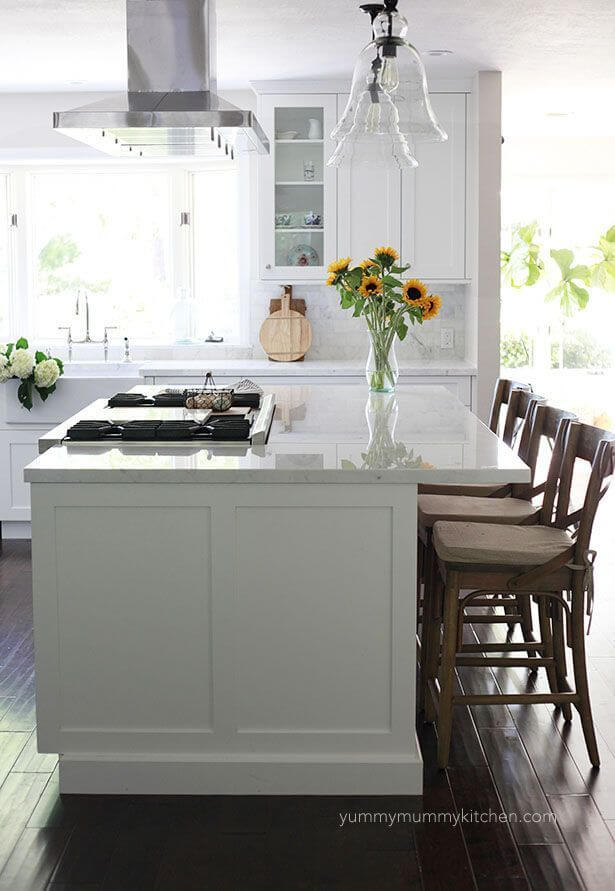 An island can be added when some installations, one of which is a sink. But you can always have a choice when it comes to kitchen modification – an island in particular.
Installing a stove would be to make you ease with your cooking because you don't have to go back and forth when preparing delicious dishes.
Cooler Insert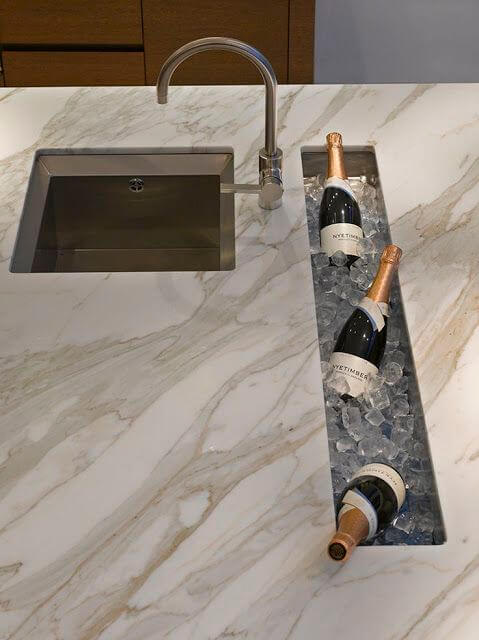 Why do you need to hide the wine when you can have them on the table? Well, on this case, on the kitchen island. Just insert a wine or beer cooler, fill with ice, chill the wine and you're ready to party!
Hideaway Bench Seating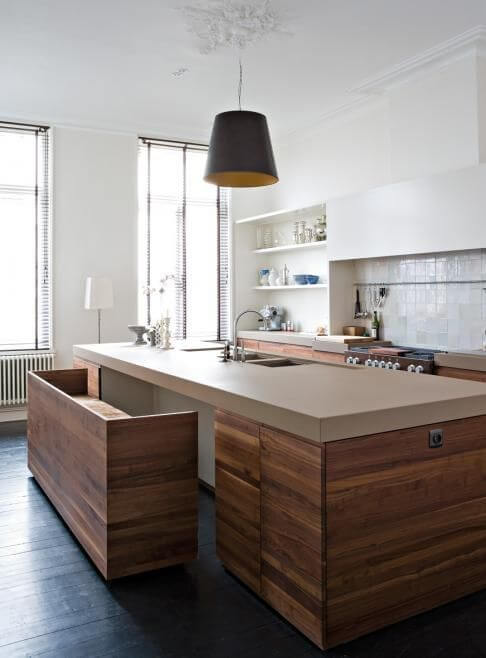 Update your kitchen design by taking out the clutter and going for the cleaner lines. This creative idea of a pull out bench gives you a neat kitchen island and a seating when needed. Saves space too!
Modern Zen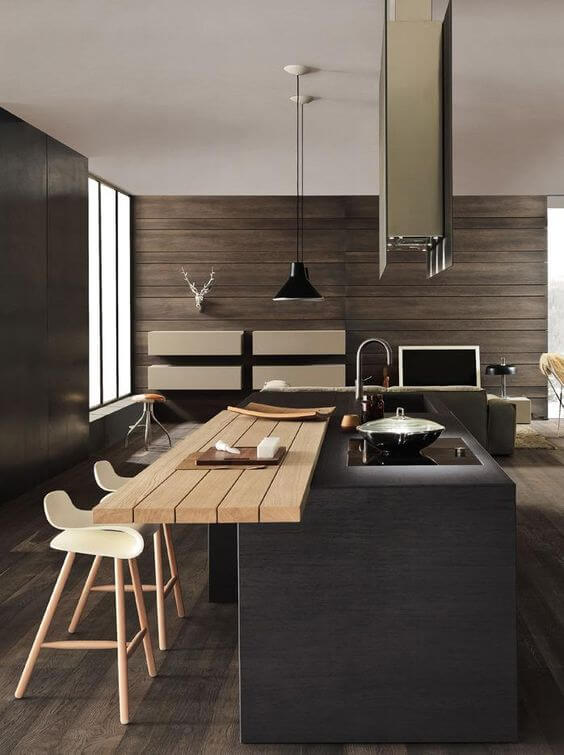 Minimalism has taken interior design by storm. Lucky for us, it is functional, efficient, and beautiful. This Zen kitchen has minor trimmings and bluff, but is big on functionality, minimalist design, and efficiency.
Wine Centre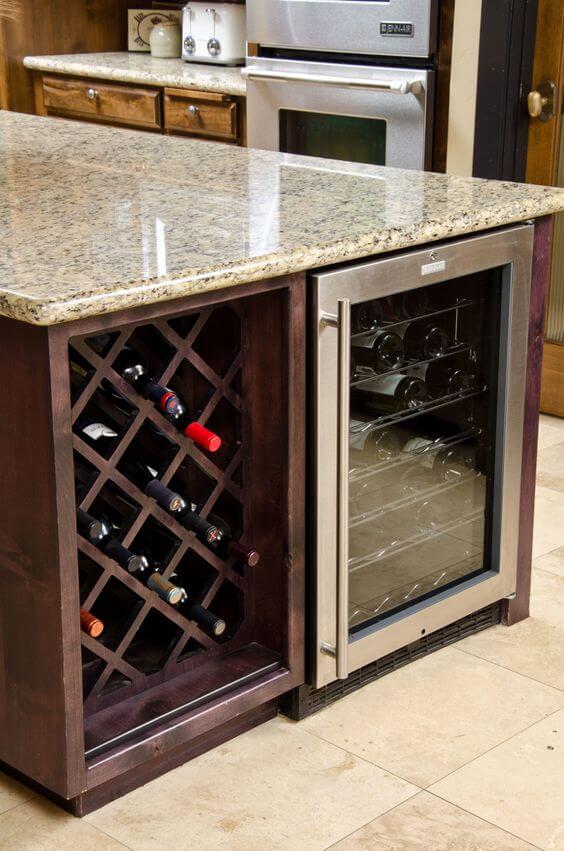 Gone are the days of the musty wine cellars! Keep your drinks in the room and within easy reach with this under-the-counter wine centre. The kitchen island is perfect for that purpose.
Patterned Tile Facing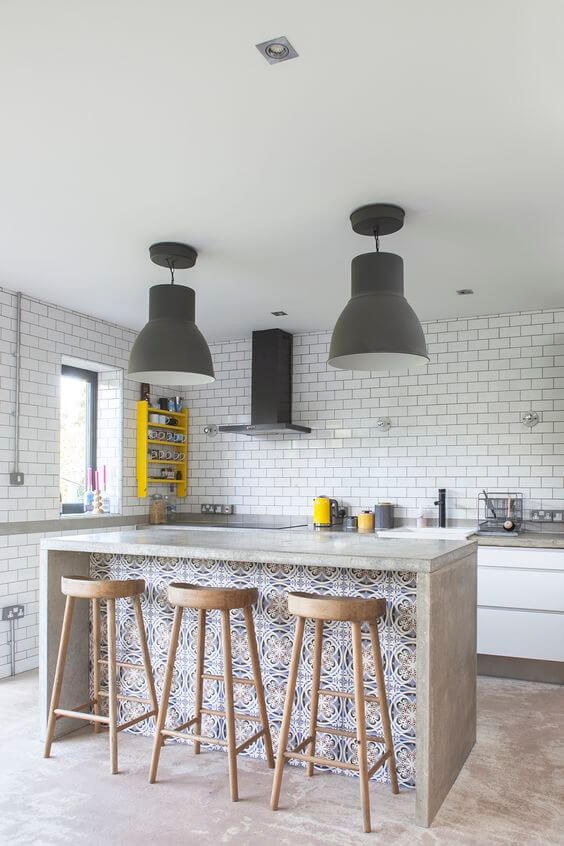 Give you kitchen a dash of Moroccan styling. The patterned Moroccan tiles of the kitchen island works well with the subway tile walls and stark simplicity of the kitchen design.
Sleek White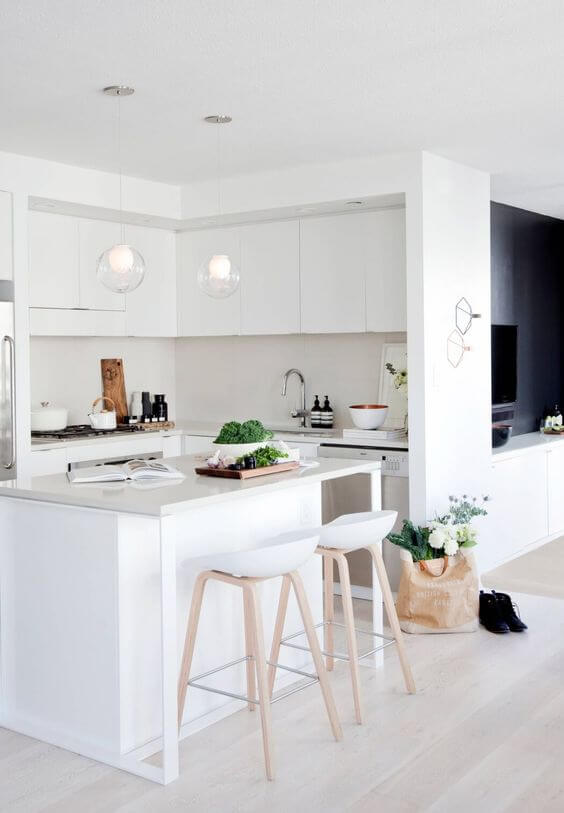 A kitchen island is a construction in the middle of your kitchen that gives you additional work space, a convenient dining area, and maybe some storage space underneath. This white kitchen island is just that – sleek, simple, and efficient.
Microwave Niche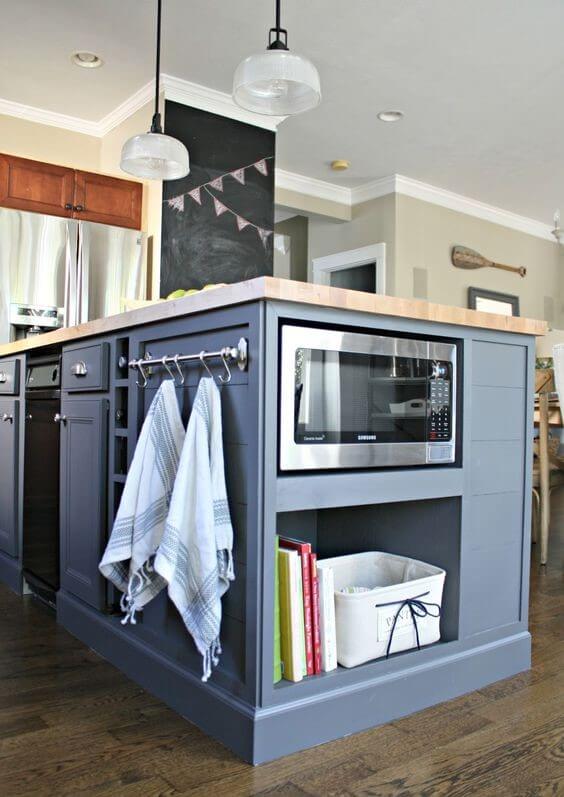 Creating specific place for everything will help clear out your kitchen counter of clutter and things. This microwave niche is sensible, accessible, and just perfect.
Rustic Scandinavian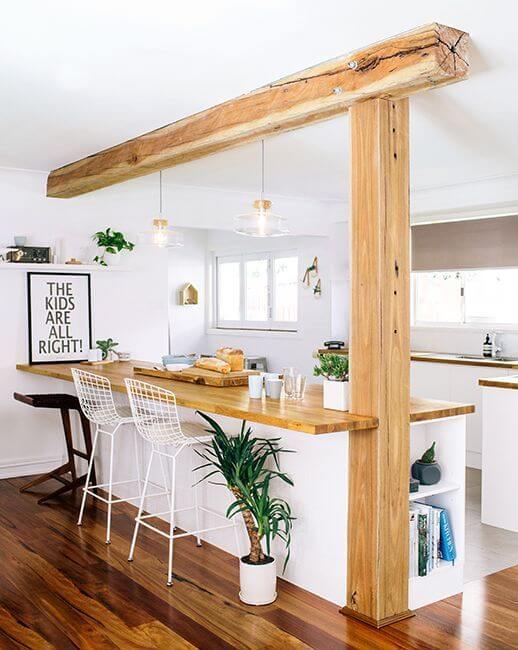 Why settle for an island when you can have this incredible structure? The kitchen island is fitted with solid wood post and beam, wood countertop, and eclectic seating. Boho flair!
Plain and Practical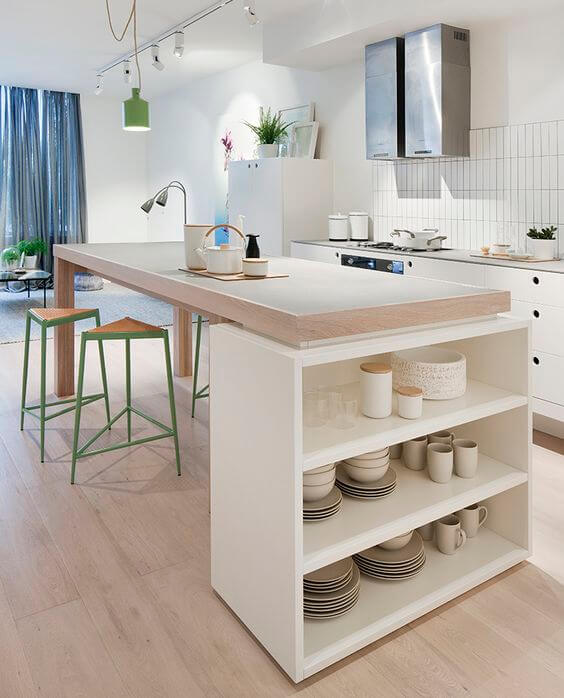 Plain and practical doesn't mean boring and drab. This is one of the most innovative kitchen island ideas and designs that captured both beauty in its simplicity.
Classy X-Form Island
The X-form kitchen island is a classic and still is one of the classiest kitchen island ideas and designs. Upgrade your entire kitchen but keep your X-form kitchen island for an utterly refined air.
Different Heights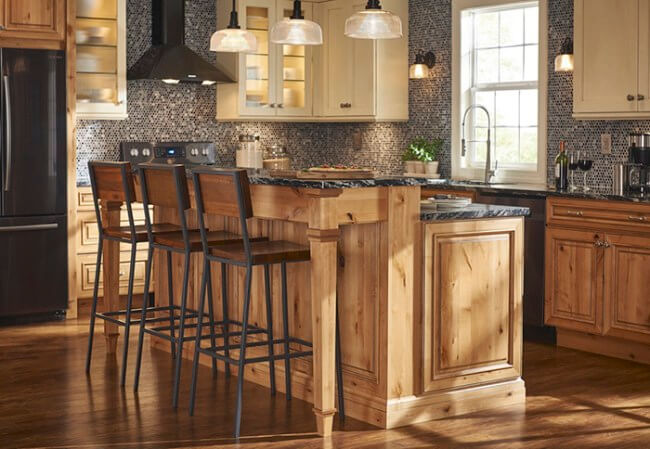 If you want some separation between your prep and dining areas, consider this creative solution. One side is lower to accommodate a standing cook, while the other side sits higher for diners.
Lowered Counter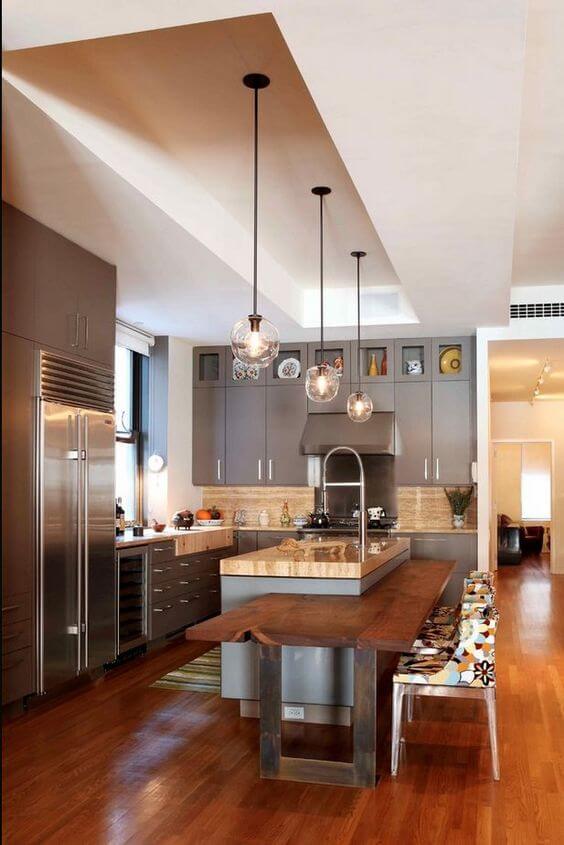 Young kids in the house means no high stools and seats. You can keep your kitchen island and bar, just lower the counter to meet safer seats for your kids. Smart parenting? Smart idea.
Pull-out Spice Organiser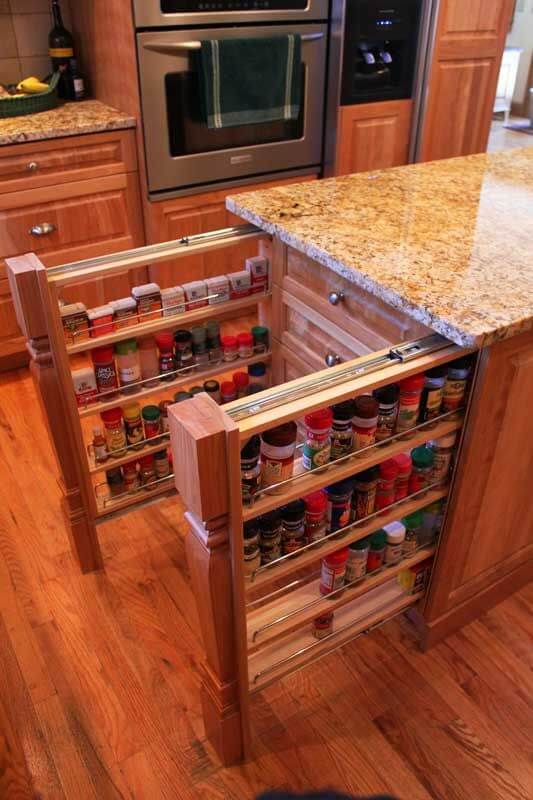 Keep your spices near the stove and dining area. The kitchen island is perfect for a pull-out spice organiser – small bottles to use up that odd space and easily accessible.
Metallic Upgrade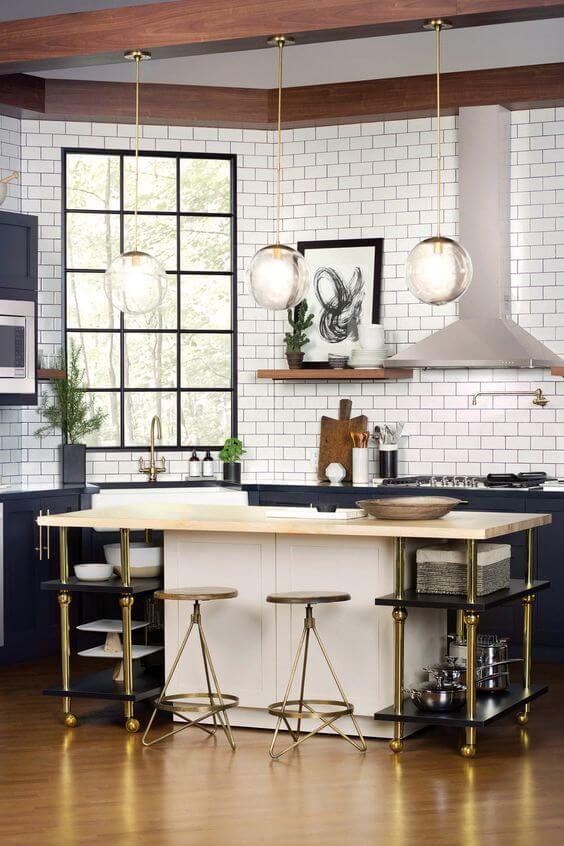 This is one fabulous kitchen island! Make the most out of your smallish kitchen by adding in a lot of metallic embellishments. Use gleaming metallic tones like gold, chrome, copper, and silver as much as you dare.
Contemporary Island Design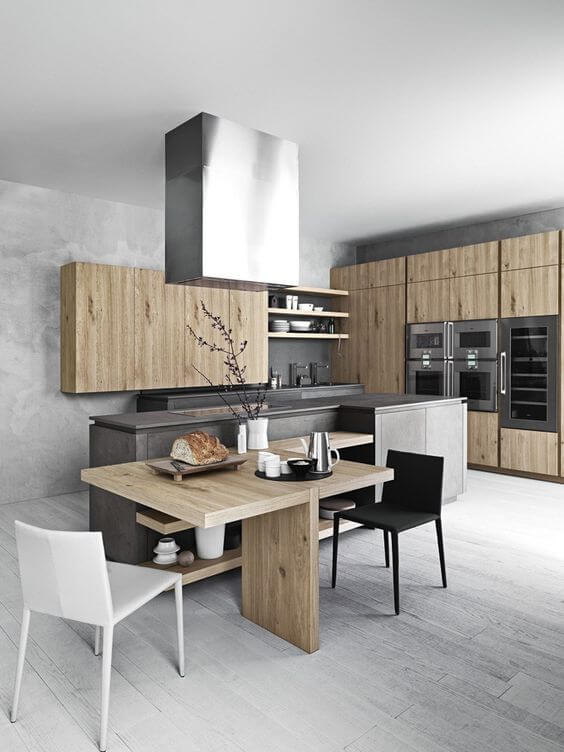 Nothing seemed impossible with the latest kitchen island ideas and designs. This unique kitchen island features floating shelves in front, and a dining area at one end. It looks amazing, and the design works!
Romantic Spanish Villa
Add the idyllic charm of the old Spanish country home kitchen with this functional and practical kitchen island. Drawers at the top and shelves underneath. This is one delightfully hardworking kitchen where good food, happy times, and lovely memories are made.
Penta Counter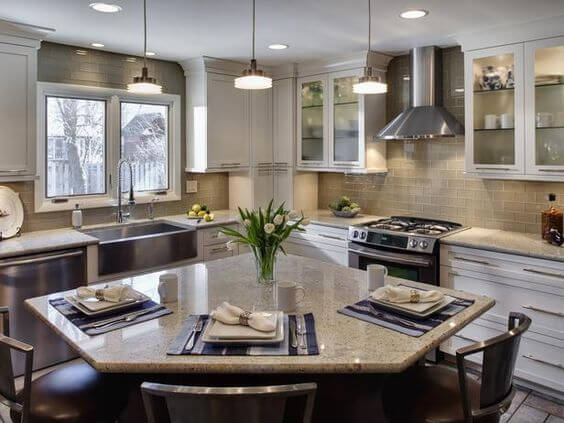 Regular shapes aren't just good enough? How about this pentagon island counter? Smart idea if you have a corner kitchen.
Dinnerware Storage Drawers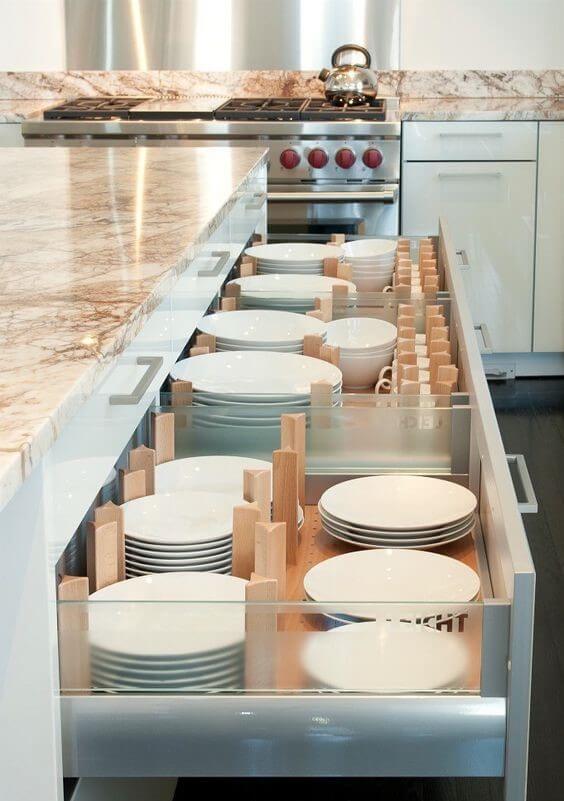 The ample space under your kitchen island is also ideal for storing heavy and delicate China and dinnerware. It is safer to store and retrieve heavy objects from lower cabinets or drawers.
Bare Wood Planks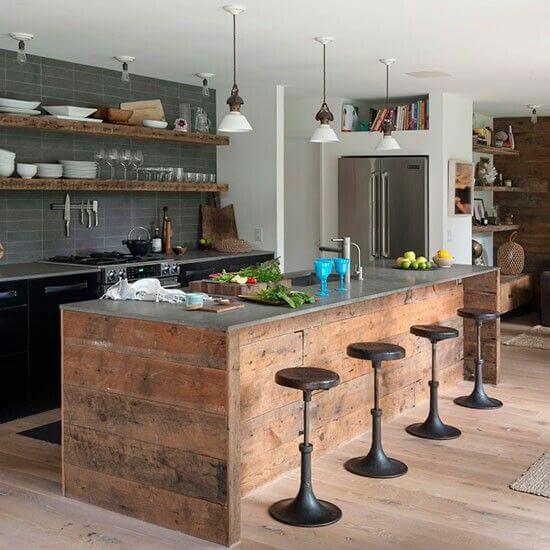 Add a serious breath of rustic air into your modern kitchen with this wood panelled kitchen island. Keep the wood rough and bare, its warm tones contrasting the cool white, black, and grey of the room.
***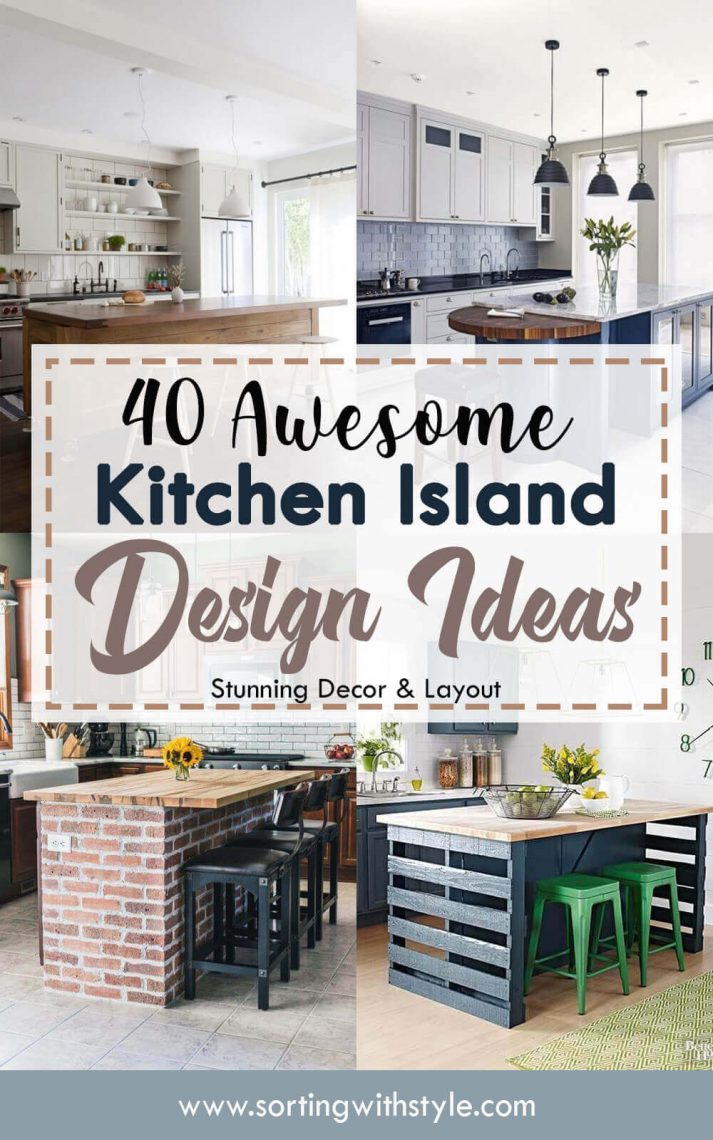 Our list of kitchen island ideas ranges from a homemade to an extraordinary one. What do you think of our collections of kitchen islands? Hit us with a comment down below and let us know if there's anything we can help.