Classroom, or education as a whole, has two different blades. One side is the best place to prepare the best generation in the future. The other point of view is the best place to get bored. But this mindset will never come if the school concern about classroom decoration ideas.
The idea of decoration for school can be varied. From the wall until the chair, everything can be elevated into something fun, cool, but also useful at the same time. Besides the good effect of lifting the mood of students, it can be a multifunction into something practical though. Let's see those ideas below!
1. Good Spot To Be Smart: Book Corner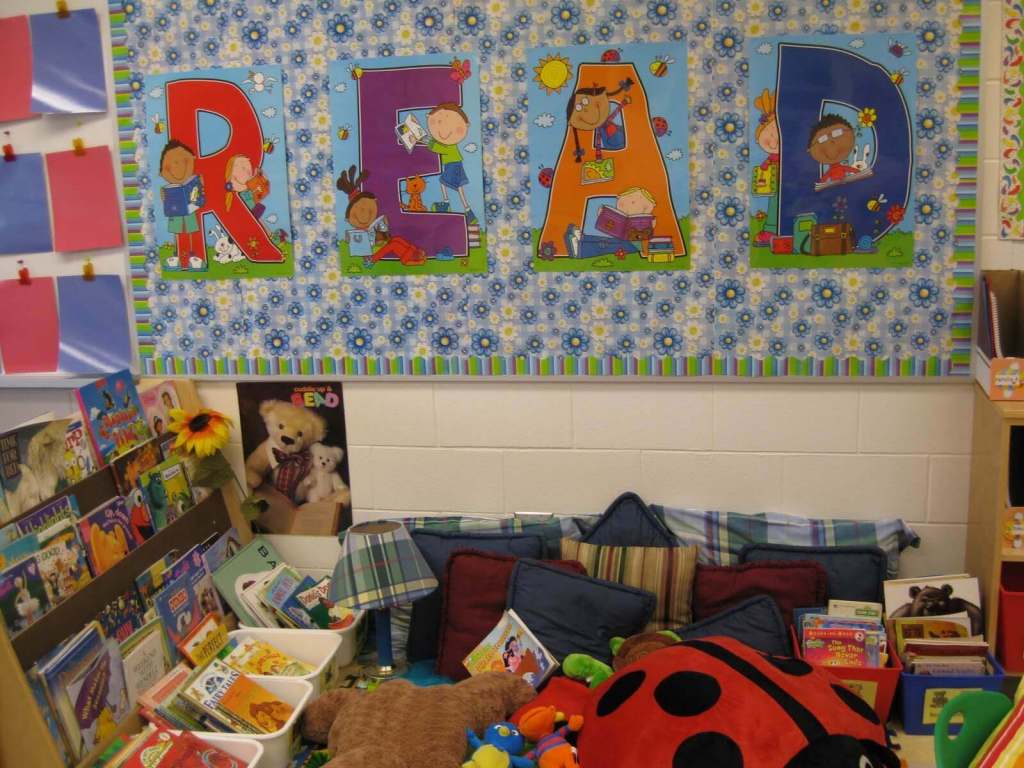 School is supposed to habituate students to love reading. One of the ways is by creating a book corner. Put a comfy chair combined with a fluffy rug will be a good choice. Don't forget to always update the book collection.
Why the library is not enough? Because in order to make it a habit, we must make books as close and as visible as possible. Hopefully, they feel interested in books and make it a habit
2. Back to Old Time: Send the Mail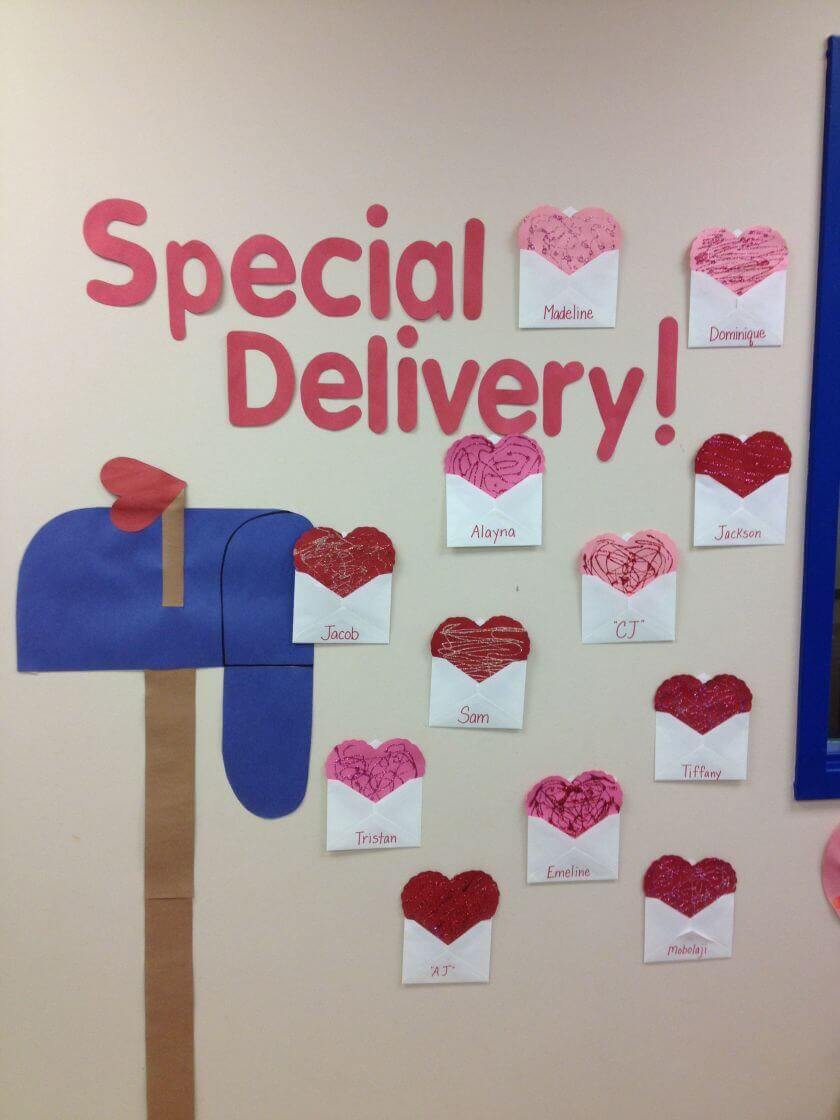 Students spend most of their time at school. No wonder if they build a personal connection with each other. To express their feeling, it is not always by texting on the phone but can be in a traditional mail! Besides it is good for them, also good for the overall look of the wall.
Through this method, every student can have the same chance to get socialized even some of them are introverted and afraid to make the first conversation.
3. The Source of Happiness: Clock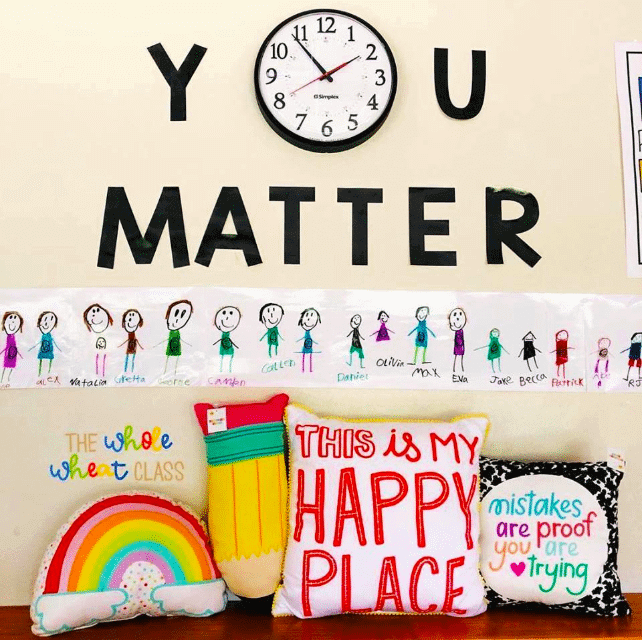 When you are a student, a clock is a spot that will be seen spontaneously to know how long until the bell ring. This is the reason the clock can be the basis of decoration in a room. Either you buy a cute one or an ordinary clock but elevated into good design.
A round shape clock can become alphabet "O" if want to make it into motivational words. Add wings in right and left sides to give the illusion of "I can fly".
4. No More Question: Time Schedule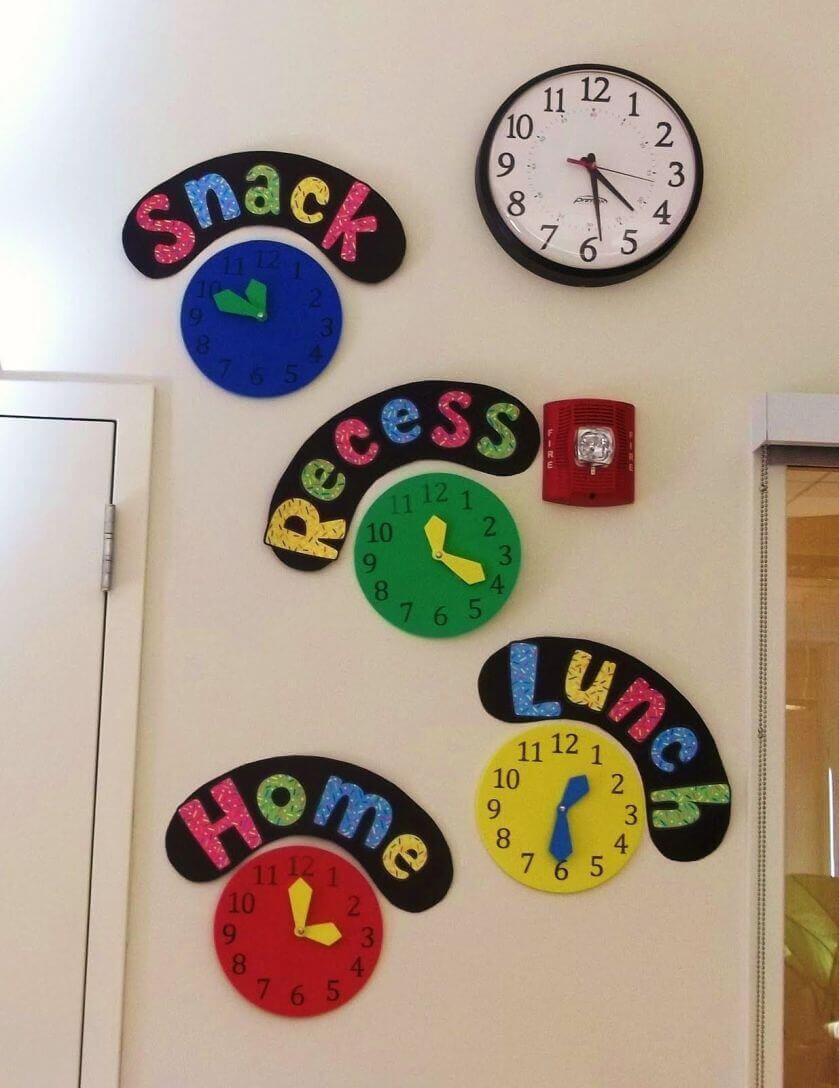 Still having a correlation with the previous point, but this is going to be an "artificial" clock. The function is keeping it in their mind on what time the lunch is when they can go home, when is the snack time et cetera.
Step by step is simple. You just need pain with a few colors and a paintbrush in a different shape. Use the smallest one to paint the detail of the clock (dots, numbers, and clockwise) and the biggest to color it. Shop Related Product on Amazon
5. Time to Learning about Time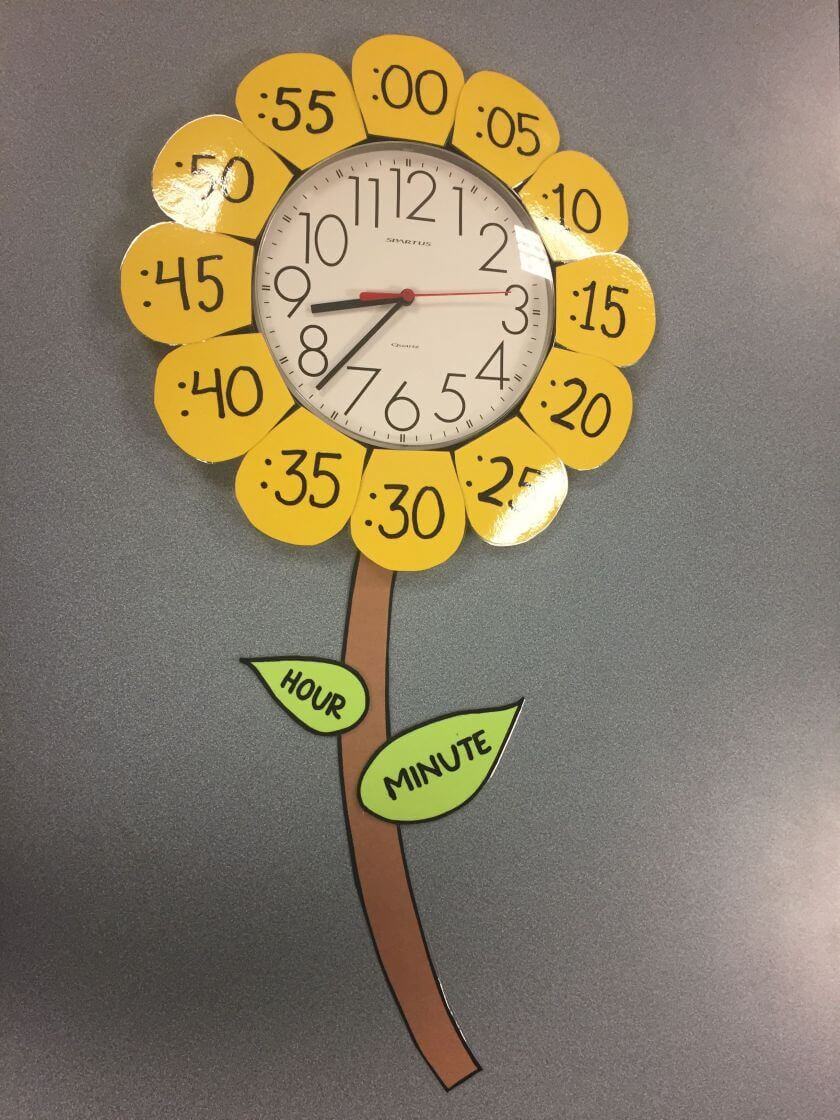 Don't confuse preschool kids with manual clocks, they may hard to understand. It is difficult to distinguish the longer and shorter clockwise to answer what the time it is.
Digital clock sounds tempting because they can see the time without thinking twice. But there is another better way that can become an auxiliary tool for teachers and decorate the wall to be more fun, colorful, and educating. Buy a clock that also tells you the minute is perfect for kids.
6. Let Them Shine: Wall of Fame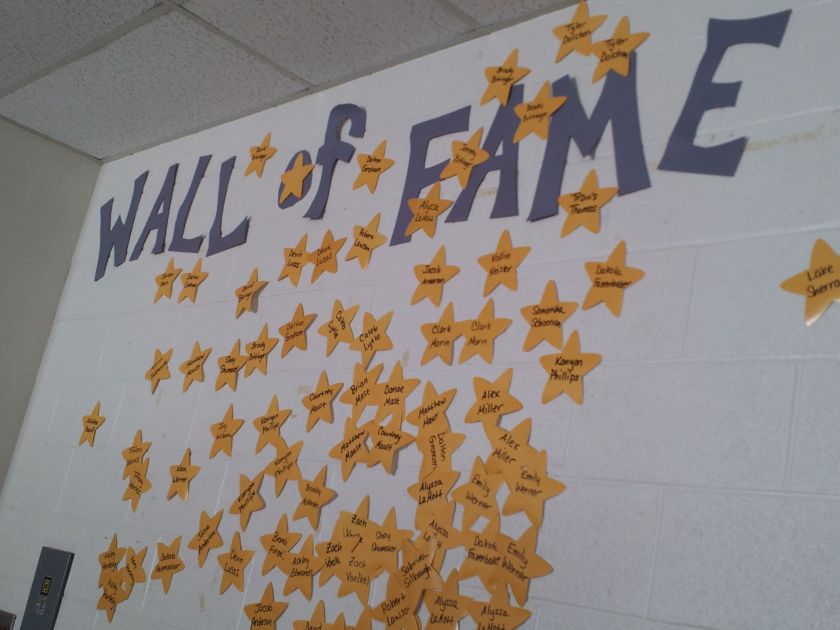 It is debatable whether or not give the spotlight to the highest rank can be good for the mentality of others who don't. Make an out-of-the-box wall of fame by putting all students there and show the world that every student is worth the appreciation.
It can change the image of education too which always puts ranking into the most important thing while actually, you cannot measure intelligence. Every student is smart in their own way.
7. Where Eyes Will See the First: Door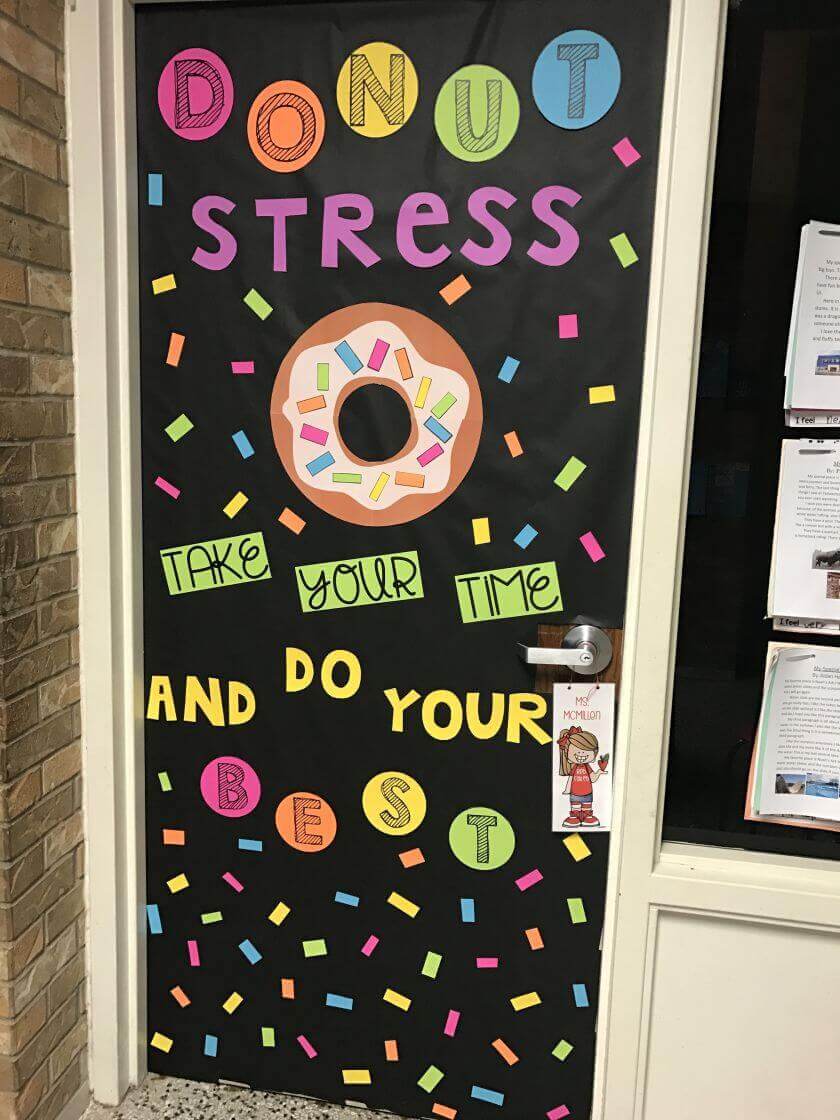 The door is the first access for everyone to get in the class. Good spot to hang something beautiful, especially motivational quotes. Write the quotes with a bright color on a piece of colorful paper. Make it big and eye-catching.
In kindergarten, you can cover the surface with famous cartoon characters or any lovable decoration. Don't let it be plain and let the kids feel happy every time they pass the door or enter the room. Shop Related Products on Amazon
8. Best Place to Sit Tight: Chair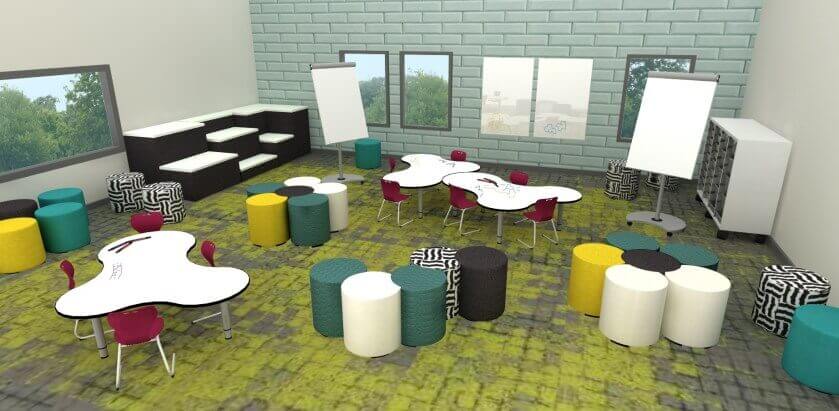 The classroom is always identical with tables and chairs. Poor the students, they often experience uncomfortable hard chairs and desks. Moreover, it usually out from the concern of decoration ideas. Let's try to make them happier than before starting from where they have to sit down
Get something new to please the students. The more comfortable they are, the better they will absorb the material from the class. It's a win-win solution for students and teachers.
Adjust with their age. If it is preschool or elementary, always use chairs that let them sit back. Add lather as a seat cushion to make them feel better. The materials of those chairs can be wood and plastic. Add more color instead of solid dark colors like brown or black to cheer them up.
In the middle or senior high school, combine a decorative round chair with a suitable table like in the picture above. Casual vibes are indeed out of the box, but they can support the idea of "learning is fun"
9. Carpet as a Chair Replacement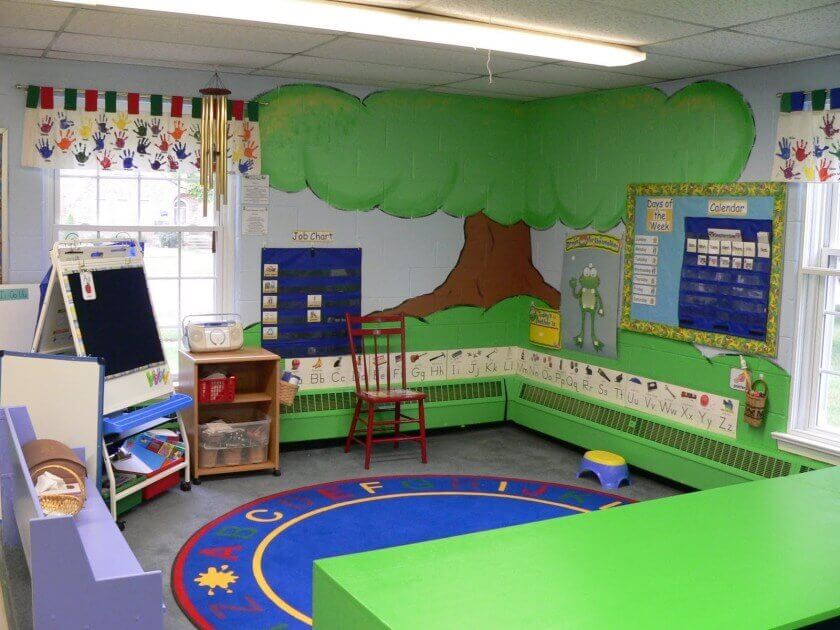 You don't always need a chair for the teaching process. Change it with mat or carpet because kids will process the lesson better when their body is actively moved.
The old school mindset of "sit and learn" is hard for kids to fully develop their brain and mental.  That is why a "no chair class" will let kids choose their best to study. They can sit everywhere inside the room with a clipboard and delicate pillow.
10. Study Easily: The Auxiliary Tools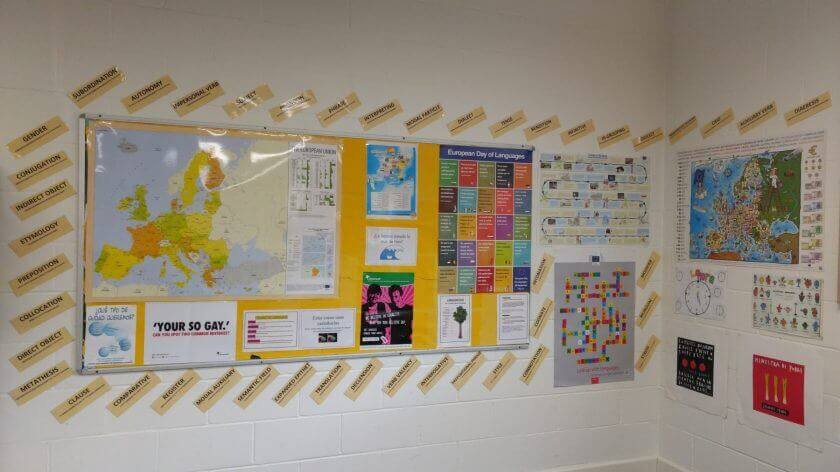 Maybe this is a common classroom decoration idea when you stick paper that helps students to understand some material, like the periodic table of the elements in chemistry class, list of mathematical formulas in middle-high school, or alphabet list for kindergarten. Make it fun instead of terrifying.
Another way to do this is, find a way to learn that material becomes easier. For example: creating abbreviations or mind mapping. Write it down into an aesthetic piece of paper then hang it.
11. Speak Up Your Voice: Movement Posters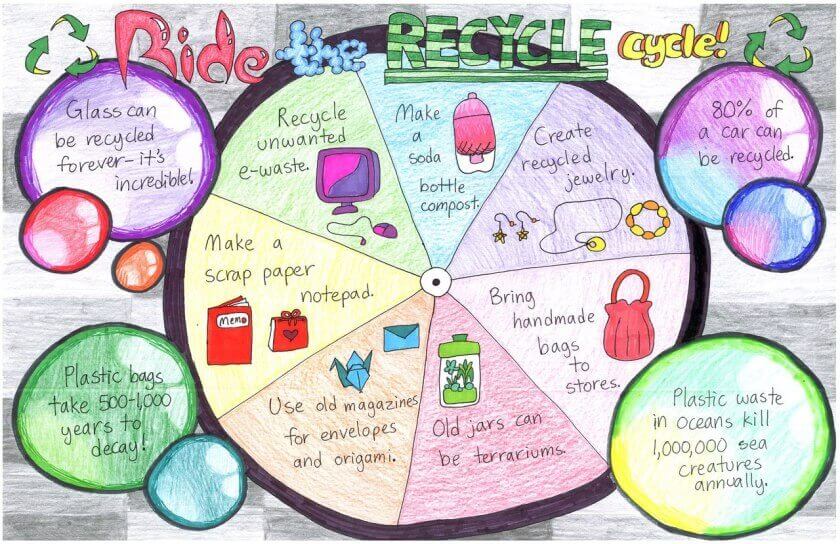 We have to teach our young generation to know global issues: plastic waste, intolerance action, air pollution, food waste, et cetera. even when they are still young. Get the moment of celebration like earth hour, the international day of toleration by gluing handmade posters on the classroom's wall.
It is about doing something, even the smallest one, to make our world better. Don't litter and don't waste electricity are two of the examples. Good action should be introduced since young.
12. Keep It Tidy: Thanks to DIY Shelves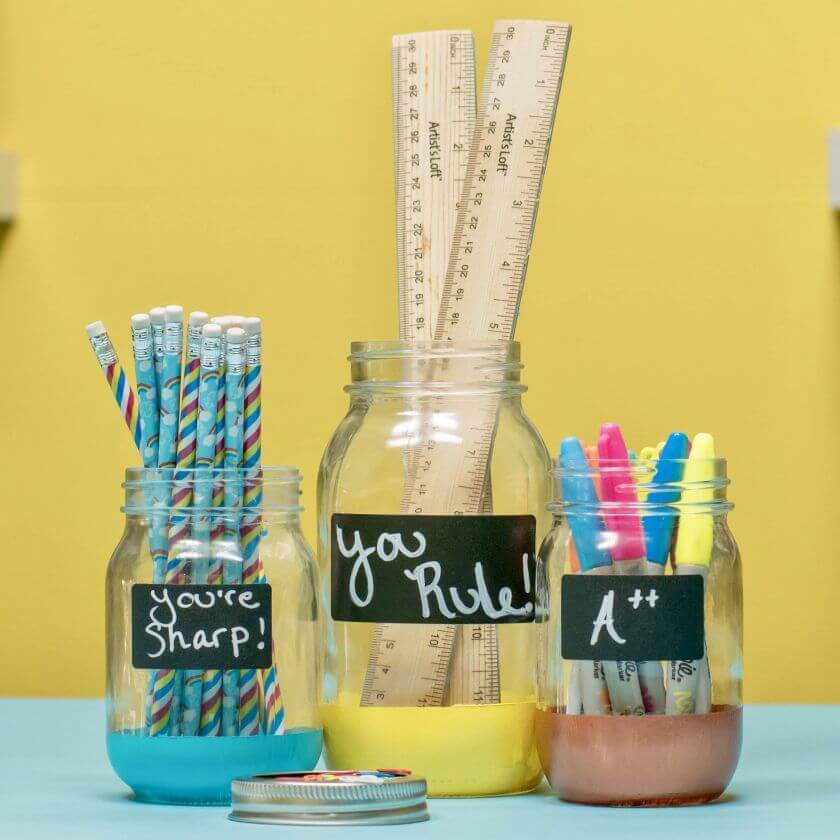 The class can be so messy with small stuff like markers, pens, pencils, or any other things. The effect is that things will easily get lost whenever students and teachers need that. To avoid that, make everything tidy is the key.
There are lots of options for making this happen. Hanging storage or just put that inside the cupboard can be considered based on the space.
Do it by yourselves with these tips:
Reuse plastic bottles, thin cans, or glass jars. Then, make shelves, hooks, or rails to hang it there. Make sure you measure it carefully so the jar will fit. Cover it with ribbon or paper to make it nicer.
Buy an ice cream stick that is specially designed for handcraft. Stacking it one by one into good shape to place the stationary. Put it on a table or inside the cupboard
13. Put All the Good Stuff: Wall Magazine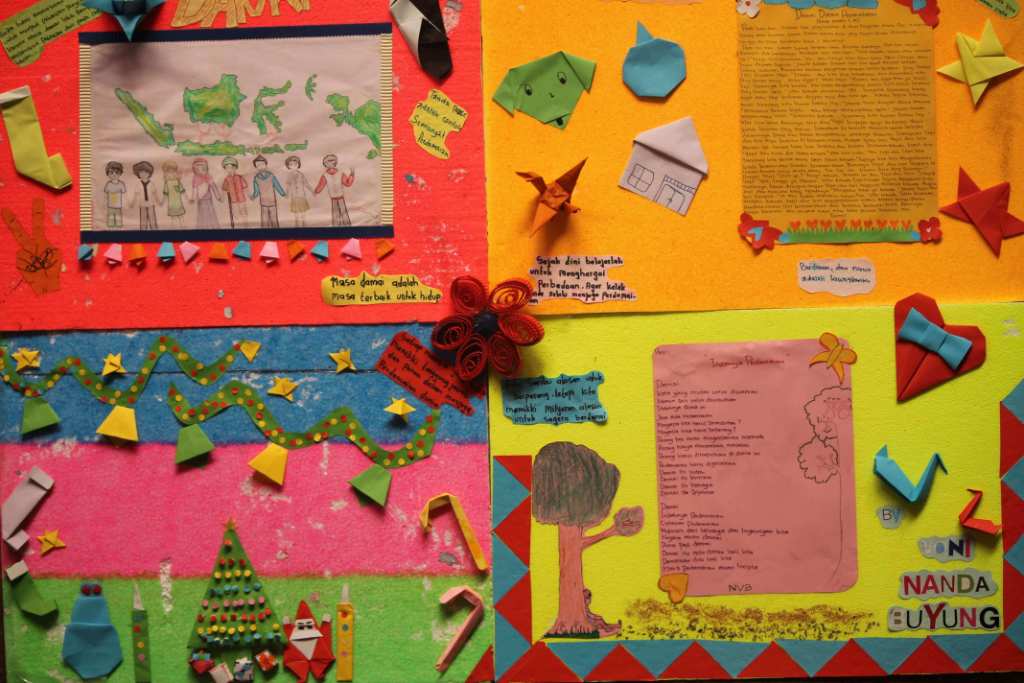 All classroom needs this but often be forgotten. A place everyone can find important notice. Maximize the students' creativity to fill the blank space with foldable paper, crepes, cardboard, or hand painting. Use contrast color or pastel, depend on the entire concept of that room.
To make sure the content of the wall magazine will change regularly, spare time for kids to make an artwork. Have a schedule also can be an option because it pushes every kid to do the same contribution.
14. Choose the Color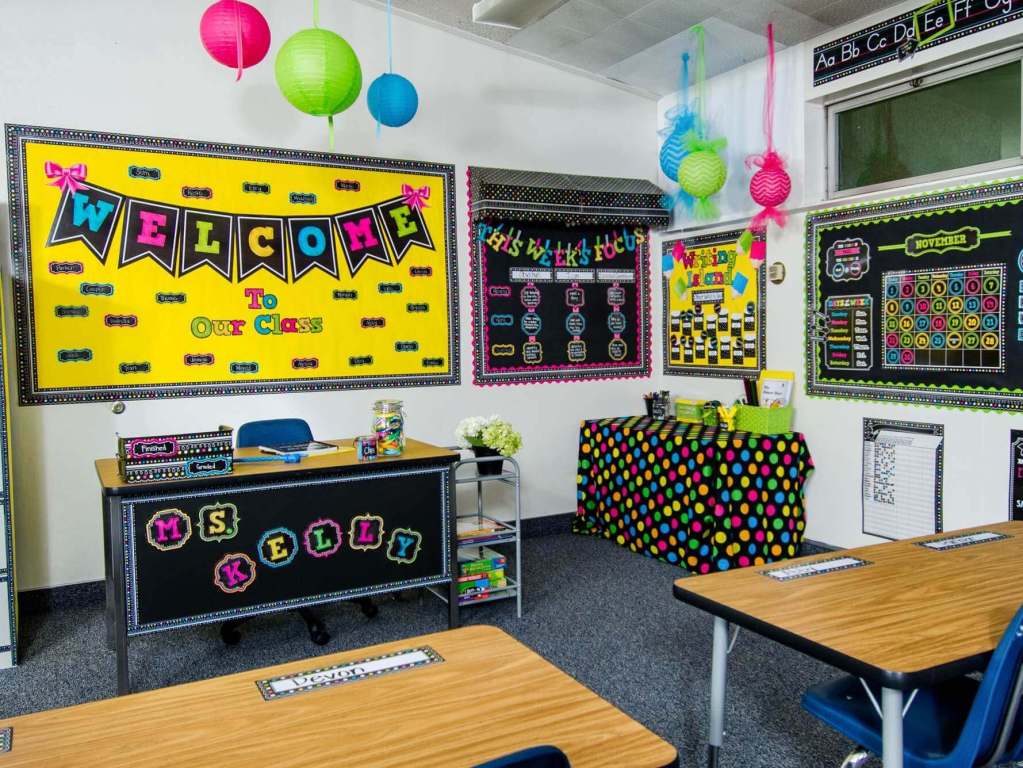 Who says that color doesn't affect the students learning ability? The fact is, it evokes body function and somehow can influence our emotions.
Color also can give a biased perspective on our eyes to think the room is bigger or smaller than the actual size. So, the ornaments in the classroom should match the color. Pay attention the most to the wall, furniture, and fabric curtains (if any).
It's possible to pick the color from the school's logo/mascot. For other alternatives:
Blue can bring peace and spiritual meaning
White or beige maybe is the most common out. Turns out, it symbolizes innocence, completion, light, and purity. A positive feeling can be gotten from this hue.
Green demonstrates nature, balance, and harmony. Imagine if this calm color fulfills the hallway. It completely maintains the mood of students to always be positive
Yellow is associated with renewal, sunshine, and hope. Be careful to choose the palette color of yellow. If it is too strong, it cannot be good
15. Don't Let the Wall Be Empty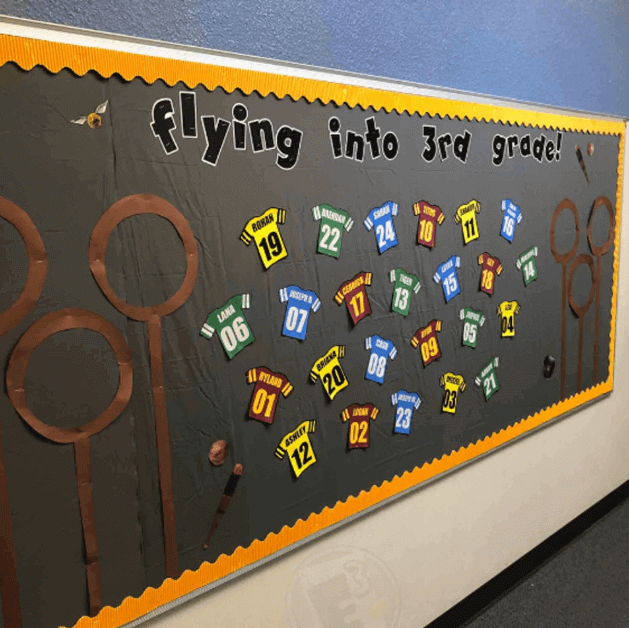 It is not fun at all if we leave the wall to be empty. To jazz up the mood of students, put something that can spoil everyone's eyes that see it.
There are millions of ways to do this. The easiest way is to just paint it or call the interior designer. Another way is to collect the result of artwork from every student. Show it on the wall. Its is just a different way to do the wall of fame.
16. Get the Typography in Smart Way: Wall Decal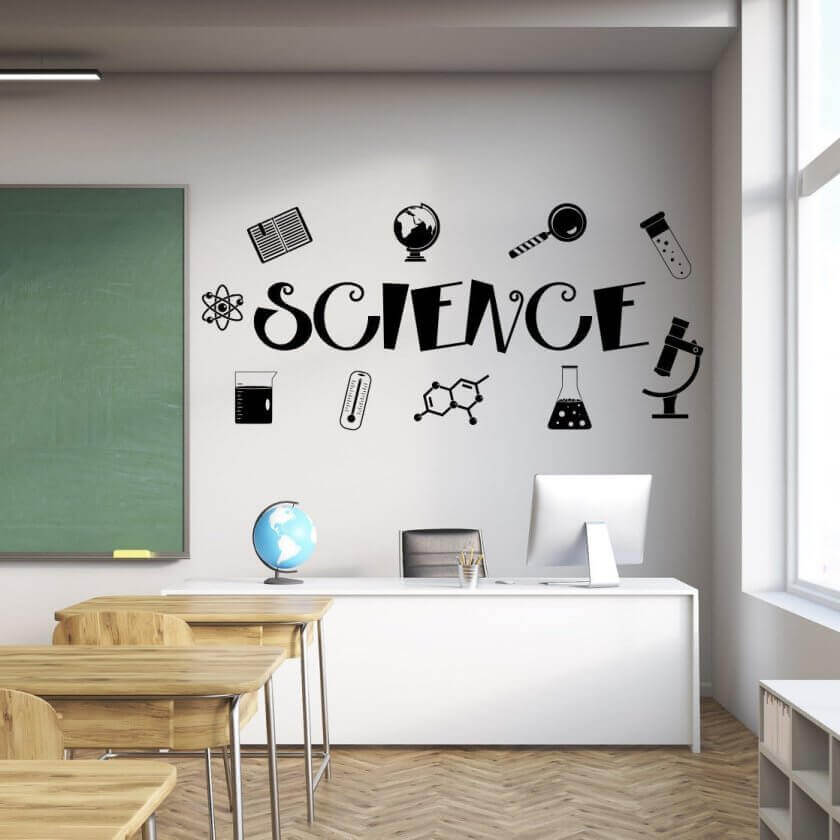 Some schools are applying the moving class system. They have no permanent class based on the grade. Don't lose the sense of art by giving the proper decoration and typography based on the subject.
If it is a science class, put a name from the periodic table of elements. Take an example: Genius is formed by (Ge: Germanium) (Ni: Nickel) (U: Uranium) (S: Sulfur) and so on.
Even though it is sharing class, no reason to leave it without decoration
17. DIY Window Decoration Ideas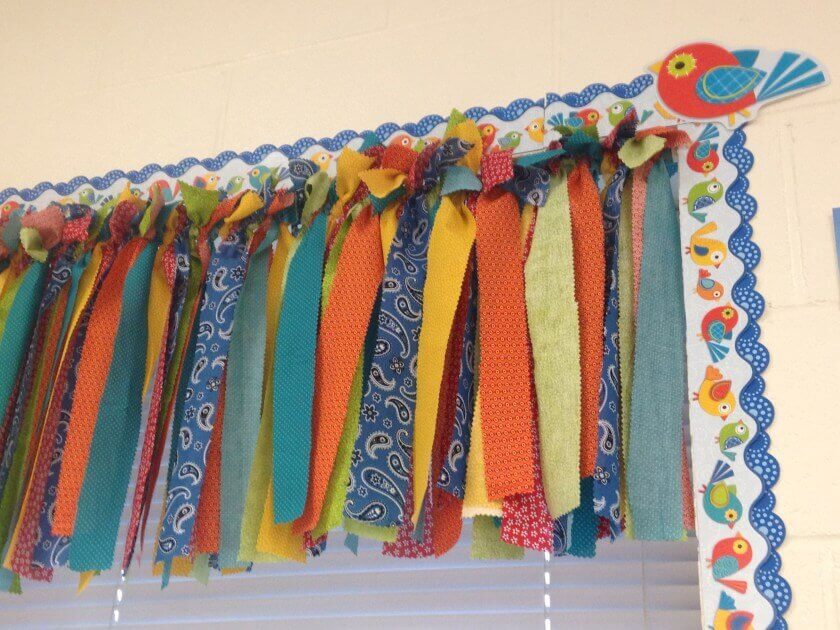 Most classrooms have more than one big window with trails to hook the curtain. You can replace it with a bird-shape of paper, a curtain from seashells, or a trinket from a plastic straw.
Make it simpler by using paper crepes, cut it straight in many, then hang it directly. The more color, the more interesting it will be. Remember that the function of the actual curtain is to reduce the UV rays. Use decorations that can be functioned like that.
18. Put the Décor until the Highest Place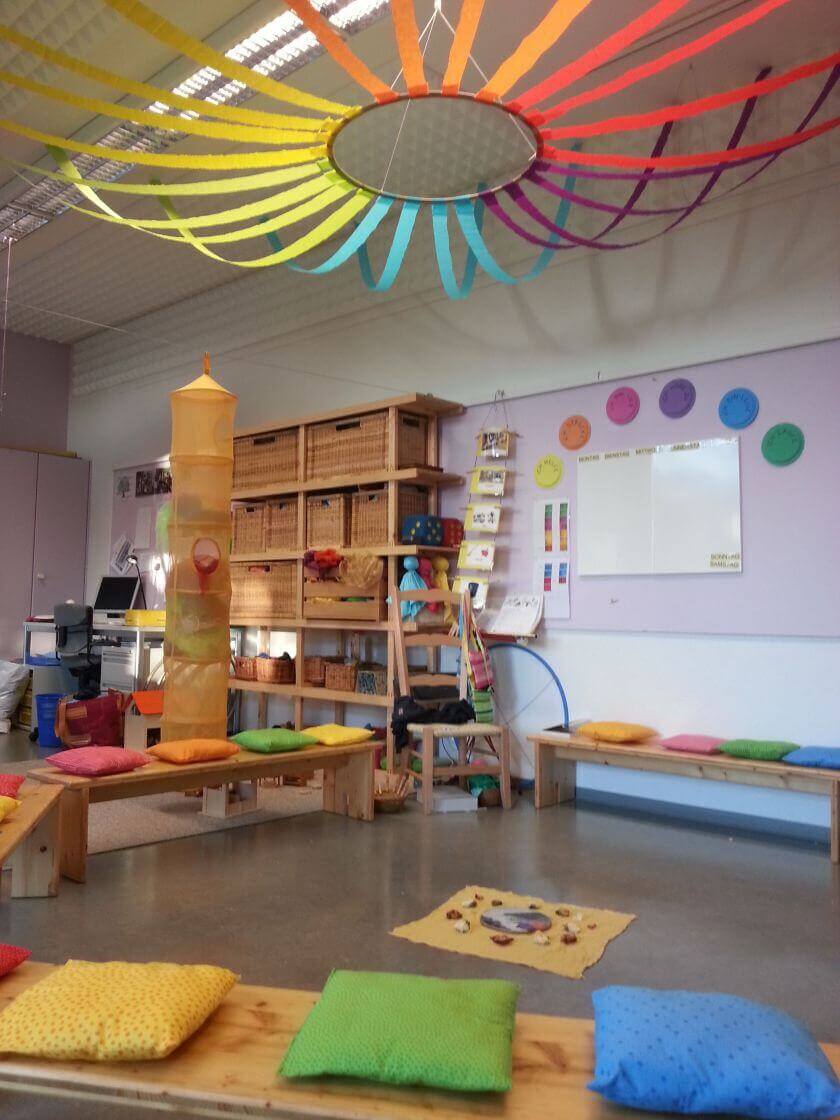 Last but not least, let us talk about ceiling decoration ideas. Just because it is high, doesn't mean it doesn't deserve any decoration. With the proper approach, the ceiling also can be a good spot for your eyes to stare.
If the main color of wall painting is white or beige, it is the perfect time to put shocking bright color hanging décor on the ceiling. It is not too much at all.
Lots of materials can be useful there. It is not always new; sometimes you can recycle something old and make it priceless. Use old light bulbs than paint it in many different colors. Hang it in the ceiling with fishery wire. Suddenly you get the quirky design all by yourselves.
Another strange out-of-the-box idea? Hang books and let them open. All you need to be prepared is a command hook, string, and of course books. Just try it and be amazed by the result.
19. Classroom Rules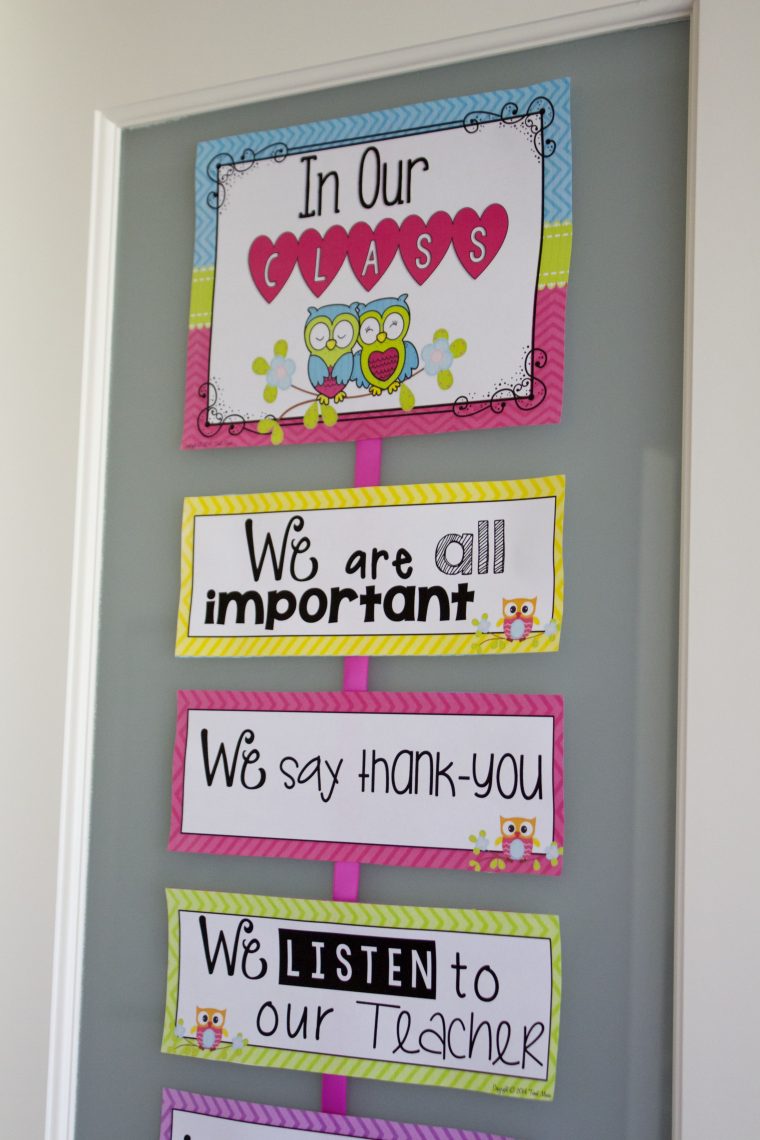 Display your classroom rules with this adorable Chevron and Owl-themed poster set. This display was made with a positive spin, and a selection of rule cards have been created for your personal preference. Included in this package are editable cards for you to create your own classroom rules if you wish. Get it Now!
***
Classroom Decoration Ideas (Image Gallery)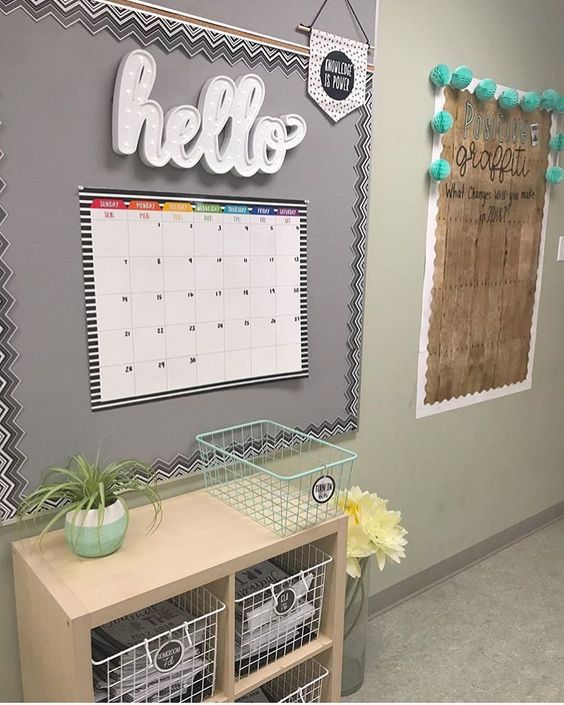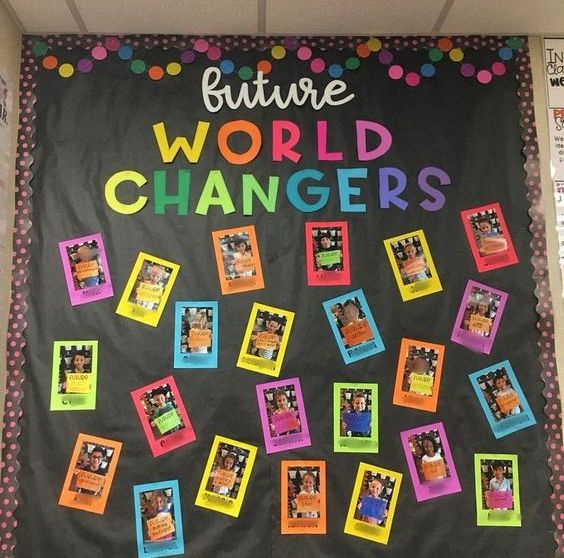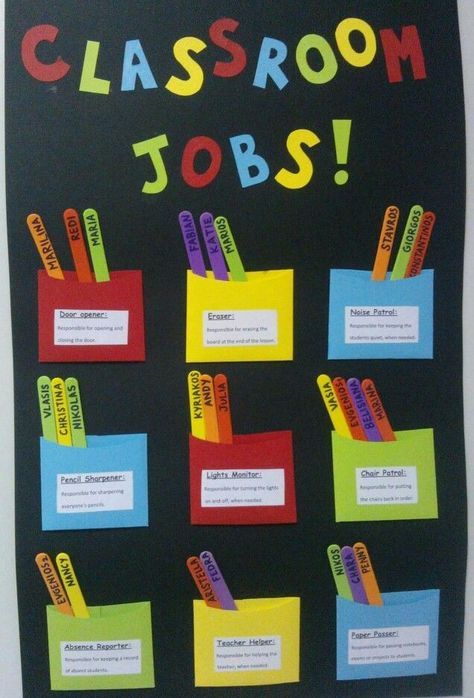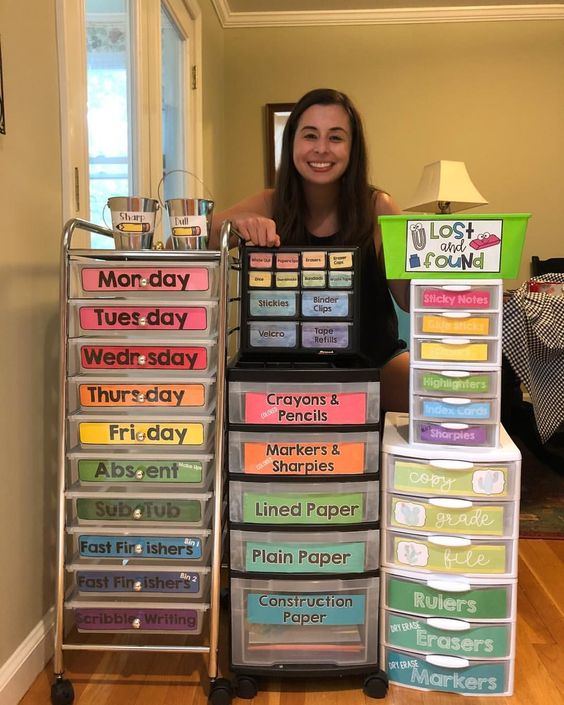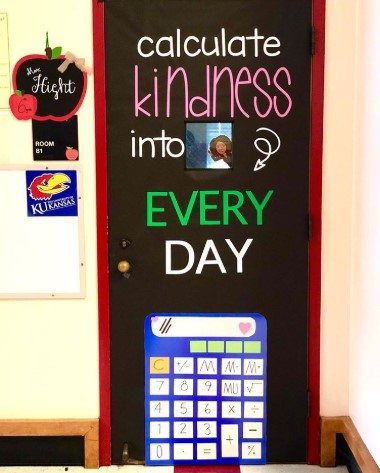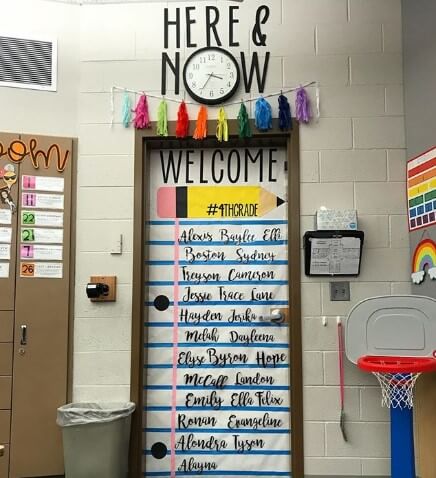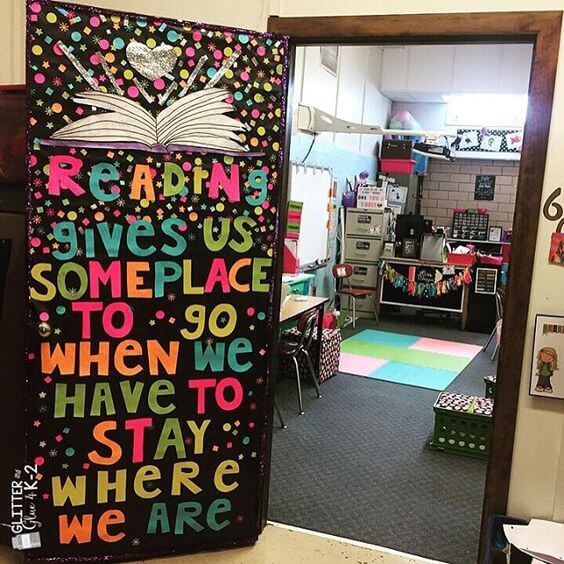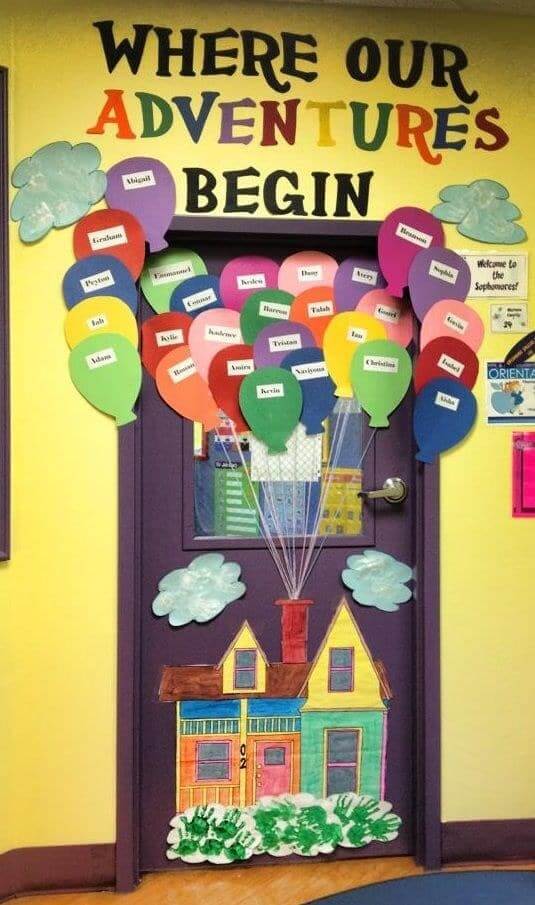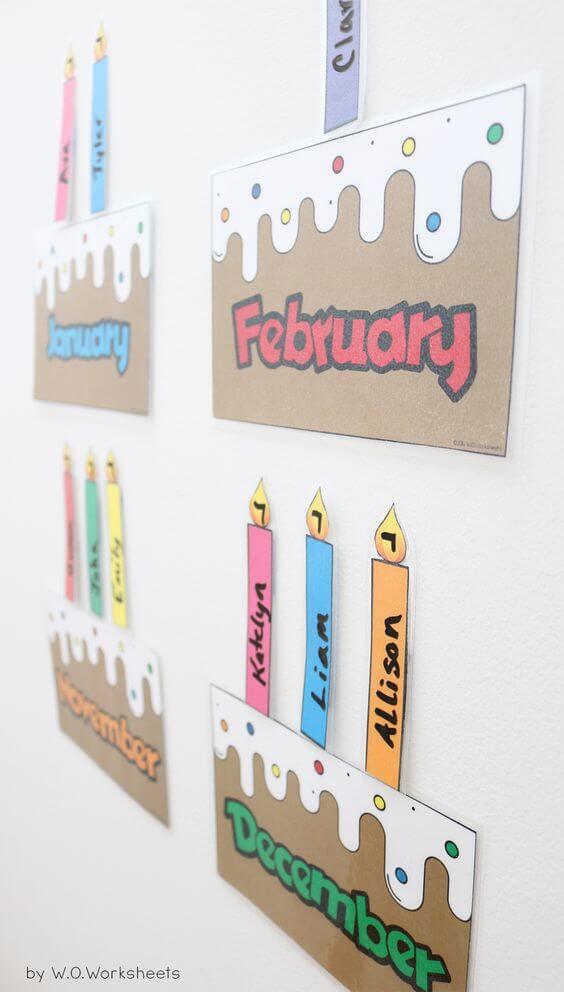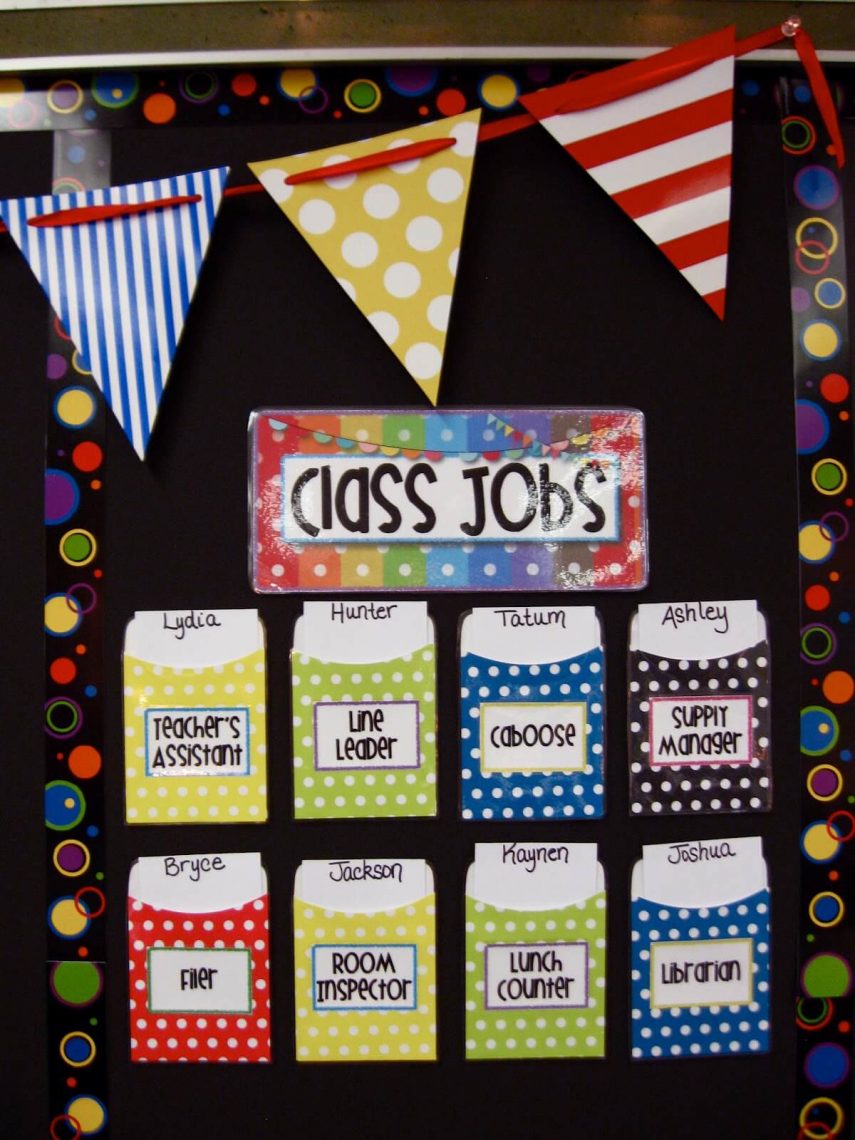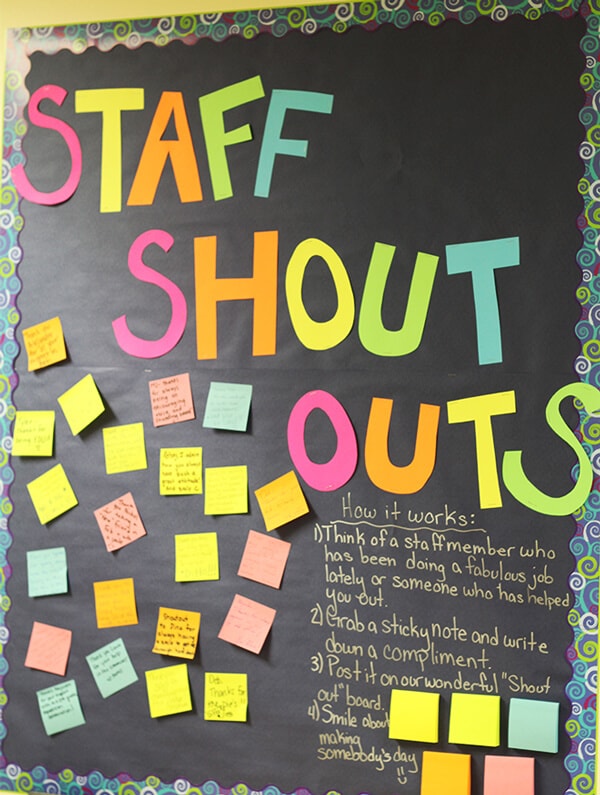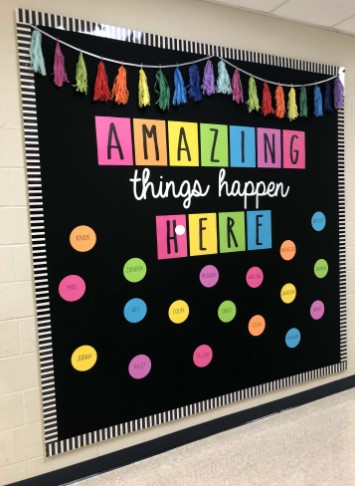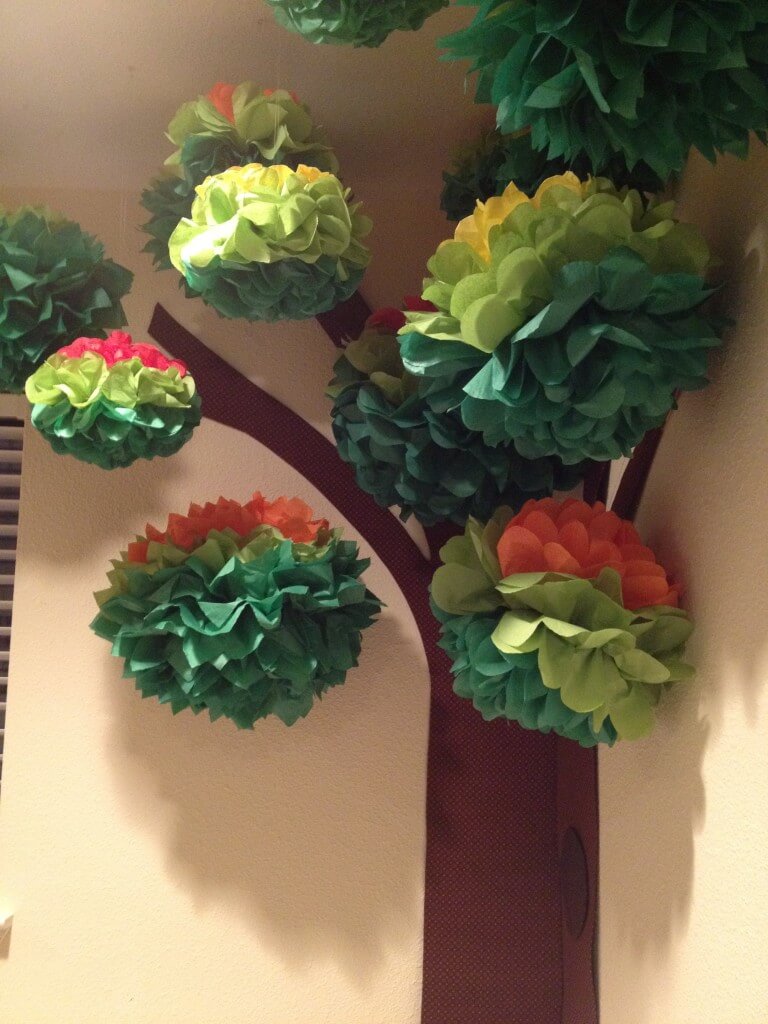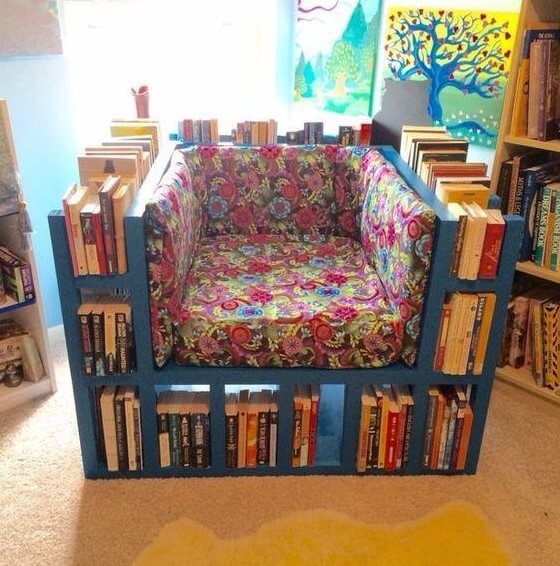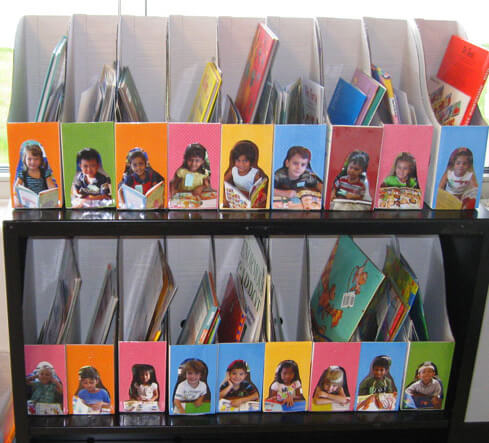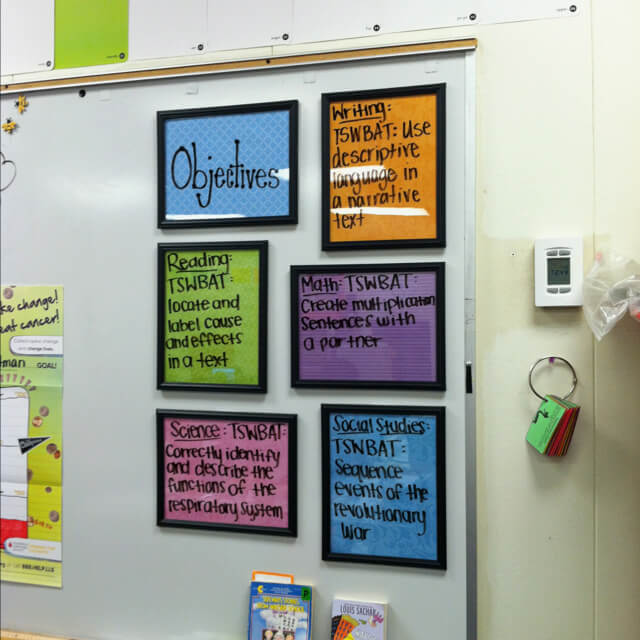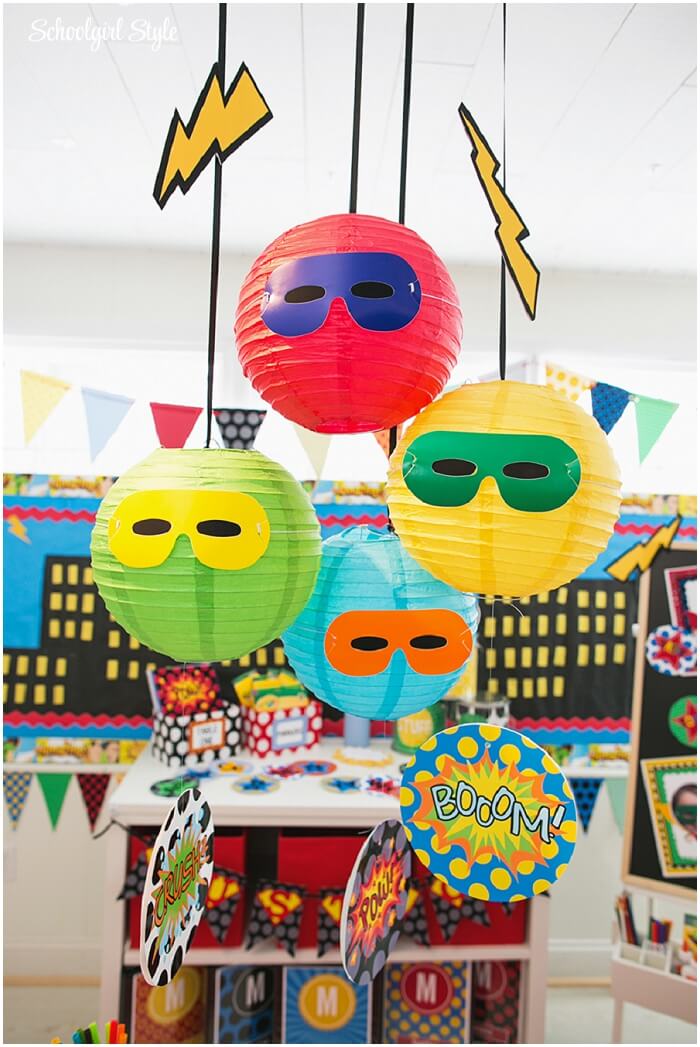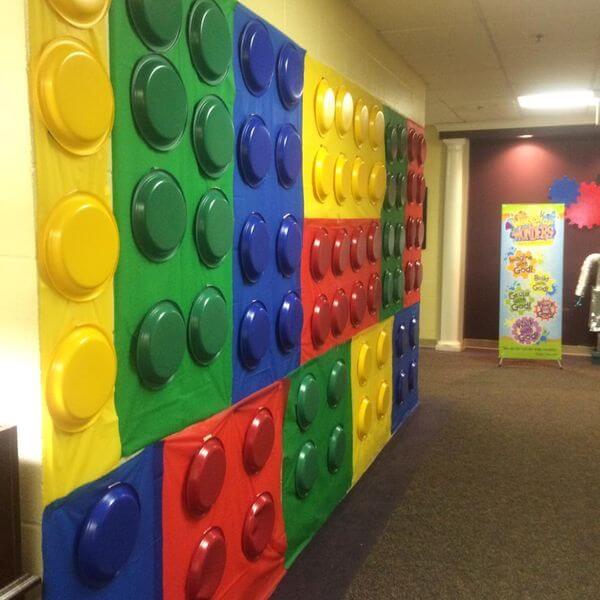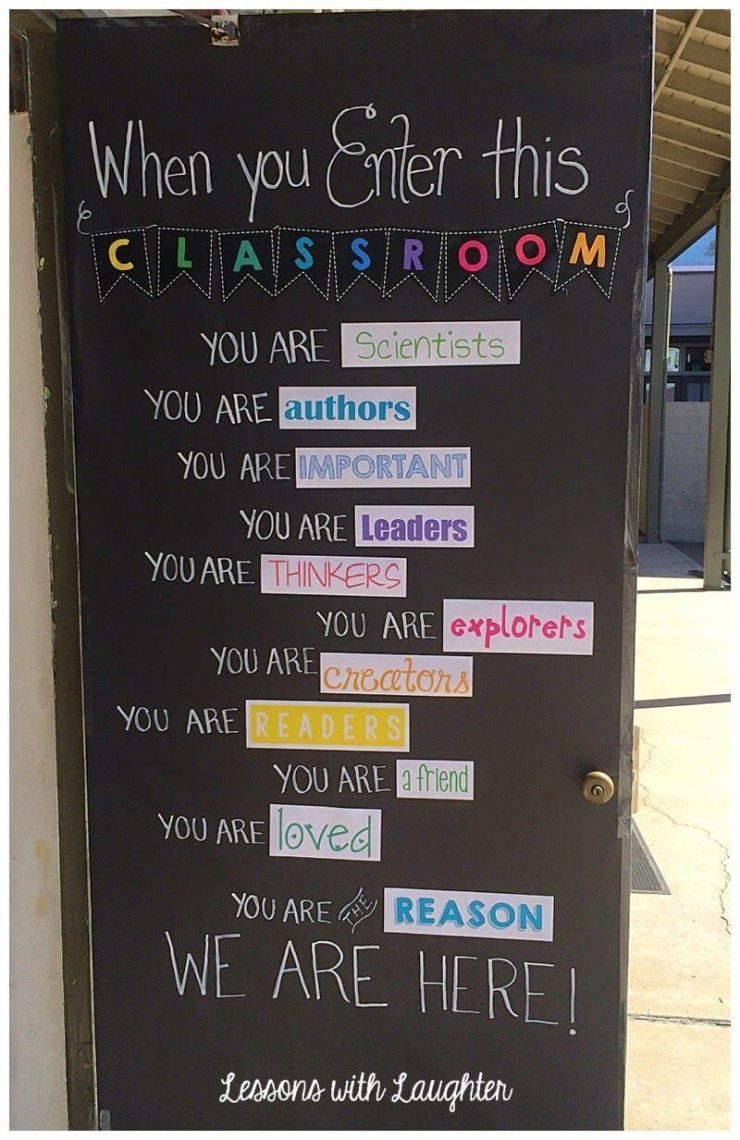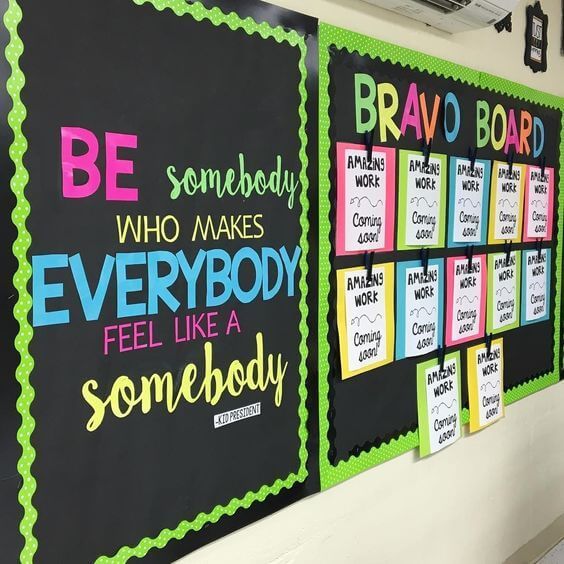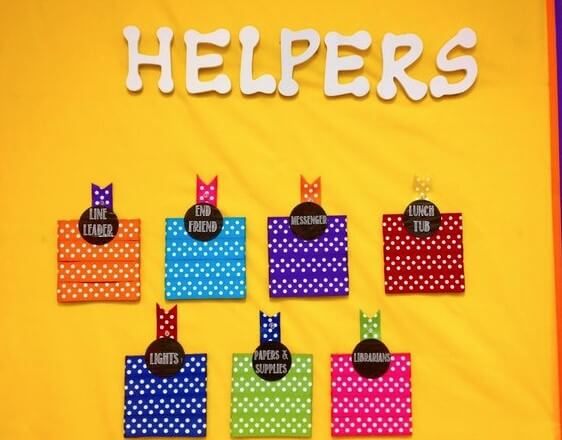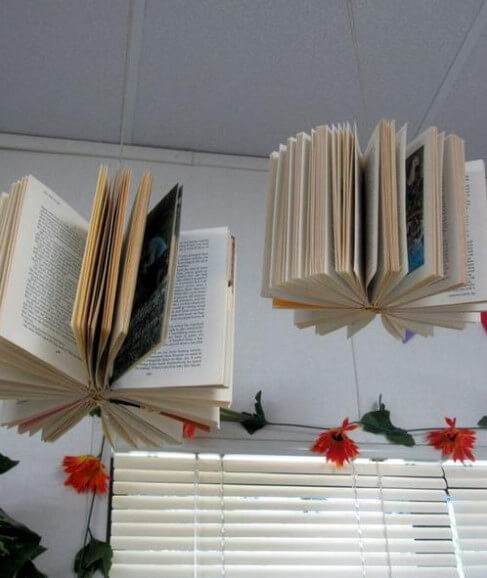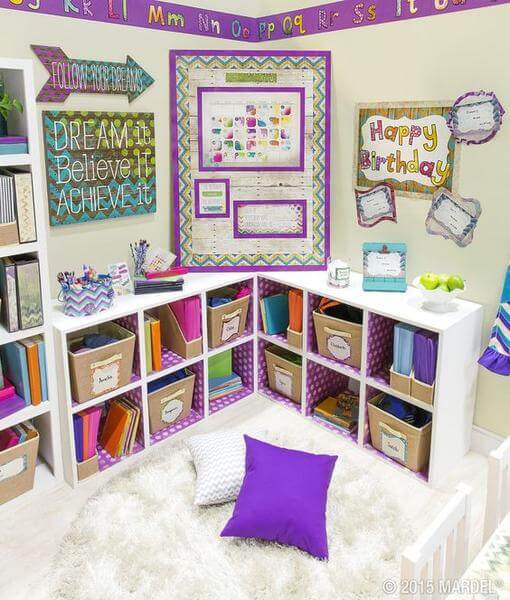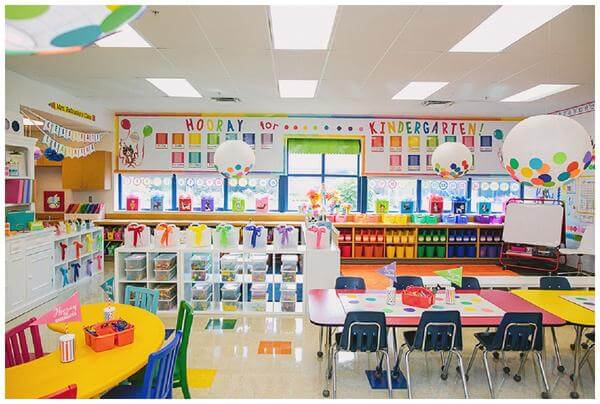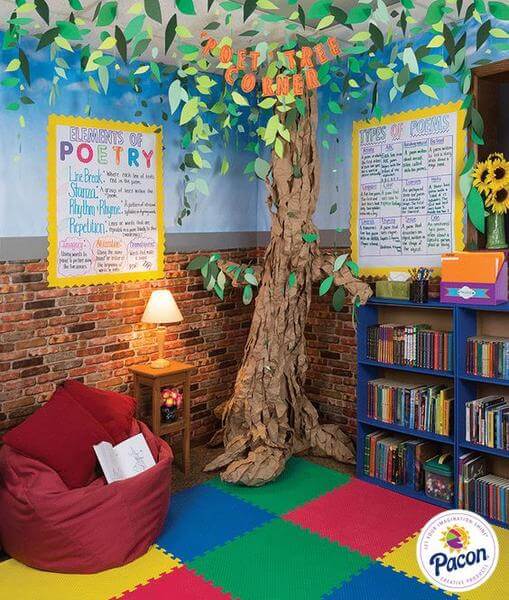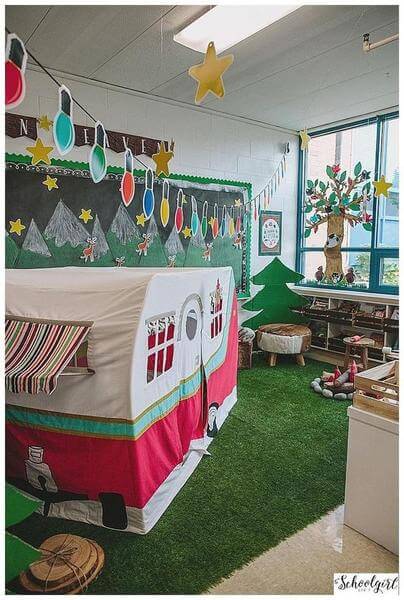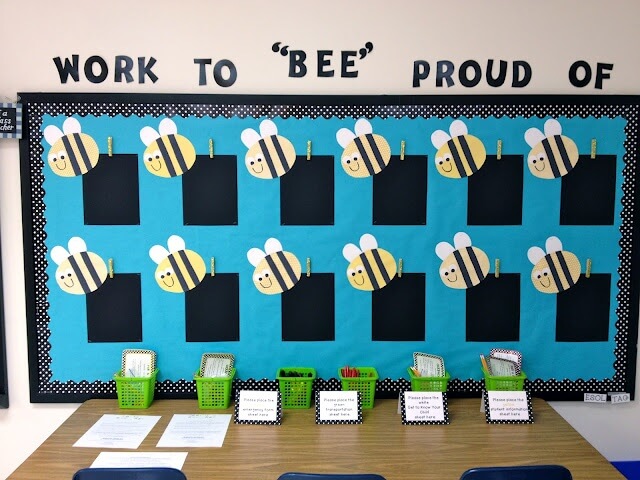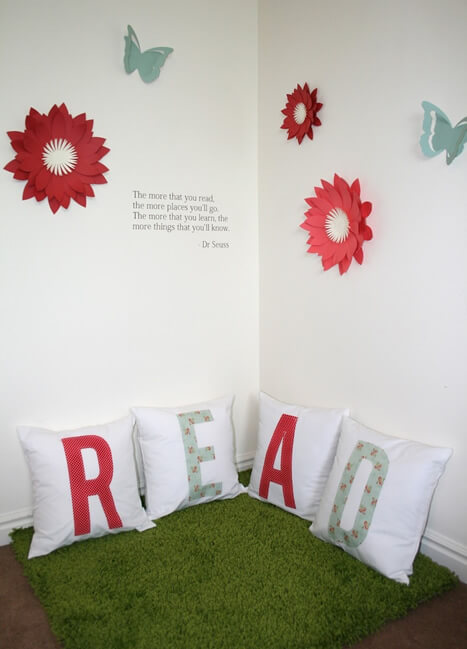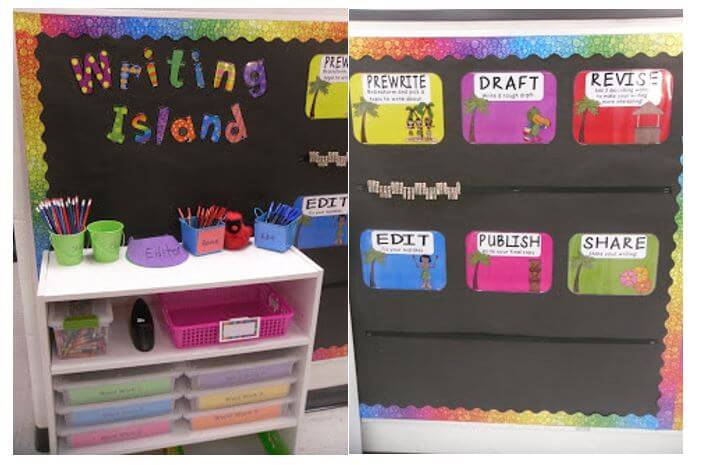 We cannot deny that almost every student has ever felt bored at school. Some of them also think about how to skip class tomorrow because the environment is too intense with an inflexible teaching system and all the exams. By having classroom decoration ideas, hopefully, it will be changed.