Having a home office is a common thing nowadays. Even if you only have a small space, an office should boost creativity and support works. Small home office ideas may range from cute and colorful to simple and dignified. There are also "masculine" and "feminine" design elements you can apply based on your personality.
From the cheerful corner office to a smart office under the stairs, here are 25+ stunning ideas you can apply for a home office.
1. Corner Polkadot Office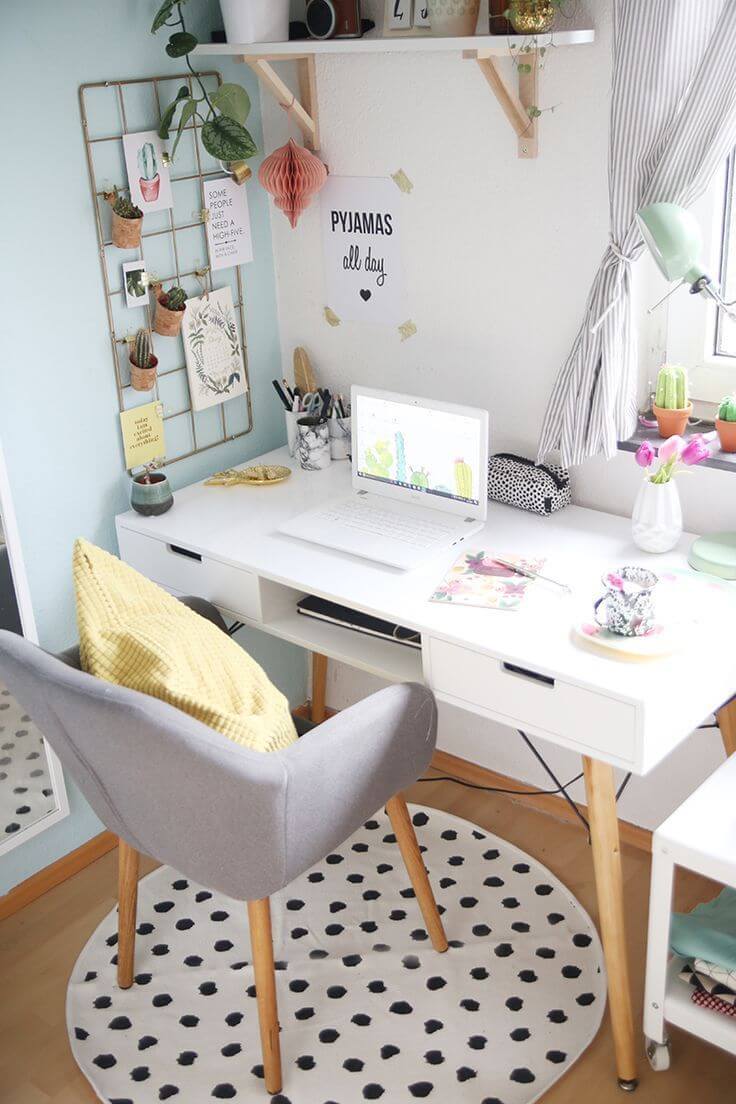 This corner office has a white desk, light green wall, and polka-dot rug to create a cheerful look. A wooden frame is used as a reminder board, while a floating shelf adds storage space. The desk was positioned near the window to reduce the need for an electric lamp.
2. Home Office with Art Gallery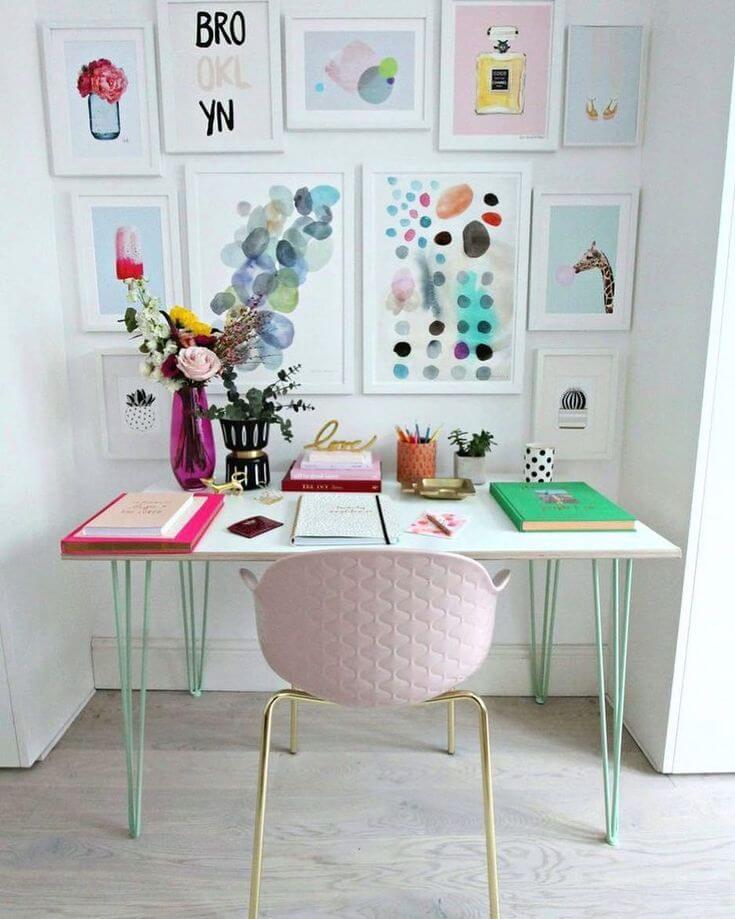 Colorful and refreshing, this home office has "art gallery" composition that encourages your creativity. The pastel colors are balanced by white desk, wall, and frames. The furniture items have thin frames to prevent bulky look.
3. Closet Office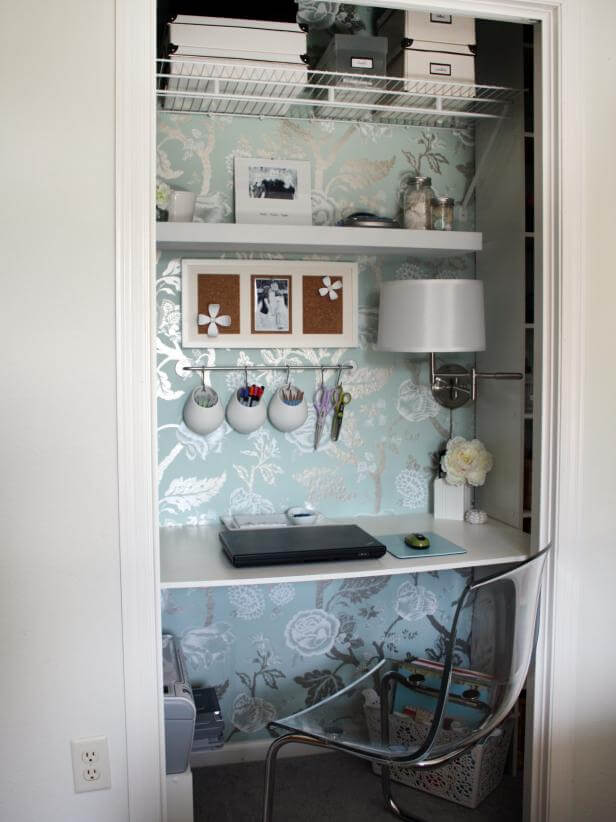 A closet can be transformed into a small, compact office. This walk-in closet has a floating table fitted inside, with "wallpaper" and lighting fixture installed. A floating shelf provides extra storage space, while the transparent chair prevents the bulky look.
4. Simple and Practical White Office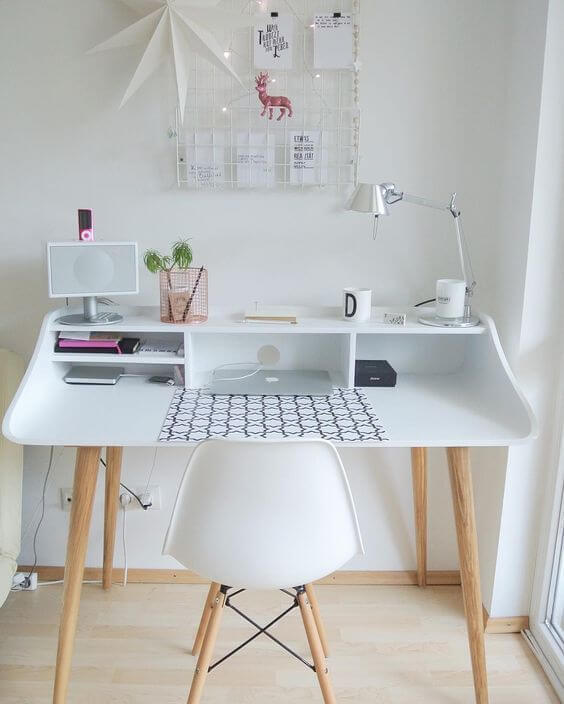 This home office boasts simplicity and practicality. The desk has extra spaces to store more stuff. The simple white chair and metal lamp don't rob your focus when working. A white frame serves as a memo board, with simple but cute decorations that complement the humble look.
5. Creative, Monochromatic Office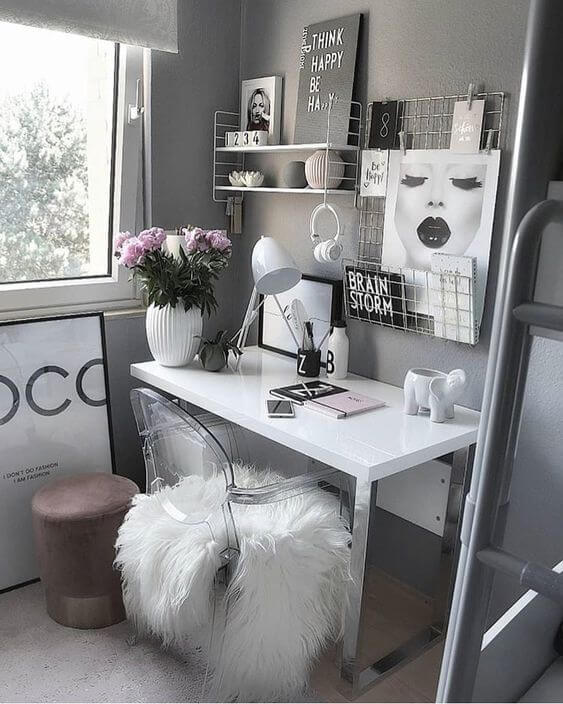 This monochromatic office reflects the owner's creative soul. The metal wire racks contain photographs, portfolio folders, and simple motivational signs. The desk arrangement is very simple, with basic tools and a single flower vase. The plexiglass chair is adorned with white faux fur.
6. Attic Room Office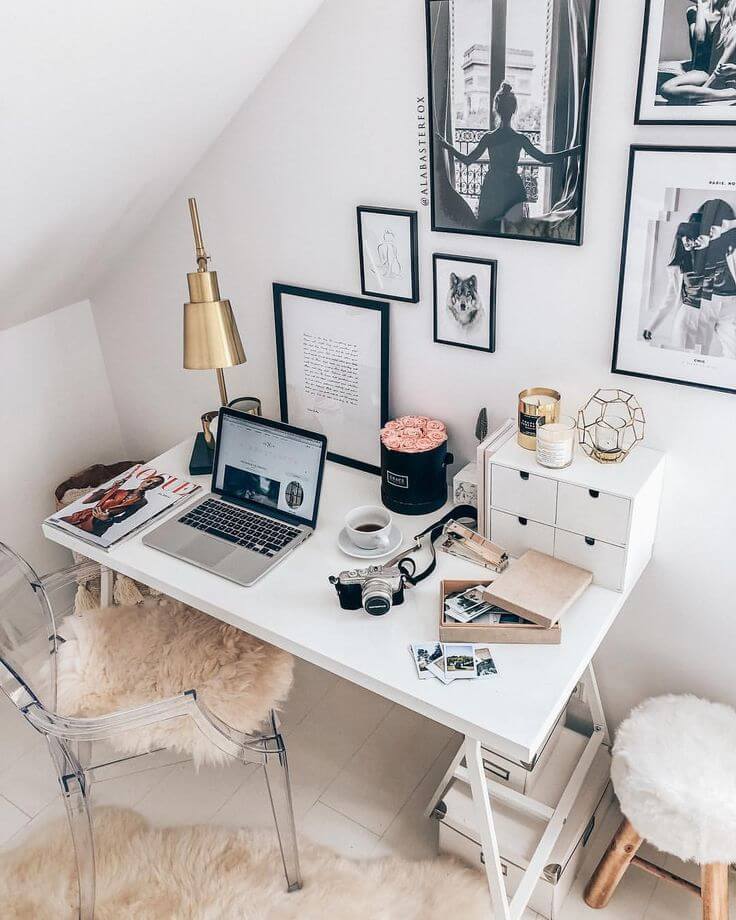 This office was set up in a attic room. The work area design makes use of the room's slanted ceiling. Framed photographs, texts, and artworks were arranged in ascending pattern. The simple white desk and plexiglass chair are embellished with faux fur.
7. Small Work Station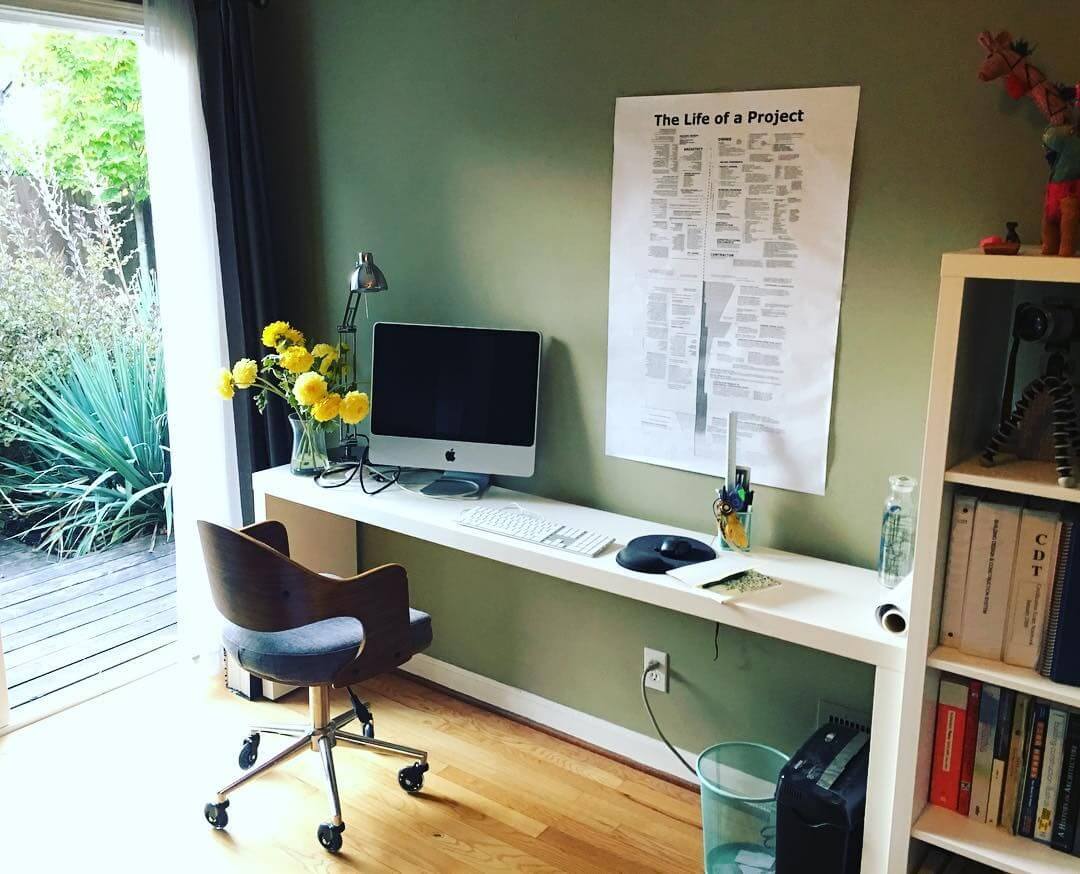 This work station is perfect for filling awkward space, such as between the cabinet and terrace door. The desk was fitted on the wall, enough for the essential things. A simple rolling seat provides flexibility, while the empty wall is perfect for attaching project notes and other information.
8. Natural Home Office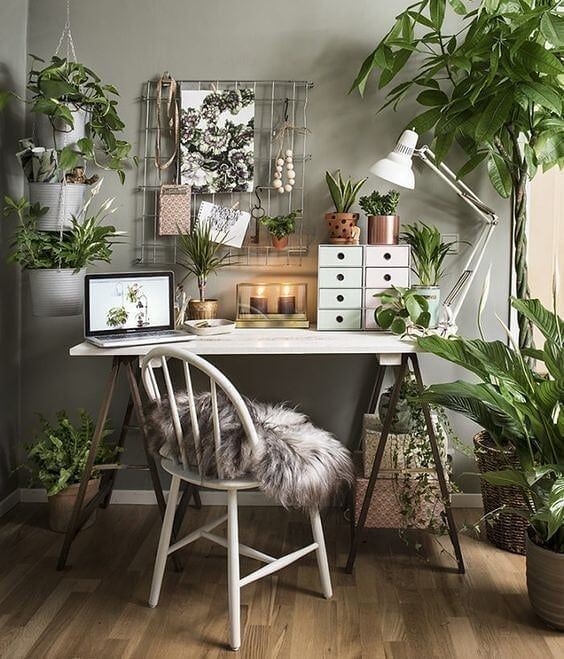 Do you know that greens can improve creativity? Potted plants of all sizes surround this home office. The simple white desk, lamp, and chair became more elevated with the natural décor. A faux fur seat and wire rack added a unique touch in this home office.
9. Home Office with Distressed Furniture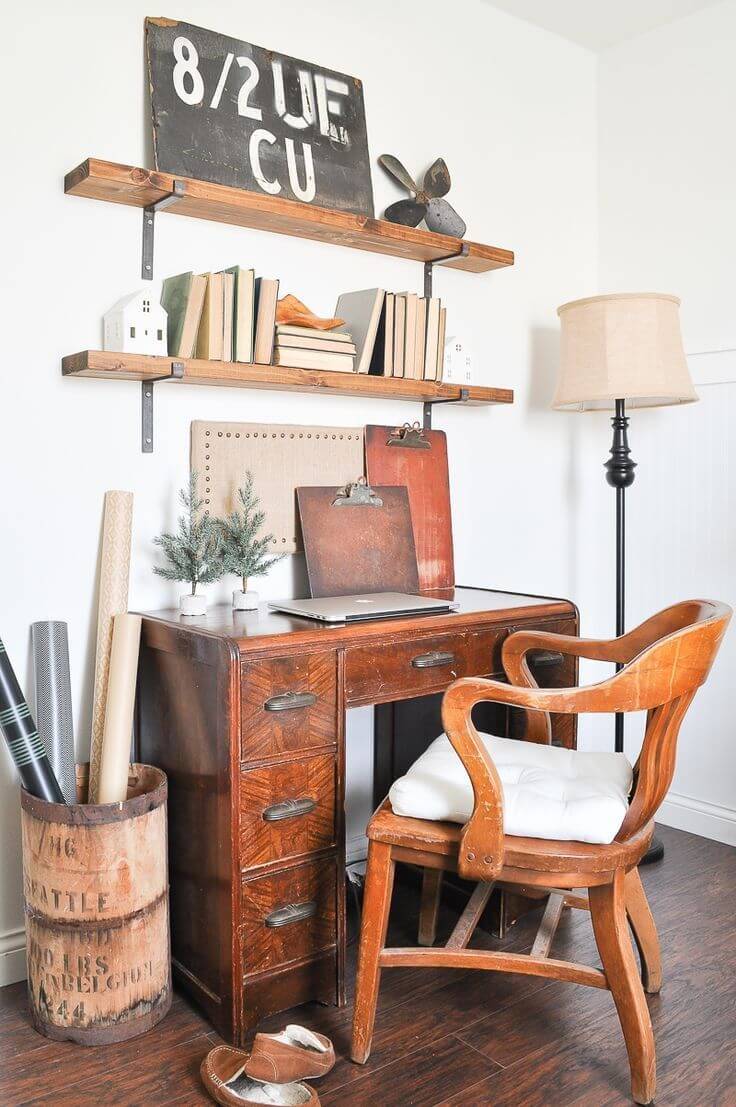 This home office has a flea market charm. The desk, seat, and wrapper container have a distressed look. The vintage standing lamp adds the old-school charm. Two repurposed wooden panels were fitted to the walls and used as shelves.
10. Minimalistic Green Office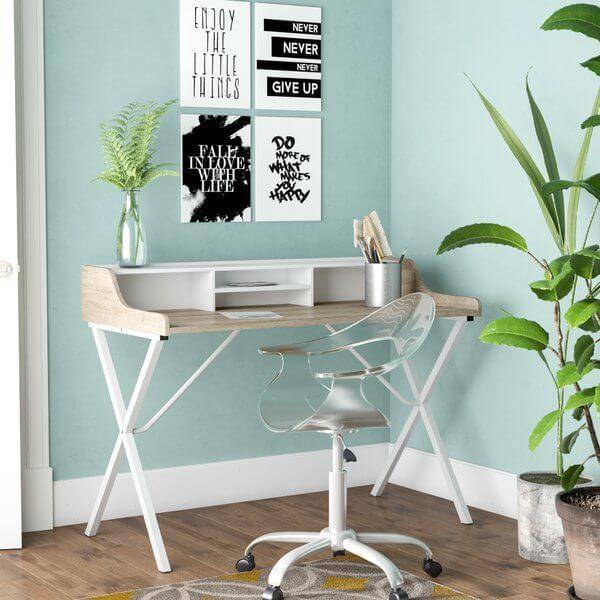 This simple, minimalistic office uses lime green as its main color scheme. The simple furniture, potted plants, and motivational signs complement the cozy look. The desk and chair have contemporary designs to improve the overall look.
11. Office Under the Stairs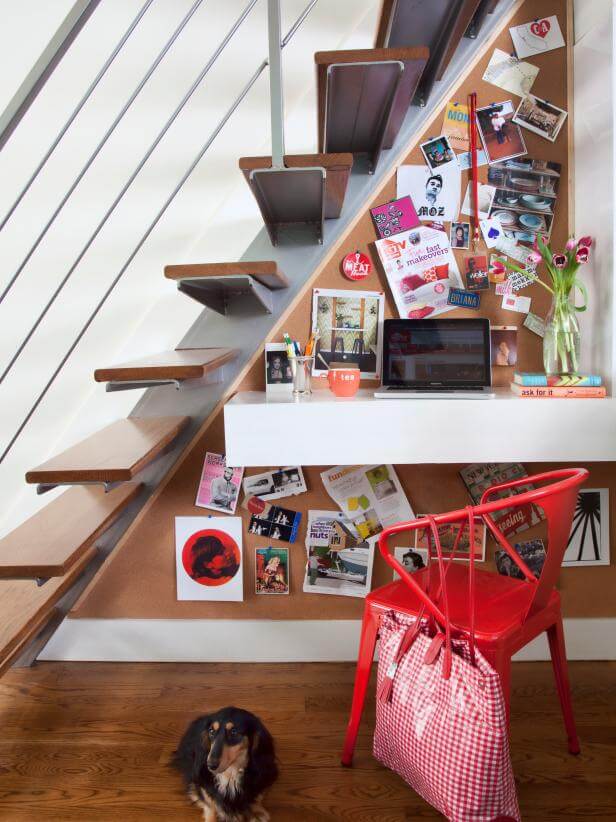 This office corner was built under the stairs. A floating desk was fitted perfectly, along with the red chair to create noticeable décor. The inside of the stairway is plastered with project materials, forming a "creative corner" look that is suitable for any home office.
12. Simple Hallway Office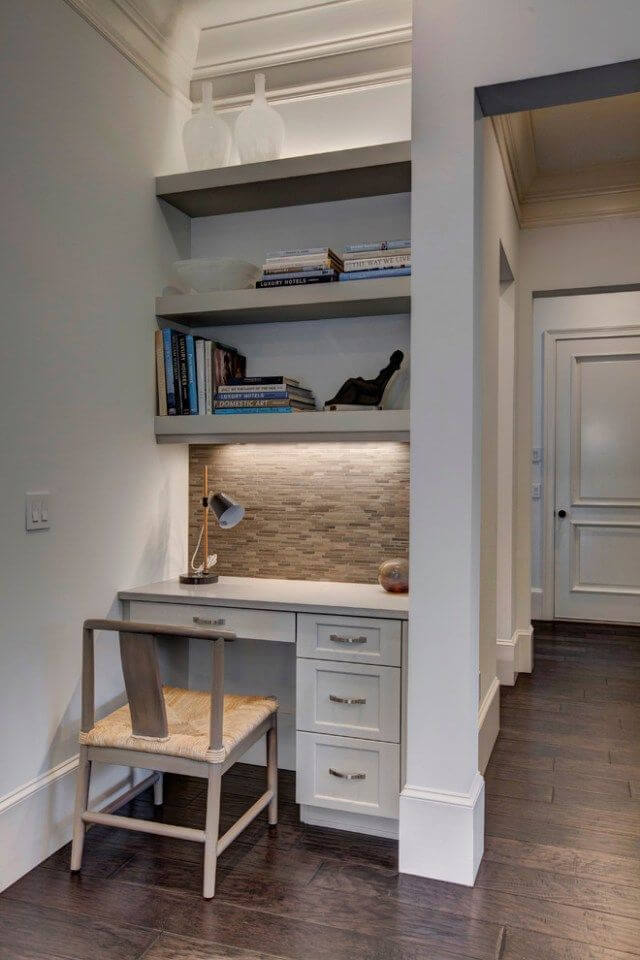 This home office uses one corner in the hallway to create a compact work station. The white L desk complements two simple shelves and chair. The subway tile backsplash adds a unique accent. A lamp was installed under the shelf, adding extra light aside from the table lamp.
13. Dark Grey Modern Office
This dark grey office has a simple but modern look. The thin shelves were installed strategically atop a stainless desk panel. The white furniture and decorative lamp add a unique touch in this otherwise simple office.
14. Rustic Wooden Office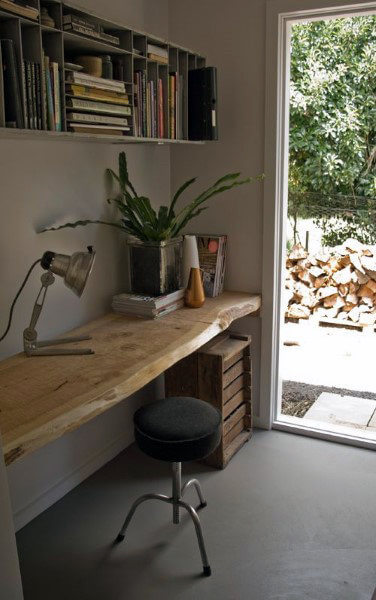 This tiny office uses rustic wood as its main element, blending perfectly with the outdoor area. The rustic wooden panel looks great as a desk. Repurposed wooden panels were arranged into a wall shelving unit. A simple stool completes the entire look.
15. Semi-open Office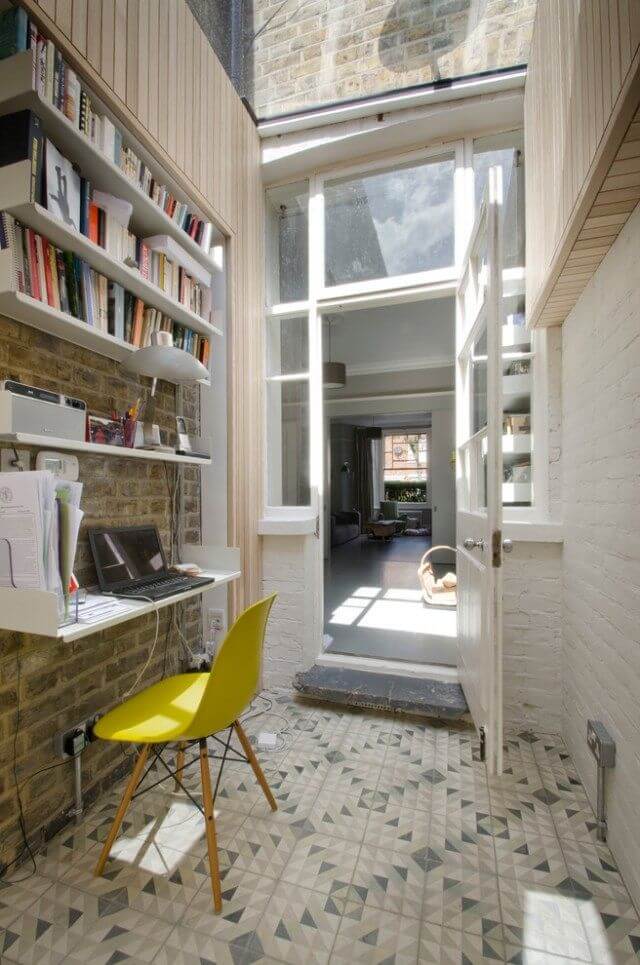 This narrow office has a semi-open design to reduce the cramped atmosphere. The high ceiling was replaced with a skylight, allowing natural light to come in. The exposed bricks create a cozy atmosphere, but the patterned tiles and white brick background add a sophisticated look. White wooden panels and a yellow chair add modern flair.
16. Corner Stair Office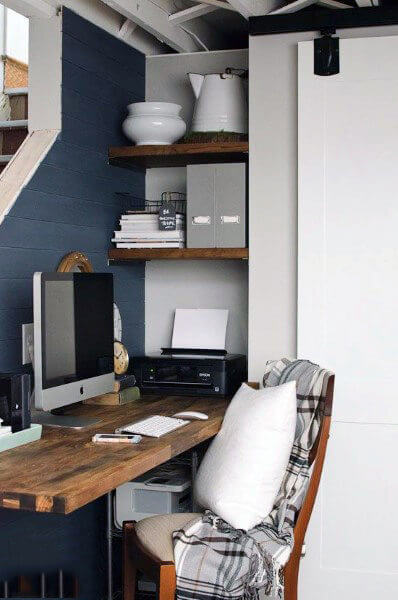 Notice that this office is not located under the stairs, but beside them. The office has a compact design, with a floating desk and vertical shelves to store your tools. The simple chair is cushioned with a white pillow and throw rug, adding a cozy atmosphere.
17. Bright and Creative Office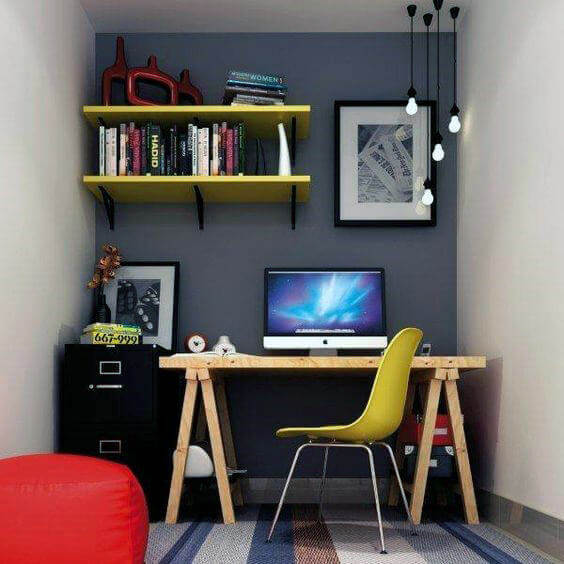 This office has everything you need to boost creativity: bright colors, modern silhouette, and several hanging light bulbs for unique lighting sources. The wooden desk looks great with the yellow chair and shelves. A black cabinet pairs nicely with grey wall and blue-and-white rug.
18. Smart White Office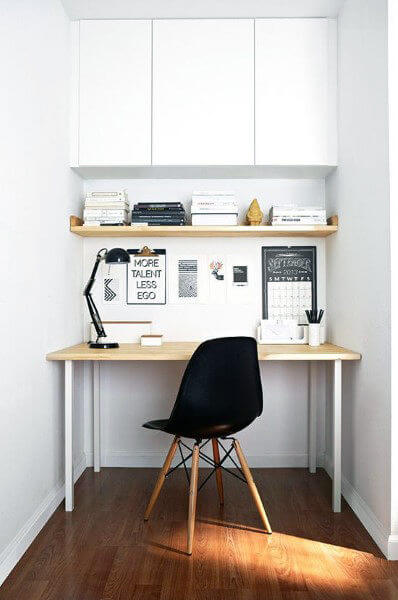 This office has a smart design and white color scheme. The effect is practical, no-fuss, but the elegant home office. The shelf was installed right under the cabinet. The desk is fitted to the walls, and a modern seat completes everything.
19. Modern Concrete Office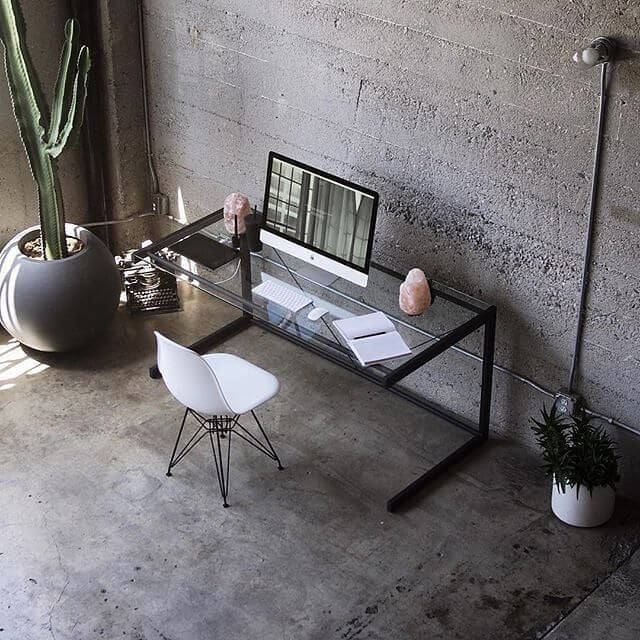 This concrete office looks modern with modern, plexiglass desk and white chair. The simple features only make this office look more elegant. Potted cactus, old typewriter, and industrial lighting fixture add the rustic, masculine look.
20. Elegant Hunting-themed Office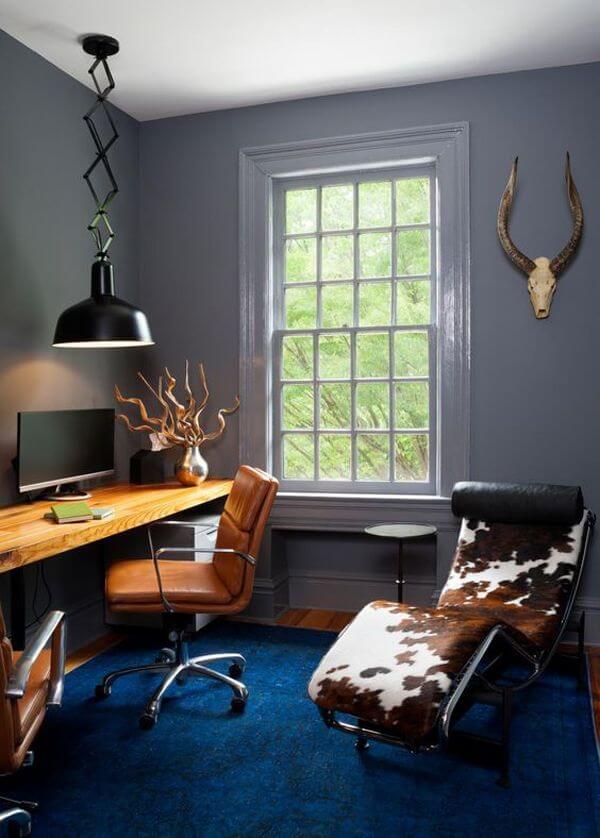 You may not hunt, but this hunting-themed office will give you a boost in bravery and resilience. A faux animal trophy adds a strong look in your office, while the branch-like decoration and cow's hide seat create the wilder look. The moody colors, modern furniture, and minimalistic design soften the look.
Small Home Office Ideas Gallery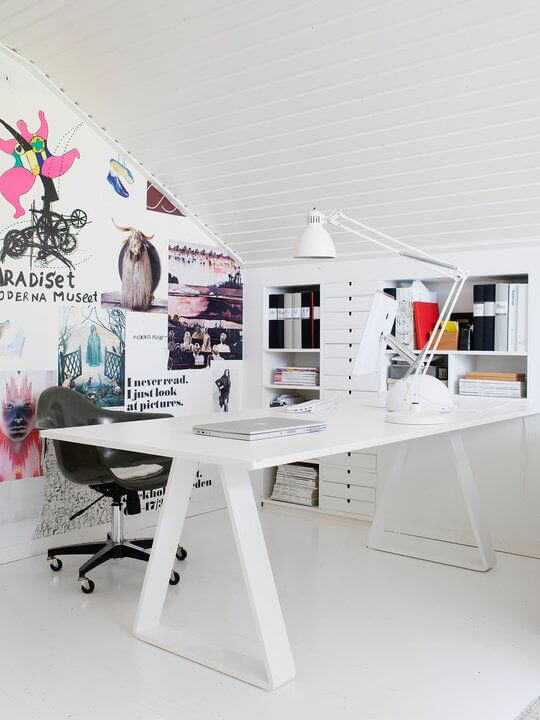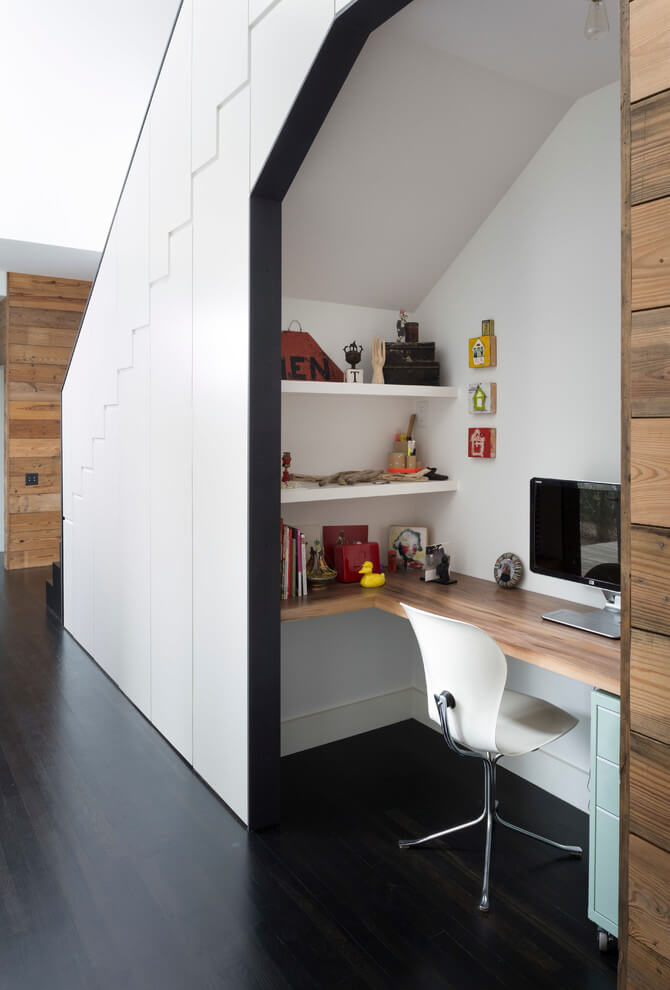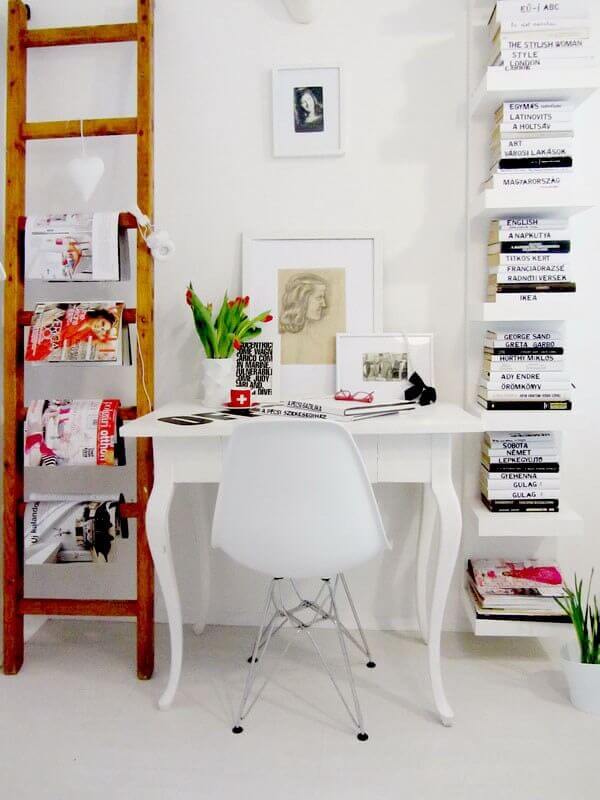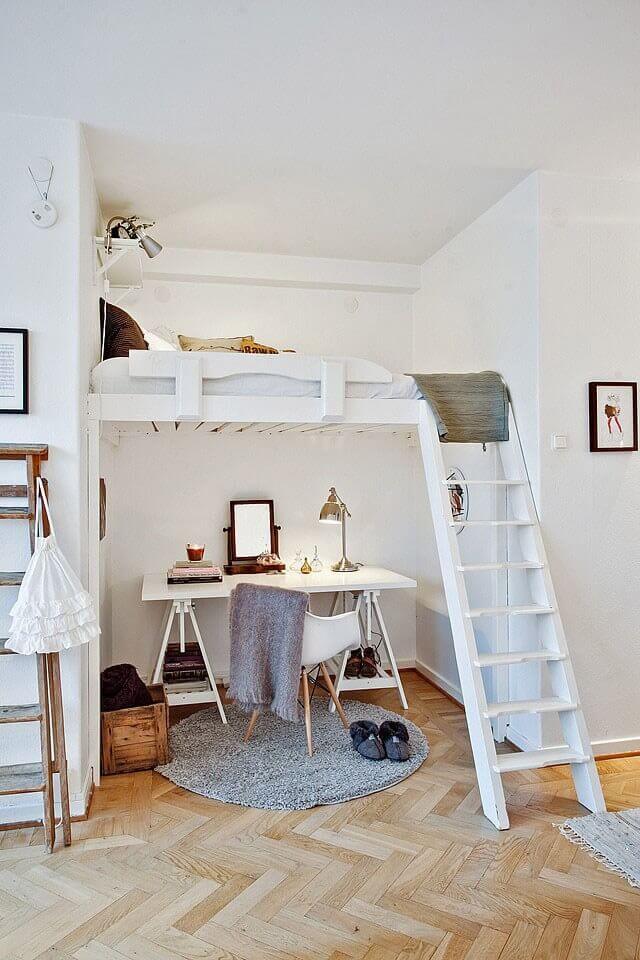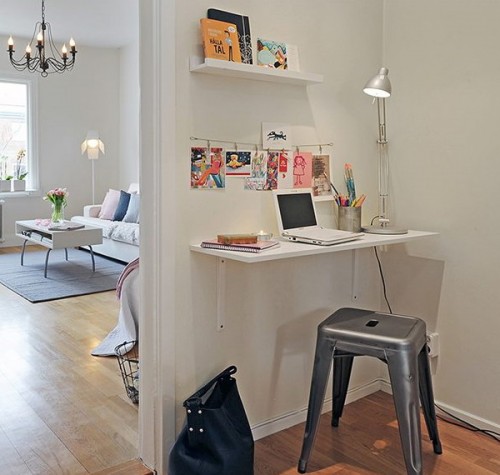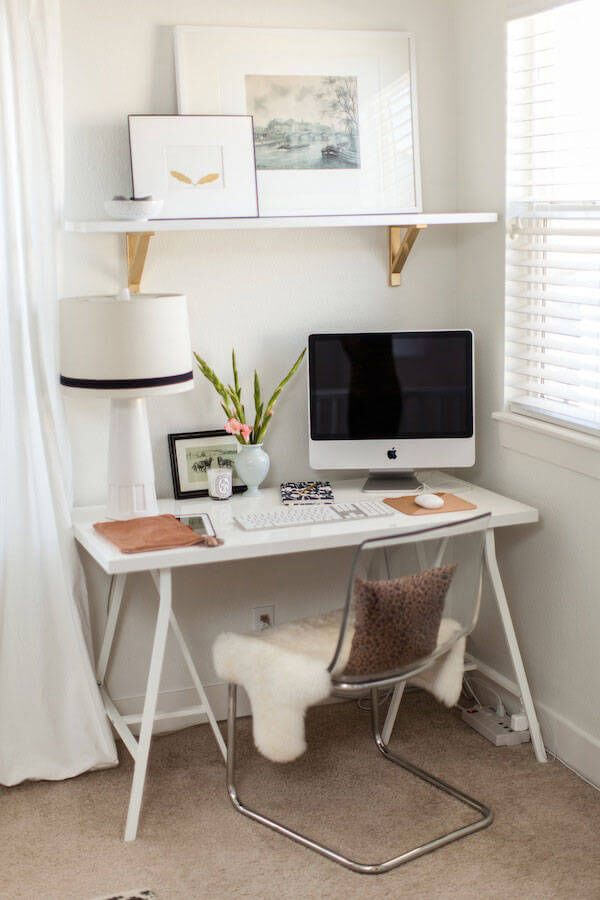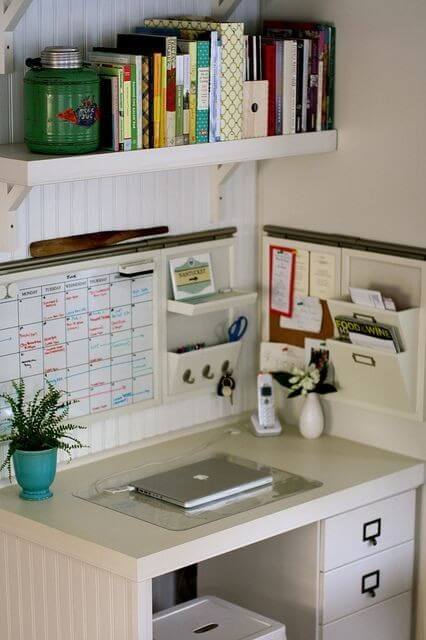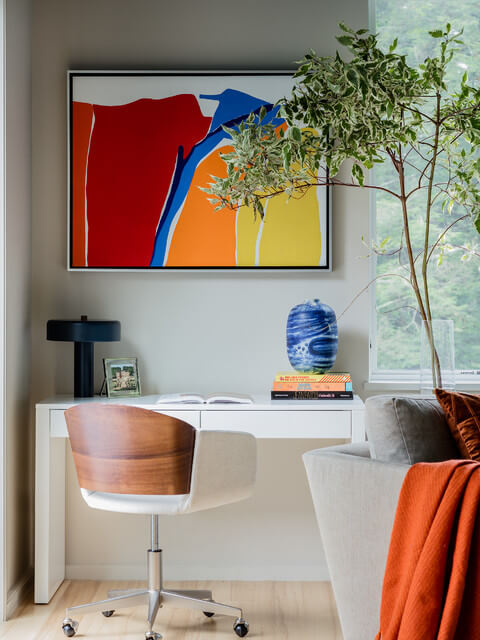 These small home office ideas create great working areas in limited spaces. Whether you love the masculine or feminine design, start from these ideas to get inspirations of how to build a home office.