A laundry room seems like a waste of space in a small house, but it's not true. Many small laundry room ideas maximize limited space to fit appliances and supplies. You must have enough space to load and unload the machines and store basic supplies. Corner room, smart storage, and vertical arrangements are popular space solutions.
You can also add personal elements to laundry rooms. Choosing your favorite colors or designs will make the room more comfortable. Here are 19 ideas you can consider.
1. Laundry Space with Wall Storage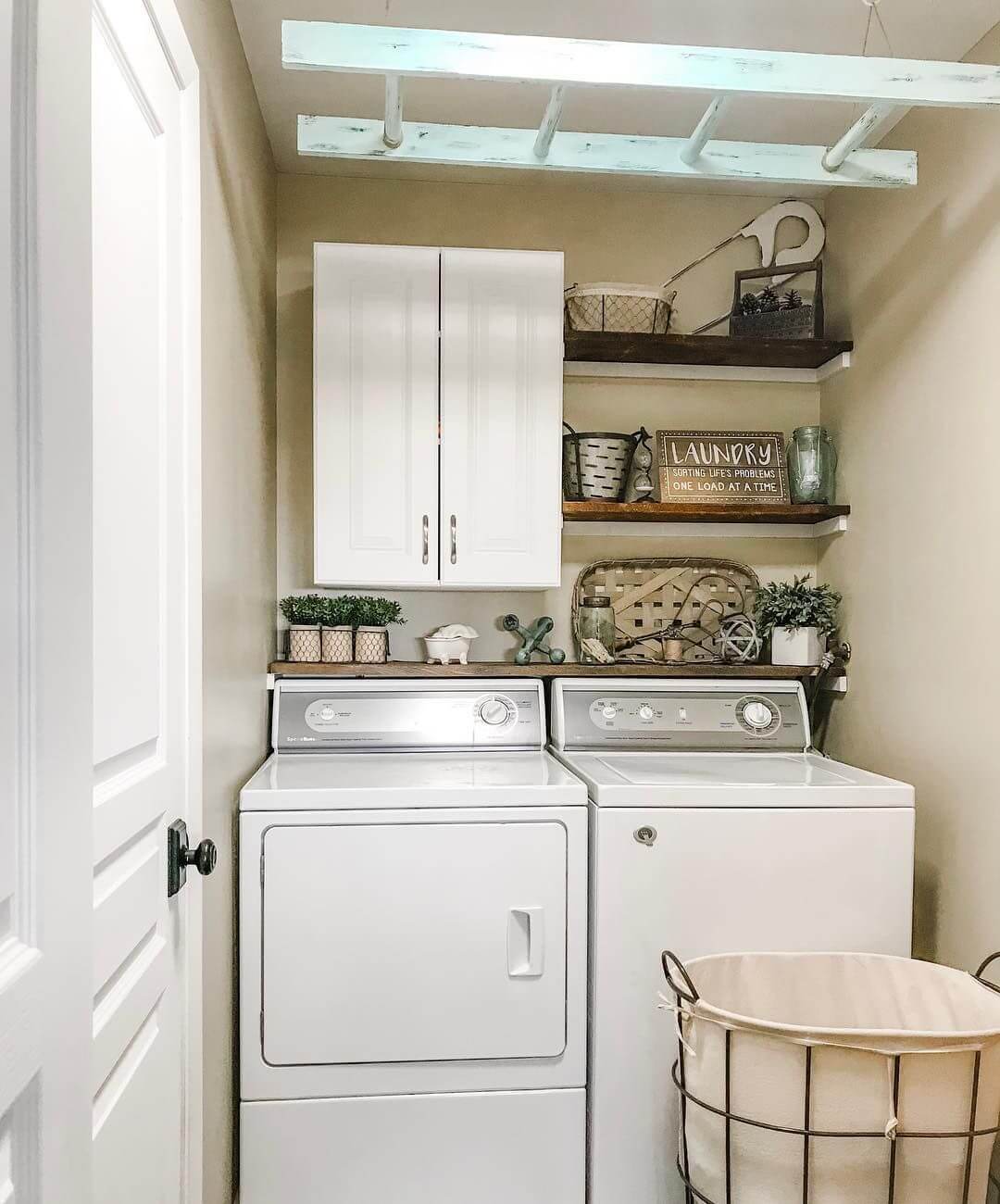 This small laundry space uses the walls as storage space. The washing and dryer machines were placed side by side. Above them are a cabinet and two floating shelves. A wooden panel was added on the machines to provide extra storage space. "Laundry rule" sign, small pots, and baskets create a cozy atmosphere.
2. Laundry Room Cabinet with Sliding Door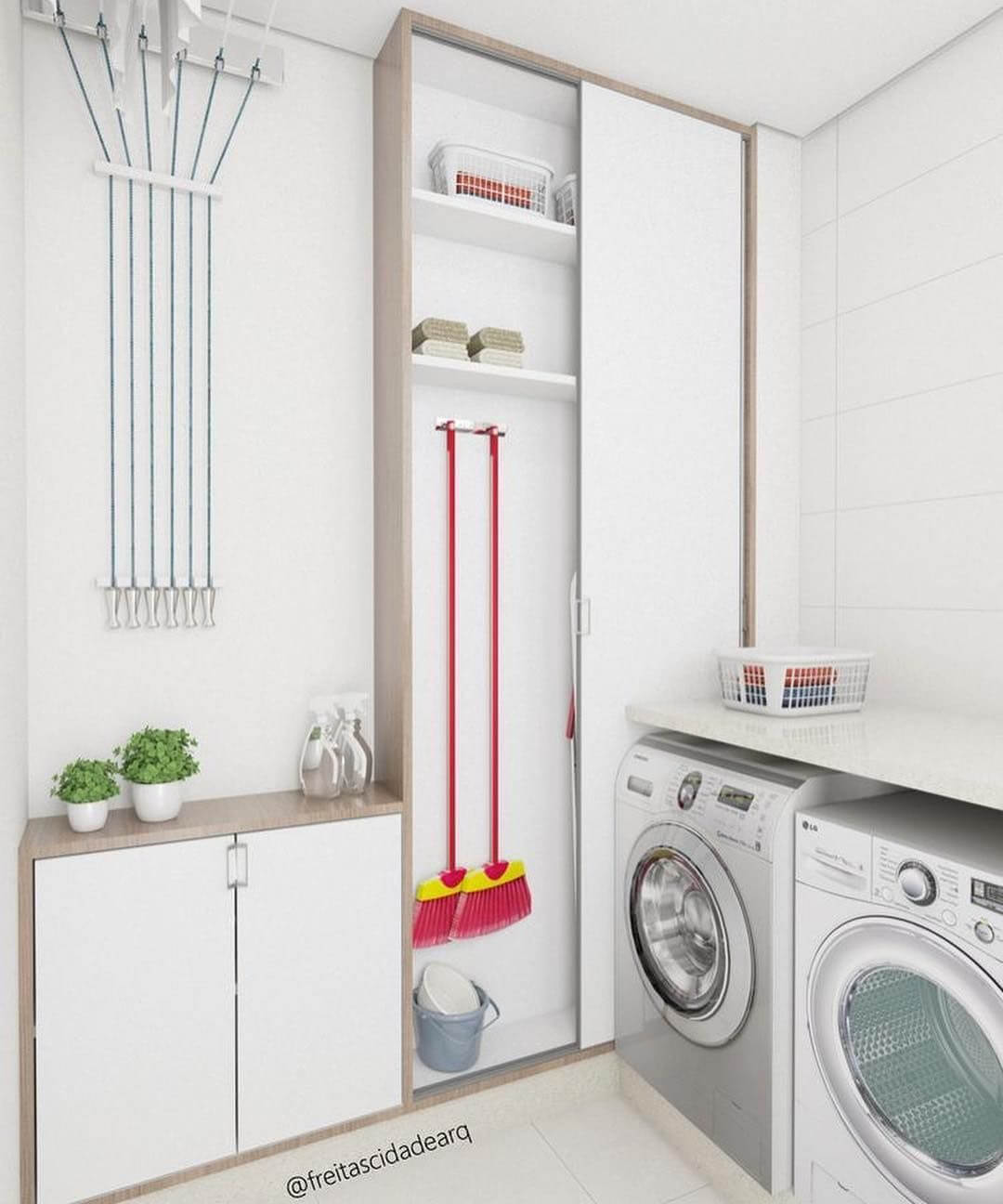 This laundry room has a cabinet with a sliding door, perfect for storing laundry supplies, brooms, and cleaning supplies. There is a smaller floor cabinet as additional storage space. A row of clothing lines can be dismantled and kept neatly when unused. A countertop panel increases storage space above the machines.
3. Laundry Room with Overhead Cabinet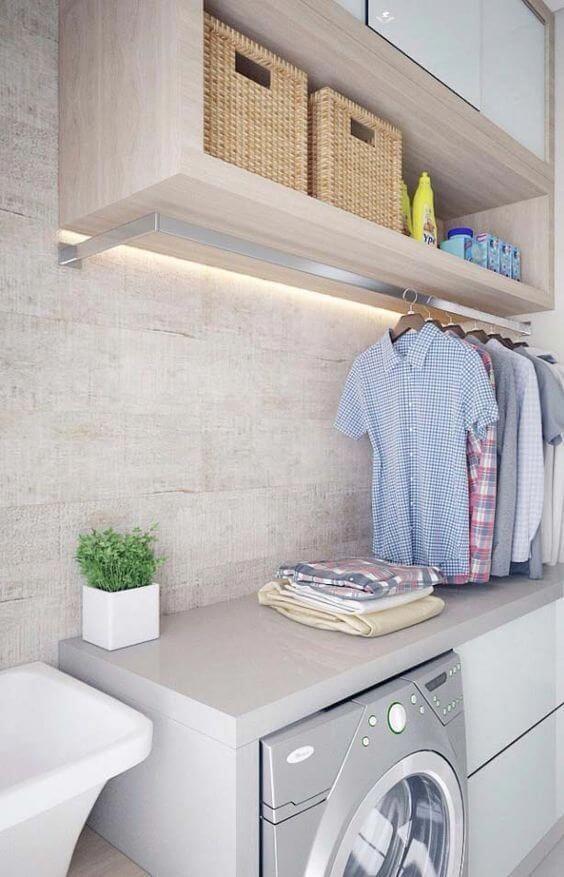 This laundry room has an overhead cabinet that frees up wall space. The bottom part of the cabinet has a metal bar to hang clothes. The cabinet has an open style, with two laundry baskets to store things more neatly. You can install a hidden lamp behind the cabinet to illuminate the workspace.
4. Laundry Space with White Cabinets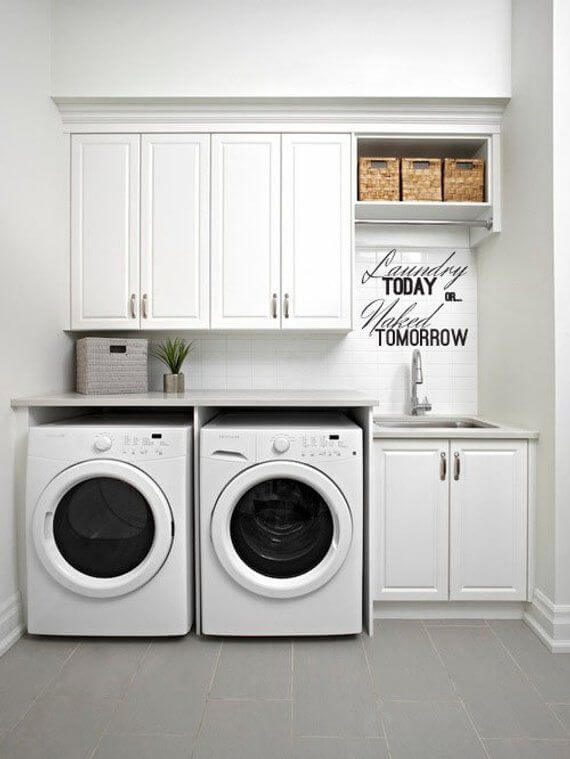 White cabinets are perfect for simple laundry space. In this laundry space, the floor and wall cabinets were installed strategically around the machines. The floor cabinet also accommodates a sink. The design is simple, except for a "laundry motivation" decal. A small basket and potted plant create a homey atmosphere.
5. Laundry Space in Bathroom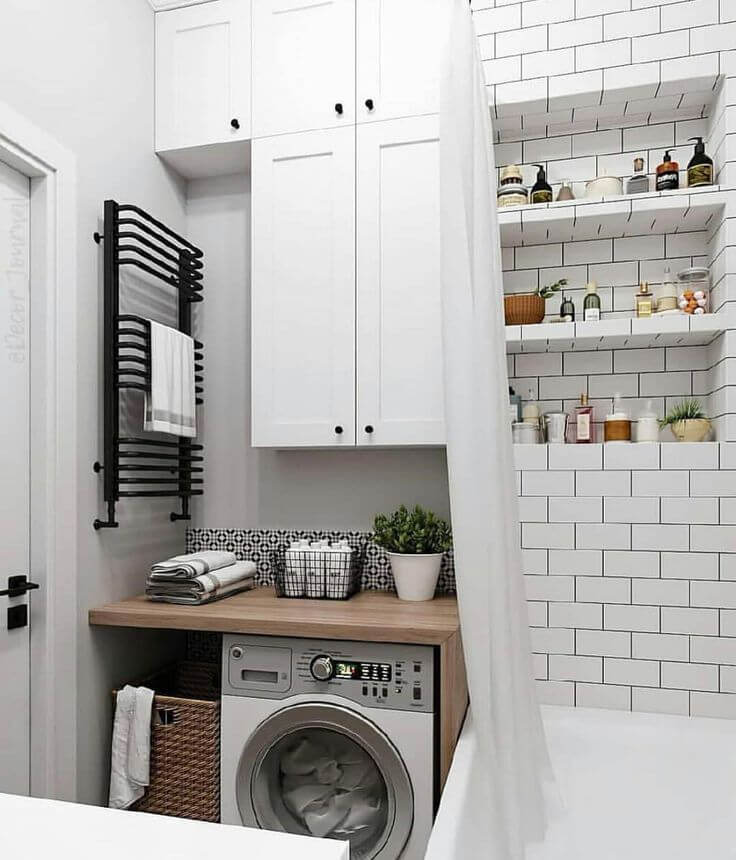 The space in your bathroom can be turned into a laundry space. This bathroom has a front-loading machine next to a bathtub. A countertop panel and wall cabinet were installed to create vertical storage space, perfect for the small room. The wall cabinet has an L shape to accommodate the awkward corner.
6. Vertical Laundry Machines and Storage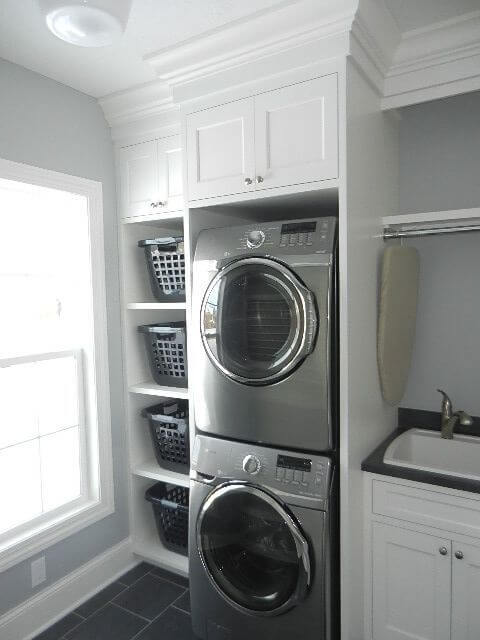 Vertical arrangement (stacked) is a common solution for a small space. This laundry room has a washing machine and dryer staked vertically under a wall cabinet. There is a column of laundry racks and countertop with sink on both sides, flanking the machines perfectly.
7. Laundry and Powder Room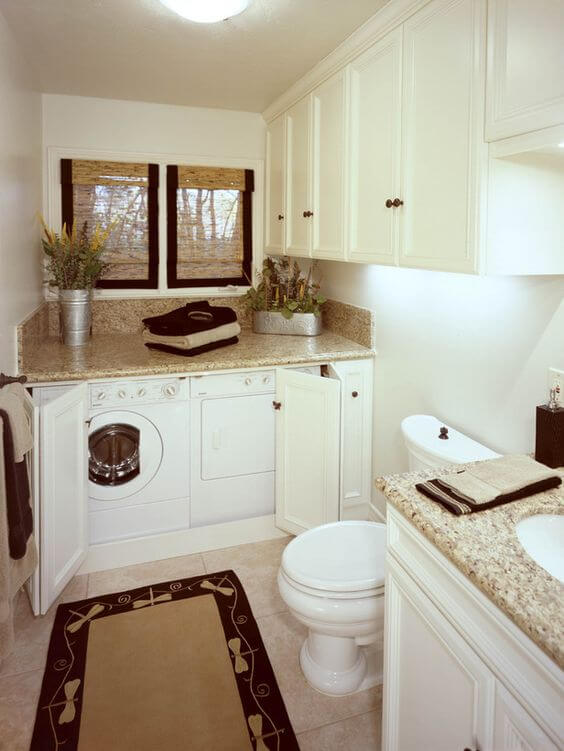 Your powder room has potentials to accommodate other functions, such as laundry. In this powder room, a floor cabinet hides a washing machine and dryer. The countertop has an extra surface to do various things. There is enough space between the sink and washing machine for a closet.
8. Laundry Space with Geometric Backsplash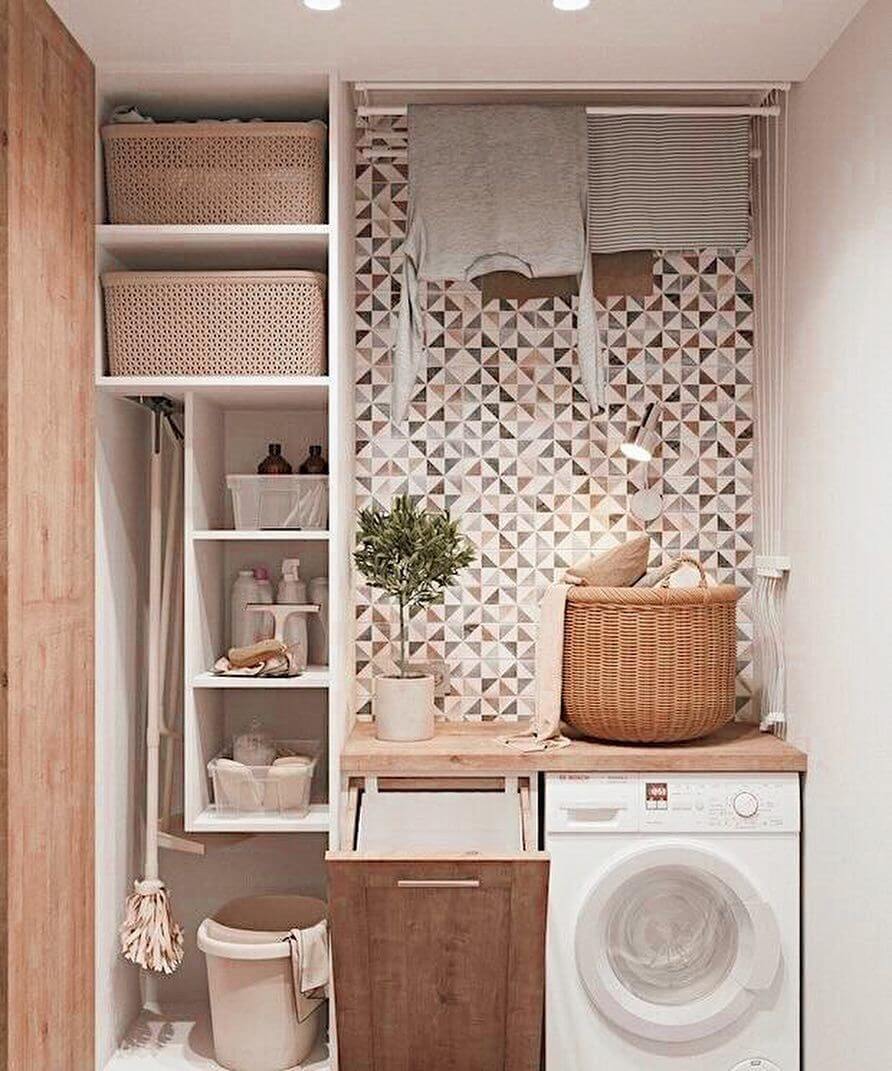 This laundry space only has room for a small washing machine. There are spaces for laundry supplies, bucket, mop, broom, and laundry baskets. A metal bar is attached above the washing machine. The geometric backsplash has earthy tones that match the other furniture items.
9. Vertical Laundry Baskets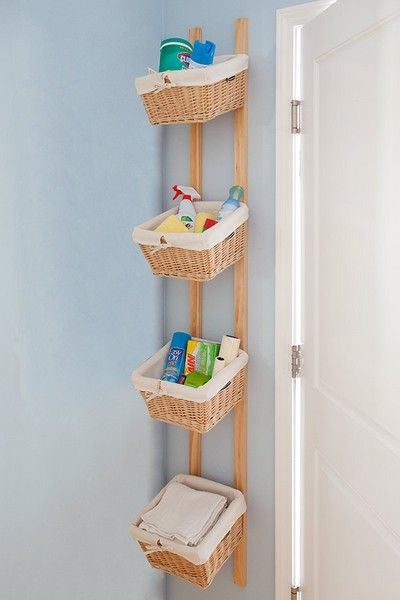 Hanging baskets in a vertical arrangement can help you saving space. These baskets were arranged in a vertical line using two wooden poles. The baskets were attached to the poles so that they can be more stable on the wall. You can use them to store small supplies.
10. Narrow Sliding Rack for Laundry Room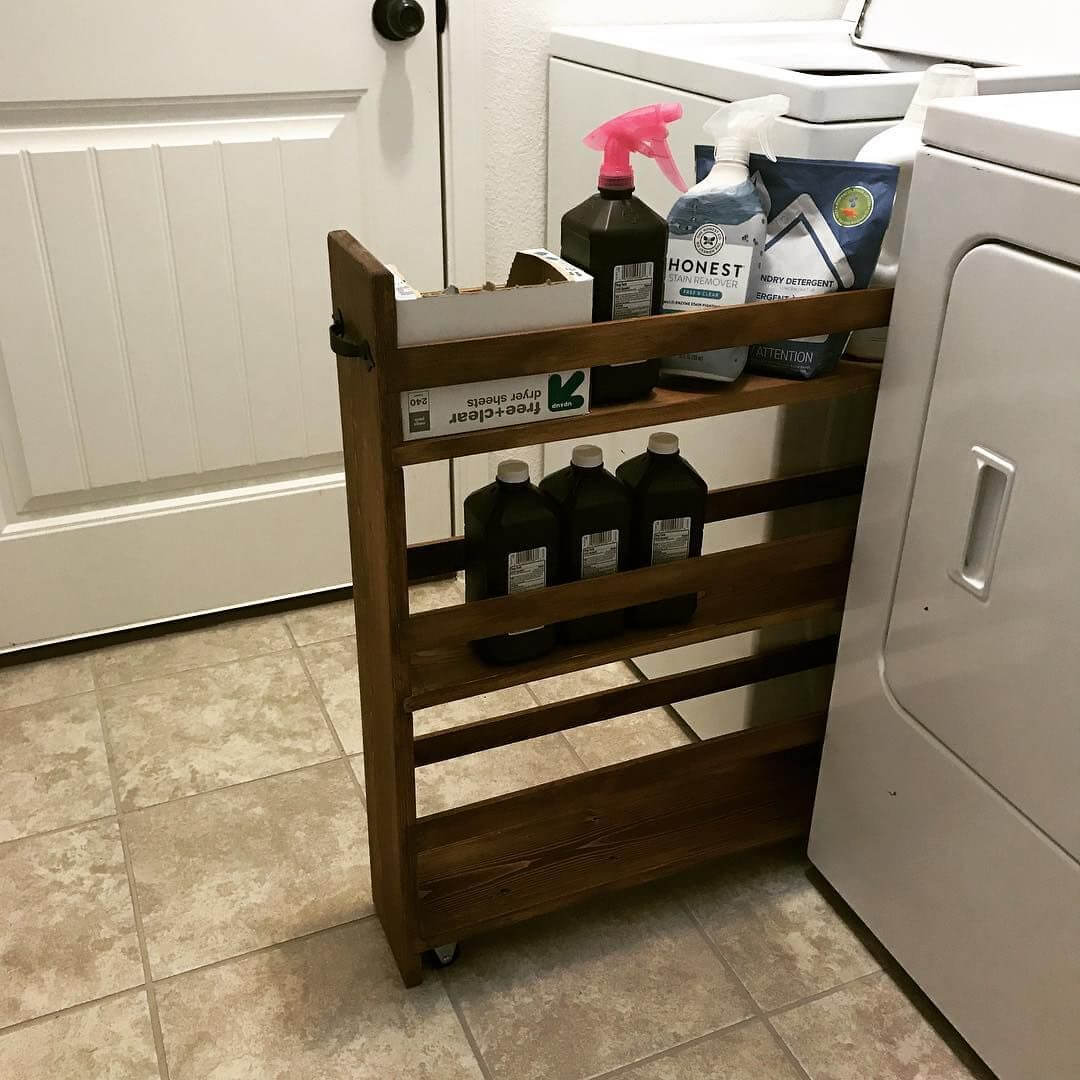 Have a space problem in the laundry room? Use a sliding rack to store the supplies. This rack was slipped between the washing machine and dryer. The front part has a handle, like what you will find on a regular drawer.
11. Lime Green Laundry and Ironing Room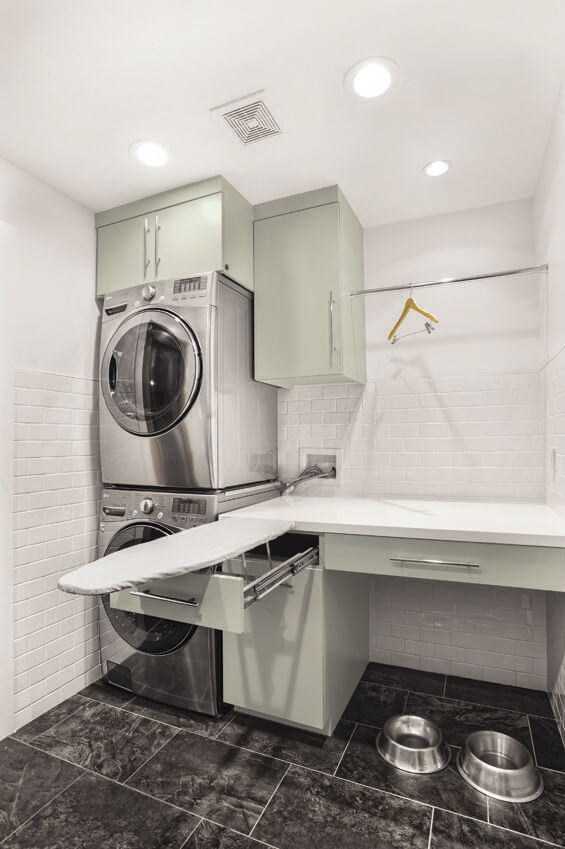 This laundry room has a beautiful lime green tone, which goes well with the stainless appliances. The cabinets were installed strategically around the machines, which were stacked vertically to save space. One side of the table has an ironing table, which can be folded when unused.
12. Overhead Drying Rack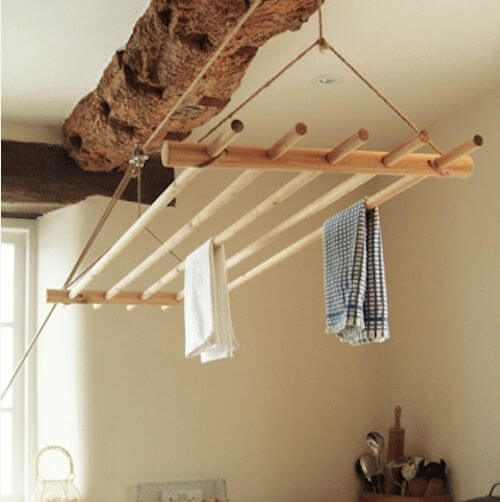 Overhead drying rack provides a lot of space to hand clothing items in a small space. This overhead rack consists of several wooden bars, serving as sturdy hangers. The rack was hung from the ceiling by strong ropes, which also create a rustic look.
13. Decorative Wall Shelves for Laundry Room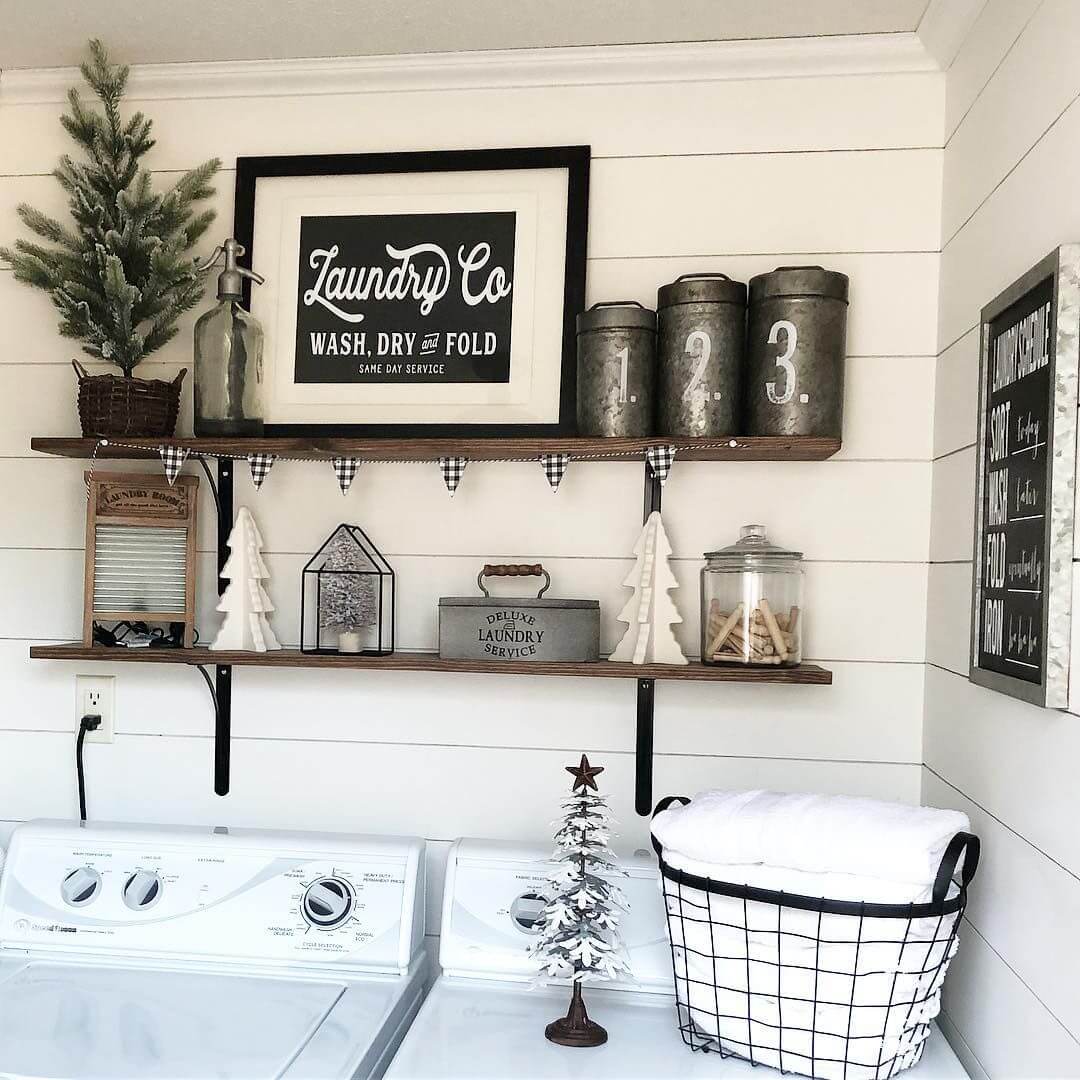 These shelves decorate a laundry room with unique containers, objects, and signs. Old-school washboard and iron add a vintage touch to a modern laundry machine set. A framed sign and message chalkboard emphasize the function of the room. The shelves consist of dark wooden panels, contrasting with the white wall.
14. Hidden Laundry Space in Bathroom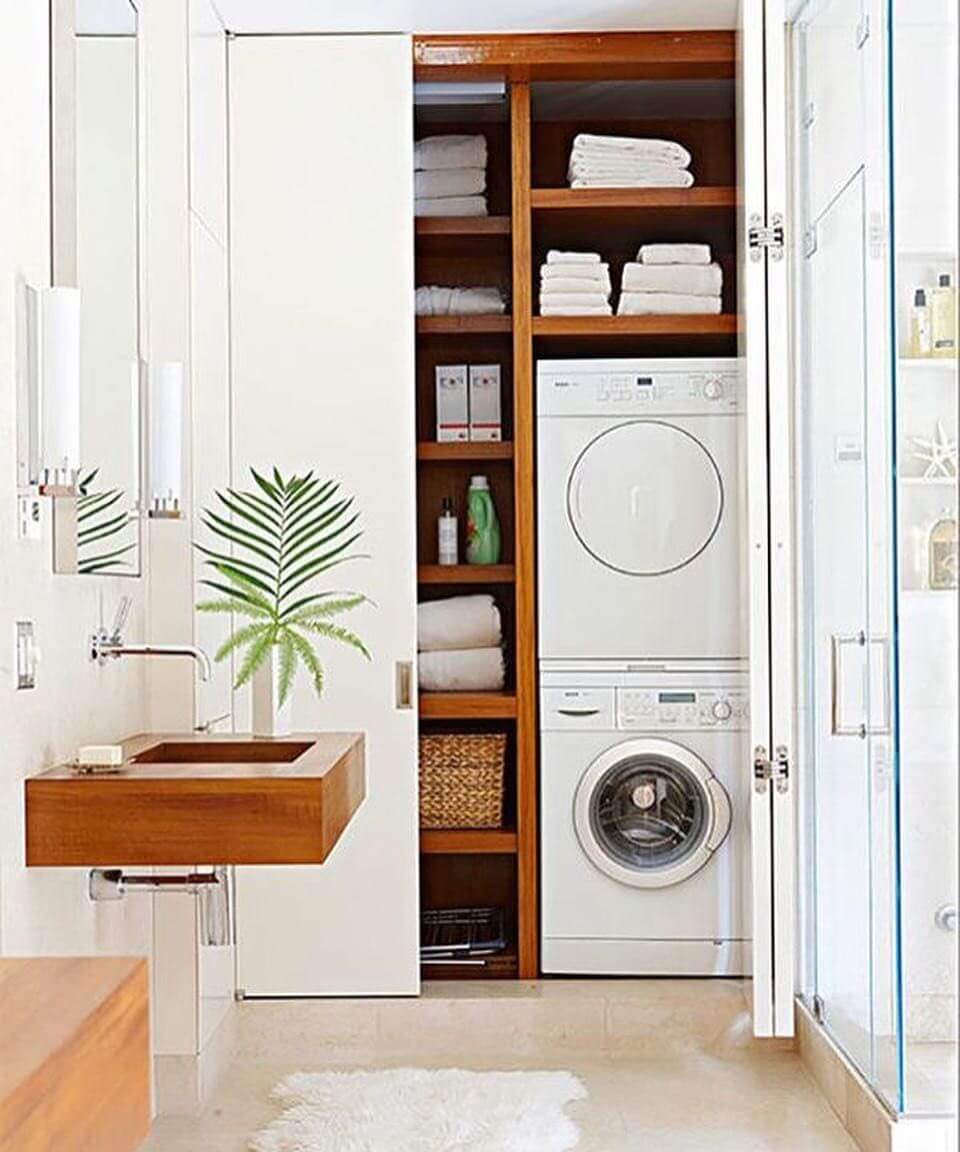 This laundry space uses the space between the powder room and bathroom. The machines were stacked and hidden behind a tall cabinet. The cabinet has a sliding door, perfect for a small space. Laundry and bathroom supplies occupy the space beside the machines.
15. Laundry Room with Bookshelf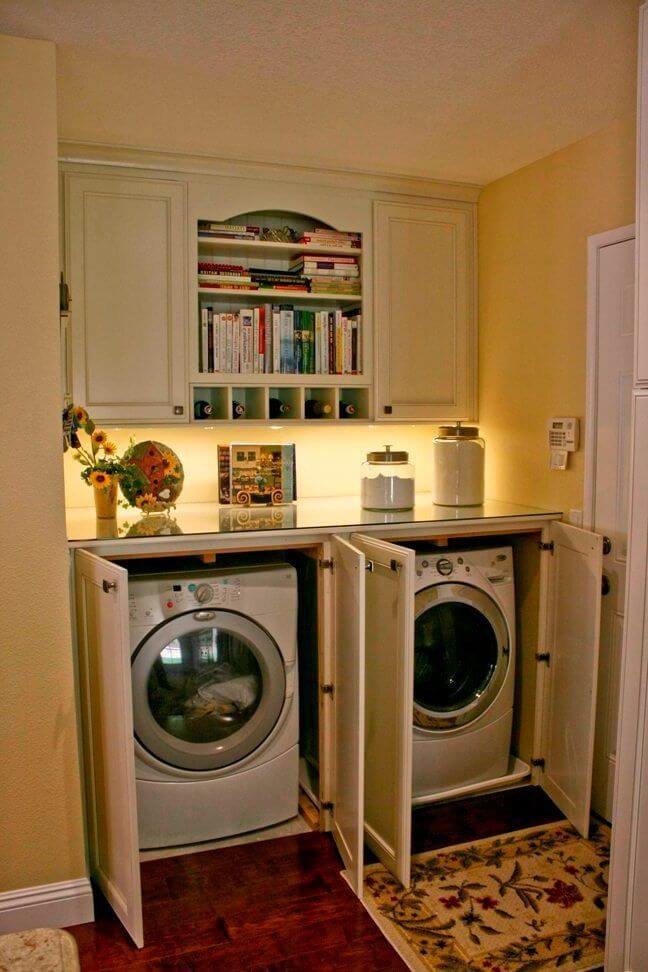 Waiting for the washing cycle to finish can be boring. This laundry room solves the problem by having a mini bookshelf. The book is located above the washing machine and dryer (kept in separated floor cabinets). The height is approachable, making it easier for you to grab a book.
16. Under the Stairs Laundry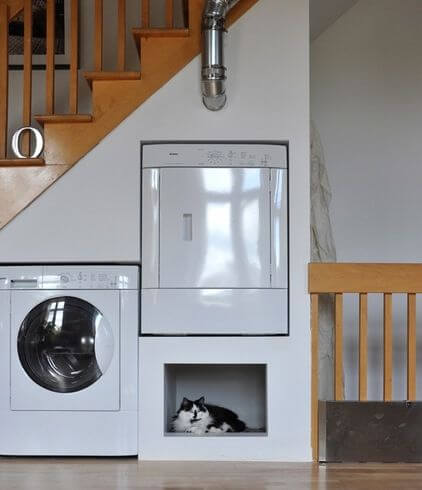 The space under the stairs is ideal for laundry. The washing machine and dryer were installed in the recessed wall spaces. The machines have sleek white designs, which complement the white wall under the stairs.
17. Compact Laundry Space with Handwashing Station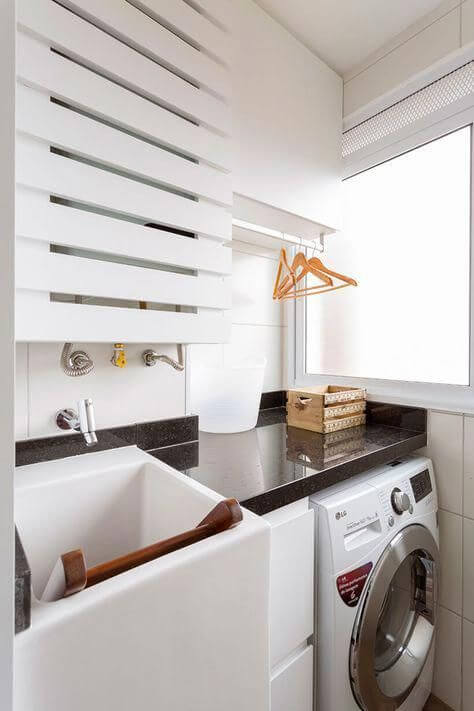 Some clothing items are better hand-washed. This compact laundry space has a handwashing station next to the machine. A large washboard was installed to make washing easier. The top parts of the working space have a cabinet and hanging bar.
18. Under-the-counter Ironing Board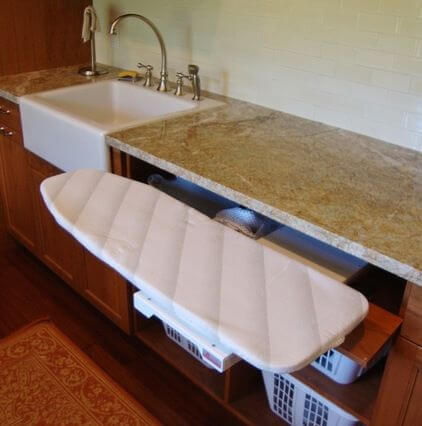 This ironing board was installed under the laundry room counter. The board can be retracted when unused, saving the working space. There are a sink and several laundry baskets around it for more practical working space.
19. Blue Laundry Corner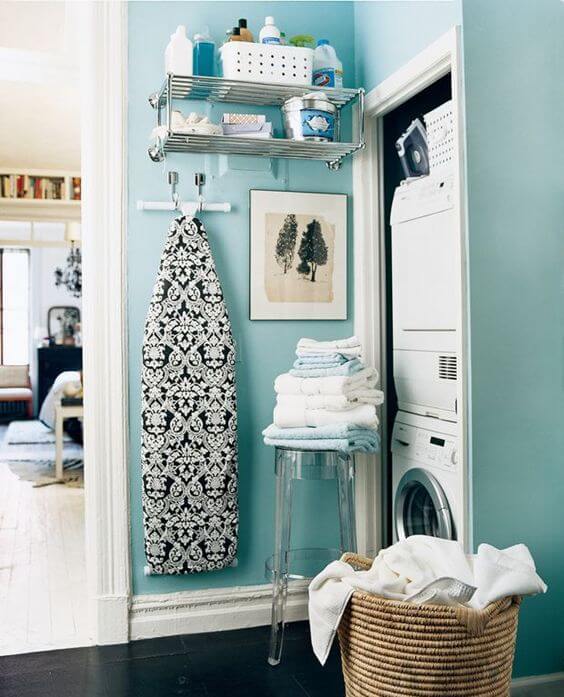 This blue corner wall accommodates a washing machine, dryer, towel station, and laundry basket. Metal wall racks add storage space. A foldable ironing board is hung next to the rack. The blue color makes this laundry space less boring.
20.

The Slanted Storage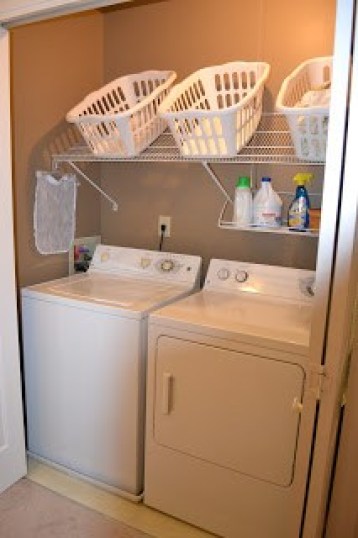 You can easily have a space for your laundry baskets. They will be easily stored and easily accessible as well.
21. Organized Laundry Room Storages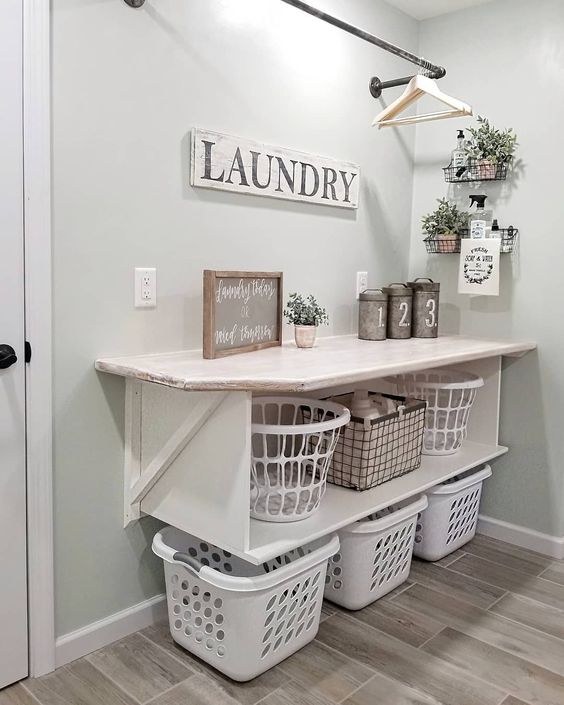 You can use an unused corner of your room to place plastic baskets for storing clothes and other laundry needs. And for a more efficient look, you can add a u-shape pipe to hang clothes at the top.
***
These 20 small laundry room ideas add functionality to your home. Get comfortable when washing clothes with one of these practical spaces.