It is no secret that gray bathroom ideas are no longer neglected nowadays. This is because gray has become one of the most favorable color options for bathroom with a variety of ways on how to apply it.
Gray may not have the most attention-grabbing shades out there, but this color is not boring at all. You can create a classic interior look with a gray color shade or a more modern one by combining it with other colors.
From light marble to dark slate and everything in between, there is always a perfect choice to make your bathroom stylish with gray color shades. However, if you want to apply gray shades in your bathroom but do not know how, read on to find some appropriate inspirations to get the job done.
35+ Ideas for Beautiful Gray Bathrooms
1. Stunning Small Gray Bathroom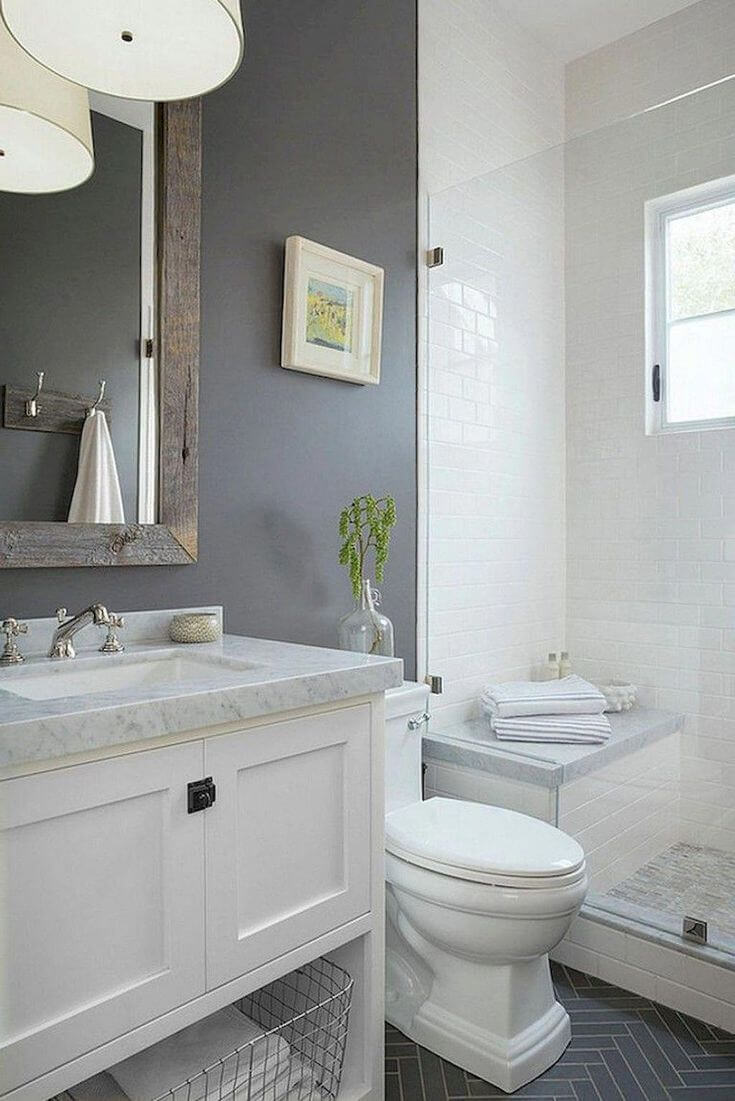 The lighter shades of gray are a staple for small bathrooms. You can combine a light shade of gray and a darker one like shown above to achieve a gorgeous tiny bathroom.
Hints:
Use glass shower screen. This kind of screen works well in small bathrooms since it will not block any lights that make your space feels cramped.
Let the natural light come in by incorporating some windows and add a mirror to reflect it.
2. Grand Gray Wallpaper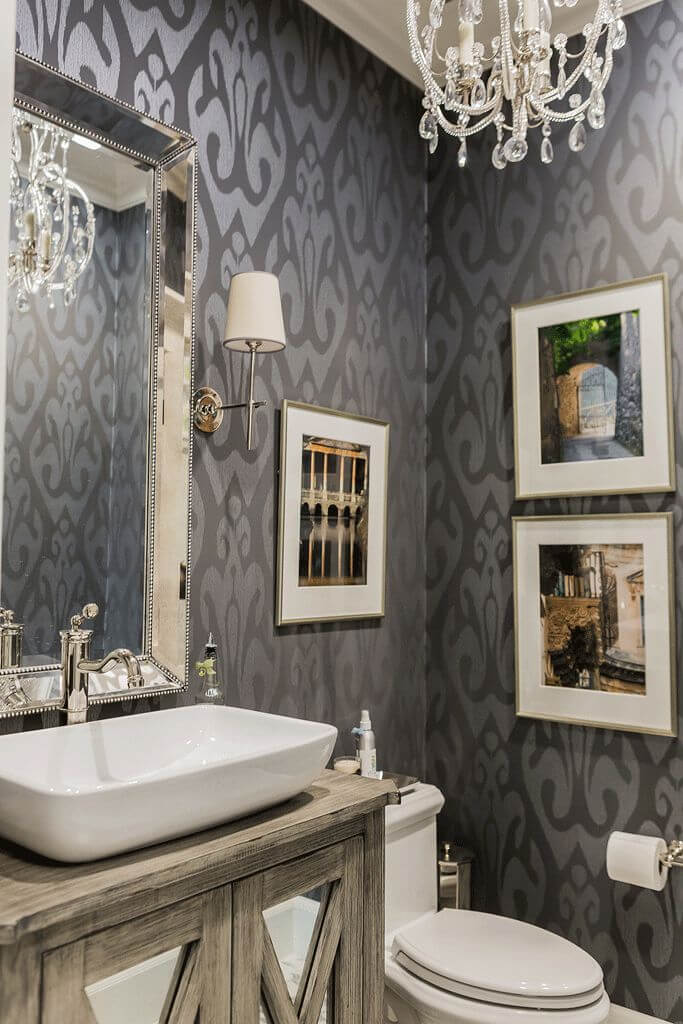 A combination of chic gray wallpaper and some wall arts in this bathroom will make your guests amazed. Do not forget the grand chandelier that draws your attention away from how small this bathroom is.
To add another touch of luxury, a mirror with reflective frames is fitted in here. The mirror will not only work to make your bathroom looks even more splendid but also helps it to feel more spacious.
3. Gray Bathroom with Simple Curtain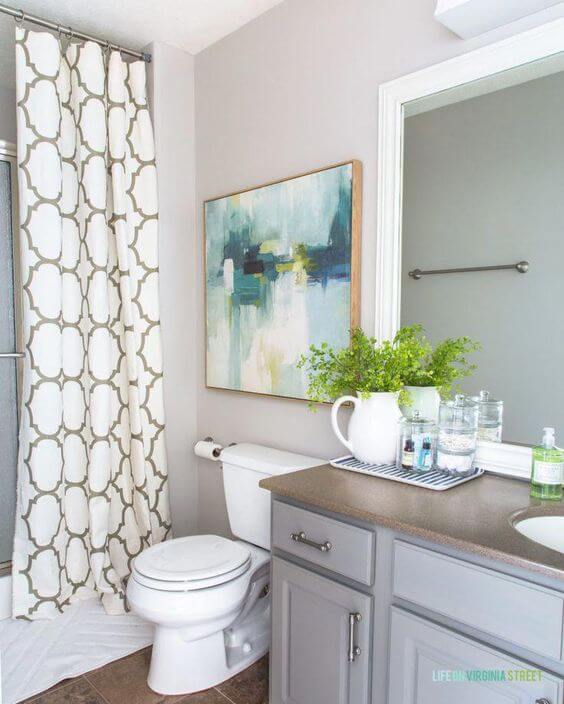 Incorporate pattern to your gray bathroom ideas by using a simple curtain like this. Along with the abstract picture hanging above the toilet, this curtain just boosts up the sweetness and fascinating flair of this bathroom.
To make the pale gray color scheme in this bathroom gets more exciting, a vase of greeneries is put on the vanity tops. You can choose any type of indoor greeneries or plants to achieve this interesting look.
4. Gray Bathroom Vanity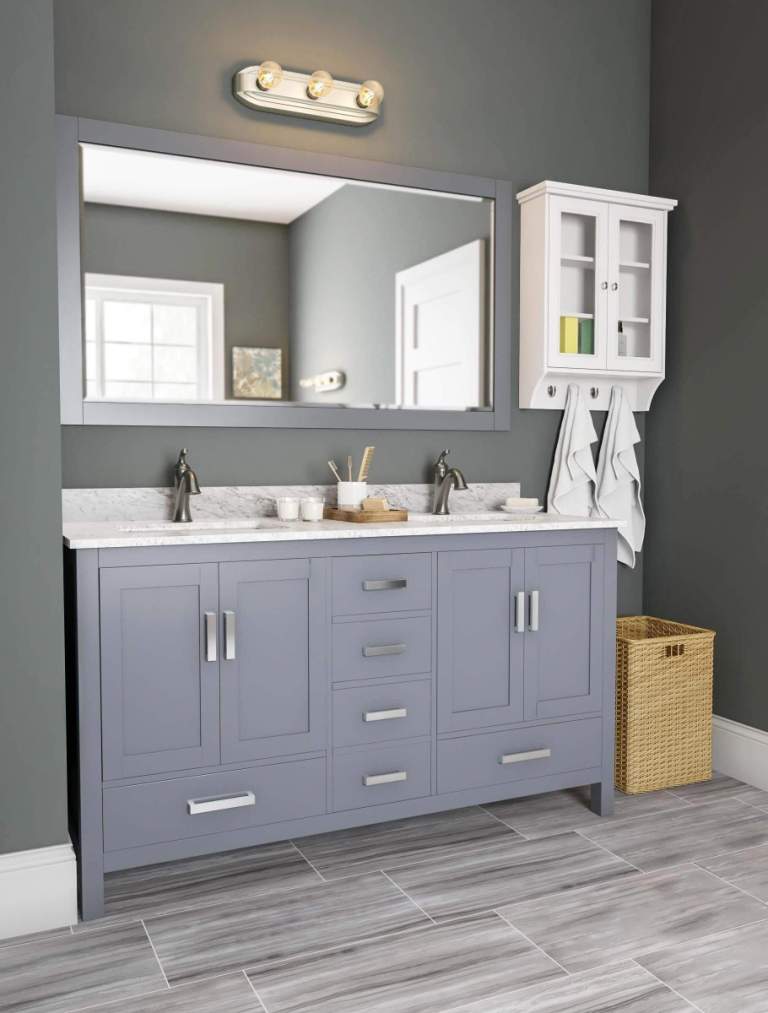 The dark gray walls in this bathroom are paired with light gray bathroom cabinets to achieve a more interesting look. The distressed floors make this room even more attractive without disturbing the other elements.
Hints:
Couple a double vanity with a single large mirror for a more unified look. A large mirror can create a single focus in your bathroom as well.
If you share the bathroom with others, get a floating cabinet to provide more storage for extra shampoos and soaps.
Related: 20 Best Bathroom Vanity Ideas
5. Gray Bathroom with Patterned Flooring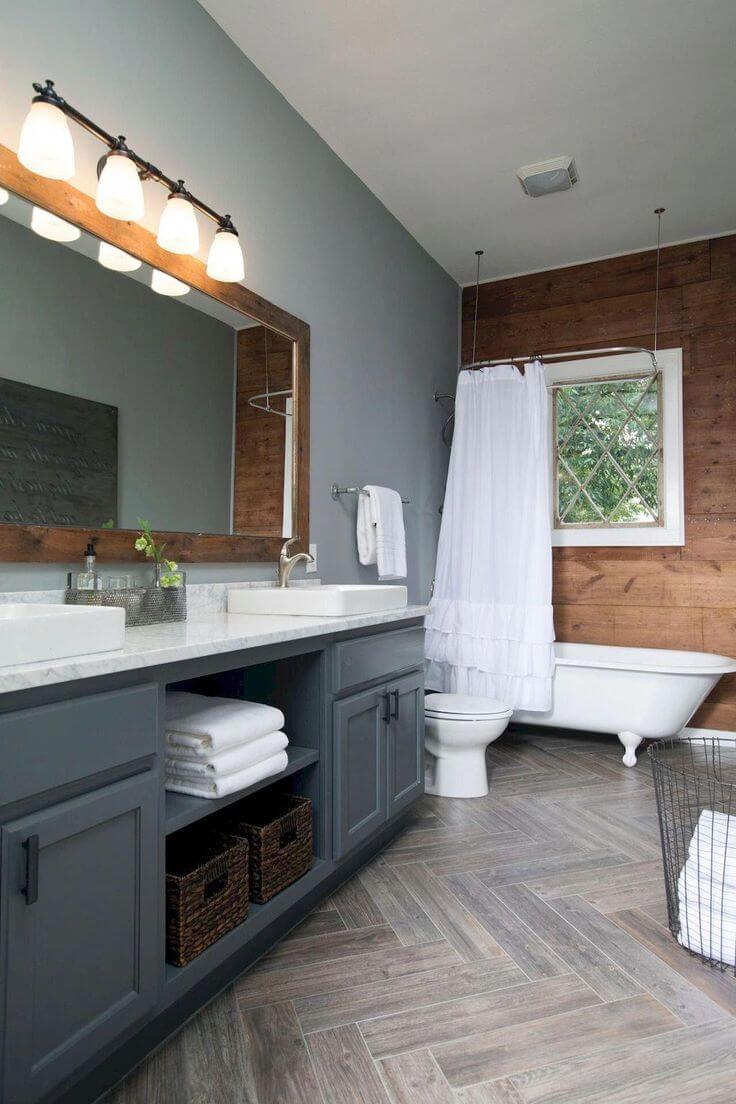 The wooden flooring in this gray bathroom is in herringbone patterns, adding style to the entire interior.
We cannot deny that a wooden floor is great for any gray bathroom ideas. However, sometimes you need to remember that this material might not be the best for bathroom circumstances.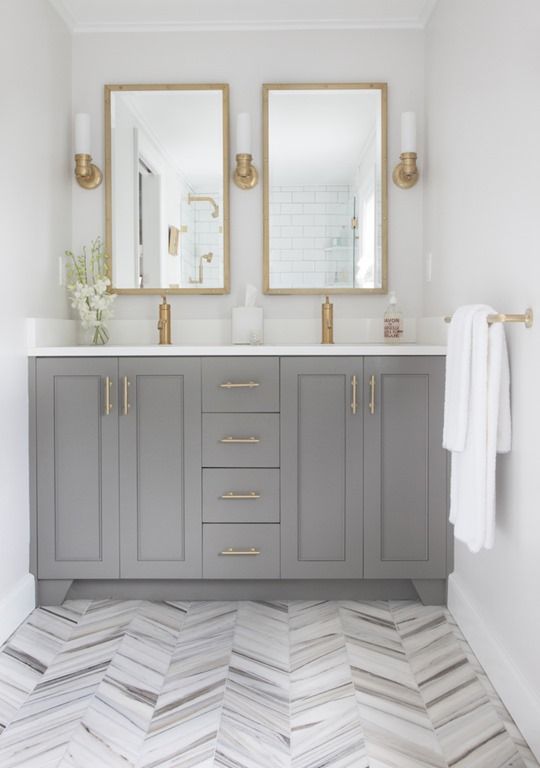 Therefore, if you want to get a wooden-finished flooring but are concern with its durability, consider using wood-like tiles for your bathroom.
6. Shiplap Bathroom with Sweet Flair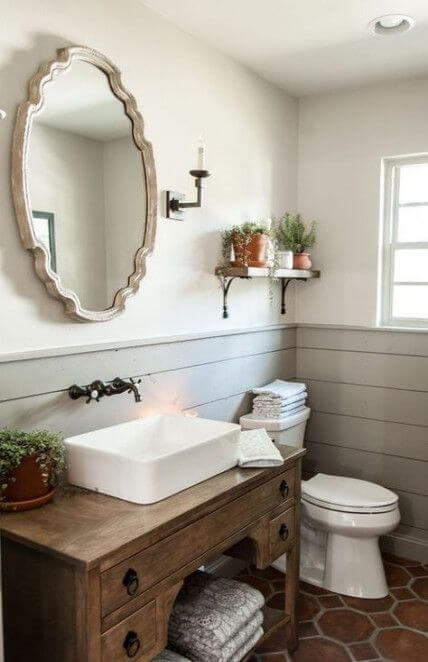 Add a touch of rustic character to your bathroom with shiplap walls. Shiplap boards are super easy to install, yet they can boost your bathroom's style instantly. Just make sure that your bathroom is properly vented to keep the worry of humidity and moisture away.
To create such a sweet color scheme, paint your shiplap boards in light gray and use pastel colors for other elements as shown above. Bring in some indoor plants as well to liven up your bathroom.
7. Modern Farmhouse Bathroom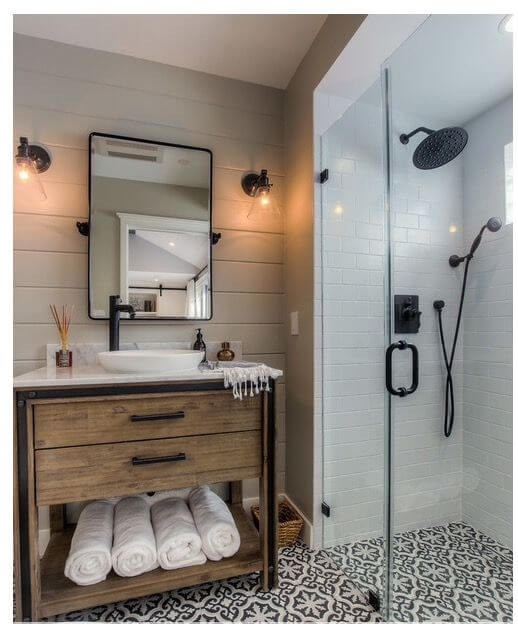 Who will not love this modern farmhouse bathroom? From the gray walls to the patterned floors, everything is lovely. Not to mention the wooden vanity that completes the interior very well.
Not only add beauty to the room, but the vanity also provides you with some storage space. Thus, you could store extra towels and other bathroom essentials easily. A pair of sconces are installed beside the mirror to give a warm, inviting atmosphere to this room.
8. Gray Bathroom with Rustic Affair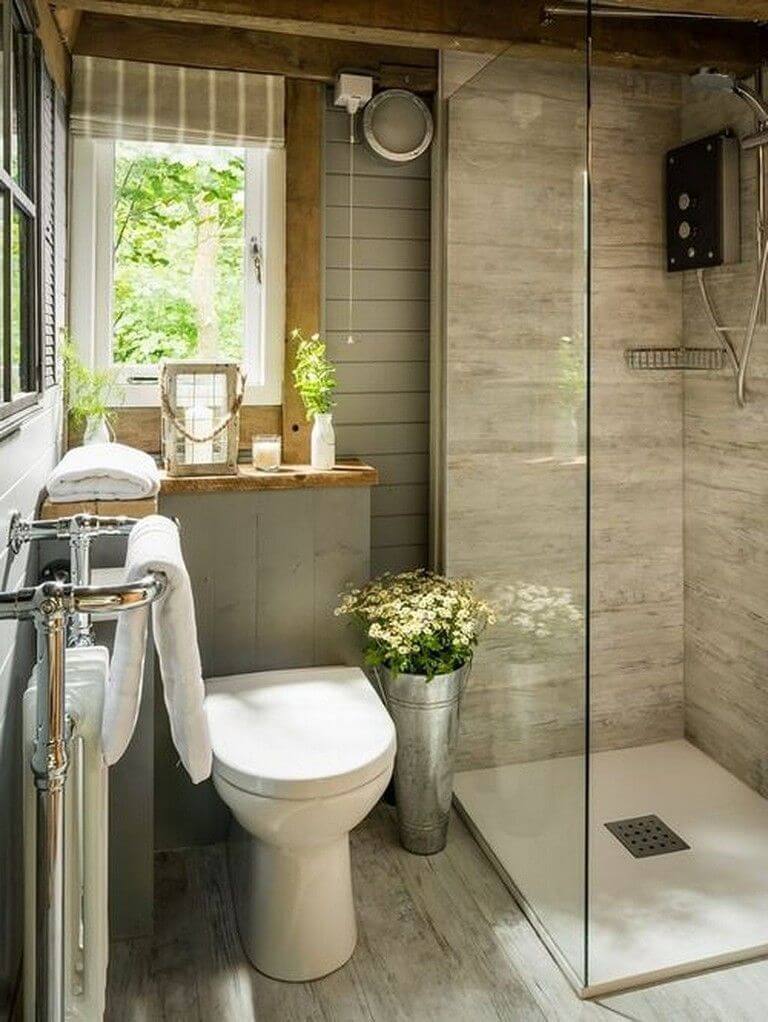 This small bathroom does not seem cramped thanks to its bright color scheme and the natural light from the window. Adding a touch of rustic character is the accent walls in the shower area and the whitewashed wood flooring.
Hints:
Use glass shower screen to separate the toilet and shower area. It will keep the splash without making your small bathroom feel overcrowded.
Enliven the bathroom with some vases of flowers. Remember to take a higher vase if you want to put it on the floor.
Try To Combine Gray And Beautiful Colors
9. White and Gray Bathroom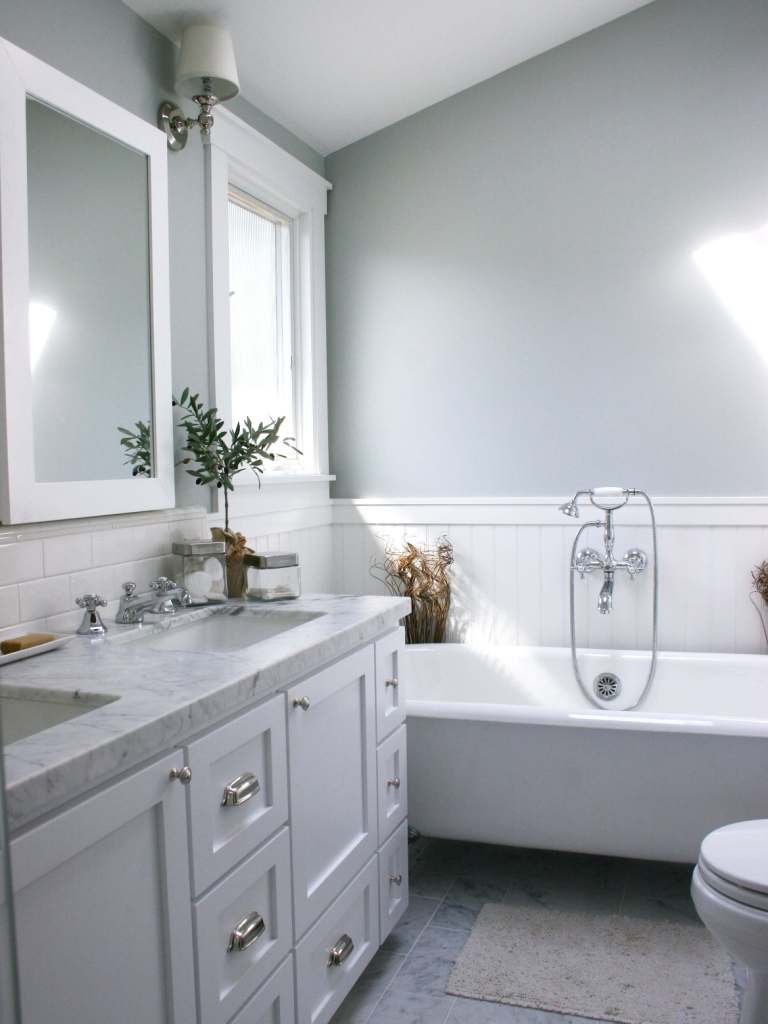 If you think that all-white bathroom would be boring, combine it with the lightest shade of grey as shown above. This color combination is perfect to create a modern look in your bathroom. For some twists, simply add an indoor plant or two in your decoration.
This white and gray bathroom idea is ideal for those of you who have a tiny space as well. The bright color scheme will make your tiny bathroom feel more spacious.
10. Gray and Blue Bathroom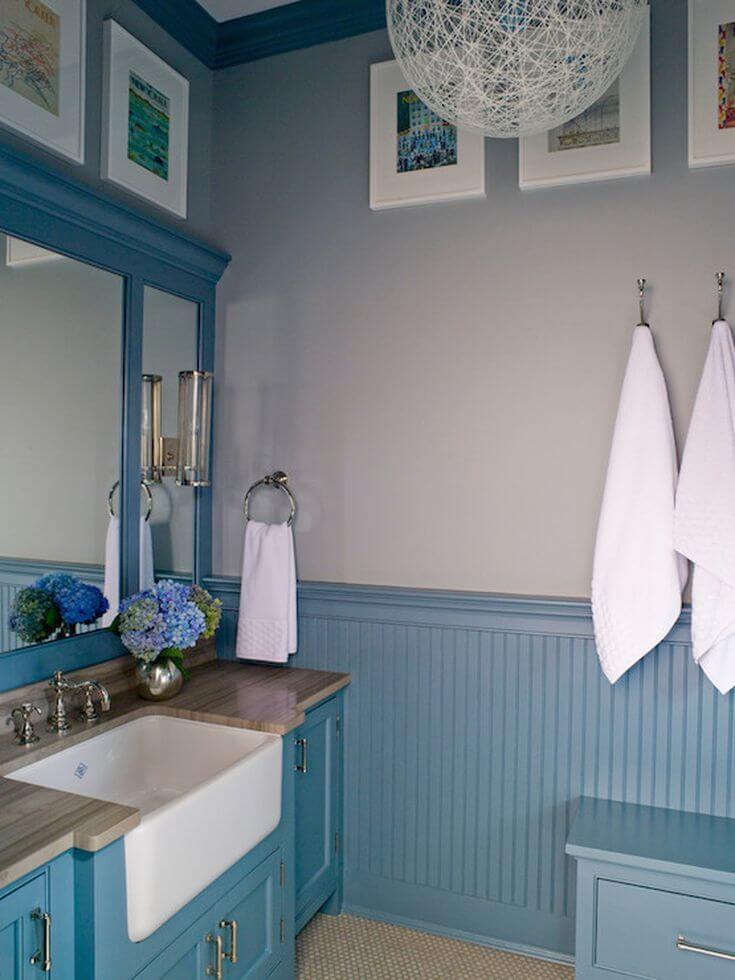 A quick and simple way to incorporate gray in your bathroom is by painting the walls in this color. Its neutral trait makes it easy to combine gray with other colors. For a beach-like finish, go for a blue and gray bathroom.
Similar to this bathroom, you can apply blue all over the elements but the walls. Then, incorporate white as a balance through the sink, hand towels, and picture frame. For a more touch of the beach, opt for a vanity with a whitewashed oak top.
11. Gray and Silver Bathroom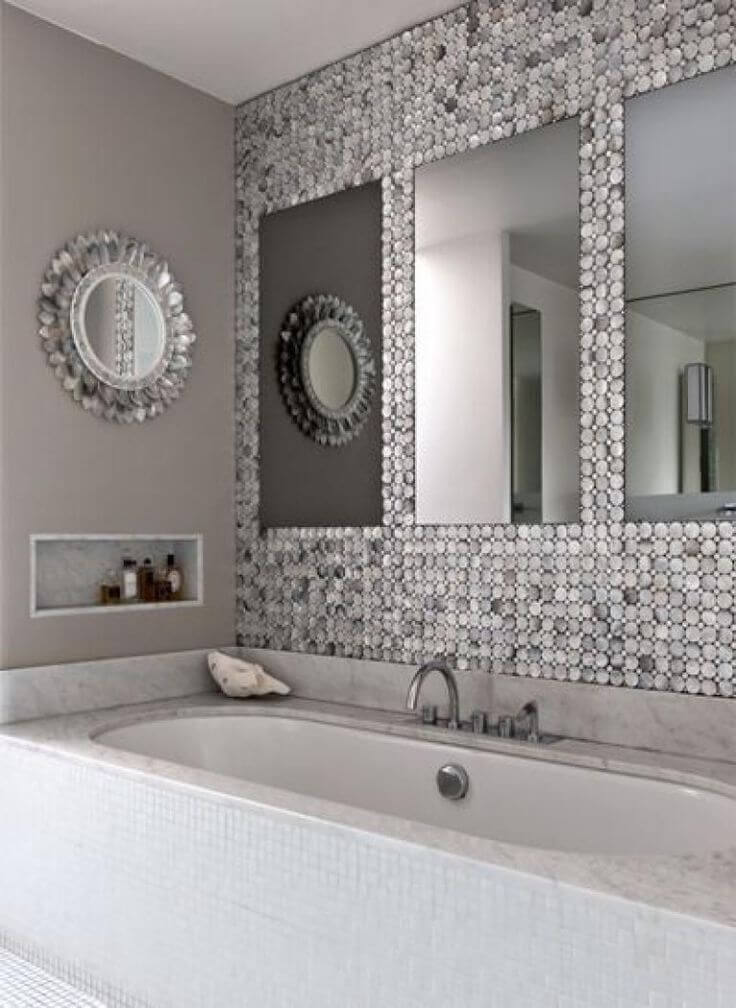 Instead of using plain white fittings and fixtures primarily to accompany your gray bathroom, consider going for silver for a classier look.
The introduction of silver tiles with unique patterns in this bathroom may inspire you the most. They make the entire space look classier and more luxurious. The decorative round mirror completes the interior very well.
In-wall storage is created over the bathtub for storing shampoo and soap bottles, making it easier for you to reach it.
12. Navy and Gray Bathroom
This is another one of the best gray bathroom ideas, especially if you are worried about choosing gray as the dominant color in your bathroom. You can go for less 'in-your-face' techniques by introducing gray towels and accessories.
For an interesting contrast, this bathroom has a navy blue shiplap wall as an accent. Meanwhile, the other elements are in white to keep the balance. The gold fittings and fixtures complete the decoration perfectly.
13. Gray and Green Bathroom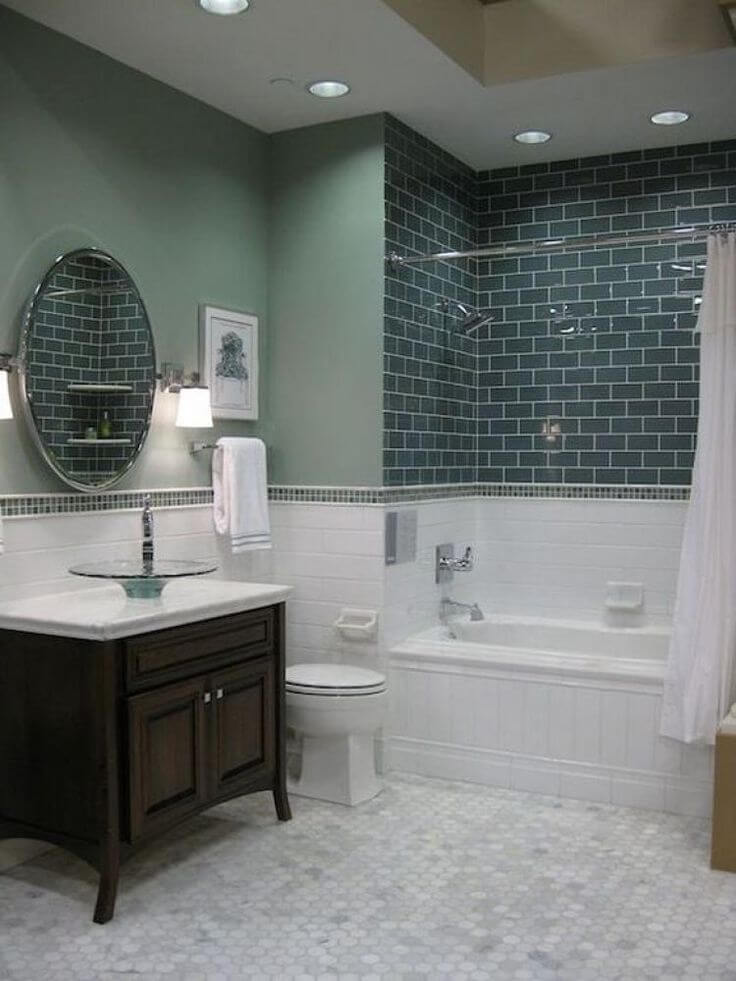 Dark gray tones are often associated with a comforting ambiance. For this reason, this shade is ideal for a bathroom that may become the first place you visit after doing various activities throughout the day.
This bathroom makes a perfect example of a soothing space with a combination of dark gray and green shades. The dark gray tiles are arranged with white grout, creating a pattern that makes the wall looks more interesting.
14. Gray and Black Bathroom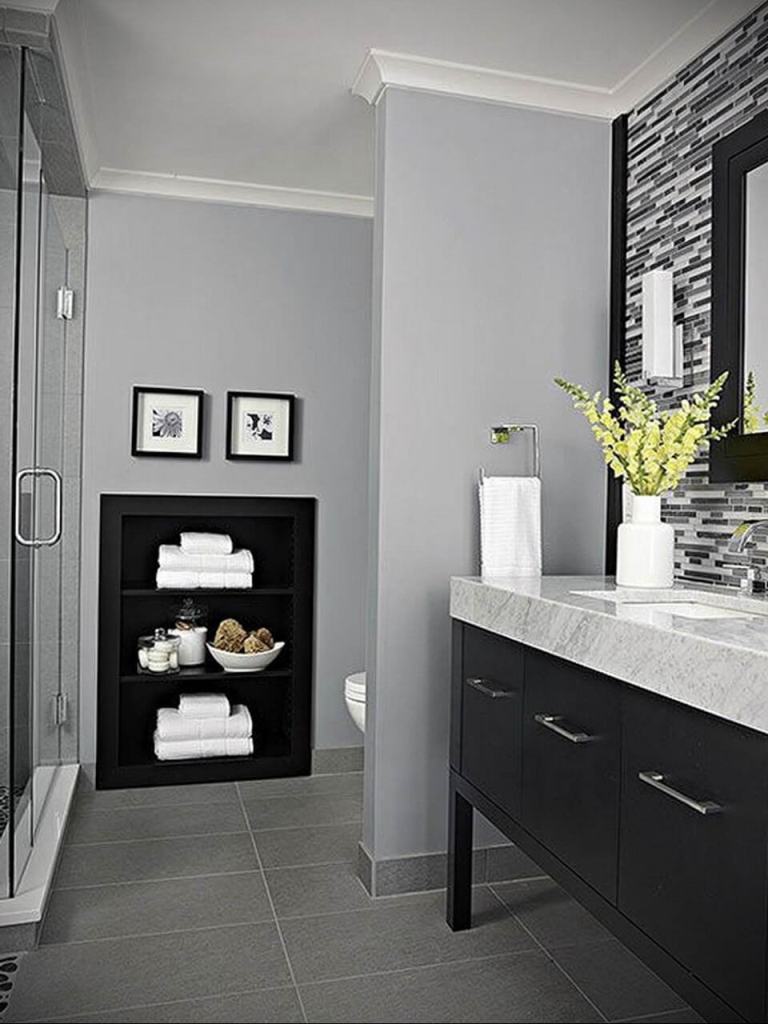 The safest method to include gray into your bathroom color scheme is by combining it with black. Just like this bathroom that looks very elegant with gray walls and black vanities. The storage cabinet is also in black to complete the look.
Patterned tiles in a combination of black, white, and gray are applied on the wall behind the vanity to offer an interesting twist among the plain interior. A vase of yellow flowers is selected to give a burst of color.
15. Brown and Gray Bathroom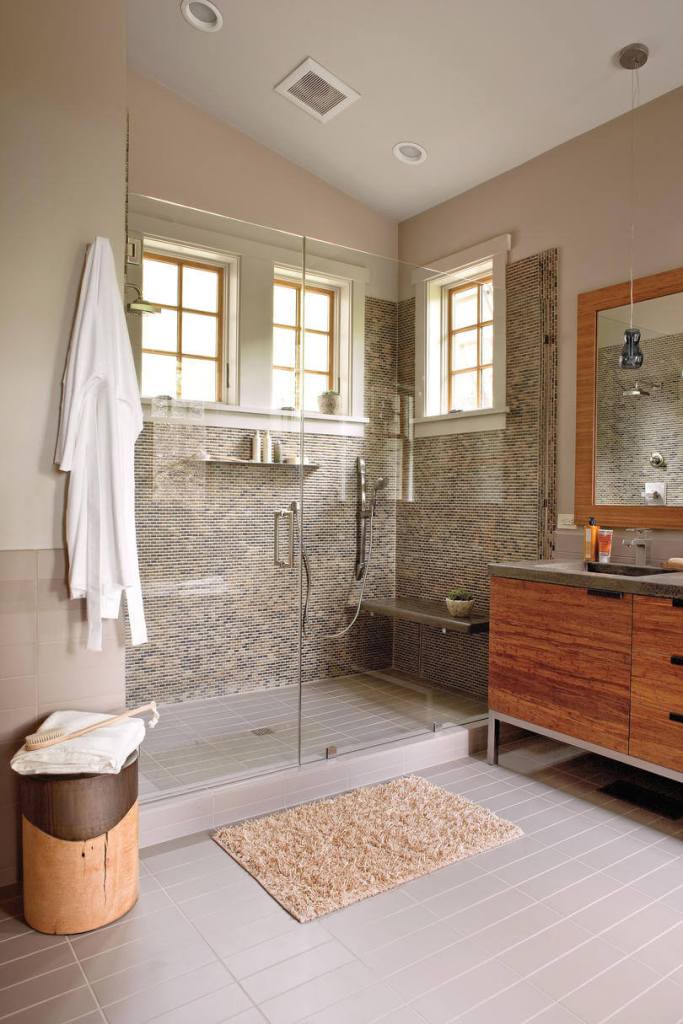 This is another good example of a gray bathroom with a soothing mood. The color scheme includes a light tone of gray and brown, creating calm and relaxing vibes.
This bathroom looks very simple without too many accessories involved in the decoration. However, the color scheme used throughout this bathroom can make everyone willing to stay for a long time here.
If you are interested in having a room with a spa-like feeling, this bathroom should inspire you the most.
16. Pink and Gray Bathroom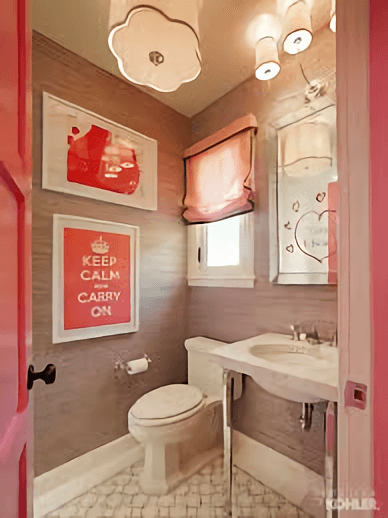 Entirely gray walls with some touches of pink offer a fascinating feminine look. A unique lighting fixture along with the other accessories simply boosts the beauty of this bathroom. Not to mention the pictures and curtain that complete this lovable interior.
The sink, ceiling, and some other elements in this bathroom are kept in white. Meanwhile, the door is painted in pink for an opening that hints the sweet, pretty bathroom inside.
17. Gray and Gold Bathroom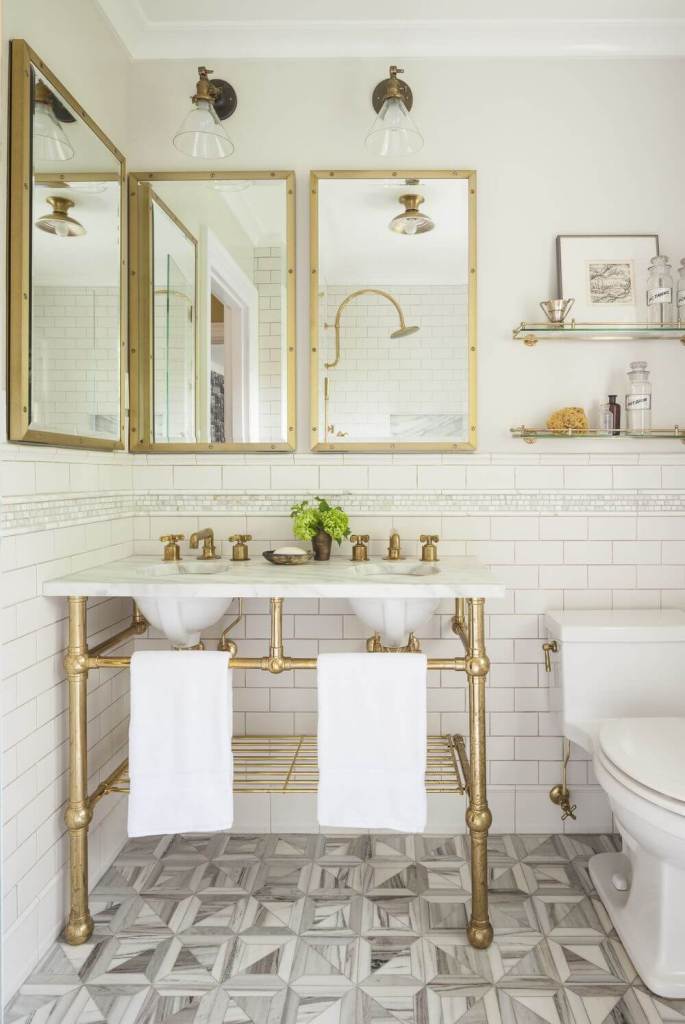 Gold fittings and fixtures are always a good choice to beautify a bathroom with neutral color scheme. Just like this bathroom, that looks more fascinating thanks to the gold vanities, lighting fixtures, faucets, and mirror frames.
You should not overlook the abstract tile pattern on the floor that enhances the beauty of this bathroom. A small vase of indoor plants is also incorporated on the vanity for a pop of color.
18. Perfect Teal and Gray Bathroom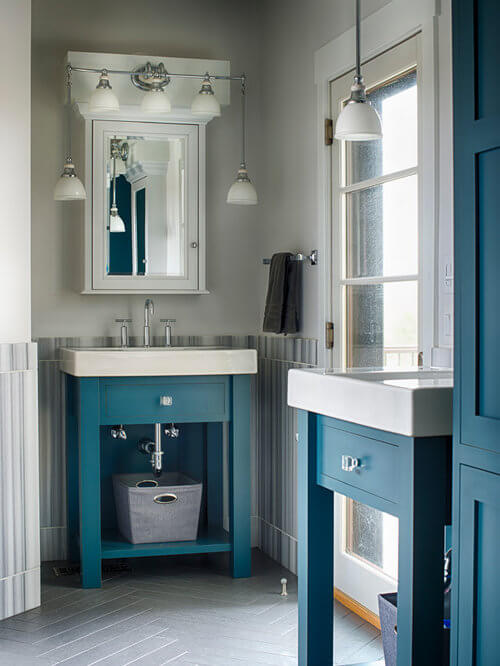 A gray bathroom could appear more attractive by adding a pop of color like teal. Choosing a bright supporting color like this will guarantee an outstanding gorgeous look in your bathroom.
Instead of infusing the teal color in the bathroom's accessories, you can apply it to the vanity as shown above. Moreover, you can also combine light and dark tone of gray on the wall to create a more appealing look.
19. Charcoal Gray Bathroom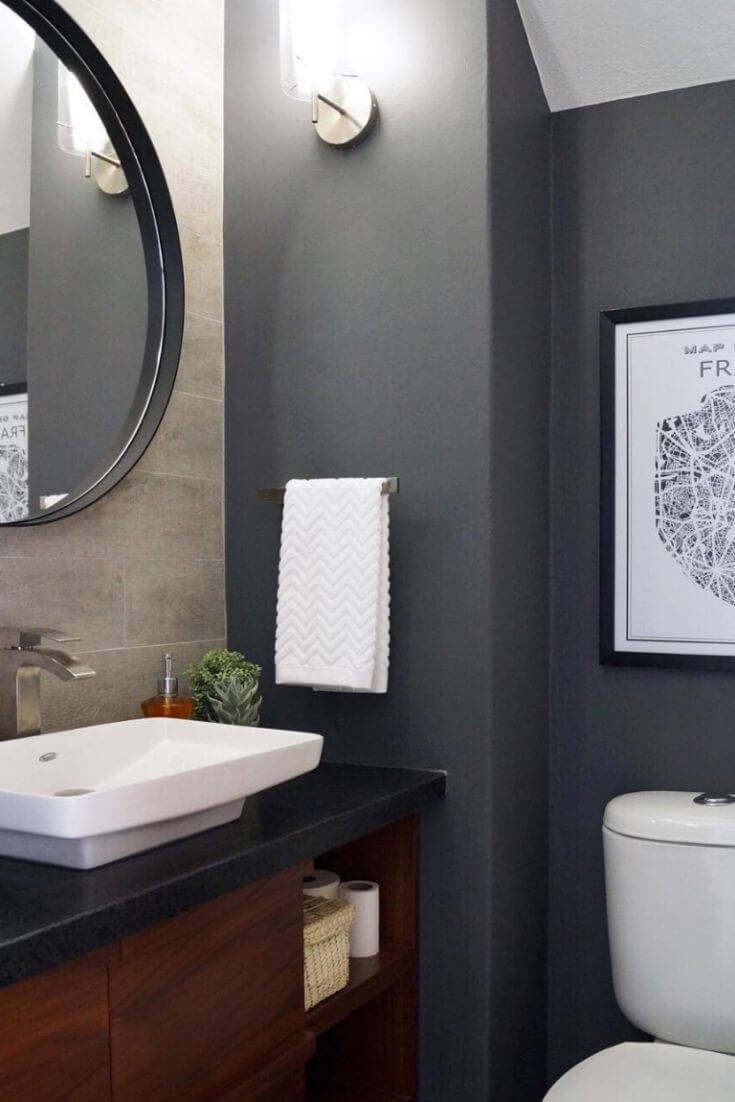 If you prefer a darker shade to a lighter one, charcoal gray could be a good option. This bathroom comes with charcoal gray walls and a light brown accent behind the vanity area.
Hints:
Use white sink, towel, and accessories to create an appealing contrast toward the charcoal gray walls.
Include additional lighting options like sconces beside the vanity to make sure your charcoal gray bathroom is well lit.
20. Cream and Gray Bathroom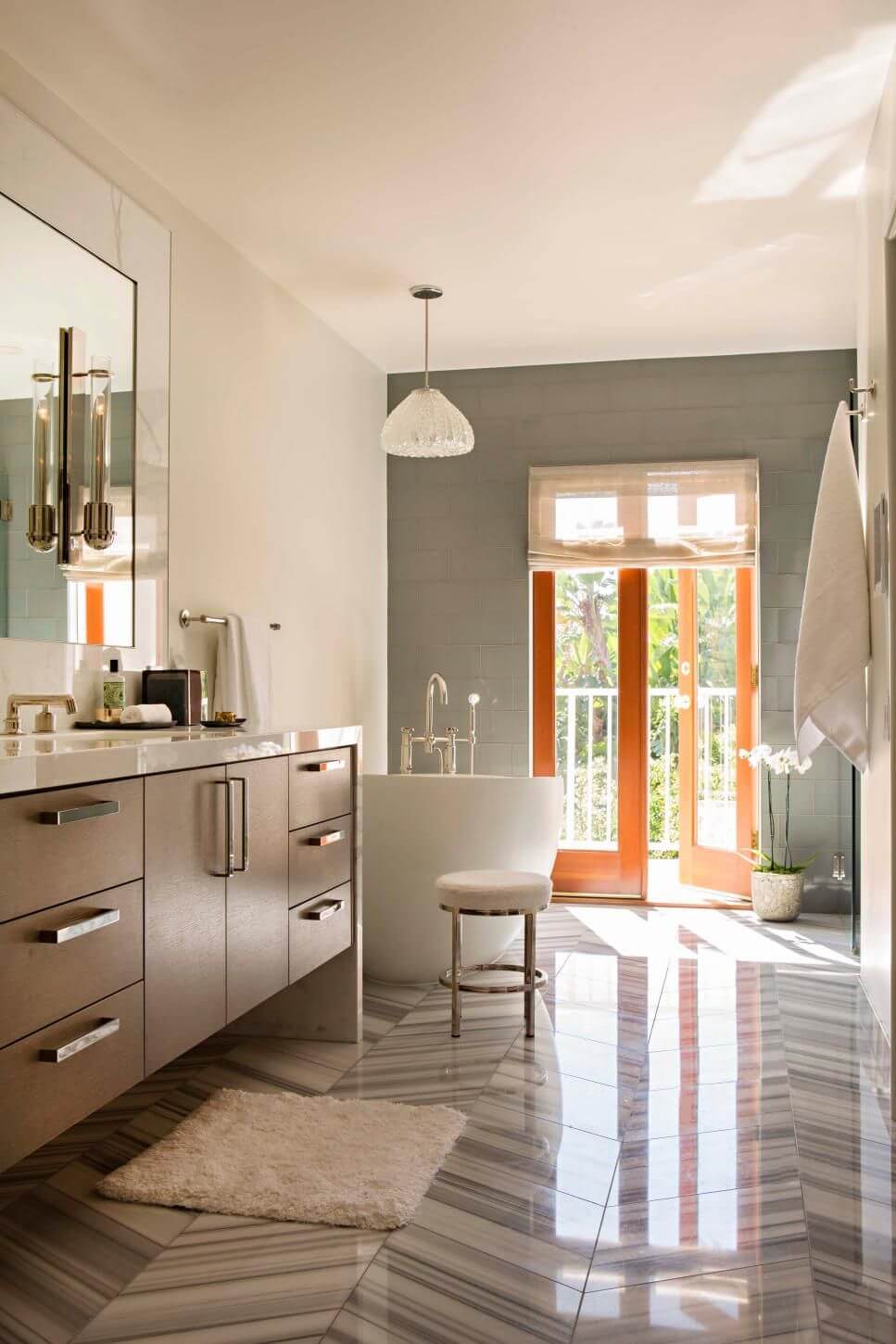 When it comes to gray bathroom ideas, you will never go wrong to include creamy tones in your color palette. A combination of gray and cream shades always creates a warm and inviting mood, making it ideal for any bathrooms.
This master bathroom could become the best spot for pampering your body and mind after a busy schedule. With glass panel doors installed close to the bathtub, you could enjoy the outside world while taking a bath at the weekends.
21. Gray and Purple Bathroom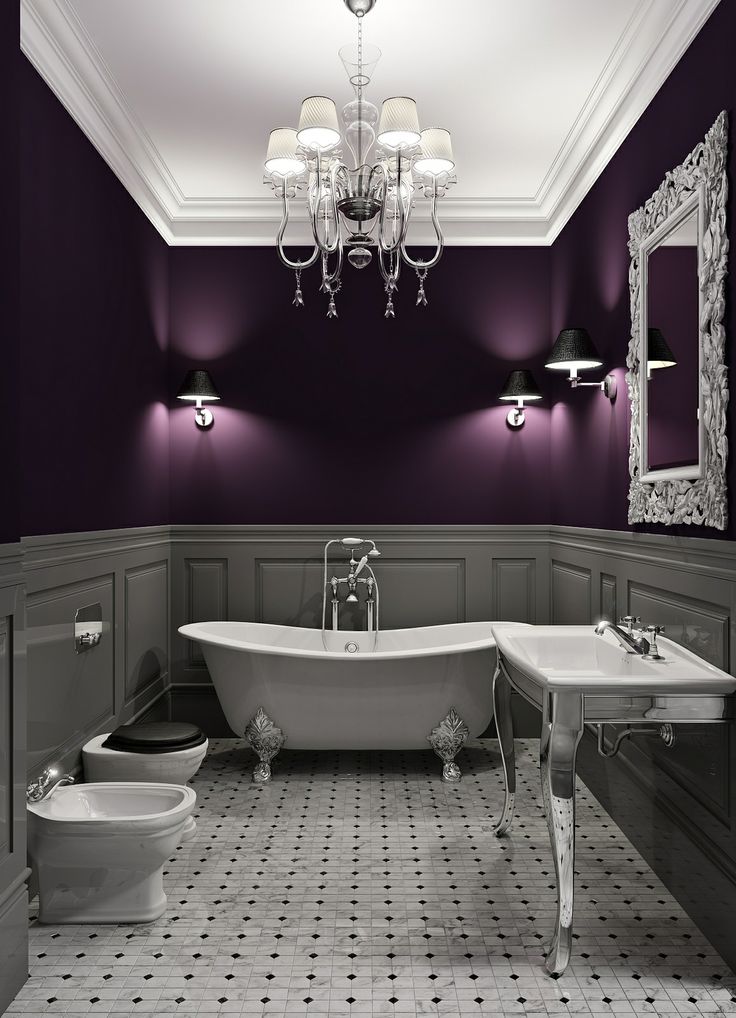 It is no secret that purple is often associated with royalty. If you want to have a bathroom with a classy and grand appearance, combining gray and purple in your color palette would be perfect.
This bathroom makes an ideal example with its luxurious vibe. The bathtub, vanity, and mirror are all completed with silver fixtures, making them even more suitable with the grand mood of this bathroom.
Not to mention the chandelier that becomes another focal point inside this bathroom.
22. Gray and Yellow Bathroom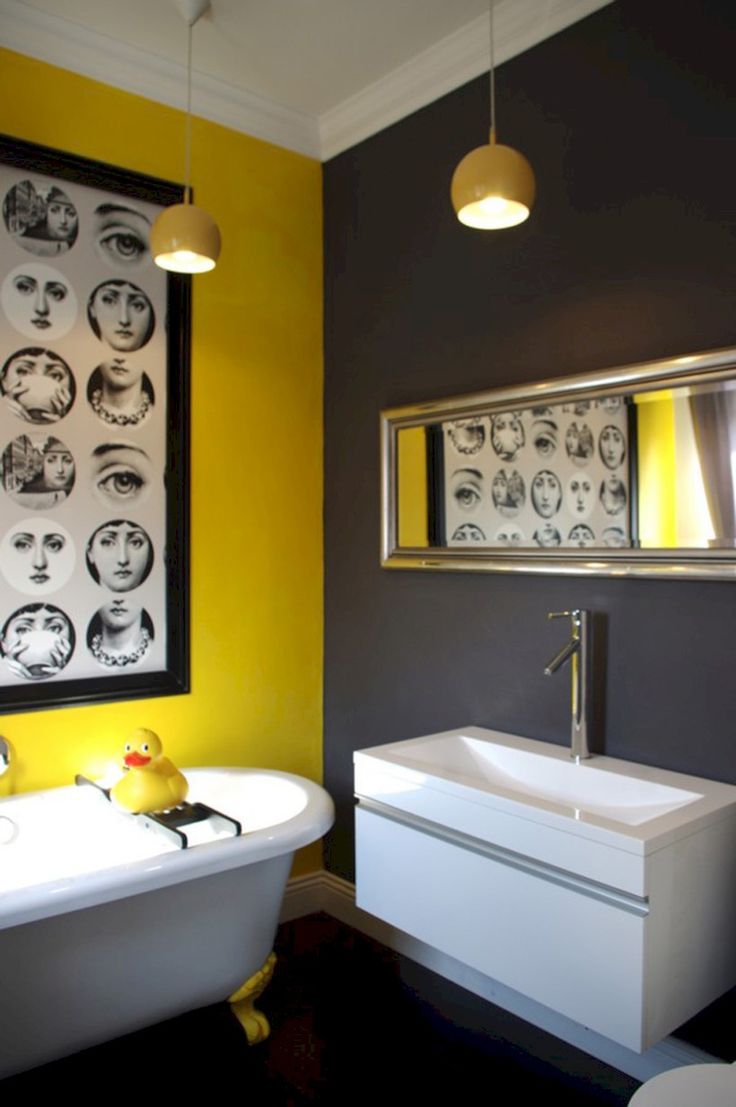 Yellow and gray are often mixed to create an attractive contrasting color. This bathroom offers you a nice idea of how to combine gray and yellow properly in your color scheme.
While the walls are painted in dark gray and yellow, the ceiling, sink, and bathtub are in white to avoid overcrowded feeling. The floor is also in a neutral dark color to keep everything on and above it stand out.
Best Gray Bathroom Paint Colors (Color Palette)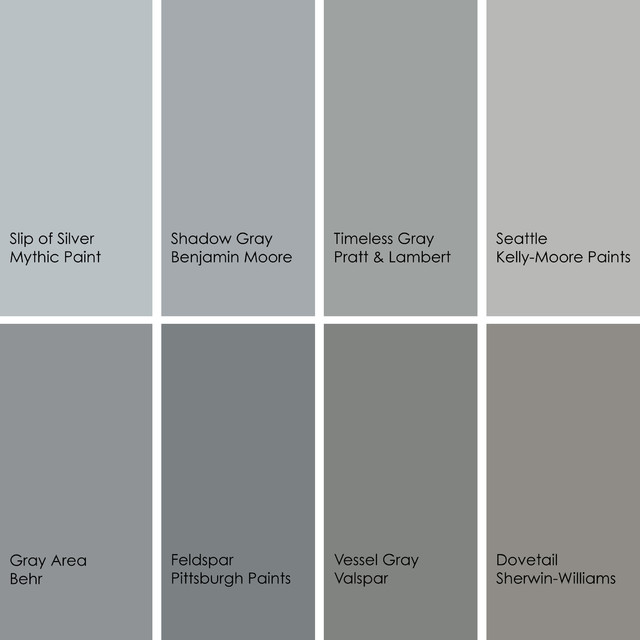 You have already known some of the best ideas to include gray in your bathroom color scheme. While any shade of gray could be involved in your palette, some of them are considered better than the others.
For example, Vessel Gray 4005-2A from Valspar could create a dramatic feeling in your bathroom. Meanwhile, a Slip of Silver from Mythic Paint would be perfect for a tiny bathroom.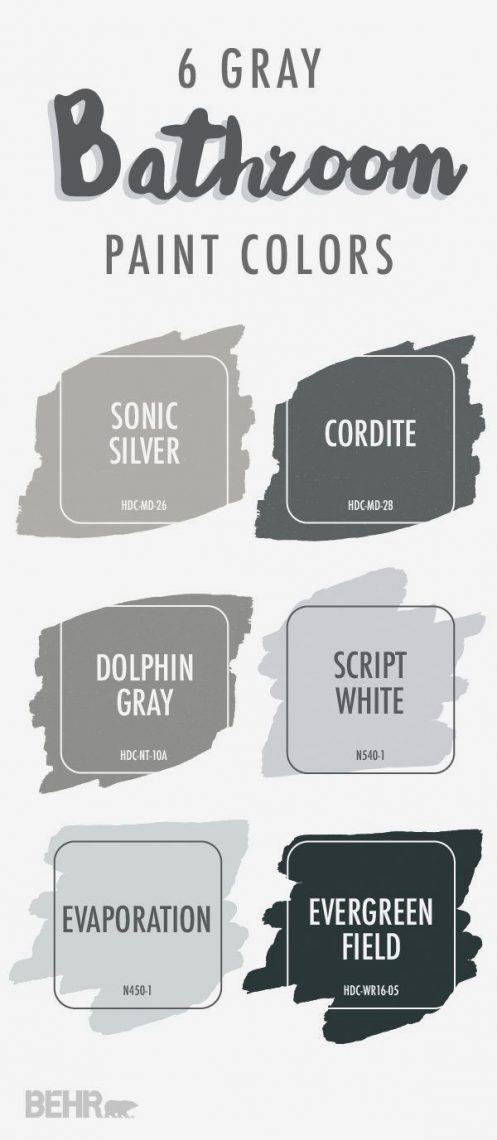 Looking for a modern paint color to use in your DIY bathroom makeover? Check out this collection of gray bathroom colors for a little design inspiration. Light gray shades like Sonic Silver and Evaporation look great when paired with bright white or blue accents.
Gray Bathroom Decor & Paint Color Ideas
Classic Gray Paint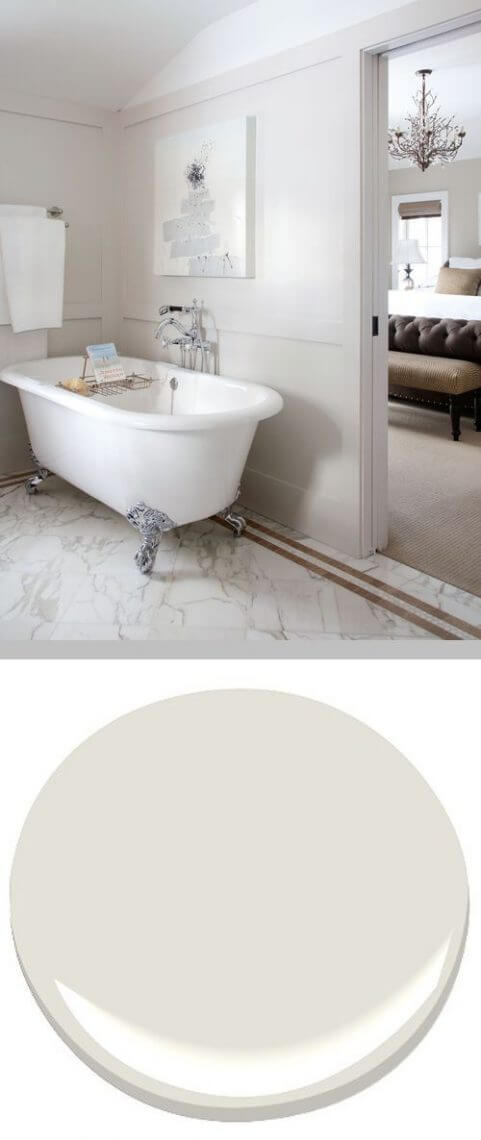 Benjamin Moore Classic Gray 1548. Very pale gray with warm undertones.
Dramatic Inky Wallpaper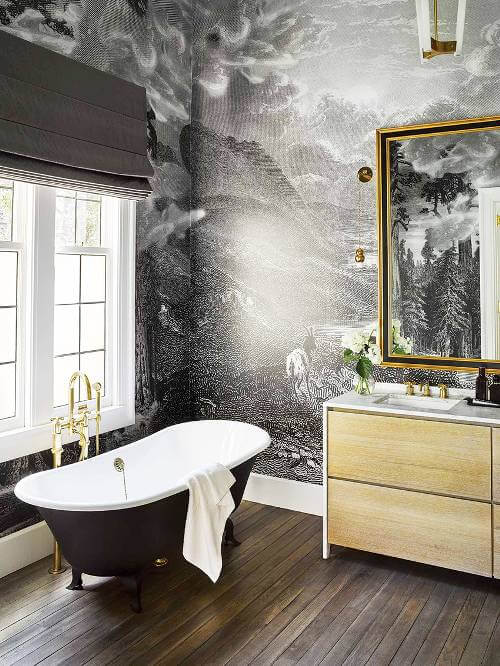 Sexy Gray Master Bathroom
The Best Things You Can Do to Your Bathroom for Under $100. This smaller but still comfortable bathroom comes to us from Ange of The Blooming Hydrangea, and is a perfect example of how gray can be sexy and adult, too.
As the post details, the marble-imitation porcelain floors are from Sovereign Stone, and the wall color is Urbane Bronze by Sherwin Williams.
Gray Subway Tile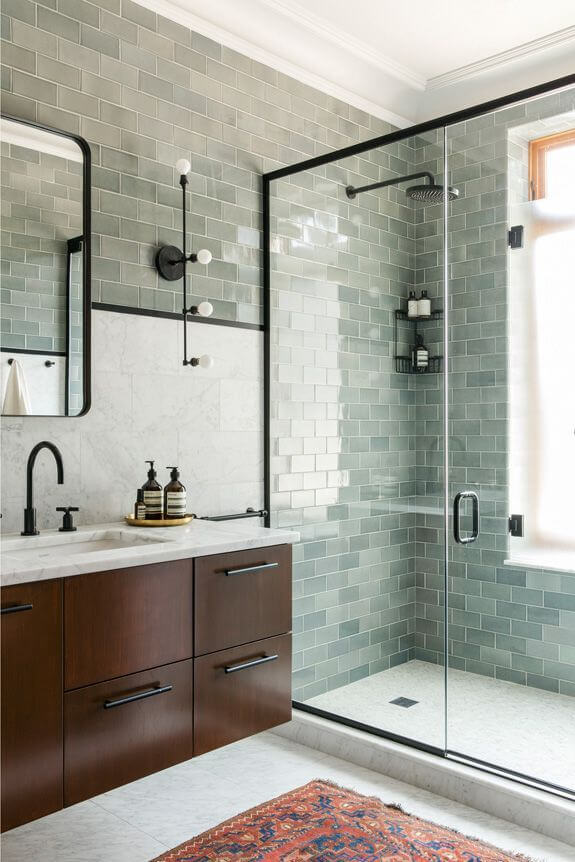 The whole looks classic and elegant, with a quartz countertop that matches the backsplash tile really well. Brushed nickel hardware finish the look and soften up the design.
Glamorous Bathtub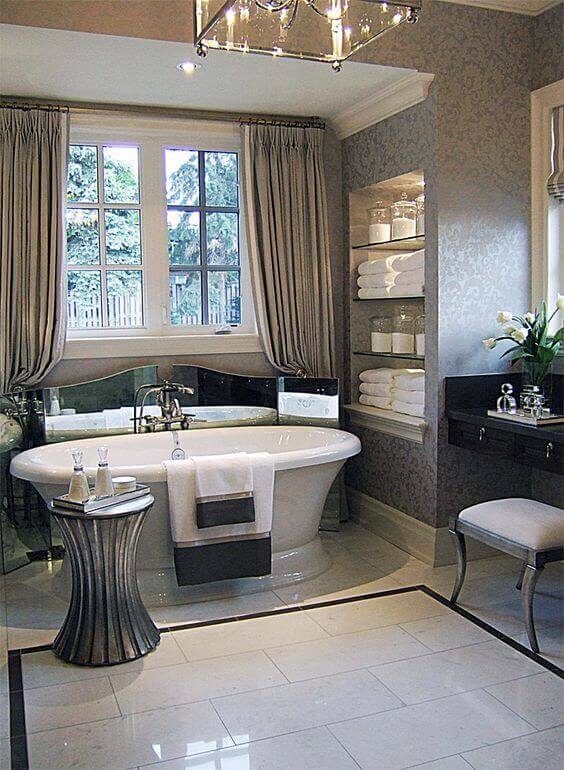 Wall Stencil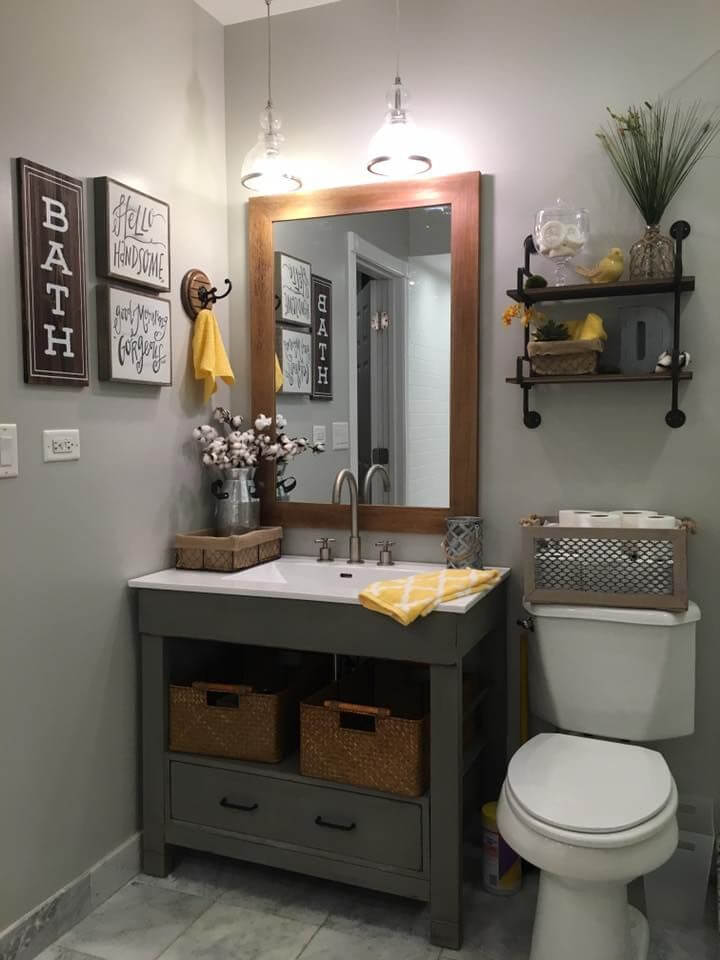 This colorful, small gray bathroom makeover can be done in just 1 weekend with Grant Gray paint, Weathered White paint, and a pretty wall stencil!
Reflective Glossy tiles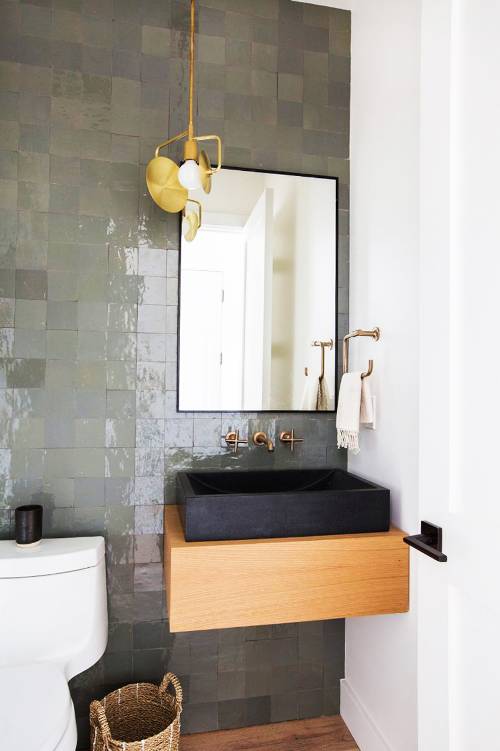 With perfect proportion and shape, this is the wall-mounted sink of our dreams. And even though the contrast of the black sink immediately catches the eye, it doesn't look at all out of place. The pendant light is another standout, which really pops against the texture-rich tiles in 50 shades of gray.
Warm Rustic Gray Bathroom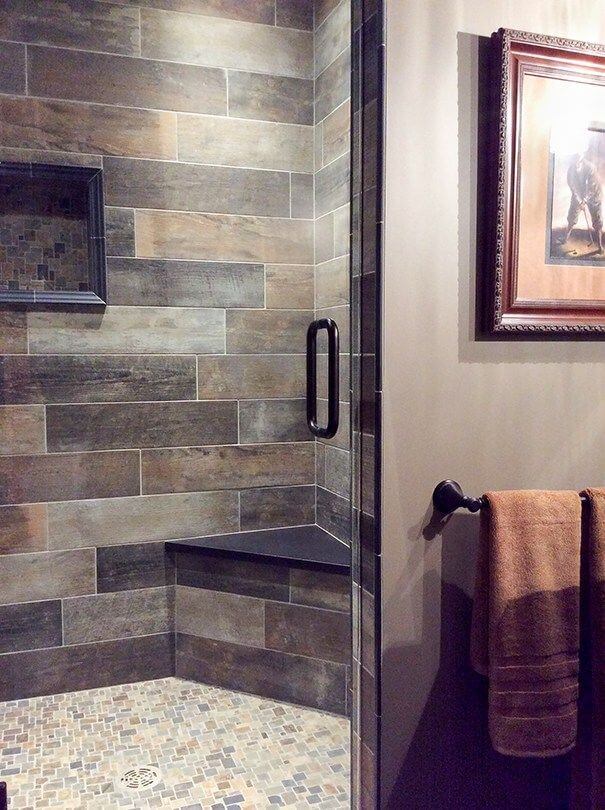 Beautiful tile shower with subway pattern and mosaic floor.
Accent Color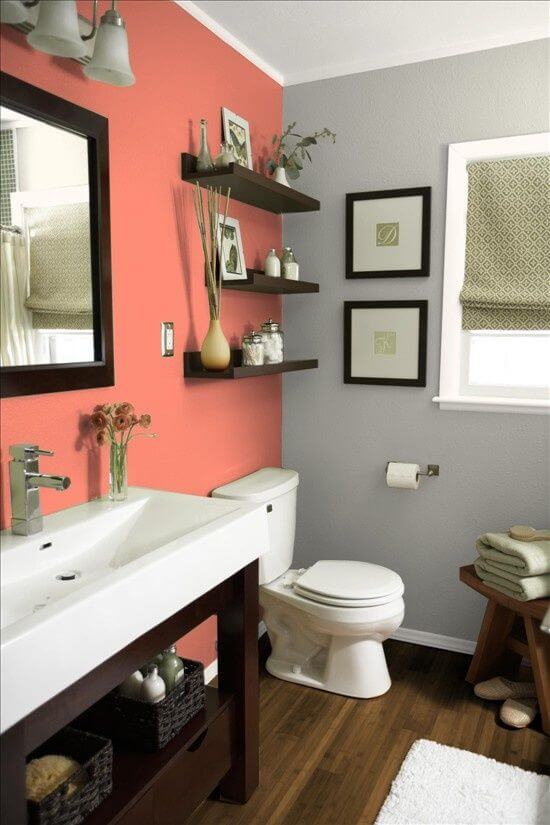 This is the layout of our half bath. I like the accent color and art to the left of the window.
Open Shelving Gray Bathroom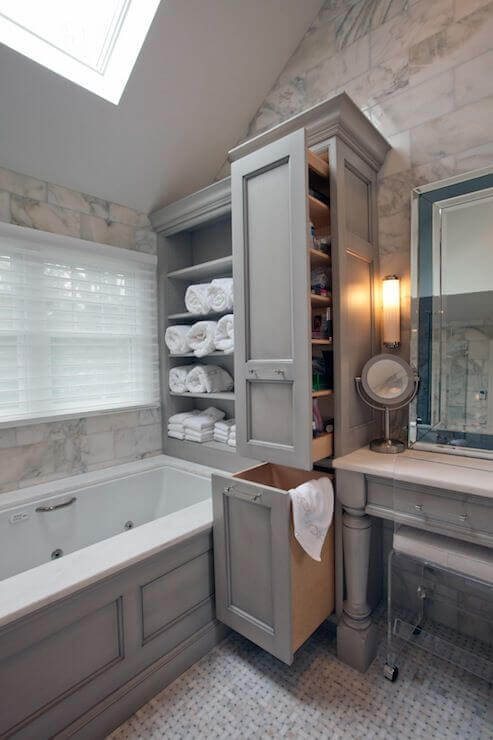 In this bathroom, we have this simple gray tub that is attached to this open shelving. A great idea to safe space and keep your essentials together.
Modern Farmhouse Bathroom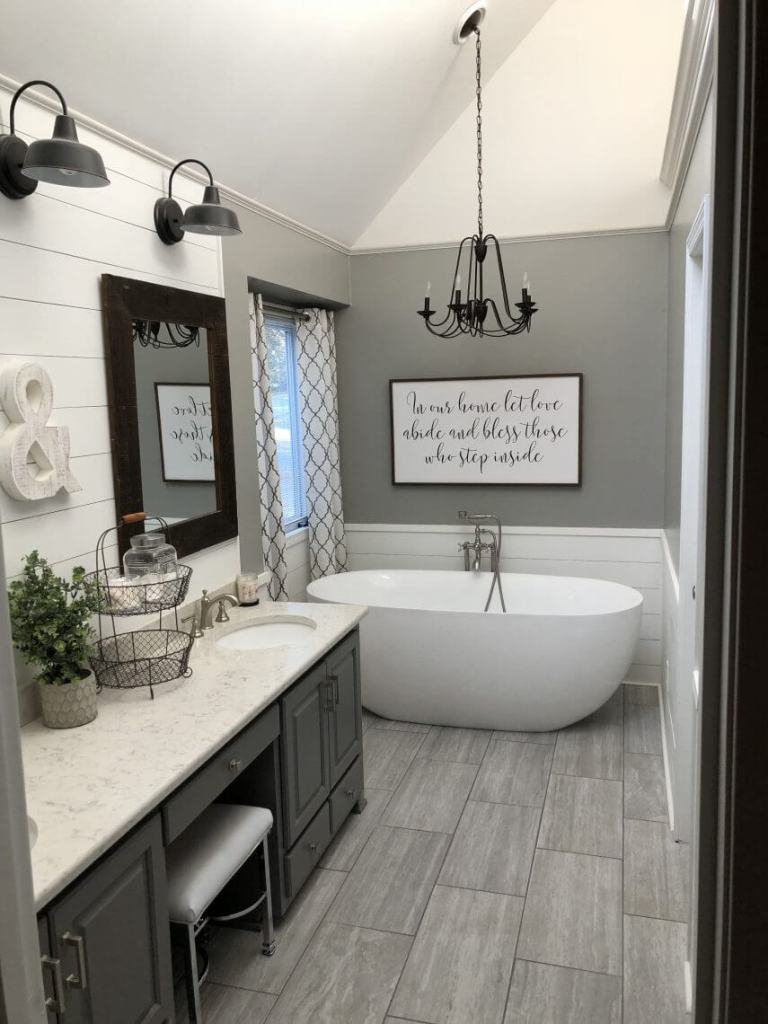 Rustic Accents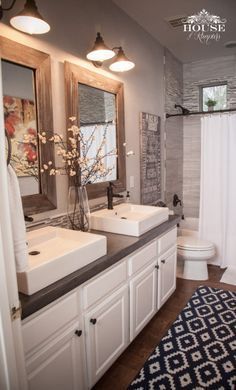 Love the rustic accents, elegant white sinks and cabinetry and the gray back splash in the shower!
Gray Bathroom with Shower Curtains
Vinyl Flooring – Gray Bathroom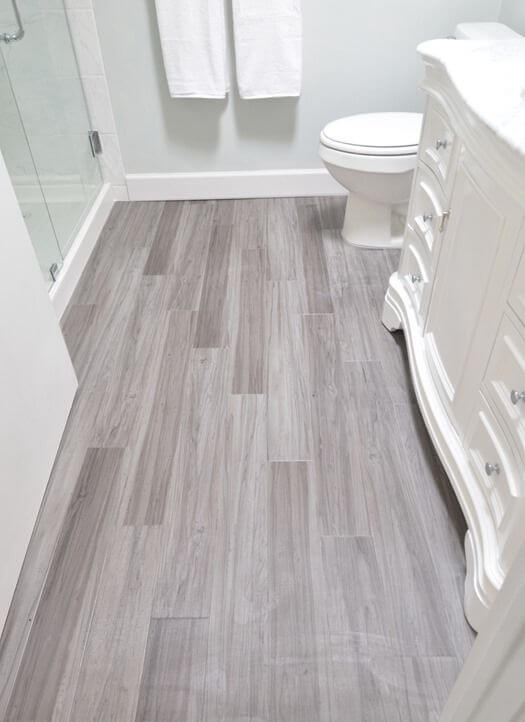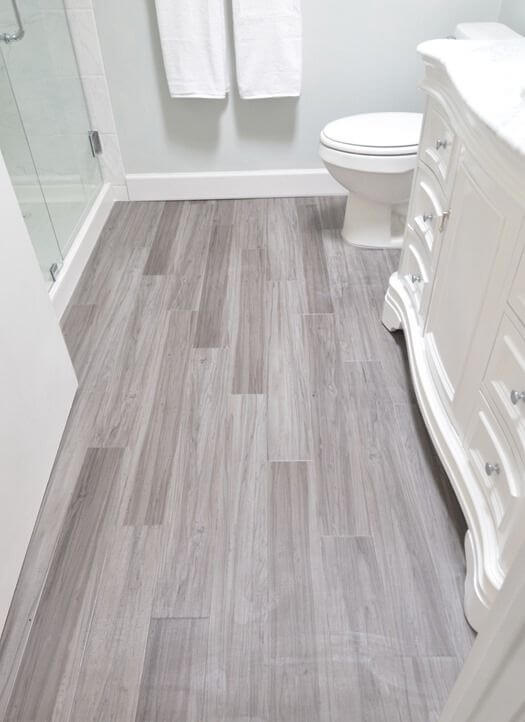 Vinyl plank bathroom floor, budget friendly modern vinyl plank product. These are Trafficmaster Allure in Grey Maple installed in a random offset pattern like hardwood. Available at Home Depot.
***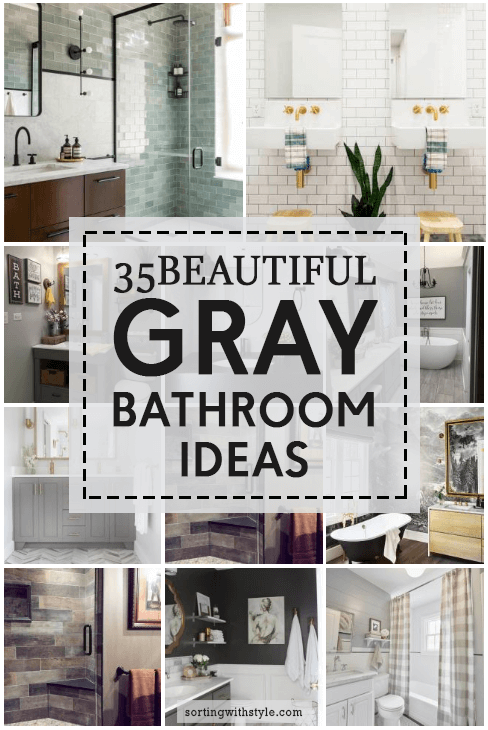 In conclusion, gray color shades should not be ignored when decorating a bathroom. The gray bathroom ideas discussed above show that gray could also create such a nice finish. Therefore, do not hesitate to include shades of gray to your bathroom interior.