Depending on the variety you choose, a bathroom vanity can offer countertop space, extra storage, personality, and many more. As a result, it is crucial to find the best bathroom vanity ideas to match your taste and need.
Whether you want to get such a sleek and modern look or a more rustic one, the choices are numerous. You can even find bathroom vanity in all different sizes. Thus, you are still capable to get a vanity that fits your bathroom perfectly.
However, it can be overwhelming to meet your ideal vanity with so many ideas available. Therefore, this article will show you the top 20 vanity ideas to get you inspired.
Top 20 Best Vanity Ideas for Every Style of Bathroom
1. Vanity with Modern and Futuristic Affair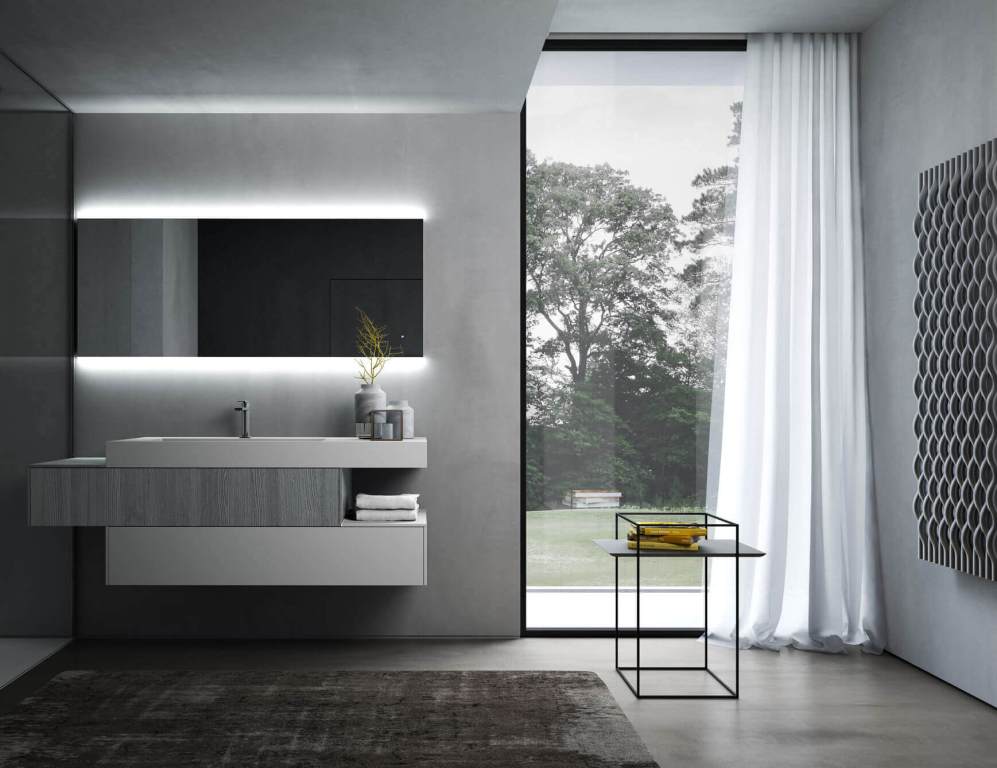 If you are into a modern and futuristic design, this bathroom vanity should catch your attention. It has such an exceptional design that looks like three randomly arranged blocks.
The floating design makes this vanity appears minimalist. Paired with a large mirror, this vanity is perfect for your master bathroom. Not to mention the hidden lights installed behind the mirror that creates an interesting flair.
Moreover, the countertop space is enough to place another decorative element like a vase of flowers.
2. Two-Tier Floating Vanity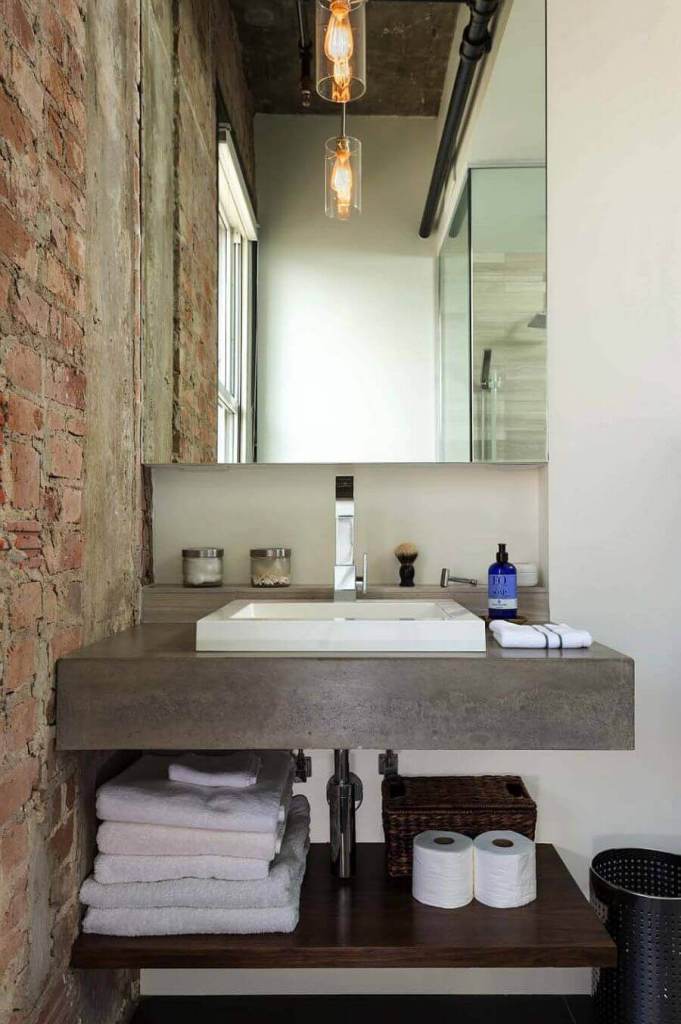 Setting a vanity at the corner could be a perfect idea for a small bathroom. For additional storage without making the bathroom feels cramped, there is a floating shelf under the vanity.
The frameless mirror also makes a perfect element for a small bathroom since it offers a neat look and requires less maintenance. Its design is capable to avoid the accumulation of residue and water. To complete the look, a little pendant light is hung over the bathroom.
3. Double Vanity for Master Bathroom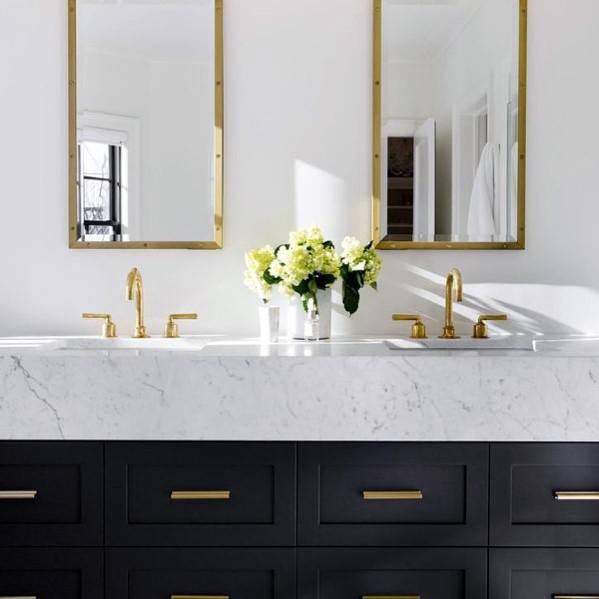 Make your master bathroom is accessible for more than one person by adding a double vanity. This kind of vanity is ideal for a busy home where two people or more need to share the bathroom at the same time.
By having a double vanity, you can leisurely brush your teeth while another one is putting on makeup. This bathroom vanity is paired with a couple of mirrors to make sure everyone can use it properly.
4. Extra Long Vanity for a Big Family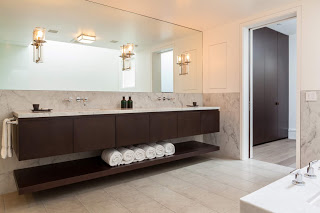 When designing a bathroom for a big family, an extra-long vanity is probably your interest. This kind of vanity not only offers enough space for more than one person to use the bathroom at the same time. However, it also provides more storage space for your bathroom essentials.
Hints:
Pair an extra-long vanity with a large mirror so that everyone can use it at the same time.
Opt for floating vanity for ease maintenance and more floor space.
5. Simple Floating Vanity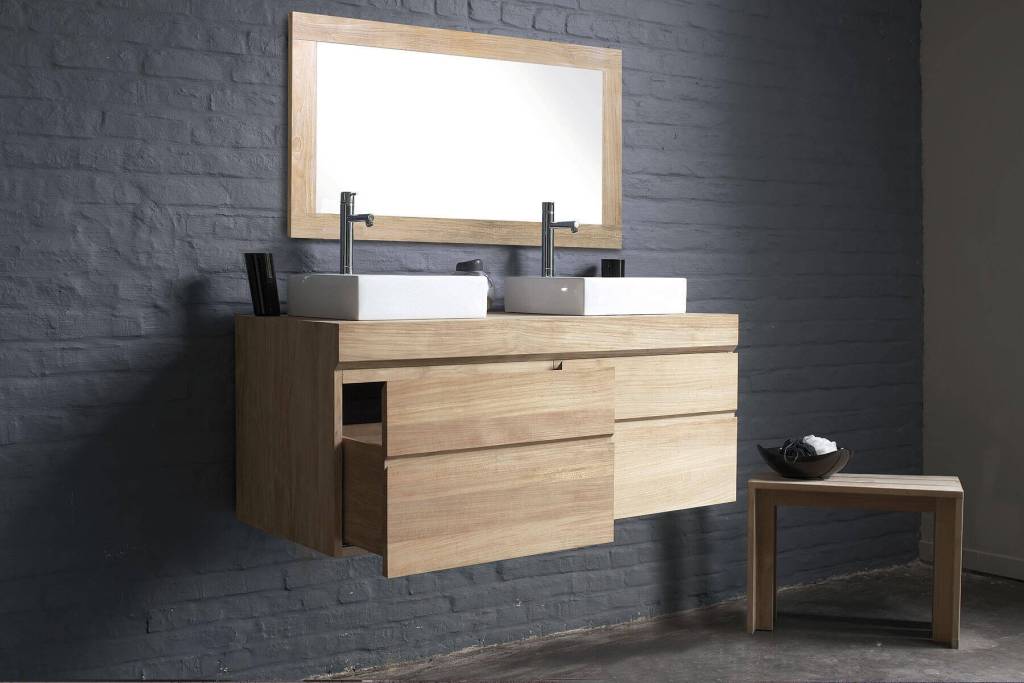 None could deny that a floating vanity is indeed a smart solution for every bathroom. It does not take any of your floor space, yet it still can offer additional storage room.
For a modern bathroom, a floating vanity like this would be a great choice considering its clean lines and simplicity.
Furthermore, by installing a floating vanity, there is no more difficulty in the cleaning area under this furniture. Dirt and dust will not be collected naturally under the vanity as well.
6. 36 Inch Bathroom Vanity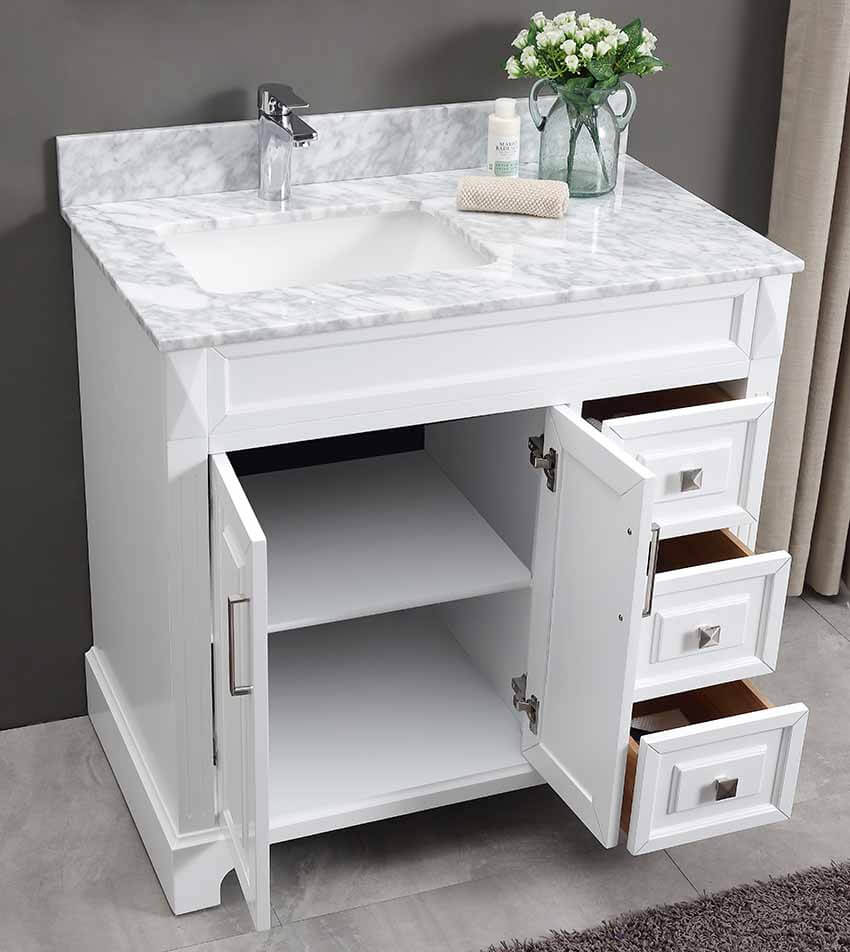 Are you looking for bathroom vanity ideas that look simple yet elegant? This idea should inspire you the most. With its simple design, this white vanity is still capable to introduce such an elegant flair in any bathroom.
The vanity top is enough to keep some of your items and a decorative vase. Meanwhile, it also offers adequate storage space for extra towels and other bathroom essentials.
Take your time to shop around for a stylish 36-inch bathroom vanity (via Amazon) that matches your style.
7. 24 Inch Bathroom Vanity In Brown Wood With Glass Vessel Sink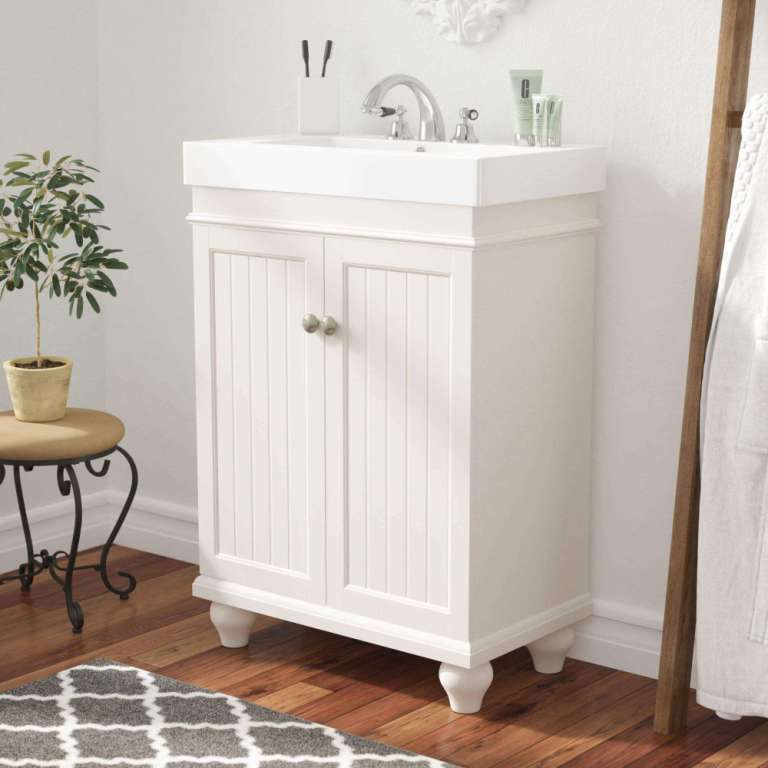 Who says vanity is not for a tiny bathroom? With this 24-inch vanity, any small bathroom could offer the luxury of having countertop space and extra storage.
Keep your vanity top clutter-free by storing your extra shampoos and soaps inside the cabinet. Instead of displaying an indoor plant on the vanity top, take a tiny chair as shown above.
Then, once you need a little twist in your bathroom, simply repaint the cabinet vanity for a pop of color.
8. Bathroom Vanity with Country Style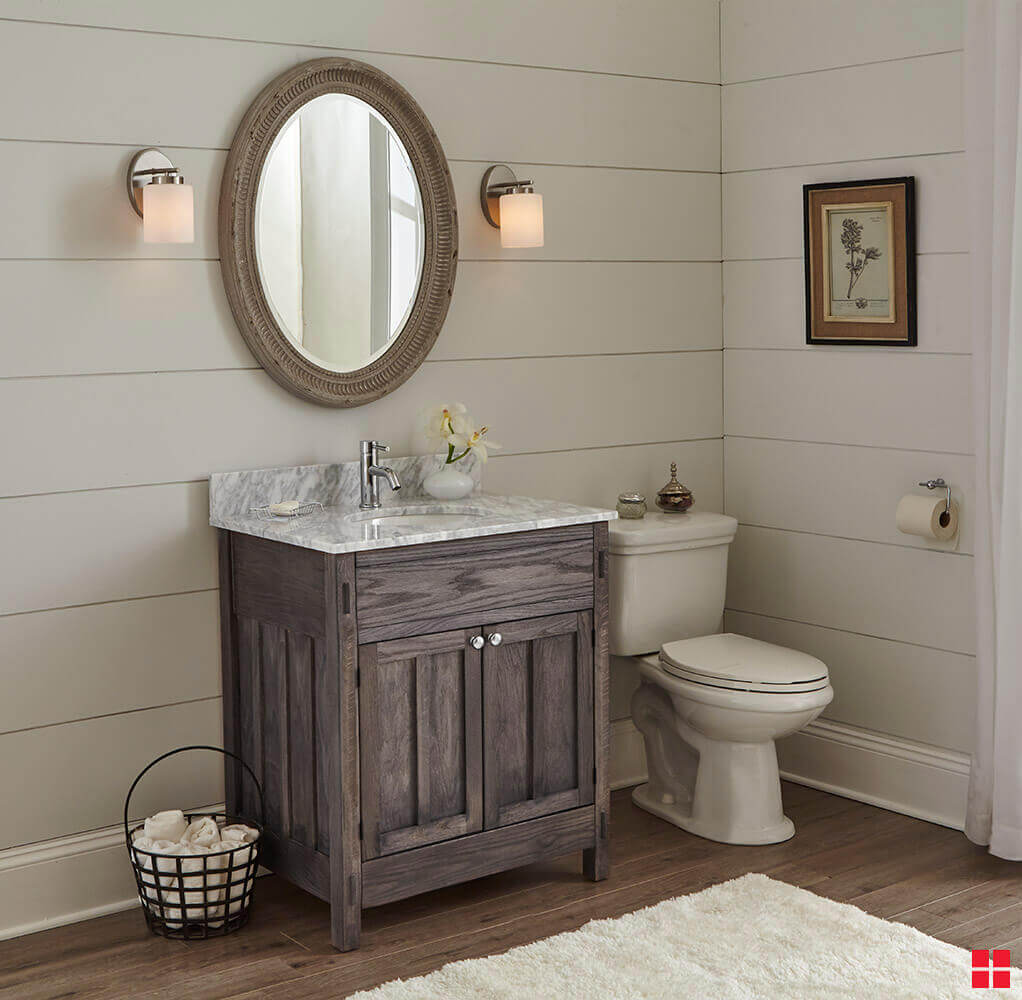 This small vanity is mighty thanks to the extra storage space underneath. Its distressed paint finish makes this vanity a perfect companion for your country-style bathroom.
A laundry basket is incorporated in this bathroom to provide extra storage. Thus, you have more space to store toiletries and other items in the vanity cabinet.
A round mirror is added to give a touch of personality in this bathroom. Besides, a pair of sconces next to the mirror introduces an appealing flair to the area.
9. Beautiful Refurbished Vanity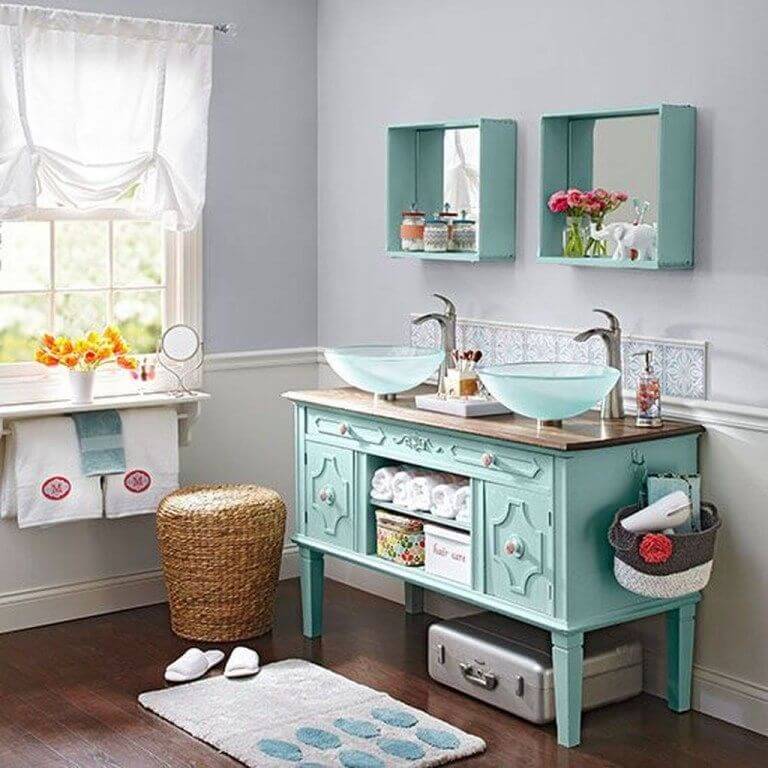 Update the look of your bathroom by incorporating a refurbished vanity. Not only helps you enhance the overall look of a space, but a refurbished vanity also allows you to save some budget in remodeling your bathroom.
You just need to find an old cabinet or something that looks fine for bathroom vanity. Then, refinish this furniture to match your bathroom's style.
Consider using vessel sinks to allow for more storage inside the vanity. For extra storage and decorative display, get a pair of box frame mirrors for your bathroom.
10. Blue Bathroom Vanity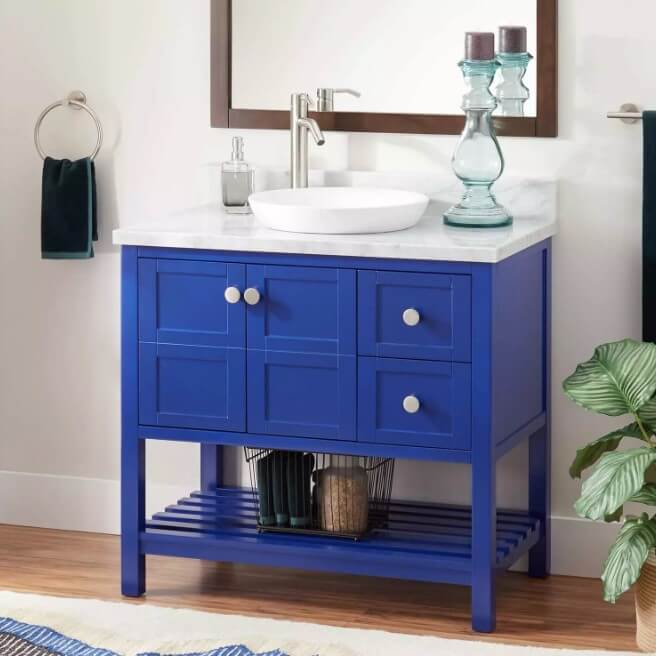 Do you need bathroom vanity ideas that introduce a pop of color in a tiny space? If so, this blue bathroom vanity should be fascinating.
Thanks to its bold color, this vanity could become a central point in the bathroom and draw your attention away from how small your space is.
The glass vase is in the shade of blue, offering a balance to the blue vanity. You can also include some flowers with blue tones to make your bathroom looks perfectly wonderful.
11. Elegant Black Vanity
If you want to introduce a more neutral color than blue, this elegant black vanity will make your bathroom appear pleasing to the eye. The storage space underneath should be roomy enough to store extra towels and toiletries.
For a touch of elegance, gold fittings and fixtures are utilized around the vanity. Meanwhile, an indoor plant is involved in the décor to enliven the bathroom without distracting the other elements.
12. Greige Vanity with Vessel Sink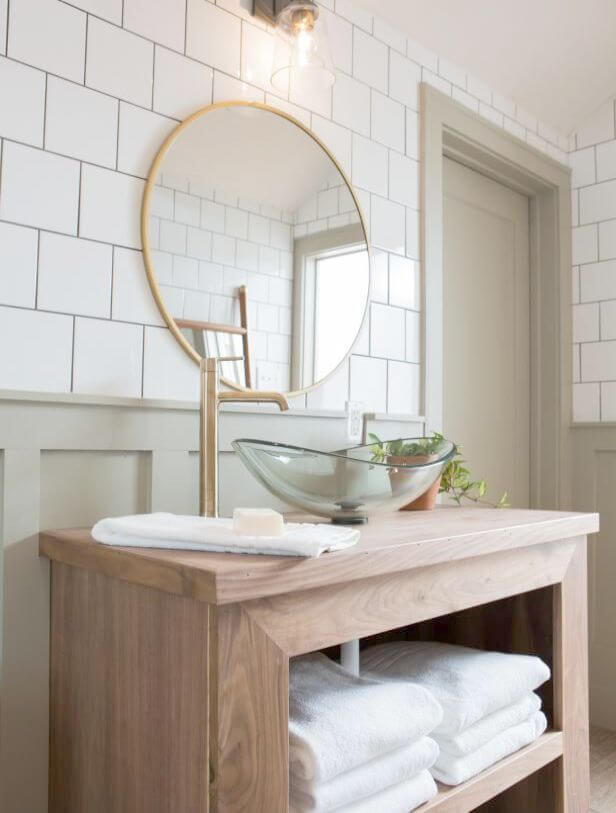 A greige vanity will work well in both cool and warm color schemes. Although you may find it a bit boring at first, it is no secret that greige vanity could give an interesting touch in your bathroom. This picture proves it.
A vessel sink is used to eliminate the need for space for its body inside the vanity. The open shelving solution makes it easier for you to grab an extra towel.
13. Rustic Barnwood Vanity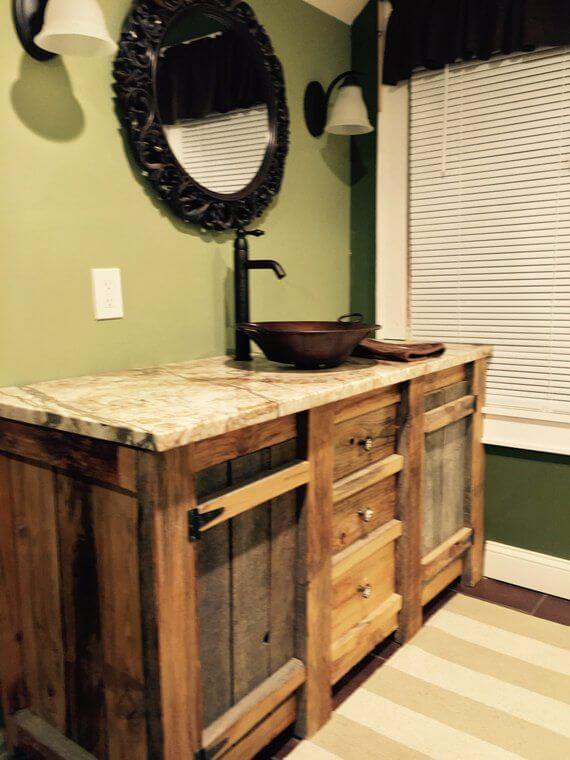 The idea of reducing waste and the number of trees cut to create brand new furniture pieces may lead you to look for a Barnwood vanity. Besides, this kind of vanity is just perfect for adding a rustic touch in your bathroom.
Hints:
Pair this vanity with an antique mirror and wall sconces. Black faucet makes a good deal as well since it can blend well with the rustic wood vanity and antique mirror.
Opt for a brown vessel sink to match the Barnwood vanity.
14. Upcycled Blue Vanity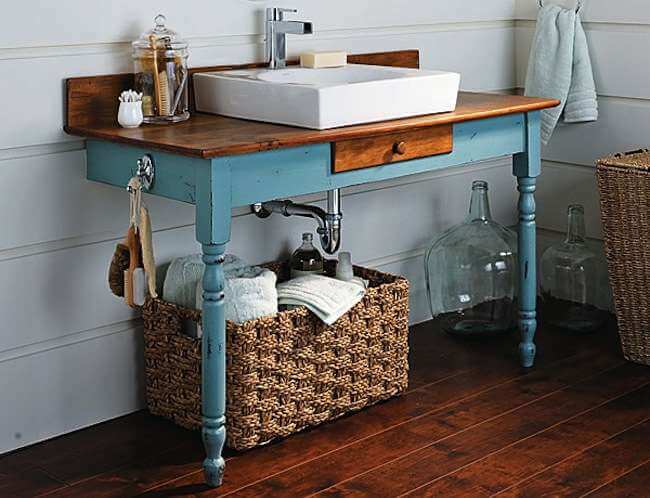 This is another good idea if you want to save money for purchasing a brand new vanity. Simply take your old table and repurpose it into a unique vanity like shown above.
This upcycled vanity is painted in sky blue for an attractive addition in this neutral-scheme bathroom. A white vessel-style sink makes a perfect option for an upcycled vanity since it will not require room to mount it. Add a basket under the vanity for extra storage.
15. Brown Vintage Dresser Bathroom Vanity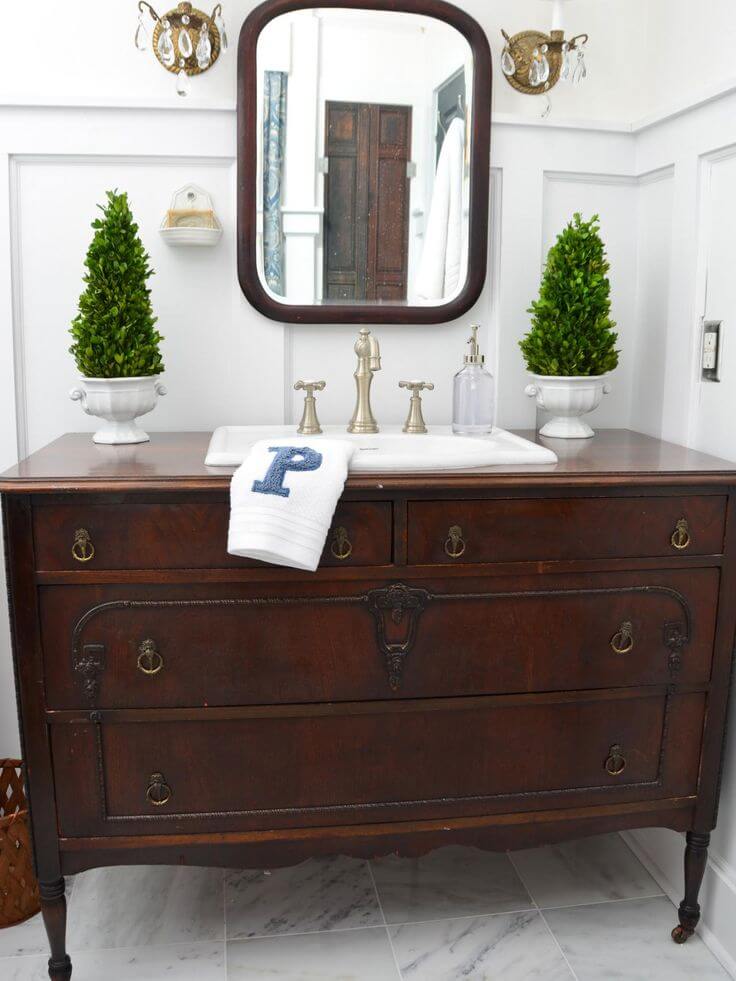 Are you into a DIY project when it comes to interior remodeling? Then, this one of the best bathroom vanity ideas may inspire you for the next project. If you have an old dresser that is not used anymore, consider repurposing it for your bathroom vanity.
It may take some time and effort, especially to install the top-mounted sink on the dresser. However, it would turn out beautiful in the end. Finish your dresser with brown paint to introduce a vintage flair. Check full DIY tutorial here.
16. Modern Vanity with Retro Affair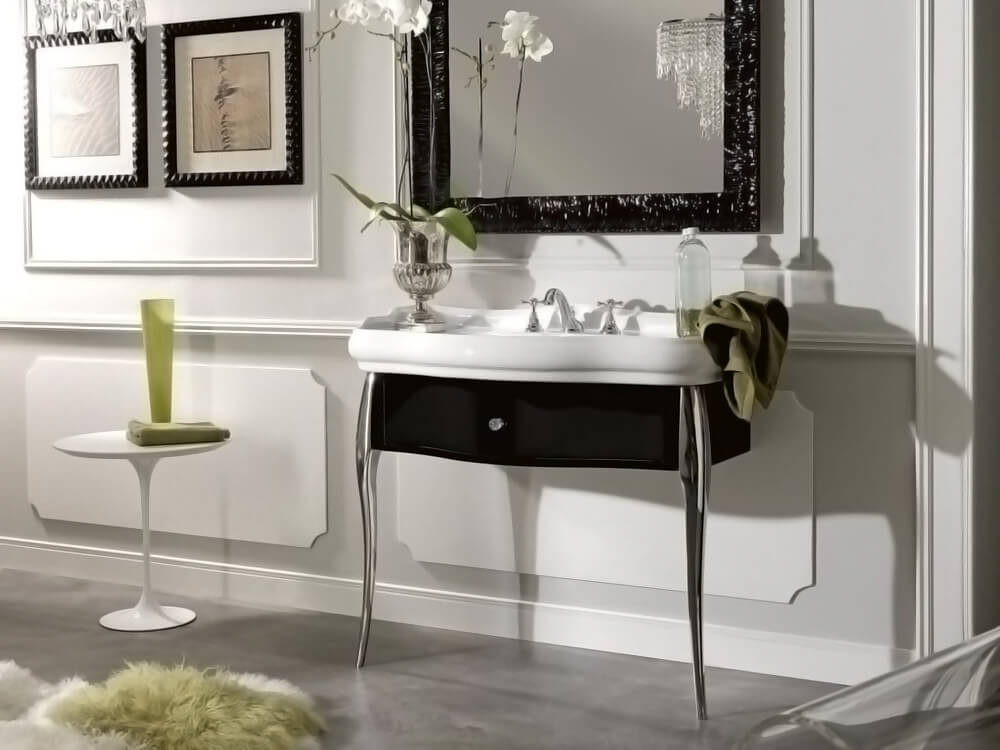 A retro-style vanity is not only for your vintage bathroom. You can also introduce such vanity in a modern bathroom like this.
The clean lines and thin legs of this retro vanity match the modern bathroom very well. Not to mention the black color that suits the other elements inside this all-white bathroom.
For additional top space to hold your decorative items, you can bring in a low tiny table instead.
17. Tiny Turquoise Vanity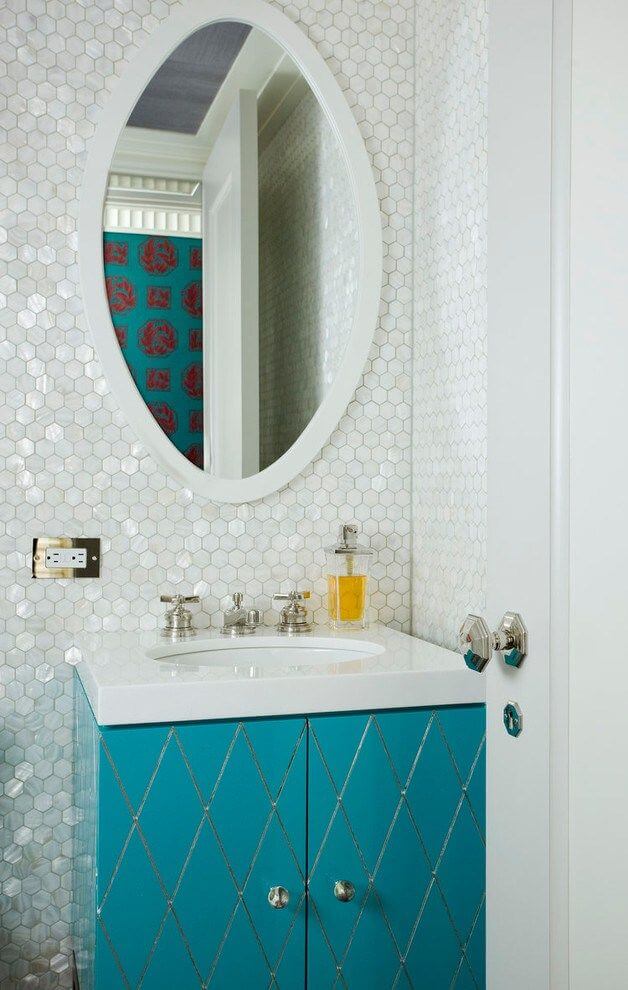 Your small bathroom deserves a beautiful vanity just like the large ones. This tiny turquoise vanity is placed at the corner of the bathroom, saving space for other functions.
While it may not provide much countertop space, this tiny vanity still offers adequate storage space inside. This storage solution is ideal for a small bathroom since it can keep clutter unseen. Pair the vanity with a round mirror to make your bathroom seems larger.
18. Industrial Vanity for Rustic Bathroom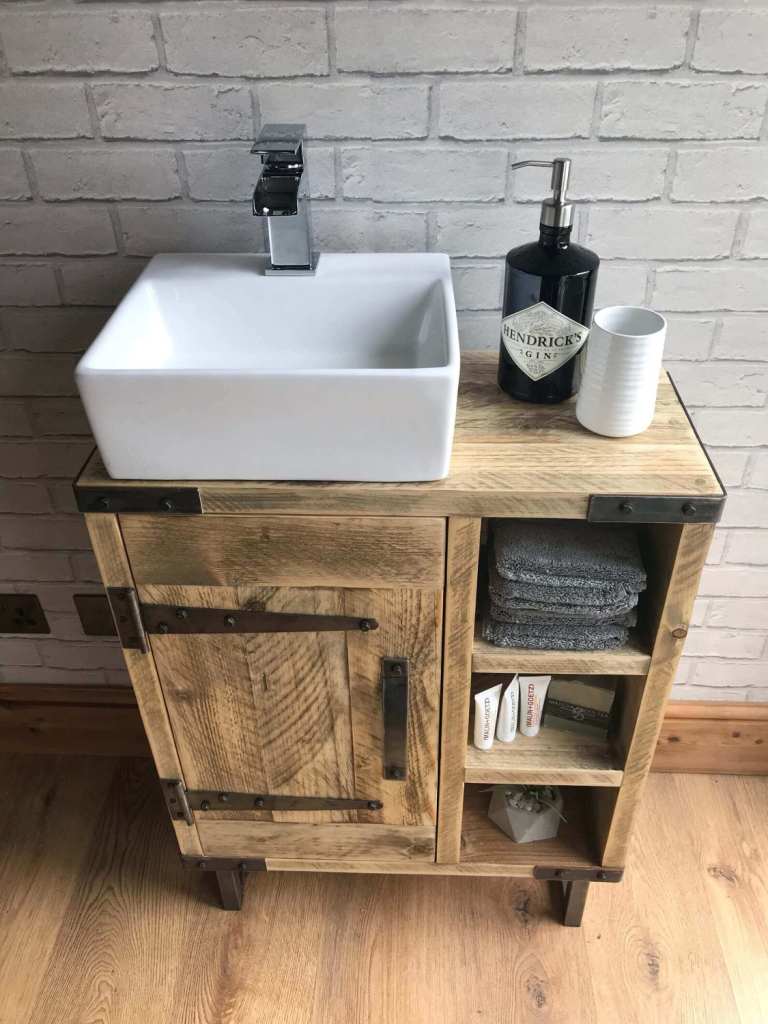 This tiny vanity comes with industrial style, making it perfect for a rustic bathroom. The storage solution offers both open and closed shelves. Thus, you can use the open ones for storing things you need often while the closed ones for extra items.
Without a doubt, this is also one of the best bathroom vanity ideas for small spaces. Its sleek design comes with maximum functionality, making it ideal for a tiny bathroom.
19. Concrete Vanity with Vessel Sink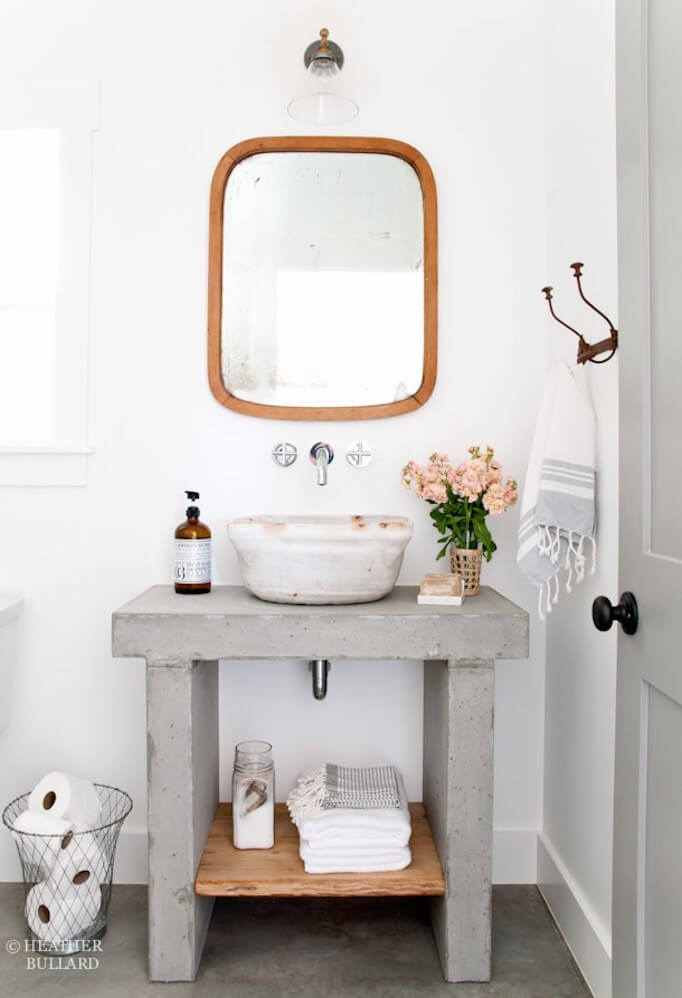 The natural gray color of concrete often creates a simple yet beautiful addition to any color scheme. In this bathroom, the vanity is made of concrete. It is simply a concrete table that is added with a wooden shelf and vessel sink to become a functional bathroom vanity.
A small vase of flowers is incorporated in the décor to give a sweet touch in this bathroom. For additional light in the vanity area, a single wall sconce is installed over the mirror.
20. Concrete Bathroom with Wood Vanity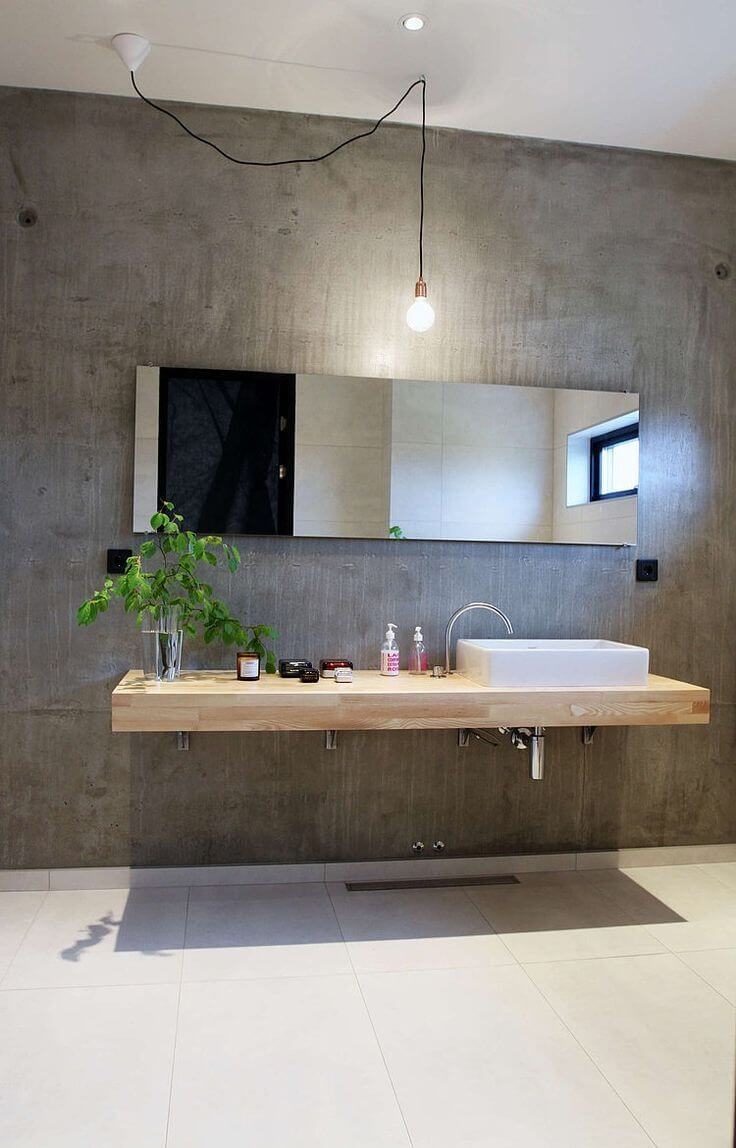 Unfinished walls have become a big trend in home design nowadays. This bathroom comes with unfinished concrete walls, offering a unique backdrop for the wooden vanity.
Hints:
Mount the wooden vanity on the wall to allow more access to the floor. Keep the natural color of the wood for an interesting flair.
Incorporate an indoor plant on the vanity top to liven up the bathroom interior. Get a frameless large mirror for simpler and uncluttered feeling.
Tips: How to Choose Bathroom Vanity
You may have already figured out some good ideas for your bathroom vanity. However, you should read some tips to choose a bathroom vanity below before shopping around.
First, you need to set a budget. Knowing how much you are willing to spend on a vanity would always be a good start to any project.
Second, you have to determine the right size. Measure your space properly to give you a clearer idea of whether a single or double vanity will work better in your bathroom.
Next, consider choosing material and color that complements the overall design and décor. Remember that every piece of furniture should match each other to create a balanced interior design.
Then, you had better know the different styles of bathroom vanities. Remember that modern, antique, and industrial vanities will all look great as long as they are placed in the right setting.
Finally yet importantly, consider plumbing requirements. At this point, you may need to work with a professional to avoid any future problems.
Conclusion
In conclusion, any bathroom deserves a beautiful and functional vanity. Whether you have a small or big bathroom, there is always a good match for your needs.
Now that you have some bathroom vanity ideas and ways to pick the right one, get ready to shop around and find the best deal on the market!