When you don't feel much happy seeing your entire bathroom while taking a shower, it could be a sign that you need to do some renovation. These bathroom remodel ideas will encourage you to do that action as you keep on reading this article.
Renovating a home or just a room can take a lot of money, but don't you worry. This article will give you some great ideas to get your bathroom decorated with something that is affordable / on a budget.
Remodeling the bathroom can be started from any possible elements you feel like to give them a new look. It can be the floor, wall, lamps, and so on. And there is always some alternative to find when you want something that's still at a reasonable price.
1. Add Mirror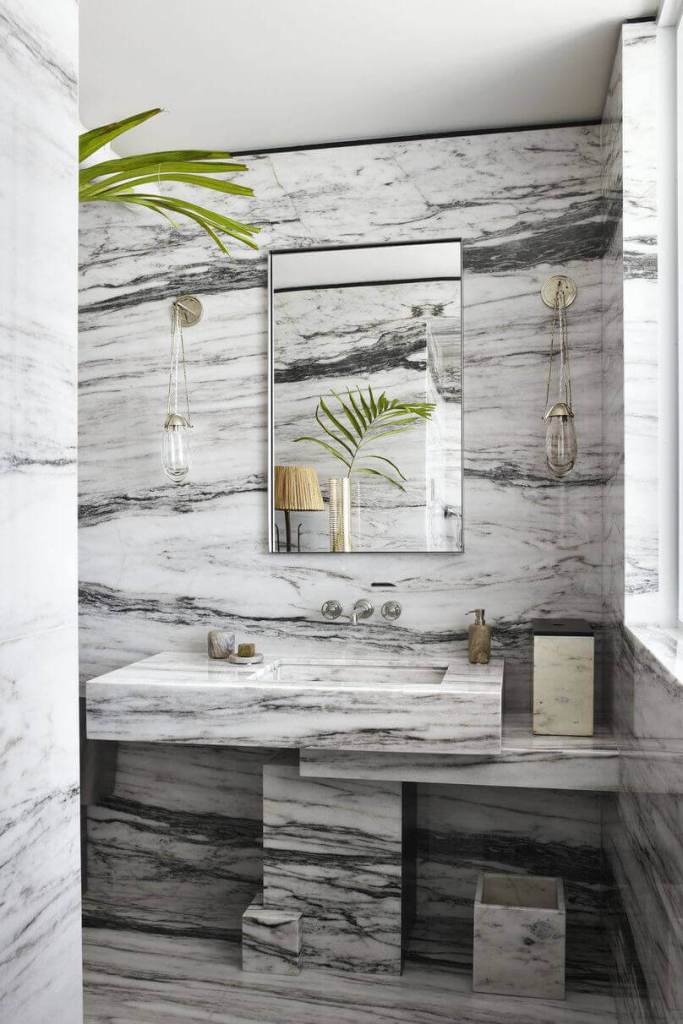 Remodeling will bring a new appearance to your bathroom and make it slightly different than before, and that depends on how much change you want for it. This modern bathroom looks so amazing with its beautiful marble that unfolds its pattern.
It's an all-marble bathroom which makes a unit. This can be an alternative when you need some new look for the bathroom. You can add a mirror that will reflect its beautiful form of marble look and also make the room appear wider.
2. Install a Skylight
You won't think that your bathroom is small ever again, thanks to the perfectly installed skylight right above there. The lighting will just fall right here to reveal how beautiful this bathroom is.
Having a monochromatic flooring style, this bathroom has nice arrangement tiles which might inspire you to do the same thing. There are also a bathtub in which you can submerge your body in and a window that creates a breezy atmosphere.
The flooring isn't only attractive, but also not slippery, which is a point you should take into consideration when choosing a tile for the bathroom.
The tiny wall of terracotta has a soft and comfortable look in white, which becomes a big problem because it takes you forever to stay in there.
3. New Look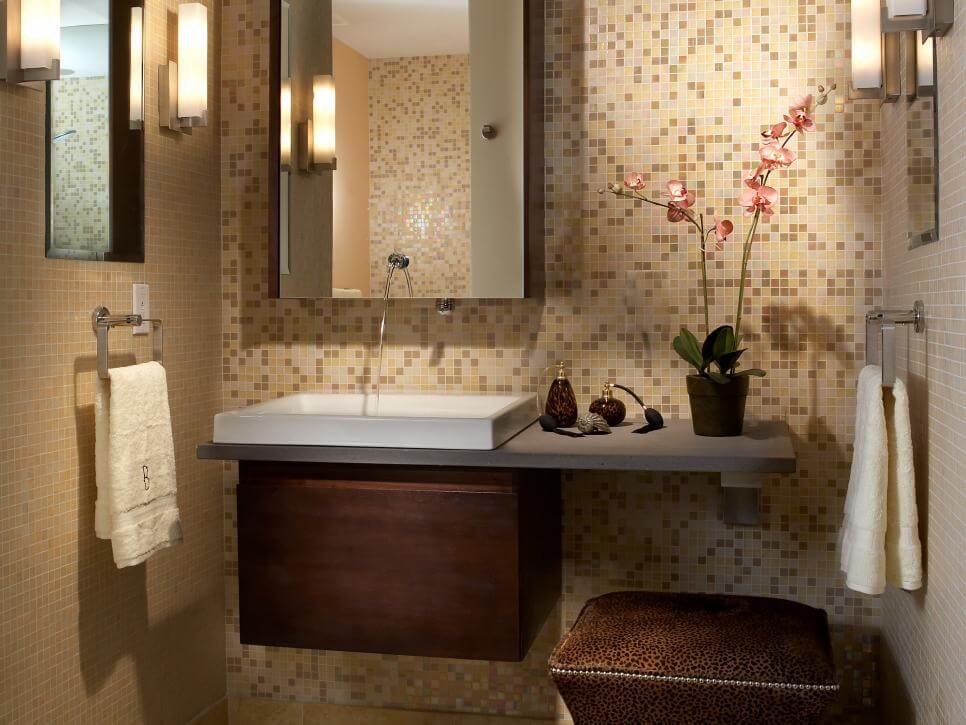 A look can be deceiving sometimes; you have to touch in order to make sure what kind of material it was made of. These days, 3D wallpaper can easily be purchased to decorate any room in your lovely home – the bathroom is no exception.
This one is obviously will take your breath away with its stunning tiny wall tiles that come in a soft neutral pattern. If you're going to do the easy and cheap one, pick wallpaper. But if you can afford it, getting the real one won't be a problem.
4. Gray Floral Floor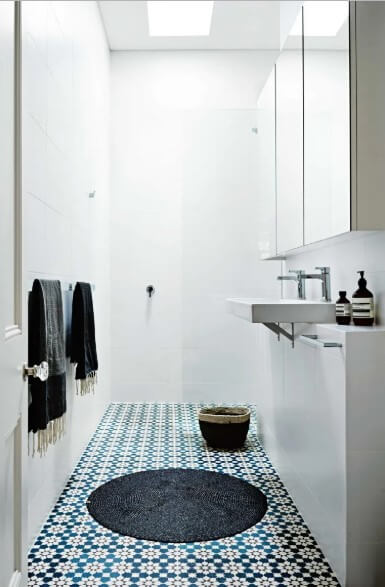 Something you need for your all-white bathroom is contrast. These adorable floral tiles will enliven the room up with their beautiful surface. Plus, there's also a circular mat to help you with the slippery issue.
Adding a wall-mounted cabinet is also a part of renovating the bathroom that you should do. The wall-mounted one makes nice bathroom storage. A towel rack would complete the whole scenario.
5. Changing the Lamps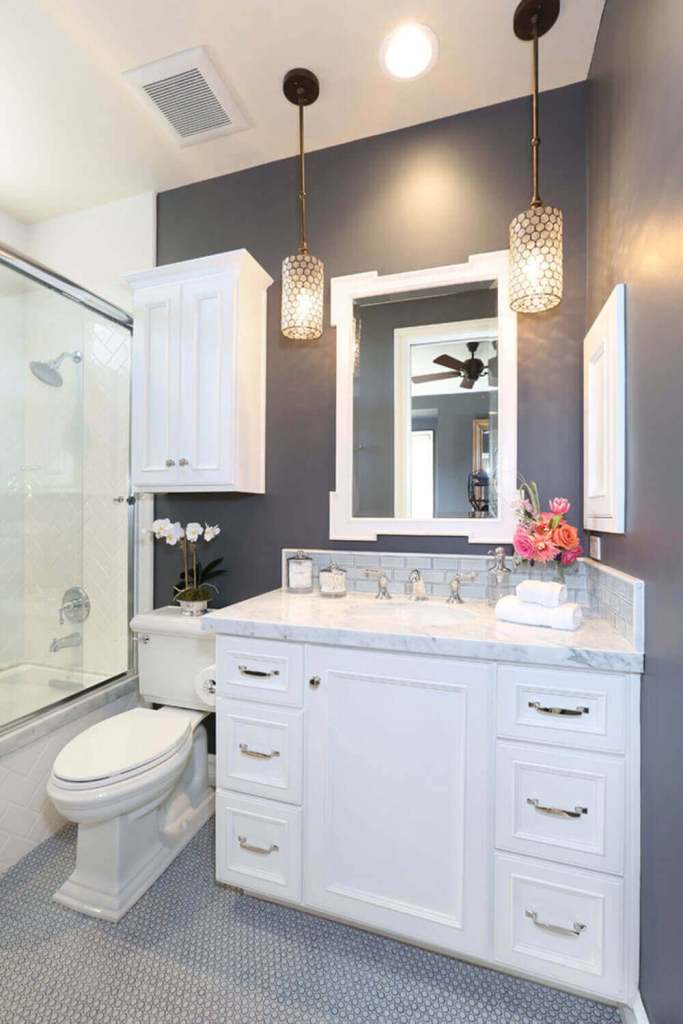 Adjusting the lighting is one of the many common things required when it comes to renovating the bathroom. A mirror, which is essential stuff for a bathroom, should be added to make the illumination better.
A small cabinet above the toilet and some beautiful flowers are what you need to spice the look up. A vanity should also be considered if there's still space left because you would need it.
6. Glass Cubicle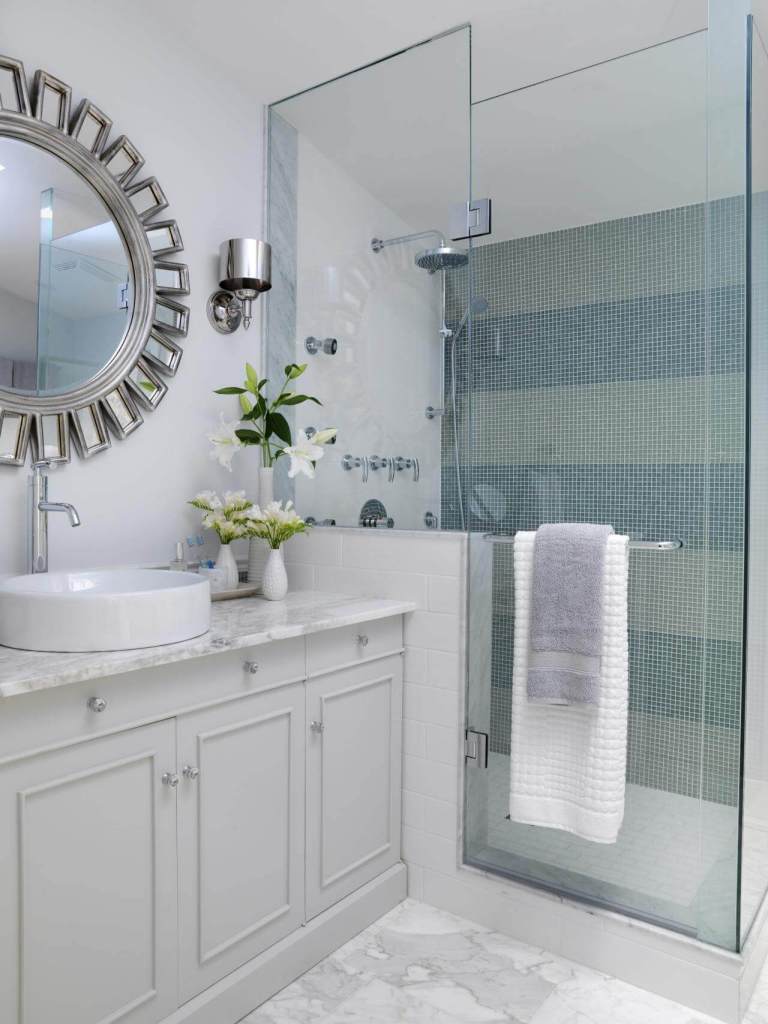 A material that is likely to create a spacious feel will be glass. Altering your bathroom with glass will do. Glass also makes a perfect combination with stainless steel. They enhance the luxurious look when combined.
There are two types of flooring styles here: terracotta and marble. Both create a different feeling but still go along well together in a way that makes you happy. You can't go wrong with adding some flowers in the bathroom as they can bring you joy.
7. Neutral Tone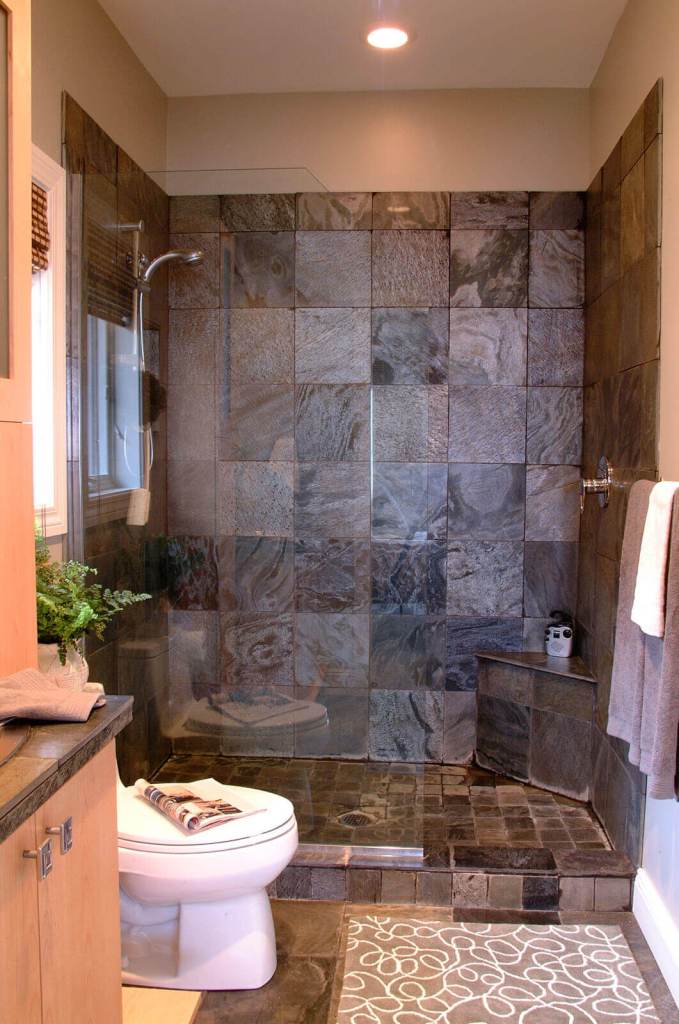 Natural stones seem to have a seamless style and a strong magnetic field that will eventually drag away people to like it. Its existence proves that it has lots of admiration through time.
To see this kind of bathroom will make one feels thrilled due to its exotic beauty that is different from other materials or styles. Its rough form and unique pattern look so aesthetic. Creating a small place on the corner to put some items will be a good idea to do.
8. Combine Different Materials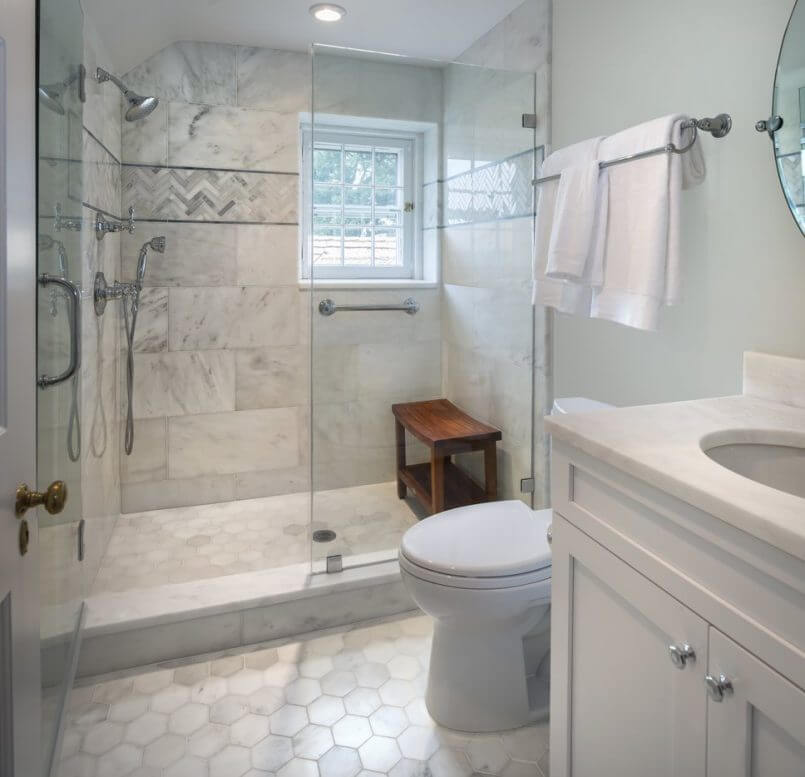 Some materials offer you different options, quality, and obviously look. In this room, you can find at least three different kinds of tiles. Inside and outside the cubicle are hexagonal floor tiles that pretty much sturdy and won't likely cost you a lot of money.
The walls are installed with marbles and zigzag tiles. Zigzag makes the bathroom has something to stare at when you're inside there. It is lovely to have a window in it to drive away from the pungent smell.
9. Adding Curtains
Curtains might not be one of the parts on the list of items you should think of when redesigning your bathroom. But they deserve to have some of your attention because it will feel off without them.
Curtains can create an elegant atmosphere wherever they are, depending on their materials, colors, or size. The elegant look rises when you combine curtains with these beautiful neutral stones in the bathroom.
10. Having New Floor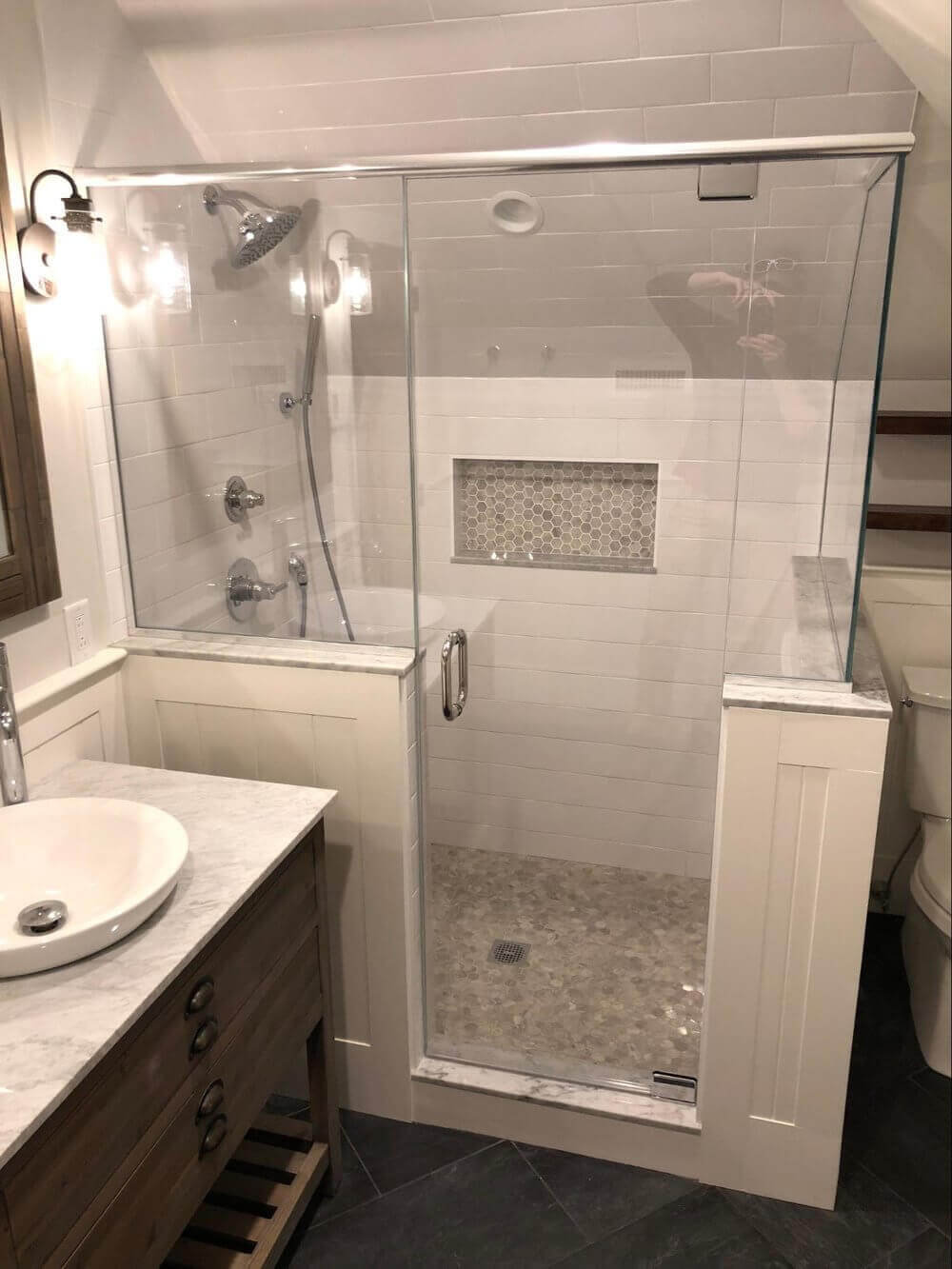 You're going to get a pro's help for building such a cute cubicle shower like this. This one appears to be not so high in appearance. But it doesn't seem to reduce its beauty or function whatsoever.
Inside the shower, the floor tile looks like marble, which seems elegant and so satisfying to watch when merged with those white terracotta walls.
This bathroom has a wooden vanity with a marble countertop, and there's some space beneath the drawer to put some stuff.
The floor is arranged in a unique way that gives a stunning look with its dark surface
11. Bring New Style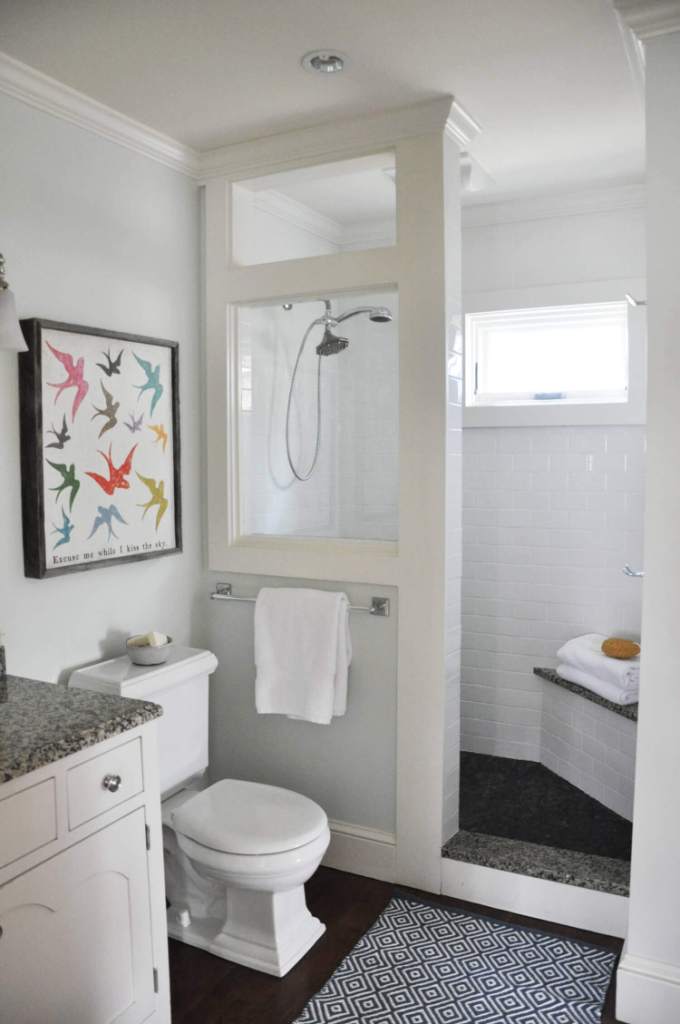 Bring a certain style into your bathroom if you think the previous one isn't attractive anymore. Our bathroom remodel ideas can help you achieve that dream.
And this farmhouse bathroom idea could fit for you. The most parts of the bathroom are in clear white, which brings some peace. Meanwhile, the inside floor is the opposing dark and there's a place for you to put towels.
12. Applying Nice Background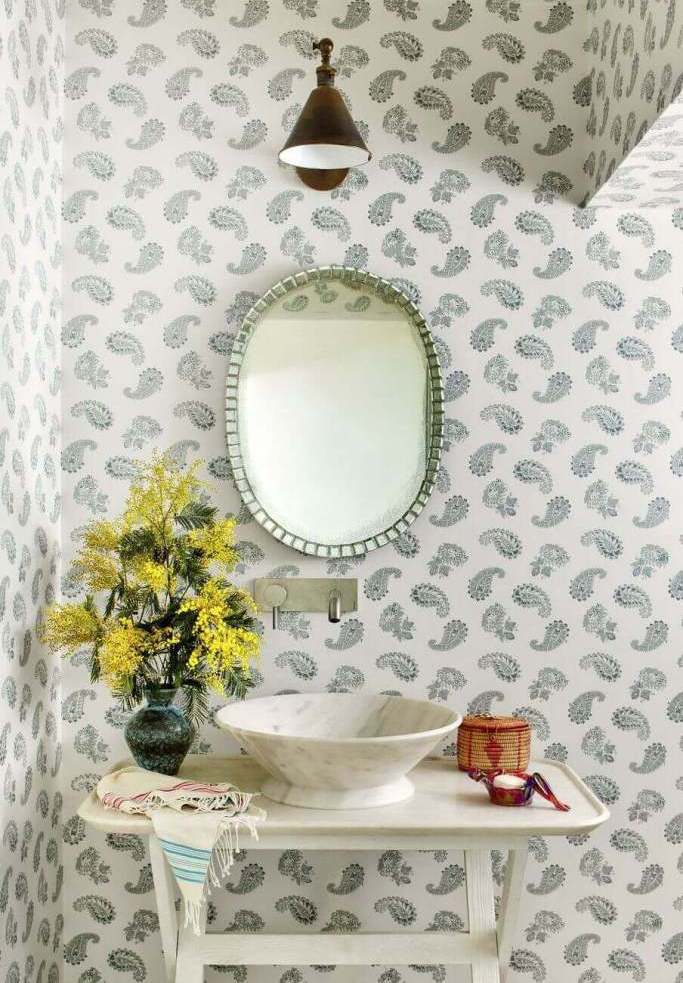 Changing the background will also add a new view into your bathroom. And with this gray wallpaper that nicely fits here will make you feel the difference.
The sink has a rather distinctive shape which has a similar tone with the wallpaper. Set some flowers and a mirror to maximize the look.
13. Kids Bathroom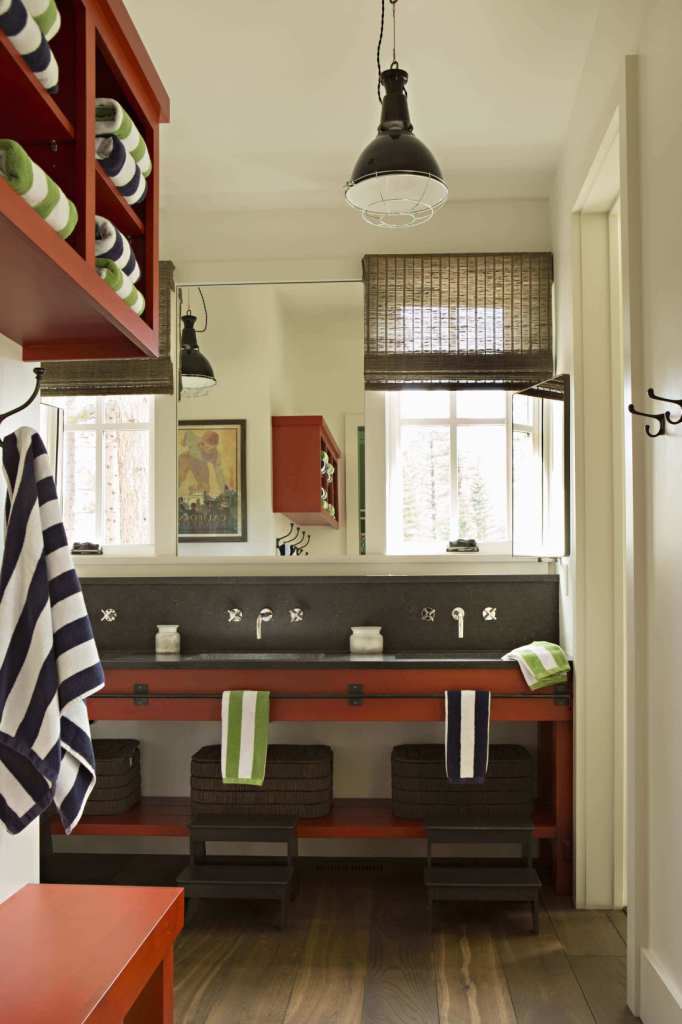 Due to their heights, kids would find it hard to reach the sinks, so you need some ideas that can help them with it. One of the ideas that will work well is providing stairs.
The vanity is rather huge and thus can be shared with more than two people. Some towels with vivid color are available on the cabinet. Some beautiful lamps are installed not only to light up the space, but they also make it have a classic vibe.
14. Paneling Surface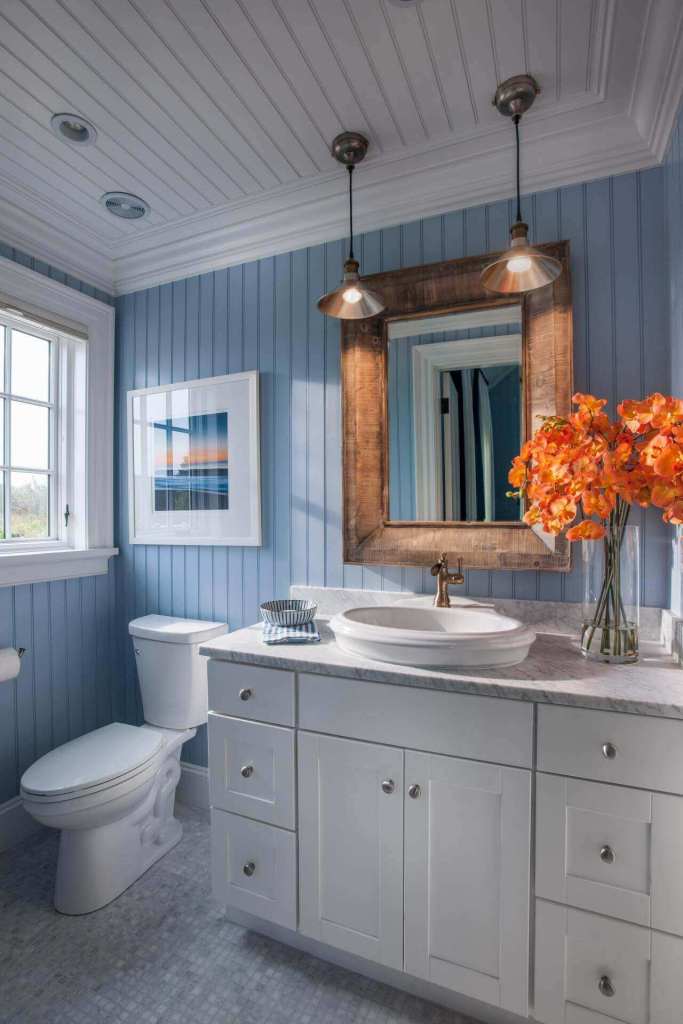 Wood panels create a stunning surface with small straight lines that decorate the bathroom. This will beautify your old bathroom look and gives a new environment with a new surface.
Though both the wall and ceiling are in two different colors, they kind of create a nice blend. A huge mirror with its bold frame leaves an elegant touch. The flowers really spice up the rest.
15. Coordinating Tone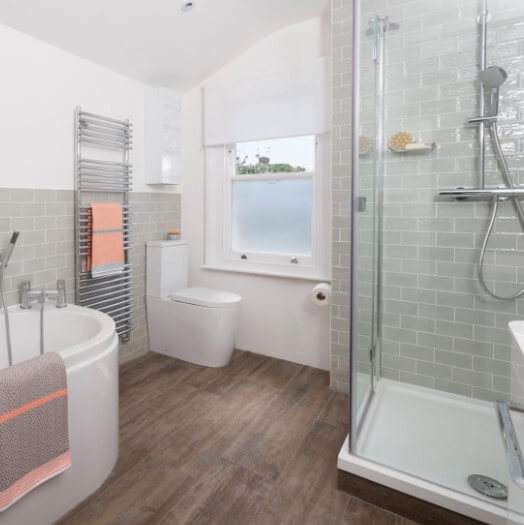 Creating the room that has a nice view isn't that hard yet not easy either. It's just perhaps you don't know where to start and afraid to make a mistake. Fear not. You can look at this picture to give a better image.
If you observe it carefully, this room doesn't come in a vivid or colorful tone. Instead, it's dominated by an earthy tone, which is pleasant to the eye.
16. Frosted Glass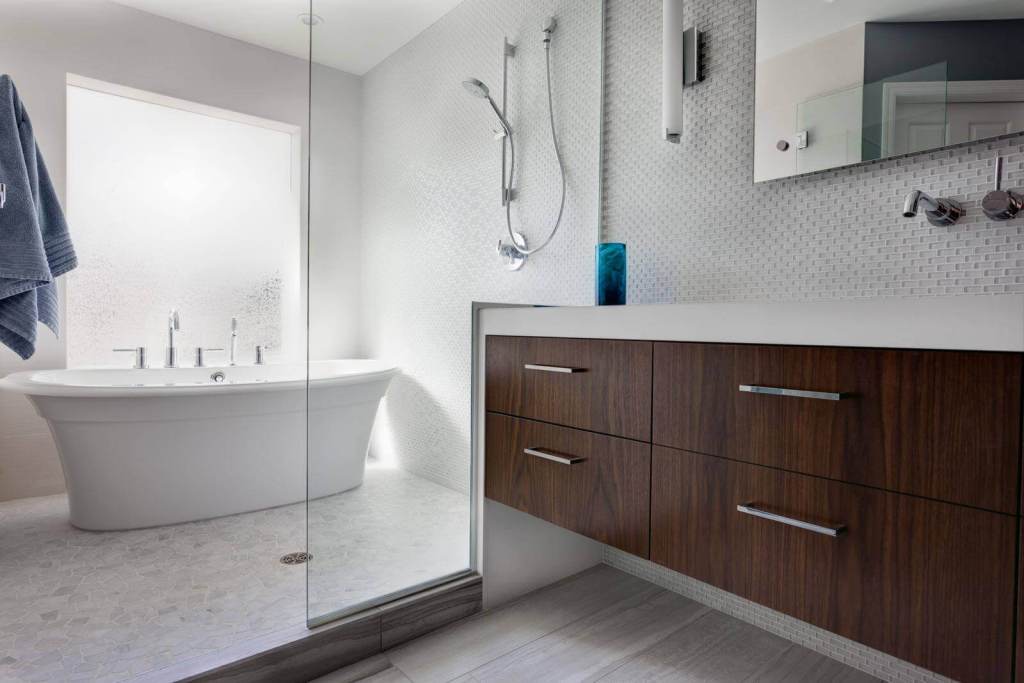 If you want to make your bathroom feel a little bit more private, changing the window with frosted glass would do. The wall has small dots and it looks kind of amusing that it makes a nice decoration.
Having smooth and clean lines, this wooden vanity has metal door handles under the giant mirror.
This bathroom looks isolated which is as good as you want it to be.
17. Huge Shelves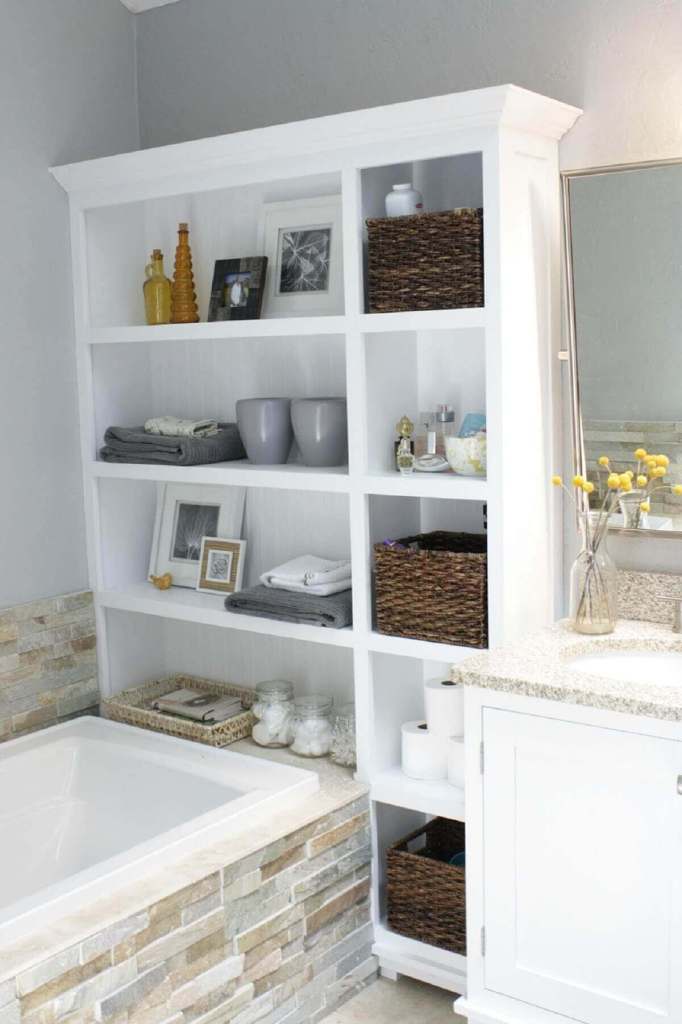 If you think that you need some big storage as the small one couldn't handle it, this huge shelves would be a great help. A common problem can be there's nowhere to find to put those stuff but on the floor.
So by installing these shelves or cabinet would at least tidy up your bathroom as you have something to store those items.
Make sure that you have a spacious space, and it doesn't reduce the beauty of the bathroom's look
The bathtub has a natural beauty of having stones as the wall. Its earthy stone color is a nice choice for the bathroom
18. Adding Plants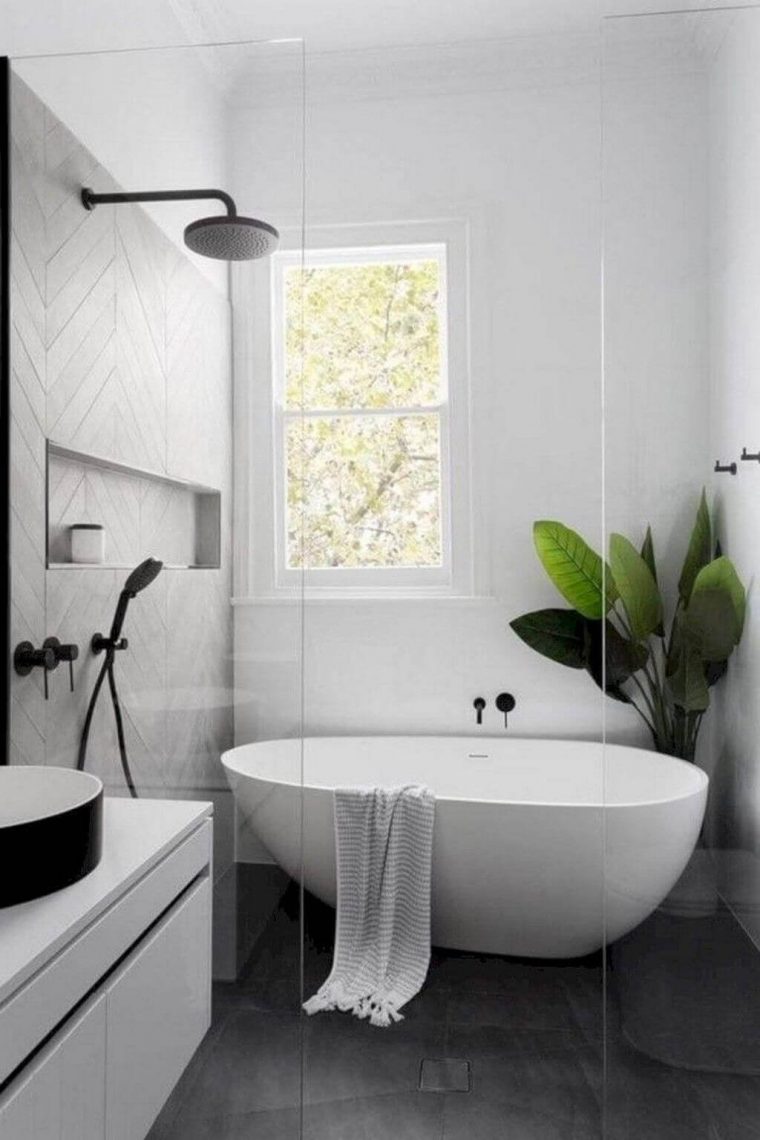 Adding plants would be the easiest thing to do when trying to get your bathroom to have greenery. And it won't cost you dearly as there are lots of economical ones that you can purchase.
You can opt one that is fairly tall enough that it is above the bathtub in height. Make a spot like a square that has some inches depth in which you can save those bathrooms' item. It can also adorn the appearance of the bathroom as well.
19. Tiny Tiles
They may be small in size but they create good flooring. These tiny tiles should have rough form and it won't likely to make you slip.
On the wall are bigger tiles that have an oddly beautiful pattern that brings a peaceful vibe in these glasses caged in the bathroom.
20. Framed Doors
You should find a smart way of dealing with a cramped space of a bathroom. This room appears to have fairly shallow in height, but here the owner makes a clever move by creating some skylights that liven up the room and brings some fresh air in.
A black wrought-iron partition nicely walled in the small-sized bathtub with a hanging sink, which is perfect.
You will feel the breeze when you're in the bathtub while the skylights are opened. The stone tiles flooring leaves a homey look with its neutral tone.
The partition infuses a different atmosphere with its dark color. The square frames design looks nice when combined with the surroundings
The warm and welcoming nuance are formed from the wooden element in the bathroom which are the vanity and the floor outside the bathroom
21. Pebbles Floor Ideas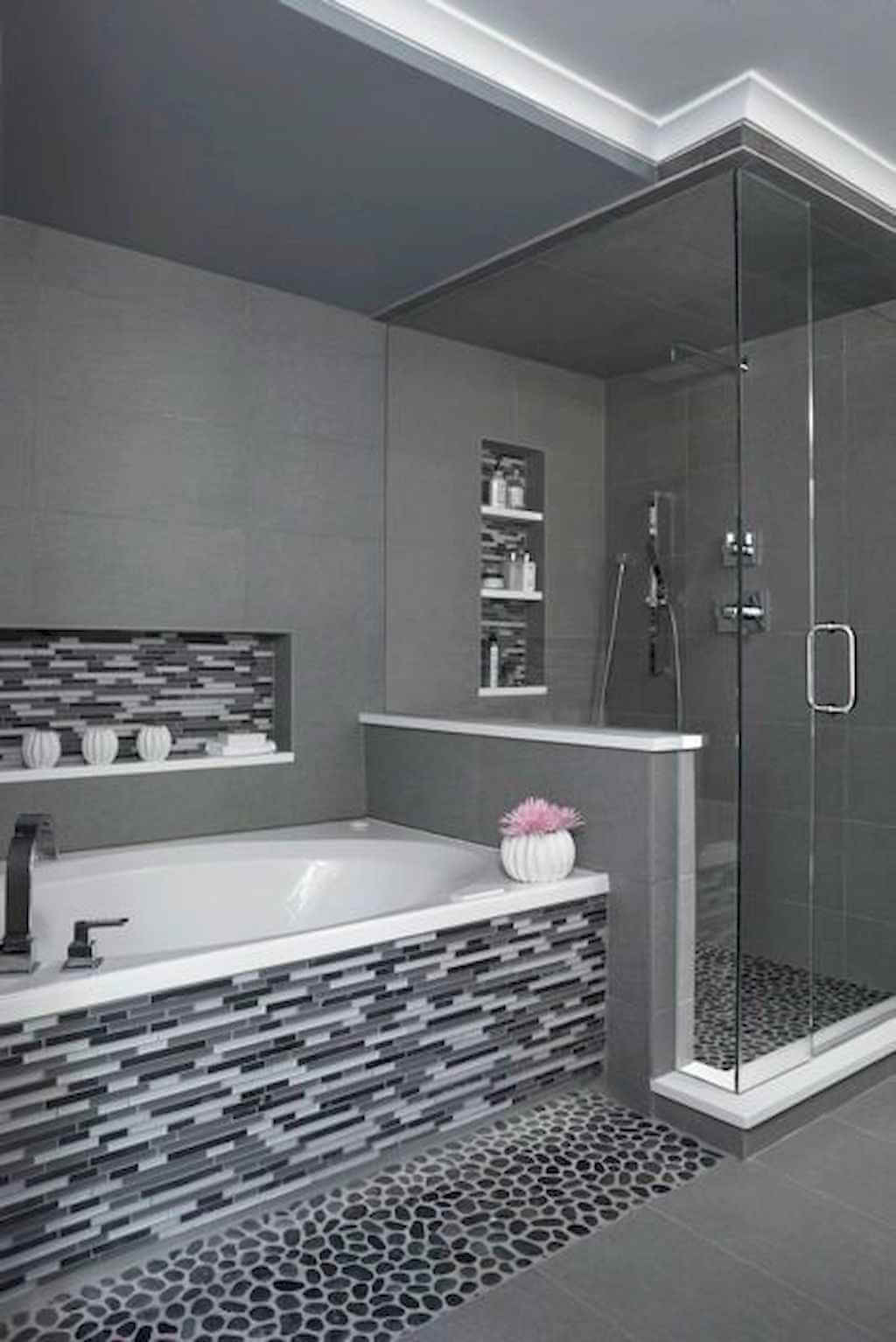 Slippery is one of the common issues you'll face with the bathroom floor, which can be dangerous. But if you are looking for flooring tiles have a coarse surface, pebbles can be the best option you have.
It's also quite cheap, durable and still gives a good look in the bathroom. You can combine it with tiny tiles as seen in this picture.
22. Installing Racks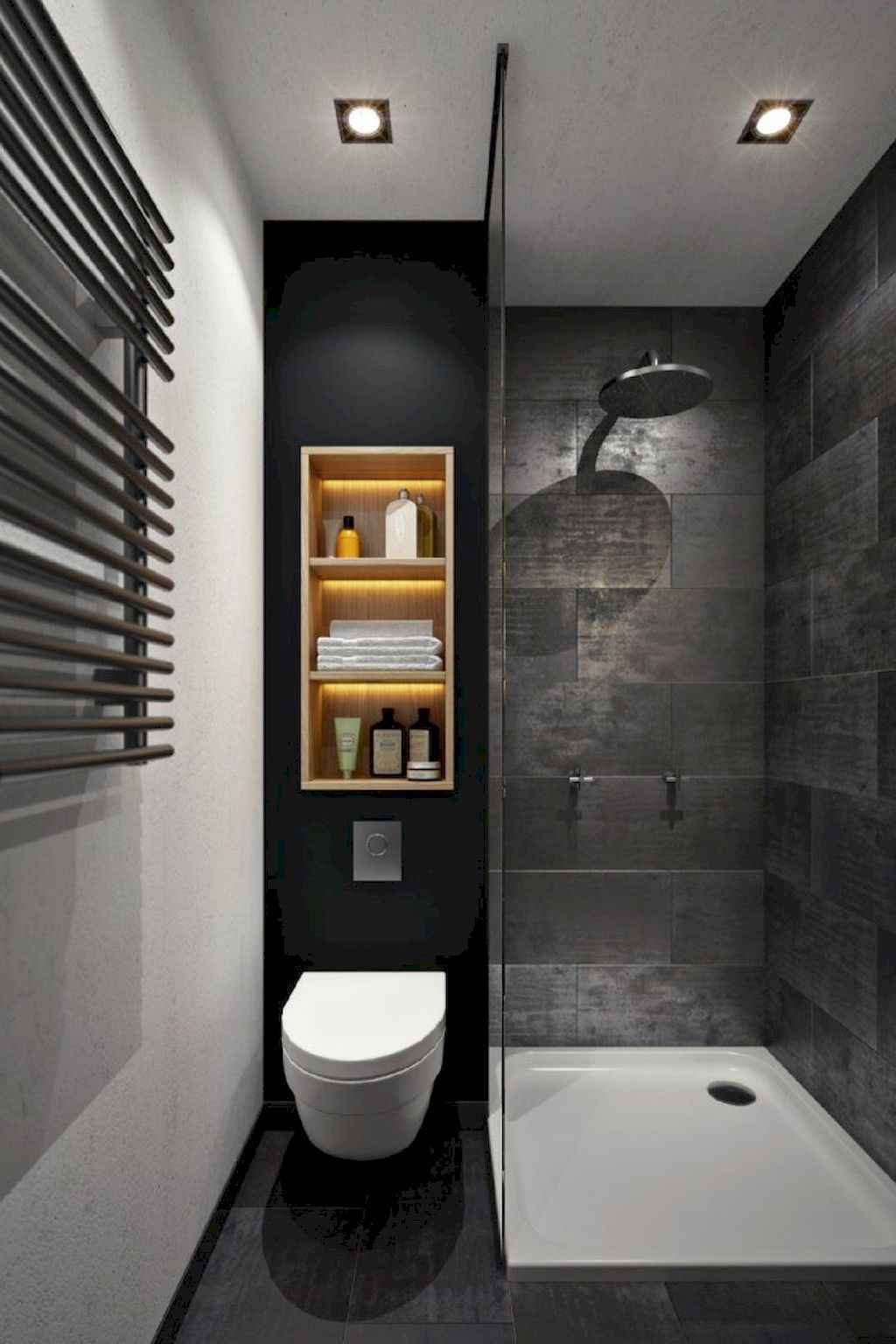 This room obviously has a dark color scheme with a slightly white tone. A small shower cubicle plus a toilet makes the bathroom seems to be isolated. The warm lighting comes from those two little lamps on the ceiling.
Having a small rack that has a different function is a nice move, and it's practical when you're in need of tiny storage. There you get your shampoo, soap and towel handled. It's located just right above the toilet. Shop Related Product.
23. Wooden Ceiling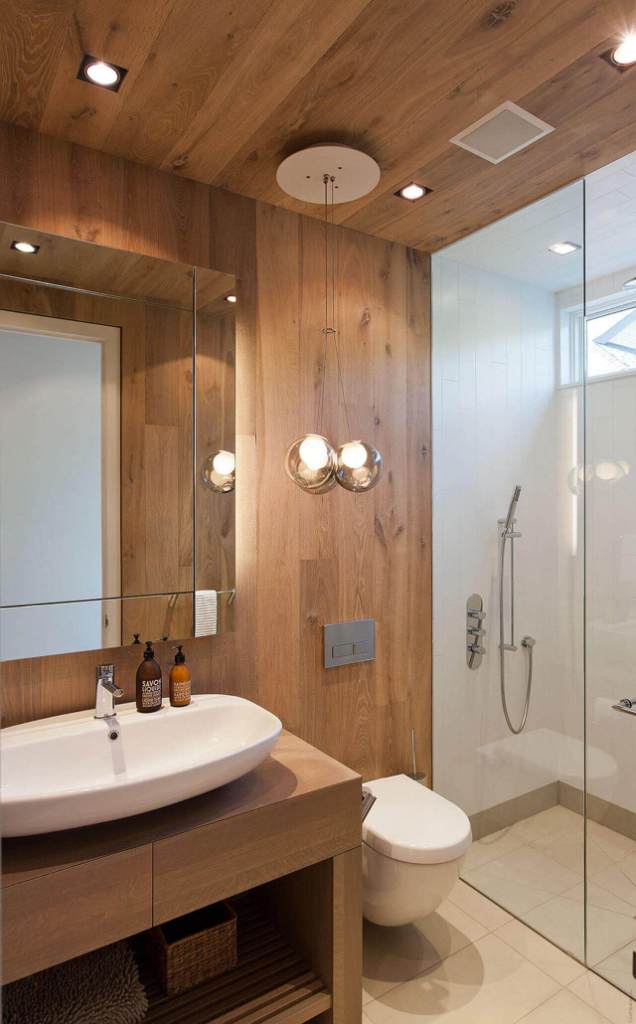 Wooden has everlasting look and it's a common element you see in home or bathroom renovating ideas. You can go on the specific case here, which is the ceiling.
Doesn't this wooden ceiling have such a nice appearance? Yes, it is. It doesn't even need painting because its surface itself shows a truly elegant texture.
24. Add Some Floating Shelves and Hanging Planters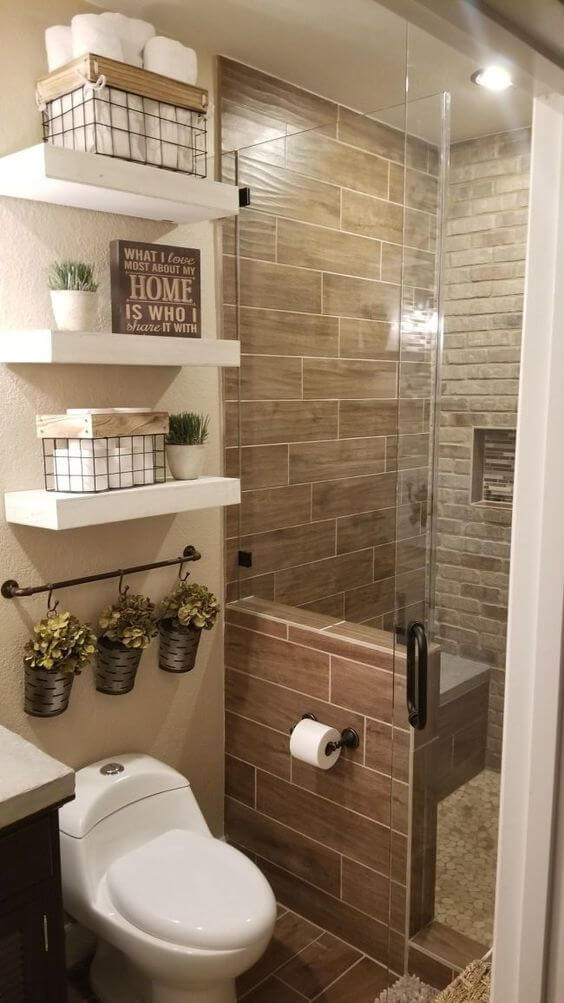 These shelves and hanging planters make a great DIY project and are a space-saving technique for your small bathroom.
***
We really hope our 20 plus bathroom remodel ideas enlightenment you on renovating your bathroom on a budget. Which one of these smart ideas inspires you most? Share your thoughts here.