No surprise, more interior designers and homeowners are obsessed with greenish-blue. This color combines the calm energy of green and blue's coolness. If you love its vivid quality, read on for some awe-inspiring turquoise room ideas.
Moreover, turquoise is such a versatile color. It pairs well with any imaginable tone, from white to orange. Additionally, it can be used in houses with different designs. Without further ado, here are rooms that wear turquoise.
1. Turquoise Bedroom Accessories
To create a serene atmosphere, paint your bedroom walls muted turquoise. They will add interest to space instantly. Pair them with pale gray furniture pieces for a light feeling.
Scatter turquoise decorations such as glassware and vases throughout the space to obtain a state of balance. Include black accents for some visual depth. Lastly, hang a framed artwork over the headboard.
2. Turquoise as a Minor Player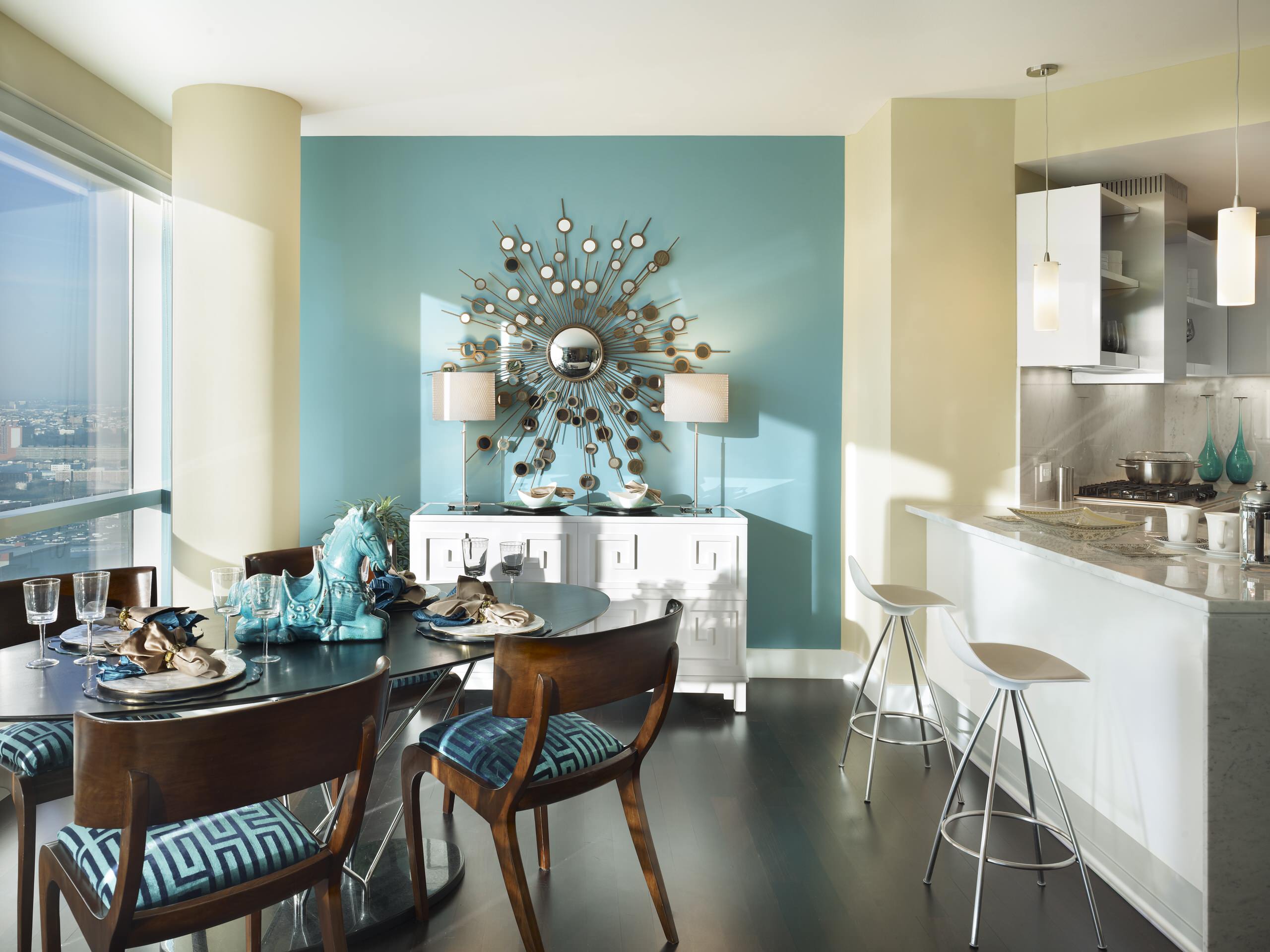 You do not have to use turquoise as the main color. This dine-in kitchen can be a good source of inspiration for sure. The white ceiling and cream walls develop an open ambiance.
Turquoise accents bring culinary space to life. Since they were not placed in one spot, they make the kitchen appear healthy. They also deliver instant happiness to the whole room.
3. Gray and Turquoise Living Room Ideas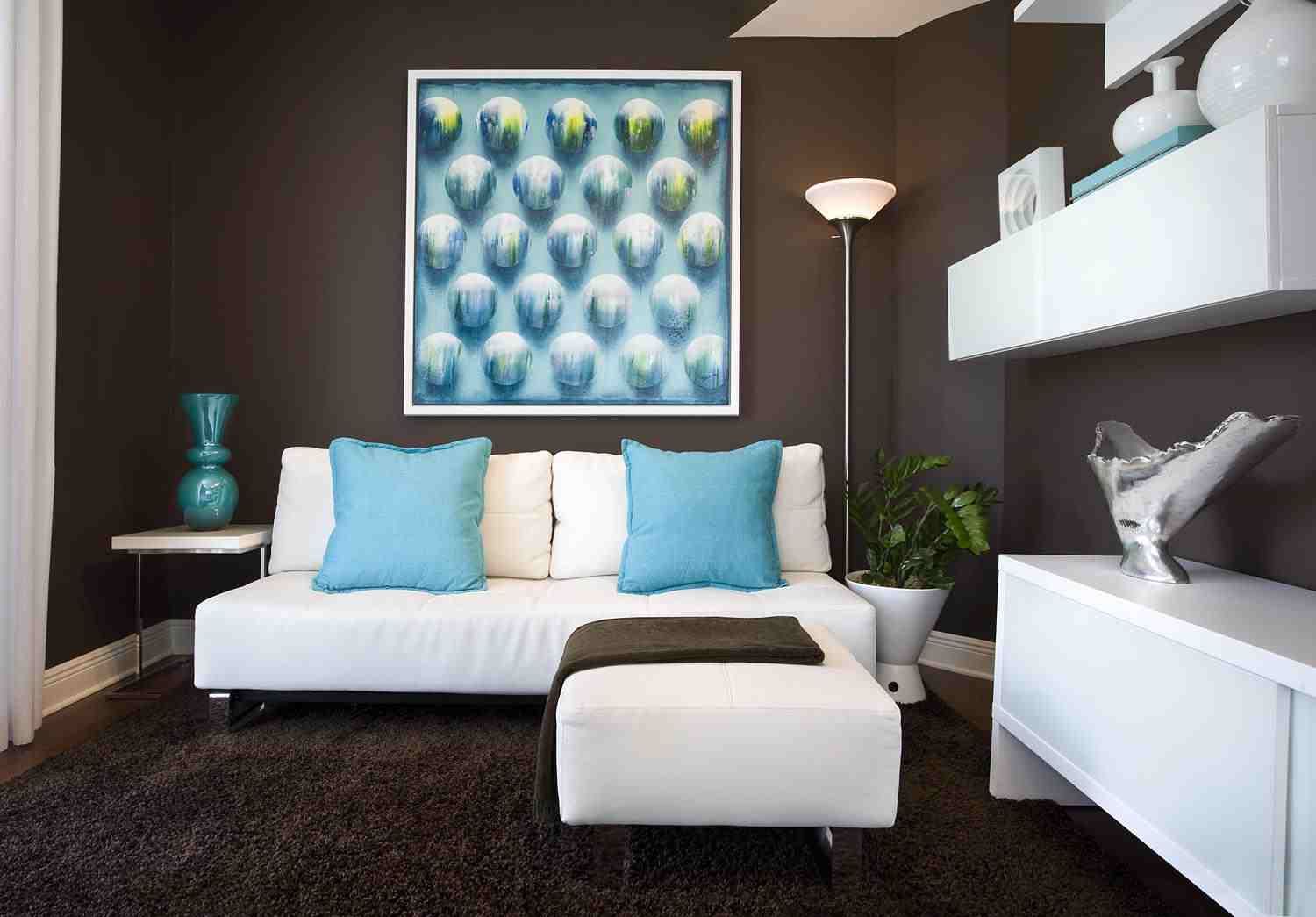 Are you searching for unusual turquoise room ideas? Instead of utilizing vibrant greenish-blue in your living room, pick the lighter one. Even though the shade is not vivid, it still enlivens the space.
For the walls, dark gray is such a great choice. It allows turquoise units to stand out while generating a sophisticated feel. Meanwhile, crisp white furniture and decorations prevent the living room from being gloomy.
4. Orange and Turquoise Room Ideas for Sleeping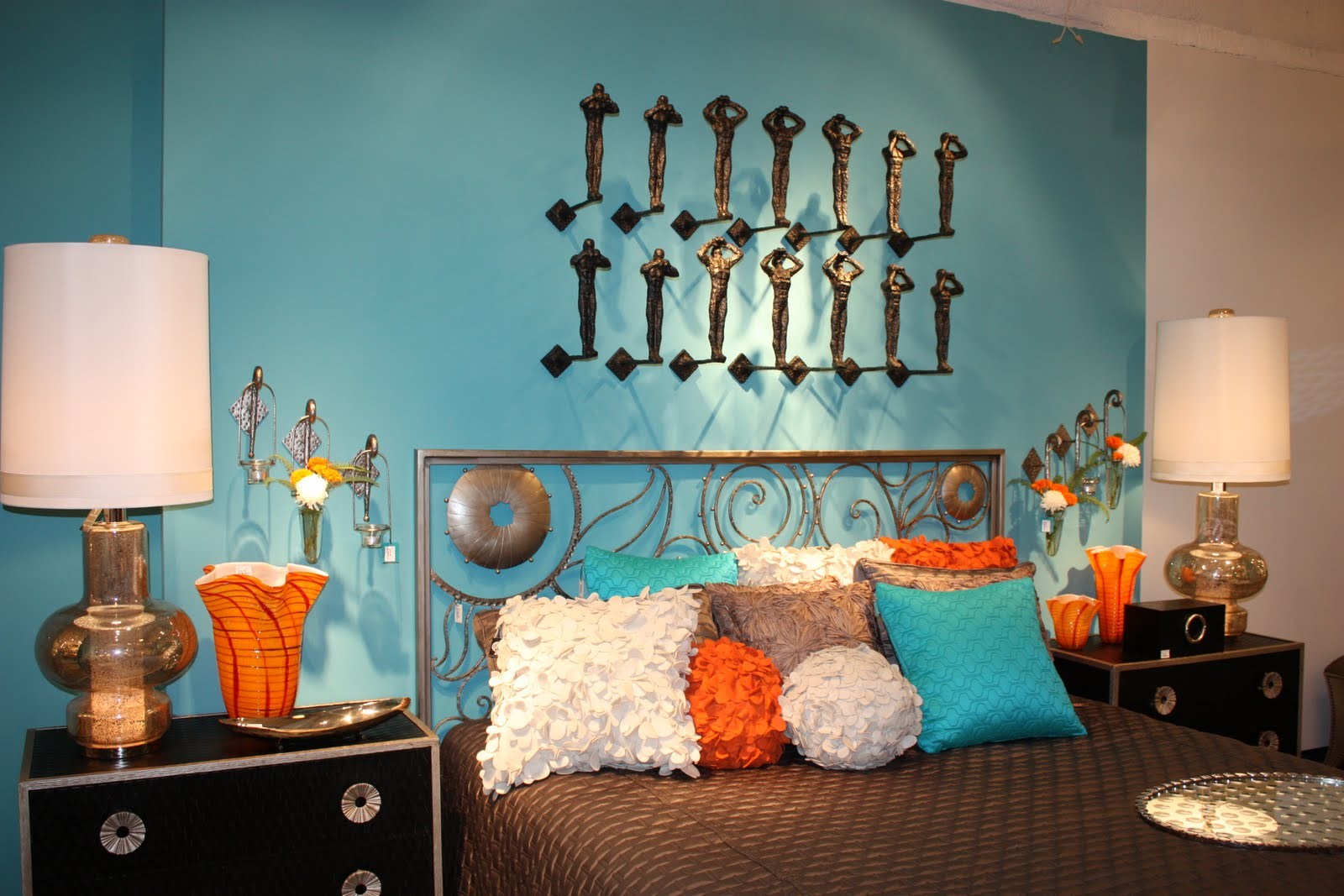 As we stated earlier, turquoise is truly flexible. Do not hesitate to team it with other colors. Here, greenish-blue and orange transform the bedroom into an inviting retreat. Those dynamic colors also bring energy to the space.
Moreover, deep brown tones down orange and turquoise. Throw pillows lend the bedroom textural contrast. Bed frame, wall sconces, and ornaments offer some vintage appeal.
5. Turquoise Walls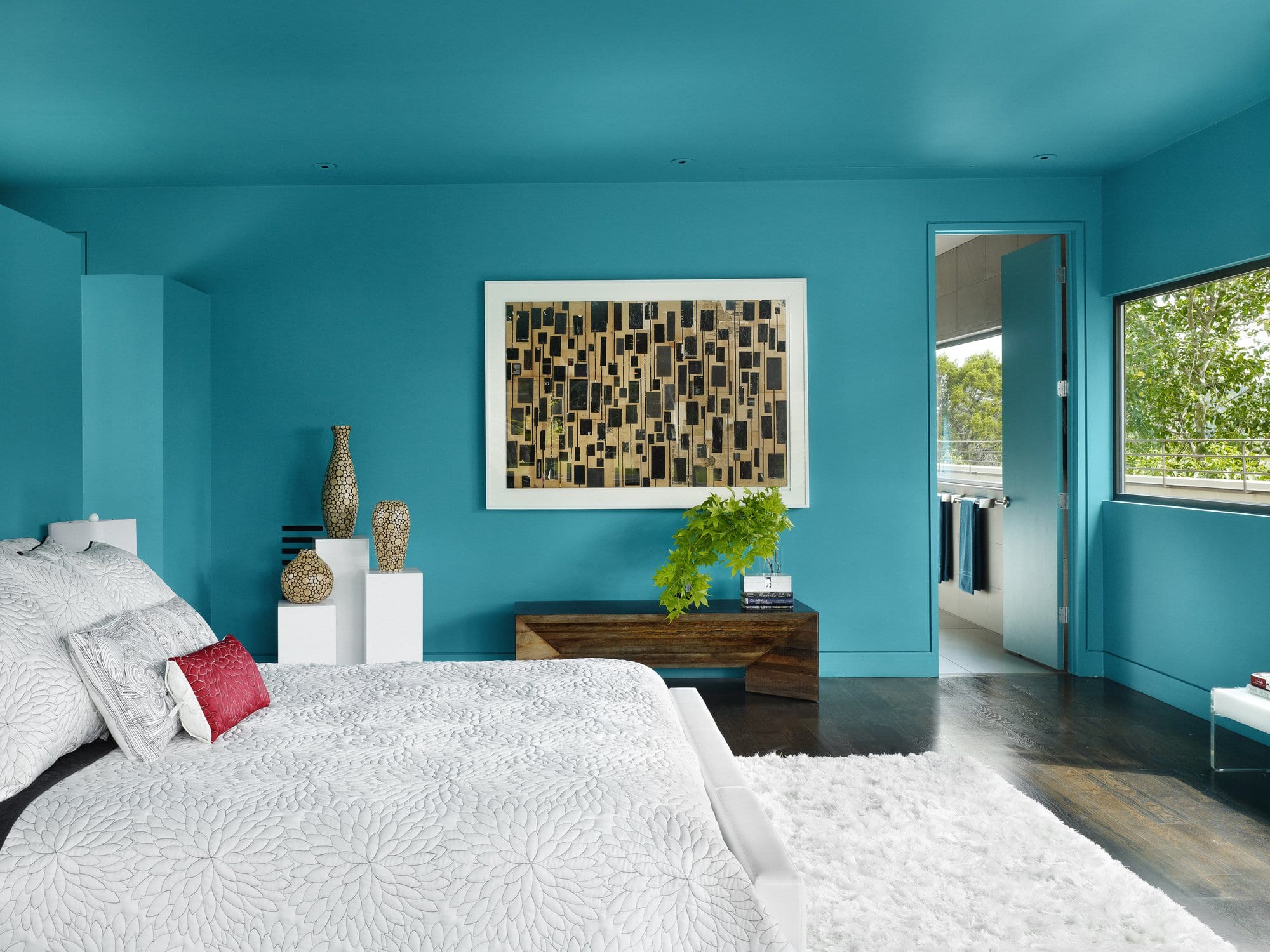 Are you into bold turquoise rooms? You should try this one of greenish-blue room ideas then. The sleeping area boasts a vibrant ceiling, door, and walls. They make a strong impression in no time.
White shaggy rug, bedding, and side tables turn the room into a dreamy sanctuary. The dark red throw pillow adds an extra pop of color. Houseplant and wood elements give off an outdoorsy feel.
6. Contemporary Turquoise Living Room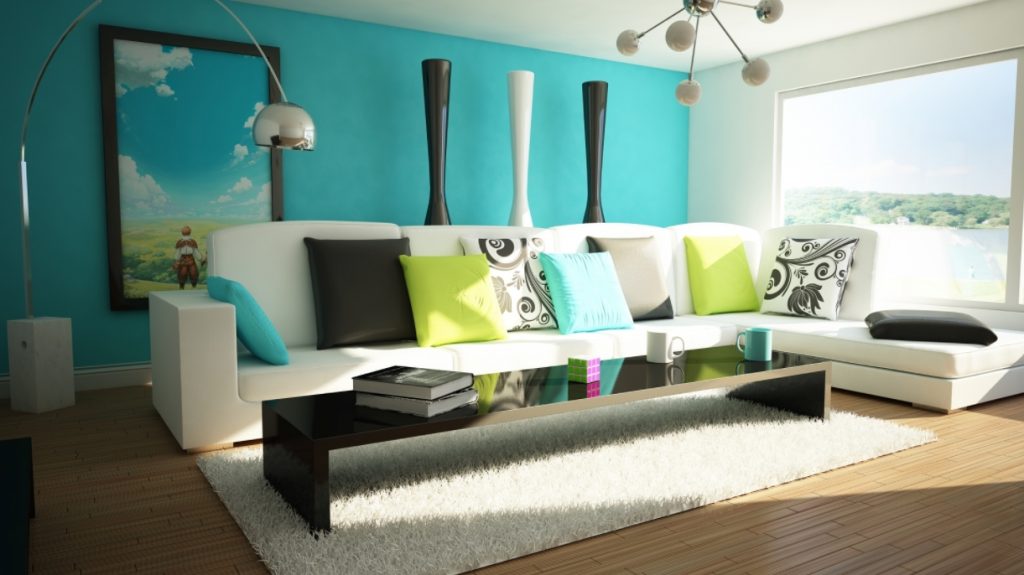 If you are a contemporary design enthusiast and in search of turquoise room ideas, this living room has your heart. The light greenish-blue accent wall fills the space with a refreshing ambiance.
Green floral throw pillows look striking against a gray sofa. They assert a sense of harmony as well. The glass table, floor lamp, and chairs are a perfect addition to the streamlined living room.
7. Turquoise and Green Bedroom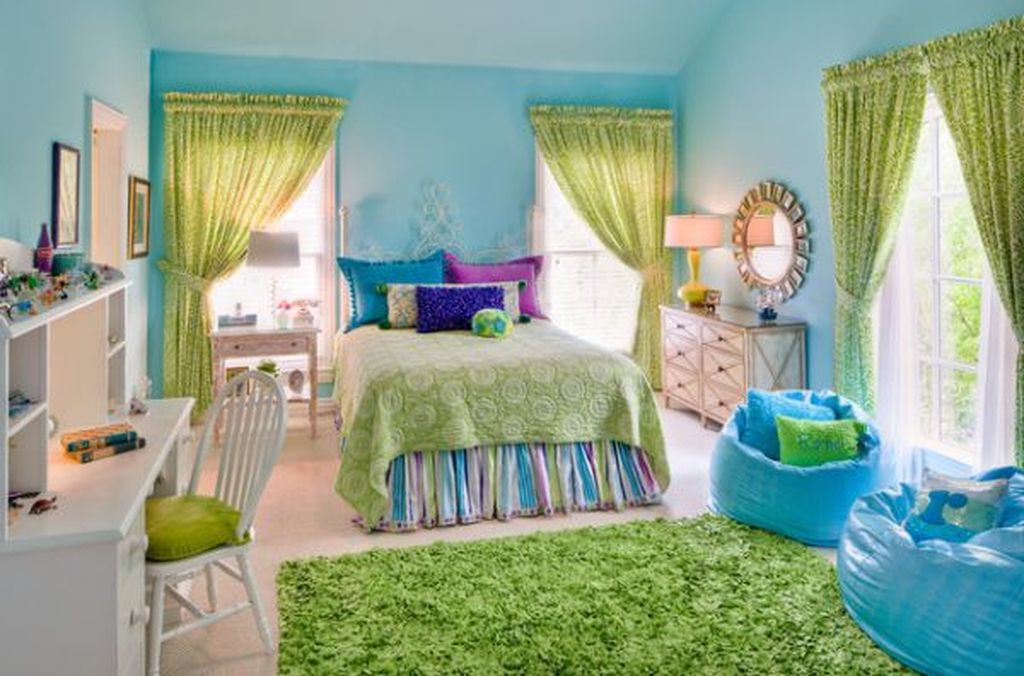 This divine bedroom will grow with a girl. Green and turquoise grace in the space as well as create a cheerful atmosphere. The beanbag chairs are a nice spot for reading books during the daytime.
Furthermore, the rug on the floor delivers a fluffy touch to the room. The white headboard provides a sweet character. Lastly, dark blue and purple throw pillows lend the space a bit of maturity.
8. Turquoise Room Ideas Teenage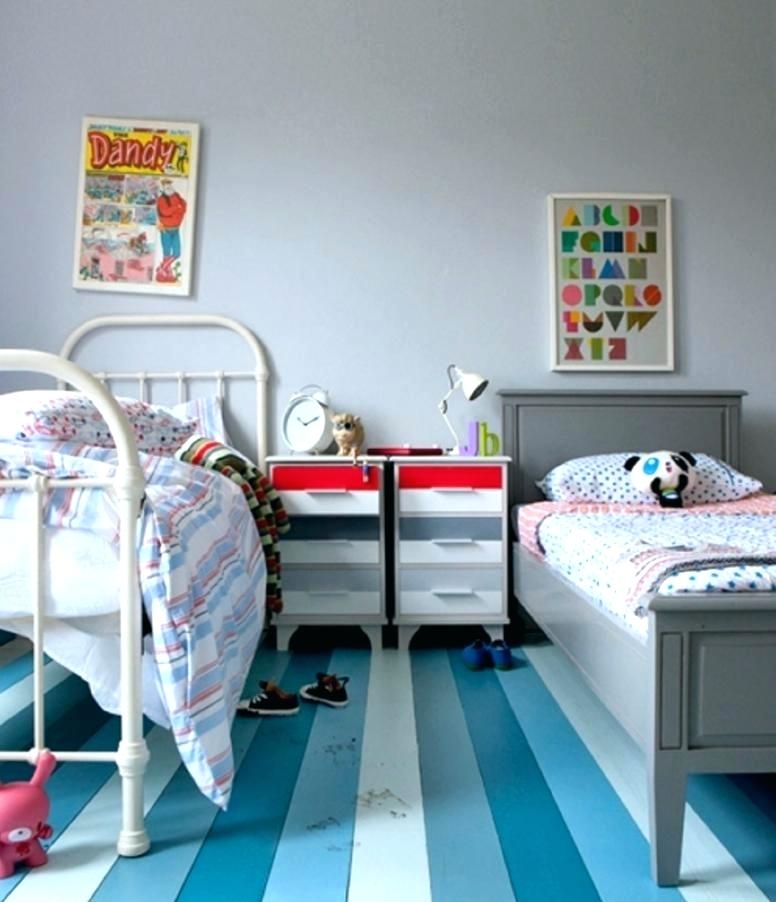 Gray and white dominate this teen's bedroom. Those neutrals emanate calming vibes. Two mismatched bed frames catch the attention in a flash. The striped turquoise rug adds fun to the area.
Posters, nightstands, and plush toys inject splashes of color into the interior. The table lamp and alarm clock produce a vintage flair.
9. Turquoise Kitchen Furniture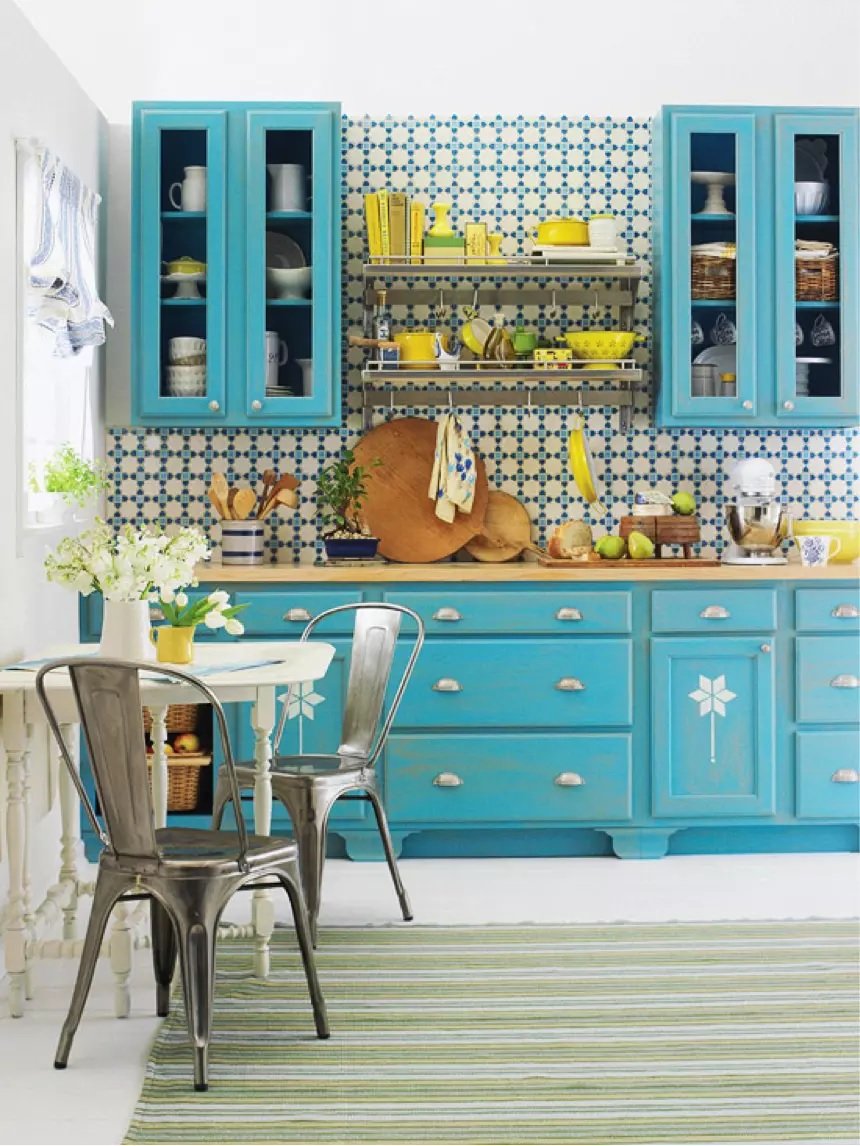 As you see, turquoise cabinets make this kitchen shine. They set a tranquil mood too. Meanwhile, white and greenish-blue patterned backsplash steals the spotlight. Yellow accents radiate uplifting energy throughout the space.
Two metal dining chairs offer industrial charm. White color palette and window give off an airy feeling. Wood units and indoor plants bring the outdoors inside.
10. Turquoise Meets Lime Green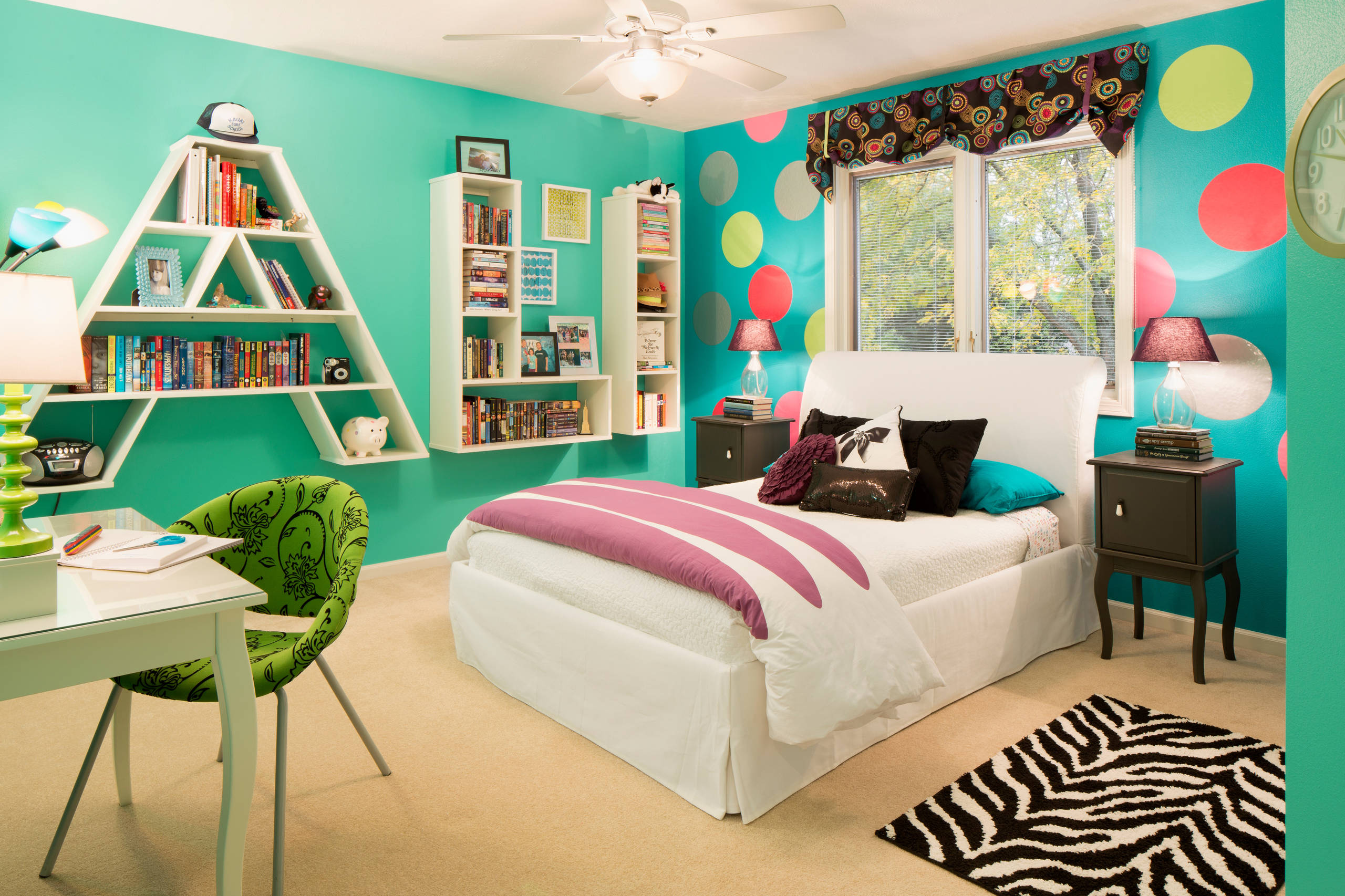 The bedroom walls were painted bold and darker shades of turquoise. Lime green pieces are such a delightful addition. They compliment the walls well. Letter bookshelves keep things organized while adding interest to the room.
Ceiling, bed, table, and zebra print rug prevent bright tones from overpowering the bedroom. Large polka dots on the wall carve festive vibes.
11. Beach-Themed Turquoise Bedroom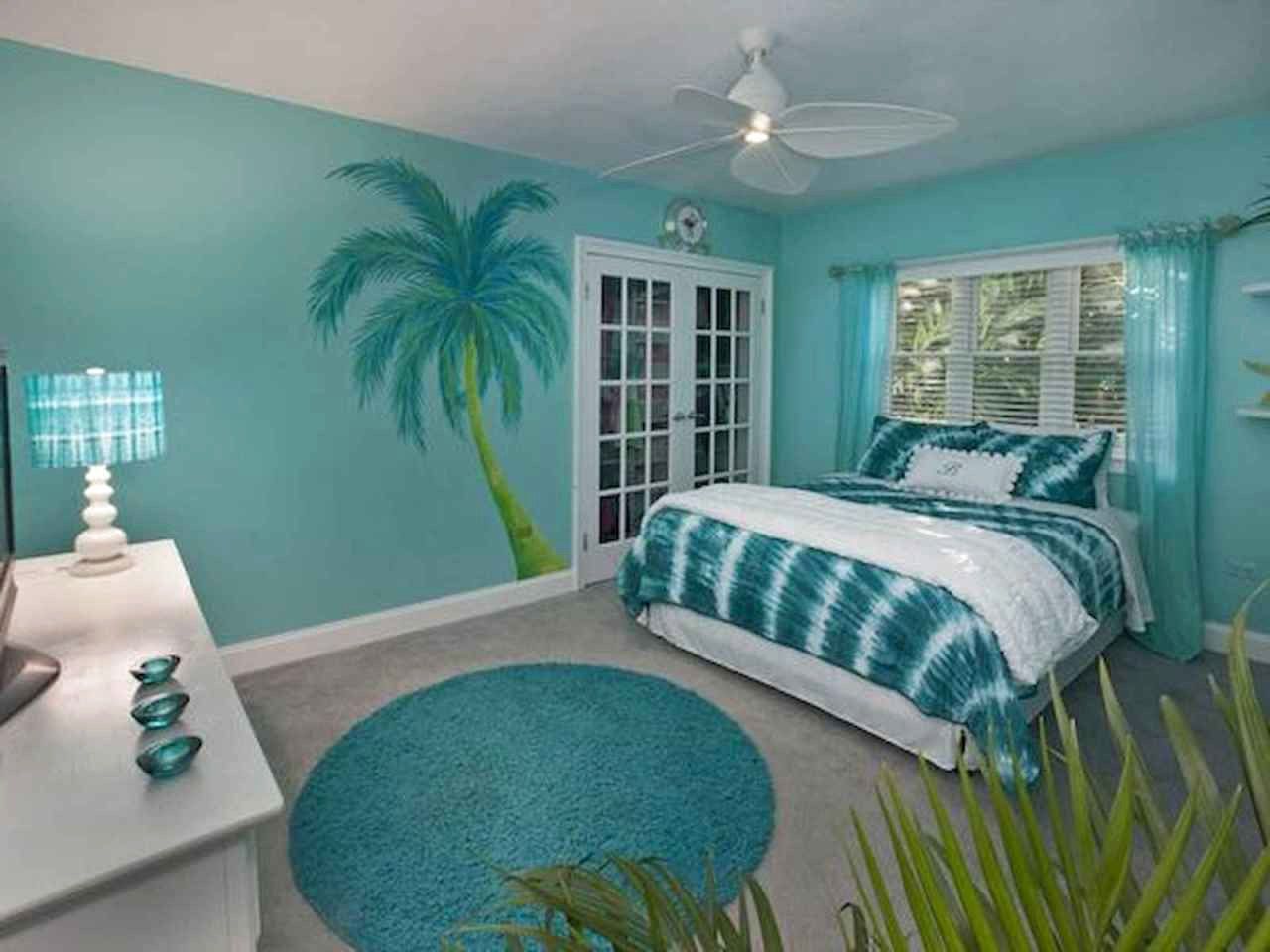 Do you miss your tropical vacation? You must try this one of turquoise room ideas. The key to creating a beach-style bedroom is pairing pure white with greenish-blue. That combination instantly exhibits a beach setting.
Coconut-tree wall decal and potted palms emphasize the theme. A light gray carpet allows the turquoise round rug to take center stage.
12. Turquoise and Brown Living Room Ideas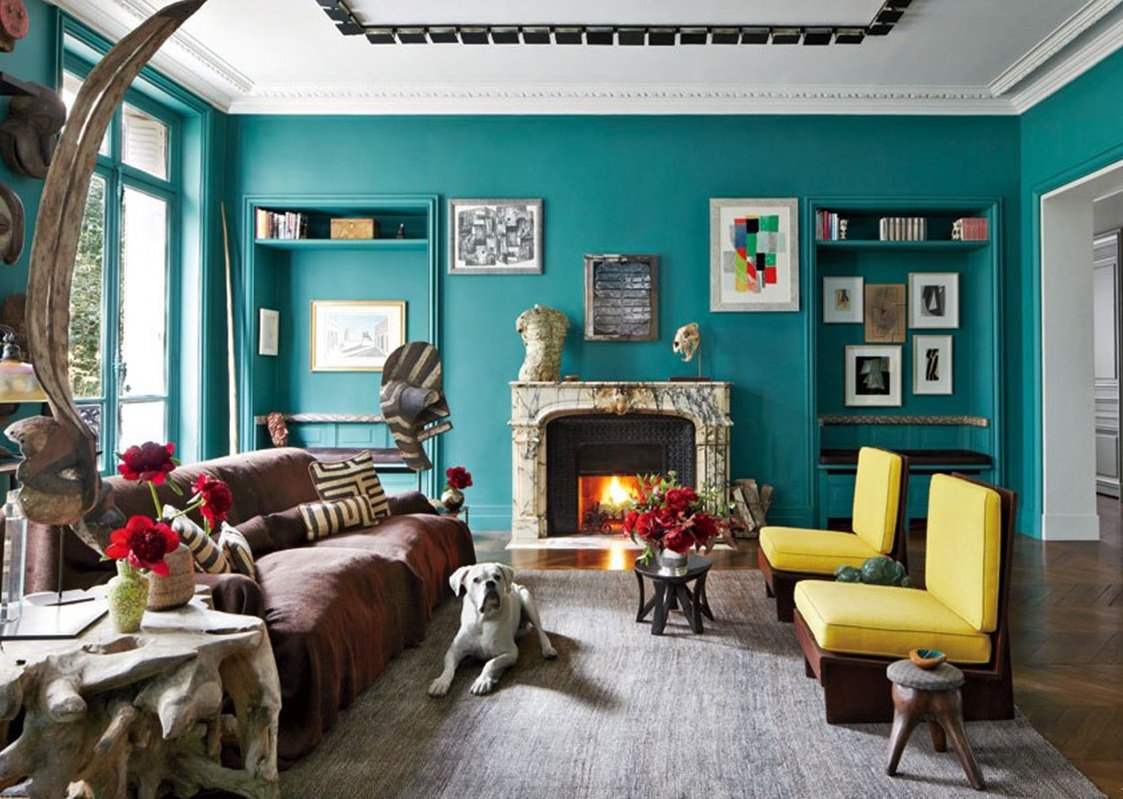 Dark shade of turquoise lends this contemporary sitting room visual drama. Brown sofa and herringbone wood floor reinsure the space with welcoming air. Two yellow armless chairs produce a happy mood.
The ornaments and a rustic wood side table offer an eclectic feel. Meanwhile, the marble fireplace brings a touch of glam to the living room.
13. Turquoise Bedroom Ideas for Little Girls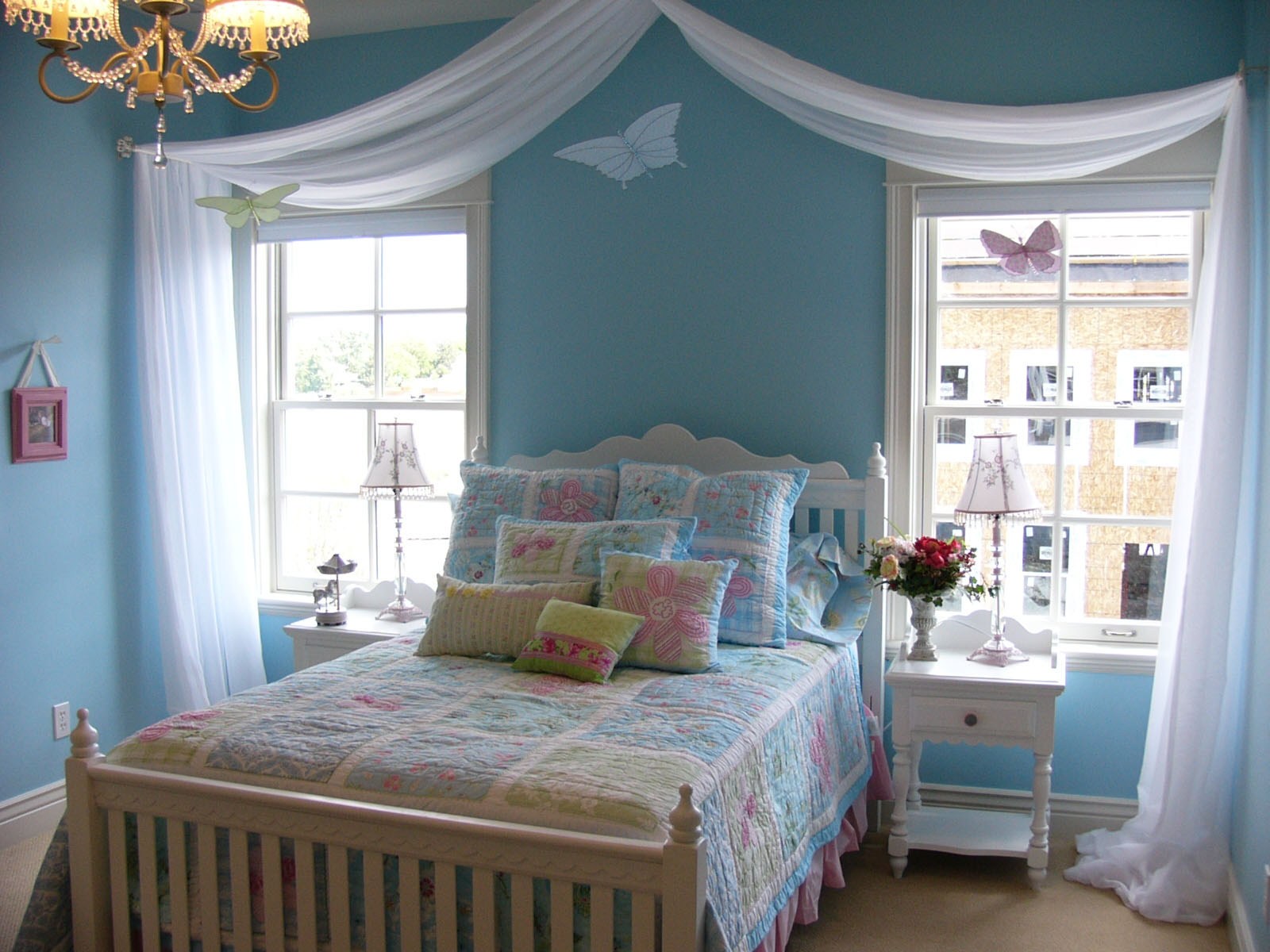 Muted turquoise walls and white sheer canopy give this girl's bedroom a fresh look. Butterfly ornaments and floral beddings make the sleeping space appear to be full of creativity.
Windows allow in lots of natural light. The chandelier, nightstands, and table lamps radiate elegance in an instant.
14. Traditional Turquoise Bedroom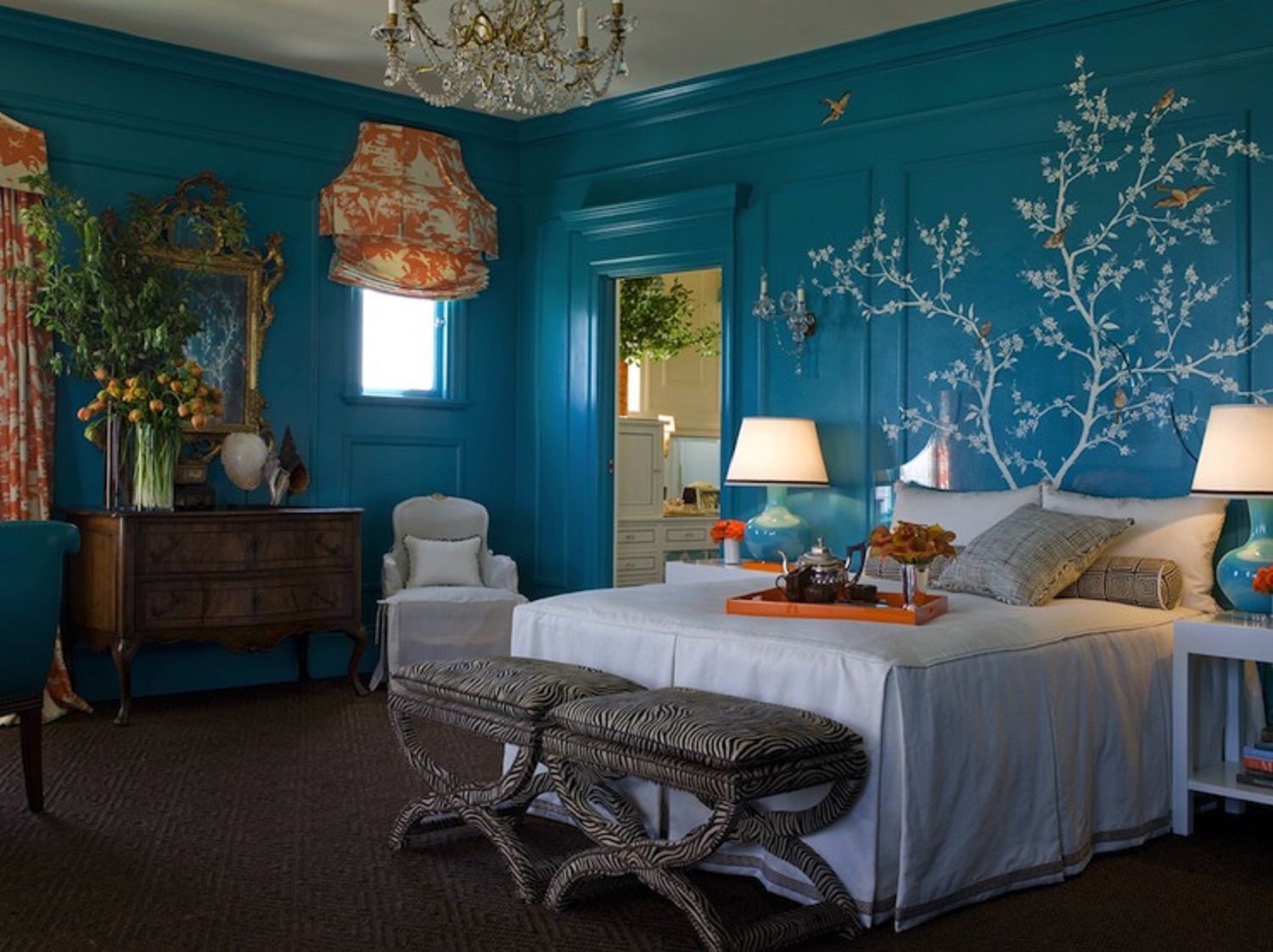 The earthy tones come together in this bedroom. They create a homey atmosphere. Lacquered turquoise walls jazz up the room while oozing glamour. Orange accents deliver excitement to the space.
Chandelier and mirror represent a classic style. Zebra stools and wall decals generate a more impressive statement.
15. Turquoise and Pastel Girl's Bedroom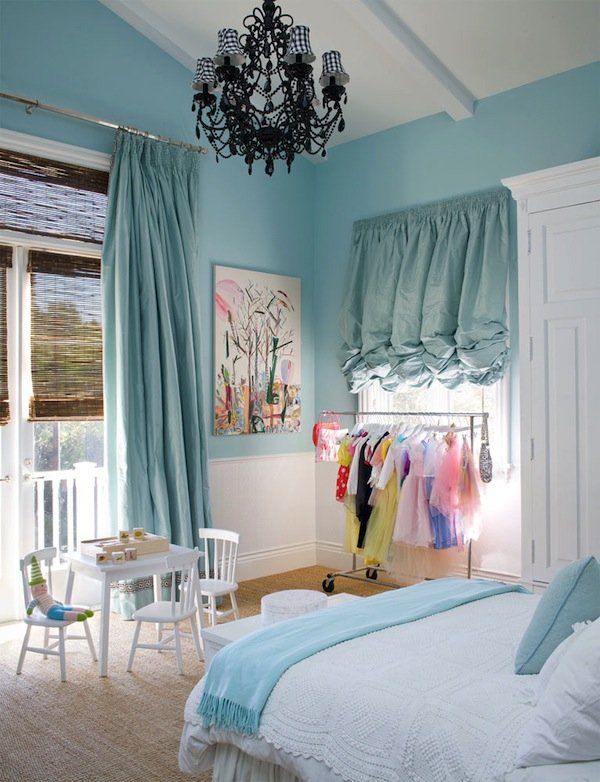 Are you looking for lovely turquoise room ideas? Steal this bedroom's look. Both cool white and muted greenish-blue were thrown into the space for a fun ambiance.
Pastel painting and dresses add a sweet nuance to the girl's bedroom. The black chandelier pulls off a grown-up feel.
16. Turquoise Color Scheme Living Room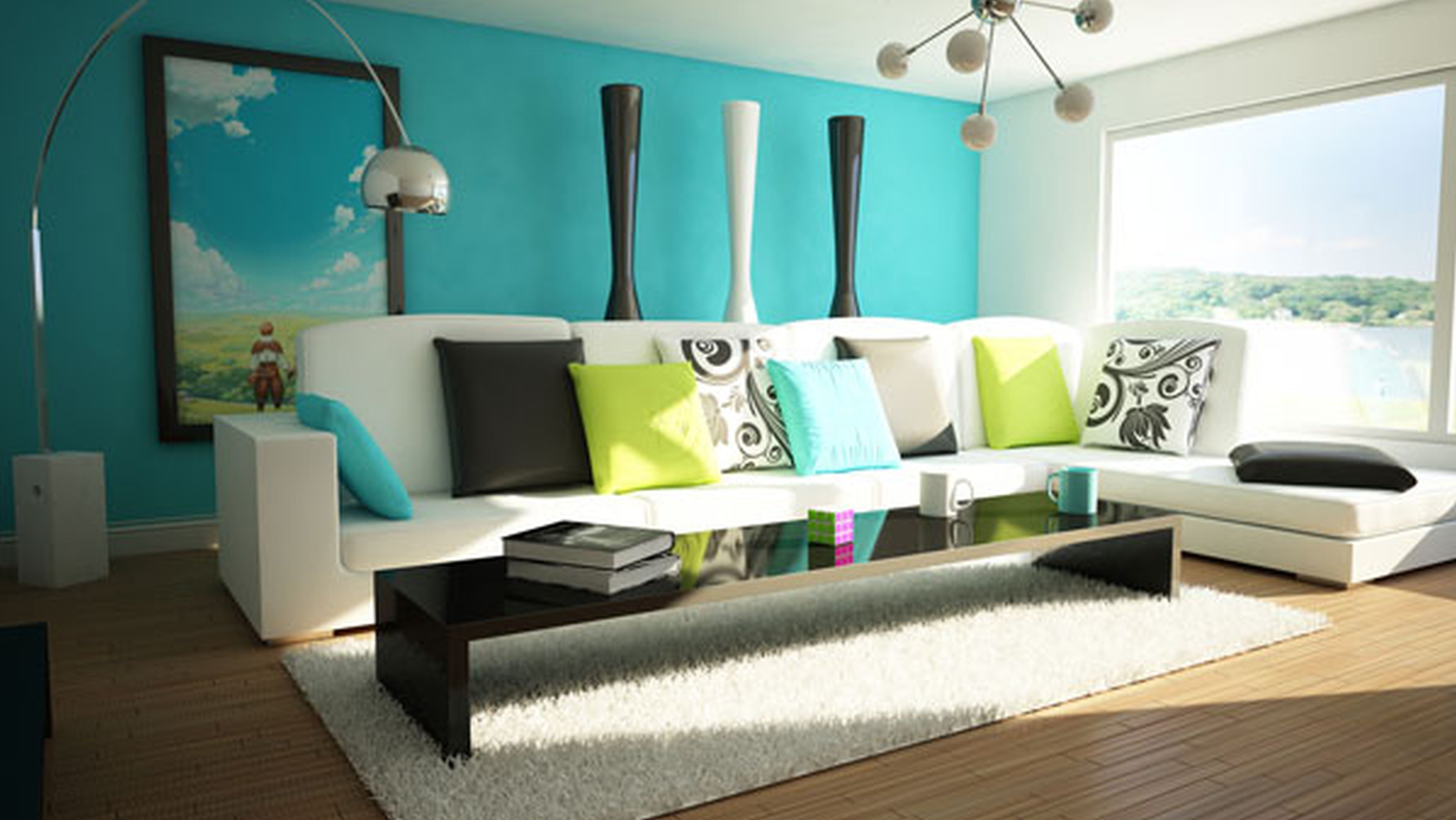 Install large windows to let in an abundance of sunlight. Then, furnish your living room with a white L-shaped sofa, curved floor lamp, and ceiling light for a contemporary flair.
Paint your accent wall greenish-blue and place bright throw pillows on the sofa. You already have one of the refreshing turquoise room ideas implemented.
17. White and Turquoise Kitchen
This kitchen is tiny but mighty. Crisp white countertop, backsplash, open shelves, and dining chairs evoke a feeling of openness.
Turquoise walls and decorative pieces invigorate the space. Yellow and lime green accents set a cheerful scene.
18. Red and Turquoise Bedroom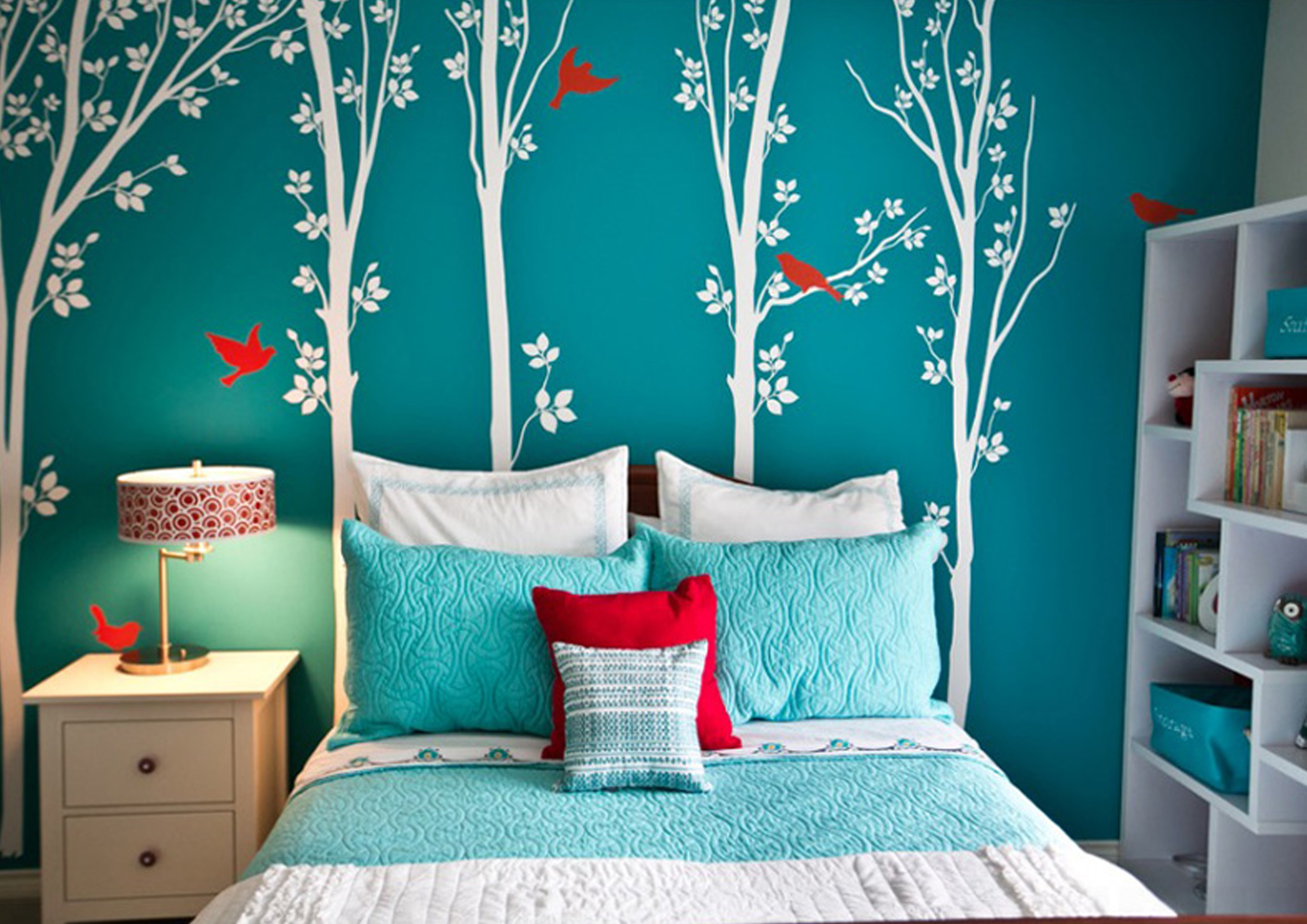 The deep turquoise wall works as a striking canvas for bird and tree decals. Lighter toned pillows and a bed sheet assert a sense of serenity.
Pops of red imbue the teenage girl's bedroom with energy. The table lamp adds a focal point to the interior.
19. Turquoise and Gray Bedroom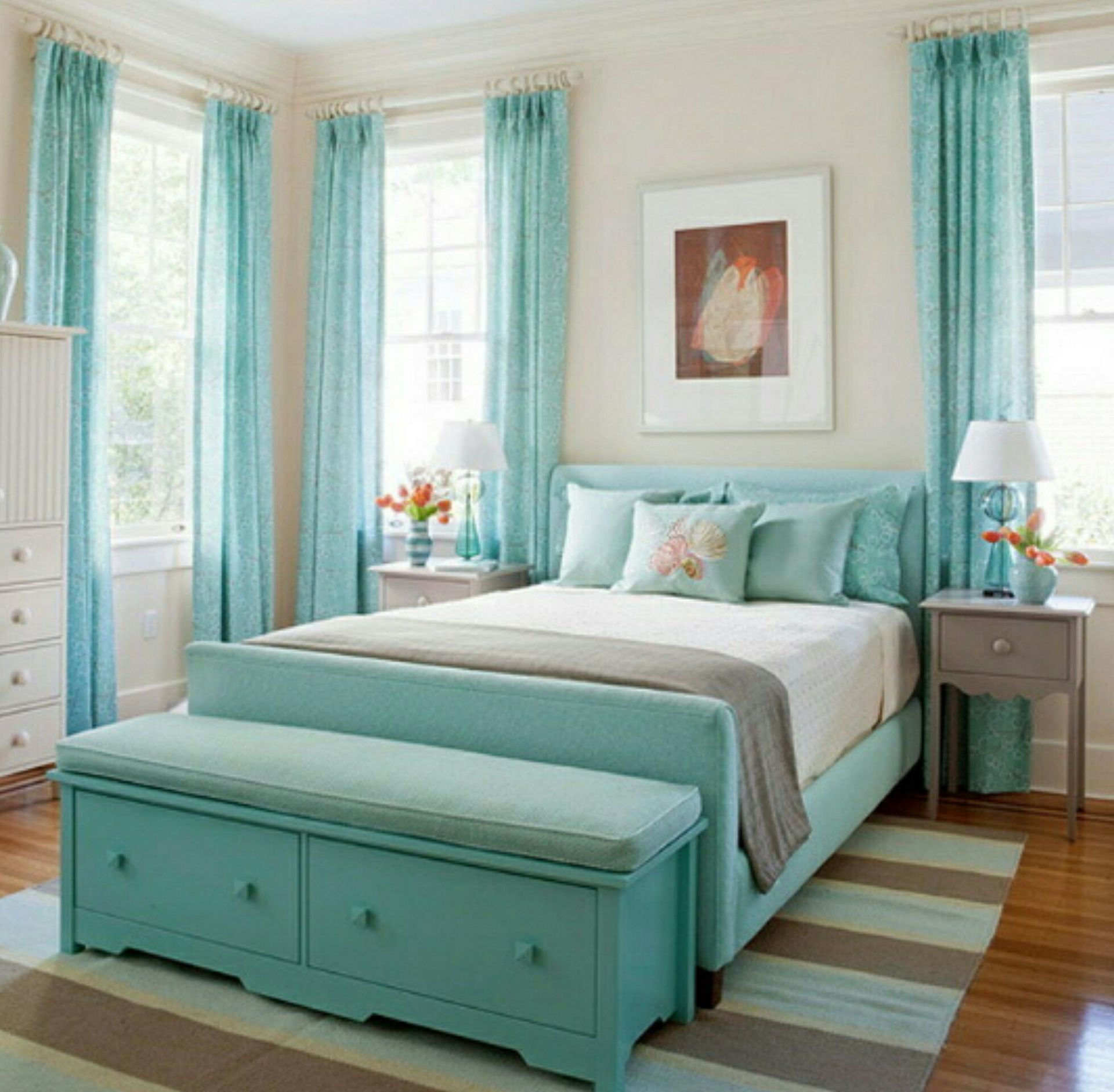 As with previous turquoise room ideas, we cannot take our eyes off this sleeping space. Pastel greenish-blue and light gray set a restful scene.
Much storage keeps the room uncluttered. Striped area rug continues gray and turquoise palette for a unified look.
20. Turquoise Living Room Wallpaper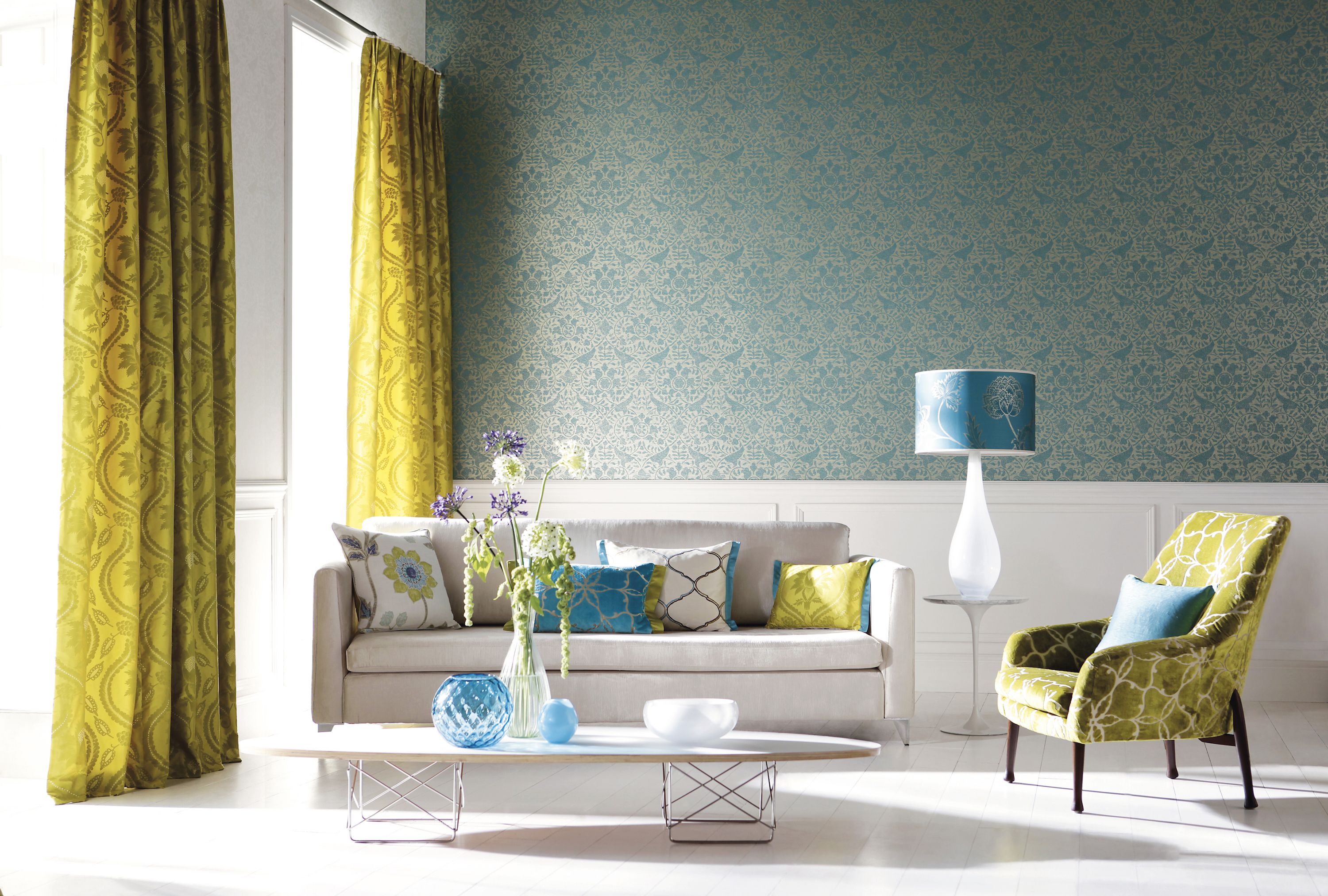 The white floor and furniture units give off a clean appearance. Turquoise wallpaper and throw pillows perk up the space.
The glassware and table lamp are turquoise living room decor. Patterned lime green armchair, throw pillows, and curtains make the interior more gorgeous.
21. Muted Turquoise Room Ideas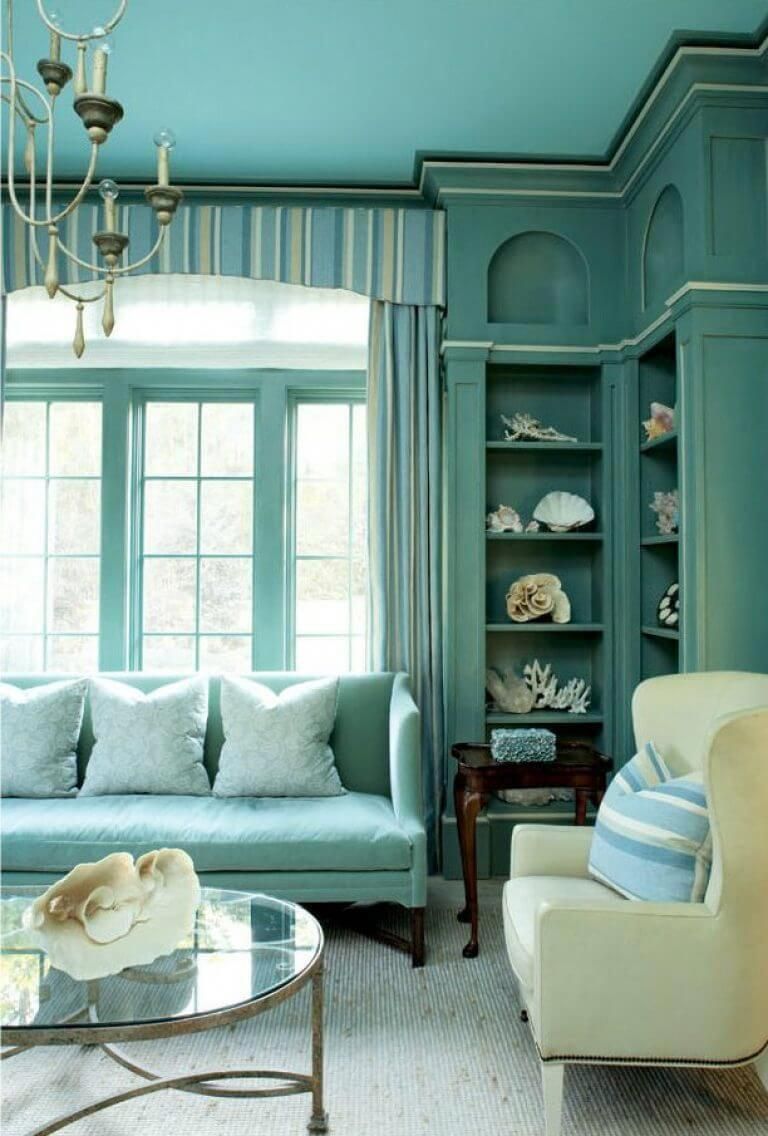 Light gray, off white, and subdued turquoise produce a calm color scheme. Wingback chair and chandelier create a grand impression.
Rug, side wood table, and curtains lend the living room various textures. Built-in shelves display beach accessories.
22. Pink and Turquoise Bedroom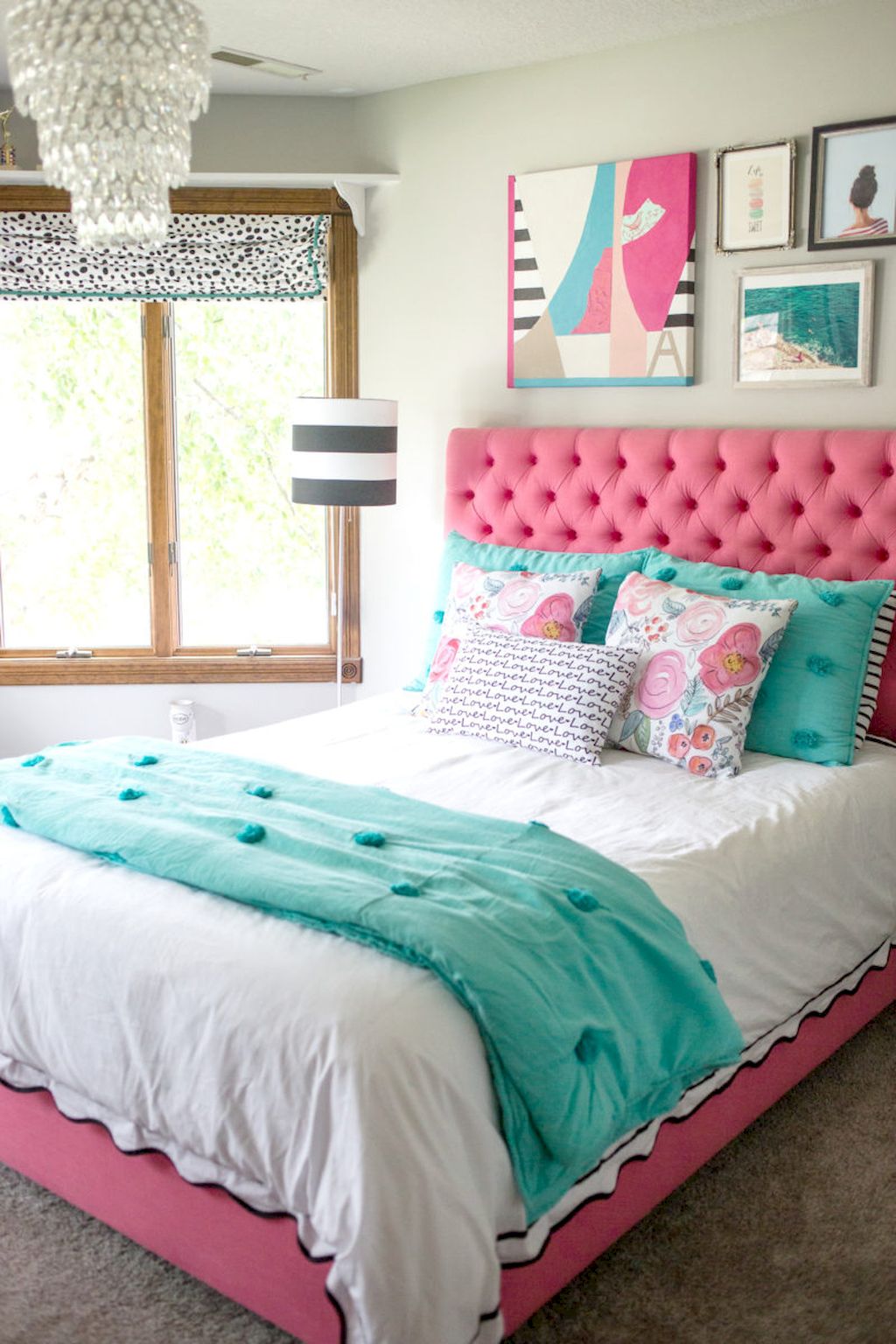 This is one of our favorite turquoise room ideas. Greenish-blue and pink make an eye-candy palette here, and they develop girly vibes.
White walls let framed works of art steal the show. A crystal chandelier generates a deluxe look.
23. Classic White and Turquoise Living Room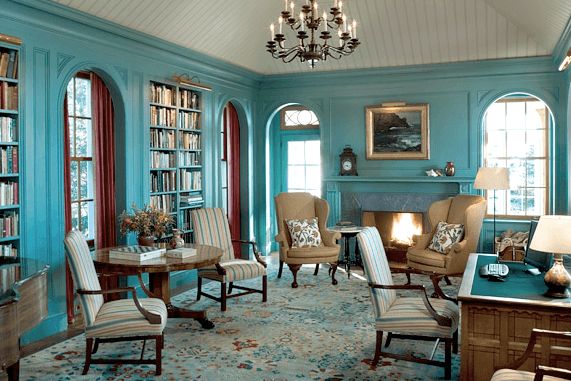 The bright hue of turquoise spruces up this living room. The color is such a high contrast to pure white.
The chandelier, arches, and ornaments offer traditional glamour. Fireplace, armchairs, and round tables send out an intimate feel.
24. Turquoise and White Nursery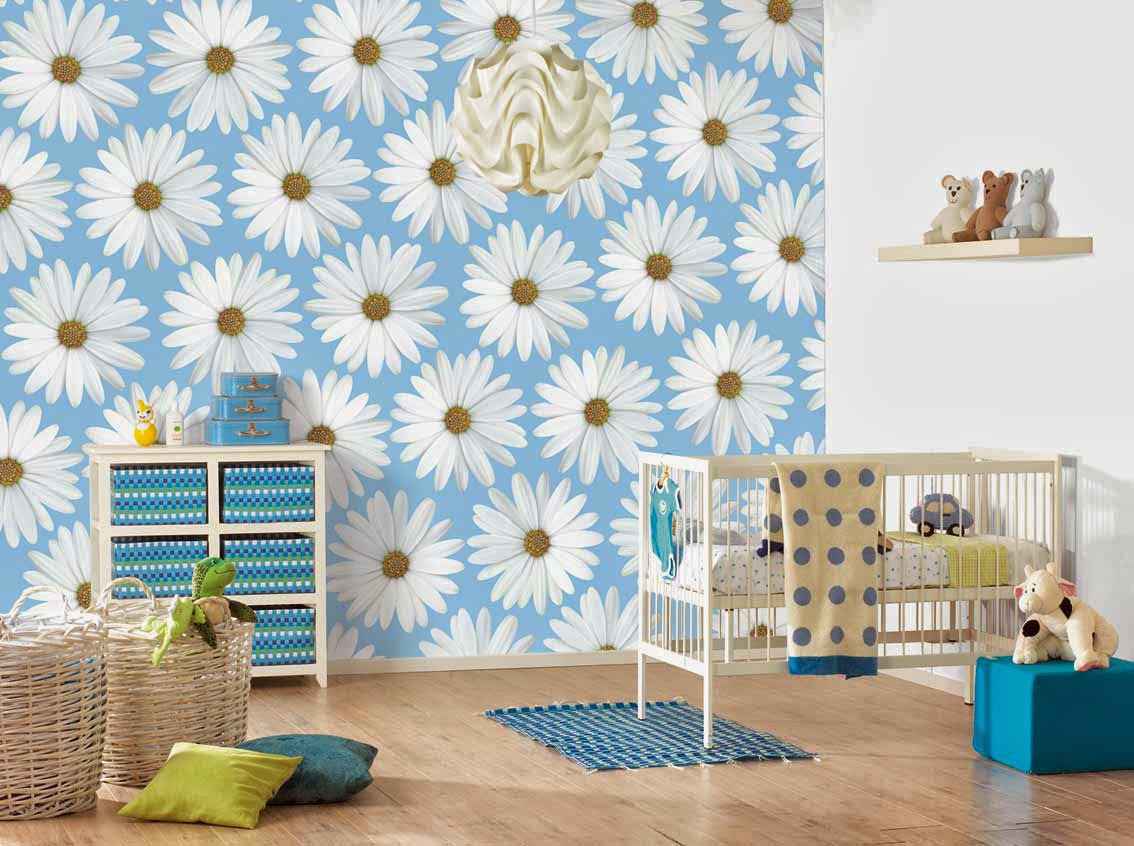 This nursery is quite extravagant. It features turquoise floral wallpaper and luxury chandelier. A floating shelf pulls off an airy setting.
Navy and lime green units inject some boldness into the nursery. Meanwhile, storages help little boy store his toys.
25. Pink and Turquoise Room Ideas for Baby Girl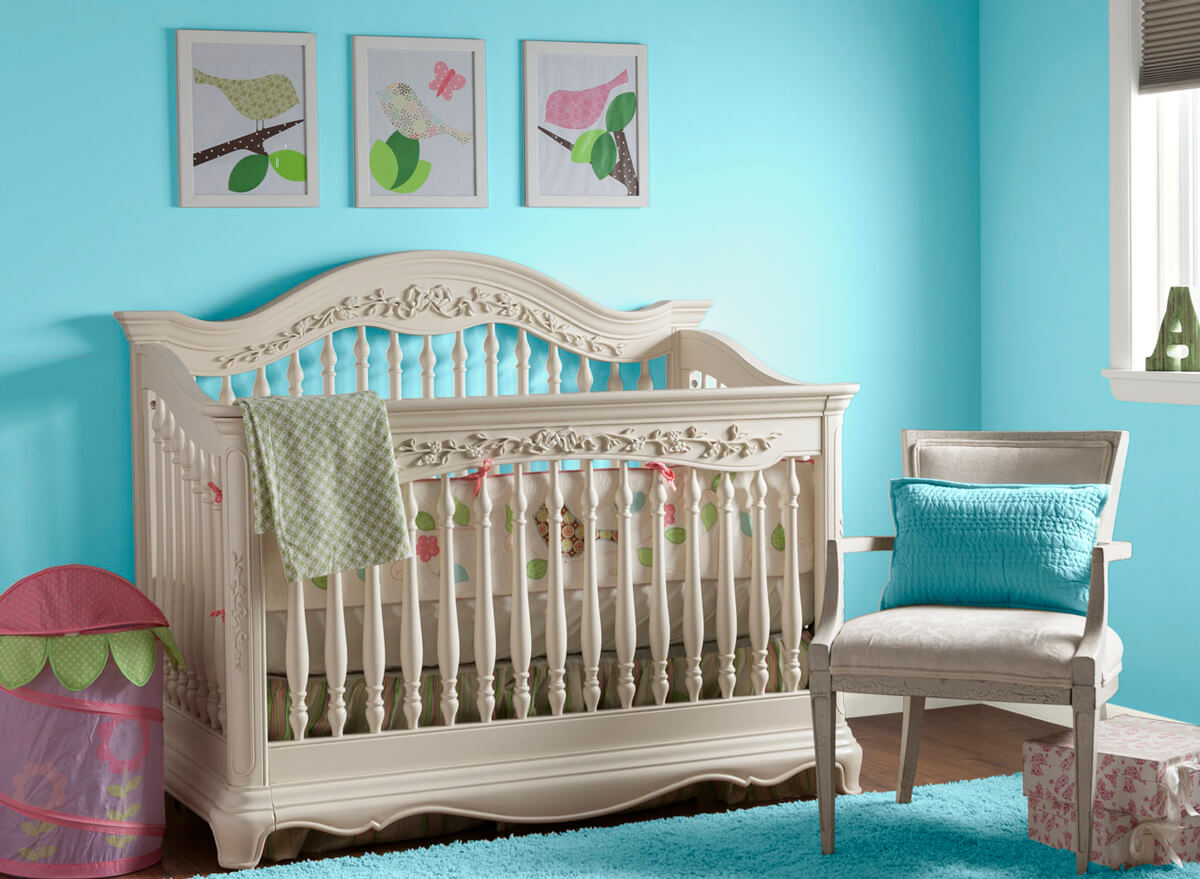 Turquoise shaggy rug, throw pillow, and walls evoke a playful ambiance. Pastel pink accents lend the nursery a dreamy appeal.
White crib and a light gray chair prevent bold tones from overpowering the space. The wood floor emanates a cozy nuance, while three framed artworks complete the scene.
After browsing through those turquoise room ideas, you realize that each color pairing creates a different atmosphere. You should know saturations of this tone well before you mix them with other colors.