The kitchen is room in the house that needs a lot of storage. However, most cooking areas have an L-shape. That means there must be a nook dilemma. To overcome a wasted space, we have prepared cool corner kitchen cabinet ideas for you.
Creating corner cabinets can increase the efficiency and functionality of your cooking space. Whether you want to build a new area or redesign the old one, here are some ingenious ways to handle the problematic kitchen corner.
1. Cornered Pull-Out Drawers
This is one of our favorite corner kitchen cabinet ideas. Each drawer features two parts and handles, so you can pull it out with ease. Since the drawers have 90-degree angles, they perfectly fit in the kitchen corner.
Moreover, cornered drawers can accommodate cooking utensils, spices, snacks, and jars. They are both practical and stylish. Besides, they give the cooking space a unique look.
2. Built-In Corner Seating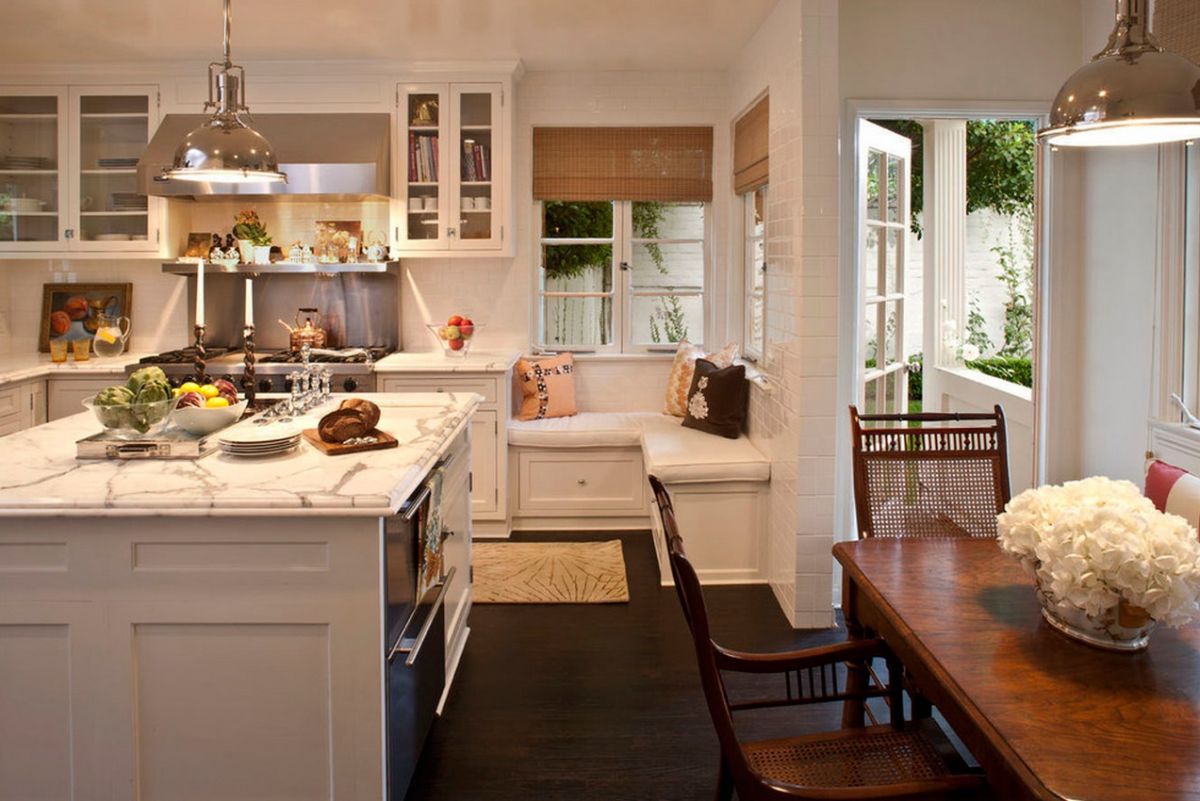 If your kitchen corner has windows, you should build a banquette seating. It transforms your useless spot into a focal point. All you have to do is include cornered cushion and stunning throw pillows.
The cushion and banquette make for cozy seating space. Both you and your guests can relax in the corner. The lower part itself serves as a cabinet. It adds storage to the kitchen.
3. Open Shelves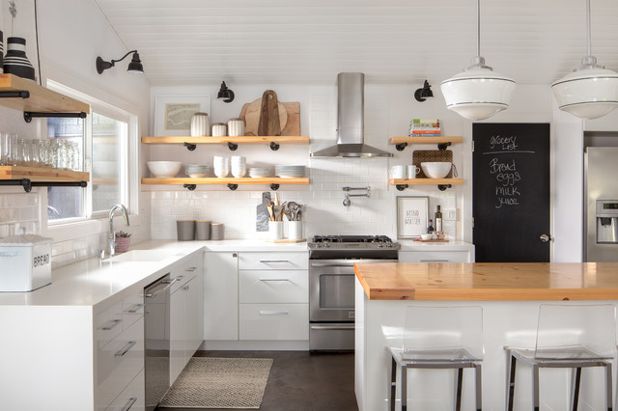 Unlike previous corner kitchen cabinet ideas, this one focuses on the area above a countertop. Instead of letting the precious space go to waste, install open shelves. They are a nice fit for modern and minimalist kitchens.
Here, blonde wood wall-mounted shelves pair well with the white background. In no time, they develop an airy ambiance. They also hold bowls, canisters, and cutting boards.
4. Narrow Kitchen Cabinets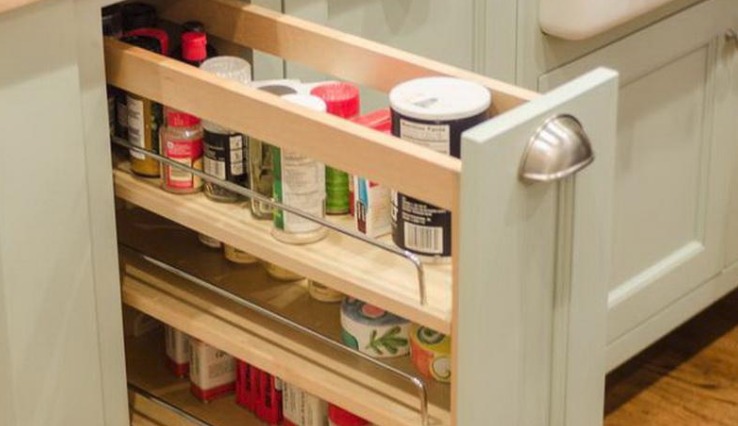 Do you have a tiny cooking space? No worries, there are many corner kitchen cabinet ideas to select from. You could incorporate slide-out narrow storage into your cook room. Be sure you paint it the same color as other cabinets.
It is probably the smallest corner kitchen cabinet. However, it allows you to utilize every inch of space under the countertop. You can store your spices, herbs, and canned food in it too.
5. Glass-Front Corner Cabinets
We prefer this one to other corner kitchen cabinet ideas. The pie-shaped glass display cabinets do not only solve the nook issue but also create a visual interest in your culinary space.
The glass-front cabinets are a perfect home for your exquisite pint glasses, teacups, bowls, and teapots. Besides, they let you see things inside without opening the cabinet doors.
6. Portable Lazy Susan
In case you are unable to utilize the kitchen corner space, opt for a Lazy Susan. Since this portable shelving comes with a swirling platform, put your frequently used pieces in it.
Furthermore, the shelves of Lazy Susan allow for easy and quick access to your items. Place it outside your cabinets. When you want to open the cabinetry, move it to another spot.
7. Blind Corner Kitchen Cabinet Ideas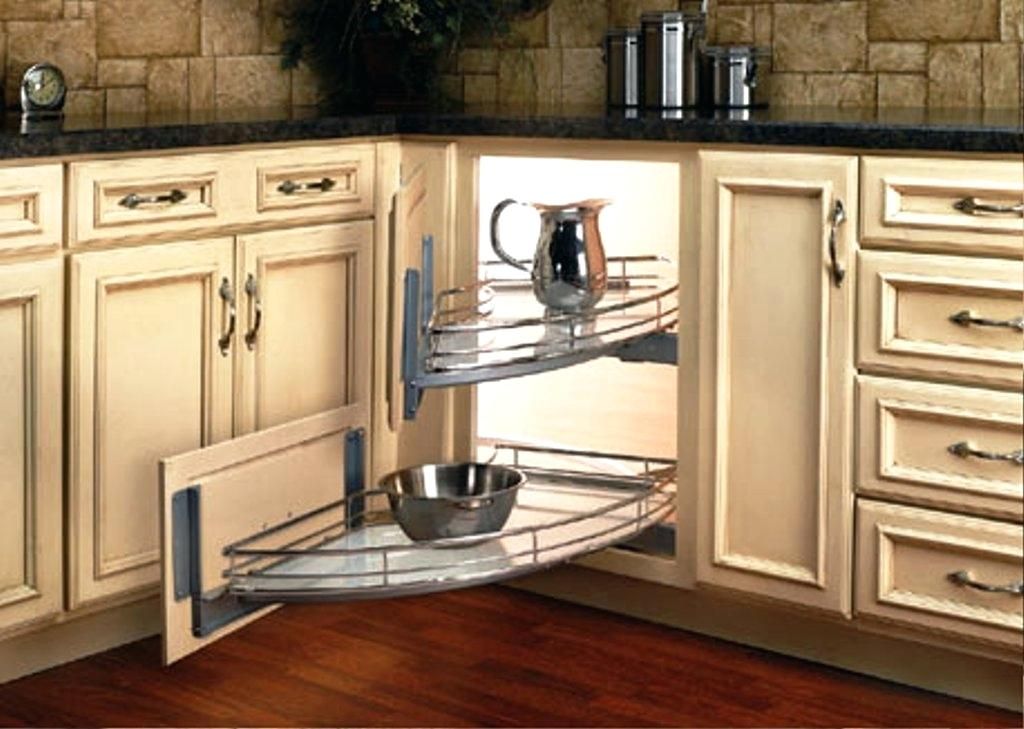 Even though swinging pullouts do not fully overcome your blind corner problem, they are worth to install. They also make the great use of space under your countertop.
As the name suggests, you can easily pull the shelves out from a cabinet. You do not have to peek inside your cabinet too. The swinging pullouts will keep your cookware, occasional snacks, and spices organized.
8. Kitchen Corner Pantry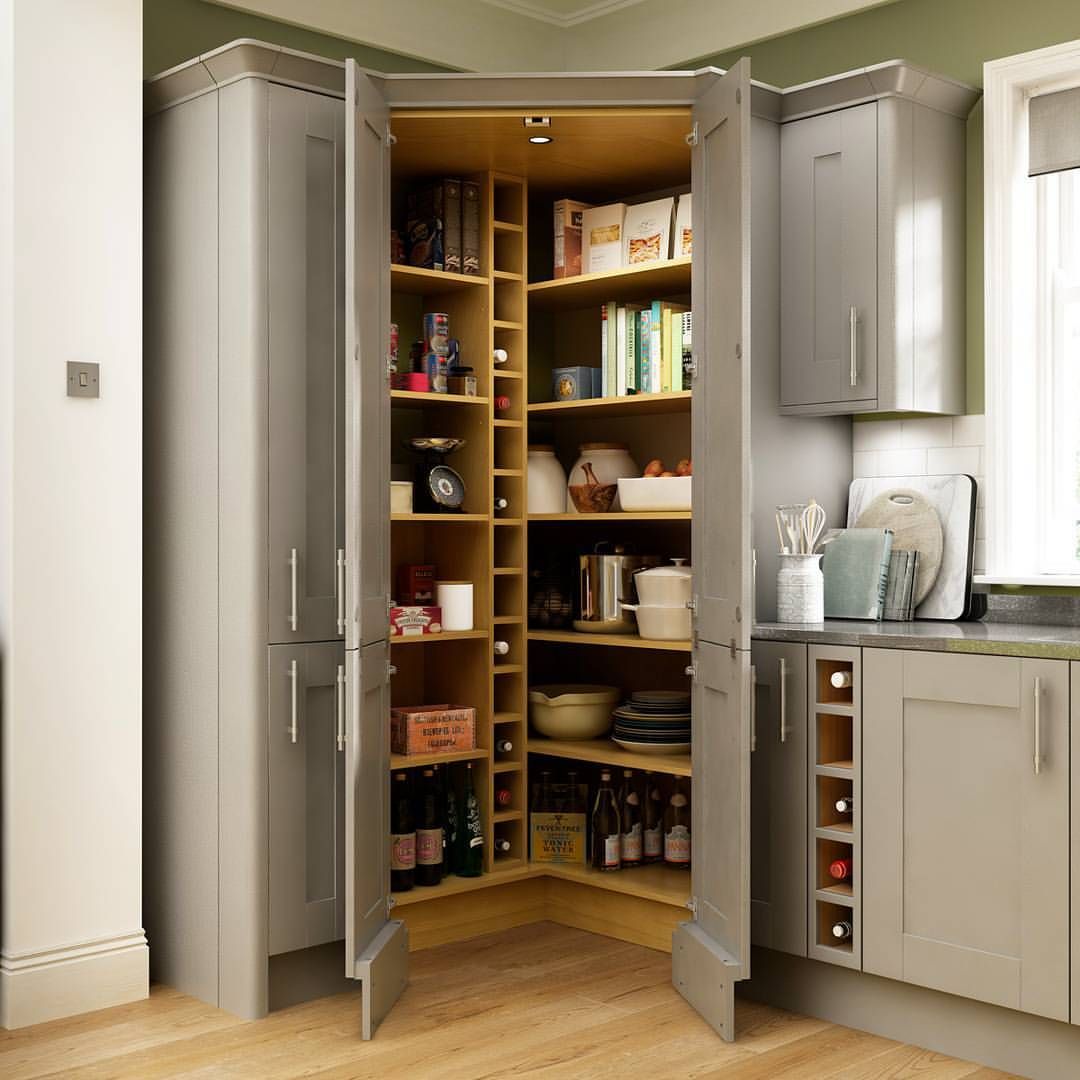 Are you in search of tall corner cabinet ideas? If yes, install the pantry cabinetry. Not only does it fill your pie-shaped kitchen nook nicely, but it also offers easy accessibility. It will house all your stuff, from cereals to cookbooks.
Speaking of installation cost, corner pantry requires a greater budget than the swinging pullouts. However, it adds a distinctive charm to the kitchen. For a more glamorous storage cupboard, including downlights in it.
9. Kitchen Appliance Garage
You should apply these corner kitchen cabinet ideas. Here, the appliance garage helps you optimally use countertop space. It is spacious enough to accommodate your mixer, coffee roaster, toaster, and blender.
Moreover, the appliance garage typically employs a lift-up door. It keeps your appliances within arm's reach. When you close the door, your counter space will appear uncluttered.
10. Pull Out Cabinet Drawers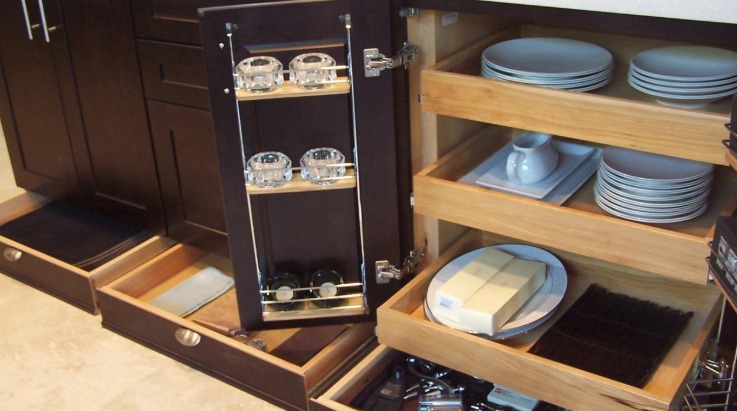 Pullout drawers will not handle your blind space issue totally, but you need to consider installing them. They make most of your corner cabinets and provide easy access to things stowed in the drawer's back.
Furthermore, pullout drawers can house your kitchen utensils, dishes, cooking accessories, and washcloths. To use them, you do not need to bend yourself. The door-mounted glassware racks improve the functionality of cabinets.
11. Alternating Corner Shelves for Storage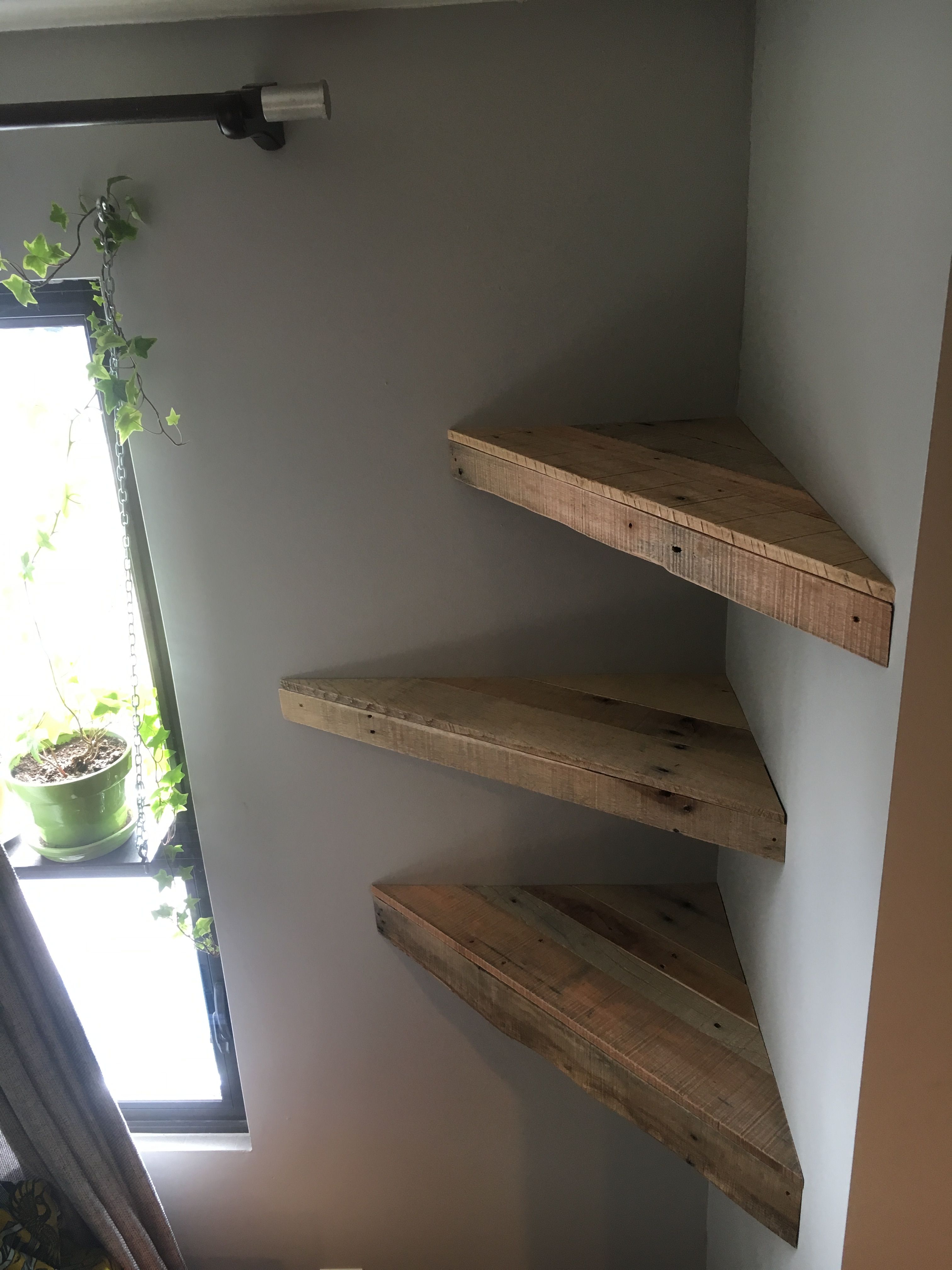 There are many corner kitchen cabinet ideas to implement in your culinary space. We highly recommend you to opt for these shelves. Just hang shelves above your countertop at alternating angles.
The alternating shelves will pep up your kitchen corner and keep items at close hand, not to mention they create an innovative appearance. If you love something rustic, look no further than unfinished wood shelves.
12. Corner Kitchen Sink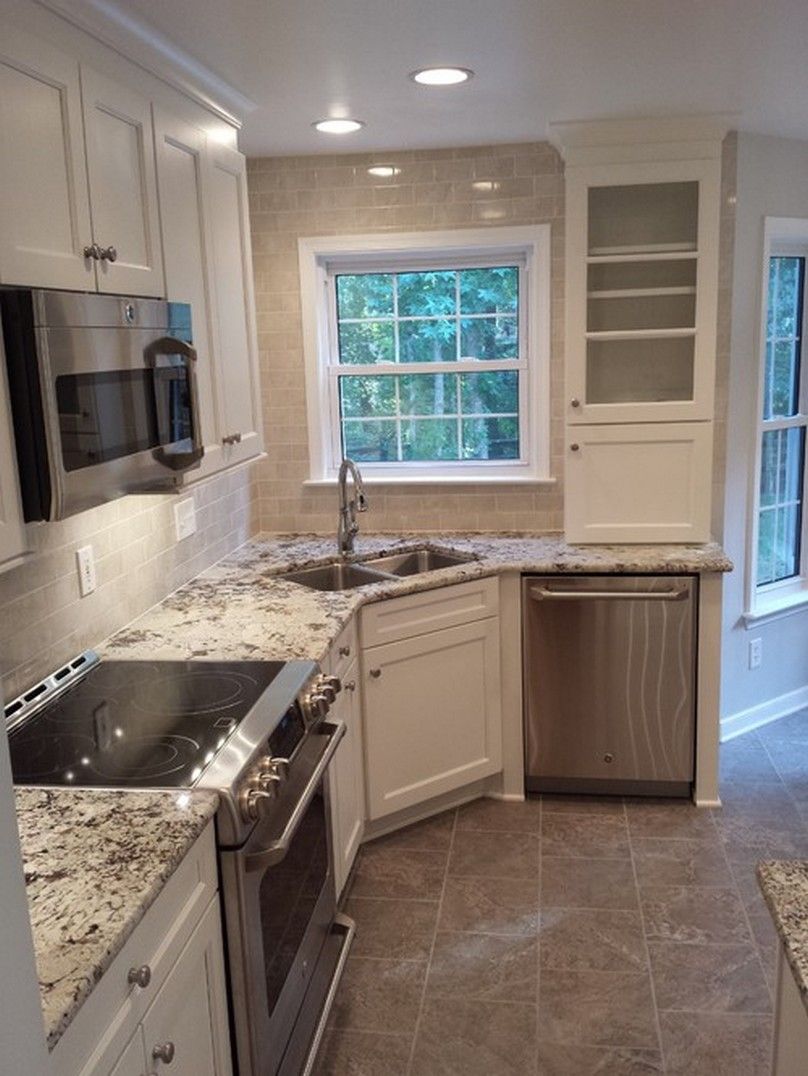 Who said kitchen corners are just for cabinets? This solution is probably less common, but do not hesitate to install a sink in the corner of your cooking space. In no time, it gives your kitchen a custom look.
Moreover, you can place frequently used items such as cleaning supplies, dish soap, and washcloths in the cabinet underneath a corner sink. It makes your cooking area mess-free.
If you have an extra countertop space, put some potted indoor plants behind your sink. The corner sink is gorgeous and functional, right?
13. Hanging Pot Racks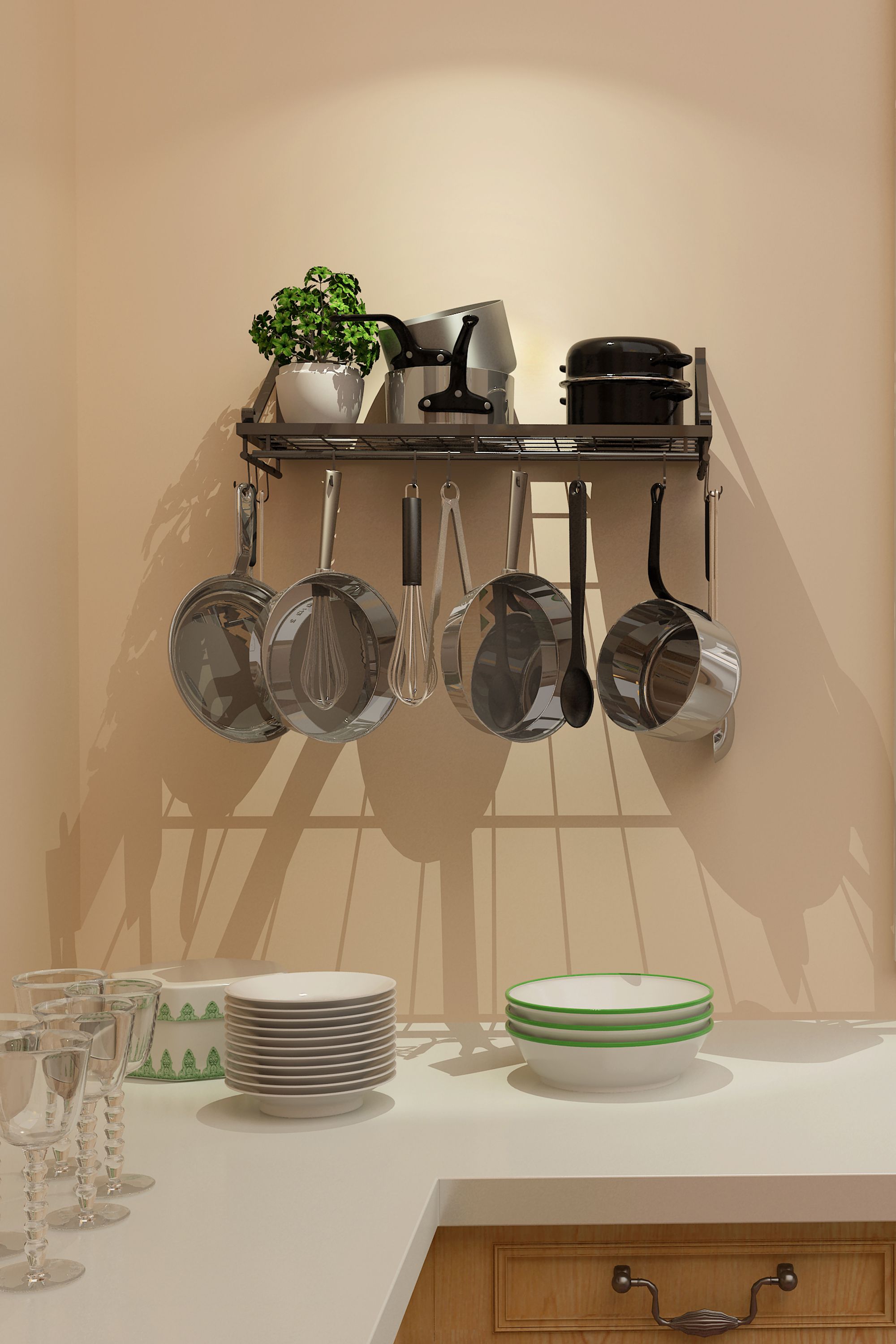 Do you have no spacious kitchen? Do not despair! Hang a wall-mounted shelving rack to take advantage of your corner space above the countertop. It displays your pans and houseplants. Meanwhile, the hooks hold your cooking pots.
The hanging rack is not just a space-saving unit, but also creates an airy setting. It keeps your kitchen from feeling heavy as well. More importantly, you can reach your pots with ease.
14. Diagonal Kitchen Cabinets
L-shape cabinets tend to let your kitchen corner go useless. That is the reason you should get diagonal cabinets. They provide some dimension and add an accent to your cooking space.
You can panel your diagonal cabinets to fit in with other cabinetry. They are not as large as regular kitchen cabinets. However, they can be utilized to stash away your dishes, cooking utensils, jars, and cookbooks.
15. Accordion Cabinet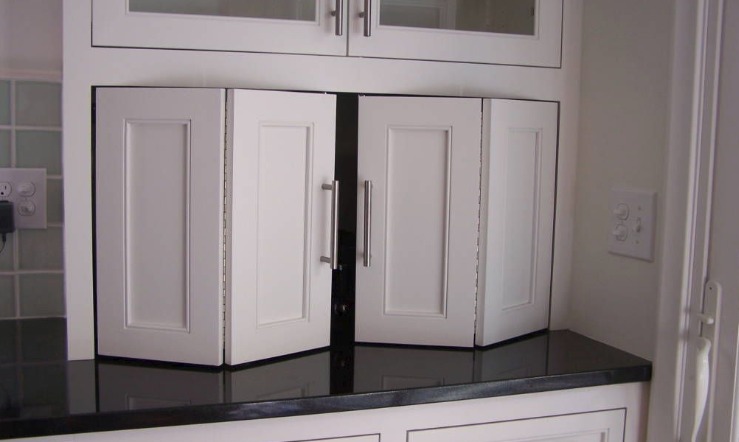 Do you like unusual corner kitchen cabinet ideas? You have to give the accordion cabinet a chance. It features double doors. When opened, they resemble this certain musical instrument. They offer you complete access to your items.
There are pie-shaped shelves behind the doors. Not only are they easy to reach, but they also provide deep storage. In this example, the crisp white accordion cabinet is a stark contrast to the black countertop.
16. Dead Space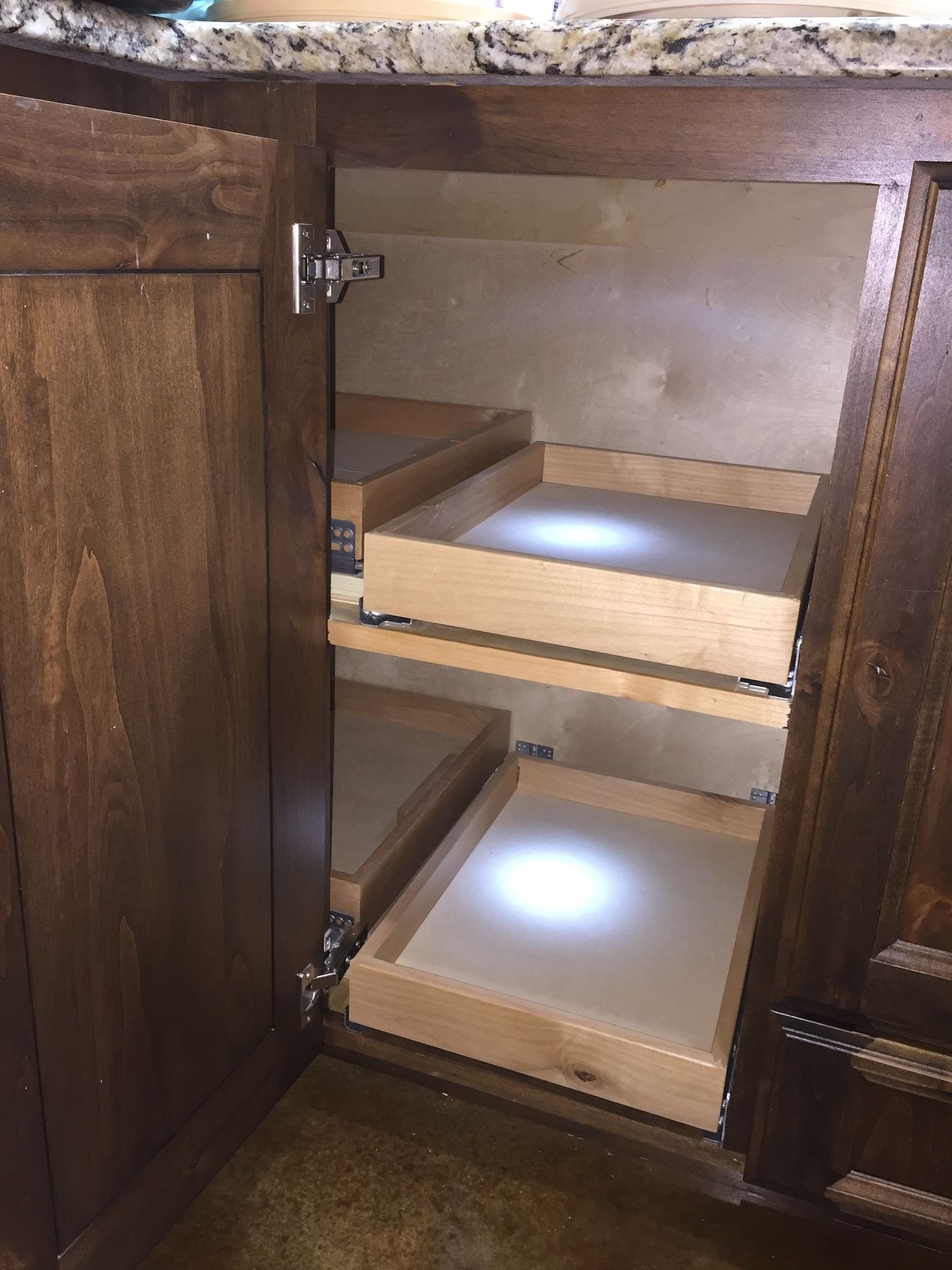 Maximizing kitchen space is a great idea, but it is impossible sometimes, especially in an old home. If that is the case, leave some dead space in your corner cabinets.
The dead space where two cabinets meet is generally hard to access. Therefore, you can use it to store infrequently used things like your holiday baking supplies. You just reach them several times a year.
17. Kitchen Corner Slots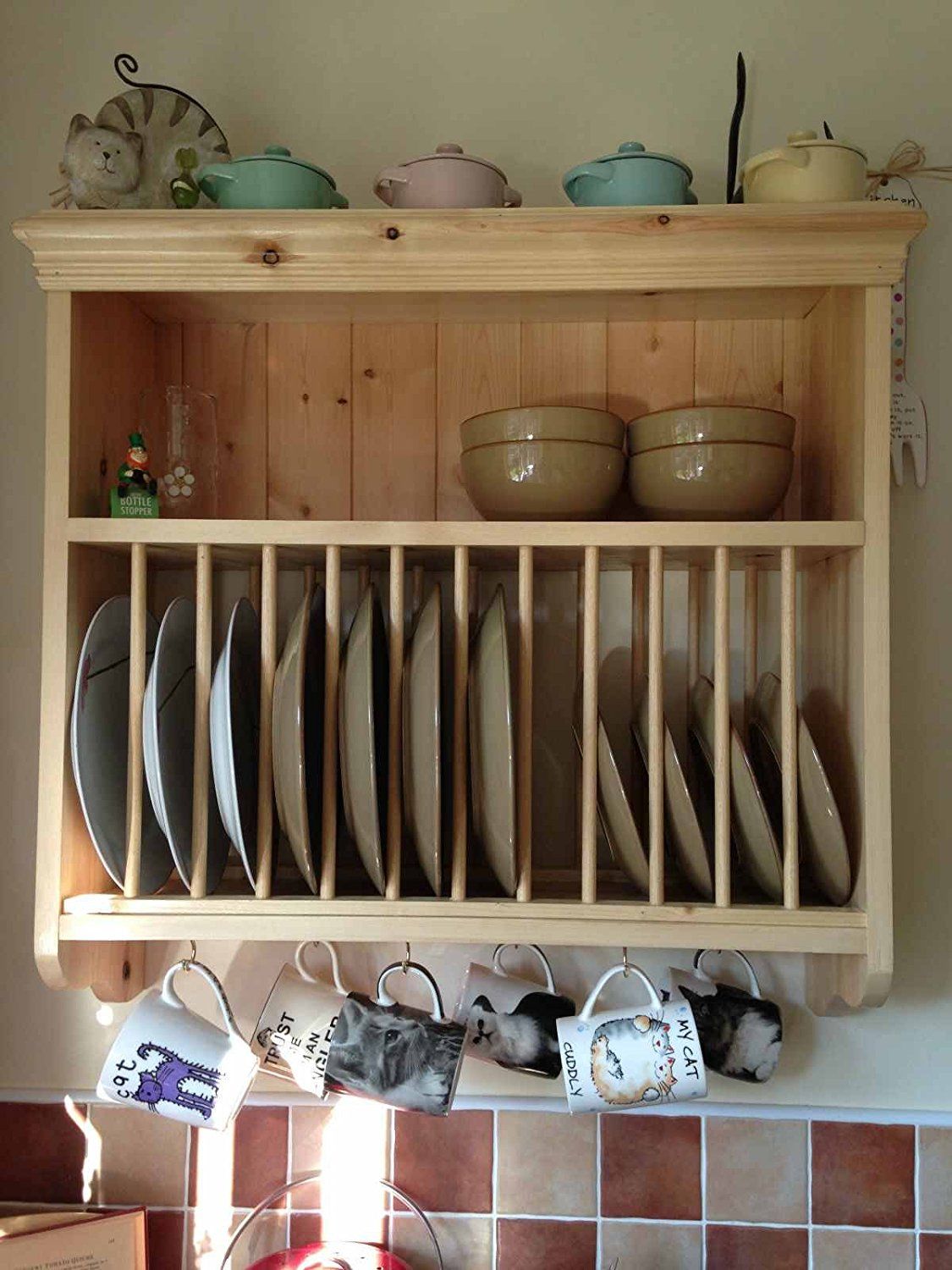 Slots surely optimize your corner space without creating a cluttered look. They are typically utilized to display plates. Besides, they keep your dishes dry. The design of slots is both versatile and simple.
Moreover, corner slots allow you to see which plates you need. They also open up the cooking area and produce some distinctive appeal. The unfinished wood slots will make your kitchen welcoming in a flash.
18. Standard Cabinet
If you are not into diagonal cabinets, purchase the standard ones. Those furniture units will do the trick since they rest against your kitchen corner. Additionally, they can accommodate dishes, utensils, snacks, cookbooks, and condiments.
In the image above, the standard cabinets boast drawers and bottle cubbies. There is enough room for sink and kitchen appliances too. This is one of the best corner kitchen cabinet ideas, isn't it?
19. Lazy Susan Corner Cabinet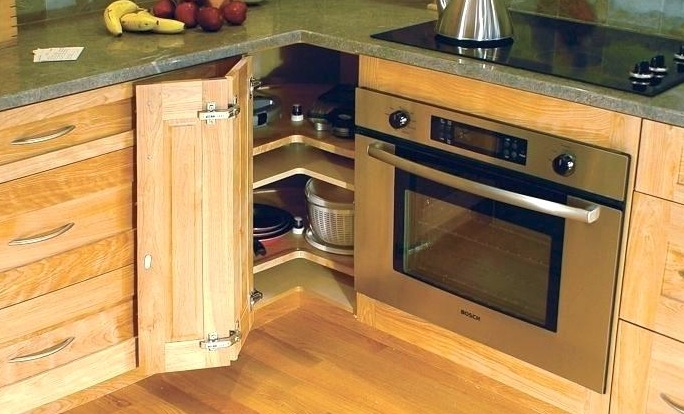 When it comes to common corner kitchen cabinet ideas, you cannot go wrong with Lazy Susan. This accessory fits in the corner nicely. It keeps your cooking utensils, spices, and canned food organized.
Furthermore, Lazy Susan employs central access and chrome pies. To reach all contents, you must spin the shelves. It ensures that no stuff is stuck in the cabinet's back.
20. Receptacle Corner Cabinet
Many of corner kitchen cabinet ideas center on food and cookware storage. In case you do not find a solution to your base corner cabinet, use the overlooked space for trash and recycling receptacles.
The advantage of corner receptacles is they have deep space. Besides, they keep your unwanted kitchen garbage out of sight.
***
After reading our corner kitchen cabinet ideas, we hope you get inspired. Instead of applying one idea, combine a couple of solutions. For instance, you can hang open corner shelves and install pullout drawers.