Do you know the secret of a gorgeous living room which looks comfortable and inviting at the same time? I'll let you know that the key is actually the living room color schemes! Combining the right shades of color will surely make your room different from the rest.
Adding harmonious shades to your color scheme is one of the best methods. This way, you can add variety and depth to your room while giving a calm and tranquil feeling. For instance, you can use different shades and tones of the same color, recognized as a monochromatic color scheme.
It may seem confusing in the beginning, but it's actually easier than you might ever think. To help you, I've arranged 25 stunning living rooms that make the perfect inspiration for applying harmonious color palettes. Let's check them out!
Coffee with Cream and Everything Nice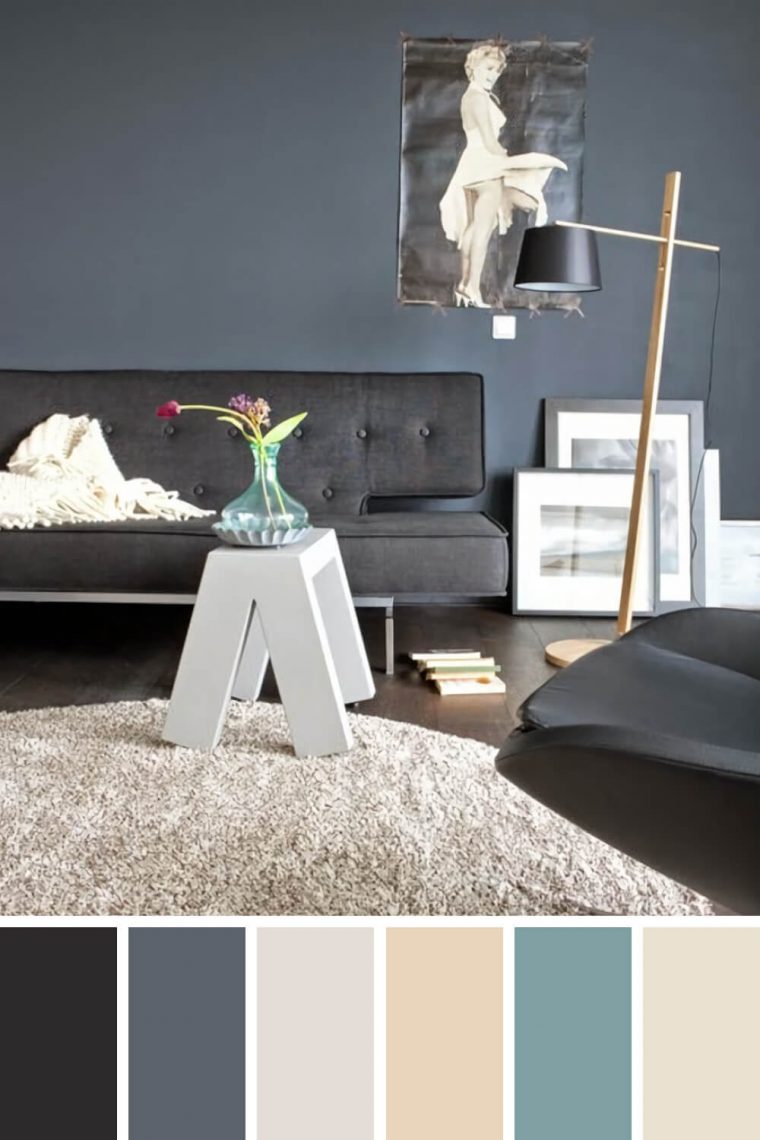 Enjoy a warm coffee or tea while reading your favorite book in this welcoming family room.  The palette consists of cool neutrals including monochromatic gray and cream. The charcoal gray sofa matches the portrait on the wall.
Besides, the light cream rug has warmed up the dark floor. The steel gray wall paint, on the other hand, introduces a bold element inside the room. For a splash of color, a vase of the colorful floral arrangement is added to the space.
The Harmonious Sky and Earth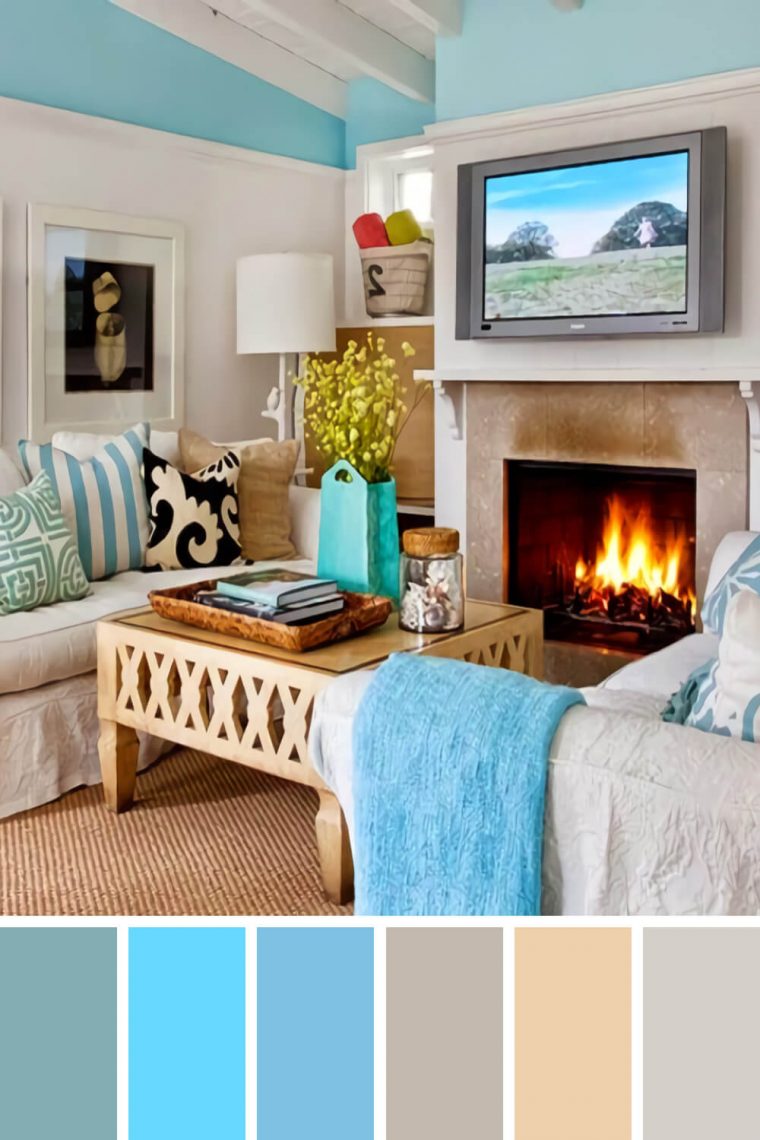 If you're looking for living room color schemes which seem cheerful yet inviting, this idea makes a perfect inspiration. Combining a few shades of light brown, blue, and white, this room has the vibe of earth and sky. Here are my suggestions to work on this idea:
Paint the wall and ceiling in white as the base color. They will make a perfect backdrop for more diverse shades and hues.
Introduce light blue accessories to give the room a pop of color. Bring them in the form of fabrics so you can change them with other colors easily.
Elegant Shades of Tranquility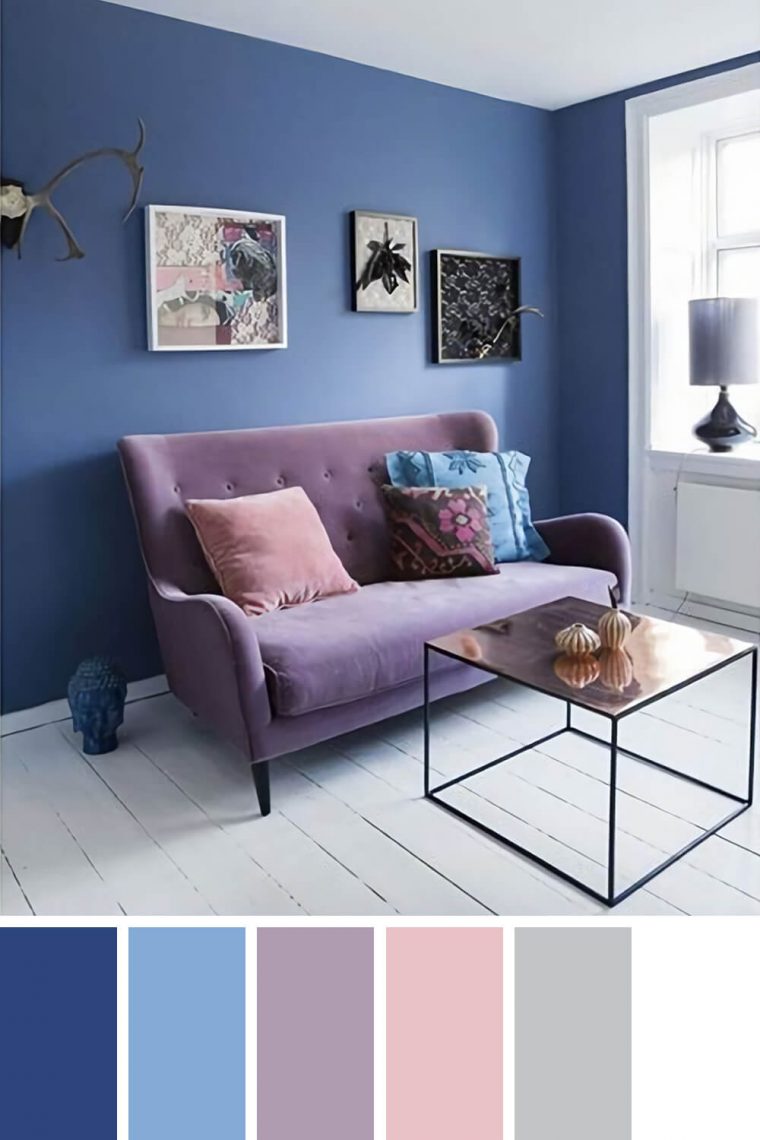 There are a few different shades of purple and blue used in this elegant living room. The mauve couch looks bold against the blue walls. The lavender throw pillow matches the artwork hanging over the couch, creating a harmonious feeling.
To let the furniture and wall stand out, the ceiling and wooden floor are painted white. Then, the choice of black artworks on the wall makes the room feels more interesting. Overall, this color palette is super simple.
Rich Brown with Pop of Color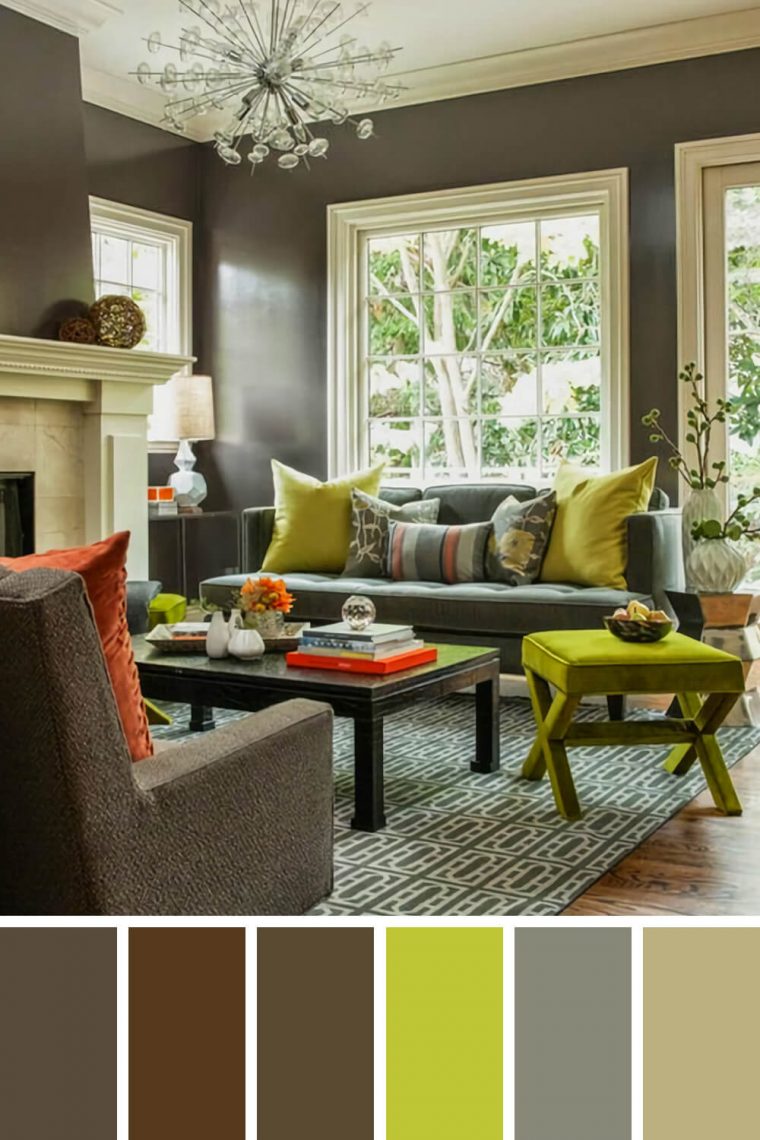 This monochromatic wood-toned room offers a warm, welcoming feeling to any visitor. The wide panel glass window and door have brought in the natural light, making the room feels airier. The beige ceiling and window frames, moreover, give the room an open feel.
Despite the dark wood wall paint, this living room looks fascinating thanks to the pop of colors applied through the space. The lime green pillows and side table have made the room seems more alive.
Nature Elegance for a Relaxing Conversation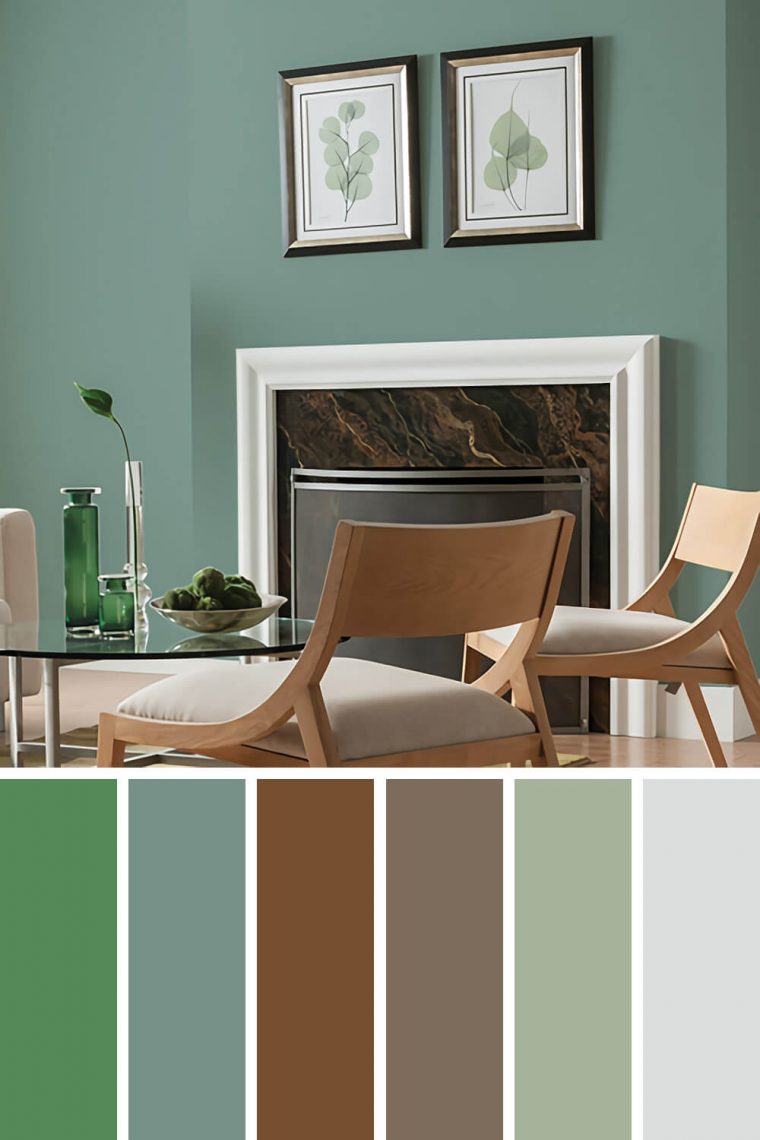 Imagine having a conversation with someone special in this room.  With cozy chairs and relaxing living room color schemes, there's no doubt that you'll want to spend more time here. Below are a few recommendations to make the most of this idea.
Opt for a round glass table to minimize the use of unnecessary colors inside the room. Plus, it can make the room feels more open.
Add some accessories that come in the same shade of the wall color. This room has deep green centerpiece which suits the viridian green walls.
Tropical Teal Sanctuary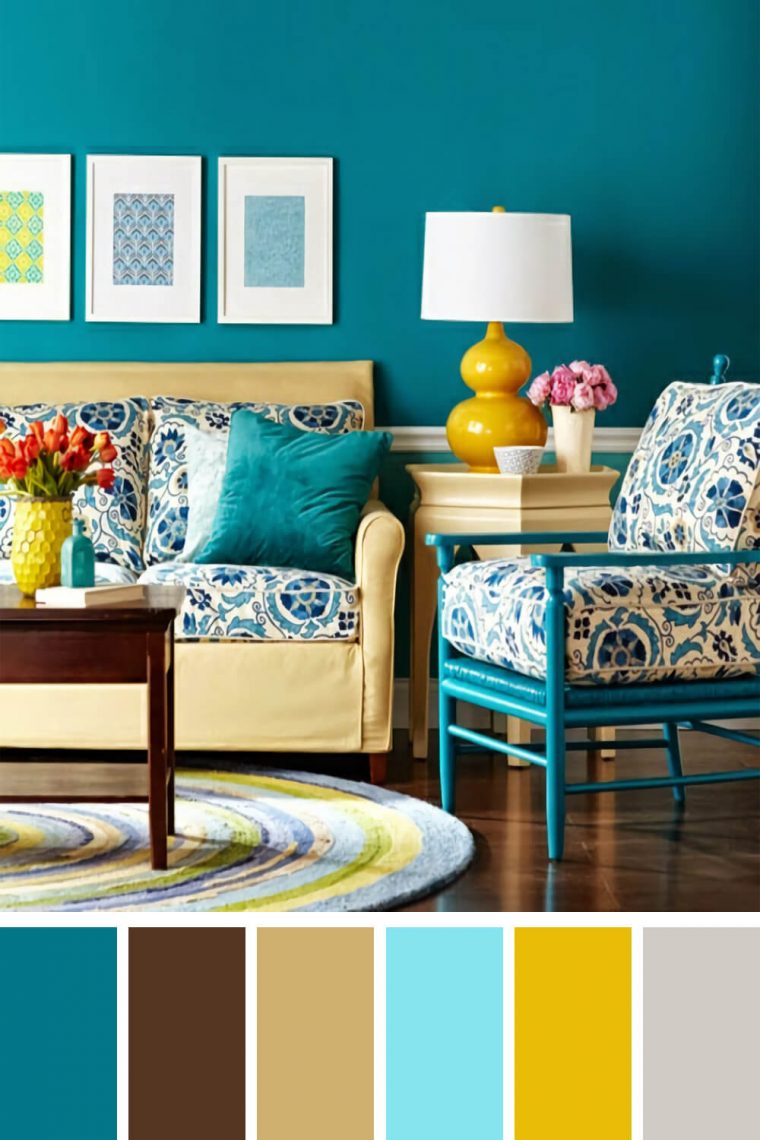 Look for a way to go bold in your living room? This room makes a good example with its vibrant tropical teal and cream color scheme. This majestic scheme is achieved by incorporating a pattern on the cushions and artworks which complement the teal walls beautifully.
If you plan to combine a variety of bold shades like shown in this room, just make sure that there's an area where you can feature neutral colors. Here, the white lampshade and wall arts' frames do the job very well.
Calming Gray and Khaki Oasis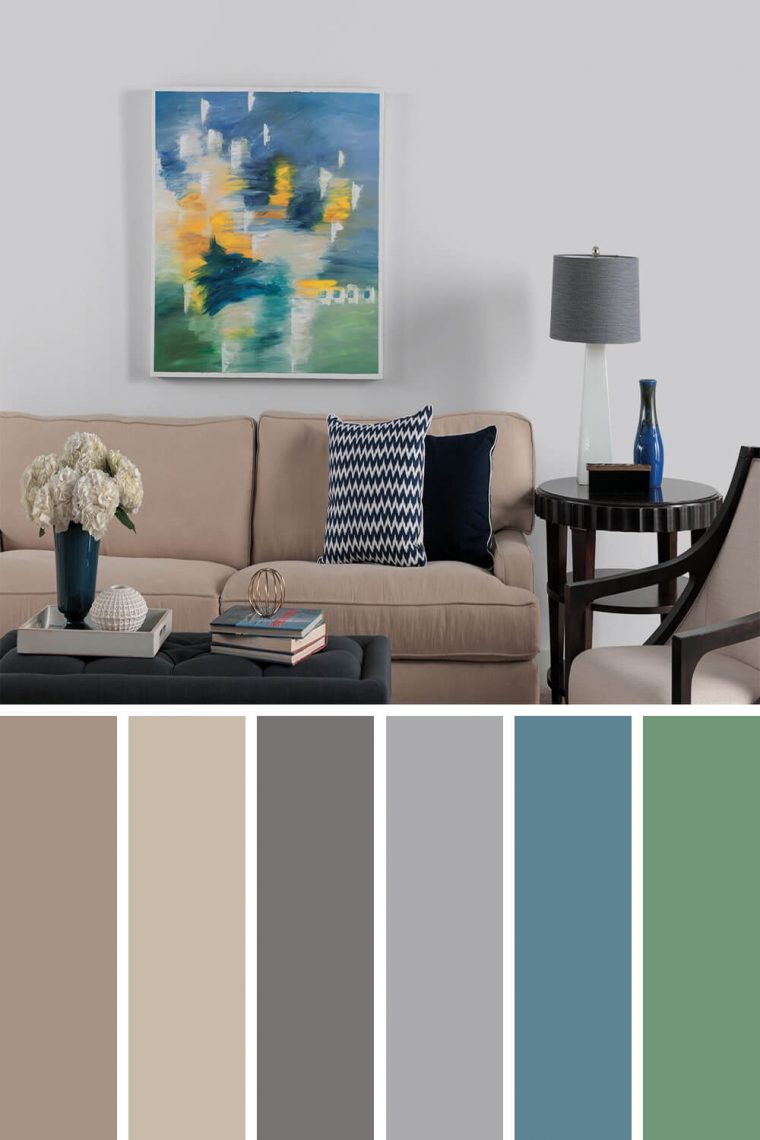 A combination of a light shade of gray and khaki used in this room creates a cozy space to enjoy your favorite novel. Darker shade of gray used on the table and throw pillows complement this space perfectly. If you want to replicate a calming space like this, here are my recommendations:
To cheer up the room, you can hang a colorful picture or artwork on the wall or add a vase of flowers on the table.
To add style, try to coordinate patterned fabric in your space.
Burst of Tangerine and Teal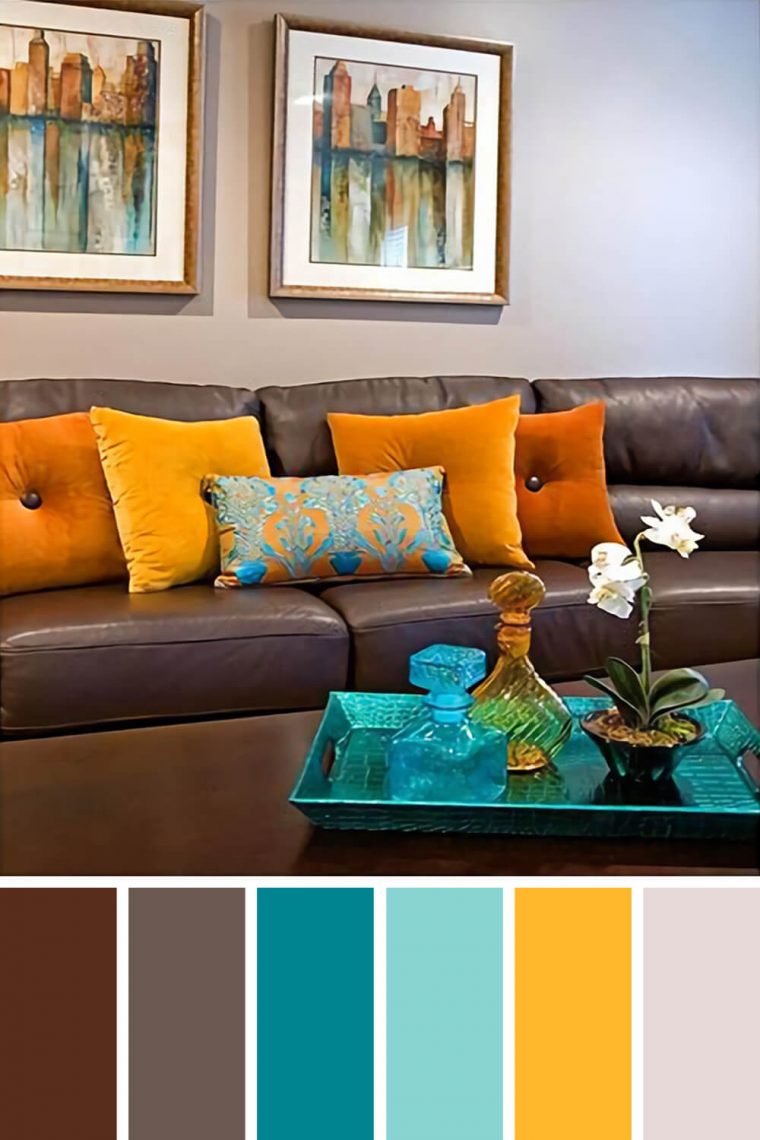 Tangerine and teal are both perfect to create an accent color in your neutral room. If you think that your color scheme is lacking, introduce a splash of color in the form of throw pillows and table centerpiece like the sample above.
The feel-nice vibes of brown hue can instantly create a cozy decor. With an espresso sofa put against the camel wall, this living room speaks up the idea very well. Then, the wall arts have the shade of the pillows and centerpiece, creating a harmonious scheme.
Sandy Beach Allure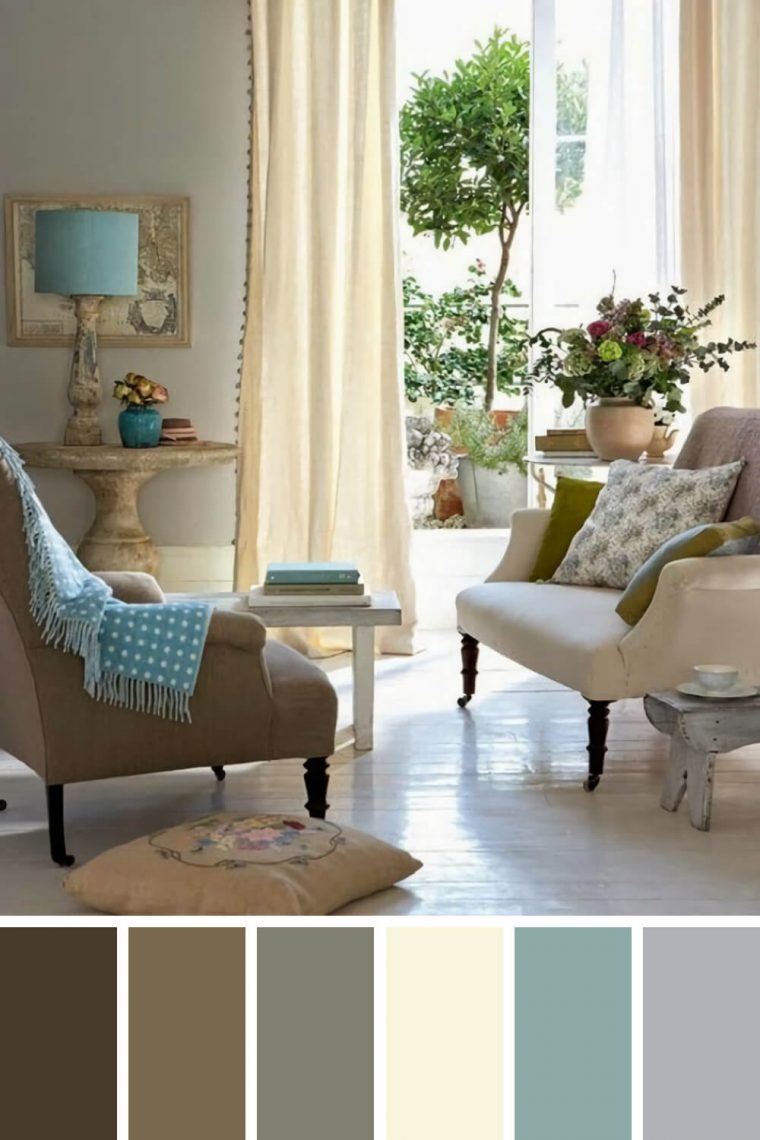 This room is overflow by the loveliness of sandy tones of beige. See how the sofas, curtains, side tables, accessories, walls, and floors are all on the tones of the same color, offering a soft harmony. This is one of calming living room color schemes that can make your guests want to stay longer.
Contrasting sea green and lime grey elements are added in the form of the table lamp cover and throw pillows. A vase of colorful floral arrangements extends the beauty of nature outside the living room.
Charming Hot Pink with Daring Appeal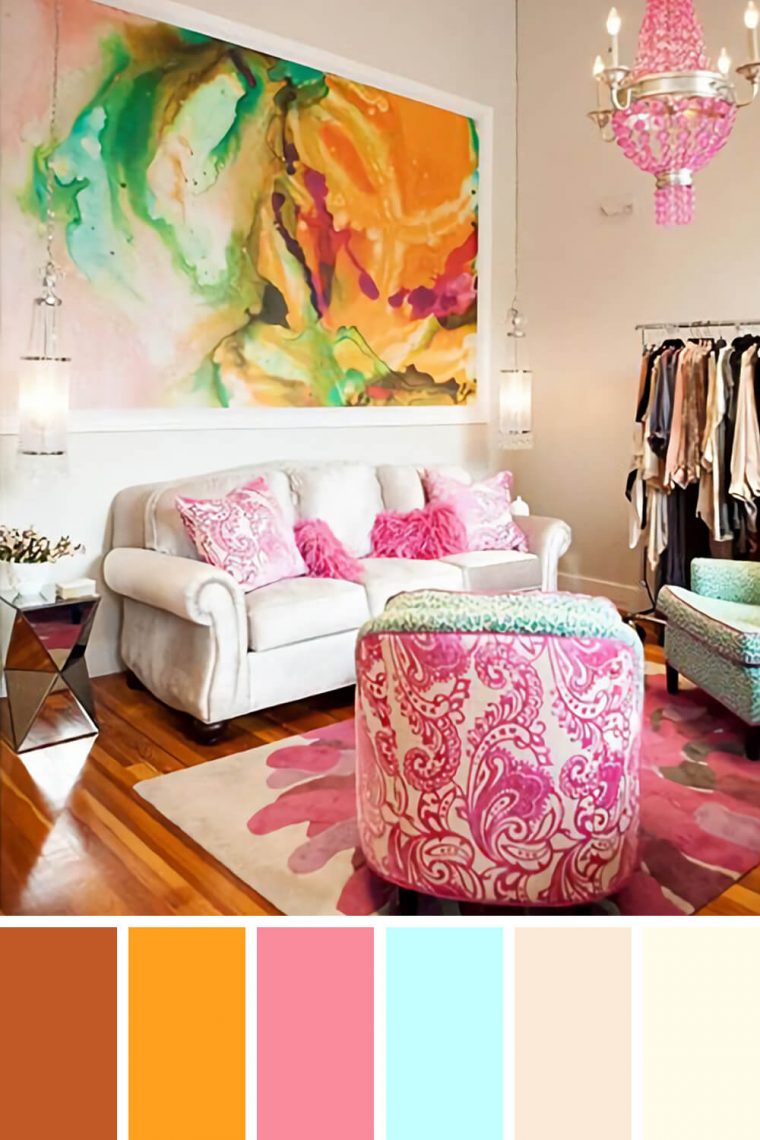 Let your favorite color set the mood of your space. This cheerful living room uses a bold palette of pink, orange, and white. Bold hot pink patterns on the sofa, throw pillows, and carpet adds character and personality in the room.
To keep the mood balance, the lightest shade of pink is applied on the walls and couch. If you have such a neutral living room, give it an upgrade with this daring idea. You can steal this look by using your favorite fabric to make pillows or ottoman cover.
Vibrant Delight to Lighten Up Neutral Scheme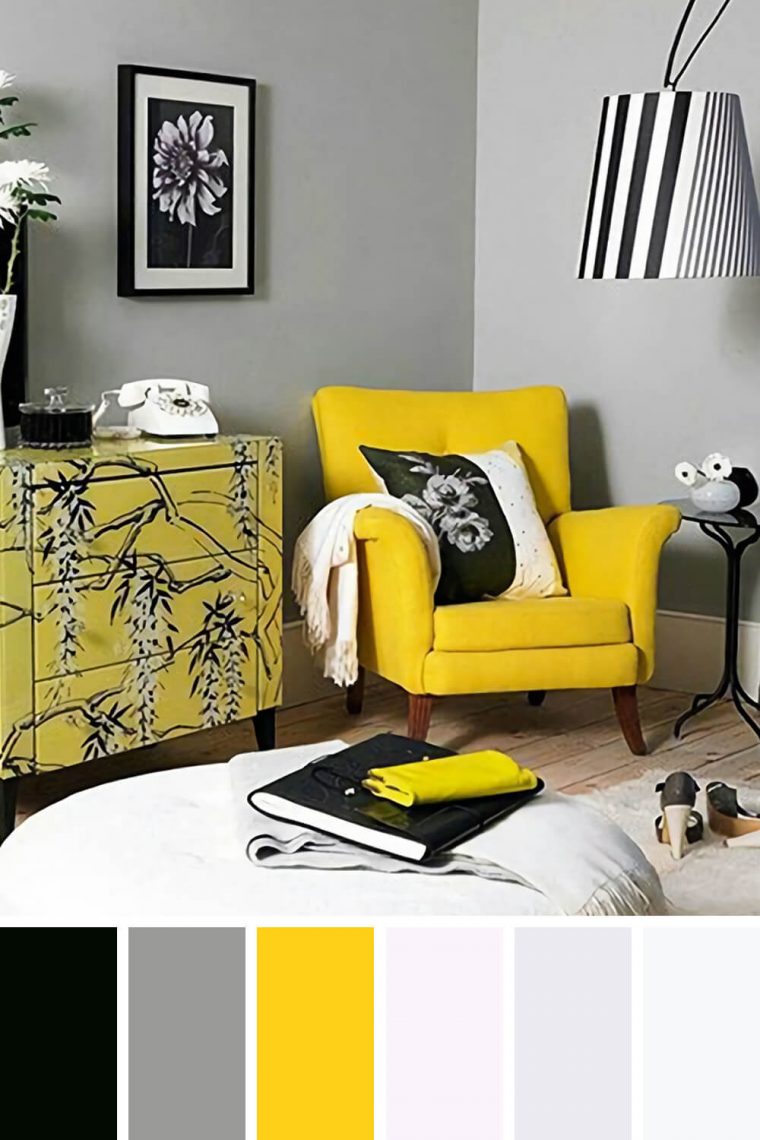 This is another great way to lighten up a neutral color scheme. You'll be amazed how easily you can turn your boring room into such a fascinating space like this. If you're tired of changing your room color, simply paint your furniture to add a statement piece.
The bright yellow armchair and lemon cabinet make this room more interesting for guests. The other elements like picture, lamp cover, and throw pillow, however, are left in black and white to keep the consistency of the color scheme.
Colorful Floral Enchantment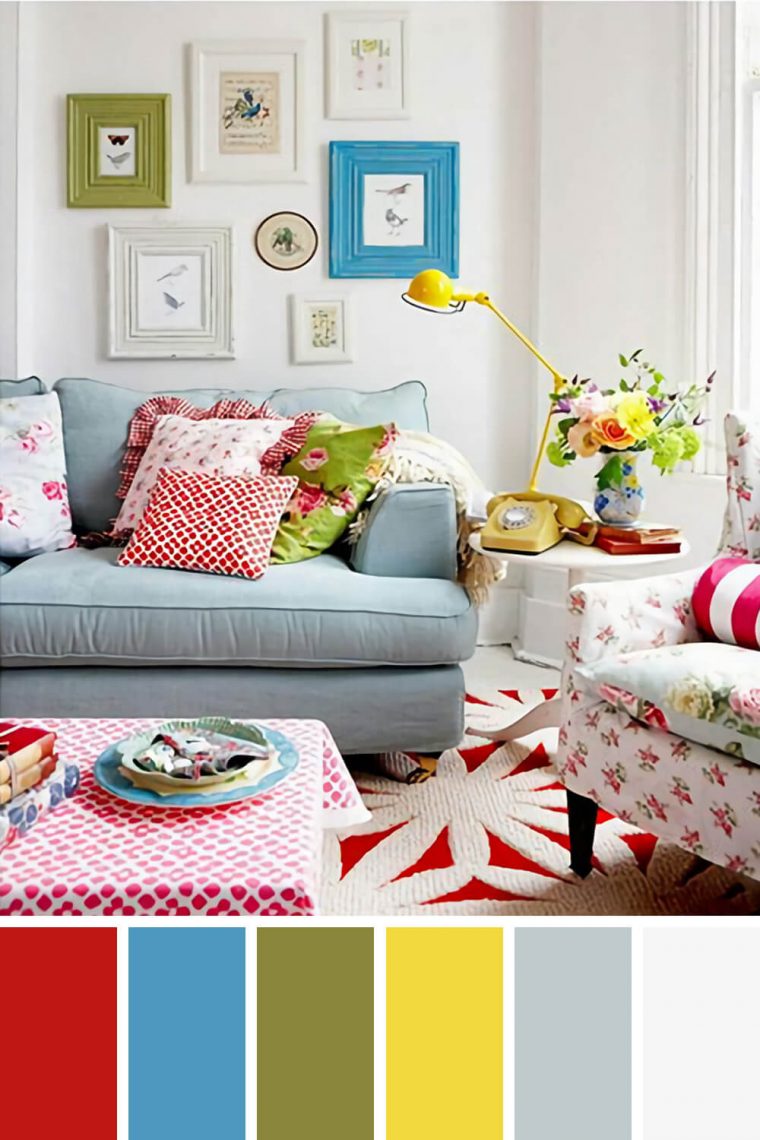 While the choice of living room color schemes sets the mood in your space, the patterns will add style. Match floral patterned fabric which complements each other like shown above and you'll be surprised how beautiful your room can transform.
This room incorporated the shades of red, light blue, and yellow, creating such an inviting space to entertain your guests. The walls on the backdrop are painted white to open up the space and keep the mood balance.
Ice Cream Inspired Palette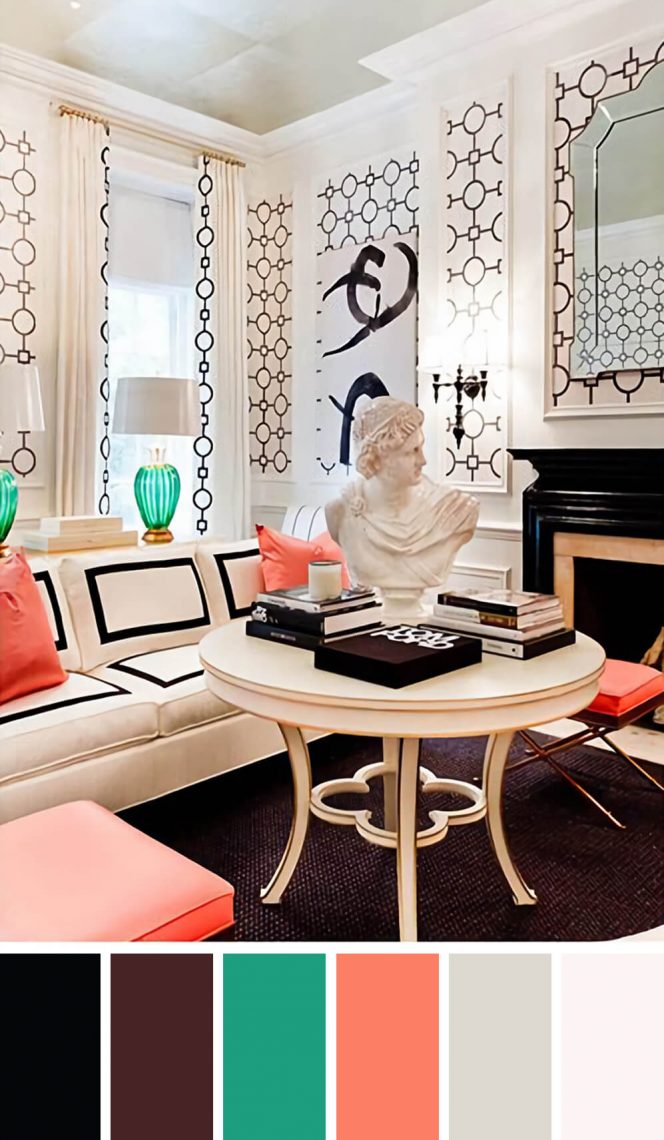 This beautifully decorated living room is inspired by ice cream colors of vanilla, strawberry, and chocolate. The tone of beige on the walls and furniture adds a feeling of coziness while the chocolate shade on the carpet makes a fine-looking contrast.
The pink pillows and chairs, moreover, make the room feels more glamour. Teal table lamps are also added to the room, adding a pop of color on this beige-dominated space. Then, the black pattern applied on the walls brings a unique statement.
Timeless Elegance of Evening Shadow
Pale shades of gray are highly popular when it comes to creating harmonious living room color schemes. Integrating rich shades of gray, this room feels calming and cozy at the same time. Check my suggestions below to accomplish this soothing look in your living room:
To keep it neutral, you should add accessories which come in the earthy colors like tan or bronze.
To liven up the room, change the fresh flowers every week. Choose more vibrant flowers once in a while to keep the room interesting.
Soft Pink and Gray Charm
Serene, sweet, and beautiful are three words that describe this living room very well. The walls, floors, and standing lamp are in the soothing shades of pink while the couch is in the shade of gray, accented by a lighter-toned blanket.
The chevron coral throw pillows and patterned rug add a touch of interest among the unadorned elements. To add a sense of nature without disturbing the scheme, a pot of plant without leaves is included in the decor.
Read : Lighting Ideas for Rooms without Ceiling Lights
A Hint of Coastal Grace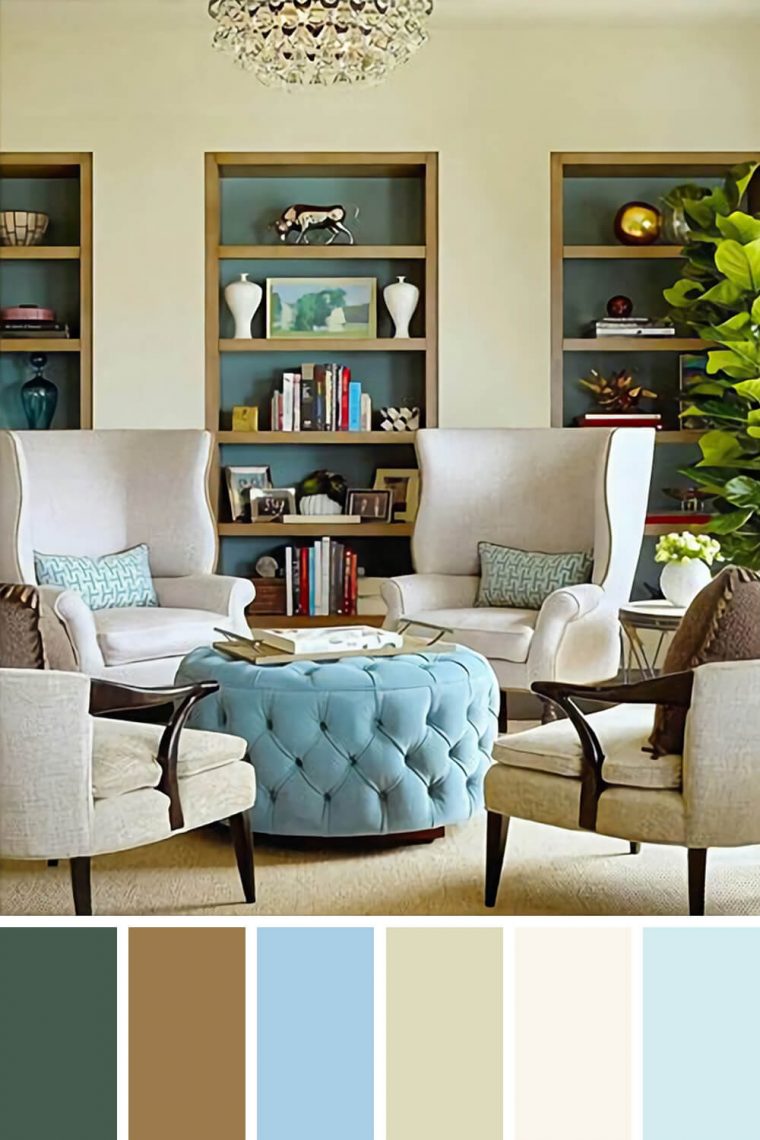 Bring a hint of extended summer vacation by using a range of harmonious tonal blues in your living room. The bright ivory chairs and a round tufted sea green coffee table recall the idea of coastal elegance in your space.
The cabinetries are painted in deep sea green and gold to keep the color scheme harmonious. The big greenery on one side of the room breaks up the sea green and ivory color so that they don't overwhelm.
White Backdrop for Colorful Paradise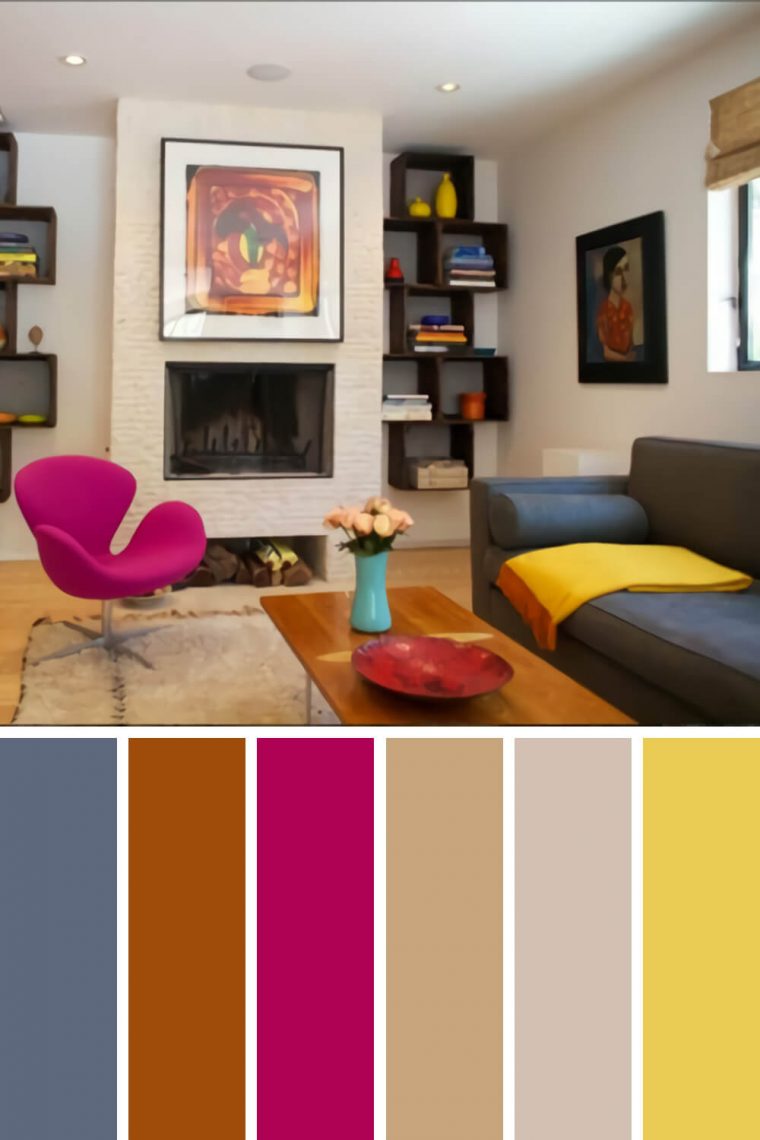 White walls and ceilings are the perfect paradises for colorful accessories. If you're not brave enough to paint your walls in bold colors, bring a few accessories in vibrant tones instead. Try this kind of living room color schemes by following my recommendations:
To keep the scheme balance, stick to a few shades of vibrant colors only. For instance, you can combine magenta and yellow like shown above.
Bringing in a floral arrangement for a splash of color is always a good idea. Swap out with the fresh one on a weekly basis for the better.
Bright Nature-Inspired Scheme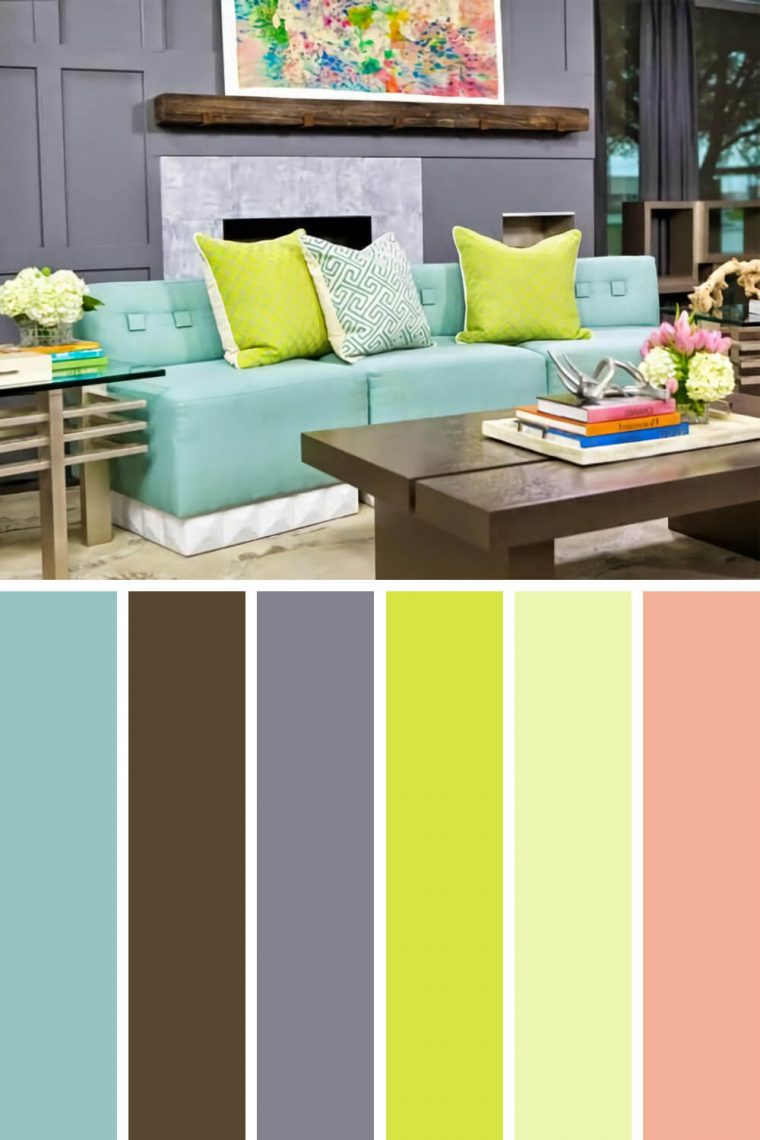 Extend your beautiful garden inside the room by using color palettes that mimic the natural world outside. This cheery living room looks bright and beautiful thanks to the use of bright turquoise and lime on the seating area.
The floral-themed painting on the wall and a floral arrangement set on each table support the idea of natural world in this room. The wooden table and log accent on the wall also help the space to appear more nature-like.
Warming Plump in Neutral Tones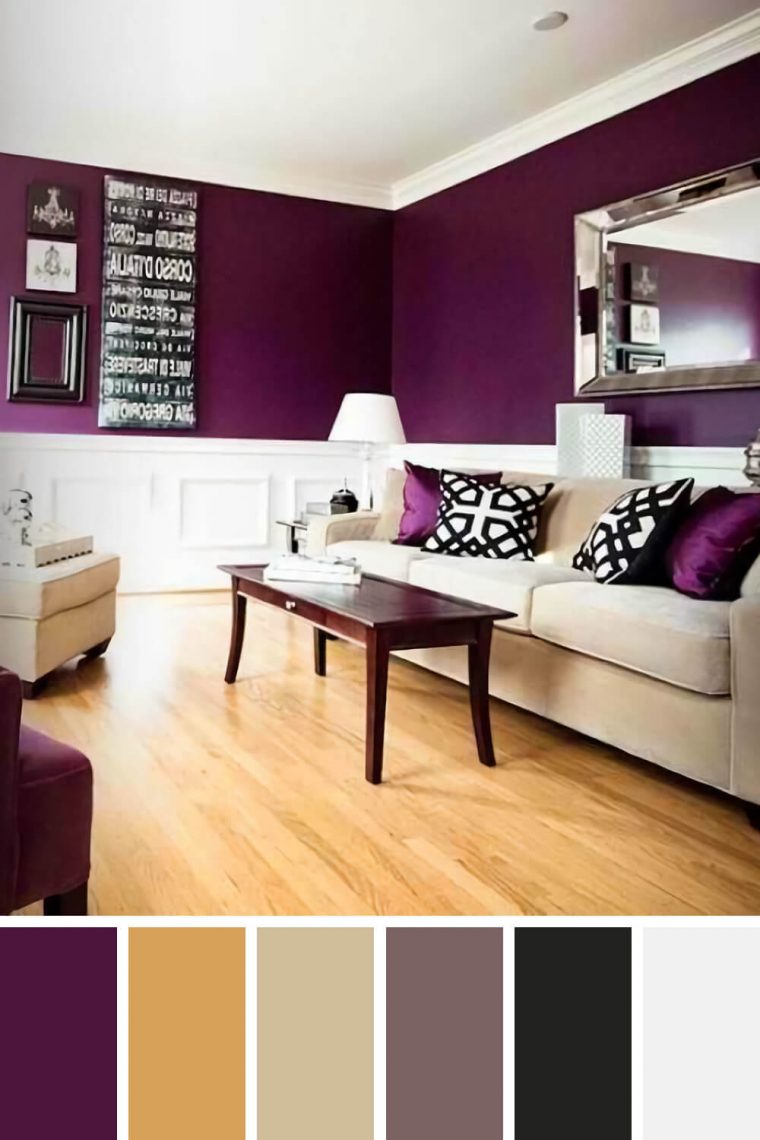 Plump living room color schemes are made for those seeking for something bold and unique. It's safe to say that this idea isn't everyone's cup of tea, but it's worth your attention for sure. Steal the look of this unique living room by my suggestions below:
Offset the plump colors with a neutral color like beige and brown to make a successful scheme. Apply this on the furniture or other elements.
Paint the wall and ceiling in white to let you use the plump color palette fearlessly on accessories or fabrics.
***
Those are the best color scheme ideas that you can apply in your living room. One thing that you need to remember: never make particular colors overwhelm the others in your scheme. Prevent them from going into overdrive by employing neutral color or softer tones to keep the balance.
As you can see, each color scheme presented here has its own uniqueness. Choose the scheme you like or simply opt for the one that suits your current style the most. If you're looking to a way to incorporate your favorite colors, you can check out the idea that uses them.
So, have you found your favorite color scheme from my top picks above? Of course, I hope you love these living room color schemes and incorporate one of them in your upcoming remodel. Finally, happy decorating!