Is there any person who doesn't love decorating a home? Of course, there isn't. Doing home décor can be a perfect way to establish "home sweet home" feeling. The only problem is decorating a home can be unbelievably expensive. Thanks to DIY home decor ideas say no more to this drama!
Besides the fact that doing a DIY project is cheaper than buying on the market, you can recycle and reuse your abandon stuff into something useful and valuable. A go-green concept home decoration will be in your hand with this act. To expand your ideas, follow this easy DIY tutorial for your lovely home.
Spray Tins to Pretty up Your Planters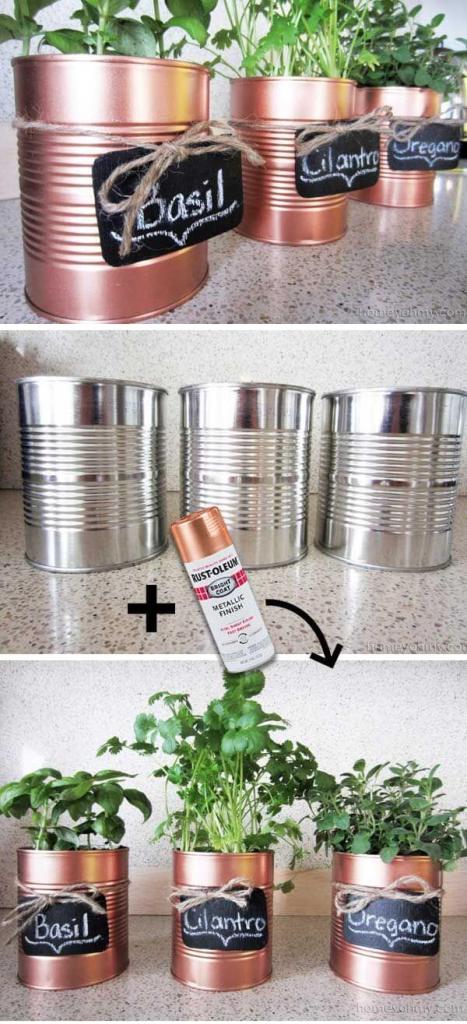 Let's start with the garden. As long as you have free space, you can decorate it with pretty planters. Plant some flowers and herbs always are a great idea to please your eyes and your feeling.
Instead of buying new pots, you can alter your abandon tins or cans into beautiful plant pots. Clean up the can first then paint it with pylox spray. Let it dry afterward. Put some ribbon-like rope and piece of paper to write what kind of seed inside.
Plastic Spoon Pineapple Lampshade

Yellow is associated with full of spirit and energetic vibes. That's why it is always good to put yellow ornaments on your desk, including this super cute fruity desk lamp.
Don't be panic if the price is not suitable for your pocket. Prepare a small table lamp, plastic bottle for pineapple's body, roughly 125 yellow painted plastic spoons, glue gun, and green cardboard for the spike on top of the pineapple. The result will be chic yet affordable for you.
Antique Style Table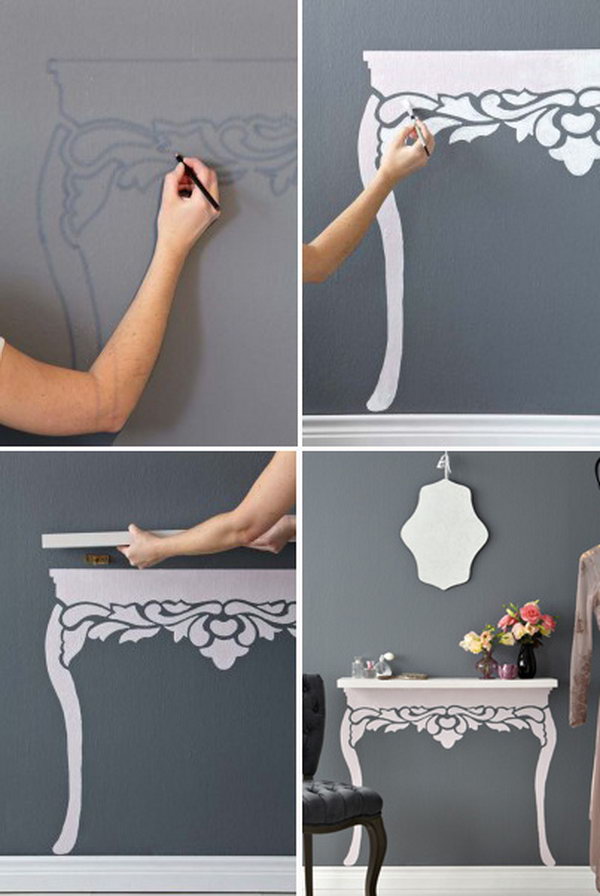 This one might be a little too easy. All you need is a shelf and a paintbrush. Turn any floating shelf into a beautiful antique style table.
Upgrade a Mirror into Your Masterpiece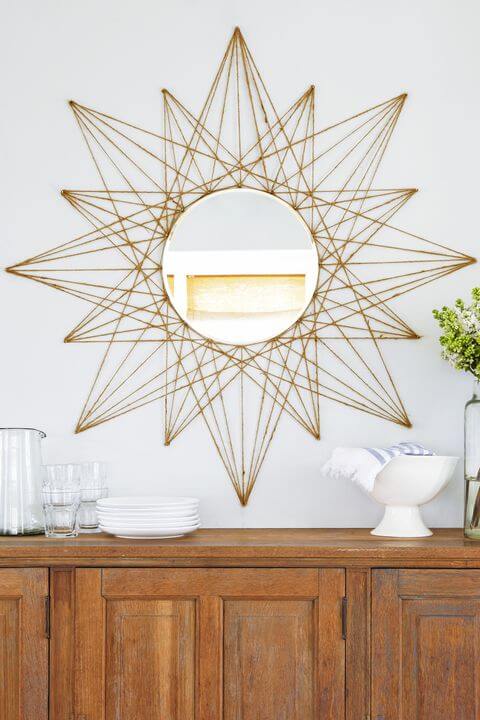 If you think about DIY home decor ideas, don't forget about the wall mirror. Lift it up with this out of the box on the budget wall mirror.
You will need a spool of jute twine, 14 inches round mirror, painter's tape, and some nails. Follow these steps if you confuse on how to do it.
First, trace the circumference with a pencil on the wall, mark on the center afterward. Divide that circle into 16 equal parts then mark a spot where every line meets circle. Tag each spot with number (1-16) starting at the top center with number 1. Continue the numbering on clockwise direction.
At the first point, measure the 16-inch vertical line and mark off the end with a point. Second point; mark the end of 12-inch line. Continue for every circle point between 16 and 12-inch. Now, mark the outer points with numbered 17-32 pieces of painter's tape. Put number 17 on top center and continue in clockwise. Hammer all spots with nail.
Cover the nails with twine, starting with knot at starting nail and ending with a knot then cut the twine at last nail. Start at 25; wrap around 11, 29, 15, 17, 3, 21, and 7. Do the pattern and alternate between inner and outer nails in clockwise.
At last, hang the mirror at the center.
A Simple Dressing Table for Tiny Room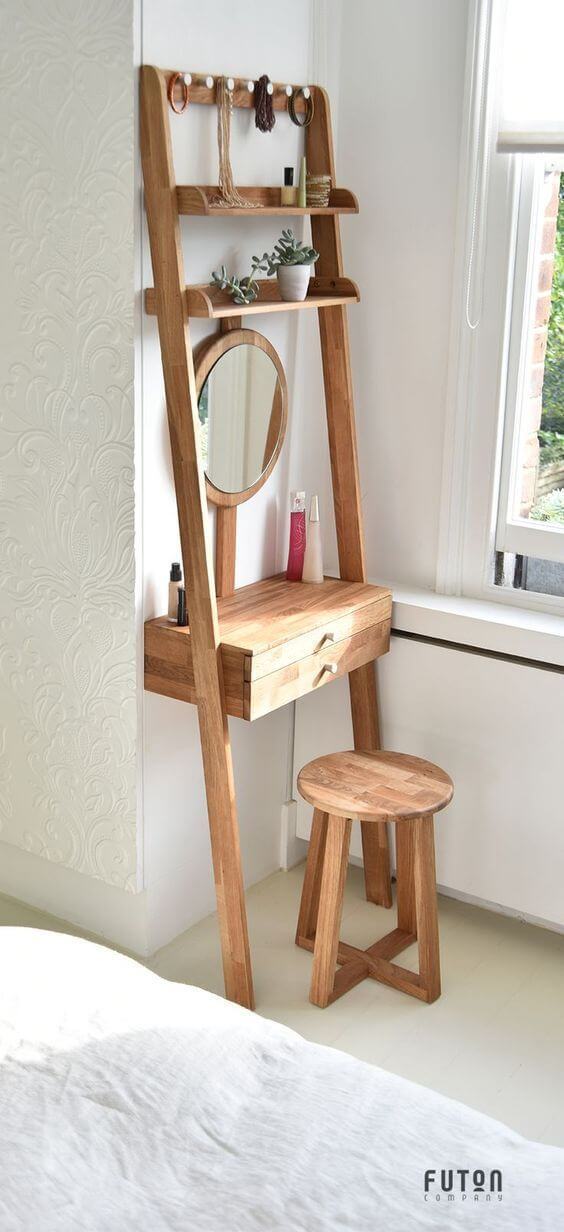 Dressing table is a must-have item for every girl who loves wearing makeup. But the classic problem is: most of the dressing tables on the market are big. If your room is small, how are you supposed to do?
Yup, you can make DIY home decor ideas for dressing table. It is quite simple. Make it like a semi ladder with open shelves at top and drawer in the middle.  Put a mini chair and mirror to support the functionality.
Beautiful Table Aquarium for PVC Pipes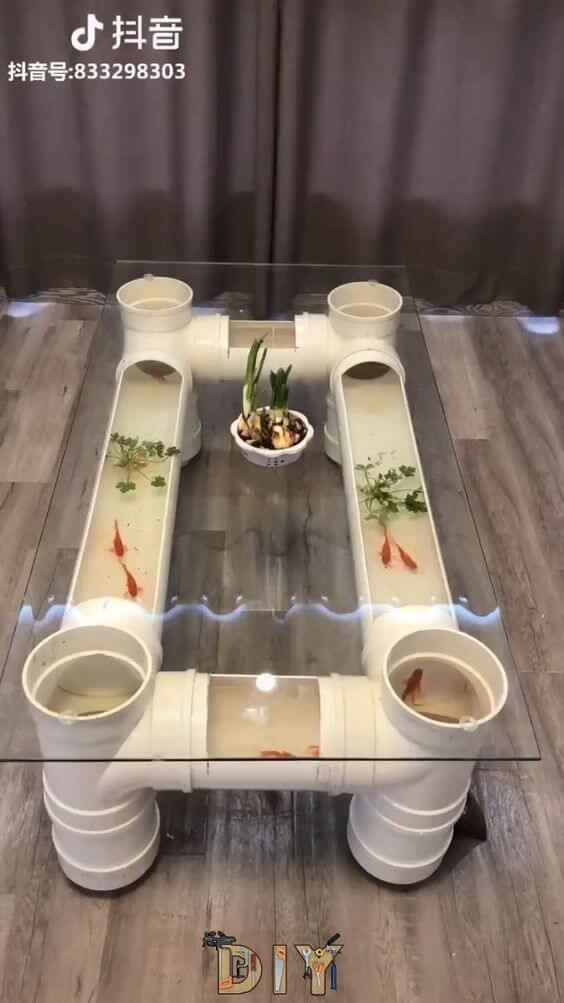 Want to try to make something unique and different using PVC pipes? Why not make an aquarium table. Then you can place beautiful ornamental fish in it.
Certainly will add a comfortable and natural atmosphere in your room. For the details how to create this DIY project easily, you can watch the video below.
Book Corner for a Bookworm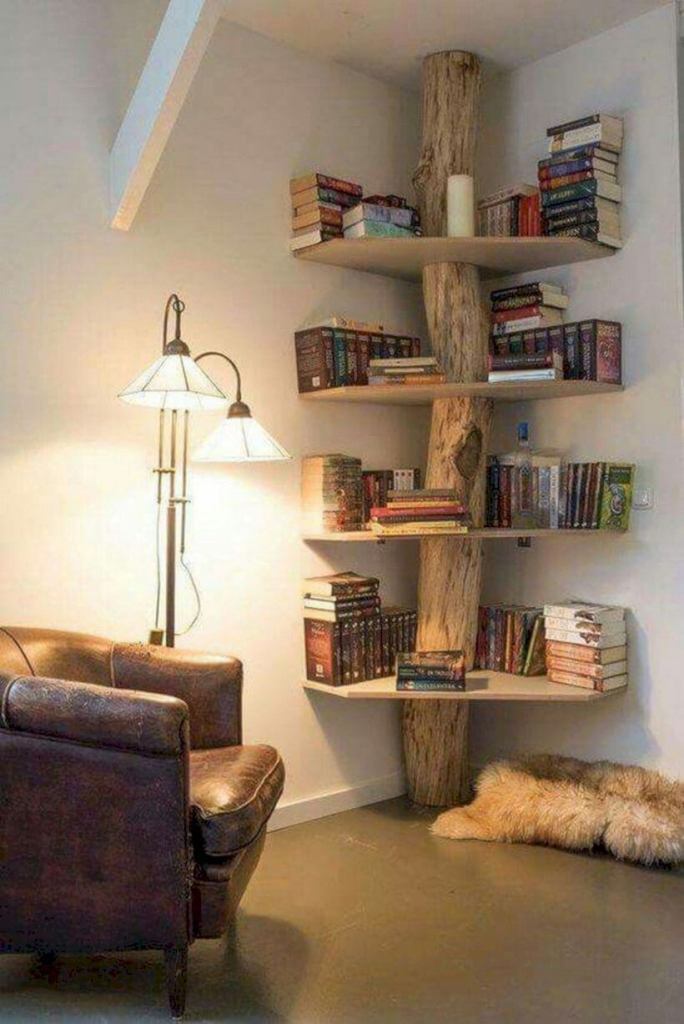 Determine what kind of bookshelves that is suitable for your home can be a tricky thing. Not to mention if your books are beyond the capacity of your shelves. Probably you need the new one where can accommodate all your collection.
Consider this idea for unique looks yet has a big capacity for your stuff. A big stem in the middle is enough up to four shelves. Calculate the thickness of the shelf to measure the strength of holding those burdens.
Coffee Mug Rack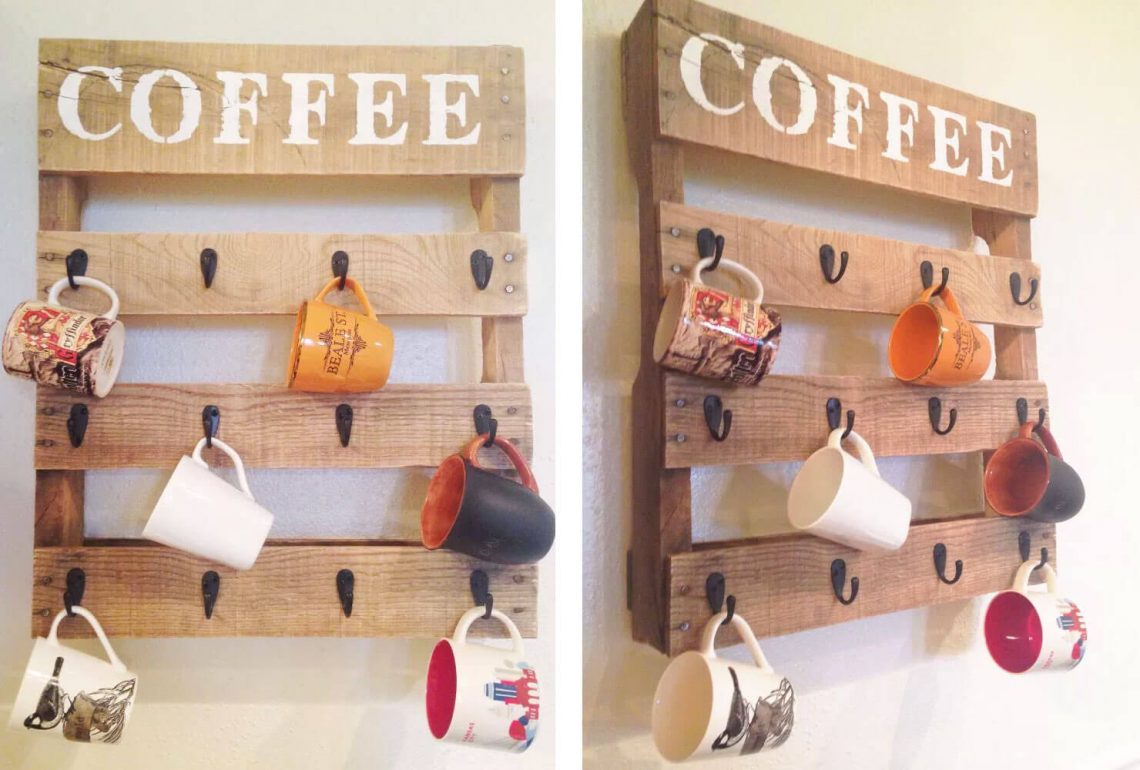 Are you a tea or coffee lover? Create a space to hang your mugs by repurposing a wood pallet. Paint on a word like 'café' or 'chai' for a personalized touch.
Corner Shelves for Your Showcase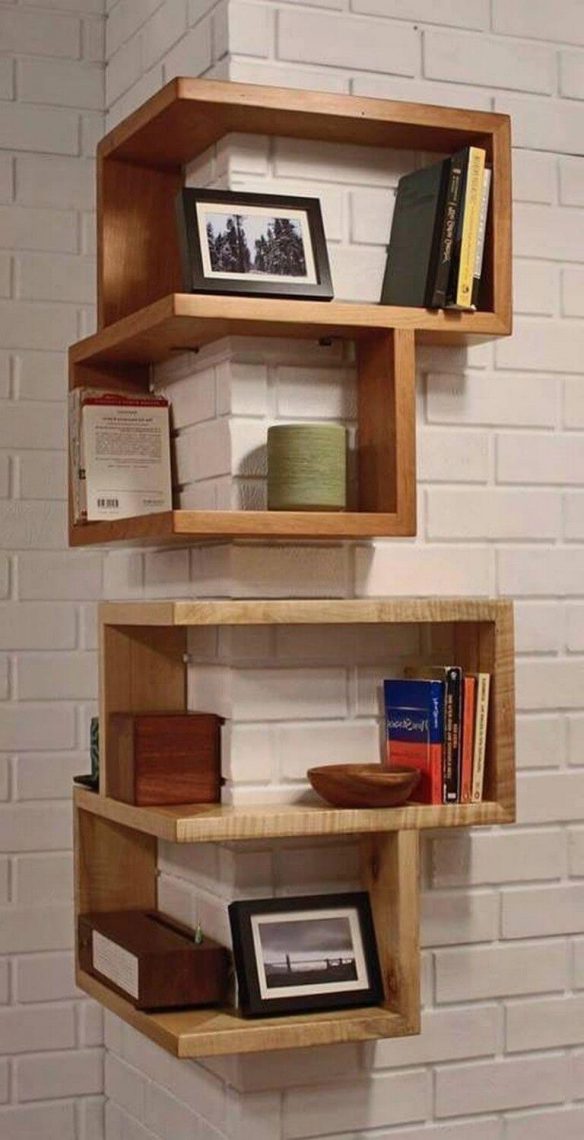 Do you have plenty of good stuff to be showed off in front of your guest but have no idea how to organize it? It is the perfect time for trying this DIY corner shelves in your living room.
This DIY project is really practical. You just need pieces of wood, drill and bolts, nails, and varnish. Put it parallel with adult's eyes to make your trinkets becoming center of attention.
Hanging Shelves in Literal Meaning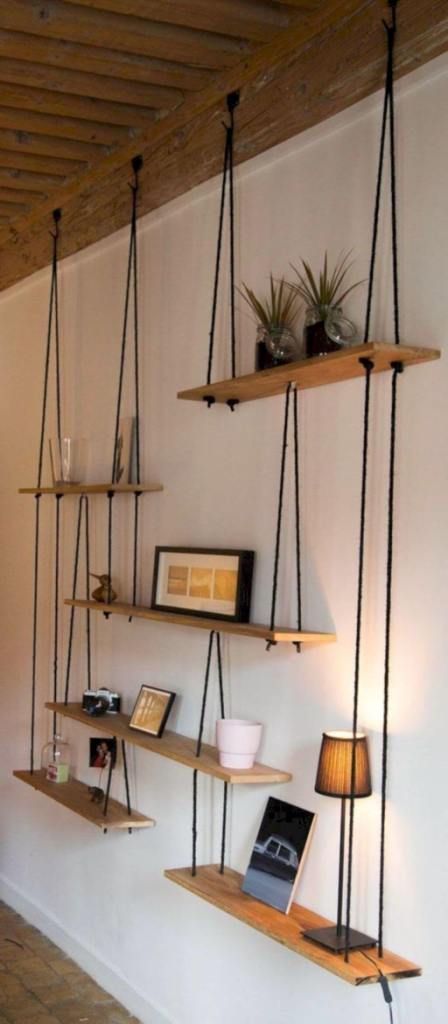 In the world of design, hanging something will always be interesting. Hanging garden, hanging lighting, and hanging shelves included.
You must use strong yet aesthetic rope, especially if you want to make two shelves in one line. Other things to consider are the wall and ceiling. It will be better if your wall is white painted or at least in a super soft tone and your ceiling is well designed to hang something.
Homemade Wall Art for Girl's Room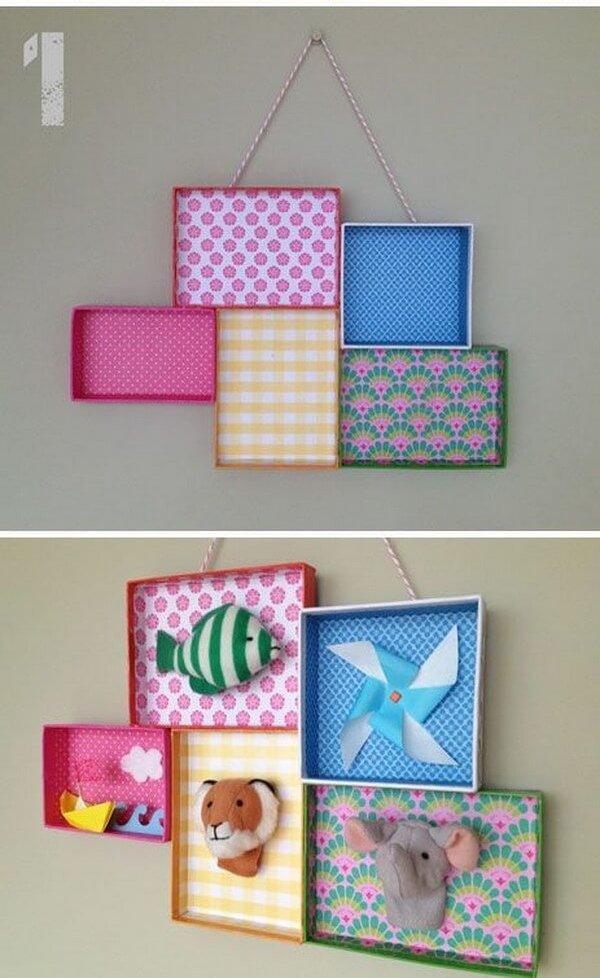 Which girl can resist the idea of DIY colorful frame on the wall? DIY home decor ideas from popsicles and colorful paper are always good to be chosen.
Find a paper with cute pattern or pastel color as basic of the frame. It will be nice if you use a stiff and sturdy type to maintain the shape. Draw a pattern of an open cube shape and fold it thoroughly. The final step is to glue popsicles around the edges until it becomes a frame.
Open Shelving and Wall-Mounted TV: Perfect Combination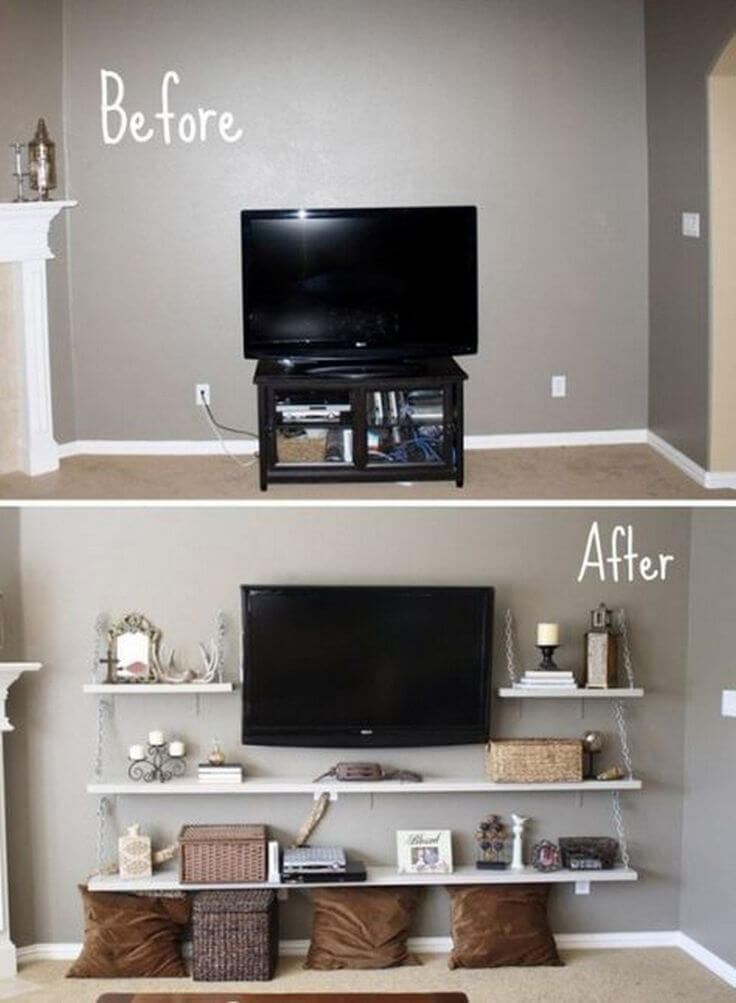 How boring it is to leave your wall around the TV is plain and empty. But it is not an easy choice to decide what kind of furniture will be well paired with, especially if you insist to make it simple yet useful.
The idea to put wide shelves underneath and around the TV can be the best complimentary that suitable with your taste and need. Also, this storage helps you a lot to organize many things.
Coat Hanger and Pallet Storage Box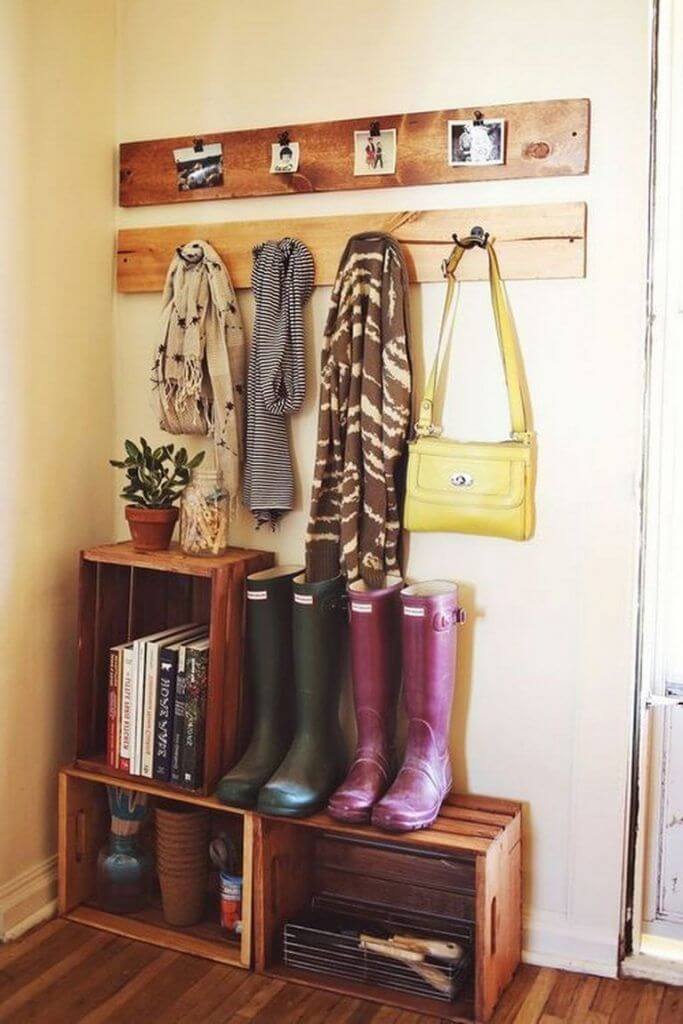 Sometimes, you are too lazy to keep your daily outfit like shoes, boots, scarf, or sling bag tidy after going outside. This DIY storage box right beside your main door will be your permanent solution.
At the above, install hook or hanger for your outer clothes. At the bottom, make storages for your boots, newspaper, or just a tiny artificial pot.
Need personal touched? Just put your photos in the collage above the hook and everything is perfect.
Artificial Colorful Flower Hanging On White Wall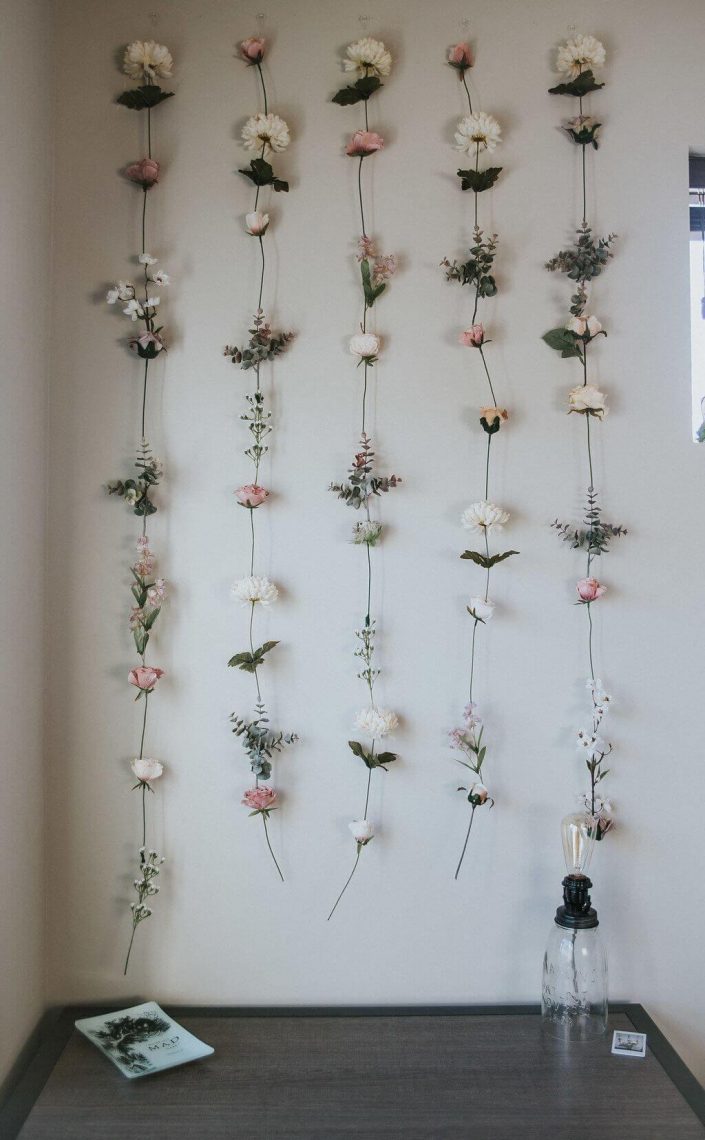 Another one of DIY home decor ideas for your white wall is artificial flower hanging. A sweet soft and warm but full of summer vibes can be granted from this handcrafted.
If you are great with making origami, you can make flowers from craft paper first. But if you are a more practical one, it is not a bad idea to buy plastic flowers.
Then, arrange it into a hanging curtain with white thread, a bunch of flowers, needle, and tape.
Chalkboard Refrigerator Panel DIY Idea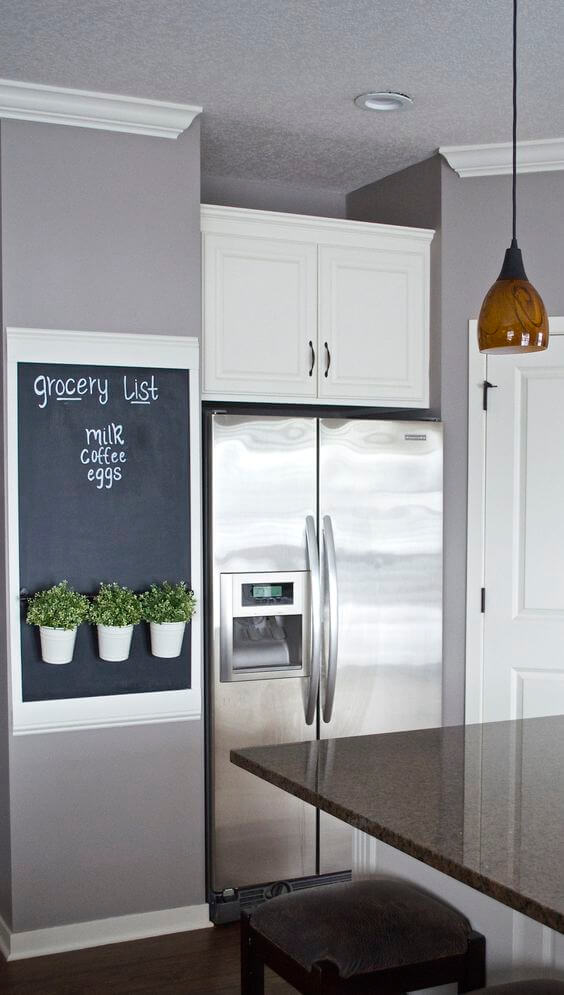 Custom look for your refrigerator doesn't need to be expensive. Simply, you only need chalkboard panel with proper size to your refrigerator and kitchen or pantry room. Hang or stick it next to the fridge.
Don't forget to prepare some chalks to write everything you want on that board. It can be a grocery list or just morning quotes to cheer your loved one up. Let your kids contribute with their drawing too.
Toilet Paper Holder Shelf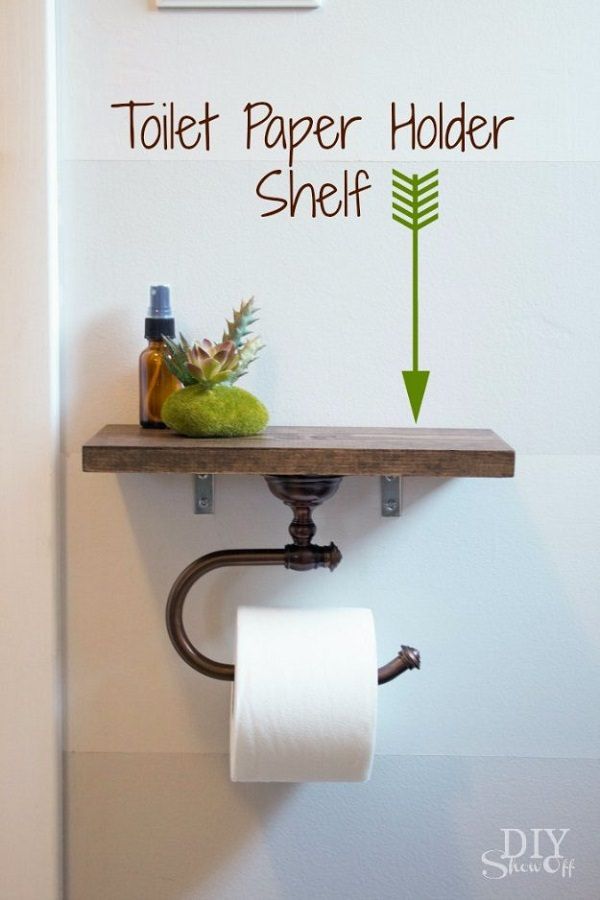 If you still think the toilet paper holder is a trivial thing to be concerned, stop it. Instead, it can enhance your bathroom looks. Turns out, it is not difficult if you follow this direction:
Cut and clean the wood
Apply stain and then wipe it away with a clean rag
Varnish it until two layers for maximum looks
Install the holder under the shelf. Make sure there is enough room for tissue to roll
Put the corner bracket on the wall and place tissue on it
And your toilet paper holder shelf is ready to use!
Rainbow Paper Dahlia Flowers

We can't get enough with flowers, just admit it. If the flower curtain is not enough, this oversized paper flowers will fulfill your desire.
This is one of the astonishing DIY home decor ideas that will bring your wall into the center of attention. Make it into collage will be great for your photo backdrop on your next party.
Thread Hanging Lampshade

Are you in love with dim light for a romantic feeling? A thread hanging lampshade suits well for you!
This wonderful ornament can be done with the help of a few simple things: thread or string, inflatable ball, and glue. The good news is, it doesn't take too much of your time, so cheap, and perfectly suitable for every intimate occasion from a family gathering to wedding. How wonderful!
DIY Nightstand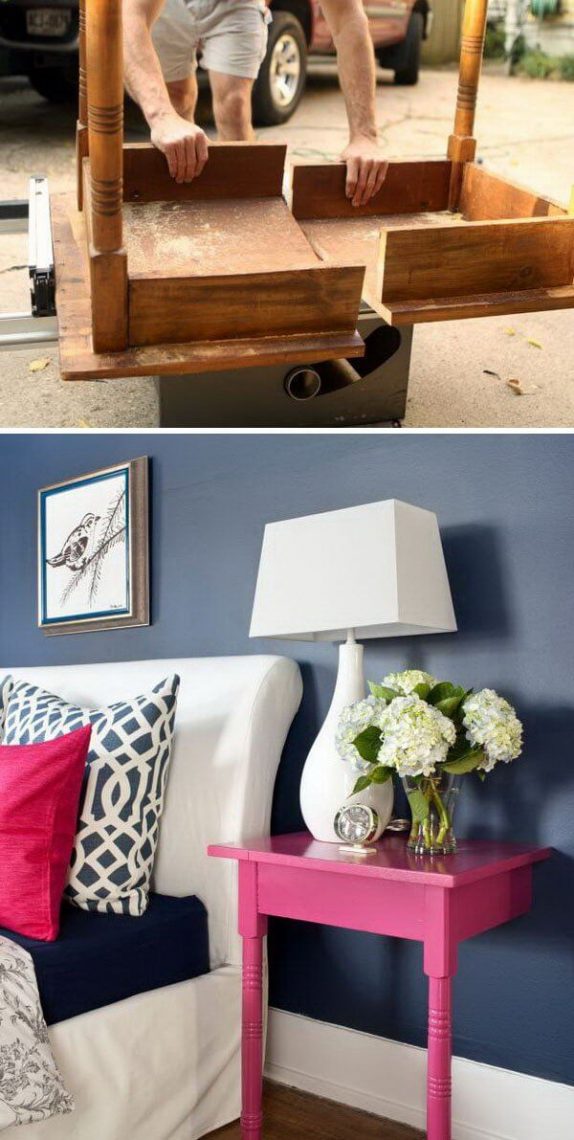 Are you lacking furniture but need a wow factor to impress your guest? You are on the right path.
A stunning nightstand can blow your guest mind with the uniqueness and functionality. You can choose various styles: concrete walnut, simple and square, or make it like barstool. Pick one that is in line with your room's style.
DIY Wall Art Décor Made With Popsicle Sticks


A little bit similar to the previous one, the DIY home decor ideas will concern on using popsicles to give you writing space on the surface.
If you do this project, it will let you explore the color and theme of the popsicles. For instance: sea vibes. Paint sticks with turquoise color and put some shells, sea star, and small rocks to be arranged into a word.
DIY Home Decor Ideas for Corner Ornaments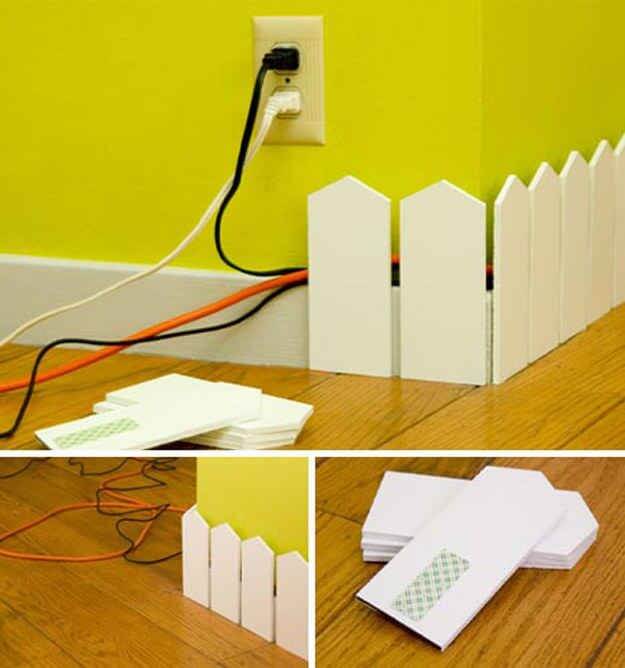 Not every people think too much about corner detail. When it has to deal with many cables or anything else, people tend to let it be that way although they know it doesn't aesthetic for sure.
This can solve your aesthetic standard. Put some popsicles or piece of thin wood to cover the corner wall. Cut it into cute shape like fences. Stick it with glue that doesn't leave any residue to your wall.
Flowers Bouquet on Vas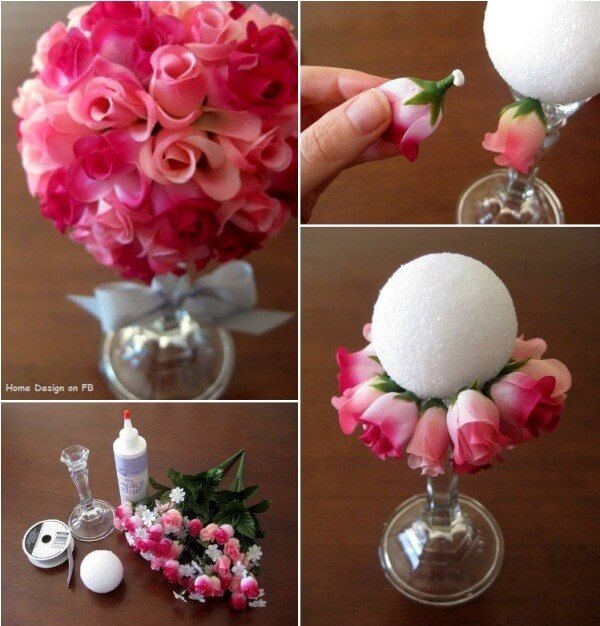 Flowers are really reliable for decorating your home. In this part, you (and probably your guest too) will be amazed by artificial flowers bouquet on your vas.
It is quite easy. You just need plastic leaf and many flowers to cover the plastic ball in the center of the vas. Cover it up with glue gun until all you can see is a ball of flowers.
Book Holder on the Shelf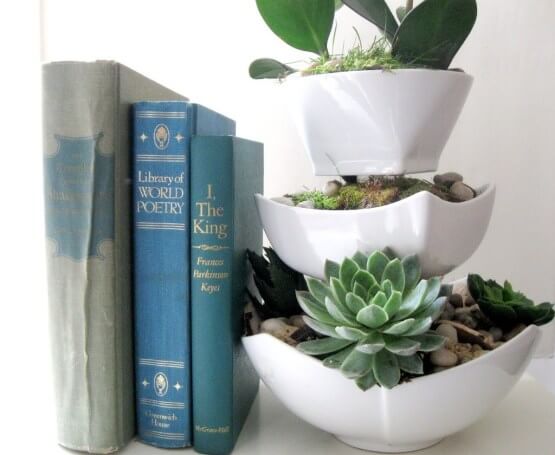 Having too many books is good but makes you confused to organize it. Particularly if your shelf is too big until the remaining space is still available. You need a book holder to make it well stands.
Instead of buying the ordinary one, you can substitute it with tiny plastic planters. Choose two or three in different size and stack them up to elevate your shelf.
Recycled Glass Bottle Lamp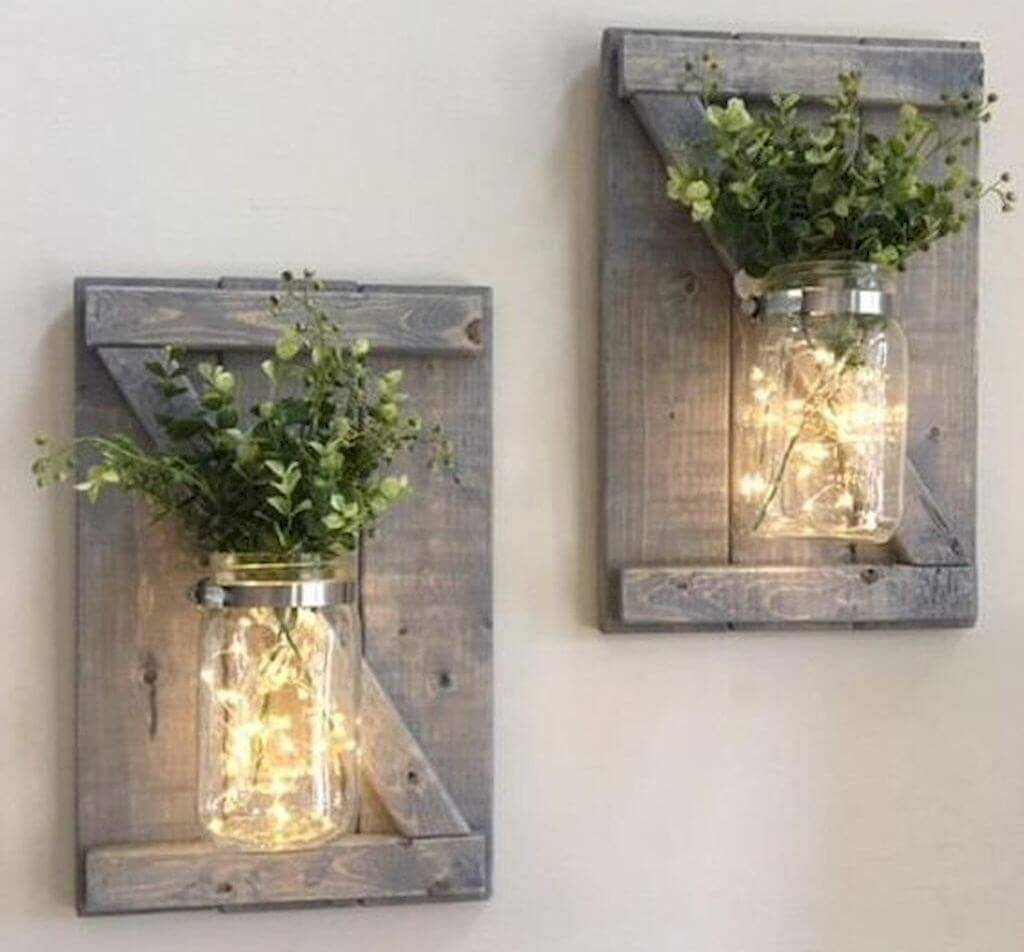 If you have a glass bottle on your warehouse that is big enough to be recycled into a lamp, use it. It fits for your vintage, rustic, modern, or simple decoration of the home.
Fill the bottle with string light and some crop for additional greenery effect. Hang it on the wall with solid color ceramic to make it more outstanding.
Popsicle Stick Snowflakes

Snow trinkets are always interesting for home decoration, even though you live in a tropical country. Either way, it is more than perfect for your Christmas decoration!
Prepare many popsicles, paint, and glue. If you want to decorate it with another thing like beads, just go ahead. Explore your creativity as much as possible.
Vintage Style for Clothing Hanger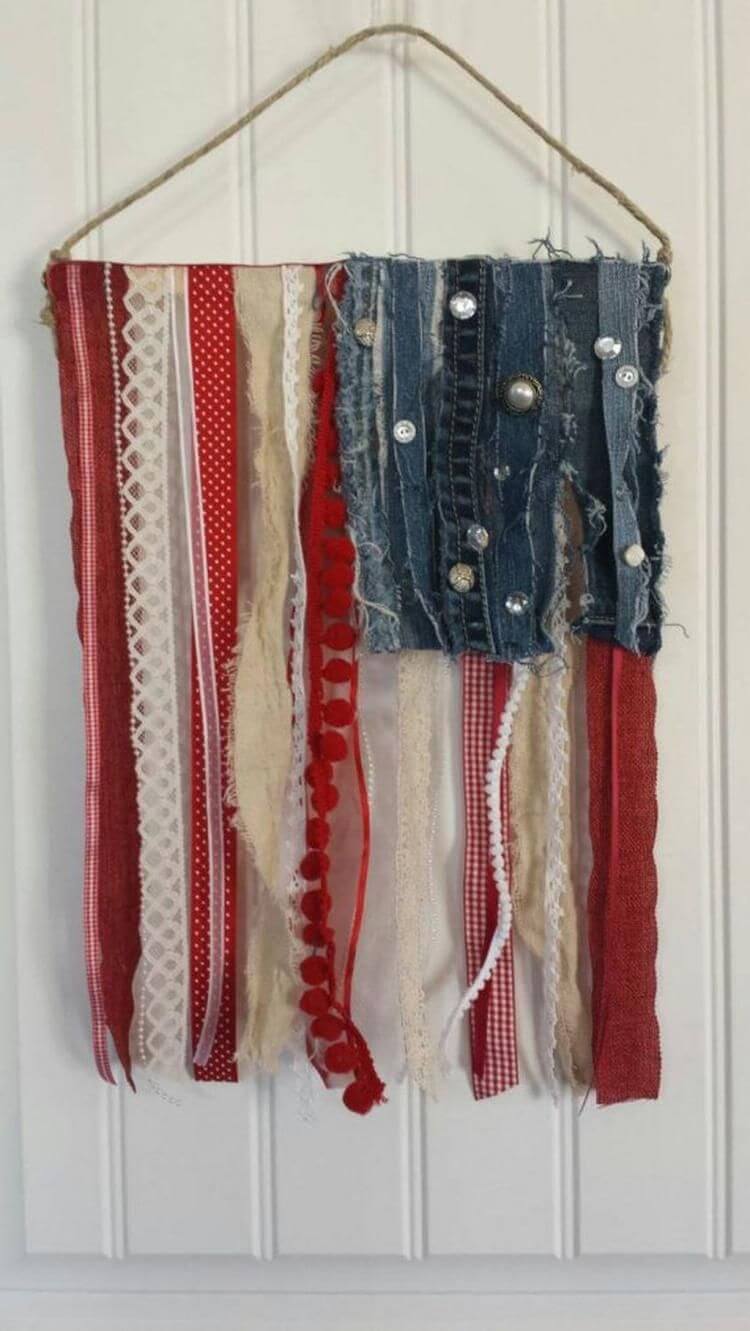 To make it comfortable, you need to keep your room clean and tidy, especially clothes. Sometimes your scarves or jeans are used for twice or three times before washed. Vintage style hangers for rustic touched maybe will help.
Pick a piece of wire which is long enough for your clothes. Then, buy thin rope to cover all the wire's surface. Make sure you can do this as meticulous as possible for maximum result. Finally, bend the wire into a hanger-shape.
DIY Wall Lamp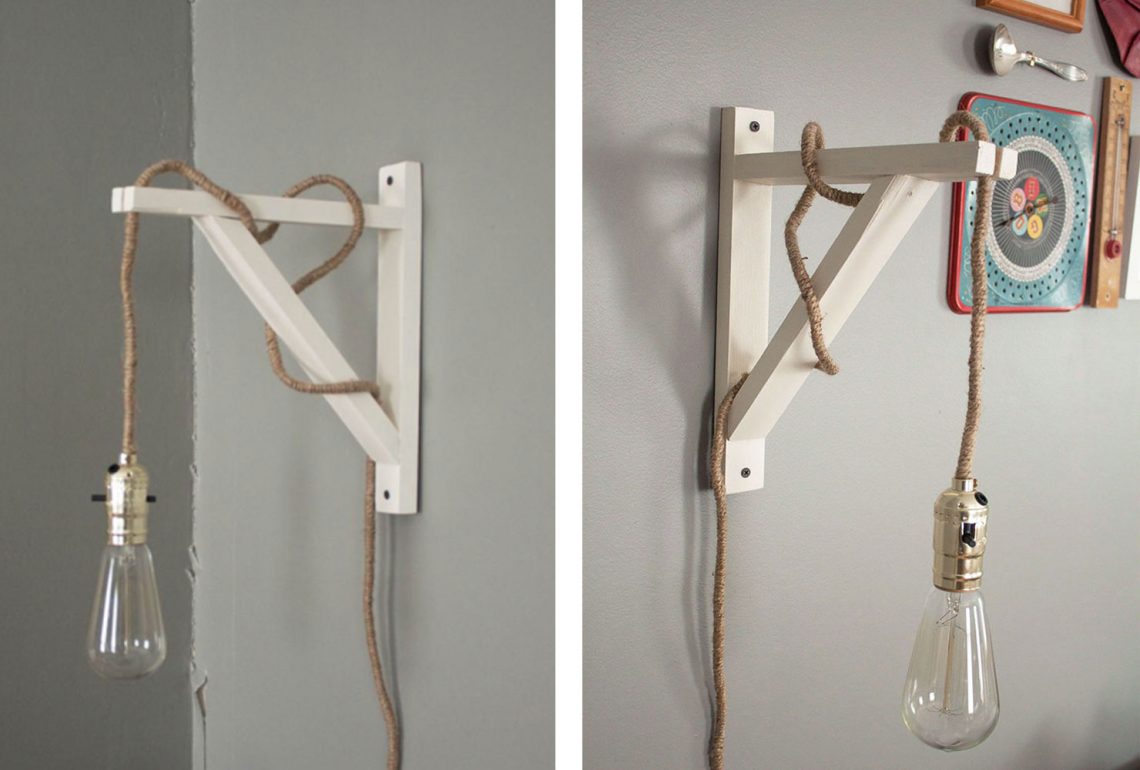 Industrial vintage lamps add character to your walls and unique lighting to your space. Wrap jute around the lamp's cord to foster a chic, artsy look.
DIY Floating Bookshelf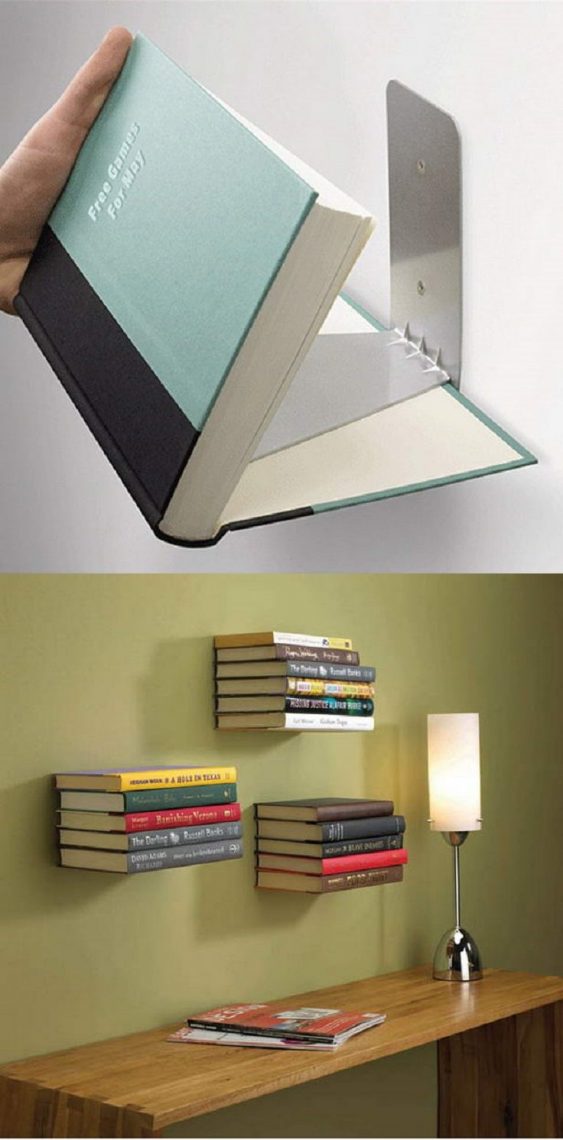 Create a floating bookshelf out of books themselves. Creates an eye catching illusion that will appeal to your friends and family.
DIY Blooming Monogram
Bamboo Orb Lights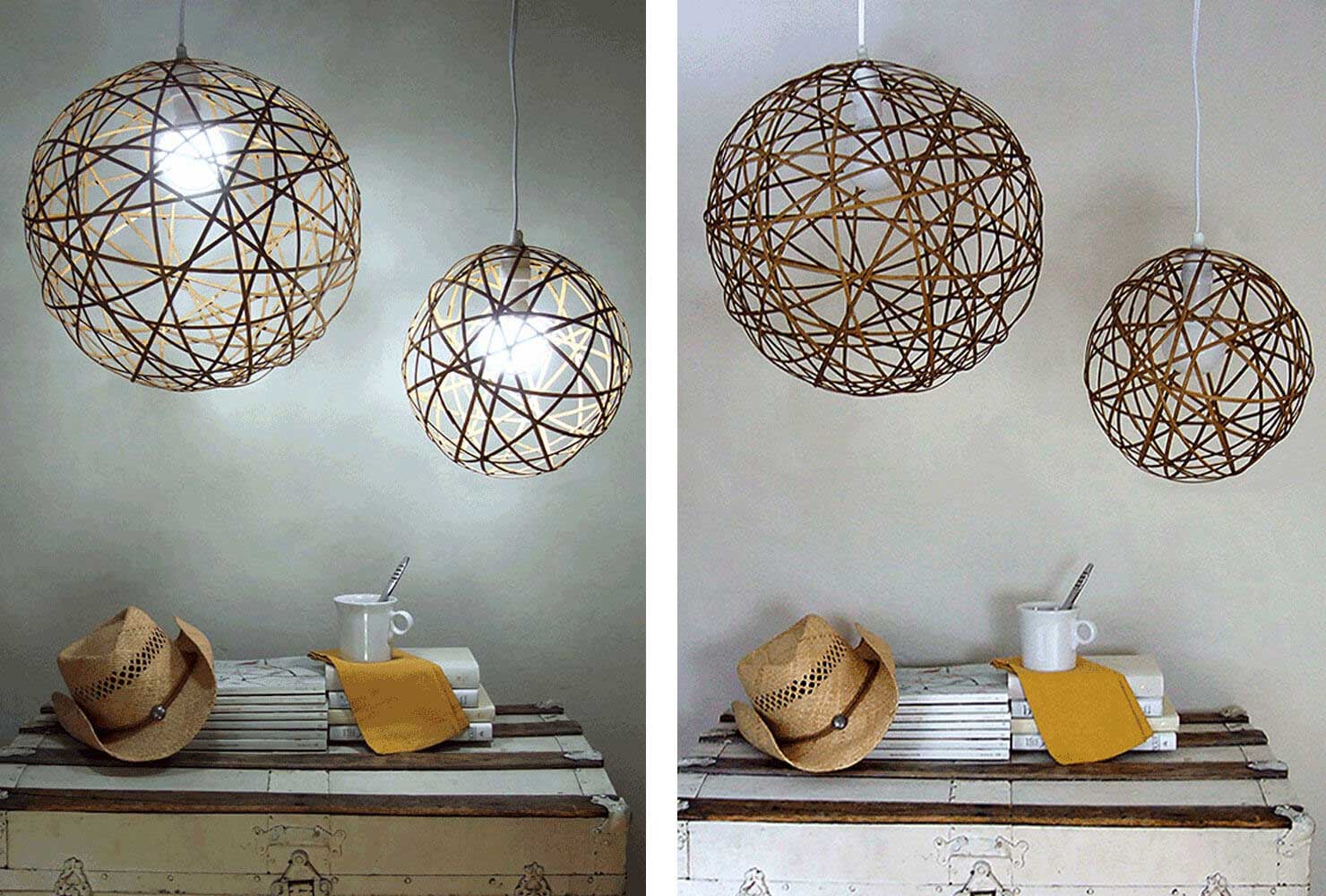 Craft unique lanterns for your home office or bedroom with bamboo strips. Secure a lightbulb inside and attach your lantern to the ceiling using sturdy hooks.
String Art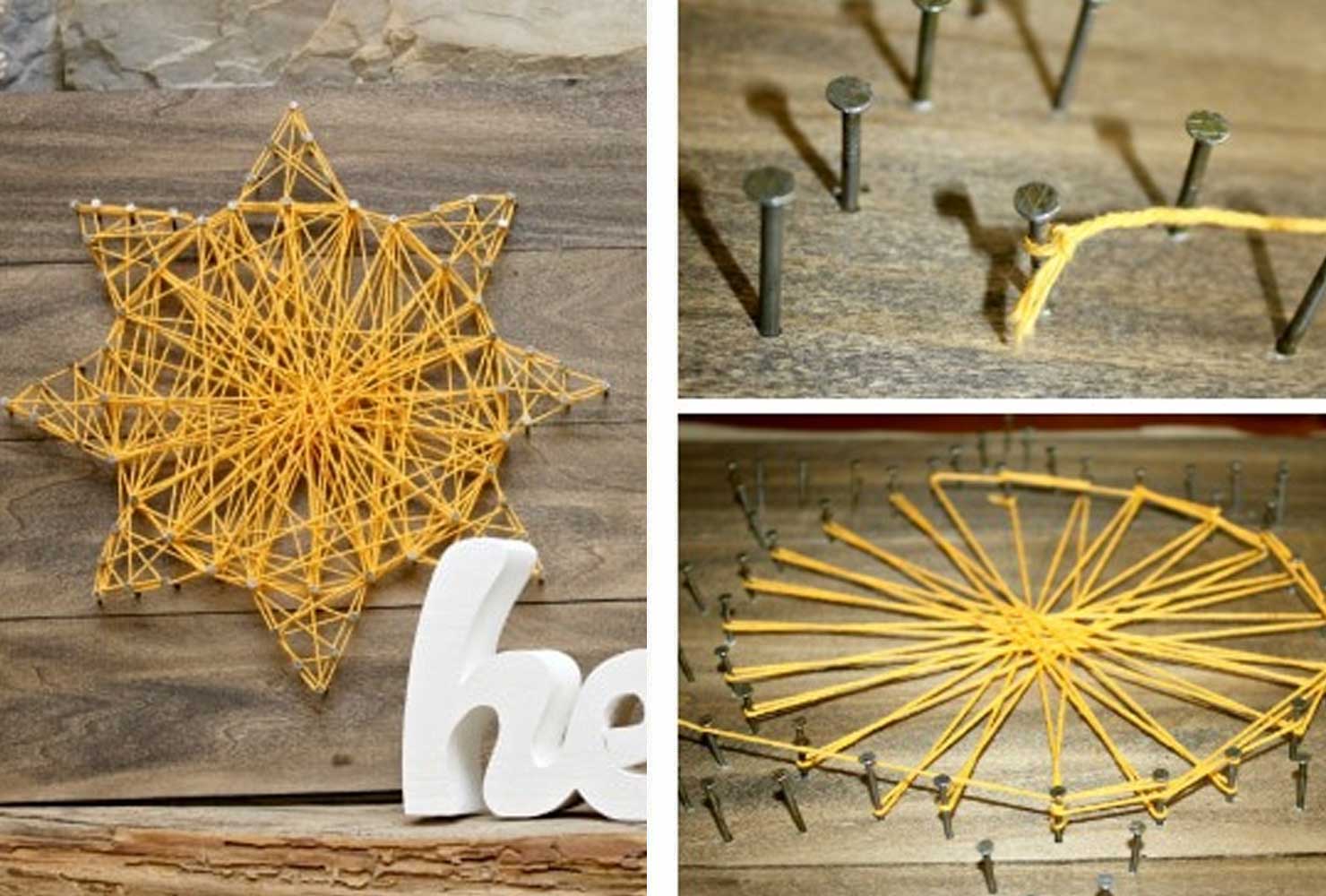 In the shape of a heart, star or U.S. state, form string art using a series of nails and a wooden board. Choose a string color that matches the other decor in your room.
DIY Farmhouse Lighting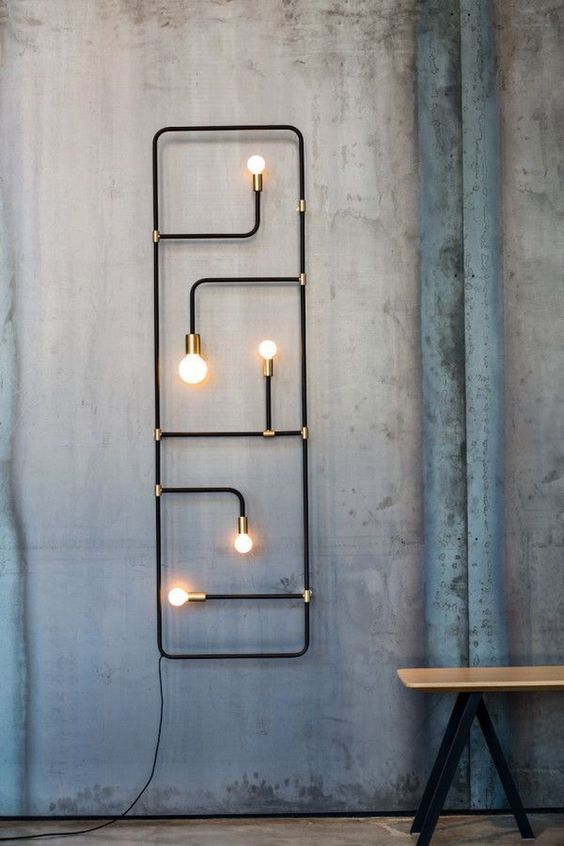 Cool DIY Mini Flowers Planter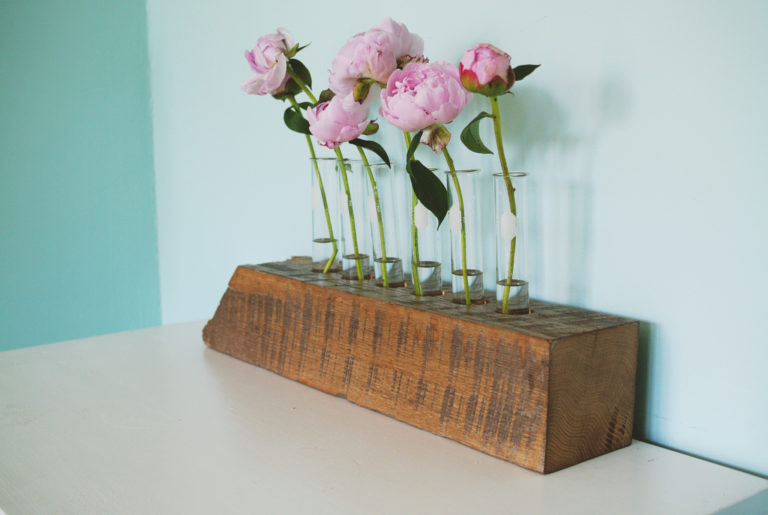 ***
So, how do you think? Are you ready to make over your home with these pieces of cake DIY home decor ideas? We bet this out of box ideas are hard to against, right? Don't forget to comment down below and share it on your social media. Let your pals know these brilliant tips and trick too!