To learn how to teach skiing, one of the first things you must do is assess your skiing ability. If you want to learn how to teach snowboarding, you must first learn how to ski. Without a doubt, teaching someone else how to ski is not a good idea if you are inexperienced in the sport yourself.
Teaching children to ski can be a rewarding and fun experience. Here are five great strategies on how to teach kids to ski.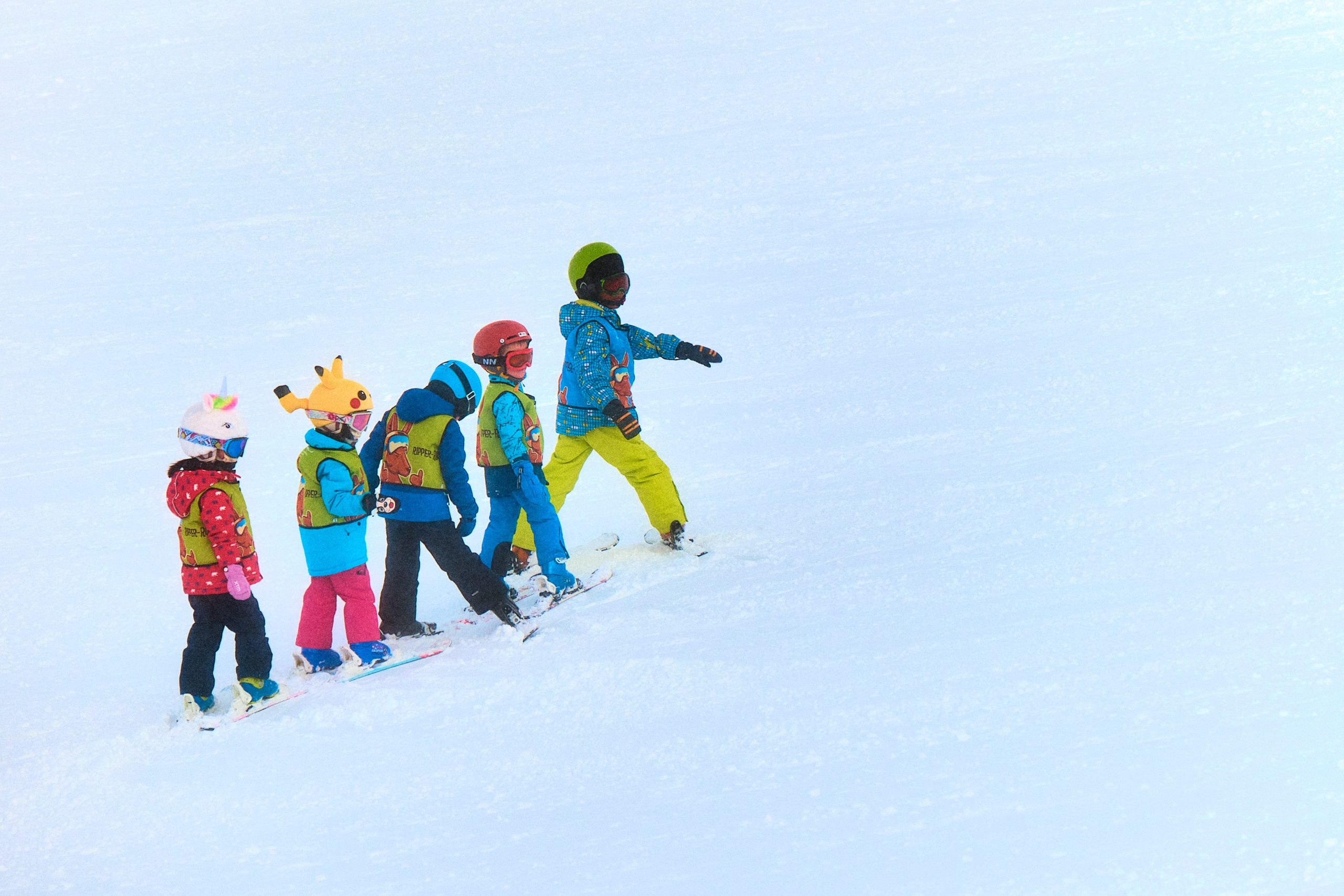 One: Get To A Slow And Solid Start
When teaching youngsters to walk at a steady pace that is adapted to their unique needs, skiing is taking place. Their confidence may be shattered if they are provided with too much information too fast. To begin, take them to the beginner's portion of the mountain, where they can put their newfound knowledge to the test and gain confidence.
On their first day on the mountain, it may be important for them to get acclimated to their new surroundings by walking a little further in their ski boots and possibly even making a few little motions on their skis to get them acquainted with their new surroundings.
Teaching children to ski can be accomplished in a variety of ways, but the most popular method is to enable them to glide across the ground while you hold onto their hands and urge them to bend their knees. If you're patient, you'll notice that they quickly get their bearings on the snow.
Two: One Thing At A Time Practice
If your child has learned several different skiing skills indoors, it may be necessary to gradually reintroduce him or her to the slopes as a precaution. Not attempt to coerce them into doing anything they are not ready to accomplish. They'll be ready to take on the challenge after they've restored their feeling of self-worth, which should happen shortly. When training your child to ski, here are some drills you can do together that will help him or she improve.
For sliding, start with the smallest of nursery slopes and run alongside them, holding their hands if required. If they insist on going it alone, allow them and then catch up with them at the conclusion.
The ability to safely come to a halt is the most important skill to develop in any situation. It is a wonderful idea to teach children how to ski and then have them slow down or stop by creating a wedge with their skis in the shape of a pizza. They will eventually be able to move on their own, and you will no longer be required to hold their hand or accompany them when they do so.
Once they are comfortable sliding in a straight line and stopping, you can begin to introduce turning to their routine. Explain to the pupils how to gently shift their weight from one ski to the other as they develop by demonstrating broad, soft turns. Allow them to follow you down the hills as you make tighter and tighter turns as you descend the mountain.
Three: Join In The Fun
To enjoy skiing, you must first and foremost enjoy yourself. You should urge your children to enjoy themselves as well. When you're out in the snow with your pals, there's no need to put too much attention on progress or technique. Their confidence will quickly grow as a result of some positive reinforcement and plenty of snow-related entertainment and learning opportunities.
To make learning more enjoyable, consider the following suggestions:
If your youngsters are interested in some light-hearted competition, why not convert this little slalom course into a race?
Fun and originality are encouraged while skiing or snowboarding. Pretend play can be adapted to any topic that piques their attention, such as flying planes, superheroes, animals, knights escaping from dragons, and so forth.
It's time to play the traffic light game, in which red indicates stop and green indicates to go.
Instead of playing tag, following the leader, and dodgeball on the ground, skiers and snowboarders can do so in the snow.
Four: Let Them Know That Falling Is A Normal Part Of Learning
Your children will fall a few times while learning to ski, but reassuring them that this is normal and that skiing can be enjoyable will go a long way toward increasing their confidence and morale during the learning process. Fortunately, because children do not fall very far or weigh a great deal, the snow usually serves as a cushion for their landing.
Many ski instructors will educate the children on how to fall safely before they begin teaching them how to ski or snowboard. Learning to ski is a process that involves falling, which might help children become accustomed to the experience.
Five: Ensure That You End Each Session On A High Note
When they're having a good time and are still enthusiastic about the experience of skiing with you, you should finish the day or take a break. It is less likely that they will succeed if you wait until they are exhausted or frustrated with a particular talent. Do something exciting with them straight away, like encouraging them to make snow angels or throwing snowballs, or going for a snack.
Also, if the day is drawing to a close, consider wrapping up the session early so that the participants are not too weary to make it back to their accommodations. It is important to keep this in mind when making your hotel reservations because it can make a substantial impact. Neilson offers some of the best family-friendly accommodations available anywhere in the world.
Additional Tip: A Mountain Ski School May Be An Option
Teaching your children to ski is a wonderful experience, but enrolling them in a mountain ski school can also provide them with valuable socialization opportunities. This choice not only provides them with the opportunity to meet new people while learning to ski from qualified instructors, but it also allows you to spend some time on the slopes skiing on your own.
Furthermore, spending the mornings apart and then getting back together to ski in the afternoons can be a great approach to strike a balance between skiing the runs you want to ski and spending time with your children and grandchildren.
Read articles on How To Divide A Shared Kids' Room
Conclusion
Skiing is a wonderful way to spend quality time with your children and make lasting memories. These five suggestions will help you to guarantee that kids have a positive and safe experience while learning and improving their skiing skills. So what are you waiting for? Get started today! Get out there and have a good time on the slopes!
You Might Also Like This Articles:
How To Organize Toys In Living Room
How To Use Chopsticks For Kids: Step-By-Step Guide