If you have a dressing table or a walk-in closet, consider installing a trendy vanity mirror. To save money and time, you can make your vanity mirrors at home. Customizing your items is one of the many ways you may earn extra money.
If you're looking to brighten up your bathroom mirror, create a vanity in your bedroom, or simply decorate your walls, these DIY illuminated mirror projects will help. These backlit mirror ideas can brighten up any space while also adding a touch of elegance.
They can either be backlit or have lights all around the frame depending on the design. When it comes to doing makeup, hair styling, and more, you'll be able to work with ample light no matter which method you choose.
Using these directions, you can build an illuminated mirror in a variety of ways. Some projects, like putting together your mirror, can be finished in less than ten minutes, while others, like painting a picture frame, may take several days. An illuminated mirror is a great way to get your feet wet with larger DIY projects.
We're going to learn how to make a vanity mirror together and transform conventional mirrors into budget-friendly LED cosmetic mirrors. Make your full-length mirror the focal point of your space by using it to generate an ambiance with a mood.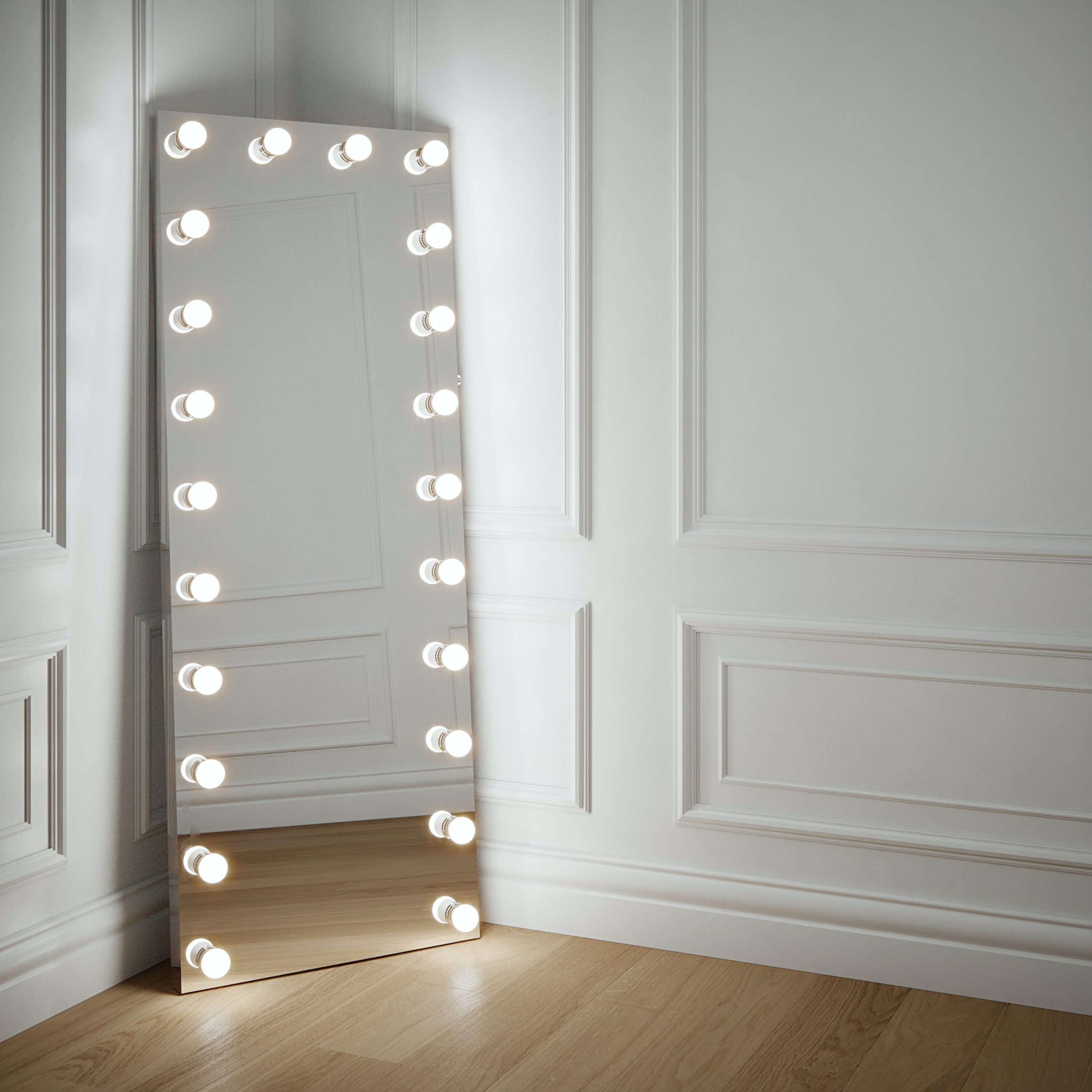 Seven Do-It-Yourself Vanity Mirror Projects
Diva Ring Lights On A Mirror
Popular makeup tools include the ring lamp. Near the mirror is where the ring light is normally positioned. Why not combine a lamp and a mirror into a single object? There are mirrors in both oval and circular shapes. Using a mirror border, fix a loop light you've made. A ring light may cost a considerable amount of money. However, you don't need to spend money on it if you can make it at home.
A Hollywood Vanity Mirror Of The Highest Quality
When we talk of vanity lights, Hollywood-style bulbs come to mind. Within minutes, a mirror in this shape can be constructed. Using a caliper, figure out how many bulbs you'll require. After that, put them all around the mirror. A soft glow is a goal while selecting light bulbs. If you look at anything that is far too bright, you risk damaging your eyes. You may also grow frustrated by the situation.
An Illuminated Vanity Mirror That May Be Controlled Through A Remote
To illuminate a mirror, some individuals find it challenging. There is, however, a way to avoid the wire tangles. Here's a quick and easy concept. Visit a store like Costco or any other that sells a wide range of products. Take a few LED lights and attach them with some hot glue. Decorate the frame of the mirror with them. With the help of the mirror in the image above, you may dim the LED lights to your heart's content. You'll be able to alter the screen's brightness based on the time of day. No remote control is required with LED lights.
A Mirror With A Rope Light Attached
This mirror is easy to construct. The wire wreath frame's grooves necessitate that the rope light is run down the wire. Secure the rope light with metallic scotch tape. It's easy to put up. It only takes a few minutes to do. If you don't like the wreath, you can take it down whenever you like. If you're bored with one color, try a few different LED lights instead. Light ropes that change color can be purchased. Those are also up for exploration.
An Individually Crafted Vanity Mirror Featuring A Zebra Print Design
If you want to build a mirror from scratch, give this method a shot. Build a framework of wood. Drill holes in the ceiling to allow for the installation of lightbulbs. The wooden frame should be painted white. Fix the light bulb hardware to the frame. Fix the bulbs. Make zebra stripes on the frame. Put the light bulbs in and you're done! Attach the mirror to the frame, too. When the public sees this, it will be the talk of the town. You're free to try out different prints if you'd like. From polka dots and stars to stripes and Moroccan-inspired designs—you'll find it all here.
Fairy Lights Wrapped Around A Mirror
Despite the low cost of LED lights, fairy lights are an even better alternative. The cost of a string of twinkle lights is approximately $2. Choose the color you like the most. Attach it to the mirror. Any mirror will look stunning when illuminated with fairy lights. If the mirror is empty, it will still look beautiful. Use white or yellow fairy lights to create a warm atmosphere. However, there is always the chance to try again. Some fairy lights feature shapes as well. A star or a ball, for example. Those are all respectable choices.
A Makeup Vanity Mirror In Teal
Get a stylish mirror with a wood frame. A-frame can be made from scratch as well. Cut the mirror to fit the frame afterward. After that, all that's left is to paint the mirror frame with Teal as your paint color to finish the look. Seal the frame after the paint is dry. Aim for an even distribution of light sources on the mirror's frame for best results. The number of LED lights you utilize is entirely up to you. Paint your vanity table in the same color as a mirror to fit the home decor. If you choose, you can paint the same mirror metallic.
Advantages Of Having A Vanity Mirror
One of the most essential advantages of using an illuminated vanity is that the user can see exactly how they look at any given time and so better maintain themselves even in a room without ceiling light.
In contrast to utilizing a regular room light, which may just offer you an overall idea of how your face is done up and how it looks, using a mirror with a lot more light surrounding it makes it much simpler to view your final appearance in depth.
Another advantage of a vanity lit mirror is that it illuminates your face without disturbing your partner, children, or anybody else in the bedroom. Before these illuminated furniture pieces were popular, people relied on their bedroom lighting. It's a pain if you have to get ready for work or an early-morning outing while your companion is still in bed.
People realize it's hard to get some shut-eye in this kind of setting. To avoid disturbing their sleeping partner or children, people can now get ready without waking them up by using improved illumination in the mirror.
This mirror's third advantage is that it improves visibility, but many of these mirrors also include light settings that let you simulate various lighting conditions. Women love this technique because it makes it appear as though they are applying their makeup in the light of the destination they are visiting.
There are many examples of these lit situations, including at night and home/work (every day). Using the "everyday," "evening," and "day" settings, you can easily apply your makeup because the "everyday" setting resembles the brightness of a typical room's light.
Final Thought
Because of this, having and using an illuminated vanity has three major advantages. The use of mirrors in the home is more widespread than ever before when it comes to maintaining one's appearance when applying makeup or, in the case of men, shaving.