If you're looking for a way to decorate nursery walls without painting, you're in luck! You might be renting an apartment that doesn't allow you to paint the walls, or you just don't want to deal with wall paint. If that's the case, it might seem like there are few options when it comes to decorating the baby's room.
Is it feasible to personalize a space and add color without painting the walls? Yes, absolutely! We'll show you how to adorn the walls and bring a touch of color into the nursery without painting them. There are several different ways to do this, and each one can give your nursery a unique look.
How To Decorate Nursery Walls Without Painting
Eye-catching Prints Or Artwork
When you can't paint the walls, artworks are a fantastic way to brighten up the room with a dash of color. For a nursery, It's an oversized painting that makes a statement. If you're looking for a subtler way to add color, try using a picture ledge to display colorful artwork.
It features several different prints in coordinating colors, which help to brighten up the space. If you're not a fan of traditional artwork, you could also consider using decals or stickers. These nursery walls can be decorated with a variety of fun and colorful stickers that add personality to the room.
Choose Colorful Furniture
Whether it's the crib, dresser, or bookcase, introduce a pop of color to your baby's nursery with colorful painted furniture.
You Can Use Detachable Wallpaper
They are simple to install and remove, allowing you to completely redesign any room. The possibilities are endless when it comes to decorating a nursery with wallpapers. One of the best things about removable wallpaper is that it's so versatile. You can use it to add color or print to your nursery or to completely cover a wall in a fun and unique way. Plus, if you ever want to change things up, it's easy to take down and put up new wallpaper.
Add Throw Pillows
One way to add some color and life to your baby's room without painting is by incorporating colorful throw pillows. Not only will they add some visual interest, but they can also be used to provide comfort and support for your little one. Plus, if you ever want to change up the room's color scheme, you can simply swap out the pillows' covers. They come in a variety of designs and hues, which provide contrast and texture to the design.
Add An Engaging Mobile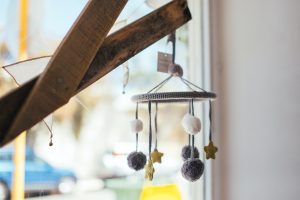 Mobiles are a wonderful way to keep little ones occupied. They also add color and whimsy to the nursery. There are a variety of different mobiles on the market these days that can add a lot of visual interest to the room. Plus, when your child gets older, they can still enjoy playing with the mobile.
Pick Colorful Crib Bedding
Create a comfortable nursery by using beautiful crib beddings in vibrant colors and designs. This will add a pop of color to the room and will also be a functional piece of furniture. You can choose bedding in any color or pattern that you like, and you can mix and match different sets to create a unique look.
Use Tapestry To Decorate Your Nursery
Instead of painting your nursery walls, hang a tapestry. Not only will this add some color and personality to the room, but it will also help to dampen the sound.
Use The White Walls
If you have white walls, take advantage of them! It's the purest canvas you could ask for. To bring in colors that you enjoy, try adding colorful accessories, like rugs, curtains, or bedding.
Use Decals
Decals are one of the easiest ways to decorate nursery walls without painting. There are a variety of designs available, so you can find something that fits your style. Plus, decals are relatively easy to apply and can be removed without damaging the walls.
Design A Gallery Wall
Creating a gallery wall is a great way to add interest to your nursery walls without having to paint them. You can use photos, artwork, or any other type of decor to create your gallery wall.
Colorful Rugs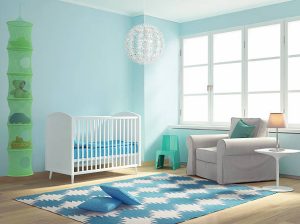 This is a favorite centerpiece for a lot of parents. They will add color warmth to your nursery. You will find rugs in a variety of shapes and sizes, so be sure to choose one that fits the size of your nursery.
Hang A Large Mirror
Adding a large mirror to your nursery is a great way to make the room feel larger and more open. Not only will it help to brighten up the space, but it will also add a touch of elegance. Plus, if you ever need to hide the walls, a large mirror can do the trick!
Add Plants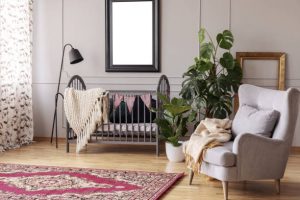 One way to add some life and color to your nursery walls without painting is by adding plants. There are a variety of plants that would work well in a nursery. From colorful flowers to leafy plants, they give you a nature-like look and they can help purify the air. Not only will adding plants make your nursery look more cheerful, but they will also provide a natural source of stimulation for your baby.
Chalkboard Paper
This is a paper that you can write on with chalk, and then erase when you're done. It is a great option if you want to be able to change the decorations on your walls often, or if you're not sure about how you want to decorate your baby's nursery yet.
Take Away
So there you have it! These ideas will help you decorate nursery walls without painting. They are simple and inexpensive ways to add personality and style to your baby's room. Some parents may be concerned about the long-term viability of wallpaper or decals, but there are removable options that will not damage the walls.
And, if you do decide to go with something more permanent, keep in mind that it will not last forever – your child will outgrow their nursery decor, and you can always repaint or redecorate when the time comes. Adding some type of decoration to your nursery walls, no matter which route you take, is a great way to brighten up the room and add your personal touch. Remember to have fun with it and take pleasure in watching your child grow up in their beautifully decorated nursery!