When you have a small kitchen, keeping it organized can be difficult. Kitchens are filled with tools – such as knives, pots, and pans – that we need to cook food and feed ourselves.
When these tools become disorganized, cooking becomes an unpleasant task that no one wants to tackle which may result in unbalanced meals or food on the go.
In this post, I am going to share tips to help you organize your kitchen and make it your favorite room in your home!
Genius Ideas How To Arrange Appliances In Small Kitchen
1. Start with a Clean Slate
The first step is to clear your counters of any unnecessary items. This will give you a visual of how much space you have to work with and what areas need the most attention.
Consider using storage solutions like under the cabinet racks, over the door organizers, or even wall mounts to free up some counter space.
2. Make the Best use of Every Available Space
In a small kitchen, every inch of space needs to be used. This means taking advantage of areas like the corners of your kitchen cabinets and between appliances.
Utilize shelf dividers, stacking canisters, and door organizers to make the most out of these spaces.
3. Group Like Items Together
This is especially important in a small kitchen because it will help you to see what you have and how much space is left. Store your pots and pans together, your spices together, and your baking supplies together.
This way you won't have to search through every cabinet when you're in the middle of cooking dinner.
4. Use Appliance Dividers
If you don't have a lot of cabinet space, you can use appliance dividers to create stylish mini-kitchen cabinets. This is a great way to store small appliances like blenders and toasters or even canned goods.
5. Install a Lazy Susan
A lazy Susan is a great way to store spices, condiments, and other small items. It's easily accessible and takes up very little space.
6. Use a Bar Cart
If you have the room, consider using a bar cart in your kitchen. This will give you an extra surface to work with and will help keep your kitchen organized. You can store items like utensils, cookbooks, or even wine on the bar cart.
7. Get Rid of What You Don't Use
This may be the hardest part of organizing your kitchen, but it's also the most important. If you don't use it, get rid of it. Donate unneeded appliances to a local charity or sell them at a garage sale.
This will create more space in your kitchen and will make it easier to keep things organized.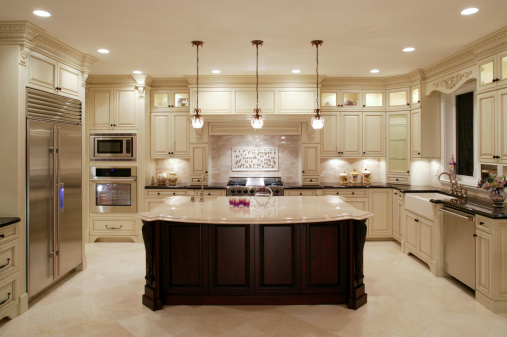 8. Don't Forget the Lighting
Good lighting is essential in any kitchen. It's especially important in a small kitchen so you can see what you're doing. Install a light over your kitchen sink and consider using under cabinet lighting to brighten up the counters.
9. Natural Lighting is Important Too
If you have a window in your kitchen, make the most of it by using sheer curtains. This will let in natural light and will brighten up the space.
10. Add a Pop of Color
A pop of color can make a small kitchen feel more cheerful and inviting. Use colorful tiles on the backsplash, add a brightly-colored rug, or paint the cabinets a fun color. This will brighten up the space and make it more welcoming.
11. Add an Island
An island can be a great addition to a small kitchen. It will add more surface space and storage to the room. You can use the island for prep work, as a breakfast bar, or even as a place to sit and eat.
12. Go Luxe
If you have the budget, consider adding some luxury features to your kitchen. This could be anything from a high-end appliance package to granite countertops. Adding a few luxurious items will make your kitchen feel more upscale and will help you to enjoy cooking in your home even more.
13. Find Skinny Storage Spaces
In a small kitchen, every inch of storage space needs to be used. This means finding storage solutions that are thin and tall. Look for storage racks that fit between the oven and the refrigerator or shelves that go all the way up to the ceiling.
14. Use Transparent Containers
If you're short on cabinet space, use transparent containers to store your items. This will give you a visual of what's inside the container and will help you to find what you need quickly.
15. Use Labels
Labels are essential in a small kitchen. They will help you to keep track of what's in each container and they will make it easy to find what you're looking for. Place labels on the front of each container and use a different color for each type of item.
This will make your kitchen look organized and it will be easy to keep track of your supplies.
16. Use Vertical Storage
In a small kitchen, every bit of storage space needs to be used. This means using shelves and racks that are high up and vertical. Install a shelf above the cabinets or use a stackable storage rack to store your pots and pans.
17. Feature Your Favorite Artwork
If you have artwork that you love, feature it in your kitchen. This will add personality to the space and will make it feel more like home. You can hang it on the walls or use a display rack to show it off.
18. Now Stay Organized
Once you've organized your kitchen, it's important to keep it that way. This means putting away your supplies when you're finished using them and keeping the counters clear. It may take a little bit of effort in the beginning, but it will be worth it in the end.
These tips should help you get started on organizing your small kitchen. With a little bit of effort, you'll be able to turn your small kitchen into a functional and beautiful space that you'll love spending time in.
You can also read: How To Style Glass Kitchen Cabinets